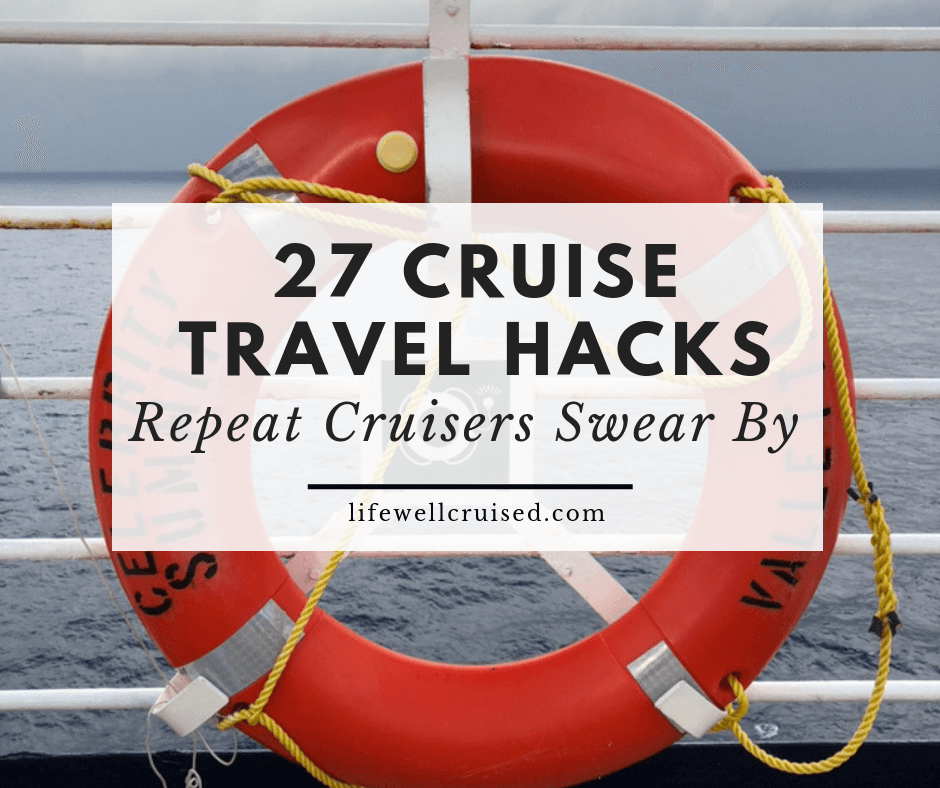 If you're cruising for the first time, you're probably looking for the best cruise travel hacks. You want to make sure you're getting the best deal, packing the most important items, plus getting those insider secrets that repeat cruisers know.
In this post, we'll go through the best cruise tips and tricks that experienced cruisers know, and you should too.
Cruise Travel Hacks: Cruise Tips and Tricks of Veteran Cruisers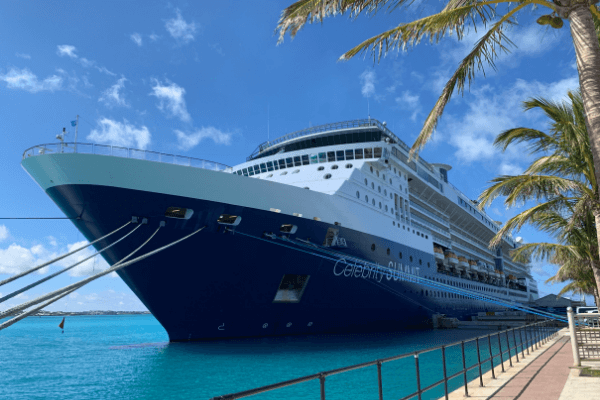 1. Book onboard
It may seem funny to start thinking about the next cruise, before this one. However, this is such a good travel hacks, that I want to make sure you remember it! I'll even remind you at the end.
Booking your next cruise on board, or even putting a deposit on an open booking, has a few great advantages.
Firstly, your cruise line will actually give you money through a generous onboard credit. You'll also pay a reduced deposit on your next cruise. In many cases, this deposit is as low as $100 per person, which is definitely easier on the pocketbook.
Conditions and even the amounts will vary by cruise line, but in most cases, it's well worth it!
Related: How to Get and Use Cruise On Board Credits (OBC)
2. DIY your shore excursions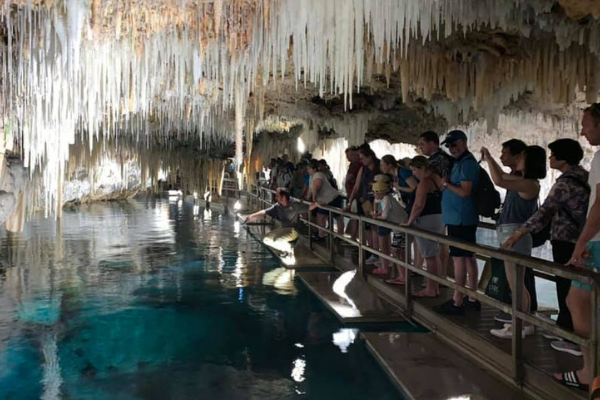 One of the best and easiest ways to save money while cruising, and not sacrifice your fabulous vacation, is to book excursions privately or consider touring on your own.
There are many cruise ports where you can easily take a cab to close by beaches and attractions. In other cruise ports, you may want to take a tour or go on shore excursion.
With a little bit of research on your cruise ports, it's fairly easy to visit attractions on your own. For example, in Bermuda our family took a ferry and bus to Crystal Caves. Not only did we save a couple hundred dollars, but we also avoided some of the crowds, which we appreciate.
If you're cruising to these popular ports, here are some resources to help with your research.
3. Buy your shore excursions "on sale" with your cruise line
In reality, while doing an excursion on your own is great, there are times when booking with the cruise line is easier and safer.
So what should you do? Sign up for their emails and sign into your cruise reservation online as soon as possible.
Cruise lines will have sales periodically and it's common to see 20% off. You may be lucky and find more. Watch for the promotions in your emails as well as in your reservation.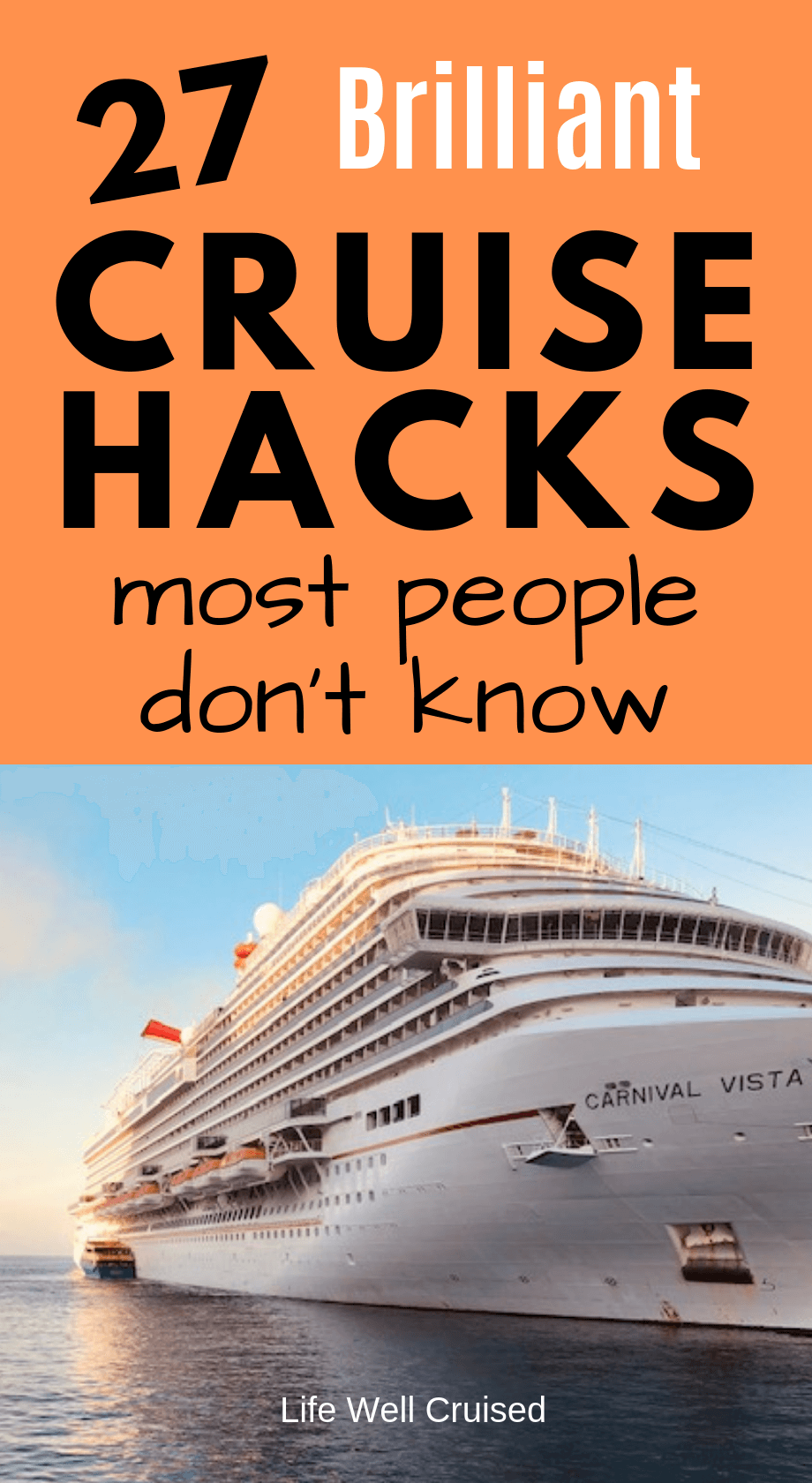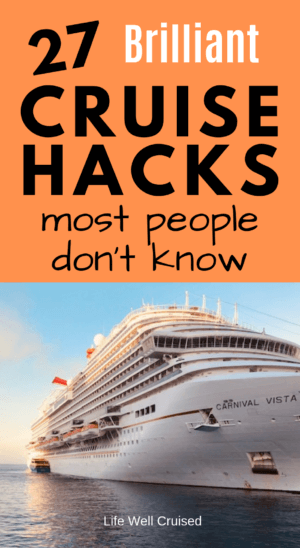 4. Join cruise Facebook groups
This might seem like a funny one, but joining your cruise line's fan Facebook group (passenger run – not company run) will mean that you get that inside information and cruise news faster than anywhere else!
You'll get all the recent cruiser tips and sometimes, it can even save you money!
Our Life Well Cruised Facebook community is where we share cruise tips and cruise inspired fun. If you're on Facebook, come on over.
5. Here's how to get a cabin upgrade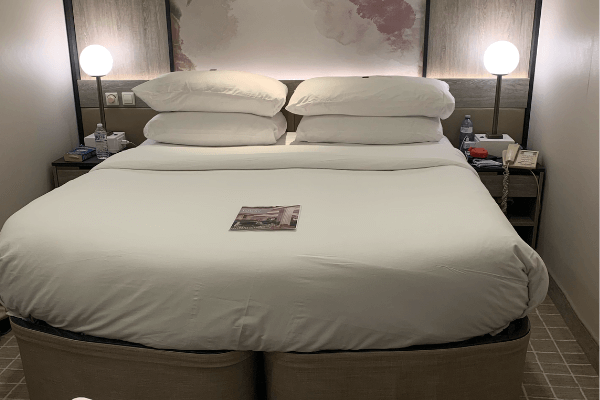 You may have heard of people getting free cabin upgrades in the past. Truthfully, it doesn't happen very much anymore.
However, the next best thing to free, is an inexpensive upgrade. Once booked, several cruise lines will offer you a chance, as the sailing gets closer, to bid for an upgrade.
If there's availability, at some point you'll get an email from the cruiseline with an offer for you to bid for a cabin in a higher category. It could be an ocean view cabin, balcony, mini-suite or higher categories such as suites. The starting bids are generally very low, and almost always cheaper than if you booked the higher cabin category in the first place.
We met a family of 4 on our last cruise on the Celebrity Summit, who originally booked a regular veranda cabin, and won their bid to be upgraded to a 2 bedroom family veranda. They were thrilled!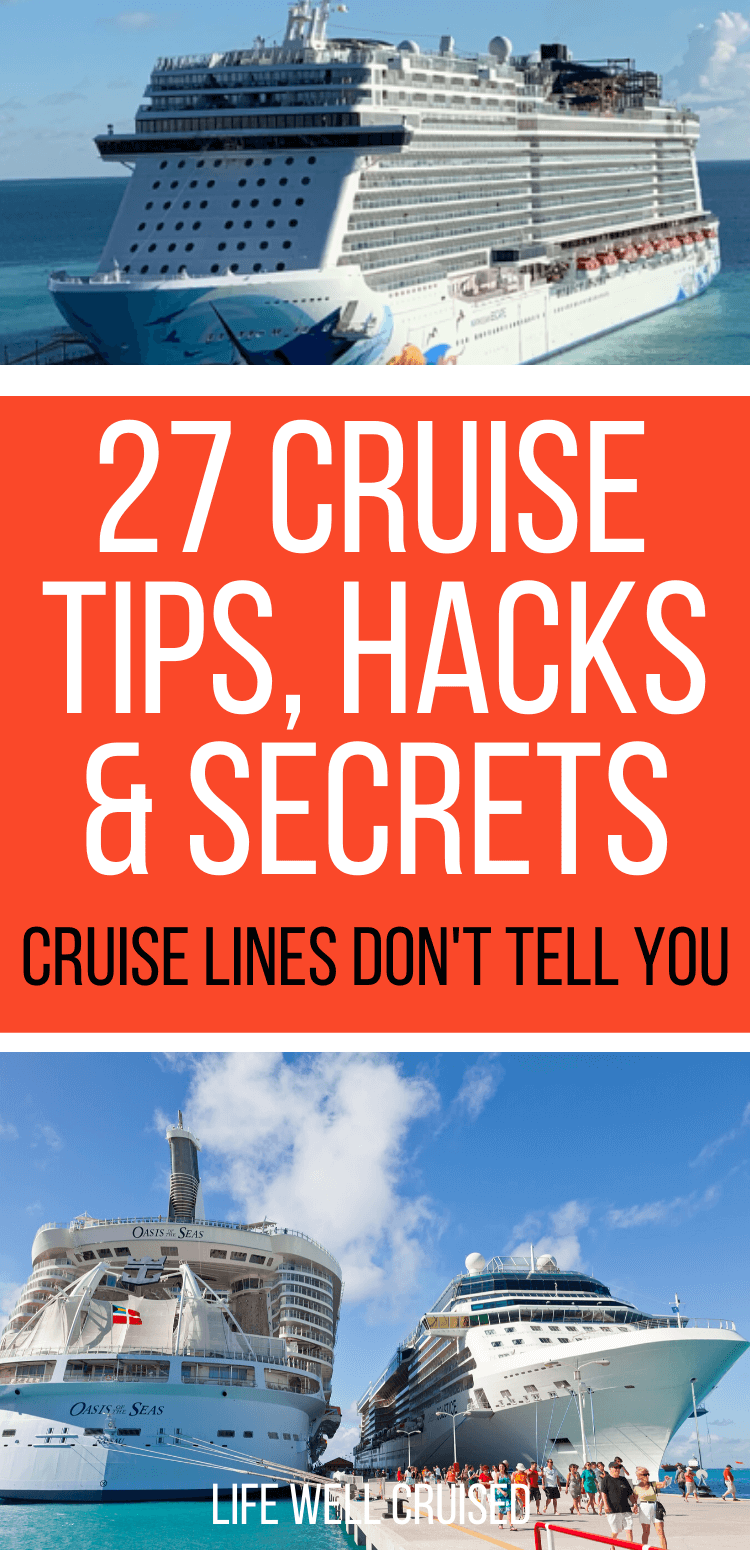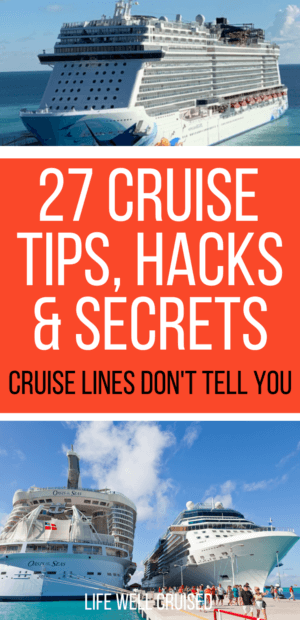 6. Fly in or arrive at your cruise port a day early
One of the biggest mistakes new cruisers make is flying in on the same day as their cruise.
When booking a cruise, it may seem like a good idea to arrive on the day of your cruise. After all, the cruise ship doesn't leave until 4 or 5 pm, right? Seasoned cruisers know that unexpected things can happen on the way to your cruise, especially if you are flying.
On our past cruise, a plane had a rough landing in Newark and this closed the airport for several hours. This resulted in cruise passengers on other planes, being unable to land. The plane actually needed to be diverted to a nearby airport.
We sat next to a couple who told us how they'd arrived at the cruise terminal with only 17 minutes to spare on embarkation day! Although they made it, they recounted how stressed they were and how it took them a day to recover from this anxiousness as they really thought they'd miss the ship!
Do yourself a favor, and add an extra night at a hotel to your cruise vacation. You won't regret it.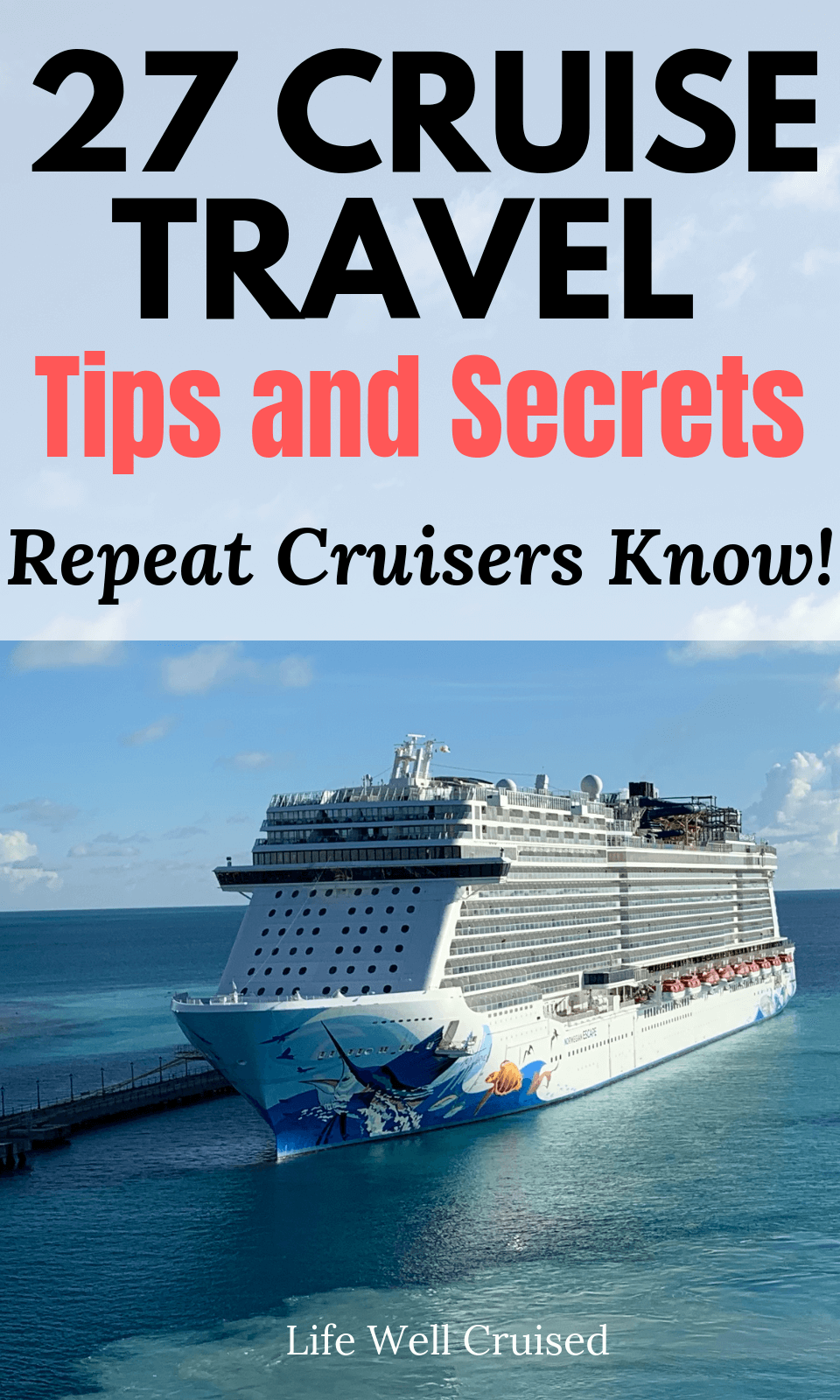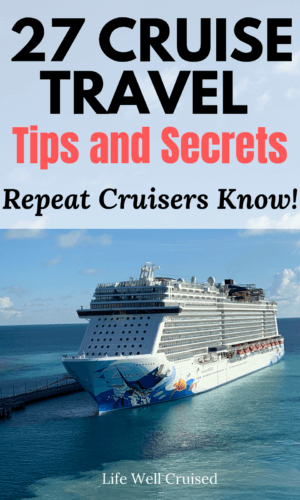 Cruise tips: Things to do before your cruise
7. Book your on board reservations online ASAP
While this can depend on your cruise ship, do log into your reservation on the cruise line website and check if you should make reservations ahead of time for shows and dinners.
Very large or Mega ships have this online pre-reservation system so they can accommodate 5000 passengers, and not have everyone showing up at the same time.
On smaller cruise ships, while you don't need to reserve your shows, it's often recommended to book dinner time reservations . Do check your booking for your specific cruise information.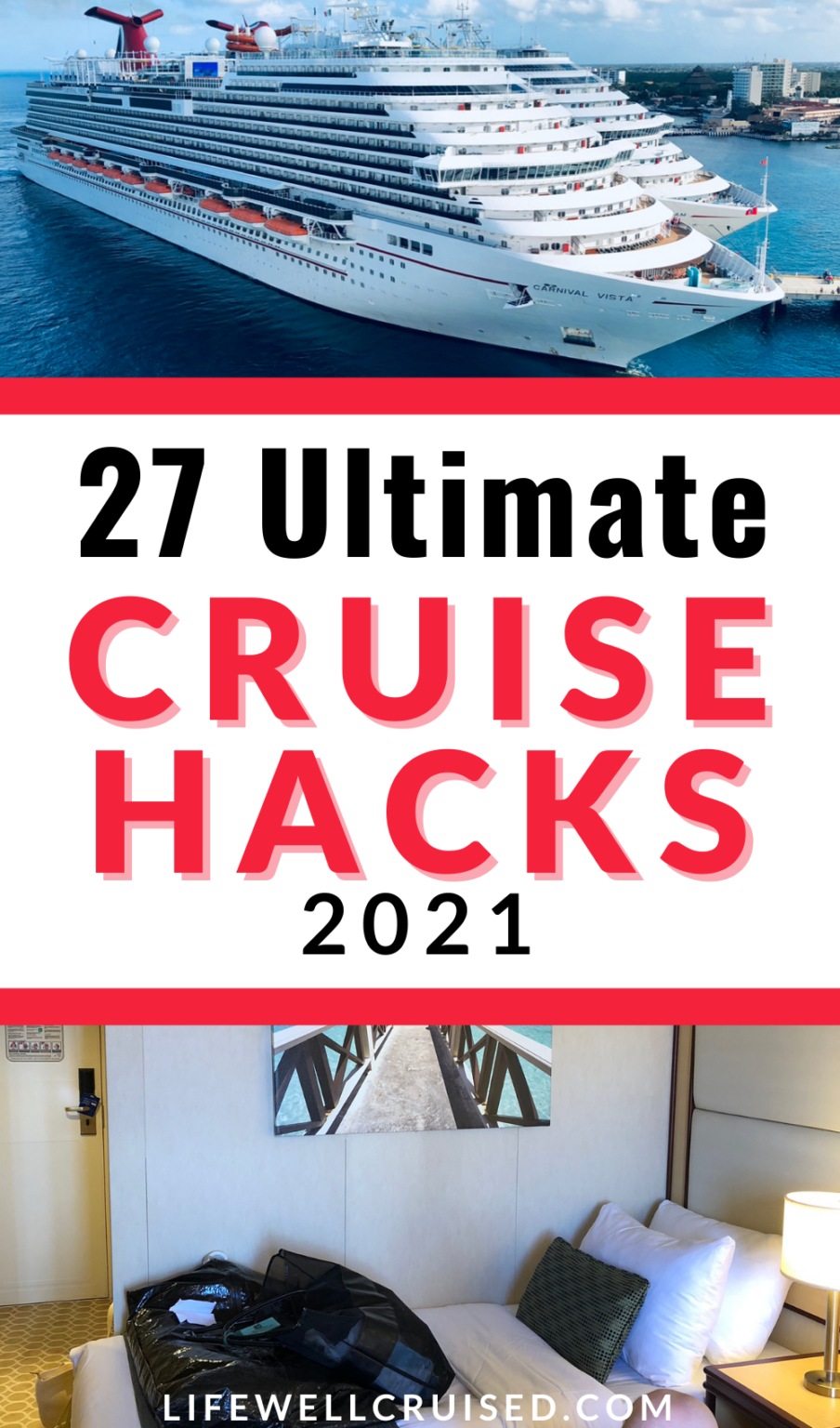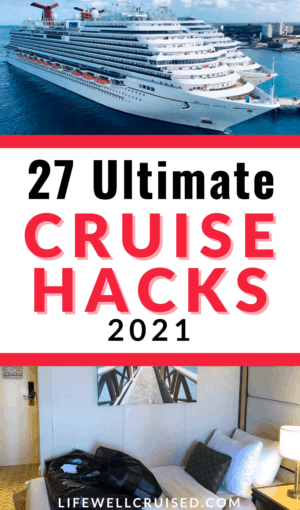 8. Pack a cruise carry-on bag
When you arrive at your cruise port, you'll be dropping your luggage off at the cruise ship. However, your suitcases won't be delivered to your cabin until several hours after you board your cruise.
Here's a post I wrote with some advice for what to pack in your cruise carry on bag that might be helpful.
9. Consider buying a beverage package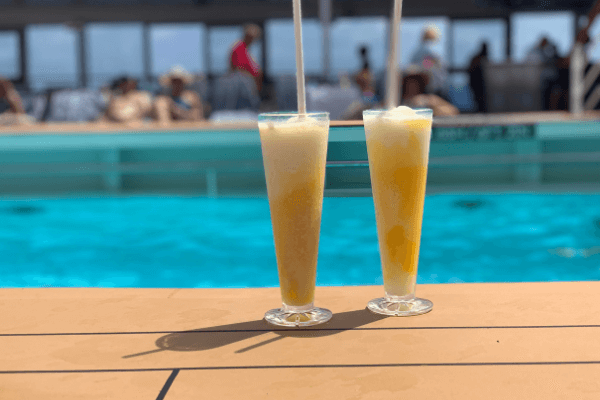 It's good advice to buy a beverage package, if you'll be drinking that value in alcohol and/or soft drinks. Cruise ship drinks tend to be pricey and really add up. You may also want to book a cruise where the drink package is included, such as Celebrity's "always included". Princess Cruises also has a Princess Plus cruise fare which is a great value for many.
However, I've noticed in cruise Facebook groups, that some people are under the impression that no drinks are available "for free", or included.
To clarify what drinks are available and included in your cruise price on the majority of mainstream cruise lines, here goes:
In the morning you'll find a variety of juices, as well as milk, water, coffee and tea. The rest of the day, buffets usually have unsweetened iced tea, some sort of juice or lemonade, water. coffee and tea.
Soft drinks, water bottles, freshly brewed coffee, specialty coffee, and alcoholic beverages are not included with most cruises.
You may however, be able to book at get a beverage package as a "perk" or buy a soda, coffee or alcoholic beverage package. Norwegian Cruise Line has the popular "free at sea" promotion, which might be a good option for you.
To find out more, you can check the options with your cruise line or travel agent.
Read more: Best Way to Book a Cruise: Travel Agent or Direct with the Cruise Line?
Cruise Hacks that will make life easier on your cruise
10. Don't wait for the elevator
If you can , take the stairs instead of waiting for the elevator, which is probably crowded anyway.
You'll save some time and ease some of that "cruise-food guilt" you're bound to have as you indulge throughout the next few days!
Related: How Not to Gain Weight on a Cruise
11. Downy Winkle Release is your friend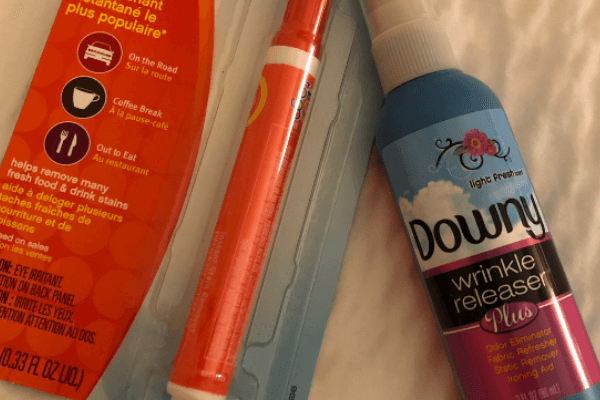 I love my little travel size Downy Wrinkle Release. I can avoid sending my clothing items to press by using this and a bit of shower steam if needed. Plus, a little Tide-to-Go is pretty handy as well.
For more cruise packing tips: 25 Cruise Packing Tips all Cruisers Need
12. Bring magnetic hooks and clips (cruise cabin hack)
Did you know that the cabin walls are magnetic? This means that you can decorate your cruise cabin door with magnets if you like, and also create extra storage space by bringing along magnetic hooks and clips.
You might want to hang baseball caps, handbags or light sweaters on the hooks. The magnetic clips are amazing for keeping all your papers, tickets and invitations organized.
For more Cruise Cabin Hacks and some seriously good tips to help organize your cabin, check out THIS POST.
13. Buy the cruise ship internet package
If you think you'll need wifi and that you'll be checking emails or want to keep in contact with folks back home, consider purchasing an internet package.
Cruise ship wifi just isn't the same as back home or anywhere on land. While cruise ships are making strides and there are more affordable options available than in the past, it isn't free.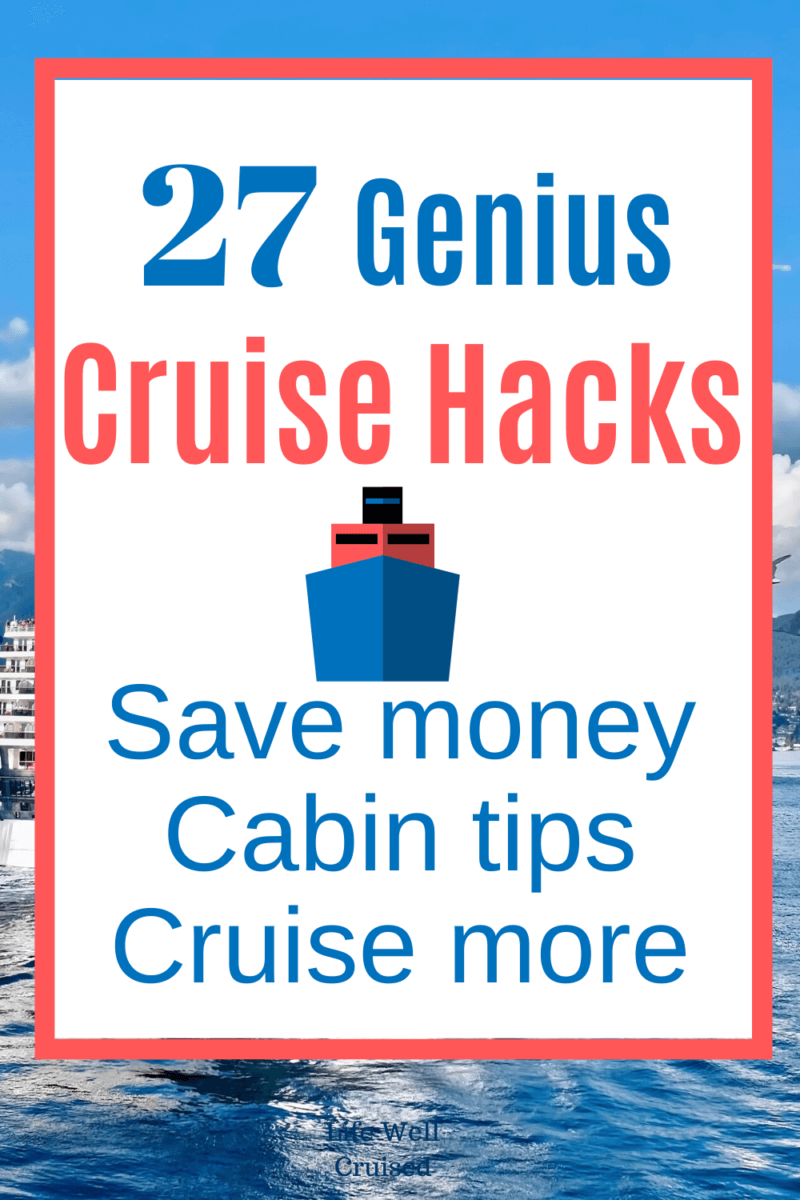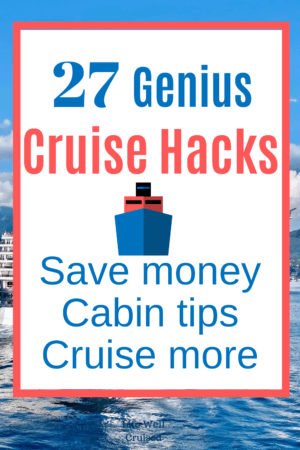 14. Easy and natural seasickness remedy
For mild seasickness, grab a green apple (it really works). For real, green apples are used by the crew and passengers alike, perhaps with some crackers, to settle a queasy stomach. Since they are readily available onboard, grab one or two from the buffet to keep in your cabin "in case".
More seasickness prevention tips: 10 tips to avoid being seasick on a cruise
15. You'll be in foodie heaven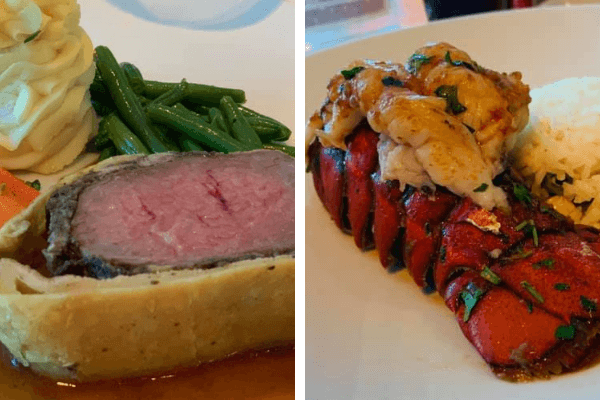 I know you've heard it – cruise food is good! Buffets, cafes, specialty restaurants, and the Main Dining Room.
Typically, the Main Dining Room has some really great options for dinner in particular.
So how do you choose?
The menu will often consist of a few choices of appetizers, main dishes and desserts, which will change from day to day. However, there are some classic choices which will be available every night.
Experienced cruisers know that you can order 2 appetizers, or split a main dish with the table, or even 2 main dishes if you like. The choice is yours.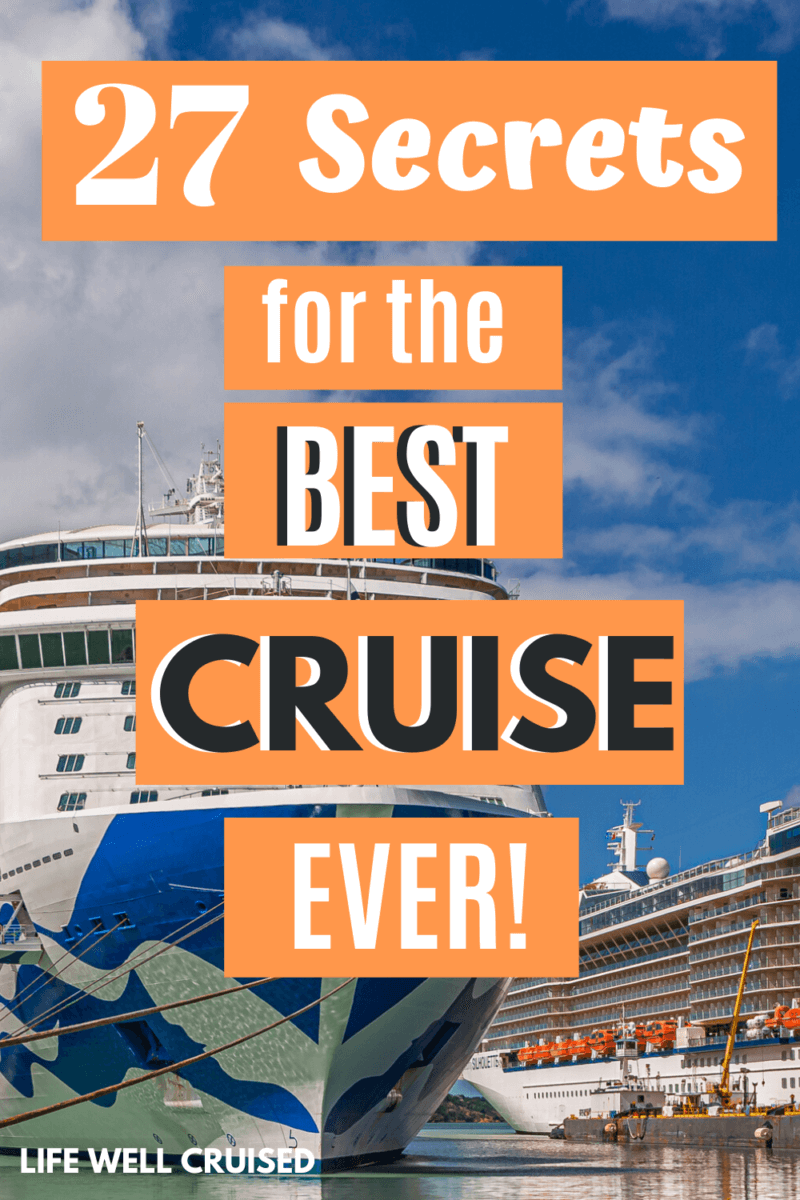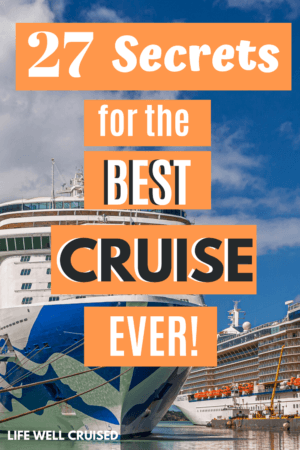 16. Bring a refillable water bottle
Pack refillable water bottles for you and your family, that you can also take with you at your cruise ports.
In some cases, you can also bring a full case of water bottles. Just bring it to the cruise port, and ask a porter at the embarkation port to slap a sticky luggage tag on it. Do check with the cruise line for their policies and restrictions.
17. Parents, the kid's club is good!
Seriously, if you have kids, bring them to the kids club so that they can make friends and have some fun activities to do.
If your child is shy, a tip is to visit and register the first day of your cruise, so that you can go in with your child and meet the animators. They'll feel so much more comfortable and so will you. You'll likely be surprised at the quality of staff, activities and inviting atmosphere.
It's a great way for your children to make friends onboard, and for Mom and Dad to have some couple time.
Recommended article: 15 Cruise Embarkation Day Tips Straight from the Pros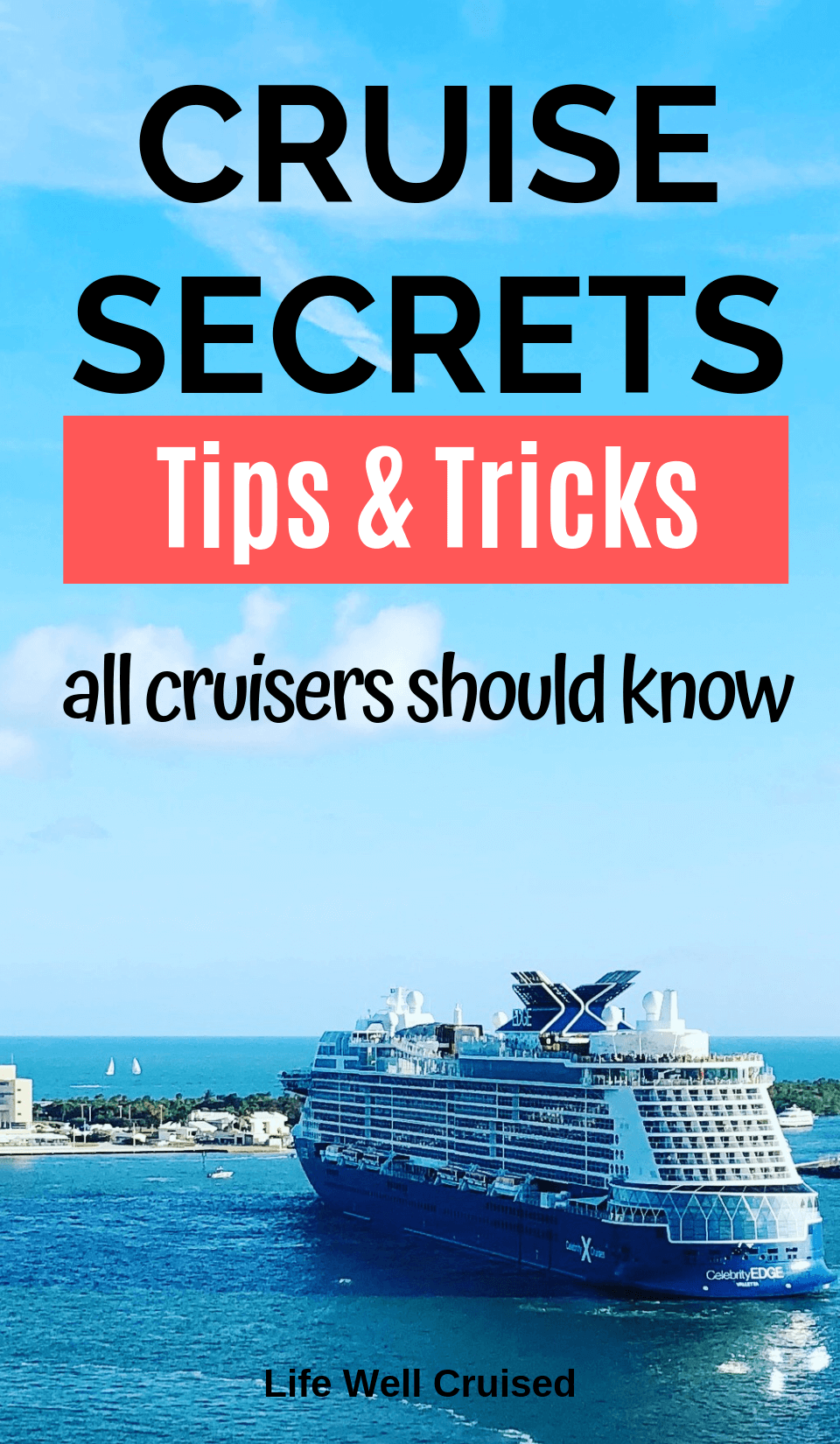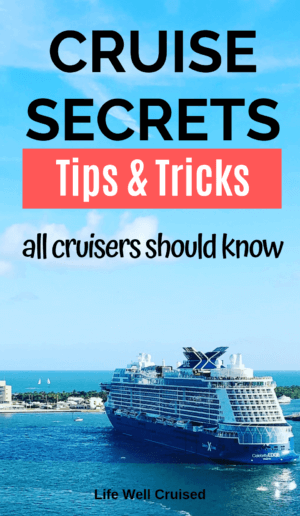 Cruise Ship On-Board Specials and Promotions
On your cruise, you'll notice that some items and services are promoted on certain days during your cruise. While this can vary from cruise to cruise, these are the common things to look out for, in order to take advantage special offers and discounts.
18. Check for embarkation day discounts
Yes, spas will often have specials for booking on the first day, as will internet packages and even specialty restaurants. Check out the various stands set up around the ship on your embarkation day, to see if these offers appeal to you.
Another trick, is to check for specials on port days. Spas in particular are often less busy, so this is a great time to snag a bargain.
19. Shop the "specials" in the cruise shops
Shop the 10$ sale or "last day" sale for souvenirs to bring home. You'll find discounted items, t-shirts etc. Do keep in mind this is not usually the same merchandise from the regular ship stores and boutiques.
However, they will have daily specials too, so it is good advice to check the shops and see what you may like. Ask the store clerks when they may be having specials. You would be surprised at some deals we've picked up!
On our Regal Princess cruise over the Christmas holidays, there was an amazing special and certain watch brands (50% off as well as additional 10%). My son was very happy with his cruise deal ;-)!
Cruise Hacks for save money on cruises in the future
20. Buy public shares in the cruise line (there are benefits!)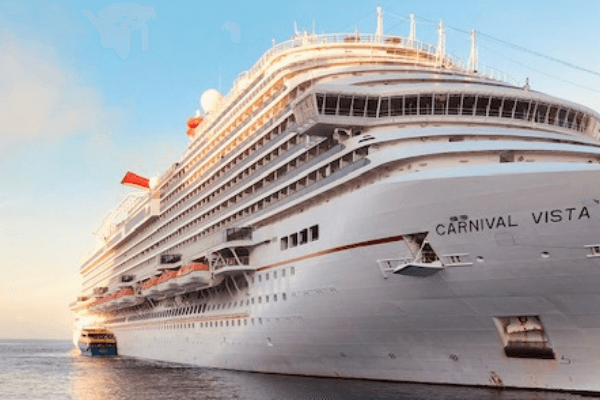 If this is your first cruise, you may not be ready for this cruise money-saving/money earning strategy yet, but you may be soon.
What are the benefits of owning shares of Carnival Corporation (which encompasses Princess Cruises, Cunard and more), Norwegian Cruise Line and Royal Caribbean (which includes Celebrity and Azamara)?
There are actually some good benefits beyond the investment itself (do evaluate the risks like any financial investment). While they vary by cruise line, the biggest advantage to owning cruise line stock seems to a a fair size on board credit for each cruise you take with that brand family.
Those who cruise a couple of times or more each year appear to have the most value.
Please note that this is general information, and not financial investment advice.
21. Kids sail free sailings
Parents and families, look out for Kids Sail Free promos as well as promos for discounts on 3rd and 4th passengers. It is the best way for families to have a cruise vacation and benefit from significant savings.
22. Casino at Sea benefits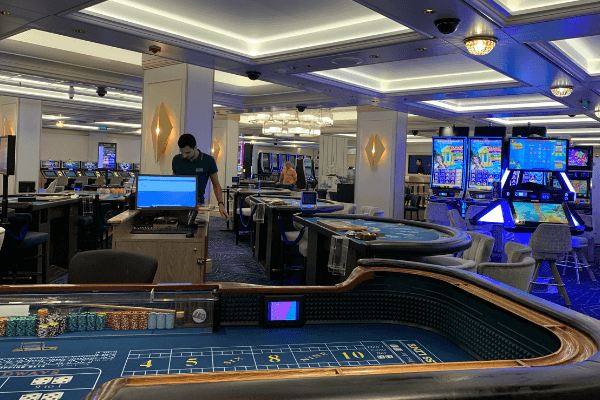 Did you know, many cruise lines will send casino players future cruise offers at a reduced rate?
Full disclosure, I am not a casino player so I never get casino offers. However, casino goers report getting discounts of 200$ or more on certain cruises, while some are even offered "free" cruises.
Friendly word of caution: Don't "play" in the casino in hopes of a future discount, as this isn't guaranteed. It's also possible that you can lose more than you'll ever gain.
But if you're playing anyway, sign up for the emails ;-).
23. Book with a travel agent
Repeat cruisers have a little secret. They often book on-board (see tip above), but have their booking transferred to their favorite travel agent.
Why? Often large cruise travel agencies have lower rates on many cruises, and can offer extra bonuses like on-board credit or specialty dining.
If you haven't booked on board, you can still shop around (online works) and get some extras and even better pricing.
Do check the rules and restrictions to see if this is right for you.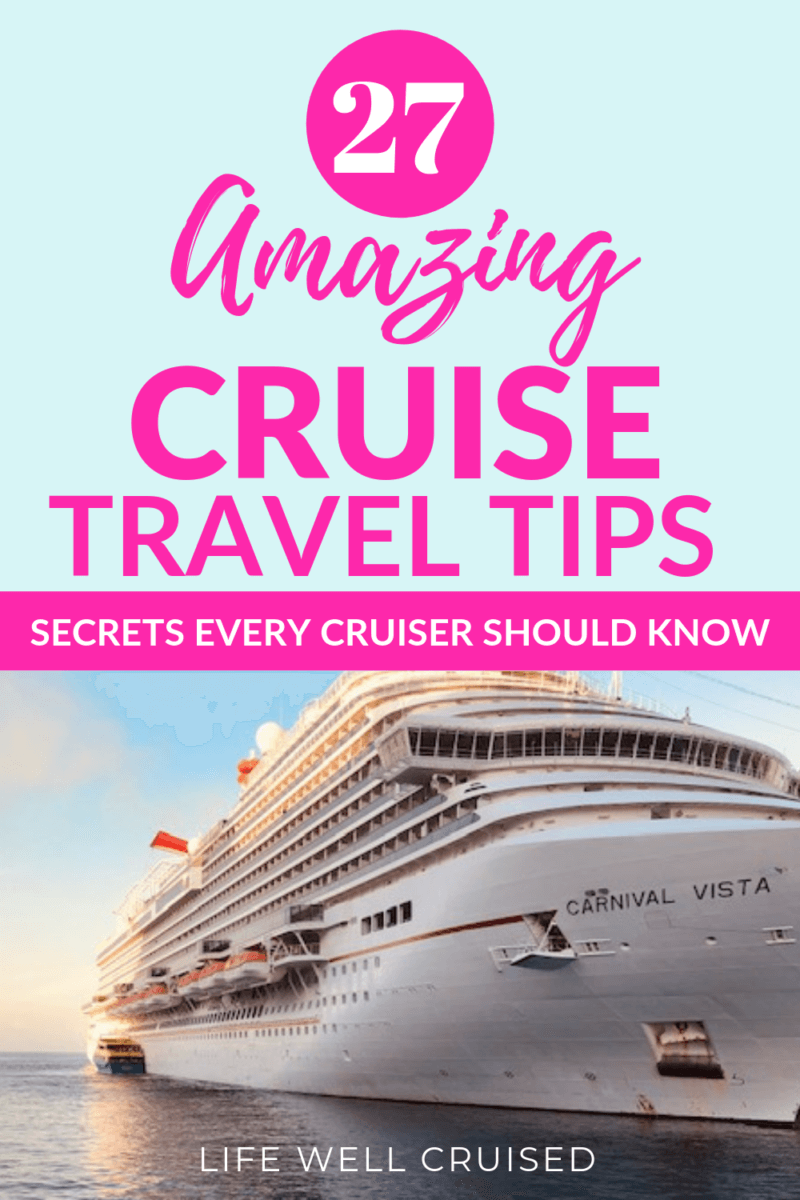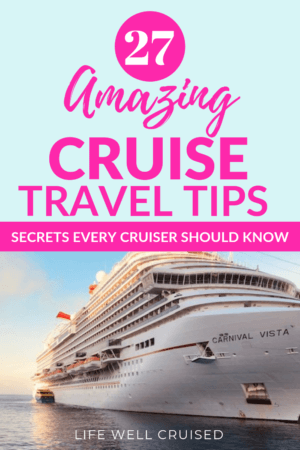 24. Book early and monitor pricing
Booking your cruise several months to more than a year before your cruise is often the best way to combine saving money on booking a cruise, with getting your preferred cabin and best perks.
Cruise pro secret: book early and monitor pricing and promotions.
Most of the time, cruise lines and travel agents will honor the lower price and new promotions, up until final payment. So, if you see a big cruise sale, check if your cruise is now a "better deal". If it is, just call your travel agent.
Keep in mind that not all offers combine and that by adjusting to a lower fare, you may lose any perks from a previous promotion. However it's always worth checking.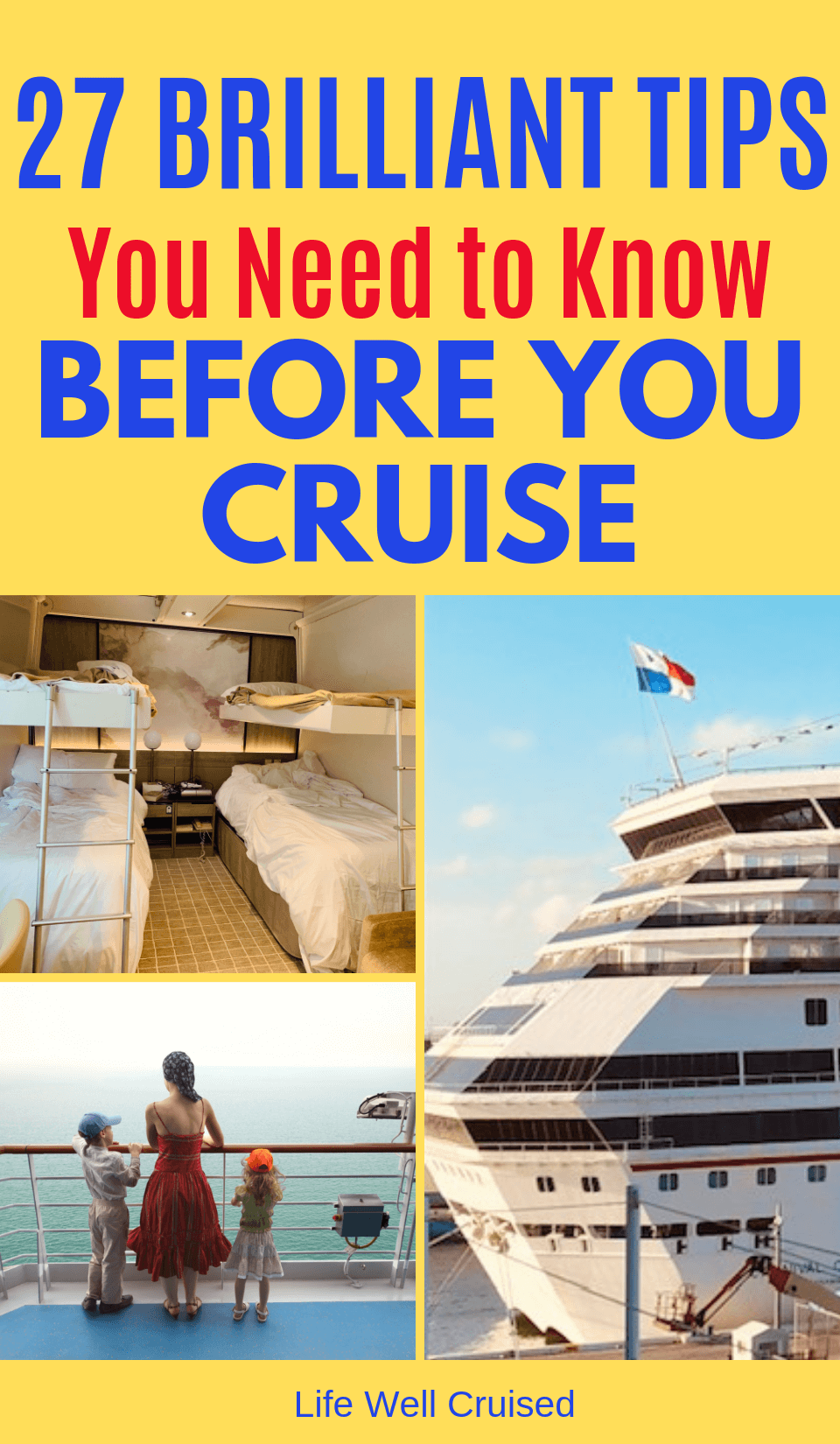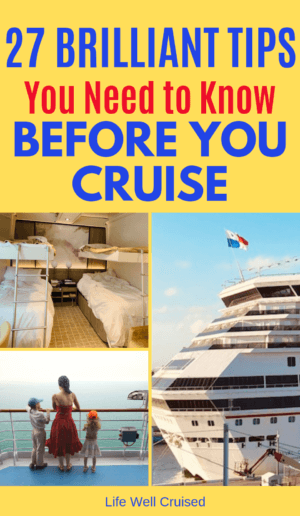 Travel Hacking Tips for Cruisers
While it's great to save money on your cruise, we all know that the travel plans leading up to the cruise can really add up! Here are some travel hacking tips that help to save even more money, pre-cruise.
25. Use reward miles or credit card points for flights or pre-cruise hotel stays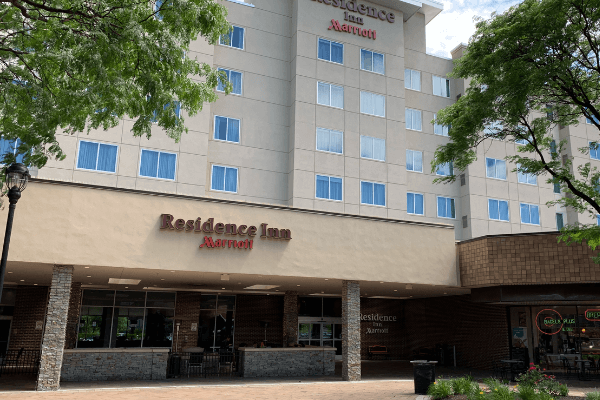 Are you someone who has Air Miles or other points just sitting there? I was!
On our last cruise on the Celebrity Summit, realizing that hotels in the area that I wanted to book were really pricey, I remembered my Air Miles. It was great.
While I had to pay a few dollars in taxes, we had a really nice stay in a Marriott Residence in Meadowlands, Secaucus (I highly recommend if you are cruising out of Cape Liberty, New Jersey or New York) and used up points that were really just sitting there.
In this YouTube video, I go into a greater explanation of 12 Cruise Hacks that Will Save You Money. If you find it helpful, feel free to share it with a cruising friend :-)!
26. Road trip to your cruise port
One of the biggest expenses of a cruise vacation, will likely be the flights. If you're a family of 4, sometimes the cost of the flights is the same or even more than the cruise itself.
If at all possible, consider taking a road trip and driving to the cruise port. A few hours in the car on the way to a cruise, might even be fun!
27. Use a "Park & Cruise" hotel
If you've driven to your cruise port, you might like to park at a hotel and take the shuttle to the cruise port. Some hotels nearby popular cruise ports have an option to Park and Cruise (like Park and Fly).
Since you have to pay for parking a the port anyway, this is often a good value for cruisers.
Tip: Do check to see if this is worth it by comparing the cost of port parking plus hotel, to the Park & Cruise rate. Plus, evaluate your time to see if this suits you on the day you disembark from your cruise.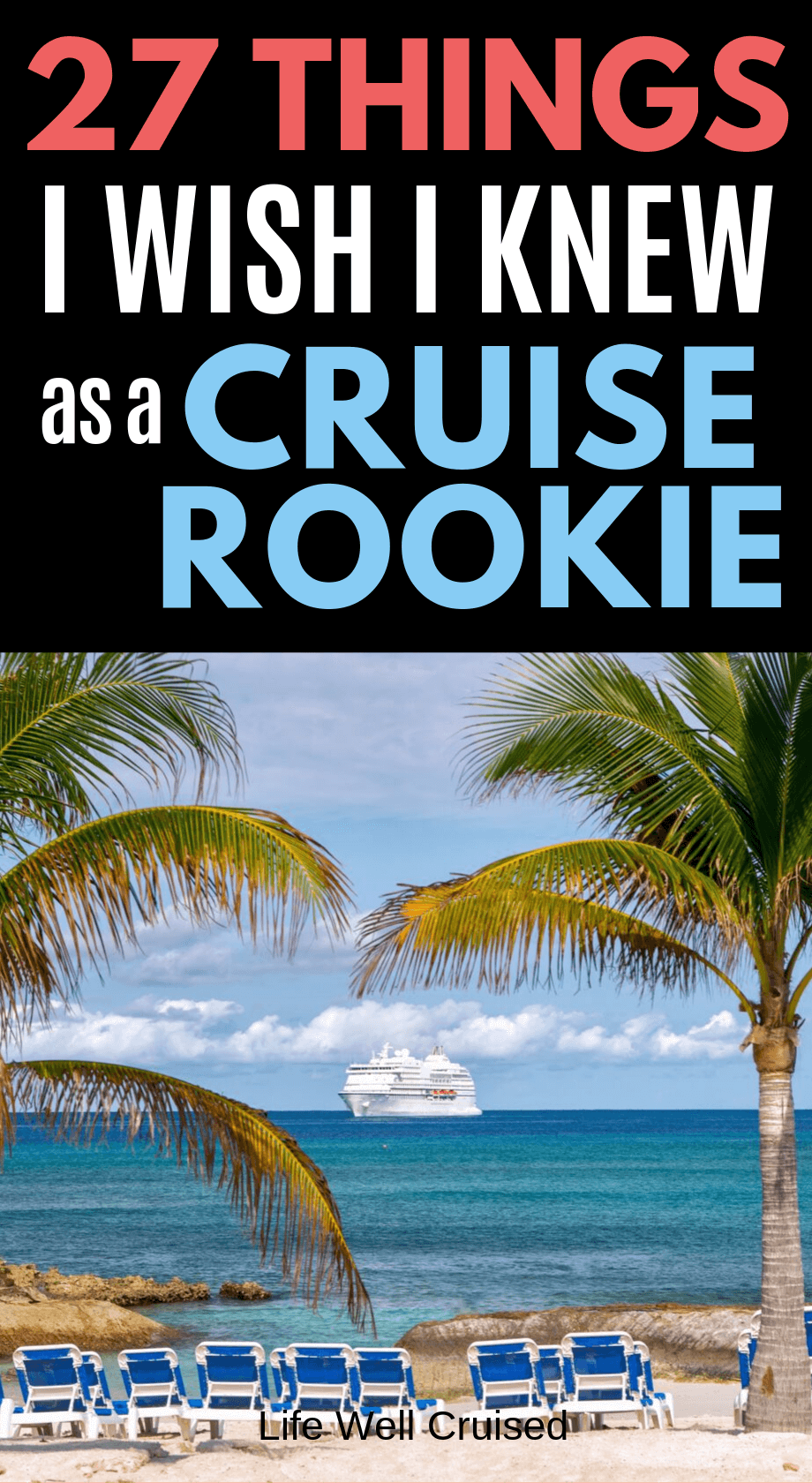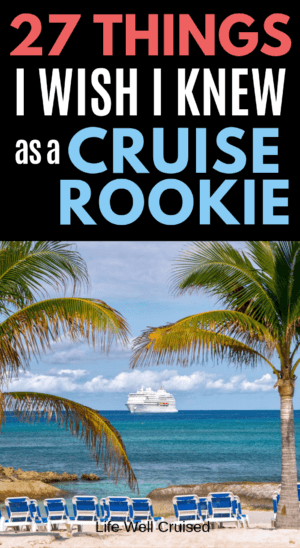 27 Cruise Travel Hacks Repeat Cruisers Know (and you should too)
We went through cruise tips to save money before and during your cruise, and learned many of the secrets that avid cruisers use to cruise as often as they do.
One of the best cruise travel hacks repeat cruisers use, that literally has the cruise line giving them money, is Tip #1 – booking their future cruise on-board (promised I'd remind you).
I hope that these tips and tricks have been helpful, as you plan for your cruise vacation.
What's the best tip that you've ever learned about cruising? Please let me know in the comments below.
Happy Cruising!
Ilana xoxo
If you've found this helpful, please don't keep it to yourself ;-)! Please share on Facebook or Pin and save for later on Pinterest (buttons at the top). Thanks so much!
You may enjoy:
30 Cruise Cabin Hacks Every Cruiser Needs to Know
25 most recommended Amazon Items to Bring on a cruise
25 Very Cool Things You Didn't Know About Cruise Ships
Let's connect:
Follow me on Facebook at Life Well Cruised
*NEW* Follow me on YouTube at Life Well Cruised
Follow me on Pinterest at Life Well Cruised
Follow me on Instagram at Life Well Cruised