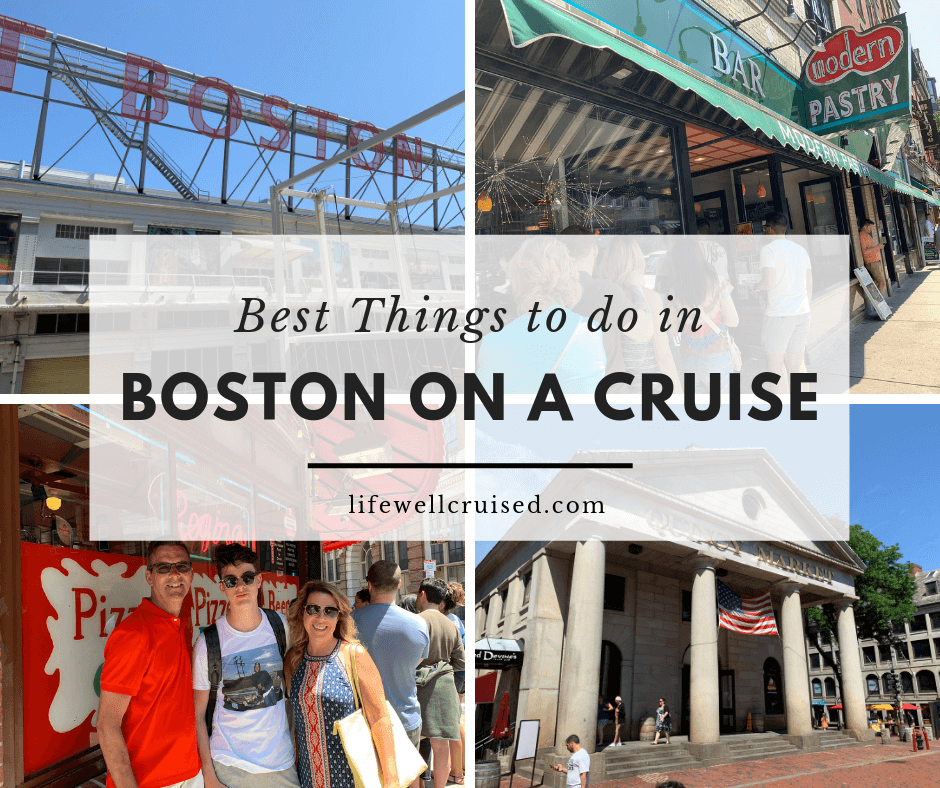 Best things to do in Boston while visiting on a cruise ship (Celebrity Summit Review – Boston)
On our recent cruise on the Celebrity Summit, we had a beautiful 11 day itinerary visiting Bermuda, Boston, Bar Harbor and Portland. The combination of New England and Bermuda is a perfect summer cruise! In this cruise port review, we'll focus on what to do in Boston on a cruise ship visit.
If you'd like to know more about this cruise and our experience on the updated Celebrity Summit, I'll include links at the bottom of this post.
I'll also include what to do in Bermuda at the bottom of this post, as we've visited several times and just love it (and have some good recommendations)! Bar Harbor and Portland will be coming soon.
Arriving at Boston Cruise Port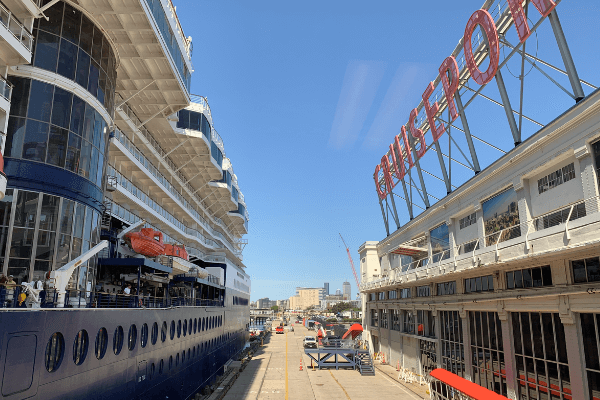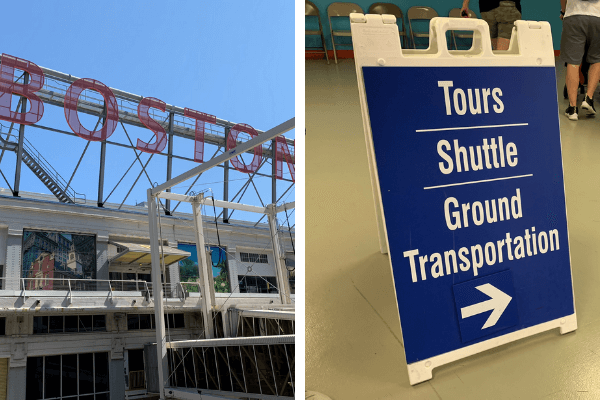 We visited Boston on a cruise a couple of years ago, and fell in love with this city. It's beautiful, interesting and fun all at once. Add in the awesome food and it's a winner!
Boston can easily be visited on your own as it's a very walkable city.
Tip – When you get off the ship and head into the cruise port, there will be guides there giving free information as well as Boston city maps.
How to get from the cruise port into downtown Boston?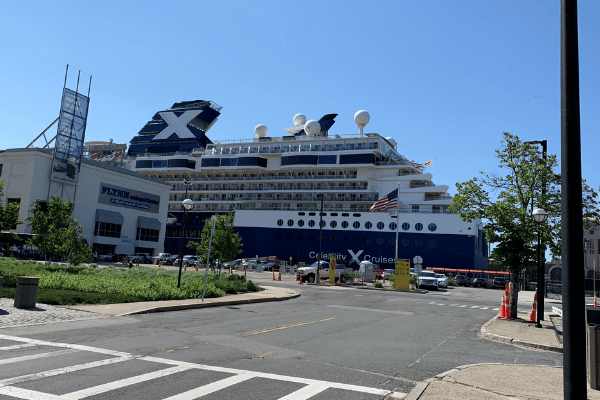 If you're not taking a tour, you can take the ship transfer which is available for about 18$ a person round trip. It will drop you off in a central spot not far from the Quincy Market area, right near the Boston Greenway.
Alternatively, you can take an Uber, which we did this cruise. The fare was about 10$ per way. We were 3 people so this was definitely advantageous.
Tip – walk one block up from the cruise port before ordering the Uber as it's much less busy.
Things to do in Boston while visiting on a cruise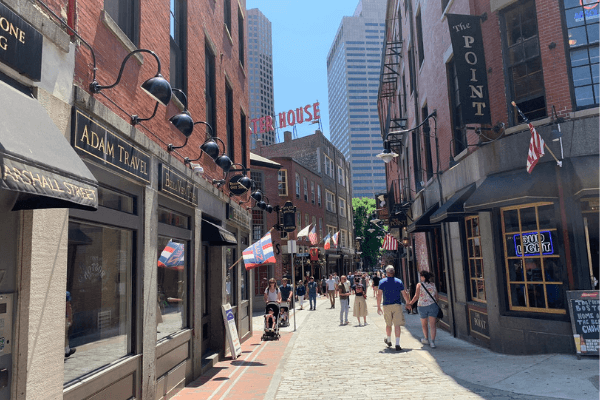 There's a lot to see and do in Boston, and this is by no means an extensive guide.
However, we saw and did some of the most popular things in Boston – Quincy Market, Faneuil Hall Marketplace, the Freedom Trail, the Greenway, Little Italy and truly had a great day, so I don't hesitate to share it with you. Of course, adapt your own itinerary to your interests.
We started our day with a drop off in a central spot, right above the Boston Greenway close to Quincy Market. From here you can walk up to Faneuil Hall and more, and you can also cross the Greenway into Little Italy.
Our Boston Itinerary – Things to do in Boston when Visiting on a Cruise
1. Holocaust Memorial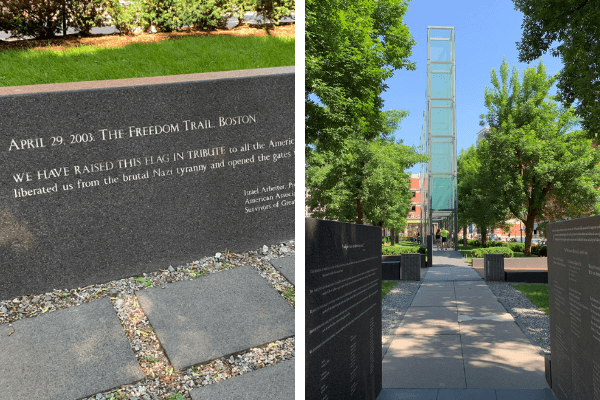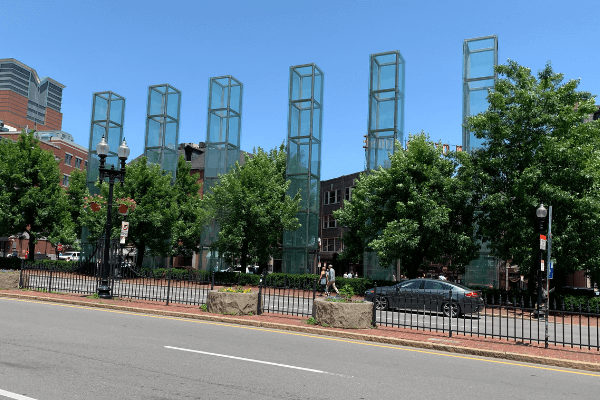 We began our day with a stop at the Holocaust Memorial, which is part of the Freedom Trail. It's situated in a lovely park like setting, but it is poignant and worth a 30 minute visit.
The memorial consists of 6 towers representative of the Nazi death camps and 6 million lives tragically taken. The symbolism of these towers, with realistic warm embers at the base of each are both beautiful and sad.
There are large stones with quotes that are important for us to know and remember even today. It's a touching tribute and a reminder of how we should never take our freedoms for granted, and how hate can fester into the unimaginable.
2. Quincy Market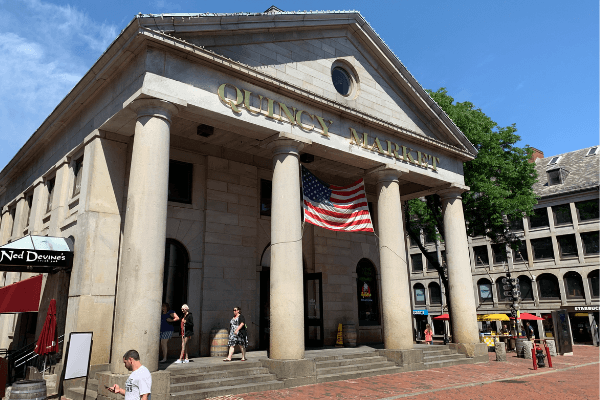 Crossing the street we arrived at the pedestrian friendly Quincy Market area. On this visit, the building itself was being renovated. Outdoors there were very talented street performers putting on a couple of shows.
Now, I live in Montreal, and we can see some pretty good performances in the Vieux Port. I've been to New York, and certainly there's some street art and musicians that are pretty good. However, I've never seen this caliber of performance, on a street, before!
We saw acts that easily could charge for these performances, they were so good! Plus, the audience participation made it a ton of fun. Comedians, magicians, rap groups and dancers. Very unique!
Tip – have a few dollars handy should you want to leave a small donation.
3. Faneuil Hall Marketplace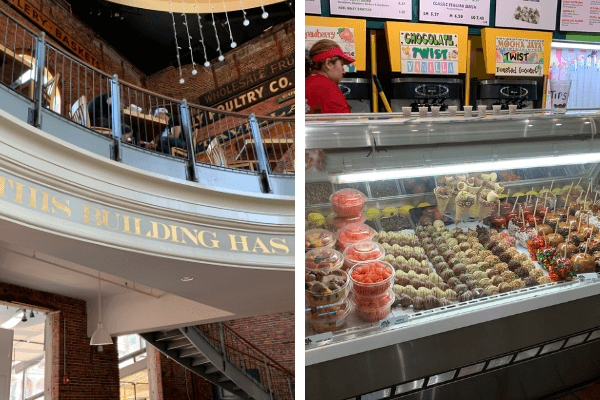 Walking through Faneuil Hall Marketplace was interesting. Firstly, this historic building is awesome! It's really a great walk through.
But on top of this, the eclectic collection appetizing foods was very enticing. Lobster rolls, pizza, whoopie pies, gelato, candies and more! We had some plans for lunch and "dessert" so only drooled as we strolled through, but didn't stop to eat.
There are also some great shops and places to buy t-shirts and other souvenirs. We bought some Boston sweatpants for my older son (who wasn't with us) and a couple of baseball caps to bring home for the grand-dads.
My son Ethan likes to shop and was happy to head into Urban Outfitters, where he found some cool vintage looking concert shirts. They seemed way to expensive for t-shirts, but we all love what we love?!? LOL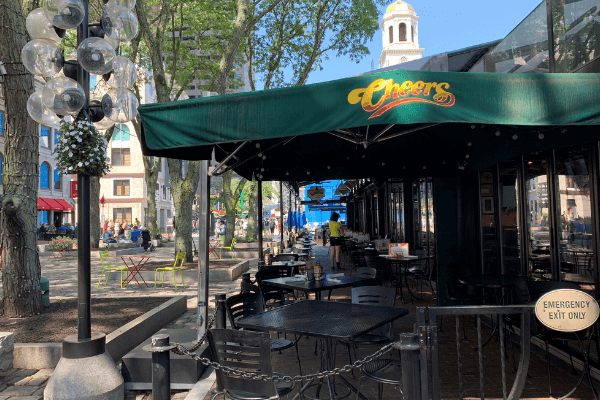 If you're a fan of Cheers, check out the restaurant and bar and souvenir shop. If you have kids, maybe sit down at a table and create a water painting (yes, this is left here free to use). You can also play chess. It's not an exaggeration when I say the environment is so pleasant.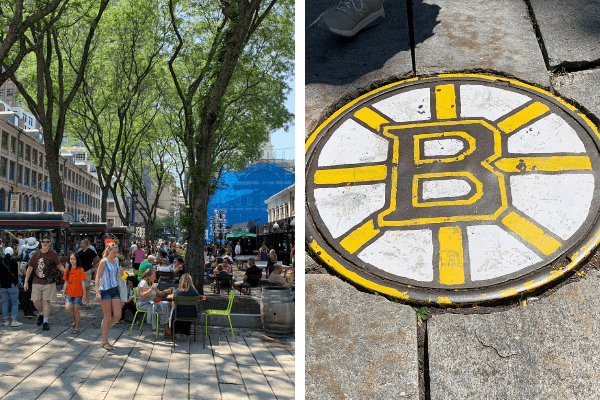 P.S. Do you love the Bruins? Take a look down to find this painted within the walkway.
4. Little Italy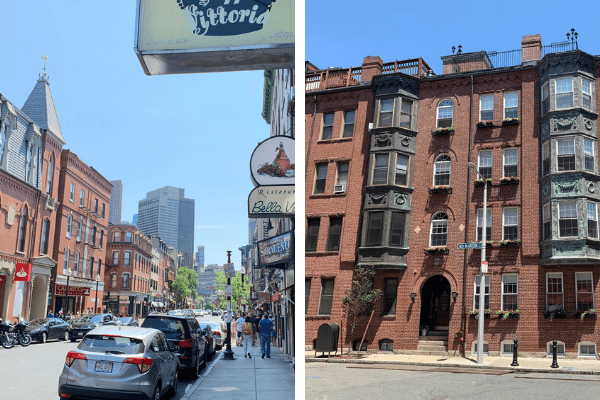 As pretty as Faneuil Hall is, the Little Italy section has an authentic "people live here" feel. It's so worth walking around and admiring the doorways to people's homes and the flowers they have growing. Peek into the restaurants and see the locals eating and drinking.
Other than taking in the ambiance, we had 2 things on our mind. Pizza and Cannolis.
5. Eating Boston Pizza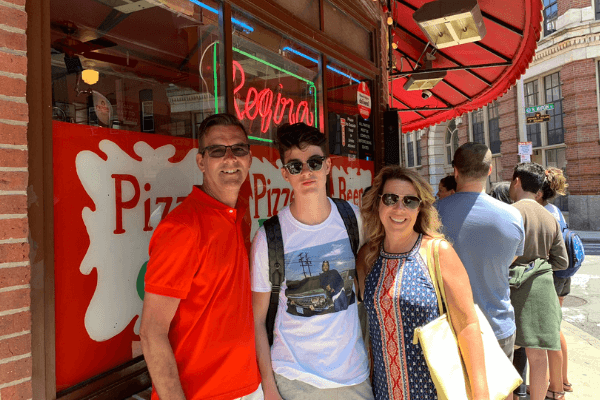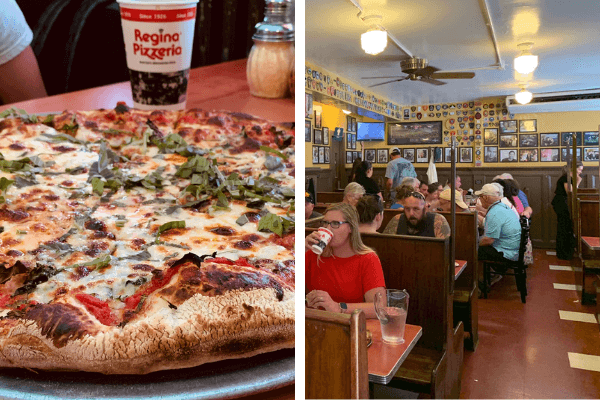 We LOVE pizza. So, when we visited on a past cruise, I researched tons of reviews and blogs and Regina Pizzeria (the original) kept coming up. It's a super casual pizza place with good service. It's not fancy and it hasn't been "modernized" and updated, but it has really good pizza (and it's not expensive)!
It was just as good this time around. Remember to dip the crust in their homemade spicy oil and shake some extra parmesan on the slice. SO GOOD!
Tip: There will likely be a little line up outside the restaurant, but it's usually not too long a wait. Just plan your time accordingly.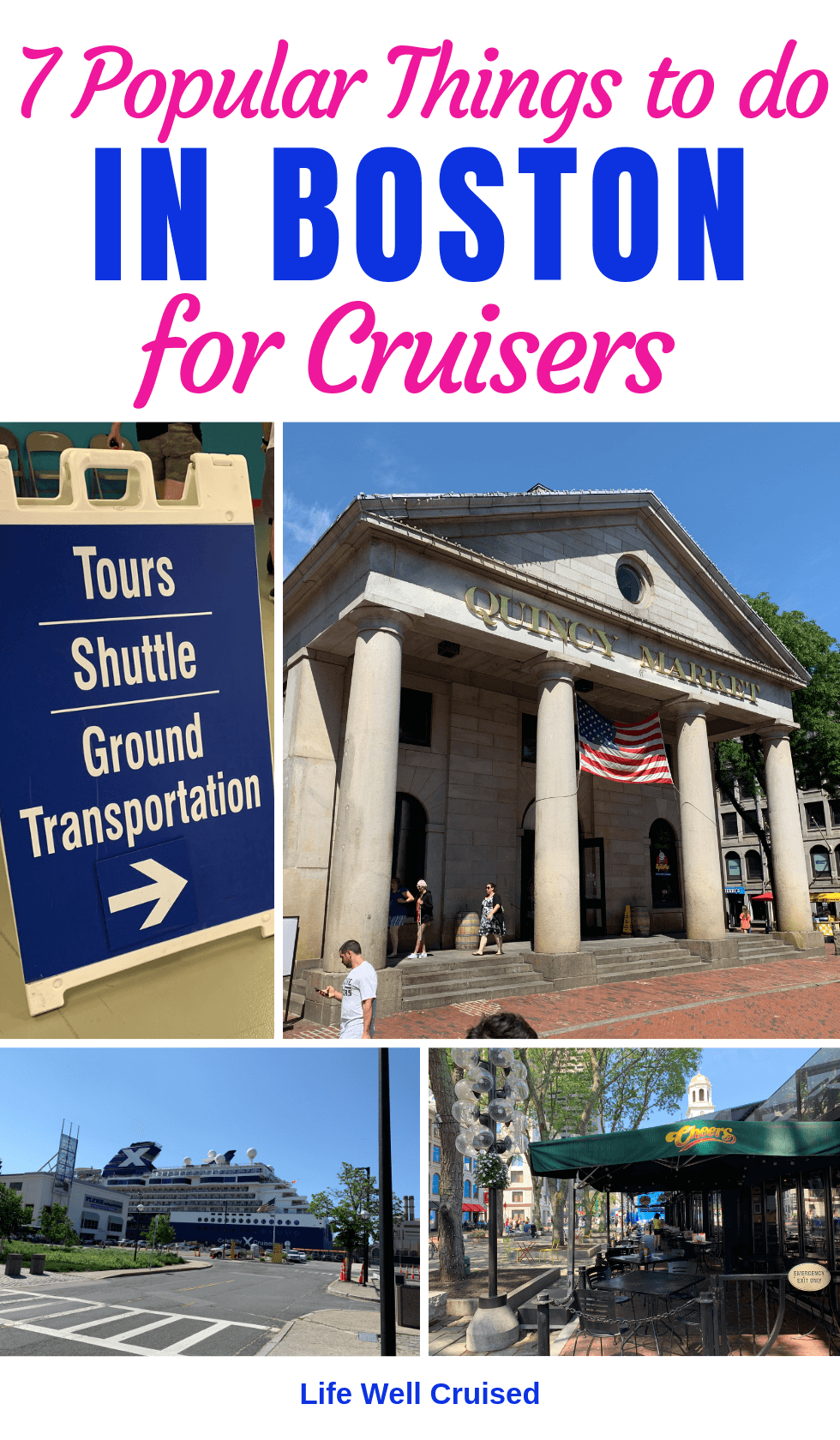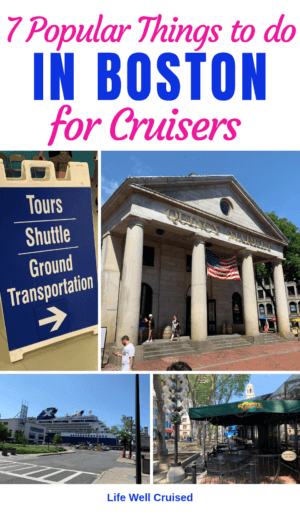 6. Cannoli Time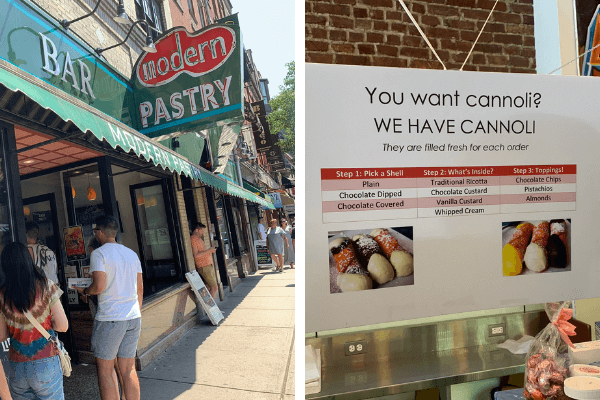 If you've been looking into Boston and where to get the best cannoli, you'll likely see 2 bakeries come up – Mike's Pastry and Modern Pastry.
Being honest, it can be hard to choose. Mike's is pretty famous and well loved for years. Modern Pastry gets great reviews too.
The last visit we made, we asked locals and decided to go with that. From our very limited and unscientific poll, Modern was favored.
How were the cannolis? Delicious and so decadent!
This time, we decided to sample both and make up our own minds. We would have a a taste-off and review them both. We're on holiday, right?
So, we went in and got cannoli to go, from Mike's Pastry and Modern. We would take them elsewhere to try (the Greenway – to come next)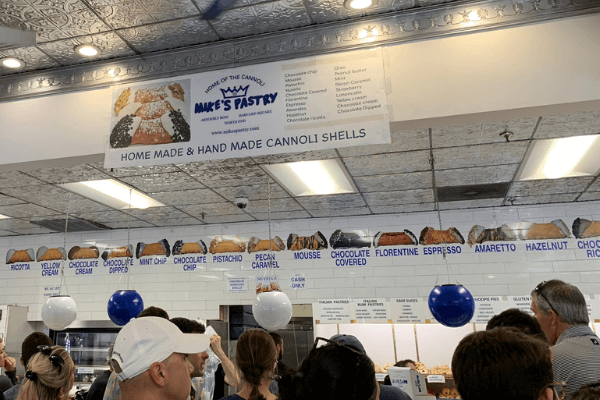 Before I get into our "review", let's talk about location and atmosphere. Both pastry shops are located almost directly across the street from one another.
Mike's might be busy, but their service was quite quick considering. There is a huge array of different cannoli filling you might enjoy, so this is definitely a plus.
Modern pastry offered different fillings as well. The wait was a little longer once inside.
We opted for traditional filling for both cannolis, no chocolate chips or anything else, so we could compare "apples to apples".
Cannoli taste test results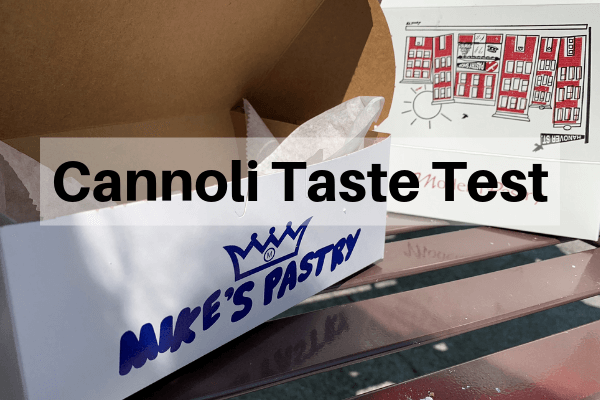 So, what did we decide? Although Mike's cannoli was bigger and the filling fluffier, we found the Modern cannoli to be richer and the pastry itself to be more flavorful.
I'll be uploading a video soon so you can see how we really debated. I mean, they were both so good!
Being honest, you really can't go wrong. If you're undecided, have both ;-).
UPDATE: HERE'S THE BOSTON VIDEO – check out both visiting Boston as well as our taste test of course!
7. Boston Greenway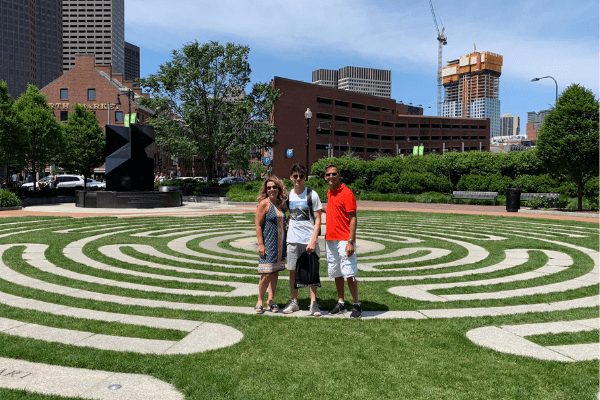 One of the things we loved best about Boston, is how for a "big city", it was so clean and almost had a "town" feeling to it. I believe that the Rose Kennedy Greenway, in the middle between Faneuil Hall and Little Italy is partially what creates this feeling.
The Greenway is a beautiful linear park and green space that's actually built over a highway and tunnel. You really don't hear the cars much at all, and it's extremely clean.
Our Uber driver was very proud of the Greenway and how it was built and told us of how the air pollution decreased dramatically in 20 years due to this. He also recommended we watch the Big Dig, which I'm reminding myself that we really should (but haven't yet).
We brought our cannoli here and sat on a swinging bench and relaxed for a while, while people watching.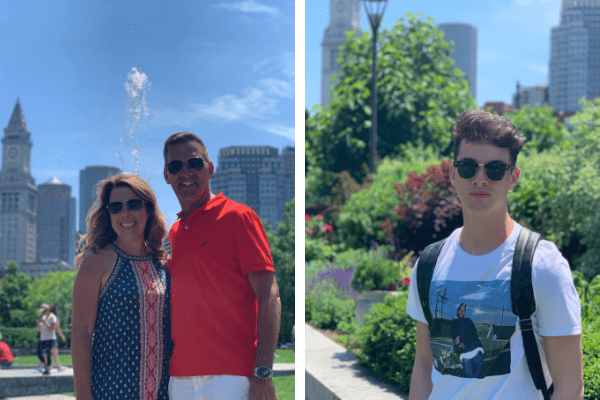 It was a great sight. Some people were having a pic-nic, other were lying on the grass sunbathing, children were running through the sprinklers inset into a fountain area, and still others sat at tables and worked on their laptops.
We took in the city view, as well as a few photos before heading back to the ship. It was a great relaxing end to our day in a perfect spot.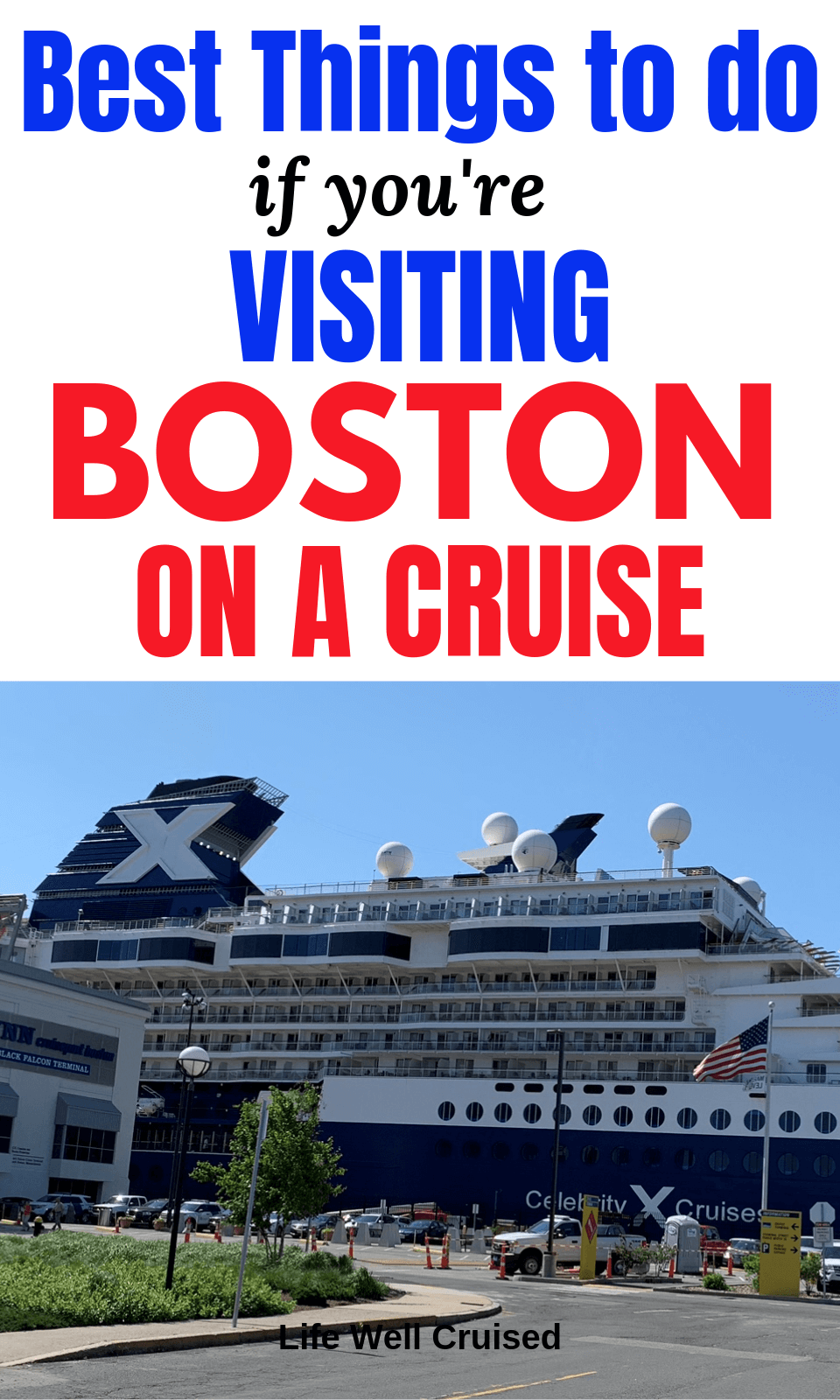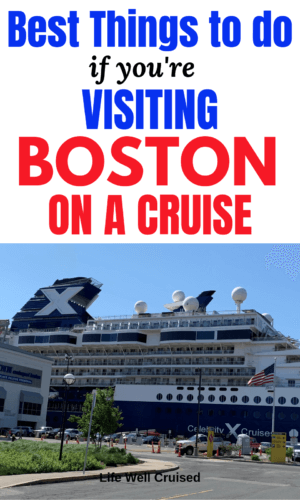 Recap: Our Boston Itinerary – Best Things to do in Boston for a Day
I hope that this one day visit was helpful in giving you some ideas as to what you can do and see in Boston, if you're there for a cruise port or even if you are heading in for a day before your cruise.
Ofcourse, there is more to see and do in Boston. Other places to consider might be visiting the brewery, catching a baseball game at Fenway or checking out the full Freedom Trail which includes Paul Revere's house.
Have you been to Boston or will you be heading there on a cruise? What do you most recommend?
Happy Cruising!!
Ilana xoxo
If you've enjoyed this, please don't keep it to yourself ;-). Please share on Facebook or save for later on Pinterest (share buttons at the top). Thanks so much!
Related posts you might enjoy:
Celebrity Summit Cruise Review (with keepin' it real photos)
16 Top Bermuda Attractions Cruisers Will Love
The Ultimate Guide to Horseshoe Bay Beach Bermuda (for cruisers)
Bermuda Rising Son Cruises Catamaran Snorkeling Review
The Ultimate Celebrity Cruises Tuscan Grille Review
Let's connect:
Follow me on Facebook at Life Well Cruised
Follow me onYouTube at Life Well Cruised (NEW)
Follow me on Pinterest at Life Well Cruised
Follow me on Instagram at Life Well Cruised