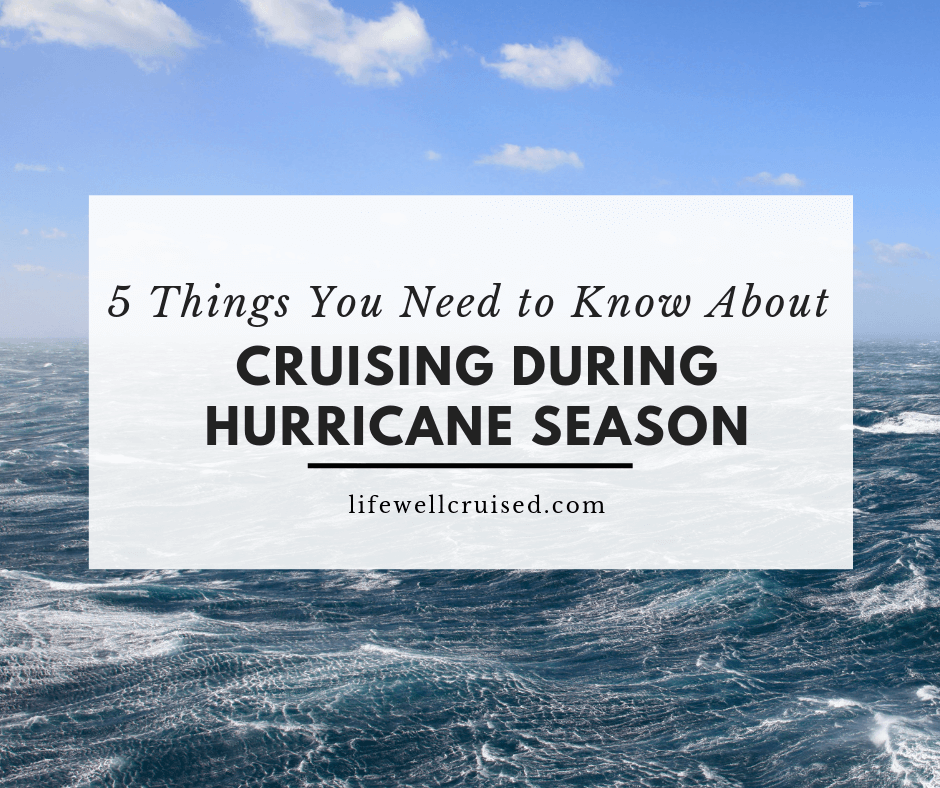 What you need to know if you're doing a hurricane season cruise
Have you booked or are you considering doing a cruise during hurricane season?
In this article, we go through 5 things that are important to know if you are planning a cruise during hurricane season, so you can be prepared and know what to expect.
When is Hurricane Season
Hurricane season is actually from June through November, although typically we see more hurricane and tropical storm activity from mid-late August, and throughout September and October.
Is it safe to cruise during hurricane season?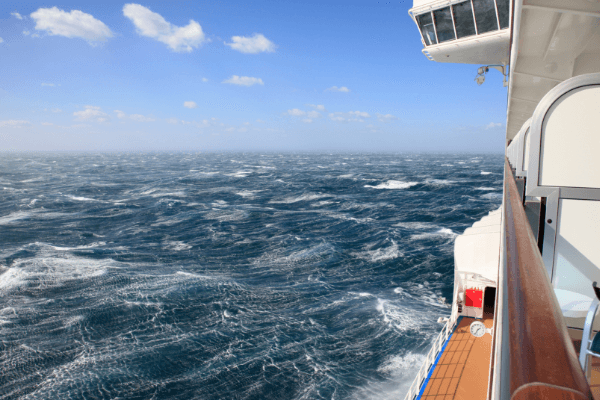 The most common and understandable concern many cruise passengers have is, how safe is it to cruise during hurricane season?
We actually booked and took our very first cruise during hurricane season, so I've dealt with this first hand and totally get the worries! (September 2004 – If you google it, it was the "year of the hurricanes"!!)
Firstly, yes it's safe to cruise during this time. The reality is that cruise lines will not bring their passengers, their crew and even their ships into harm's way.
Cruise lines work with meteorologists and have technology to predict storm locations and they do their best to avoid being in a hurricane's path.
Something to keep in mind is that due to the fact that this is a cruise ship, it can move around. Contrary to an island, where if a hurricane is coming, you can't move off that island. You're a little bit stuck.
Cruise lines can do things do keep away from the storms and hurricanes, such as change itineraries or even shorten, lengthen or even cancel a cruise altogether (which rarely happens).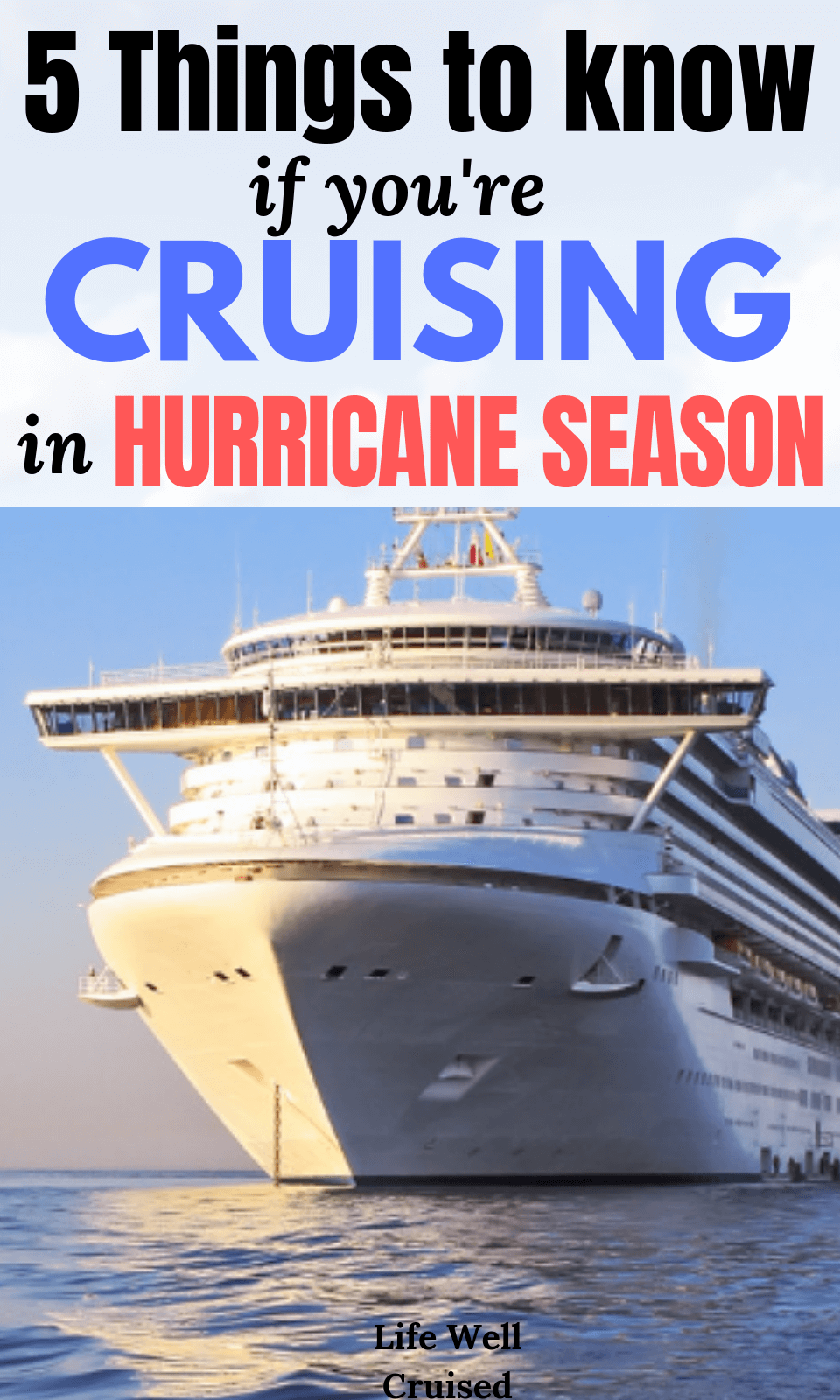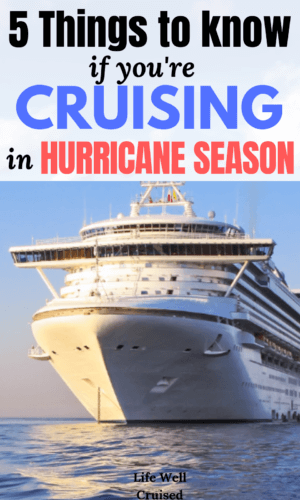 What itineraries can be affected?
Itineraries most affected by hurricanes are Caribbean itineraries, Bahamas and Bermuda cruises. Obviously if you are cruising to Alaska, the Mediterranean or somewhere else, this will not be an issue for you.
What can happen if a hurricane occurs during your cruise?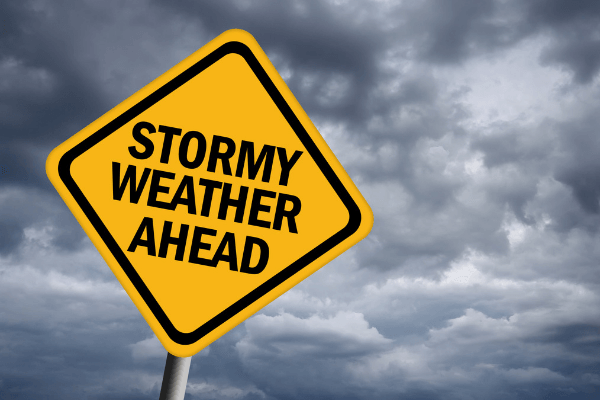 If a hurricane or even a severe tropical storm looks like it will affect any of your cruise ports, the most likely thing to happen is that the cruise line will make a decision to change the itinerary.
Itinerary changes – cruise ports
When a hurricane is expected to affect an island, or even the nautical route at sea, cruise ships often change up the itinerary.
As an example, if your cruise was going to the Western Caribbean with ports of call in Grand Cayman, Cozumel and Falmouth planned, the itinerary may be switched for an Eastern Caribbean route and head to St. Thomas, St. Marteen and Nassau.
Cruise ships may also simply replace one cruise port stop, or they may even switch up the order of the cruise port days. They may skip a port and have an extra sea day.
Cruise ships will not be knowingly taken into the path of a hurricane and cruise lines monitor closely to make changes ahead of time, as much as possible.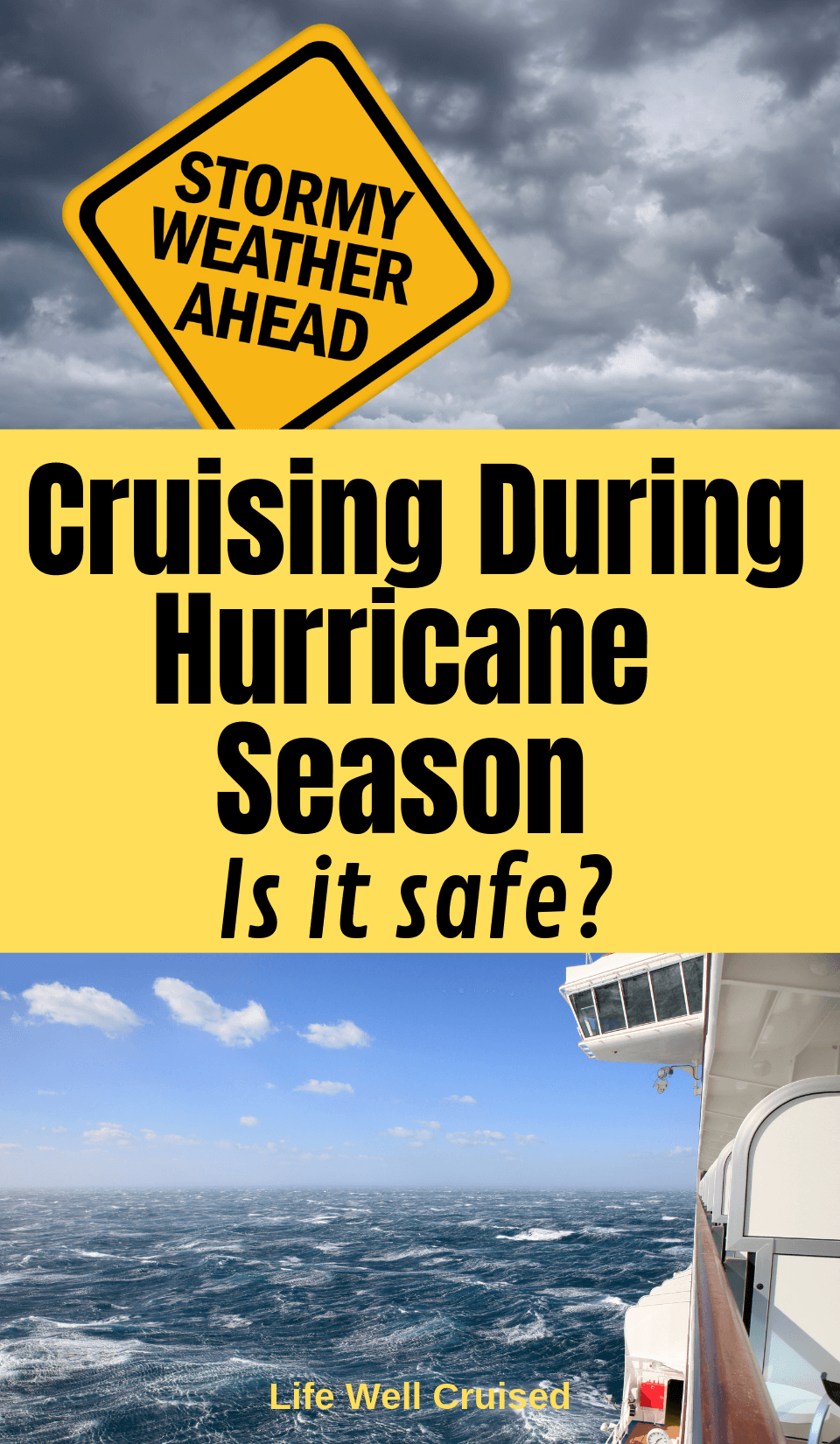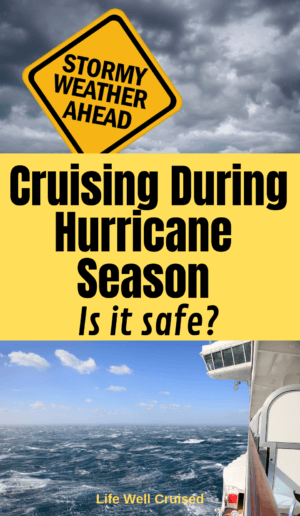 Itinerary changes – length of cruise
Sometimes the cruise will be shortened or lengthened to avoid a hurricane.
When might this happen?
As an example, if a cruise is leaving out of Florida and a hurricane is forecast, your scheduled embarkation day can be affected. Of course, things like this can happen when leaving from other ports as well.
Cruise lines will sometimes make a decision to make a cruise shorter, or even longer by adding days, to avoid bringing a cruise ship into a storm. A ship can even stay out at sea for extra days.
Our first cruise was actually affected by a hurricane, and this is what happened to us. Our 7 day Caribbean cruise became a 5 day cruise!!!
We were nervous wrecks in the days leading up to the cruise, but we honestly had a great time (and have done more than 20 cruises since lol).
If you'd like to hear our story and have even more information, including how the cruise line dealt with compensation, you can watch this video below.
*If you liked this video and found it helpful, please consider sharing it on Facebook with others that might be cruising.
How to prepare if you're cruising during hurricane season
There are definitely things you can and in preparation (just in case), if you're cruising during hurricane season.
1. Be Flexible
The reality is that a cruise itinerary can change at any time of the year, that's actually in the fine print when you book a cruise. However, when booking a cruise during hurricane season, it's especially important to be flexible.
When researching ports and even booking excursions, just remember that it may change up. If booking with the cruise line, they'll refund any charges for excursions you don't take if you don't make it to that port. However, if booking private excursions, do make sure that they have that in their policy as well.
It's important to remember, that no matter where you go on your cruise, you'll have fun and there will be great things to see and experience.
2. Purchase cruise travel insurance
At any time of year, cruise travel insurance is important. The fact is, unpredictable things can happen.
However, check your policy to make sure that you're covered if you can't get to your cruise due to a hurricane. That happens sometimes if a hurricane actually affects your flights. Make sure you're covered so you don't have to worry!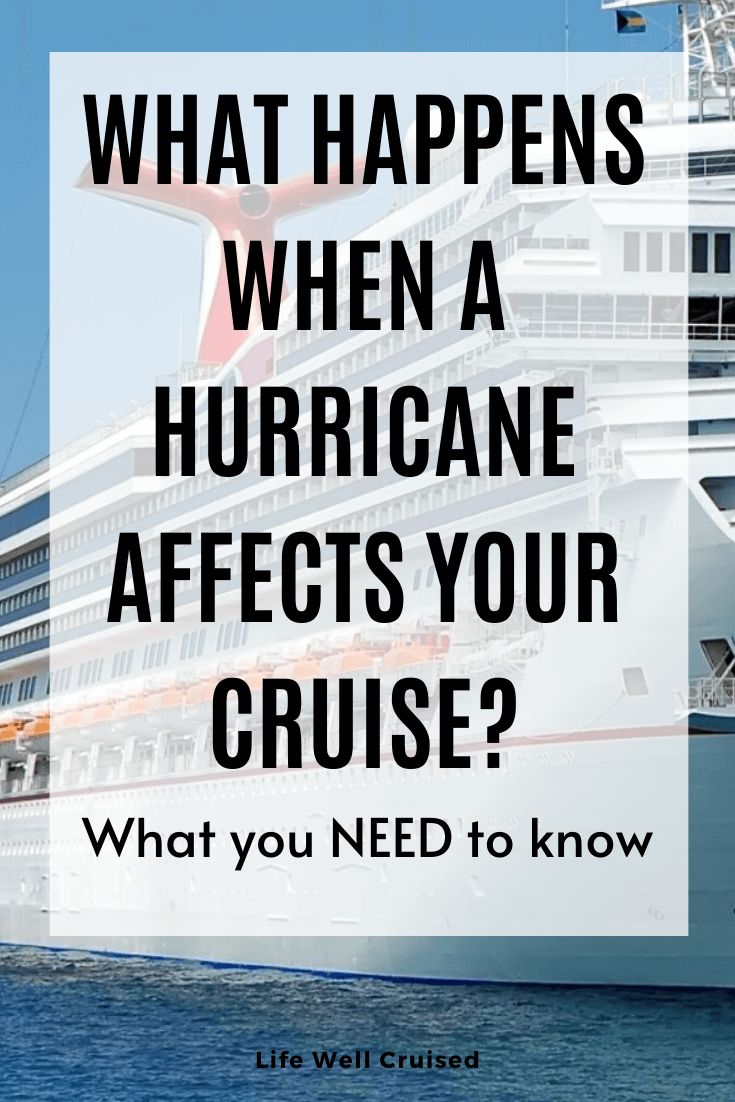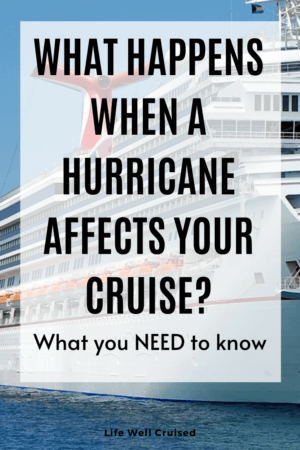 3. Keep an eye and ear on upcoming weather forecasts
This goes without saying, but keep informed so that you know if an itinerary change is likely. Be prepared with any changes of clothing needed.
In the recent past, we've seen cruises that were supposed to be going to Bermuda, have a itinerary change to avoid a storm. Those cruises went to Canada and New England.
Now those are amazing places, and people book Canada/New England cruises all the time, but, if you were planning on Bermuda beaches, and end up at Peggy's Cove…. well, let's just say you definitely would need warmer clothes.
This isn't typical, and rarely happens, but is an example of just keeping an eye on things so that you can be prepared.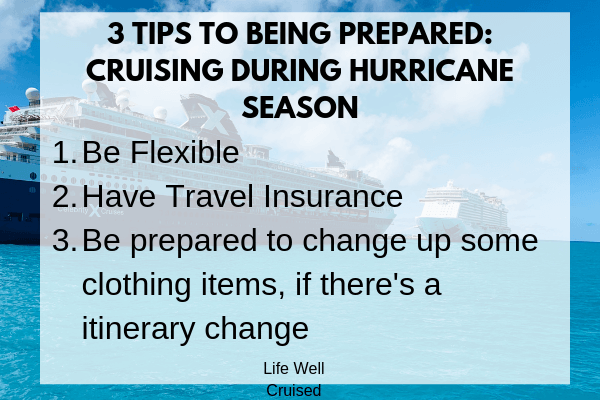 Is it cheaper to cruise during hurricane season?
You may have noticed, that cruises are generally much cheaper during hurricane season. Typically, Caribbean, Bahamas and Bermuda cruises will be less expensive from September-November.
There are advantages:
It's a great opportunity to try out a new and amazing ship for much less that you'd pay during January or February. You can pick up some incredible cruise deals!
It's also quieter. Kids are in mostly back at school, so it's so much less busy than during the summer.
If you want to cruise without many kids on board, or even if you have kids but have flexibility in vacation time, and prefer to avoid crowds, this can be ideal. It's a great time to take advantage of lower pricing and Kids Sail Free deals which are a huge money saver for families.
Finally, the weather can be beautiful. Although a cruise can be affected by a hurricane and need to make changes, the weather outside of those storms is often nice, hot and sunny.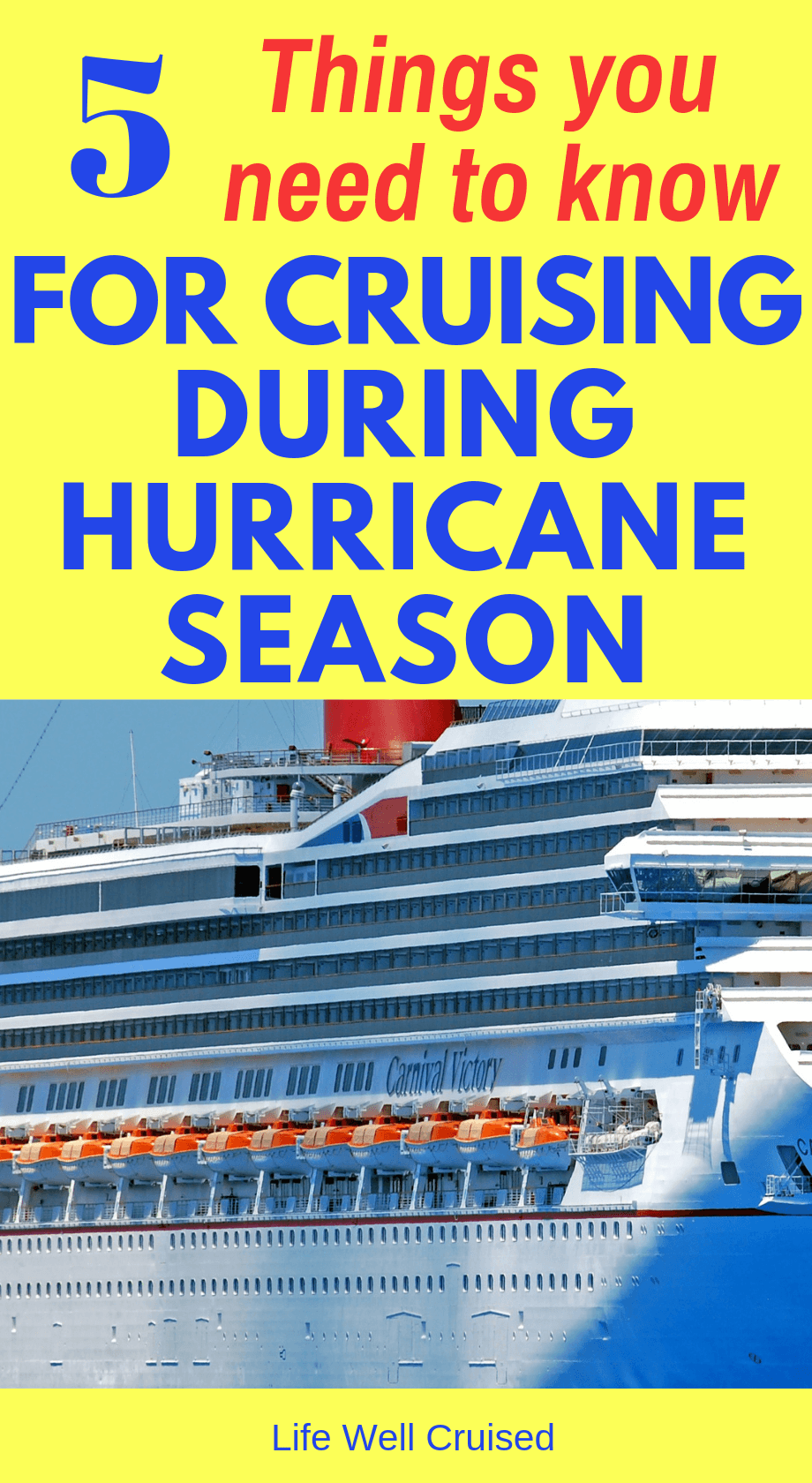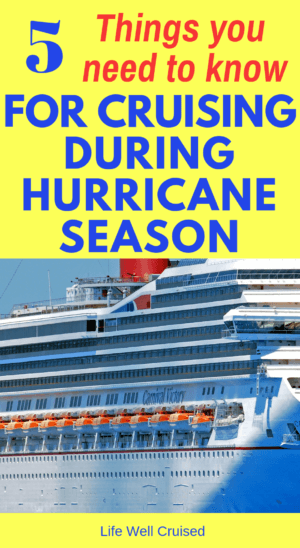 Recap: 5 Things to Know about Cruising During Hurricane Season
Cruising during hurricane season is something thousands of cruisers do every year, and enjoy it! It's important to remember that if there is an itinerary change, the cruise lines are doing this to keep everyone safe.
Having a good attitude and trying to be flexible if there is a change, will help you to have the the very best cruise. Plus, you'll have a fun cruise story to tell ;-).
Have you cruised during Hurricane season? Do you have a cruise coming up that will sail during hurricane season? Let me know in the comments below.
Happy Cruising!!
Ilana xoxo
If you've enjoyed this or found it helpful, please don't keep it to yourself ;-). Shares on Facebook and Pinterest are much appreciated.
Popular posts you might enjoy:
25 most recommended Amazon Items to Bring on a cruise
31 Cruise First Aid Kit Essentials You Need to Have
30 Cruise Cabin Hacks Every Cruiser Needs to Know
Let's connect:
Follow me on Facebook at Life Well Cruised
Follow me onYouTube at Life Well Cruised (NEW)
Follow me on Pinterest at Life Well Cruised
Follow me on Instagram at Life Well Cruised
Don't forget to PIN to your favorite Pinterest board to save for later