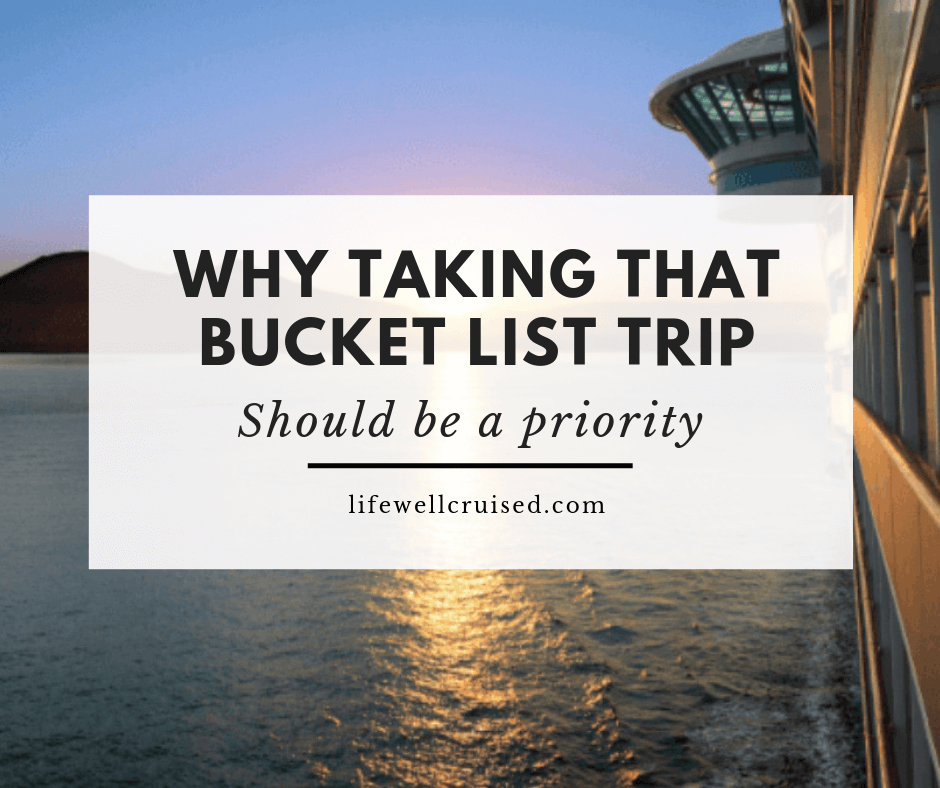 Do you recognize these words? Another time, maybe next year…
Who of us hasn't said, whether out loud, or at the very least in our own heads, "another time", "soon", "next year". We wait for the time to be right, to have more money, to have more time…
I'm as guilty of this as any of you. I struggle with this too.
But, this story has helped me to leap when I need to leap. To jump in sometimes, and to do the things I want to do and hope things fall into place (and they usually do!).
It's helped me further prioritize time with family and making memories, and travel is a big part of that.
Should I do more? Yes. Which is why I'm thinking so much of Susan's words and story lately.
This is really emotional for me to write, but I hope hearing this story will inspire you to live the life you dream, and travel to places unseen.
They booked their dream trip… then this happened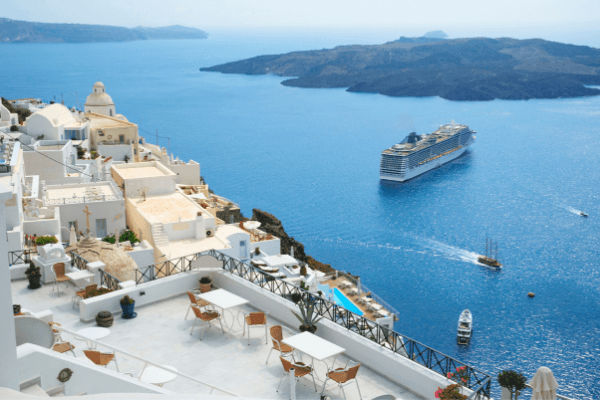 I admired Sue and the life she led and always appreciated her words of wisdom. She was a few years older than most of us at work, and had lived enough good and bad that her stories always had lessons. She was also a fun person with a great outlook on life – we all loved her.
She adored travel, and had done some lavish trips in her first marriage. Her second marriage, which came later in life was a bit different.
Even though there was "enough" money, it wasn't as free flowing and her second husband just hadn't traveled as much.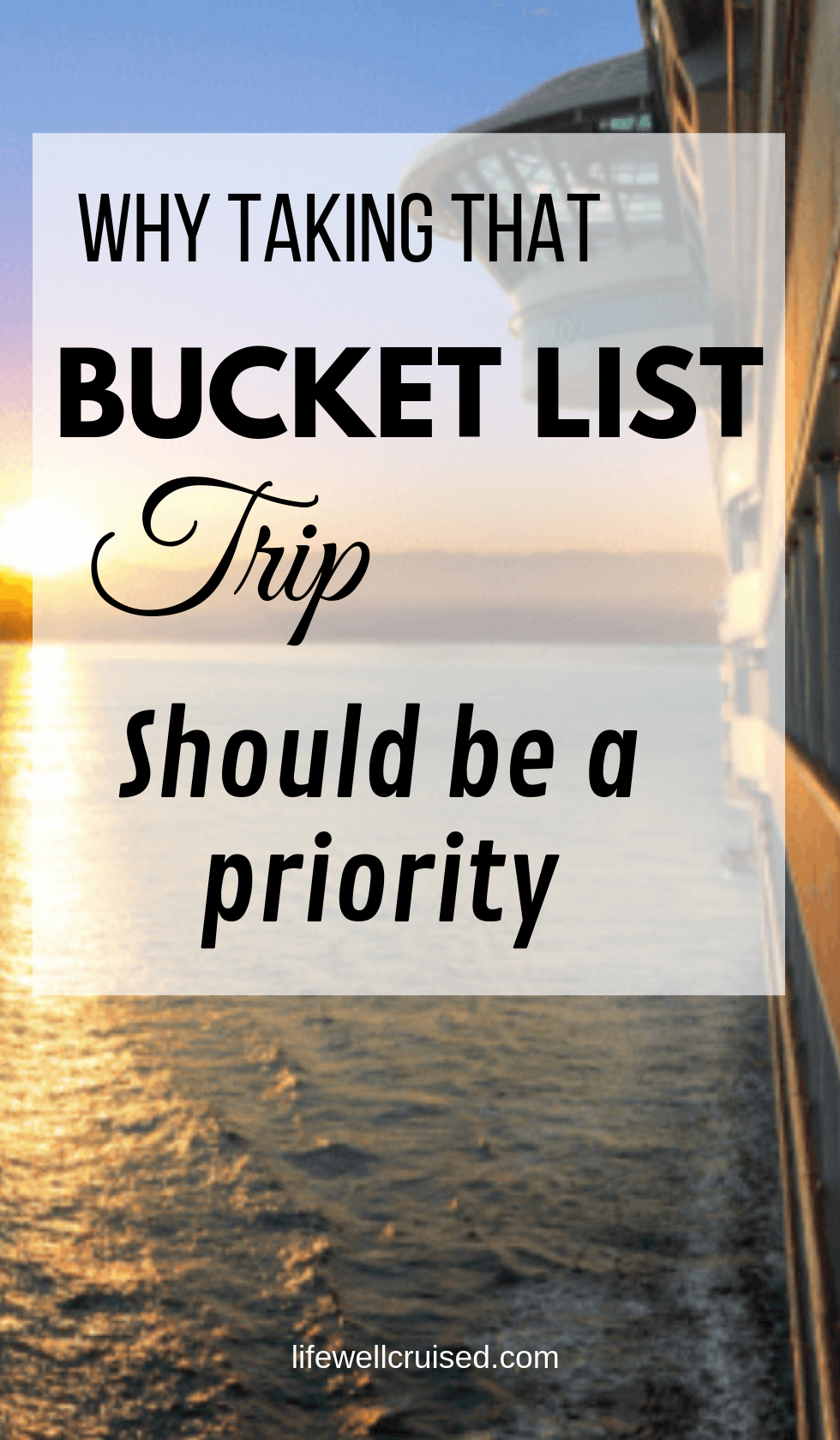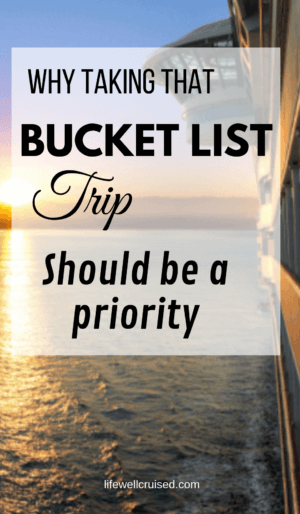 But every couple of years they'd do a cruise, and they loved it! She wore her glamorous gowns and they drank mimosas for breakfast. She recounted the stories of their time together, the places they saw and the people they met.
Their dream trip was a Mediterranean cruise, with stops in Italy, the Greece Isles, and the Cote D'Azure.
While in Europe, they wanted to see a little more of Italy and decided to book a dreamy, but very expensive hotel room in Positano with a balcony overlooking the sea for a couple of nights, before moving on to another location that was more "reasonable".
She had been years before, but her husband had not. I still remember that conversation. "It's worth it", she'd say.
She imagined their days on that cliff side balcony – she wanted the two of them to have this experience and memory.
They had the trip of a lifetime
Moving on, they had a great cruise and it was all they had imagined. She showed the ladies at work those photos from Positano, and described the feelings they had on this trip.
Sunsets at sea, waking up to new ports each day, eating the local food. It was magical.
She was so happy they did this trip and it further solidified her values. There's nothing better than traveling with the person you love.
She would often say, "You have to do it now. You never know what tomorrow will bring."
Get the tissues…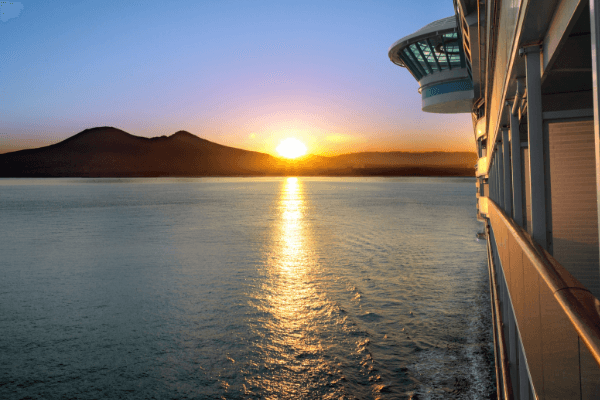 As life isn't all cruises and balcony views, unfortunately only a few months later, her husband was diagnosed with a form of leukemia.
It was so sad. He endured so much, and it was painful for her to watch her strong husband become frail with the treatments and chemo. But she was strong for him.
She confided to us at work that she was so grateful they had done that trip. It meant everything as they reminisced and dreamed of further travel, to help make it through day after difficult day.
Several months later, we could see the toll it was taking on Susan. She was losing weight, she was a bit scatterbrained at work, which was really unlike her. The stress seemed to be impacting her normally put-together self.
Finally, he was showing improvements. Thank God.
But we were concerned about Susan.
She wasn't herself and was showing odd symptoms that started to worry us.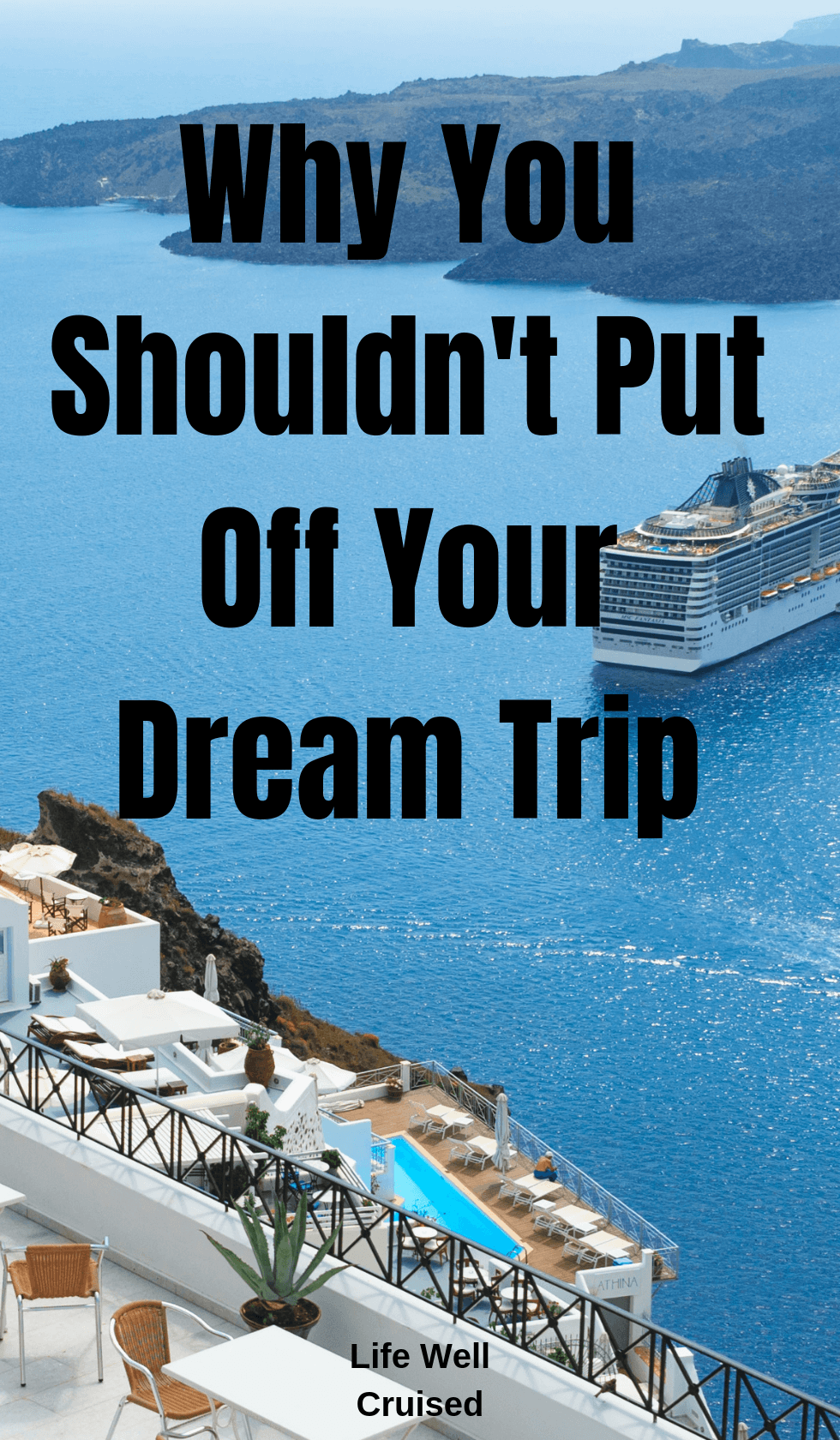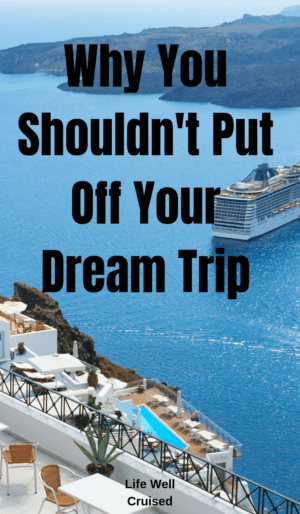 I wish I could say that this had a happy ending, but it didn't.
Sadly, Susan was soon diagnosed with a brain tumor. It seemed unbelievable.
It wasn't long before we were praying for her. This vibrant woman who took care of her husband and everyone else, was now very, very sick.
After 2 surgeries and countless treatments, Susan passed away less than 18 months after her diagnosis.
This was only about 2 years after her husband's diagnosis.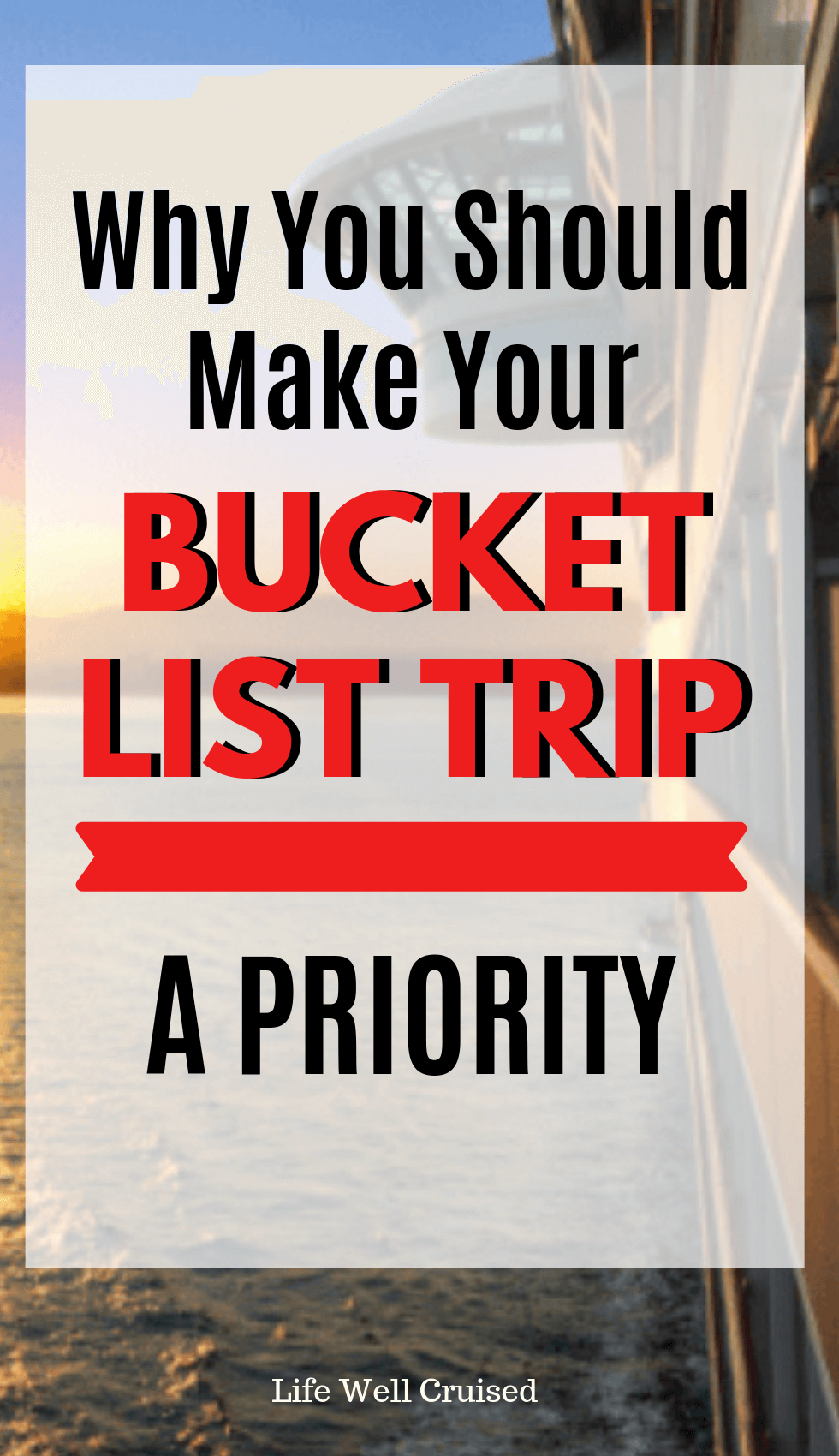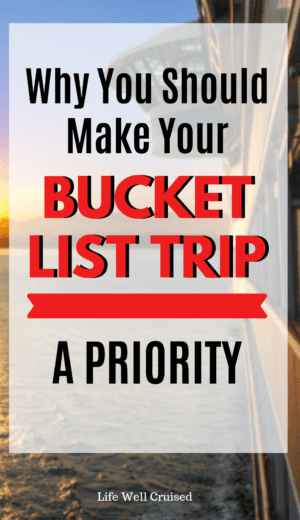 Her words "I'm so glad we did this now". I hear them ALL.THE.TIME.
She's gone now, but I know we all need to hear her message, and that's why I'm telling her story.
"You have to do it now. You never know what tomorrow will bring."
Many years ago, I asked a spiritual leader if there was life after death (I was about 20). He told me he didn't know exactly… but he believed that people live on in our memories and the times we shared.
I know this to be true. You probably do too.
If you needed to hear this today, for whatever reason (as none of us knows what the future holds and what tomorrow brings)… I hope this story of love and travel has inspired you to take your own leap, whatever it is.
Do you have a dream trip or experience that you've been putting off for another day? Are their memories of a trip you took so worth it? Let me know in the comments below.
Happy Cruising!
Ilana
xoxo
If you've enjoyed this or found it helpful, please don't keep it to yourself ;-). Shares on Facebook and Pinterest are much appreciated.
Other posts you might enjoy:
10 Romantic Things to Do When Cruising Together
15 Reasons Why Cruising is the Best Vacation Ever
Let's connect:
Follow me on Facebook at Life Well Cruised
Follow me onYouTube at Life Well Cruised (NEW)
Follow me on Pinterest at Life Well Cruised
Follow me on Instagram at Life Well Cruised