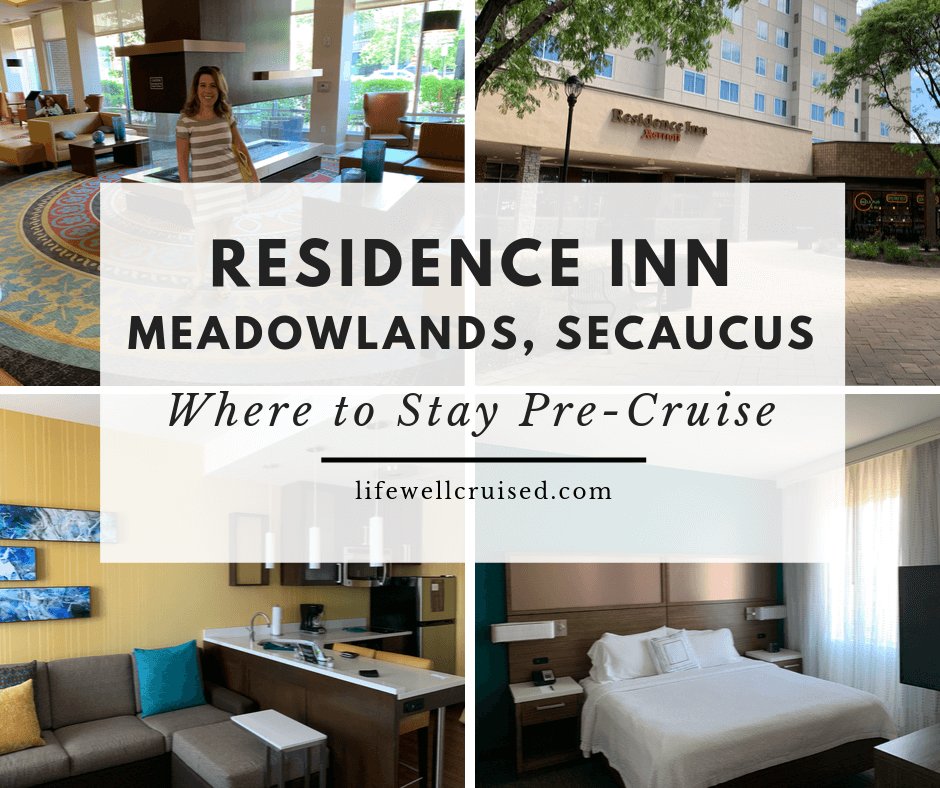 Residence Inn, Meadowlands (Secaucus, New Jersey): Pre-cruise Hotel Review
If you're going on a cruise that leaves from a cruise port in New Jersey or New York, a great place to stay is the Residence Inn, in Meadowlands, Secaucus.
We recently went on a cruise that left from Cape Liberty, Bayonne, NJ and decided at the Marriott Residence Inn because of it's location and the hotel amenities.
We were very pleased!
We have stayed in this area before, and this is our favorite hotel by far! In our experience, some other hotels were not as clean or as upkept as the advertisements or their ow websites showed. This hotel is actually nicer in person, than it even looks in photos.
Marriott Residence Inn Meadowlands Hotel Review (pre-cruise stay)
I wanted to share this hotel review with you, as I hope the information will be helpful as you research your pre-cruise plans.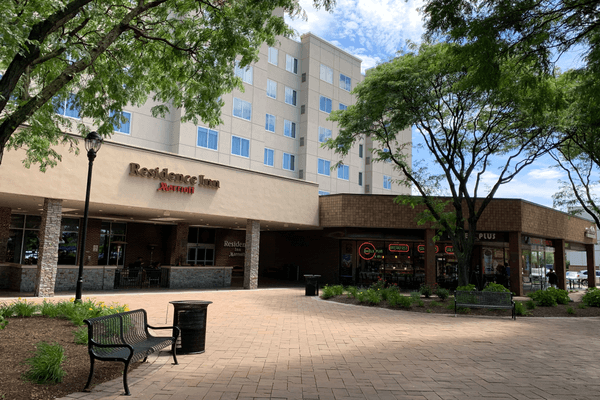 Hotel location: Meadowlands, Secaucus, N.J.
Our favorite location for a pre-cruise hotel when we cruise from New Jersey or New York is Meadowlands, Secaucus.
Whether you are cruising with Celebrity, Royal Caribbean, Norwegian, Carnival, Princess or Cunard (did I miss any?), this area is quite central.
Proximity to New York
If you're taking a cruise that leaves from Manhattan, NY or Cape Liberty in Bayonne, the Meadowlands area is possibly the perfect spot to spend a night or two.
You're literally 10-15 minutes fro New York city with great transit options to go into the city, while leaving your car at the hotel. There are also shuttle services.
Proximity to the cruise ports
We drove to New Jersey, as we live about 6 hours away. However, if you fly in and rent a car or take an Uber or taxi to your embarkation port, this location is pretty central.
It's about a 15 minute car ride to Manhattan (keep possible traffic in mind) and about a 20 minute drive to Cape Liberty, Bayonne.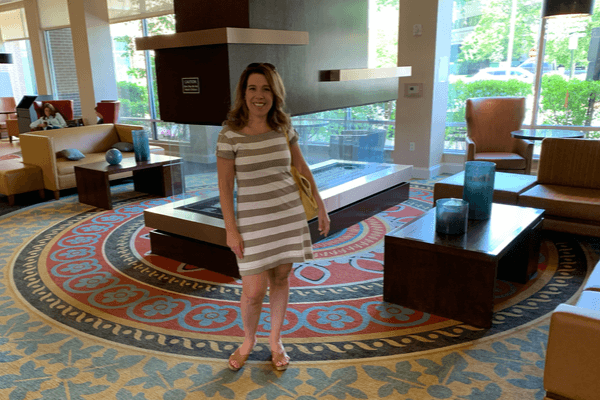 Meadowlands Area (Secaucus, New Jersey)
We love this area of New Jersey, especially for a pre-cruise stay. The fact is the area has a lot to offer so close by, even in walking distance.
Right near the hotel we were able to walk to a Starbucks, Chipotle and to a fun restaurant where we had dinner, Cheeseburger in Paradise (see photos below).
We also like that it feels safe ad insulated with many other hotels, a convention center and several large stores. It's conveniently located off the highway, which is just easy for travelers.
Recommended: Celebrity Summit Cruise Review: Post Revolutionized (with photos)
Hotel accommodations and room
The Residence is a beautiful, yet comfortable hotel The main lobby is large with tons of seating, set in groupings along the main floor. There is a bar area as well as a seating area for breakfast dining.
Hotel room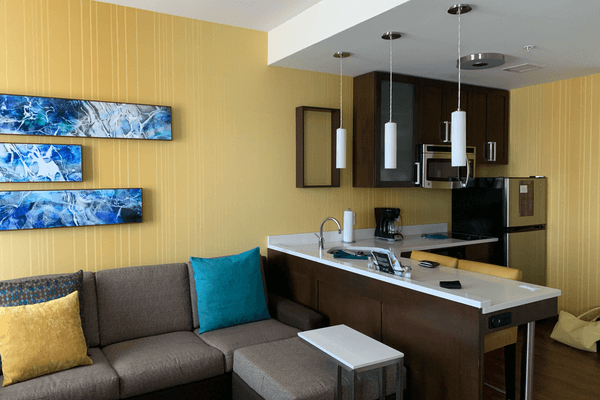 We chose a studio room that accommodated 3 people and felt like a small apartment. It was spacious and modern looking, and everything was in working order and good condition.
We were only staying one night during this pre-cruise stay, but this would be the perfect place to spend 2-3 days as a hub while visiting New York.
The room itself opened up to a good size kitchen with a fridge, stove, dishwasher and microwave. We didn't use any of this, but had we been staying more than a day or two, or if we were with young children I could imagine it would be great.
There was bar stool style seating on the other side of the kitchen counter, where the "living-room" seating area was placed. Our son slept in a hide-away bed in the L shaped sofa. He said it was surprisingly comfortable, and he enjoyed this "cool" space.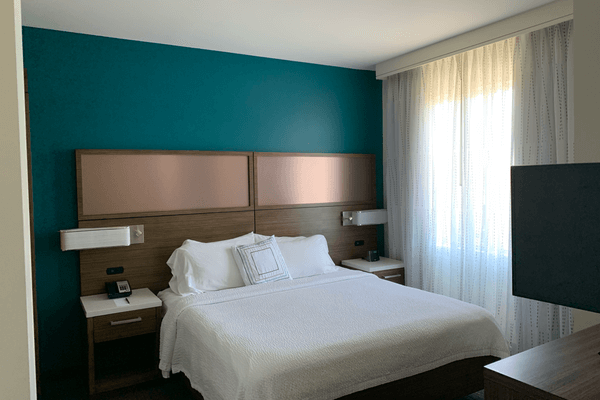 Off to left we had the bedroom area with a King size bed and a very light and airy decor. The mattress and bedding was very comfortable.
There was also a spacious closet where we hung up some of our "formal wear" cruise clothing and a few other things that I was hoping to keep as unwrinkled as possible. There were also a counter area with a mirror in the room itself which was convenient.
Hotel room washroom
This was a beauty! If I could recreate it at home, I would. Modern, yet classic, with a large spa like shower area, this was a very nice bathroom!
Hotel Public Areas
Hotel Swiiming Pool and Fitness Center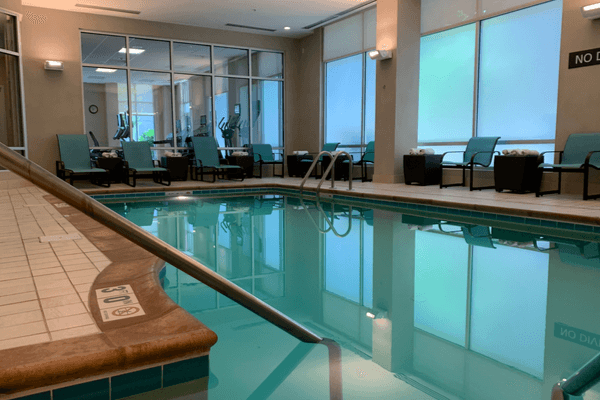 The pool area was beautiful, however we never used it since we were just too busy. Yu may be able to see that it also has a fairly good size fitness center just behind the pool area.
Once again, had we visited longer we would have taken advantage of the pool area to relax. You can see how nice and bright the spaces are, with a lot of natural light coming in.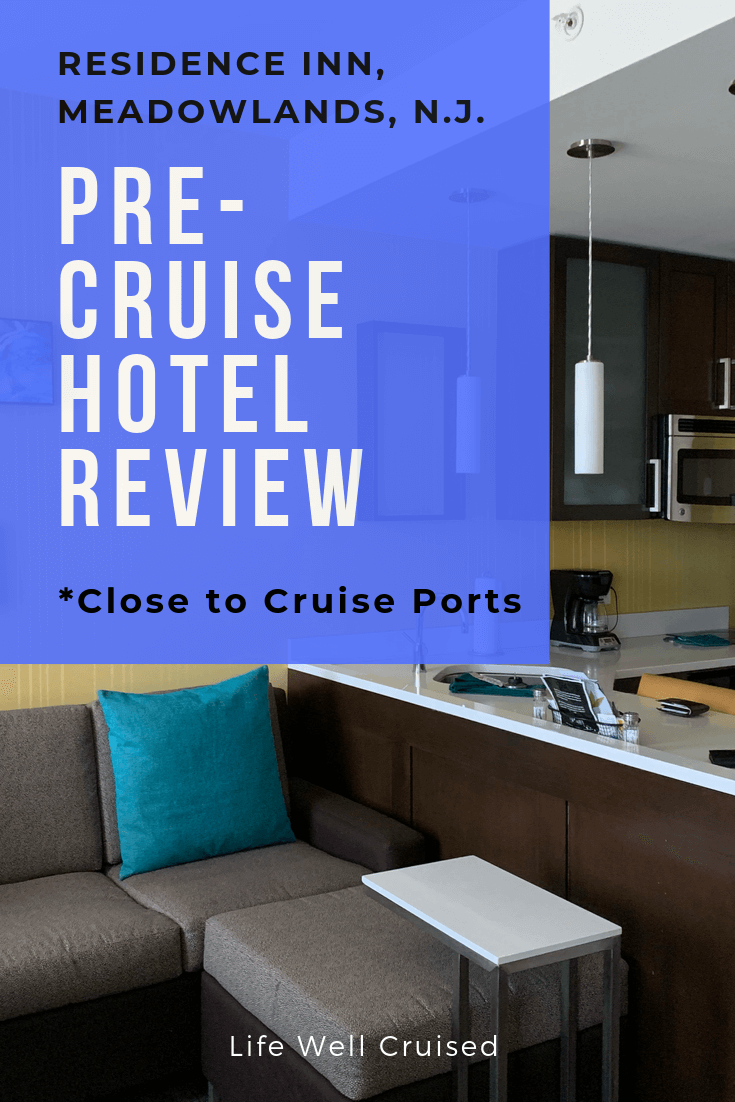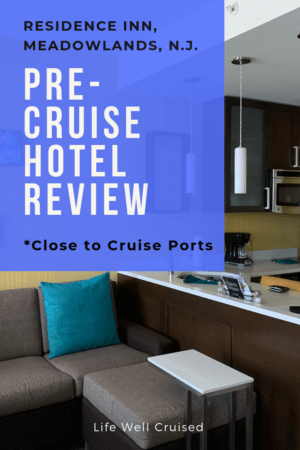 Hotel service/staff
The staff were friendly and helpful. We always ask for some local directions when we are in New Jersey (if you've driven in New Jersey you might get this), even though we have a GPS.
The front desk staff was kind enough to print out directions for us to the Westgate Garden Plaza Mall, which is about 15 minutes away. Since New Jersey doesn't have sales tax on clothing and shoes, we enjoy a little pre-cruise shopping before we board our ship.
Continental Breakfast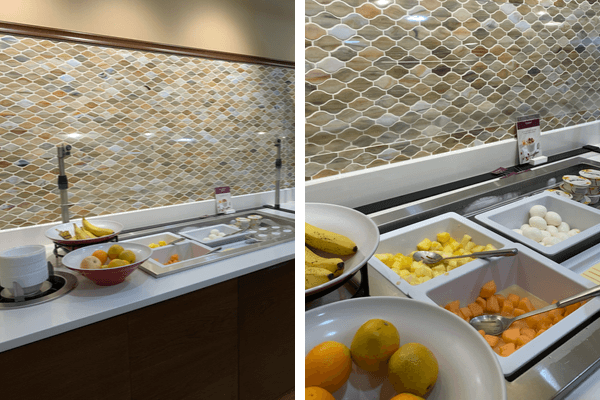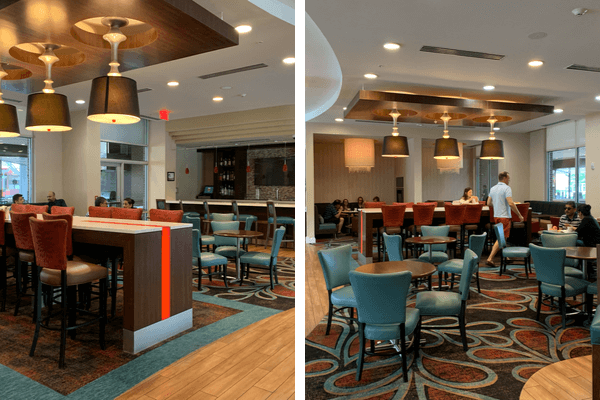 Continental breakfast was included with this hotel. It was pretty typical of other continental buffet style breakfasts, with hot and cold options available. The area was clean and up kept continuously.
The food was good – waffle mix, eggs and sausage, yogurts, fruit, cereal, breads and muffins. Coffee, juice and milk were available.
We really find it convenient when coffee and breakfast is available in this way, as we can eat at our leisure before we get on our way, and we don't have to make another stop.
What we did during our stay within the area
Should you stay at this hotel I thought you might like to know about the surrounding area and outdoor space.
During the day we drove over the the Walmart, which is 5 minutes away by car. We usually pick up a few cruise essentials that we may not have brought with us.
If we forgot some seasickness medications or need some extra toiletries, we pick it up the day before of cruise.
The worst thing is to board the ship without our must-have items. If you're going on a cruise, something to note is that getting things on board is not only expensive but may not be accessible.
We also went to the Marshalls – we do love to shop a little!
Recommended cruise essentials:
21 Essential Things to Pack in Your Cruise Carry-On
20 Cruise Packing Tips all Cruisers Need
Hotel Outdoor Space – Bonus!!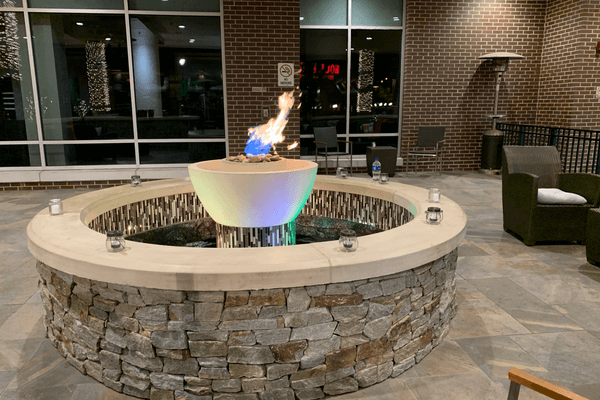 The outdoor space of the Marriott Residence Inn was a bonus we didn't expect. In the evening we decided to walk over to once of the closeby restaurants.
We decided to go over to Cheeseburger in Paradise, a casual and fun sit down restaurant that reminds me a bit of a Margaritaville. The burgers are particularly good, but they have a lot of different options on the menu. They also have some great drinks, as well as wine and beer.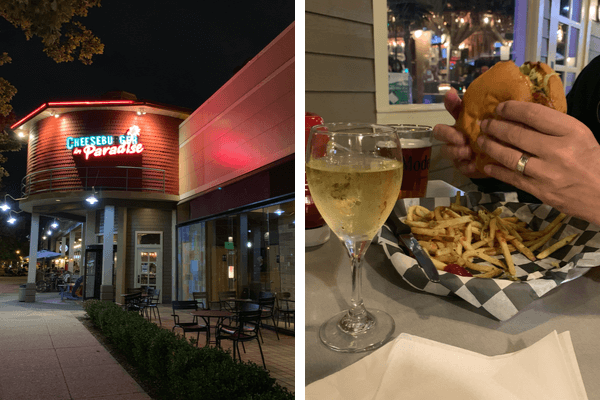 If you go, check out their happy hour and late night specials, only available on certain days. They have outdoor, as well as indoor seating, and a Karaoke Bar, if you're into that.
On our way back after dinner, we came upon the a surprise outdoor space right at the back entrance to the hotel, sort of like a patio.
There was outdoor sofa seating and gas fireplace pits were lit up, along with some mood music. It was a great place to sit and chill and grouping of families and friends were enjoying it.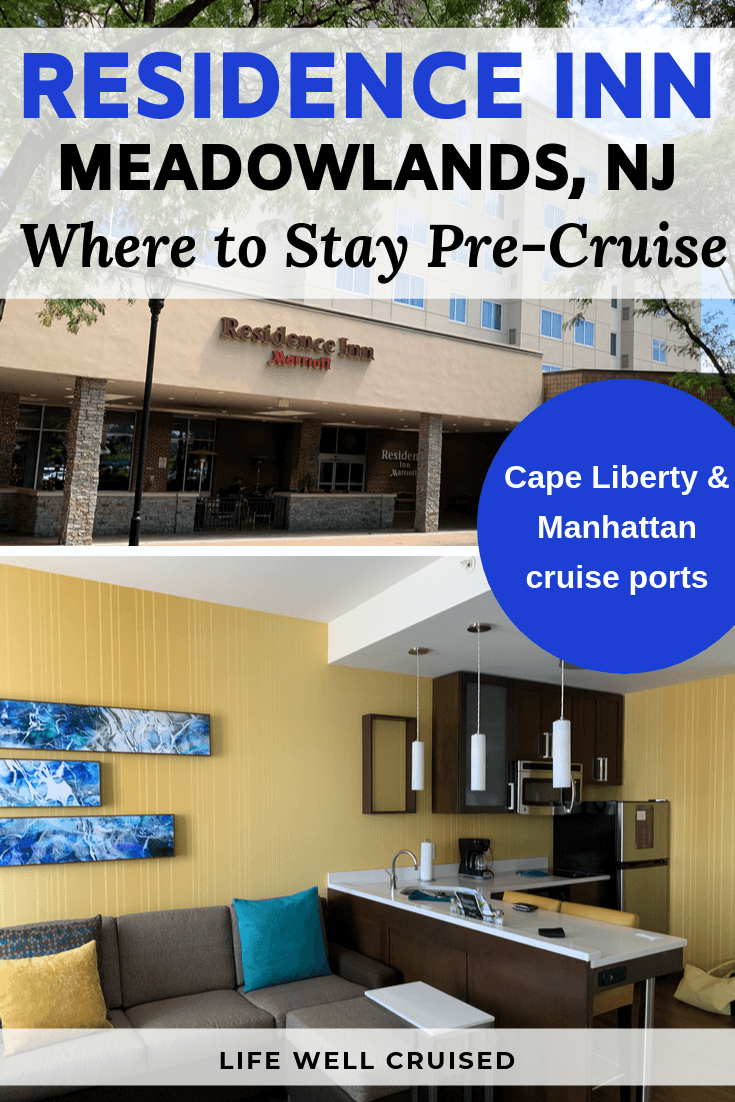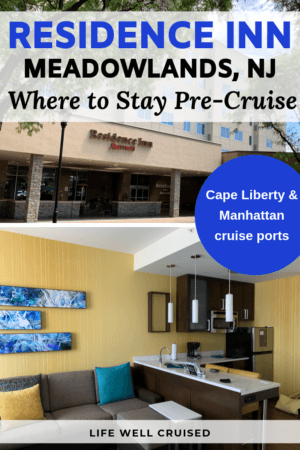 Recap: Residence Inn Secaucus Meadowlands – Pre-cruise Hotel Review
We stayed at the Marriott Residence Inn, Meadowlands before our recent cruise on the Celebrity Summit (love this ship!).
The hotel is moderately priced. We've found that hotels in this area aren't cheap, but they also aren't super expensive like in New York City. Plus, this hotel includes free parking and free wifi.
In this case, we did a bit of travel hacking and used some Air Miles points we had collected. If you'd like some cruise travel hacking tips, here is a post I wrote about it: 27 Cruise Travel Hacks Repeat Cruisers Swear By
Most importantly, the Residence Inn is clean and well kept in every area. I highly recommend this hotel, especially if you're staying for more than a day or if you are a family. The kitchen in the hotel is amazing!
If you're planning to go into New York City for the day, this is the perfect location. Close by and accessible by public transit (there's a direct bus) or you can take a shuttle.
Have you stayed in Meadowlands before a cruise? What are your top recommendations for a pre-cruise stay?
Happy Cruising!!
Ilana xoxo
P.S. If you enjoyed this and found this helpful, please don't keep it to yourself ;-). Please share on Facebook or PIN/save on Pinterest for later. Thanks so much!
Popular posts:
15 Cruise Bloggers Reveal Their Best Cruise Tips
30 Cruise Cabin Hacks Every Cruiser Needs to Know
10 Things NOT to pack for a cruise
Let's connect:
Follow me on Facebook at Life Well Cruised
Follow me onYouTube at Life Well Cruised (Vlogs and cruise tips)
Follow me on Pinterest at Life Well Cruised
Follow me on Instagram at Life Well Cruised