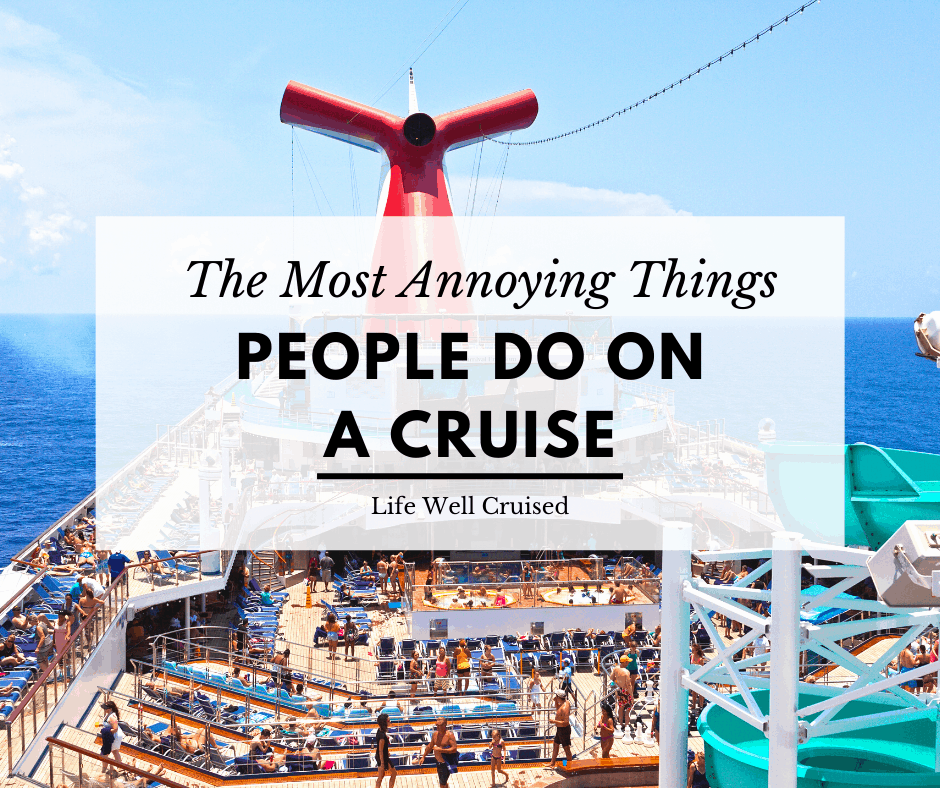 I always say that people who cruise are some of the nicest people that you'll ever meet. While I still believe this is 100% true, there are definitely some cruise passengers that do some pretty annoying things.
In this post we go through 13 of the most annoying and even ridiculous things that some people do on a cruise.
Now of course none of us is perfect, and this list should be taken with a grain of salt, however none of us want to be that cruiser.
Ridiculous and Annoying Things Cruise Passengers Do
1. Chair Hog/Saving Seats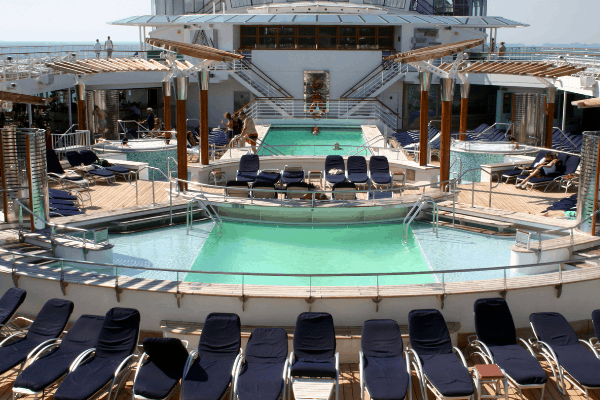 People saving seats or being "chair hogs" is a pretty common complaint from people who cruise. When other cruise passengers save seats for long periods of time at the pool deck, theatre or lounge it's pretty annoying.
It's also against the rules. In some cases, crew will remove items left on deck chairs for an extended time, but this isn't always the case.
It can be common on some cruise lines for cruisers to head out to the pool deck as early as 6 AM and place towels, flip-flops, books and other personal items on lounge chairs to secure a prime spot near the main pool.
2. Not Supervising Children
There's so much for kids to do on cruise ships, including an amazing kid's club, that unsupervised kids shouldn't be a bit problem. Unfortunately, on family orientated cruise lines this does sometimes happen.
Of course there's the safety issue, but beyond that it's annoying for other cruise passengers. People are particularly irked by kids running in the halls and stairways, kids swimming in the adult hot tubs and/or pools, and kids pushing all the elevator buttons.
I'll leave a video below about this topic where I'll tell you more about our elevator story 😉
3. Being Rude to the Crew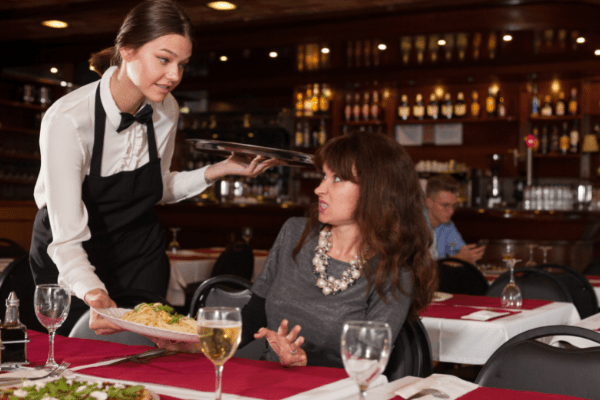 There's just no excuse for being disrespectful to the crew by yelling or being rude in anyway. Unfortunately, there are cruise passengers that get upset and become rude to crew members when they have a complaint.
In our experience, the people working on the cruise ship really want to make you happy while you're on vacation. While this doesn't mean you shouldn't complain if you have an issue, but there is a right way to go about it.
Read more: How to Handle a Complaint on a Cruise and Actually Get Results
4. Being Late
While being late for a cruise is always a bad thing for the people involved, people that are continuously late during activities and events often disrupt and annoy other people as well.
For example, on group cruise shore excursions people that are late for the meet up time delay everyone. When it comes to dinner, if you're booked for traditional dining people don't really like it if you're late to the main dining room either.
One more important thing – if you are late for the shows just come in quietly and take a seat at the back. If you are ever late to the comedy show, just know that you will end up being part of the show!
5. Noisy on the Balcony
Most people want some peace and quiet when they're out on their balcony on a cruise. So while it's great to party up on the pool deck, passengers that are having their own very loud party on their balcony with music blasting on speakers is definitely going to annoy the neighbors.
6. Bad Buffet Manners
While many cruisers enjoy a good cruise ship buffet, what they don't enjoy is other cruisers with bad buffet manners.
There are the cruise passengers who cut in line, which while annoying, is probably more forgivable than this next point. On occasion, there are people that taste food right off the serving spoon (yuck!), or drop serving tongs and put them back in their place.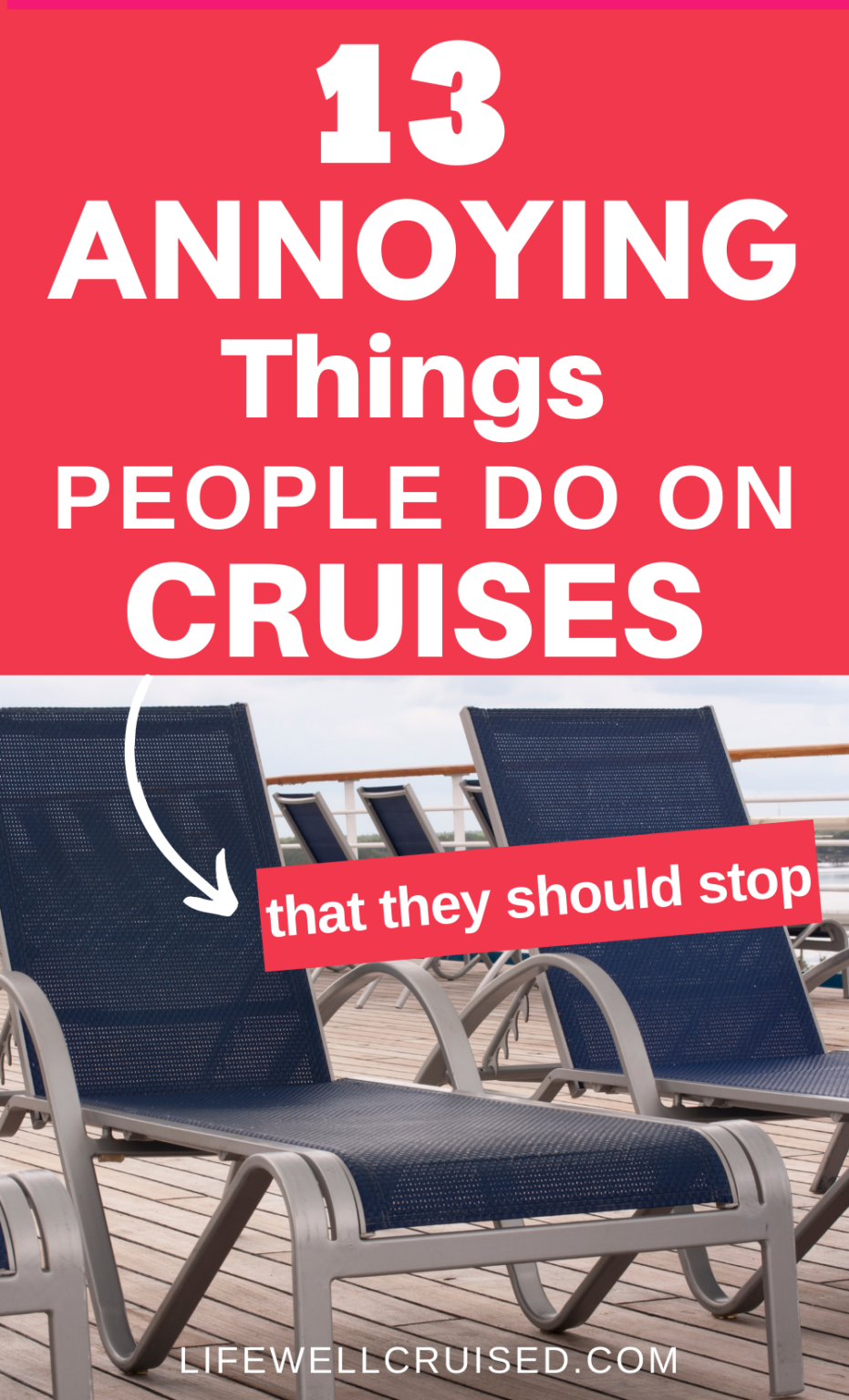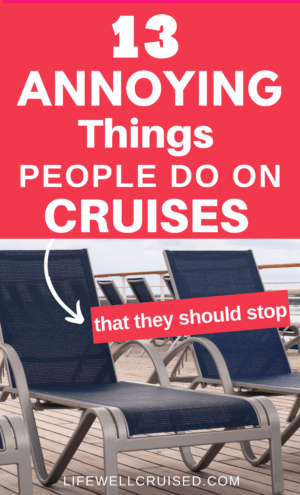 7. Hogging the Hot Tub
Hot tub's are pretty small and often there are just a few on the lido deck. Generally, hot tubs are popular and get pretty full on Caribbean cruises and warm weather itineraries. People hogging the hot tub by staying in for hours definitely annoys some people.
8. Not Washing Hands
I'm not sure if this is something that we'll see as much nowadays or even in the future, but in the past there were definitely people who would refuse to wash their hands or use hand sanitizer before entering the dining room or buffet.
Is this annoying? Maybe. Is it unhygienic or maybe even gross? I think so.
These days it looks like passengers will be called out by the crew if they refuse to wash their hands before entering the public eating areas.
9. Removing Gratuities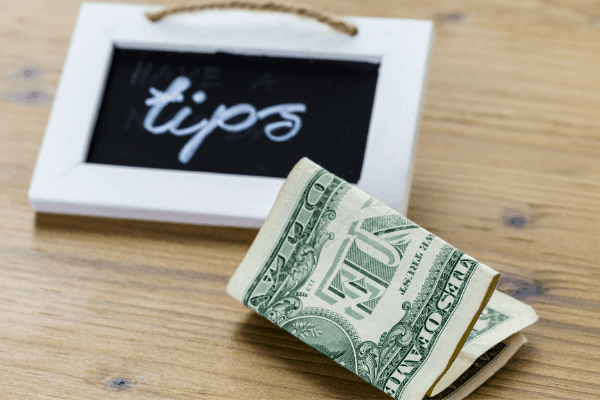 This point is a controversial one as the tipping debate is always a heated discussion. Of course, people feel differently about cruise ship gratuities. Some people don't like the idea that cruise lines auto charge gratuities or tips, now sometimes called a crew incentive.
However, crew have often said that when people do remove the gratuities they lose out. So we've heard from crew that this is definitely something that they wish cruise passengers wouldn't do.
Related: Should You Prepay Gratuities on a Cruise or Pay Onboard?
10. Too Much Complaining
Have you ever met a cruiser that complains all the time? They aren't happy with the food, the decor, their cabin is too small, the cruise shops aren't good, the excursions are terrible… you get the idea.
There's probably nothing more annoying when you're on vacation, then a fellow cruiser who won't stop complaining.
Of course, things may not be perfect. If you do have a complaint on your cruise, you should definitely bring this up to the right people. However, do your fellow cruise passengers a favor and allow them some peace and happiness on their much needed cruise vacation.
11. Drinking Too Much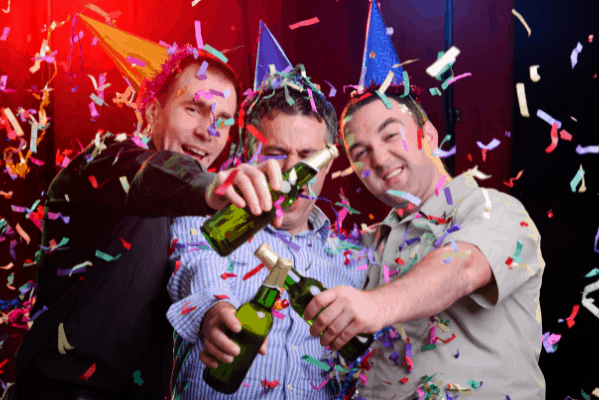 While everyone's on a cruise to have a good time and some people really want to get their money's worth on their drink package, there are some cruise passengers that might take it a little bit too far.
Being obnoxious, super loud and even sometimes picking fights or arguments with other passengers and crew are all behaviors no one wants to see on a cruise.
Did you know that there's actually a jail or a brig on a cruise ship? It's true if you're way too rowdy the crew ship security can put you there.
That's just one of the 37 interesting and fun cruise ship facts in this post that may surprise you.
Get The Ultimate Cruise Planner
Regular price: $27 Now just $17!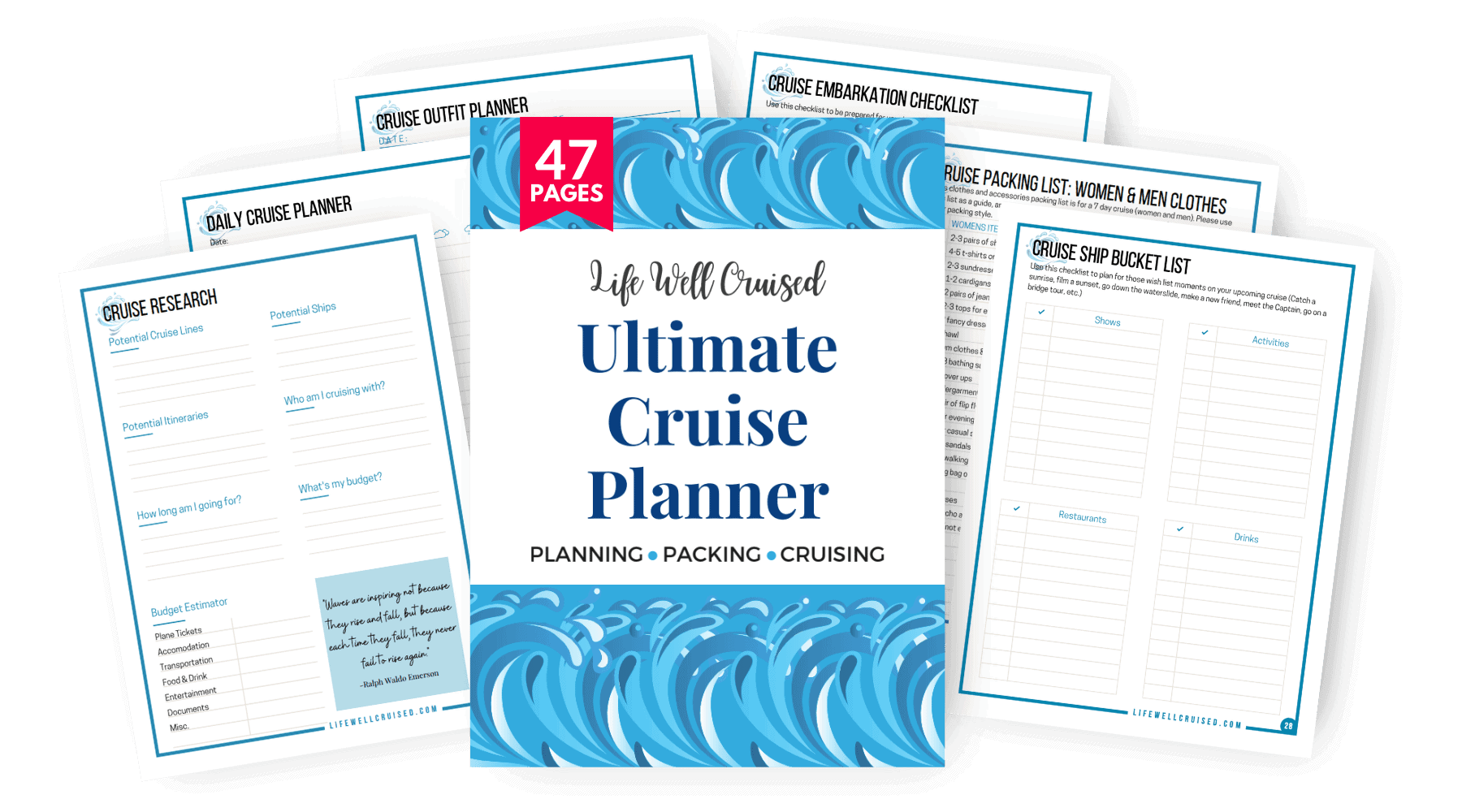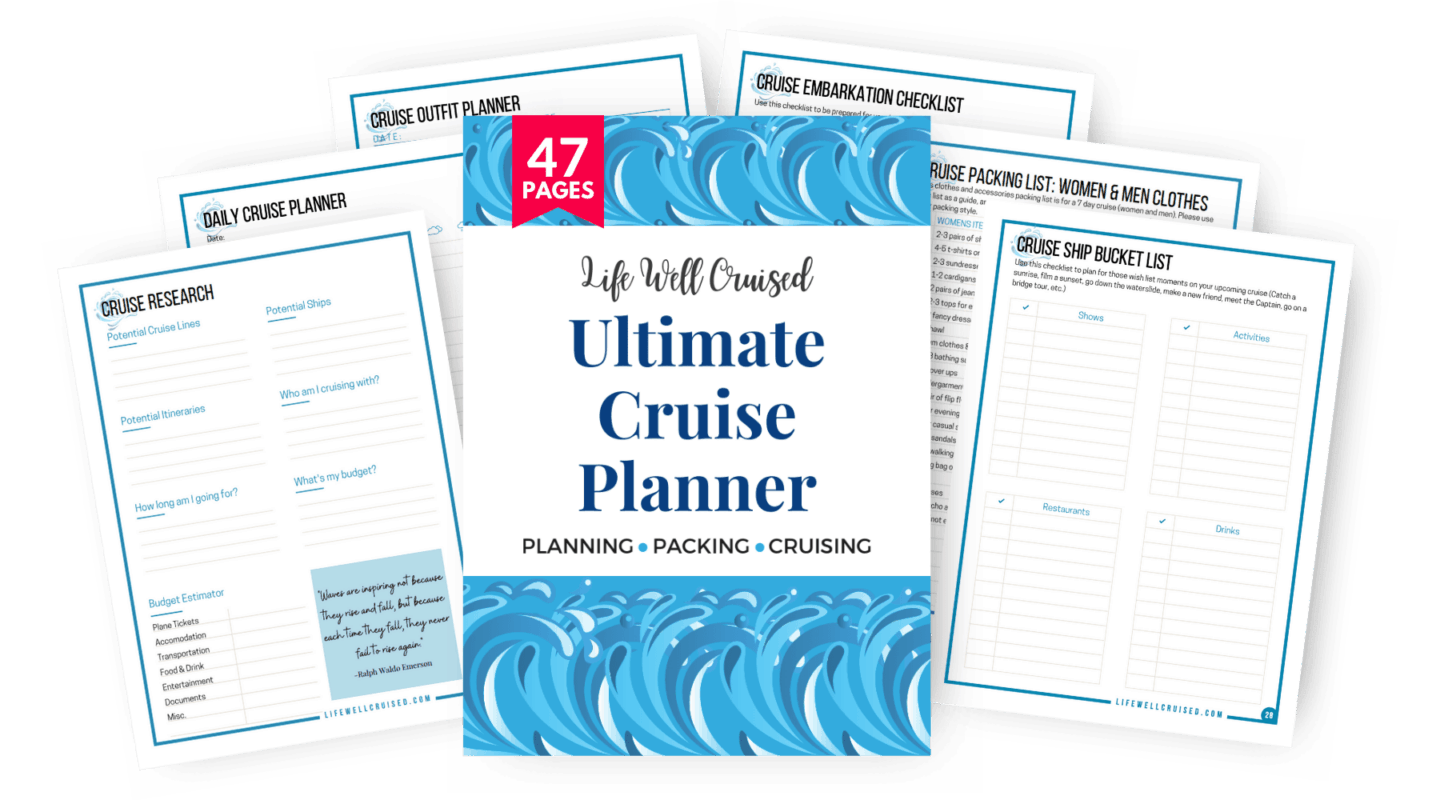 12. Elevator Etiquette
Elevators tend to get crowded on a cruise, so when possible take the stairs.
However beyond this, there is some elevator etiquette that's just not always followed by some cruise passengers.
This is one that particularly irks me. It's when people come into the elevator before first allowing the people on the elevator to get out. It gets confusing and crowded and people get frustrated.
I really thought this was common elevator manners or etiquette everywhere, but truthfully I'm not sure. Please let me know in the comments at the bottom of this post If you've seen this before and if this is indeed common elevator manners?
13. Leaving Plates in the Hallways
Have you ever been on a cruise and noticed the trays with plates, glasses and even leftover food lining the hallways outside of different passengers cabins. Well, some people have said that they find this a little bit gross and definitely something annoying.
However in this case, I don't think cruise passengers are actually doing anything wrong. While none of us like to see that in the hallway, we've been told by the crew on several cruise ships that this is what we should do with any trays from room service. In fact we've been told by are cabin attendants not to leave the trays and dishes in the cabin when we're done.
To our knowledge, what is supposed to happen is that people place their room service trays outside their cabin door and several times a day, there are crew members that come by and remove them.
Bonus: Calling a Cruise Ship a Boat
Now did this really need its own category? I'm not sure, however this is genuinely as pet peeve of many avid cruisers. In fact, there are many cruisers and even crew who will cringe and likely correct you if you call a cruise ship a boat.
Of course this isn't the worst thing in the world, but it probably is what separates those who know their cruise lingo from those who don't.
Just an FYI a boat fits on a ship and not the other way around.
Read more: Cruise Lingo Every Cruiser Must Know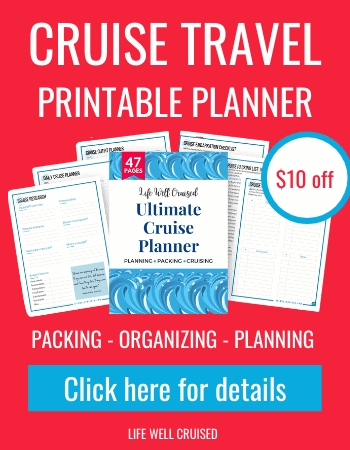 *Ultimate Cruise Travel Planner*
Over the last year, I put together a 47 page cruise travel planner that has everything you need as you plan and get ready for your cruise.
If you could use cruise packing lists, to-do checklists, shore excursion forms and more, you'll love the Life Well Cruised Ultimate Cruise Planner.
Plus, for a limited time, it's $10 off. Hope you enjoy!
See details here: Ultimate Cruise Planner -What's Included
Related and Popular Posts:
50 Most Popular Amazon Cruise Essentials
27 Cruise Packing Mistakes You Might be Making
Cruise Cabin Door Decorations: The Ultimate Guide for Cruisers
30 Cruise Cabin Hacks Every Cruiser Needs to Know
What to Pack for a Caribbean Cruise
10 Things NOT to Pack for a Cruise
YouTube Video: Most Annoying Things People Do on a Cruise
We have more to say on the topic in this YouTube video, plus, you should read the comments for even more! If you enjoy cruise tips and cruise content on YouTube, I'd love to have you as a subscriber to our channel.
Final Thoughts: The Most Annoying Things People Do and Cruises
While most cruise passengers are pretty nice and are on a cruise with the intention of having a good time, it's definitely possible to meet some rude and obnoxious cruisers.
In this post we went over 13 things that some cruise passengers do that definitely annoys other passengers and/or crew members.
Do you agree with this list and have you seen these things before? What ridiculous or annoying things have you seen people do on a cruise?
Happy Cruising!
Ilana
P.S. If you found this helpful, please don't keep it to yourself ;-). Please share on Facebook or PIN to your favorite Pinterest board (share buttons at the top). Thanks so much!
Let's connect:
Follow me on Facebook at Life Well Cruised
Follow me on YouTube at Life Well Cruised
Follow me on Pinterest at Life Well Cruised
Follow me on Instagram at Life Well Cruised