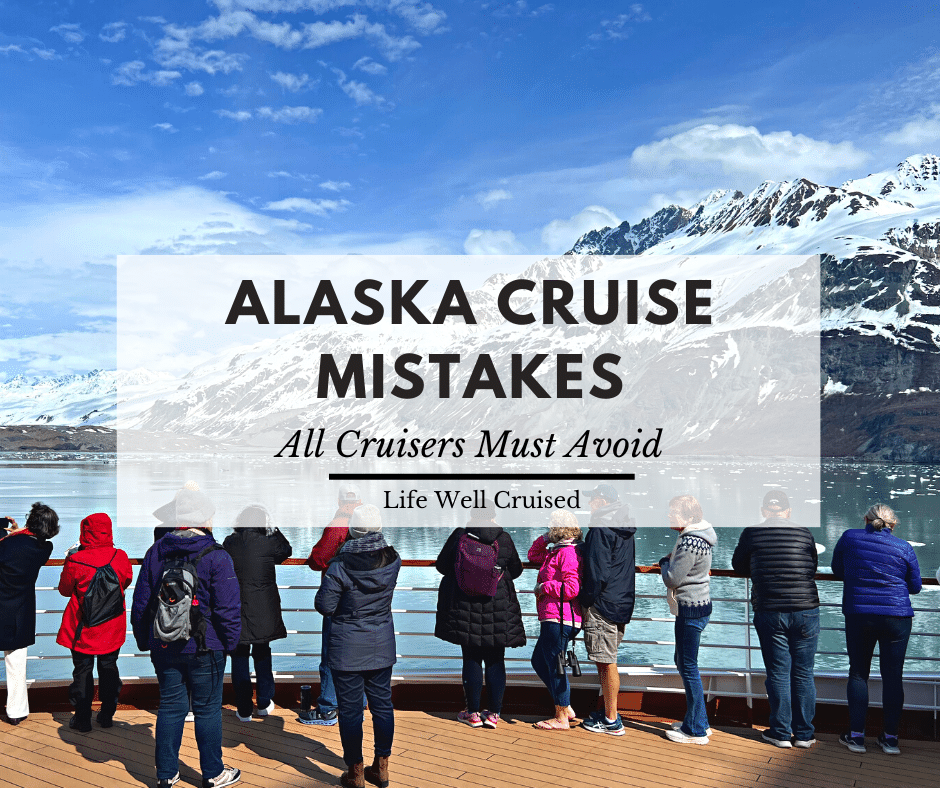 Alaska cruises are different than other cruise destinations. Unfortunately, there are some big mistakes many cruisers make when it comes to planning & going on their Alaska cruise vacation!
Making some of these Alaska cruise mistakes can result in blowing your budget, not being prepared & missing out on some of the best Alaska cruise excursions.
I recently returned from my first Alaska cruise and researched a lot before we went. I was definitely glad I did. Even still, there were still some things I managed to get wrong and would do differently on a future Alaska cruise.
In this post I share 13 Alaska cruise mistakes to avoid, so you have the very best vacation ever!
This post contains affiliate links which means if you click and buy that I may make a commission, at no cost to you. Please see my disclosure policy for details.
As an Amazon Associate I earn from qualifying purchases.
Alaska Cruise Mistakes to Avoid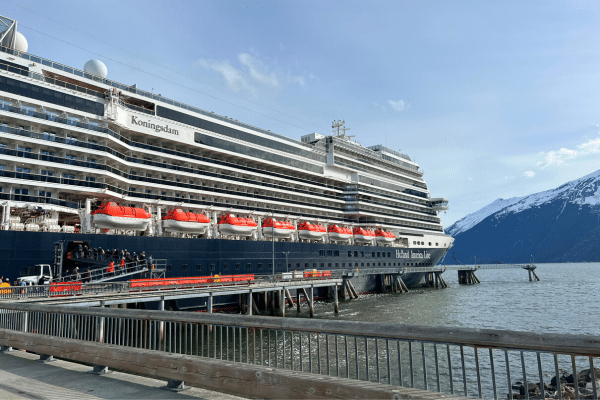 1. Not Staying in Vancouver or Seattle 1-2 Days Before Your Cruise
If you're doing a 7 day Alaska Inside Passage cruise out of Vancouver or Seattle, make sure to fly in at least a day or two before your cruise.
While not flying in at least one day before a cruise is a common mistake cruisers should always avoid, this is even more important for Alaska cruises!
Firstly, flights can be delayed and arriving on the same day as your cruise puts you at risk for missing your cruise ship. It's just not worth taking a chance.
Secondly, it's essential to consider the potential time difference between your home and Alaska. You'll want to allow time to acclimate to the time difference and tackle any jet lag head-on.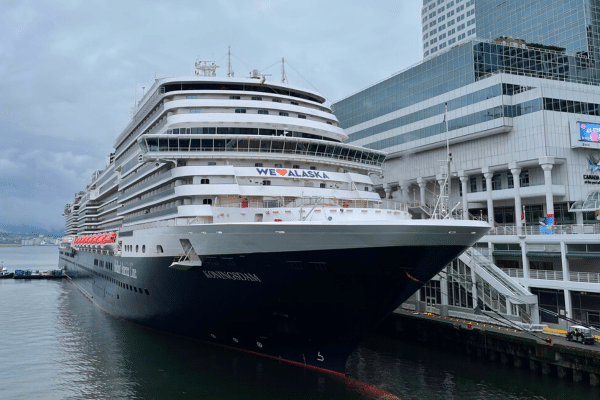 As an example, I live in Eastern Canada, which is Eastern Standard Time. When I flew to Vancouver, which is on Pacific Standard Time, I had a 3 hour time difference to get used to. Then, on the first night of our cruise, we needed to adjust our clocks to Alaska Standard Time, which is one hour behind Pacific Standard Time (Vancouver & Seattle).
Had I not flown in a couple of days before my cruise, I would have been tired. Trust me, nothing dampens the excitement of exploring Alaska like feeling exhausted and missing out on precious experiences during the initial days of your vacation.
2. Not Budgeting for Excursions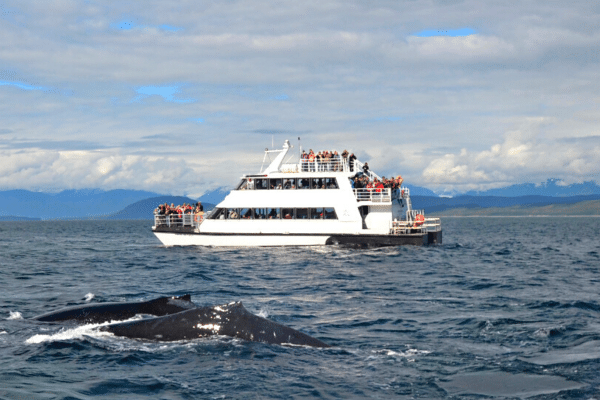 Another common mistake people make when booking Alaska cruises, is not budgeting for shore excursions. Shore excursions are generally more expensive than on Caribbean cruises, which can come as a shock, even to experienced cruisers.
However, getting off the cruise ship and simply walking around, likely won't be fulfilling. There are some pretty amazing and unique things to do and see in Alaska, and you don't want to miss out.
It's a good idea to plan and budget for your bucket list Alaska excursions like whale watching, dog sledding or a helicopter ride to Mendenhall Glacier.
3. Not Booking Excursions Early
Alaska shore excursions tend to book up quickly. A good cruise tip for Alaska cruisers is to book your preferred excursions as soon as they become available on the cruise line website. Not booking excursions early can leave cruise travellers disappointed.
This is especially important if you want to book your Alaska shore excursion with the cruise line. However, even if you prefer to book a private excursion with a local tour provider, start planning early.
Pro tip: If your preferred excursion is sold out, book another, but put yourself on the waitlist. The waitlist can open up, even once on the cruise ship. However, if it doesn't, you'll still have a tour you'll enjoy.
Related: 10 Shore Excursion Mistakes Cruisers Almost Always Regret
4. Skipping Cruise Line and Ship Research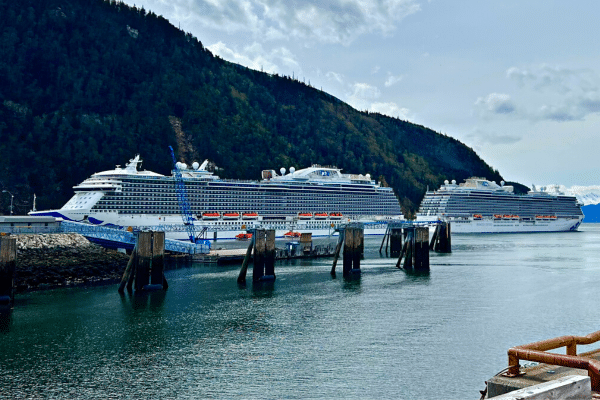 While this could be said for every cruise, not researching the different cruise lines and ships for Alaska itineraries is a big mistake!
This year, there are many cruise lines that are offering Alaska cruises. It's important to check out the ship sizes, amenities, dining options, and onboard activities to find a cruise that you'll enjoy most.
You'll also want to research the different Alaska itineraries. Alaska cruises are not one size fits all. You may prefer a 7 day inside passage cruise or a North or Southbound Alaska cruise, with the option of adding a land tour.
Pro tip: Book early for cruise tours (cruise & land combined), as space can be limited.
5. Not Bringing Rain Gear
Don't forget to pack your rain gear! Alaska weather is unpredictable. However, Alaska is located in a one thing you can likely count on is some amount of rain during your cruise.
Alaska is home to the Tongass National Forest, the largest temperate rainforest in the world. While you won't always have heavy rain, Alaska can be drizzly or misty on any given day.
Be sure to pack a poncho or rain jacket, so you can enjoy your ports even if it starts to rain.
Related: 20+ Alaska Cruise Essentials to Pack
6. Not Booking a Balcony Cabin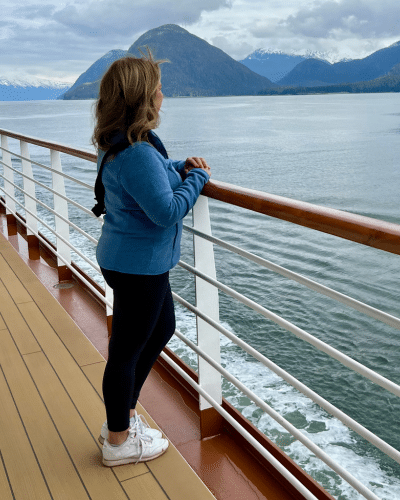 One mistake that some Alaska cruisers make is not booking a balcony cabin. While there are no bad cabins on a cruise, having a balcony cabin is particularly appealing on an Alaska cruise.
The scenery and landscape in Alaska is amazing. Whether it's witnessing glaciers calving or catching glimpses of sea lions and whales, having a balcony cabin brings you closer to nature without even leaving your room.
Pro tip: Bring a thermal travel coffee mug and a blanket and enjoy the crisp morning weather while appreciating the amazing Alaska coastline.
Related: 10 Things to Never Do on a Cruise Ship Balcony
Get The Ultimate Cruise Planner
Regular price: $27 Now just $17!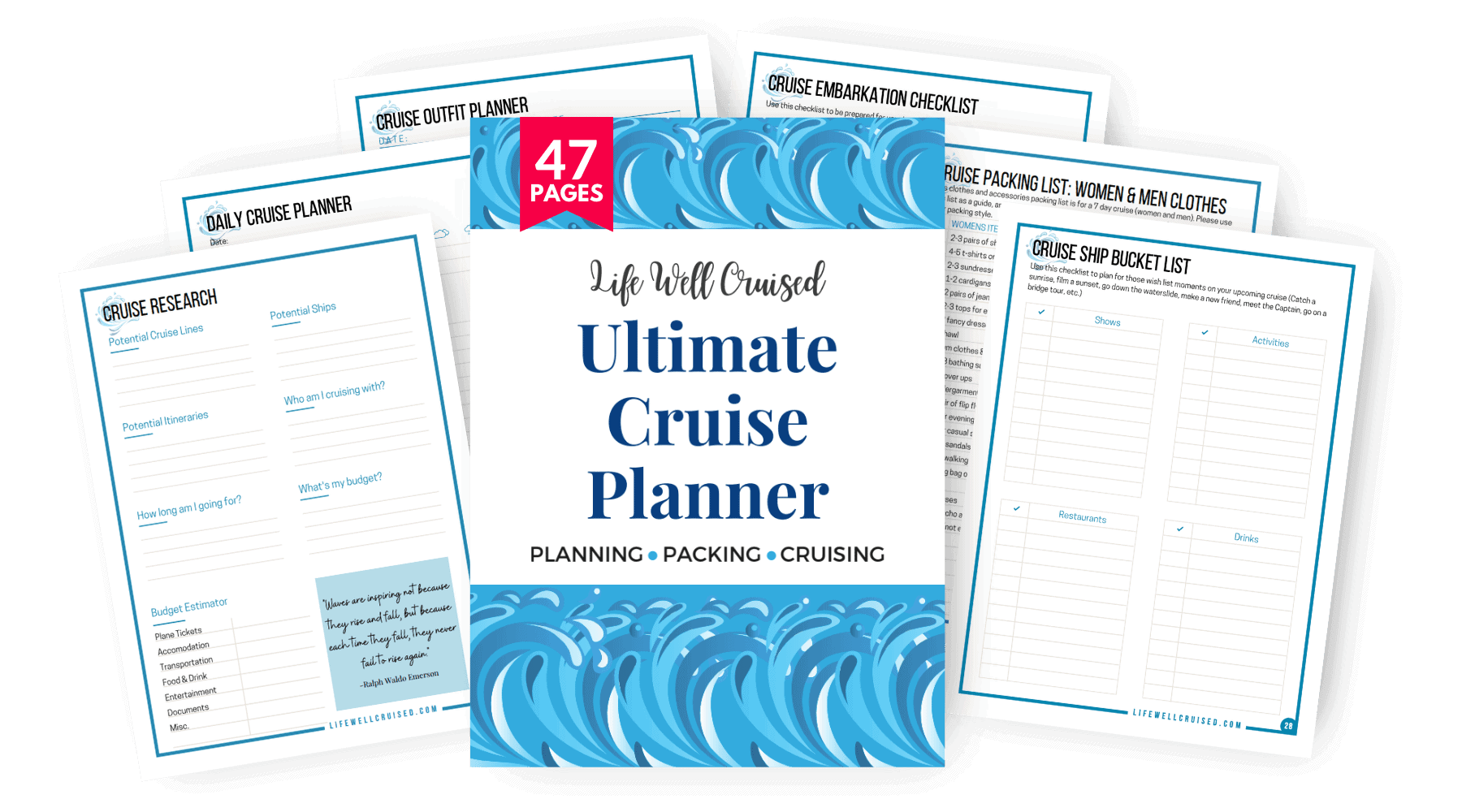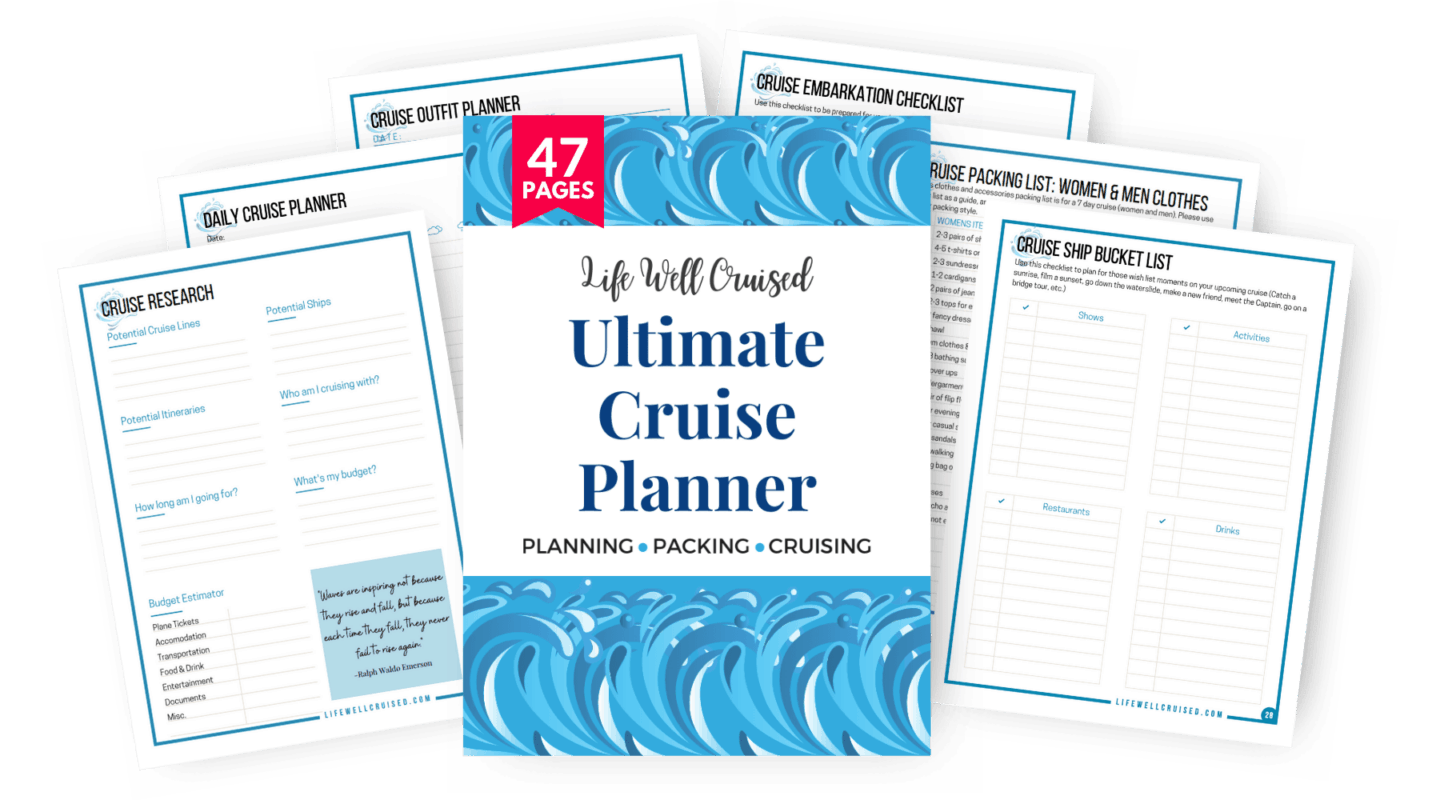 7. Not Packing Essential Items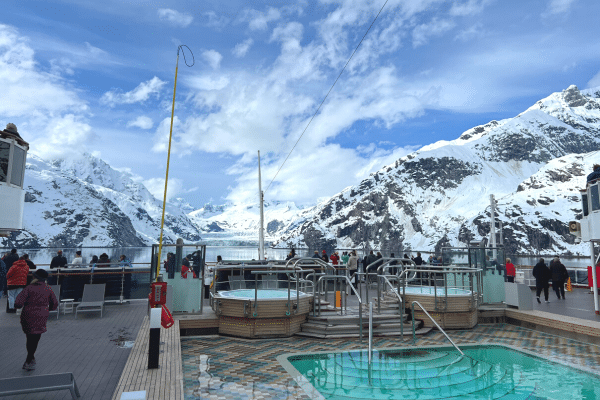 Some essential items that people may not think to pack for an Alaska cruise include sunglasses, sunscreen and bug spray.
Unfortunately, not bringing these items is a mistake for many Alaska cruise passengers.
Sunglasses
While it may not be the first thing that comes to mind when you think of Alaska, the sun can be really bright both on sea days and in port.
We found the sun's glare almost blinding when in Glacier Bay. By wearing sunglasses, you'll protect your eyes from the sun and avoid unnecessary squinting.
Sunscreen
While sunscreen is on many Caribbean cruise packing lists, most Alaska cruise travelers don't think about it. If you're heading to Alaska, especially during the summer months, you'll want to pack sunscreen for those warm and sunny days.
Mosquito Repellant
While my first Alaska cruise was during the month of May, we were warned by the tour guides in Alaska that mosquitos can get really bad in late June, July and into early August. It's a good idea to include a small travel size mosquito repellant to your Alaska cruise packing list.
8. Overpacking
As an overpacker myself, there's no judgment here. However, a common mistake many Alaska cruisers make is overpacking.
Trust me, resist the temptation to pack your entire wardrobe. Not only are cruise ship cabins compact, but Alaska cruises tend to be fairly casual.
While it's important to have the right clothing and gear, you won't need a lot of fancy cruise outfits. You can also re-wear clothing items and mix and match, which will help you to pack lighter for your cruise.
Get The Ultimate Cruise Planner
Regular price: $27 Now just $17!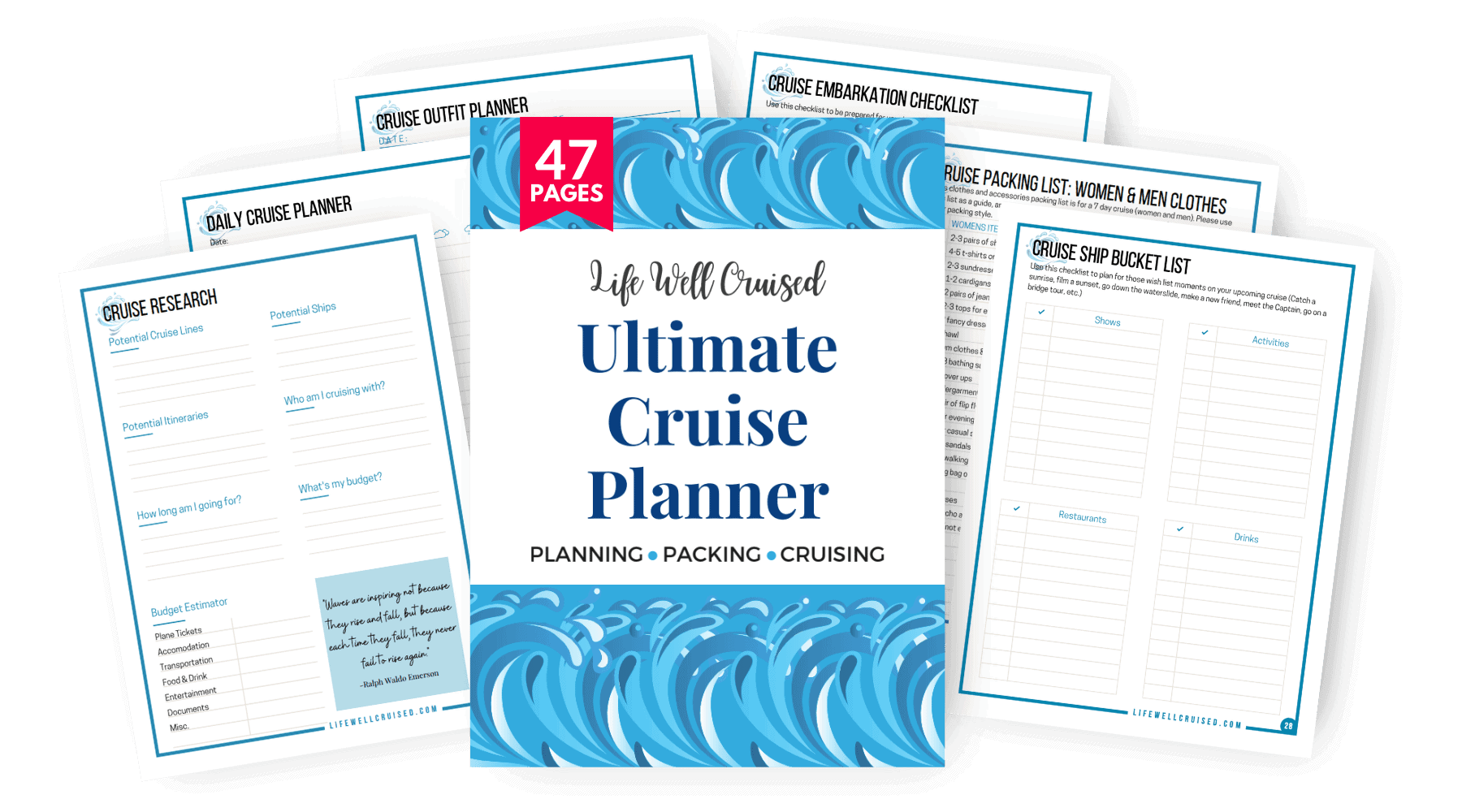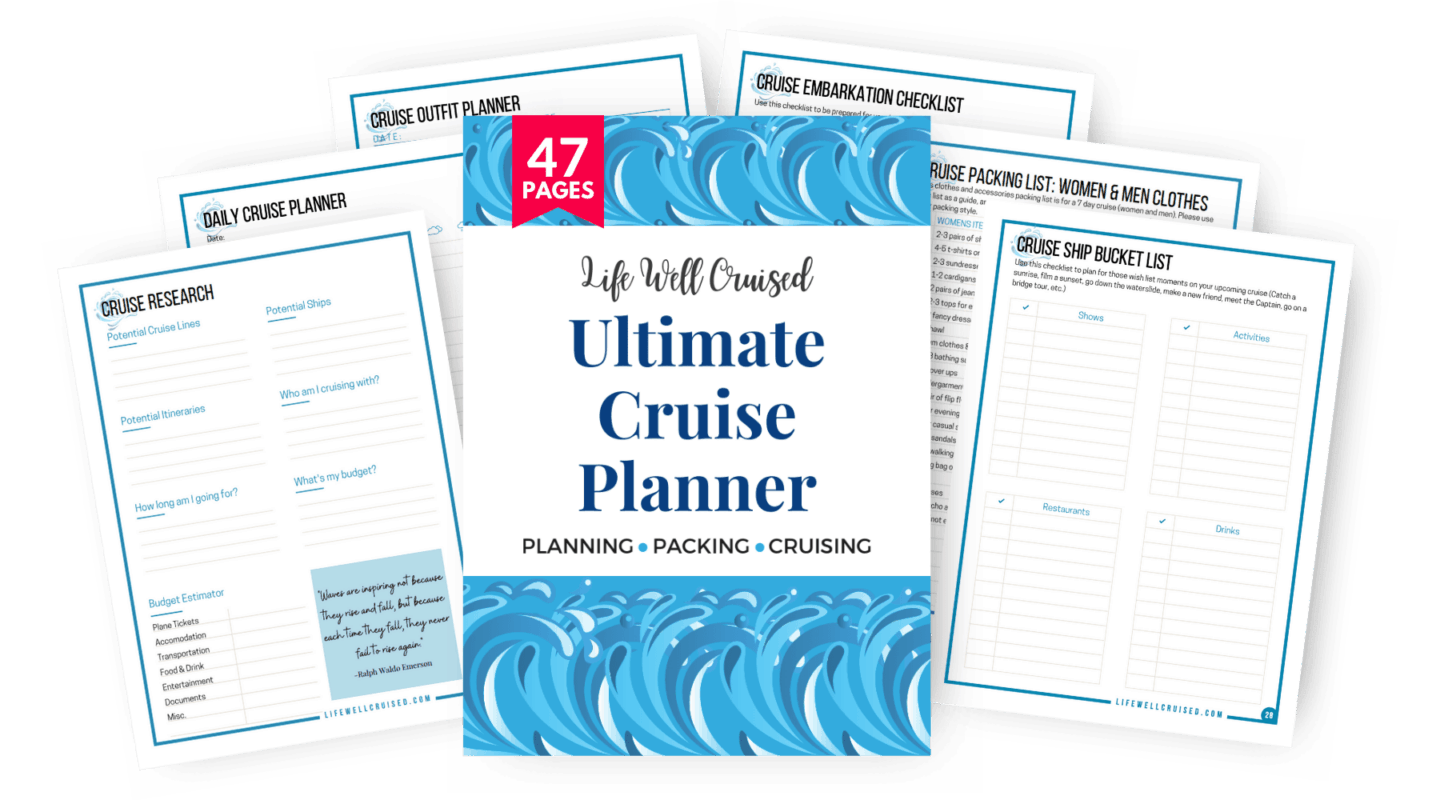 9. Not Maximizing Your time on Deck in Glacier Bay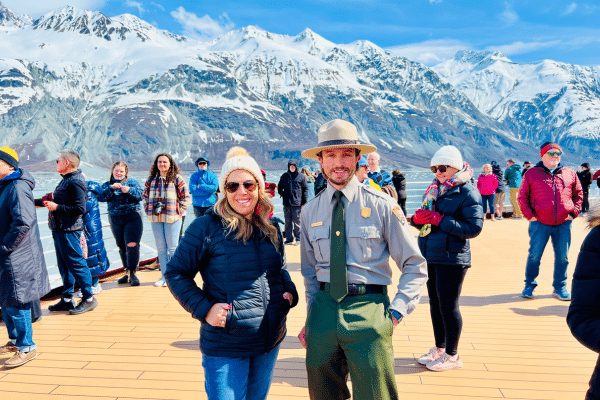 Don't miss out on the highlight of your Alaska cruise—Glacier Bay (or other glacier viewing). This is a day that you'll want to set an alarm and wake up early!
Get up early and either head out on deck or to your balcony for those first views. One of the special things about your dayb in Glacier Bay, is thar rangers will come aboard to share fascinating insights about the glaciers and wildlife. From massive glaciers, to floating growlers and bergy bits, it's so beautiful.
You may see whales, sea lions, seals and wildlife along the coastline. Be sure to grab your camera (or phone), binoculars and cup of hot coffee or chocolate and be prepared for one of the most memorable days of your Alaska cruise.
10. Not Dressing for the Weather (layers)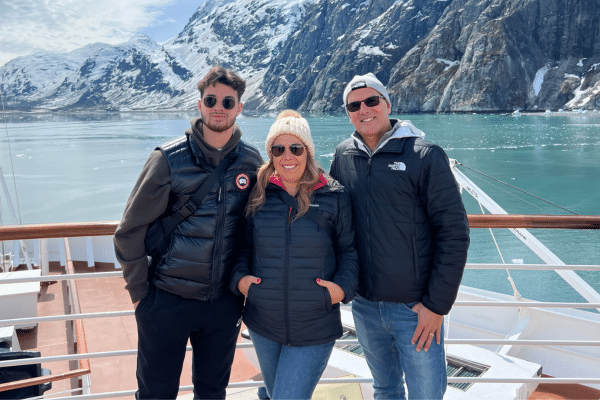 One of the biggest mistakes Alaska cruisers make is underestimating the weather and not packing appropriate clothing and footwear. While no one wants to over pack, being cold, damp and uncomfortable is not the solution.
Alaska's climate can be unpredictable, so be prepared with layers, rain gear, and good footwear. Depending on the month of your Alaska cruise, packing a lightweight puffer coat, a hat and gloves, and waterproof hiking shoes will help.
Related: What to Wear on an Alaskan Cruise
11. Not Eating in the Cruise Ports of Call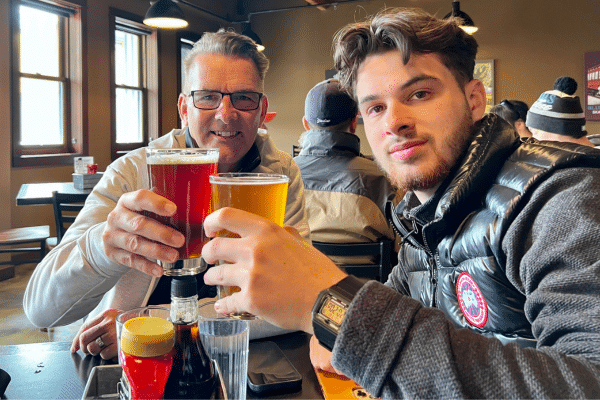 Don't miss out on the local foods and restaurants in Alaska's cruise ports. It's a mistake to stick to the cruise ship's dining options alone.
Here are a few options:
In Juneau, consider eating at Tracy's King Crab Shack, which is in walking distance from the cruise ship. Cruise passengers and locals rave about the delicious Alaskan king crab legs.
In Skagway, head over to the Skagway Brewing Company for fish and chips and the famous Spruce Tip Ale or other craft beer.
In Ketchikan, try out the popular and well located restaurant, Annabelle's Famous Keg and Chowder House.
No matter where you go, it's always a good idea to try out the local cuisine and support the local economy.
12. Being Unprepared for Seasickness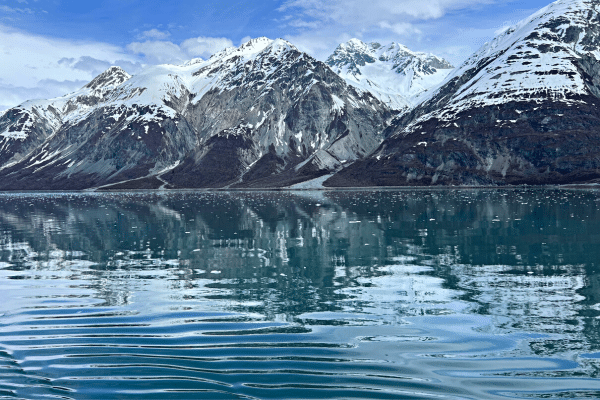 Don't overlook the possibility of seasickness on your Alaska cruise. On our recent Alaska cruise, we had pretty smooth seas. However, on our last sea day before arriving back to Vancouver at the end of the cruise, our ship experienced a lot of rocking and rolling.
Luckily, we brought some motion sickness medication, which helped tremendously.
While it's not a guarantee, it's always smart to be prepared. Pack some seasickness remedies like seabands, ginger candies, or over-the-counter medications such as Bonine or Dramamine.
13. Not Bringing Binoculars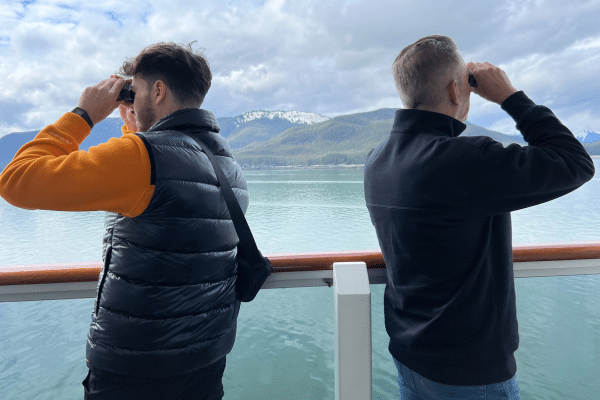 Don't make the mistake of forgetting to bring your binoculars on your Alaska cruise. Without them, you risk missing out on spotting wildlife and fully appreciating the stunning coastline and glaciers.
Don't rely on your naked eye alone. Pack your binoculars in order to see Alaska's wildlife and scenery both on the ship and on whale watching excursions. Binoculars are a must-have Alaska cruise essential!
Video: 13 Alaska Cruise Mistakes Not to Make
Video: 10 Things Not to Forget to Pack for an Alaska Cruise
Related & Popular Posts
Final Thoughts on Alaska Cruise Mistakes that Can Ruin Your Cruise
In this post we went over the Alaska cruise mistakes that could spoil your trip. From choosing the right cabin to enjoying local cuisine, preparing for seasickness, and packing binoculars, these tips will help you to have an amazing Alaska cruise.
Are you going on an Alaska cruise? Please let me know your tips and questions in the comments below.
Happy Cruising!
Ilana
If you found this article helpful, please pass it along. Please feel free to share on Facebook or PIN to your favorite Pinterest board (share buttons at the top). Thanks so much!