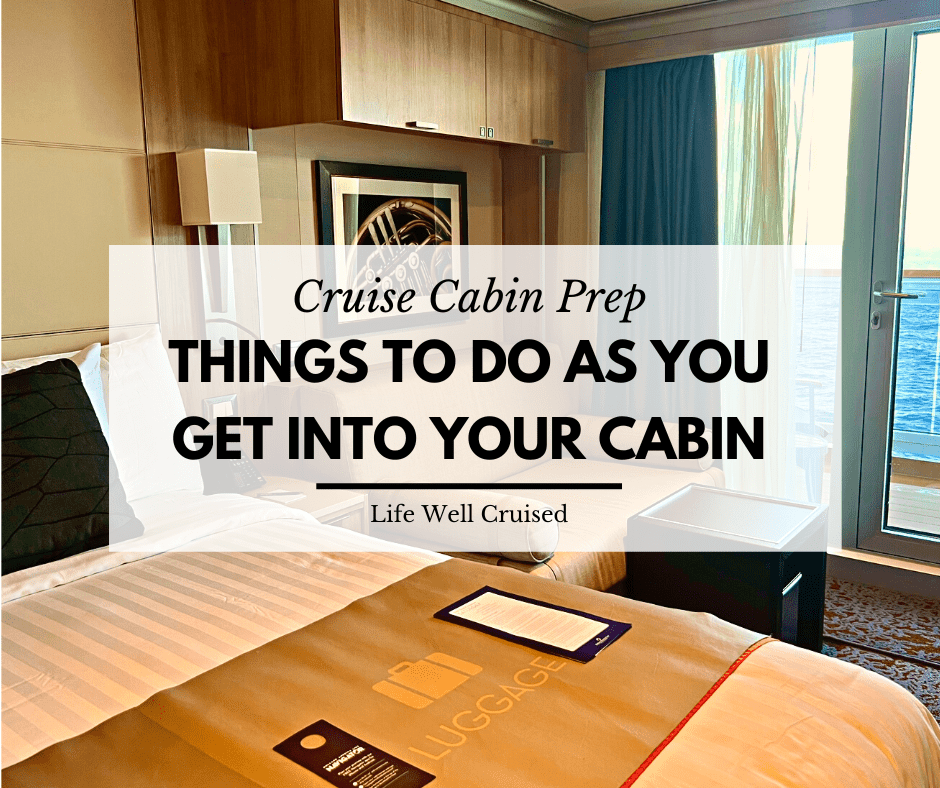 There's nothing like boarding your cruise and seeing your cruise ship cabin for the first time! These are the things you must do immediately when you get into your stateroom, or you might regret it.
On embarkation day, there are a lot of things to do. However, your cruise cabin is important, and you want things to start off on the right foot!
These cruise cabin prep tips will help you to make sure all is in working order in your stateroom and more!
This post contains affiliate links which means if you click and buy that I may make a commission, at no cost to you. Please see my disclosure policy for details.
As an Amazon Associate I earn from qualifying purchases.
Important Things to Do as You Get Into Your Cruise Cabin
1. Take a Photo of Your Cabin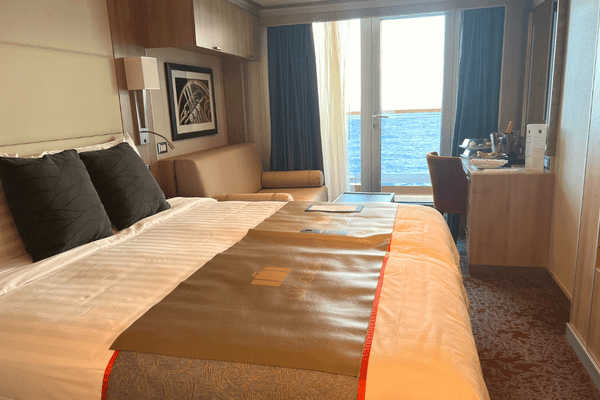 Even if you don't plan to share a photo of your cruise cabin on Instagram, there are a lot of good reasons to take a cabin photo immediately as you enter your room.
Firstly, your cruise ship cabin will never look as clean and put together as it does on embarkation day. You may want to share a photo with someone back home, put it in a future album, or simply remember it this way later on.
If you do create social media content, film your cabin for YouTube, TikTok or Instagram Reels even before you put down your bags. Trust me on this one, it will only be harder later. I've learned from experience ;-).
2. Check if Your Bed Configuration is as Requested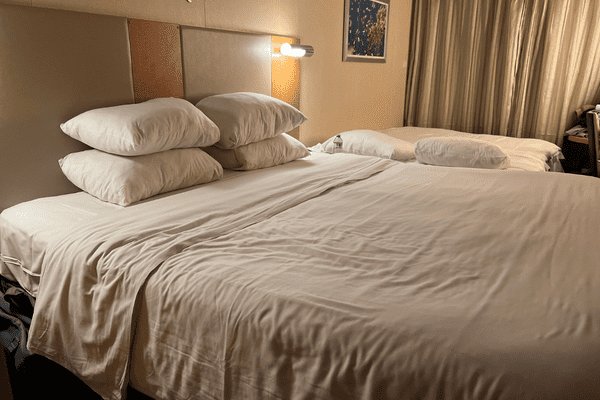 Cruise ship cabins are different than most hotel rooms, and this includes the beds. Rather than having a king or queen size bed like an average hotel, cruise ship staterooms usually have 2 twin size beds.
Cruise ship passengers can request, when booking, for beds to be put together to form a larger queen/king size bed.
When you enter your cabin for the first time, check to see if your bed configuration is as per your request. It's possible to request twin beds, and to see that you have one large bed instead, or vice versa,
However, this really isn't a big deal at all, and can be easily changed by your cabin attendant. Make sure to let them know as soon as possible, so that the beds can be adjusted before you go to bed later that evening.
Tip: If you have a third or forth passenger in the cabin, you may have pullman beds or a sofa bed, that is only put out at night.
3. Sanitize and Wipe Down Your Cabin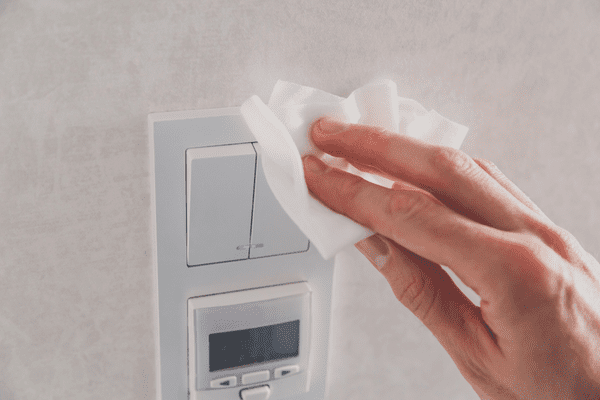 Even though cruise ship cabin stewards do a pretty good job cleaning and disinfecting, I still like to sanitize and wipe down some places that might be missed.
Just like in hotel rooms, it can be a good idea to use a disinfectant wipe to sanitize:
the remote control
light switches on the wall and on lamps next to the bed
drawer pulls
thermostat/ac
telephone
safe keypad
other surfaces
No one wants to get sick during a cruise vacation, and a quick wipe down of these surfaces can help.
Related: The Ultimate Cruise Lingo Glossary – 85 Terms You Need to Know
4. Check that Everything is in Working Order
Take 5-10 minutes after you enter your cabin on boarding day, to check that everything is in working order. Make your the air conditioning is working, the patio door slides easily, the remote control has batteries, the bed is comfortable etc.
If there's anything that needs attention, it's best to let your cabin steward or guest services know right away, so they can put in a service call if needed.
5. Lie Down on the Bed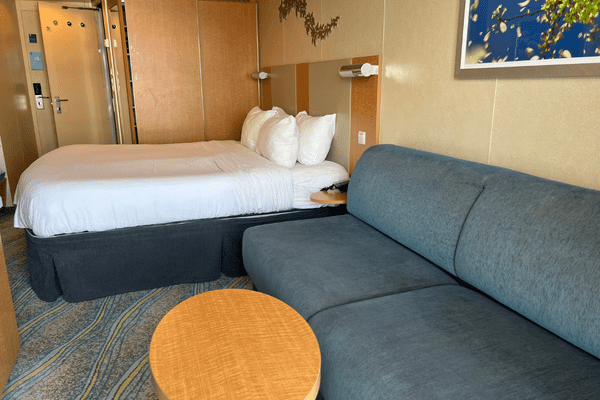 Frequent cruisers share this valuable tip. Lie down on your bed to see if it's comfortable.
We usually find the beds on cruise ships to be very comfortable. However, some people like a softer mattress and others prefer one that's more firm.
If the bed is too hard or too soft, this is something to mention to your cabin attendant when you meet them. They may be able to arrange your bedding or provide a solution.
Tip: Before laying down on the need, some people suggest checking for bed bugs. This isn't a common problem in cruise ships, but better safe than sorry.
Get The Ultimate Cruise Planner
Regular price: $27 Now just $17!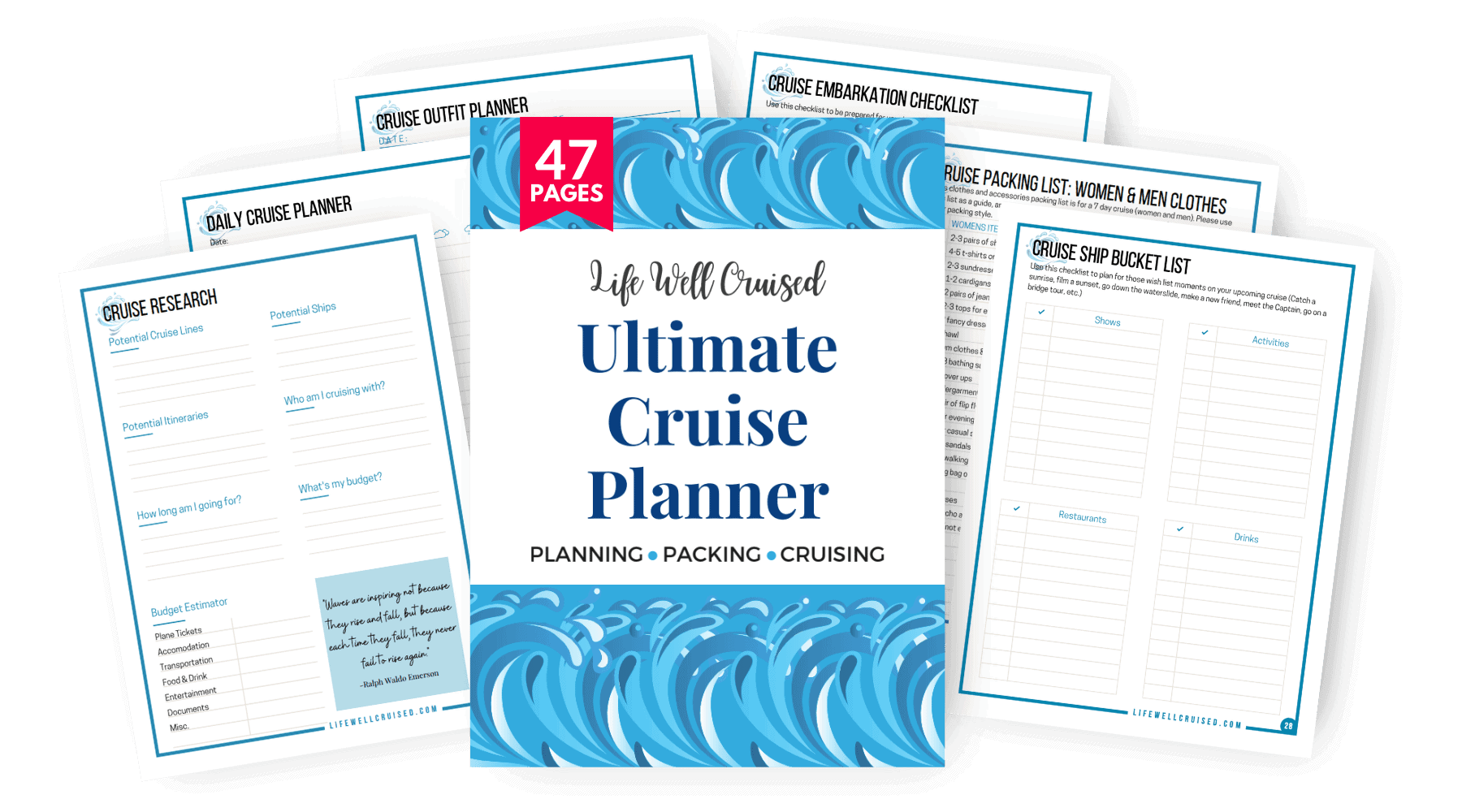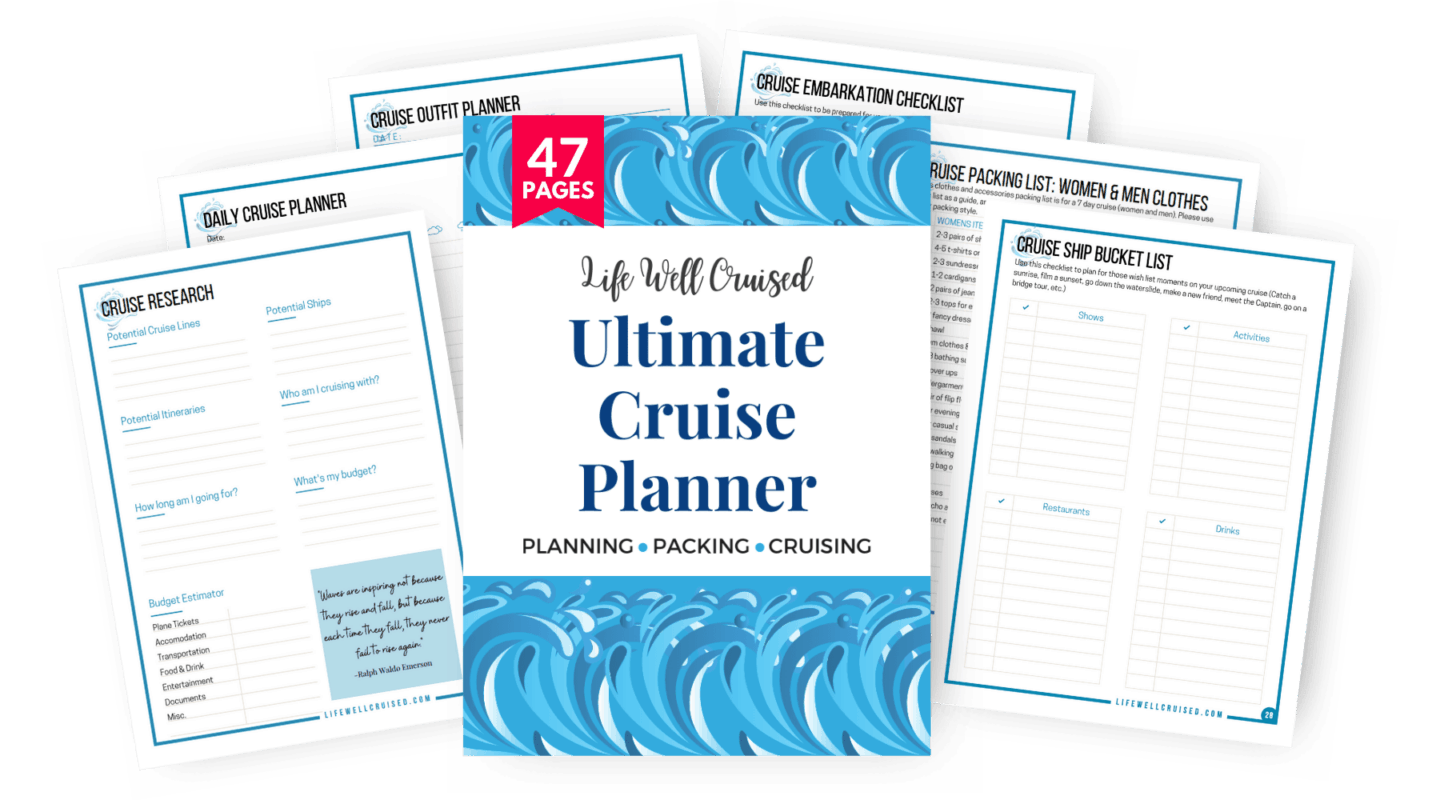 6. Drop Off Carry-On Bags & Put Away Valuable Items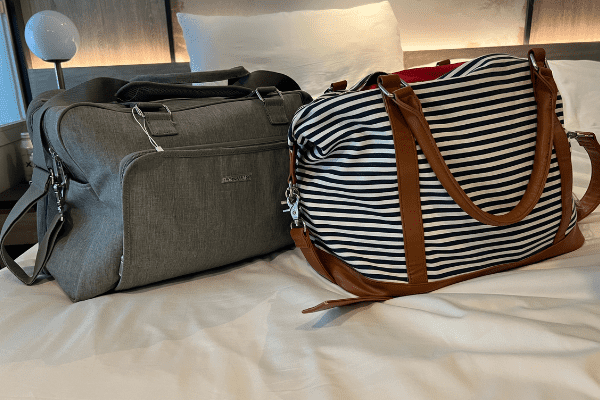 The first day of your cruise is a great time to get out of your cabin and explore the cruise ship. Drop off your carry-on bags and quickly put items away.
All valuables should be put into your cabin safe. Things to remember to put away included:
car keys
wallet with money & credit cards
passports & government ID
jewelry
Medication (optional – but some people leave in the safe)
Related: 23 Essential Things to Pack in Your Cruise Carry-On Bag
7. Meet Your Cabin Attendant
Sometime after you get to your cabin after you board your cruise ship, you'll likely meet your cabin attendant. It's a very busy time for them, but they'll usually take a few minutes to introduce themselves and meet you.
They'll tell you how often they'll be cleaning your cabin, along with any information you may need to know.
8. Make Any Special Requests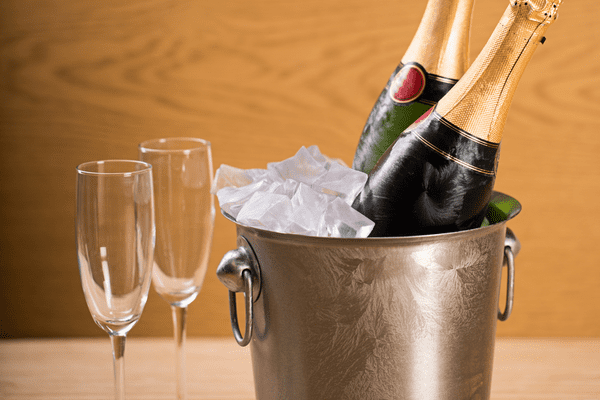 When meeting your cabin steward, this is a good time to make any special requests. You may need extra hangers, extra towels for the bathroom, or you may like the ice bucket to be filled daily.
If you would like a mattress cover, to make the bed feel more comfortable, this is a good time to ask.
Related: 50+ Must-have Cruise Essentials from Amazon
9. Empty the Mini-Fridge
If you don't plan on drinking the items in the fridge mini bar (there's an extra cost), you can ask your cabin attendant if he or she can remove them.
This is especially helpful if you plan on putting water bottles in to keep cold, or anything else during your cruise.
If there are other small pieces of furniture that can be in the way, like a small coffee table, you can ask if this can be removed as well.
10. Place Your Magnets on the Wall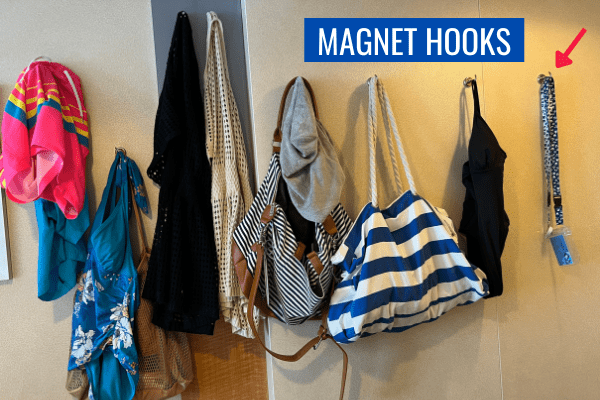 If you brought magnets and other cruise cabin essentials to keep your cabin organized, take 5 minutes and put them up. This is 100% optional, but can make your cabin feel more put together and ready, when you unpack later on.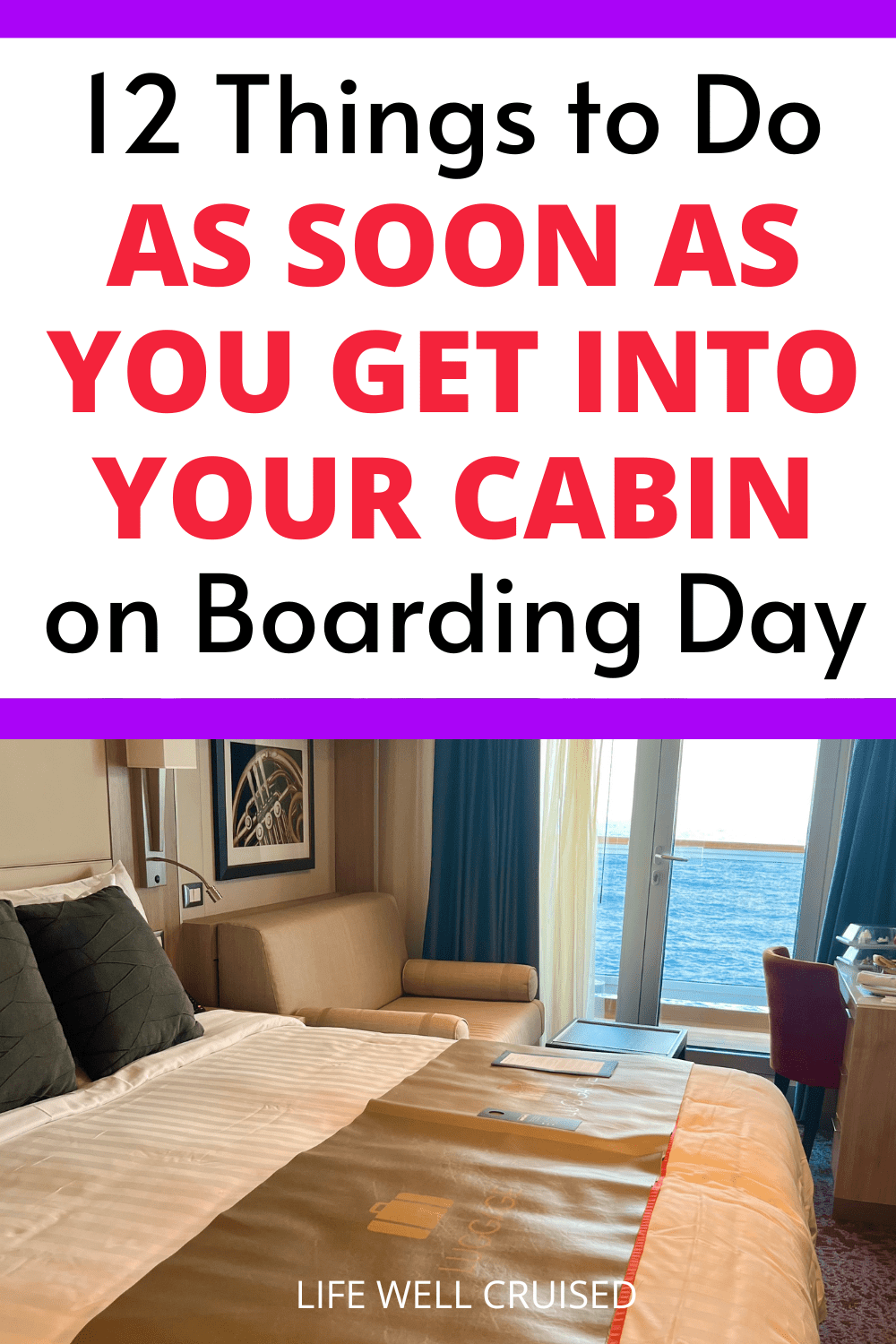 11. Unpack Clothing that Must Be Hung
If you're lucky enough to have your luggage delivered already, be sure to hang up any items that could wrinkle right away. Dresses, tops, dress shirts and suits that wrinkle easily should be hung as soon as possible, so that the fabric can relax.
A little shower steam and/or wrinkle releaser should do the trick later on.
Related: How to Pack Wrinkle Free for a Cruise
Get The Ultimate Cruise Planner
Regular price: $27 Now just $17!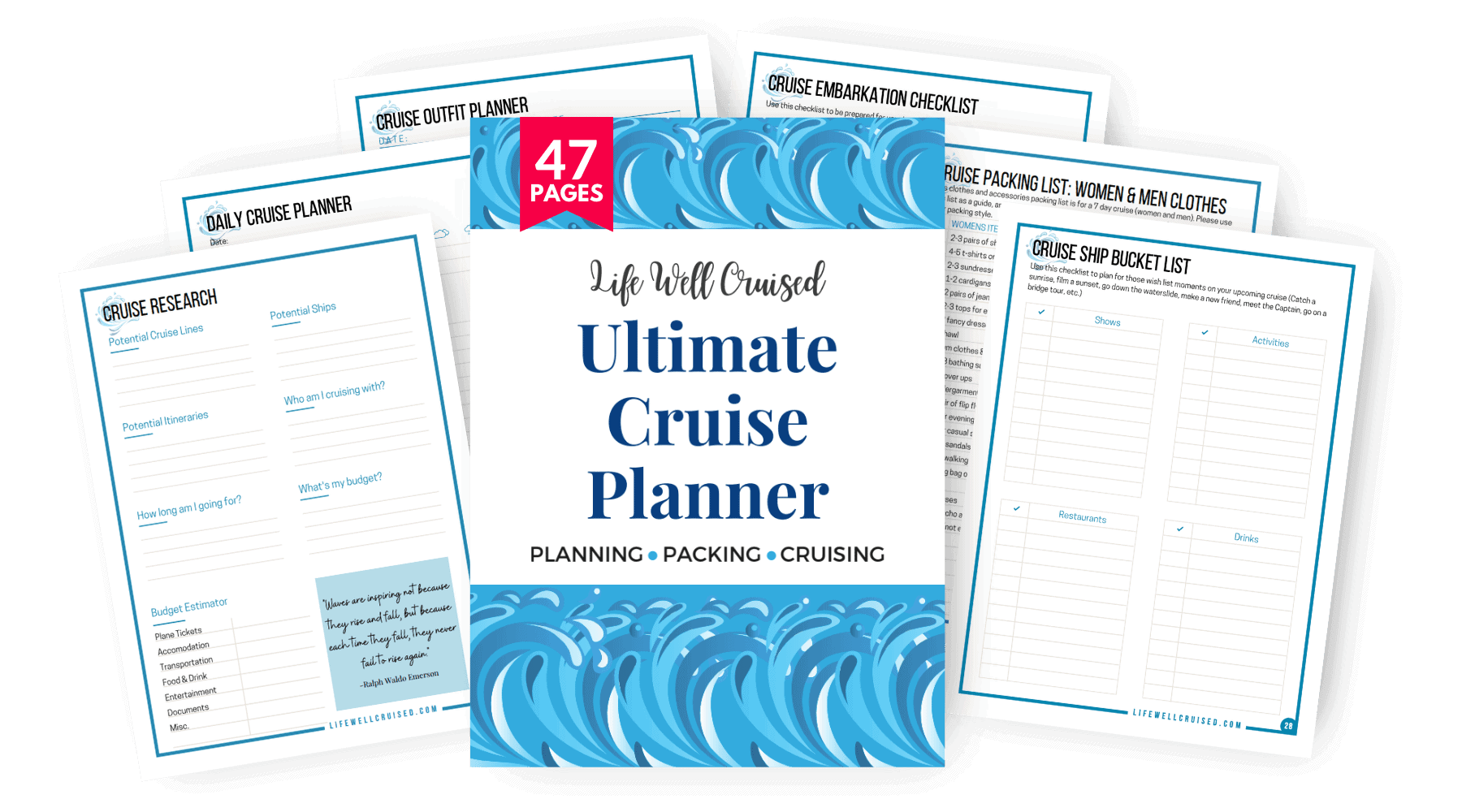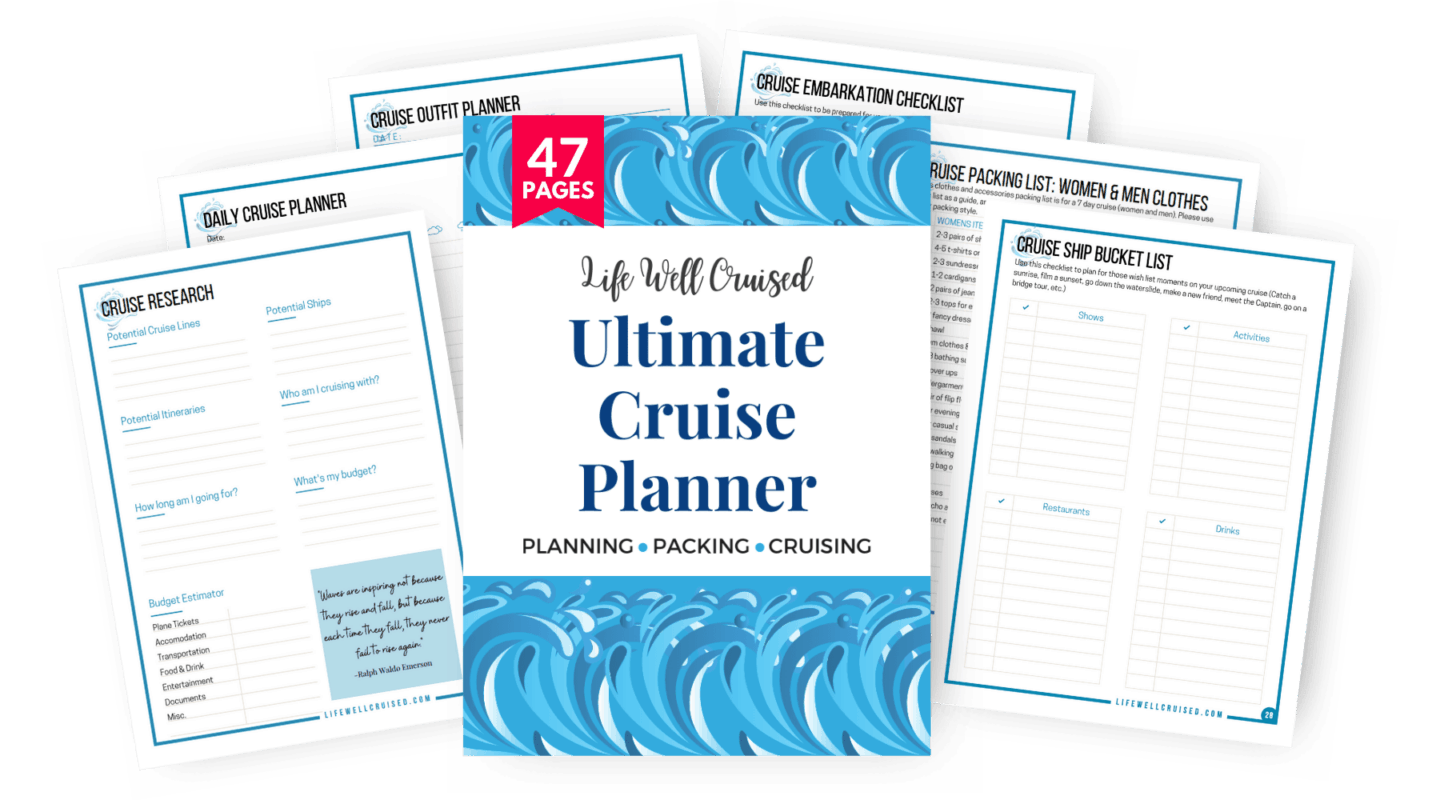 12. Use the Cabin Signs
Don't forget to put the cabin signs on your cabin door when you go in or out (as needed). You can make life easier for your cabin steward by placing a "Tidy up please" sign on your door when you go out for the day.
Likewise, place a "Do not disturb" or "I'm sleeping" sign on your door when appropriate.
If you're on a cruise ship that uses a light switch style notification, it's even more important. When you'd like your cabin tidied, don't forget to put this light on as you leave your stateroom.
Unfortunately, if you forget, you'll likely come back to a cabin that wasn't cleaned, as your stateroom attendant would not want to go in without the notification.
Video: CRUISE CABIN PREP: Do THIS as Soon as You Get Into Your Cruise Cabin
Related & Popular Posts
Final Thoughts on Things to Do as Soon as You Get Into Your Cruise Ship Cabin
When you walk into your cabin for the first time on embarkation day, it's one of the best feelings. There are a few things you want to do right away, so that your cabin is set up for the perfect start to your cruise.
In this post, we went over several things to do immediately when your get into your cabin on boarding day.
Is there anything that you do or would add to this list? Please let me know in the comments below.
Happy Cruising!
Ilana
If you enjoy this post please don't keep it to yourself ;-). Please feel free to share on Facebook or Pinterest (share buttons at the top). Thanks so much!