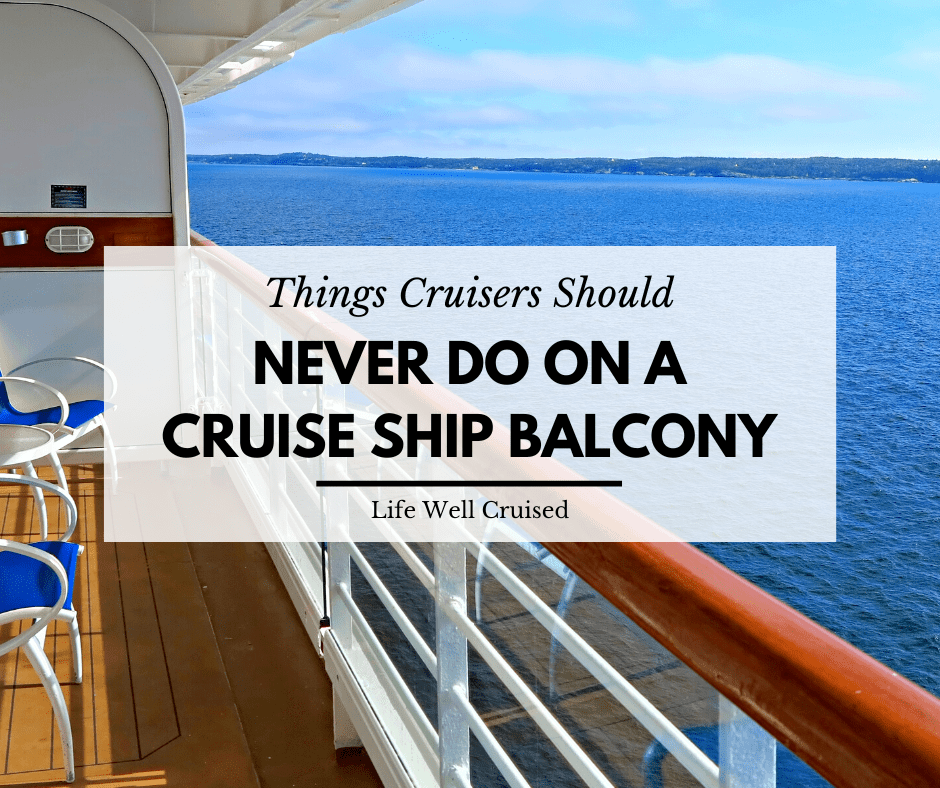 If you're going on a cruise and have a balcony cabin, there are some cruise ship balcony rules that you need to know. Having a balcony cabin can really add to your enjoyment on a cruise.
However, there are some common sense guidelines as well as some less obvious rules to follow. Breaking some of these written & unwritten cruise rules can be dangerous, can result in fines or even getting kicked off the cruise ship!
In this post I share 10 cruise things to never do on a cruise ship balcony, from cruise policies to cruise passenger etiquette.
This post contains affiliate links which means if you click and buy that I may make a commission, at no cost to you. Please see my disclosure policy for details.
As an Amazon Associate I earn from qualifying purchases.
Things Not to Do on a Cruise Ship Balcony
1. Never Climb or Stand on Balcony Railings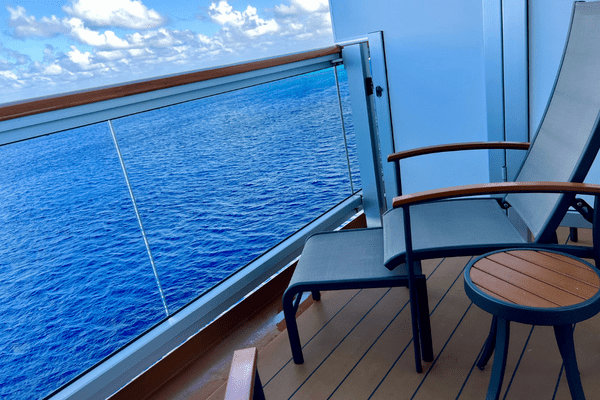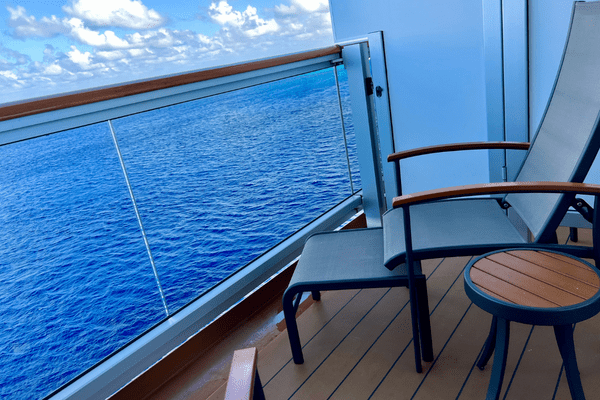 There's almost nothing more dangerous than standing or climbing on cruise balcony railings. Unfortunately, there have been cases of people falling overboard into the ocean or even the ship ship dock with disastrous outcomes.
While there have been cases of people being rescued at sea after going overboard on a cruise ship, this is not something to take a chance with.
Cruise lines have rules against climbing on balcony railings, and have been known to kick passengers off a cruise if they are caught.
2. Never Throw Anything Overboard
Cruise lines are now very conscious about protecting the oceans and do not condone throwing anything overboard. Never throw anything off your balcony including garbage, cigarette butts or anything else.
Cruise passengers have been disembarked for violating this important rule, especially when it was done with intention.
Related: 10 Things That Can Get You Kicked Off a Cruise
3. Don't Go Outside on Your Balcony Without Clothing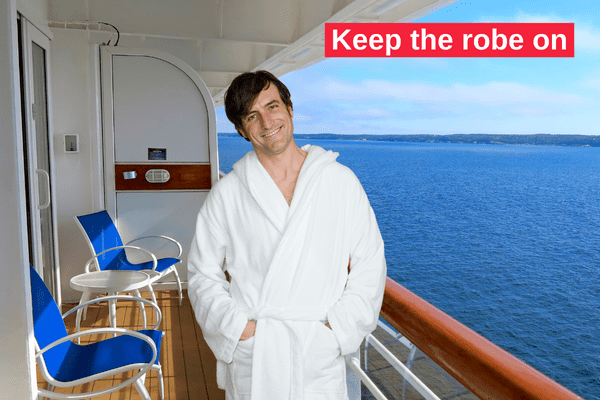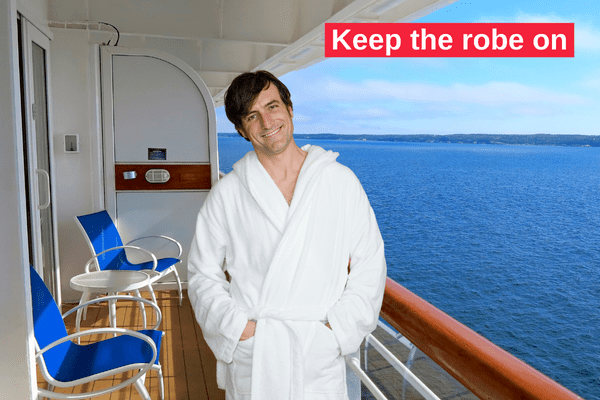 Cruise ship verandas and balconies are not very private. There are cabins above and to the sides, as well as the top decks that can likely see onto your balcony. Even if it's early morning or late at night, you might be surprised at who can see you, including cruise ship cameras.
Before heading out on your cabin balcony, put on some clothes or a bathrobe.
4. Don't Keep Your Balcony Light On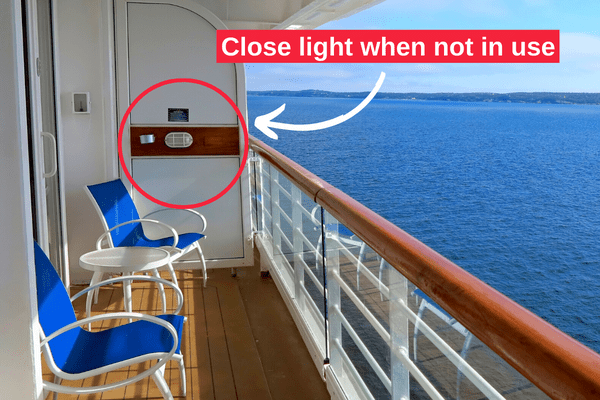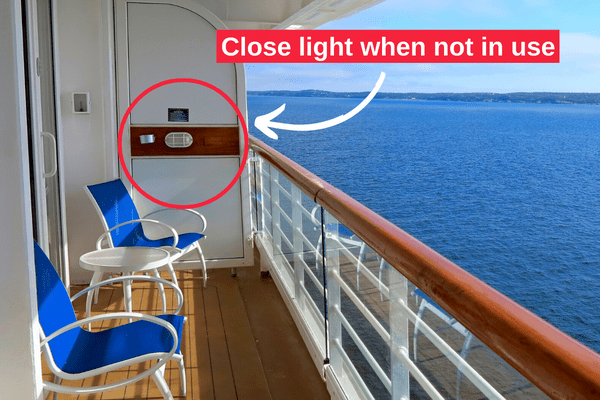 It can be easy to forget this one, but don't keep your cruise balcony light on all night long. Many verandas and balconies have an outdoor light that you may want to open when it's dark. Just don't forget to switch off the light when you o back into your room.
Some cruise ship passengers say that they've had their sleep disturbed by bright lights that have been left on by neighboring balcony cabins. It's good cruise ship etiquette to try and be respectful of fellow passengers.
5. Never Leave Clothing Items on the Balcony
While many cruisers leave clothing and other items out to dry on the balcony, cruise ships actually caution against this for a few reasons.
Firstly, clothing and other items left outside on a cruise ship balcony can be a potential fire hazard. If a cigarette butt would ever be tossed off the side of the ship (although this is not allowed), there is the potential to start a fire.
Another reason is there's a lot of wind on cruises, and clothes can be blown off the balcony into the ocean.
While this is less likely to become a problem when the ship is in port, don't even think about when the ship is sailing.
For cruisers, something to be aware of is that the sea has a salty ocean mist. Clothes that are left outside can get salt stains as well.
Related: Are Balcony Cabins Worth it on a Cruise? 10 Pros & 4 Cons
6. Don't Play Loud Music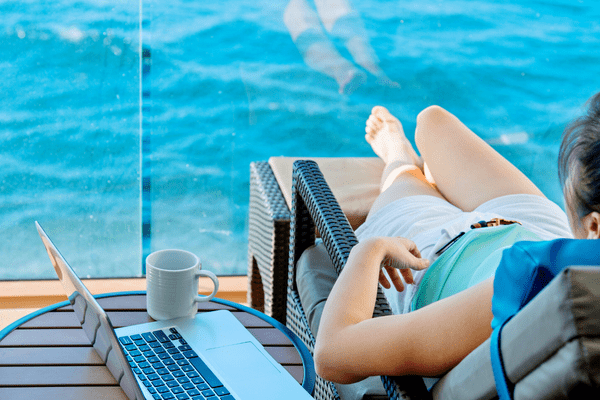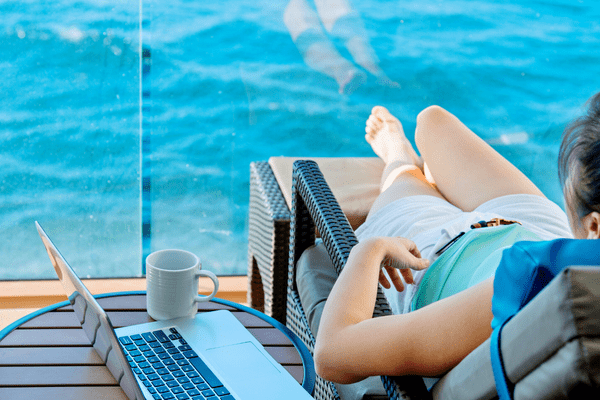 There's nothing wrong with bringing a bluetooth speaker to play your favorite music in your stateroom. However, avoid playing loud music on your cruise balcony as it can disturb others around you.
This is especially true if you're somewhere where people are likely to be outdoors, taking in the nearby landscape or scenery. As an example, keep music off or low when viewing Norwegian Fjords or when viewing glaciers in Alaska.
Related: Alaska Cruise Packing List
Get The Ultimate Cruise Planner
Regular price: $27 Now just $17!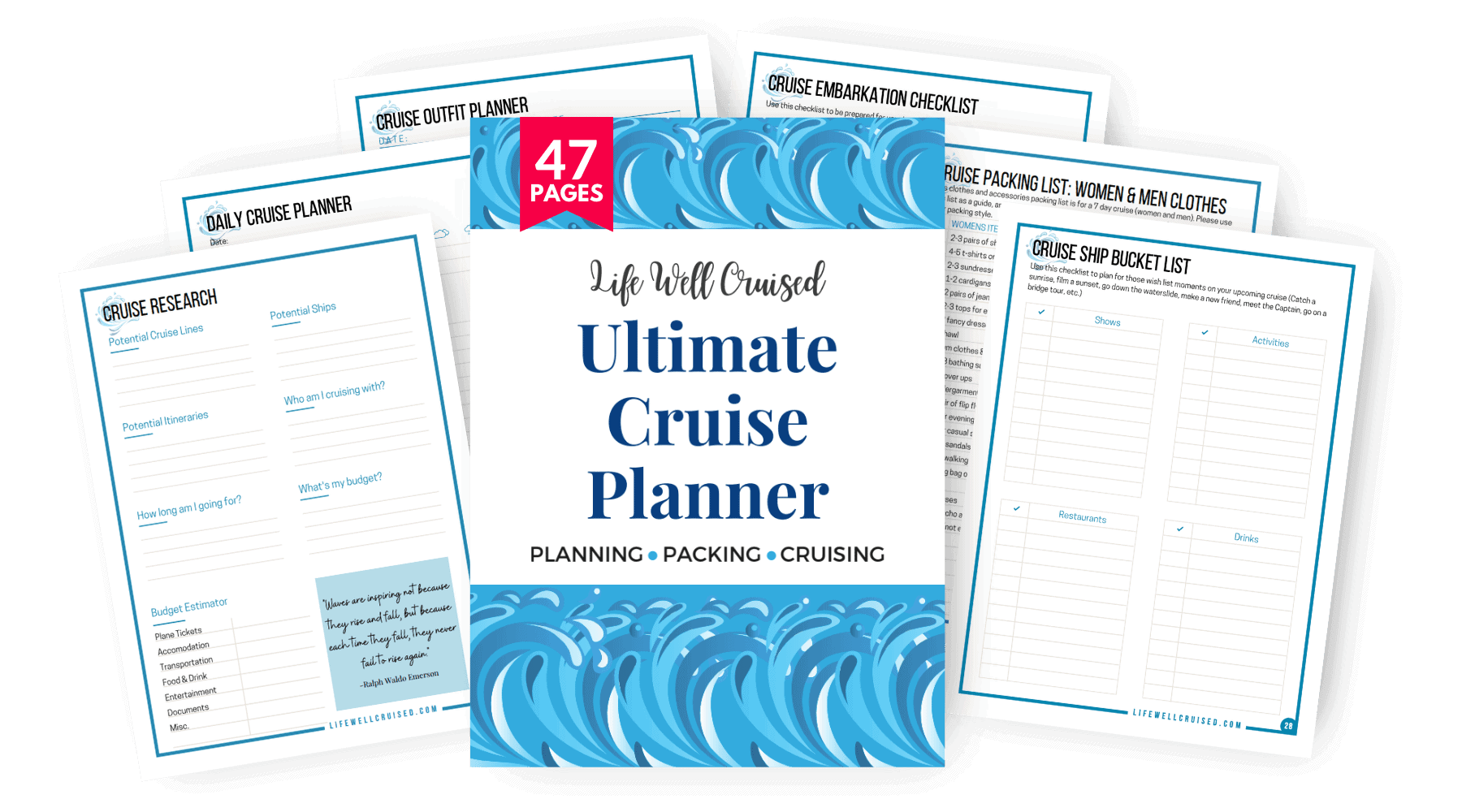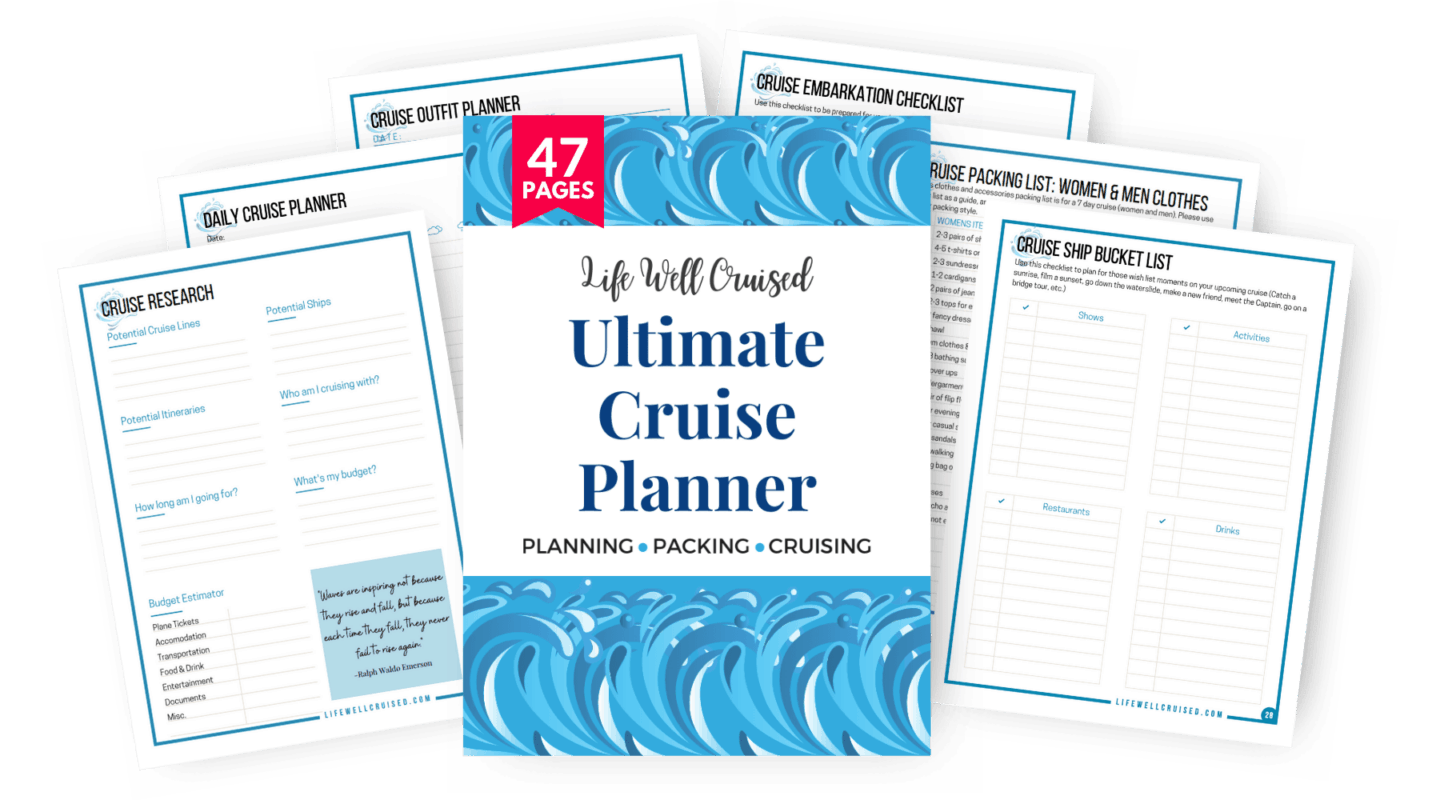 7. Don't Keep Your Balcony Door Open
In some cruise ship balcony cabins, you'll have sliding patio style doors. It's best to avoid leaving them open for long amounts of time. On many newer cruise ships, the air conditioning in your stateroom will turn off when the balcony door is open.
Something else to know, is that you should never open the front door to your cabin while your balcony door is also open. This creates a wind tunnel that might surprise you!
Related: 17 Rookie Mistakes First Time Cruisers Should Avoid
8. Don't Have Loud Conversations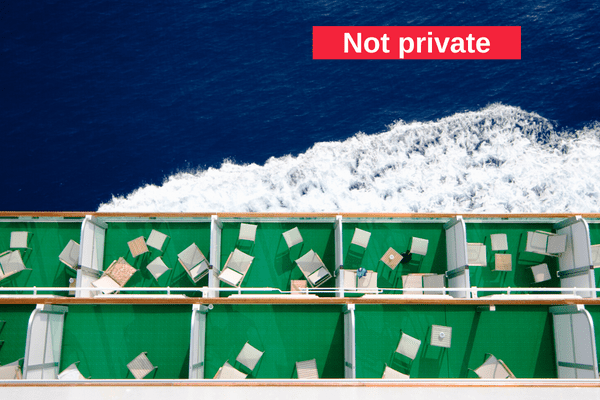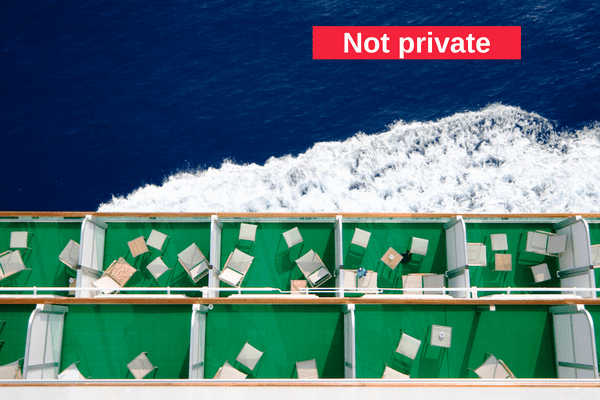 There's an expression "voices carry" and this is definitely true on cruise ship balconies. Be aware that a balcony isn't 100% private, and your neighbors can hear you if they're outdoors too.
If your conversation is of a private nature, keep it quiet. Plus, avoid screaming or being too loud, to avoid disturbing others on the cruise.
Related: 50+ Must-have Cruise Essentials from Amazon
9. Never Leave Kids Unsupervised on the Balcony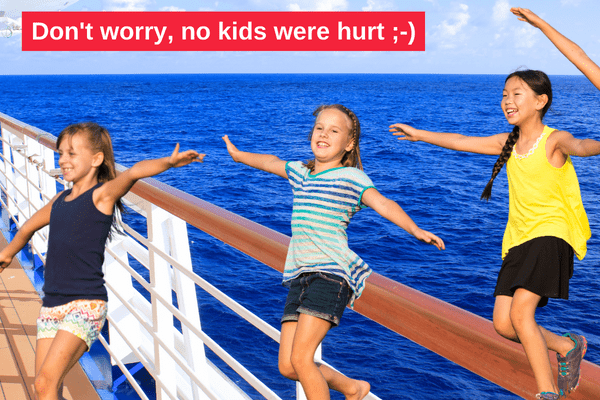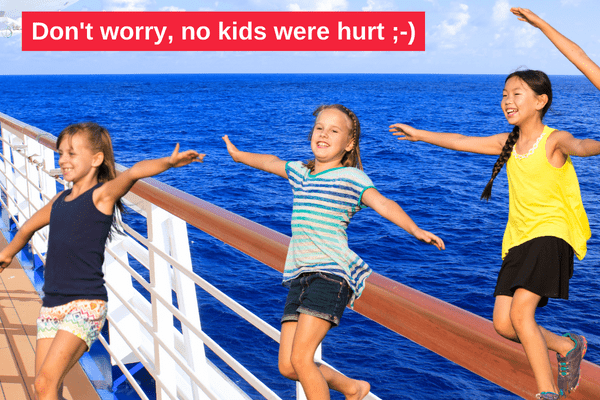 Cruise ship balconies are generally safe and railings are high. However, when it comes to children, they should always be supervised when out on the cruise cabin balcony.
Make sure to let kids know that they should never clim on the chairs or small tables, or onto the balcony railing.
In many cruise balcony cabins, there are ways to lock the balcony doors when inside (even from the top – ask your cabin attendant).
Related: What to Pack for Kids on a Cruise: Kid's Cruise Packing List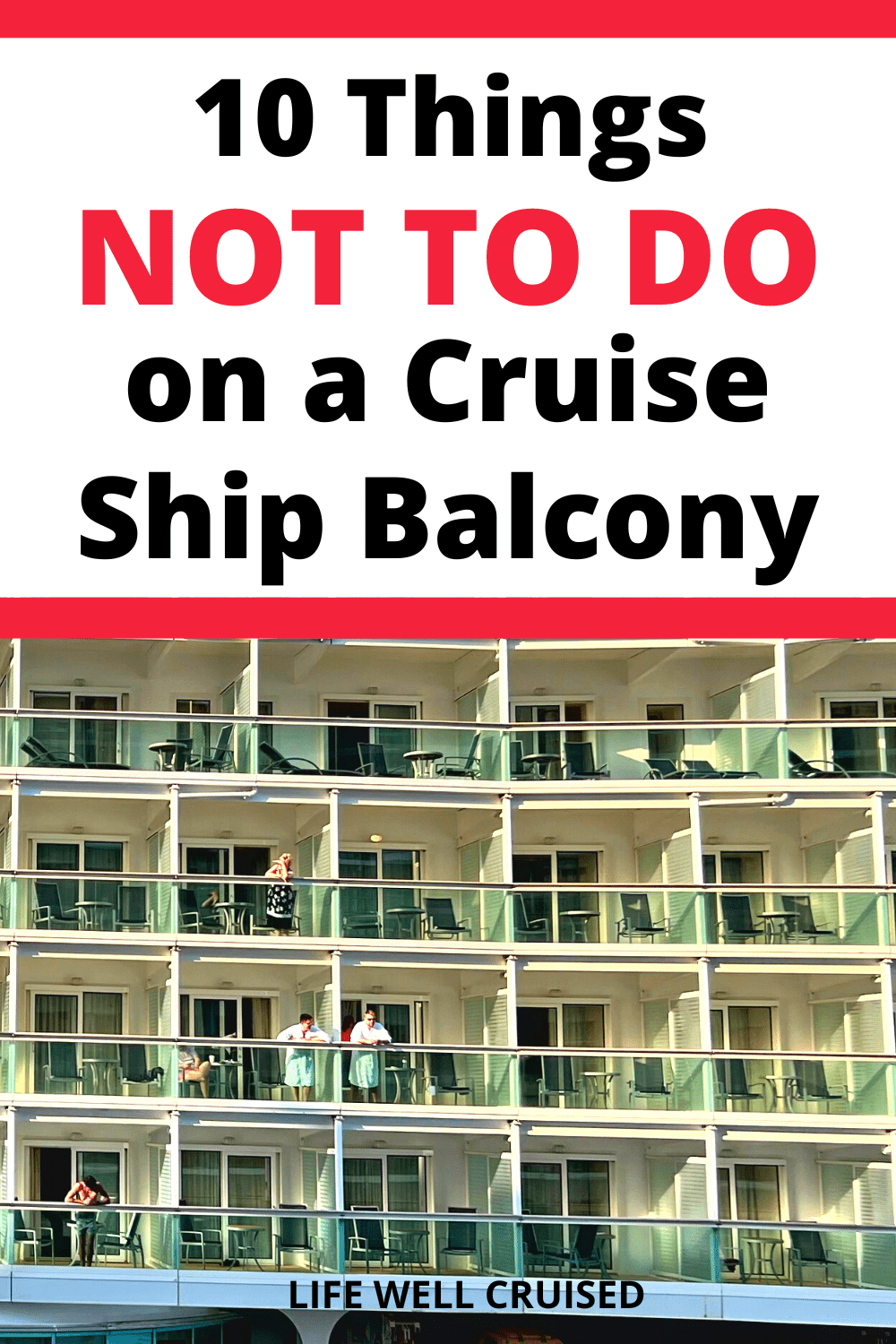 10. Never Smoke on a Cruise Ship Balcony
Most cruise ships have a rule that passengers cannot smoke on the cabin balconies. This wasn't always the case.
Over a decade ago, there was a fire on the Star Princess that is thought to have started from a cigarette being tossed onto a balcony below. Although it was bad and there was a lot of damage, the crew onboard managed to put out the fire and the ship sailed to the closest port.
Since that time, cruise lines have made changes to the balconies to prevent this from happening again, as well as their fire prevention systems.
Nevertheless, many cruise lines now prohibit smoking any substance on a cruise ship balcony. Smoking cigarettes is allowed in designated smoking areas only.
Video: 10 Things to Never Do on a Cruise Ship Balcony
Here's a little more on this topic from our YouTube channel, where I share some additional tips to know.
Get The Ultimate Cruise Planner
Regular price: $27 Now just $17!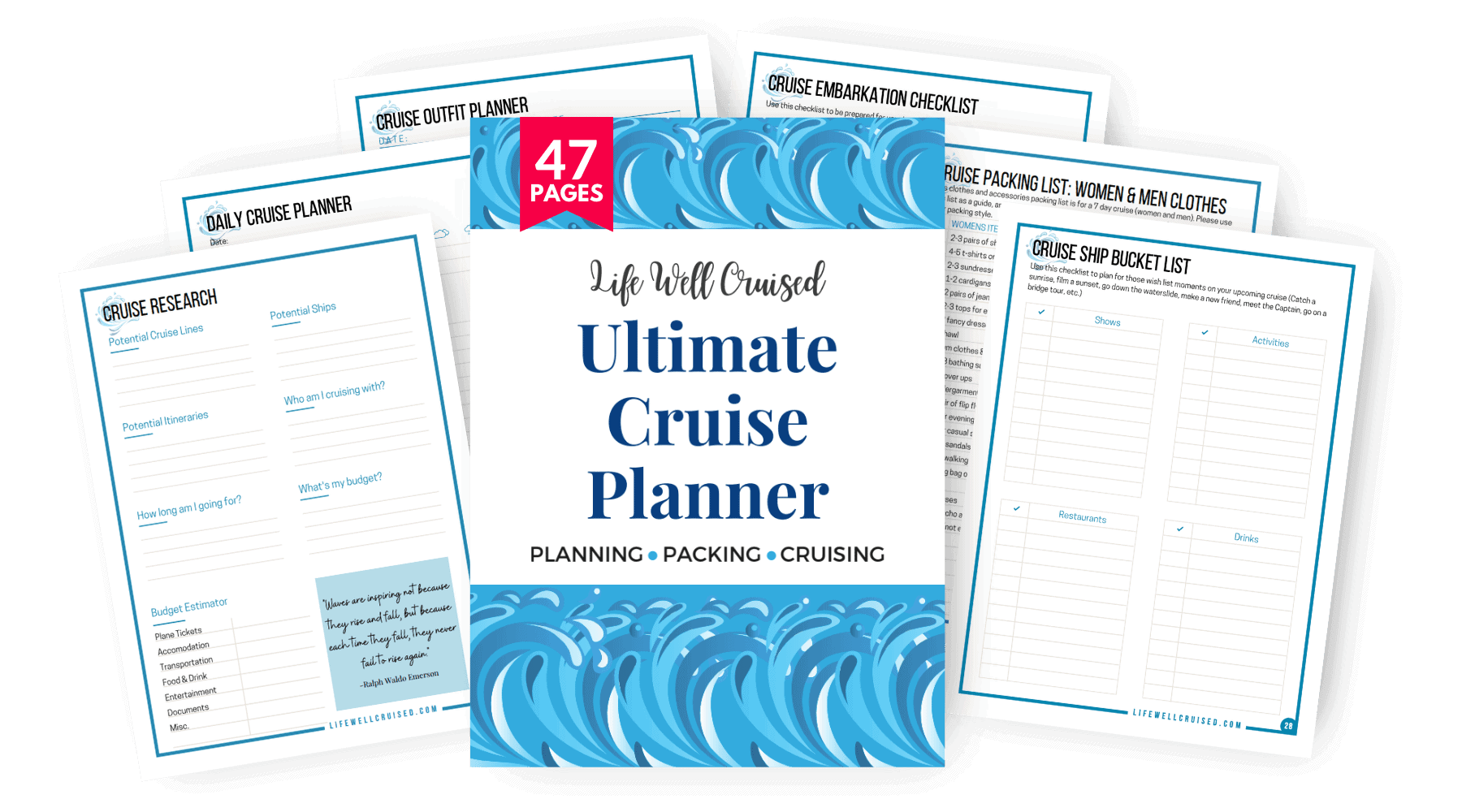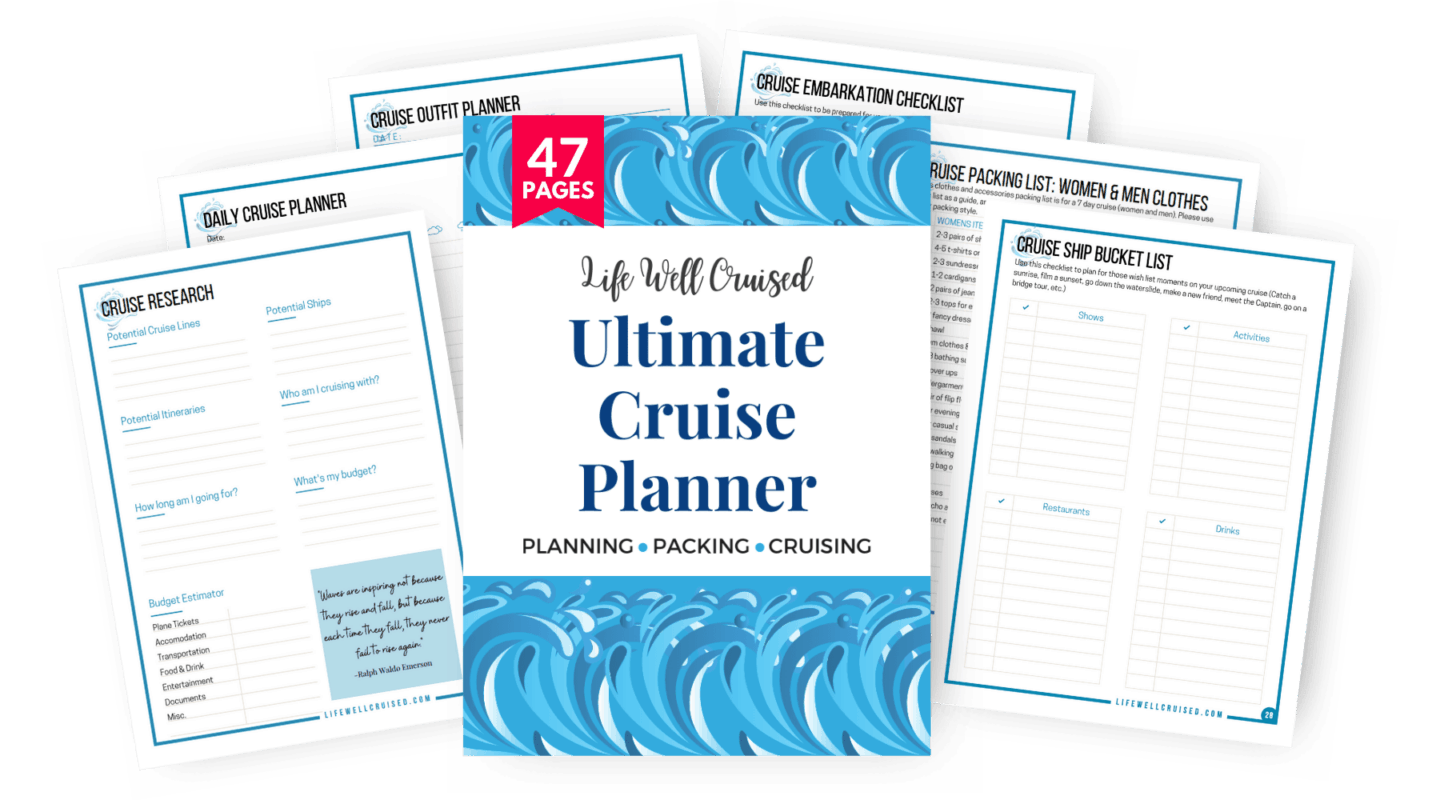 Final Thoughts on Things to Never Do on a Cruise Ship Balcony
Cruise ships are like floating resorts and they have certain rules to keep people safe and happy onboard. In this post we went over what not to do on a cruise ship balcony to ensure a great cruise vacation!
Happy Cruising!
Ilana
If you enjoy this post please don't keep it to yourself ;-). Please feel free to share on Facebook or Pinterest (share buttons at the top). Thanks so much!