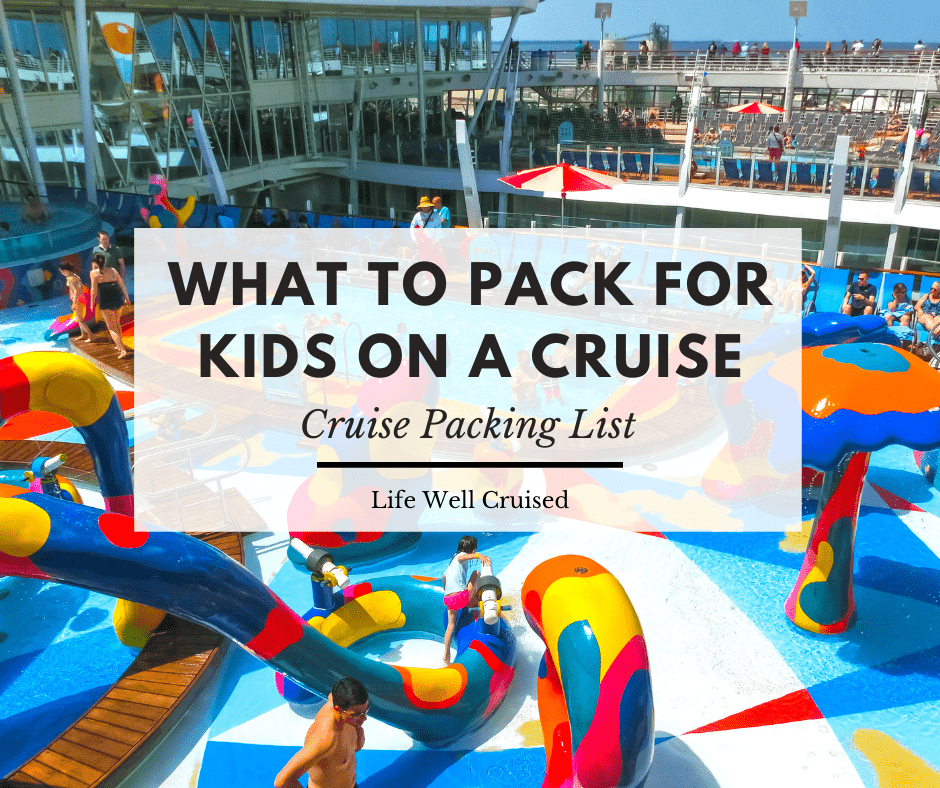 Are you going on a family cruise and wondering what to pack for your children? This kid's cruise packing list has everything you'll need to bring for your cruise vacation.
Whether you're going on a Caribbean or Bahamas cruise, or any other destination, this cruise packing guide for children will help.
Here's what to pack for kids on a cruise, so you'll have everything you need.
In this post we go over:
What clothes to pack for your children
Kids cruise essentials
Babies & toddlers cruise essentials
Must have items for families
This post contains affiliate links which means if you click and buy that I may make a commission, at no cost to you. Please see my disclosure policy for details.
As an Amazon Associate I earn from qualifying purchases.
Cruise Packing List For Kids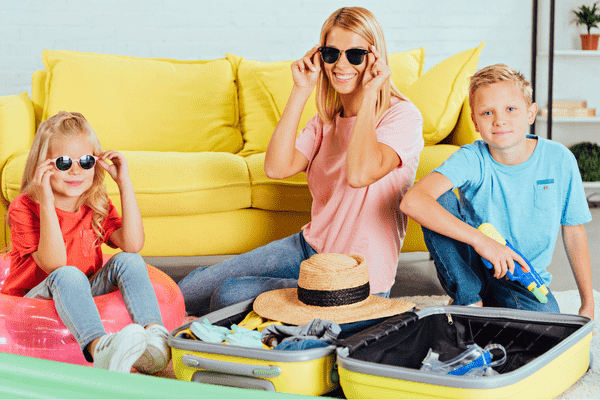 If you're going on a cruise with kids, you'll want to plan and pack for sea days, days in port and evenings on the cruise ship.
Most cruise lines are casual during the day and have a dress code in the evening in the main dining room and nicer restaurants. Resort casual attire is perfect for most nights.
Some cruise lines have a formal or dressy night, where passengers will dress up a little bit more. However for children, dress codes are pretty relaxed.
This cruise packing list of clothing for kids is a good planning guide, that will help you to bring everything you need for your family cruise. Please adjust the list of clothing to the length of your cruise, your itinerary and your child's preferences.
Cruise Packing List for Kids:
7 t-shirts
4-5 pairs of shorts
2-3 bathing suits
3-4 polo shirts or nice tops (evening)
2 long sleeve shirts or sweatshirt (for cooler days or evenings)
2-3 casual dresses or sundresses for girls
2 pair of leggings or sweat pants (comfy clothes)
1-2 fancy dresses for formal nights for girls
1 suits or dress pants and 2 shirts for formal nights for boys
Undergarments
Socks
Sleepwear
Belt and tie (optional)
Hair accessories
Sunglasses
Baseball cap or sunhat
Rain poncho
Pool and brach sandals
Sneakers
Dress shoes (evening)
Cruise Line Specific & Itinerary Packing Lists
Kid's Cruise Essentials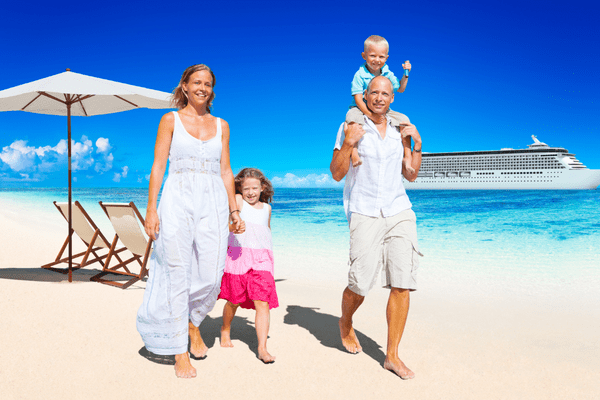 1. Toys
Although there are a lot of activities for kids on a cruise, it's a good idea to bring a few small toys to keep your child busy in the cabin or even on the airplane.
You won't have room for a lot. However, consider allowing each child to pack a small backpack with some toys, books and markers to keep them occupied.
Sand Toys
If you're going on a Caribbean, Bermuda or other warm weather cruise, sand toys are a great item to pack for beach days and shore excursions.
These collapsible sand toys take up less room and are easier to pack for your family cruise.
Recommended: Collapsible sand toys (check price & 4.5 Amazon reviews here)
It's a good idea to bring mesh beach bags to carry sand toys and other items between the cruise ship and beach.
Recommended: Mesh bags for sand toys (check price & amazon reviews here)
2. Water Shoes
For the lido deck and pool, beach or shore excursions, water shoes are a necessary cruise essential for children.
Recommended: Water shoes (great for kids of all ages)
3. Sun Hat
If you're visiting the Caribbean islands, Hawaii or Bermuda, you can expect sunny and warm weather. If you have young kids, bringing a sun hat with UV protection is a great idea. A baseball cap for older children and teens is great too.
Recommended: Sun hat with UV protection (see different cols on Amazon)
4. Closed Toe Shoes
A standard pair of sneakers is perfect for a cruise. Remember that your child will need closed toe shoes to participate in some of the cruise ship activities and sports (don't forget socks!).
5. Swim Goggles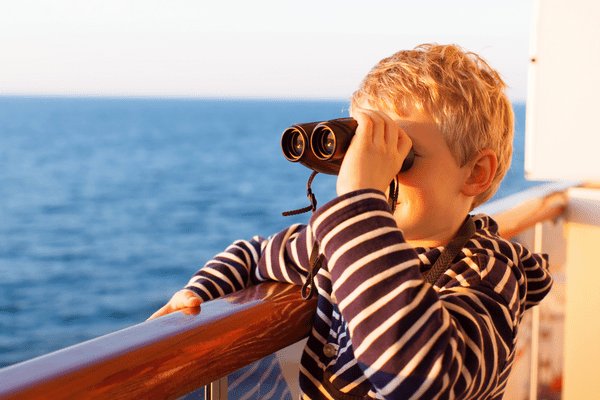 Since the oceans and pools on the cruise ship are salt water, it's important to pack a pair or two of swim goggles. Goggles don't take up much room in your luggage, but will be used a lot throughout your cruise vacation.
Recommended: Swim goggles (check price, style options & size on Amazon here)
6. Children's Medication
Remember to pack pain reliever and fever reducing medication, as well as any other children's medication you may use in your household.
Something to note is that cruise ships will have a limited supply of over the counter medications and first aid products, so be sure to pack what you may need.
7. Band-Aids
Consider packing a mini first aid kit with band-aids and antibiotic ointment to take care of any small cuts and scratches.
Recommended: Travel first aid kit (see 3000+ 4.5* amazon reviews here)
9. Umbrella Stroller
Having a lightweight stroller both on the cruise ship and in ports will be a lifesaver (even if your child doesn't usually use a stroller anymore).
An umbrella stroller is the easiest to pack and bring on a cruise – and is affordable.
Recommended: Umbrella stroller (compact & lightweight – see price & over 10,000 amazon reviews here)
11. Children's Sunscreen
On your family vacation, you will be spending a lot of time under the sun. Getting some children's sunscreen is a great way to protect your kids from getting sunburned.
If your children like spending time in the pool or ocean, getting a reef safe, water resistant sunscreen is a great idea.
Recommended: Reef friendly sunscreen
12. Children's Insect Repellant
Picking up some children's insect repellant is a good idea. Although there aren't insects on the cruise, there may be mosquitos in some cruise ports (research before you go).
13. Packaged Snacks (Optional)
Although there are plenty of included food options onboard your cruise, bringing packaged snacks on a cruise can be practical.
Whether if it's because your child is hungry after dinner or needs a small snack in a port of call, packaged snacks like granola bars can be handy.
Please note that you ports restrict the food you're allowed to take off the cruise ship (usually fruit, vegetables and meats). Always check the rules before bringing anything off the ship.
Related: Can You Take Food Off a Cruise Ship While in Port?
14. Thermometer
Packing a lightweight thermometer in your mini first-aid kit is a good idea in case your children feels under the weather.
Recommended: Thermometer for travel
Get The Ultimate Cruise Planner
Regular price: $27 Now just $17!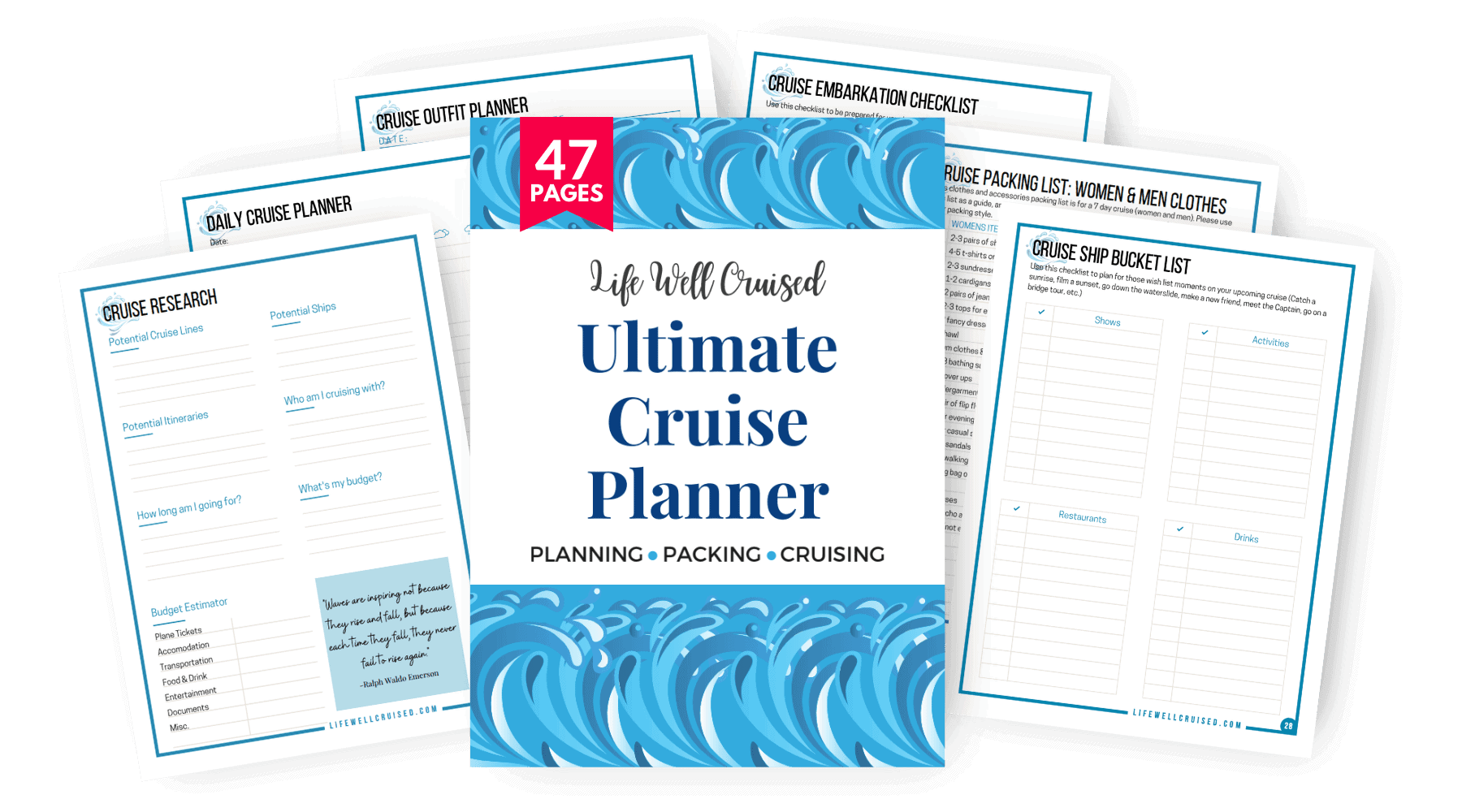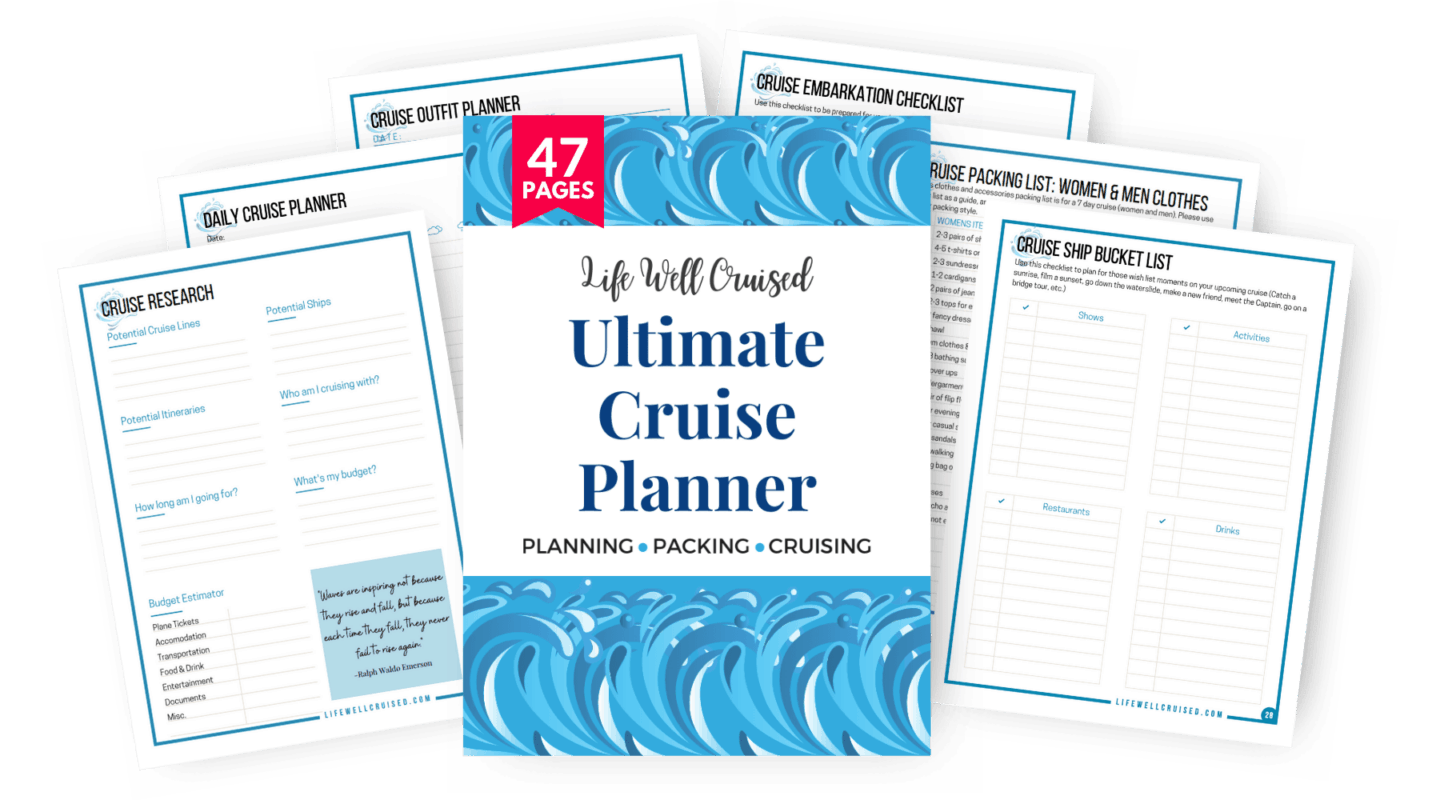 15. Plastic Baggies
Whether if it's for bringing toys, snacks or miscellaneous items, ziploc style plastic baggies will be useful during your family cruise. Always pack a few resealable bags, as you never know when they'll come in handy.
16. Small Inflatable Pool / bathtub (optional)
A genius cruise cabin hack for parents is to pack small inflatable pool or bath when cruising with babies or toddlers. These can placed at the bottom of the shower stall in your stateroom bathroom, since most do not have bathtubs.
Recommended: Small inflatable pool bathtub (check price & 2000+ reviews on Amazon)
Babies & Toddlers Cruise Essentials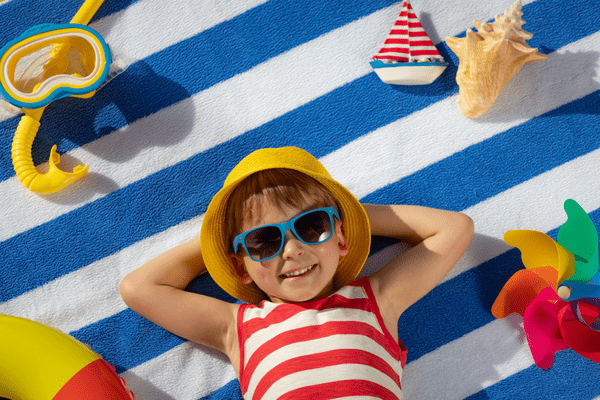 If you're cruising with babies or toddlers, here are some things to add to add to your cruise packing list (as needed):
Diapers / pull-ups / swim diapers
Baby wipes
Diaper creme
Baby food / formula (if needed)
Sippy cups / bottles
Pacifiers
Blanket or favorite stuffed animal (optional)
Car seat for travel (optional)
Baby carrier (optional)
Bibs
Children's books
Must Have Items to Pack for Families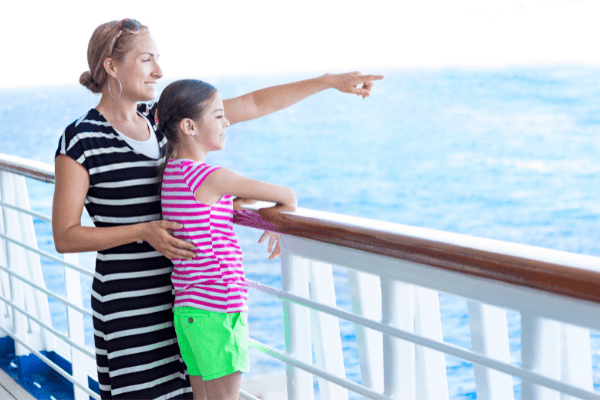 1. Packing Cubes
Having packing cubes for each family member is a great idea. Using packing cubes to strategically pack your clothing will help kee the whole family organized.
Packing cubes are a must have cruise essential items that are loved by all cruisers.
Recommended: Packing cubes (best seller – check price & see over 18,000 Amazon reviews here)
2. Sunscreen
Make sure to pack enough sunscreen for the duration of your trip. Reef safe sunscreen is preferred for Caribbean and Bahamas cruises.
Recommended: Reef friendly sunscreen
3. Refillable Water Bottles
Packing some reusable water bottles for your family vacation is a great idea. This way, you can bring water off of the cruise ship and you won't have to purchase water bottles when you are onboard the ship.
Recommended: Refillable water bottles (collapsible to save space)
4. Motion Sensor Night Light
A battery powered motion sensor night light is a cruise cabin essential that is perfect for families. In the evening time, if the lights are off in your cabin, your stateroom will get very dark (especially an inside cabin).
If you or one of your family members gets up in the middle of the night, a night light will come in handy.
Recommended: Motion sensor nightlight (check price & 1400+ Amazon reviews here)
5. Magnetic Hooks
A cool thing that new cruisers don't know about cruises, is that the cruise cabin walls are usually metal. Magnet hooks can be used to add extra storage, making the most out of a small cruise ship cabin.
Using magnetic hooks is a real space saver and they're super useful. You can hang up your cruise lanyards, sunhats or wet bathing suits on the magnetic hooks.
Recommended: Magnet hooks (note, the higher the weight, the more hold you will get)
6. Power Bar (Non-Surge Protected)
Most cruise ship cabins will only have one or two outlets, and may not have any USB outlets (unless the cruise ship is new). Many cruisers like to pack a non-surge protected power bar.
Please note that surge protected power bars (ones like at home) are prohibited on cruise ships and they are likely to be confiscated. Only bring non-surge protected approved power strips on a cruise.
Recommended: Cruise ship power bar non-surge protected (this one has 9000+ 5* Amazon reviews)
7. Luggage Tag Holders
Cruise ship luggage holders can be used to hold your printed paper luggage tags. They're reusable and even make a great gift for cruise lovers!
Read more: 50 Best-Selling Amazon Cruise Essentials
Luggage for the Family
Level8 Hardside Luggage
Level8 Hardside luggage is lightweight, has smooth spinner wheels, and a built in TSA approved combination lock. I have the "textured luggage" in a 21″ carry on size and 24″ checked bag and love them!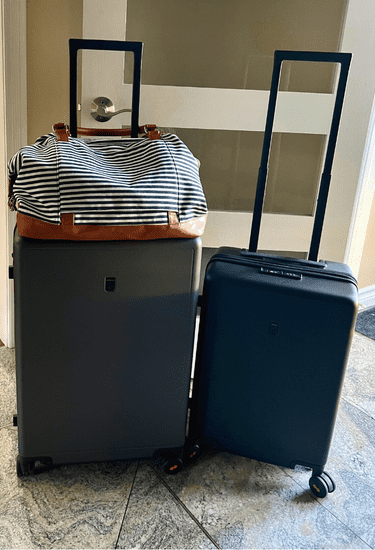 Recommended: Level8 Hardside luggage (save 10% with code LIFEWELLCRUISED10)
Related & Popular Posts: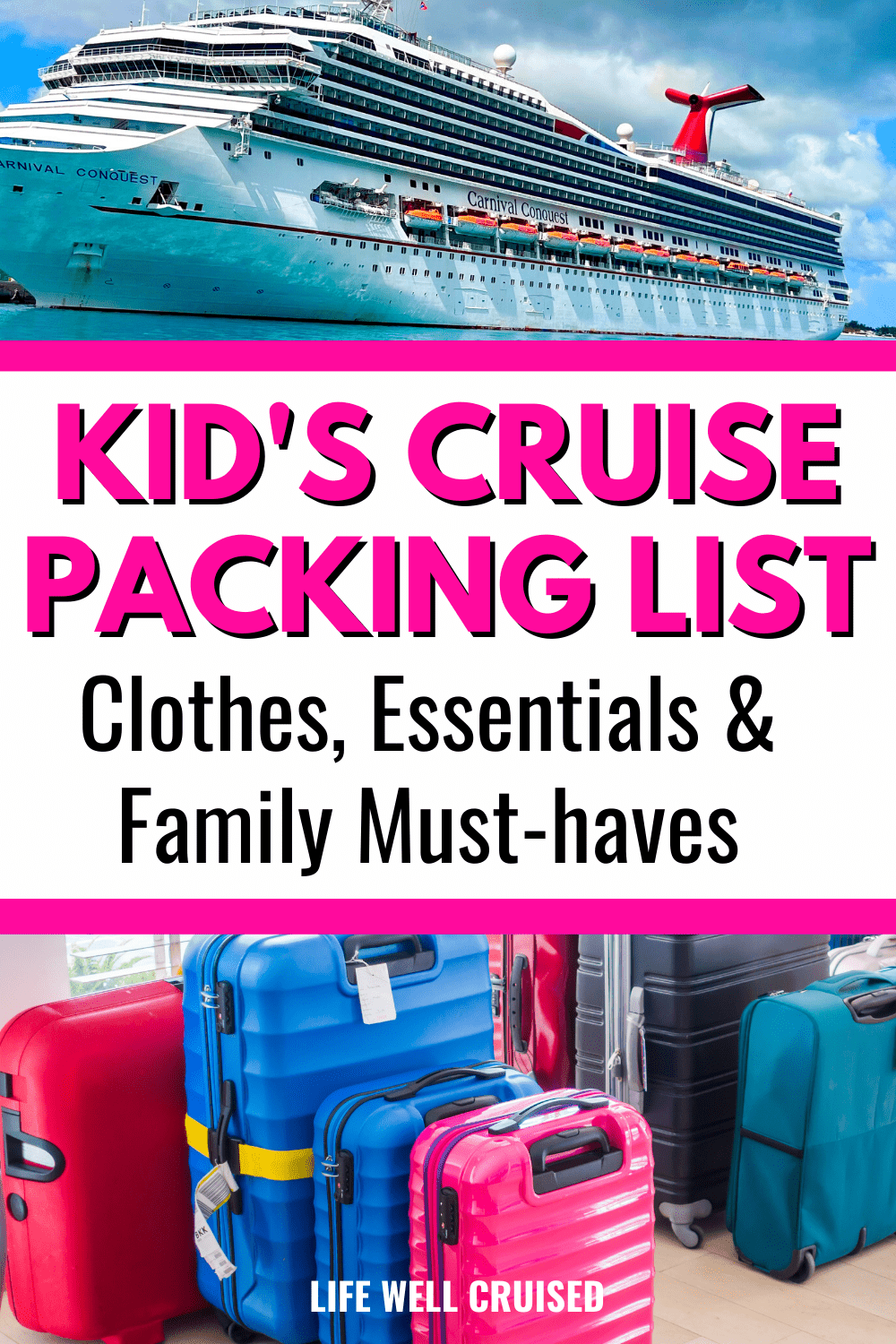 Get The Ultimate Cruise Planner
Regular price: $27 Now just $17!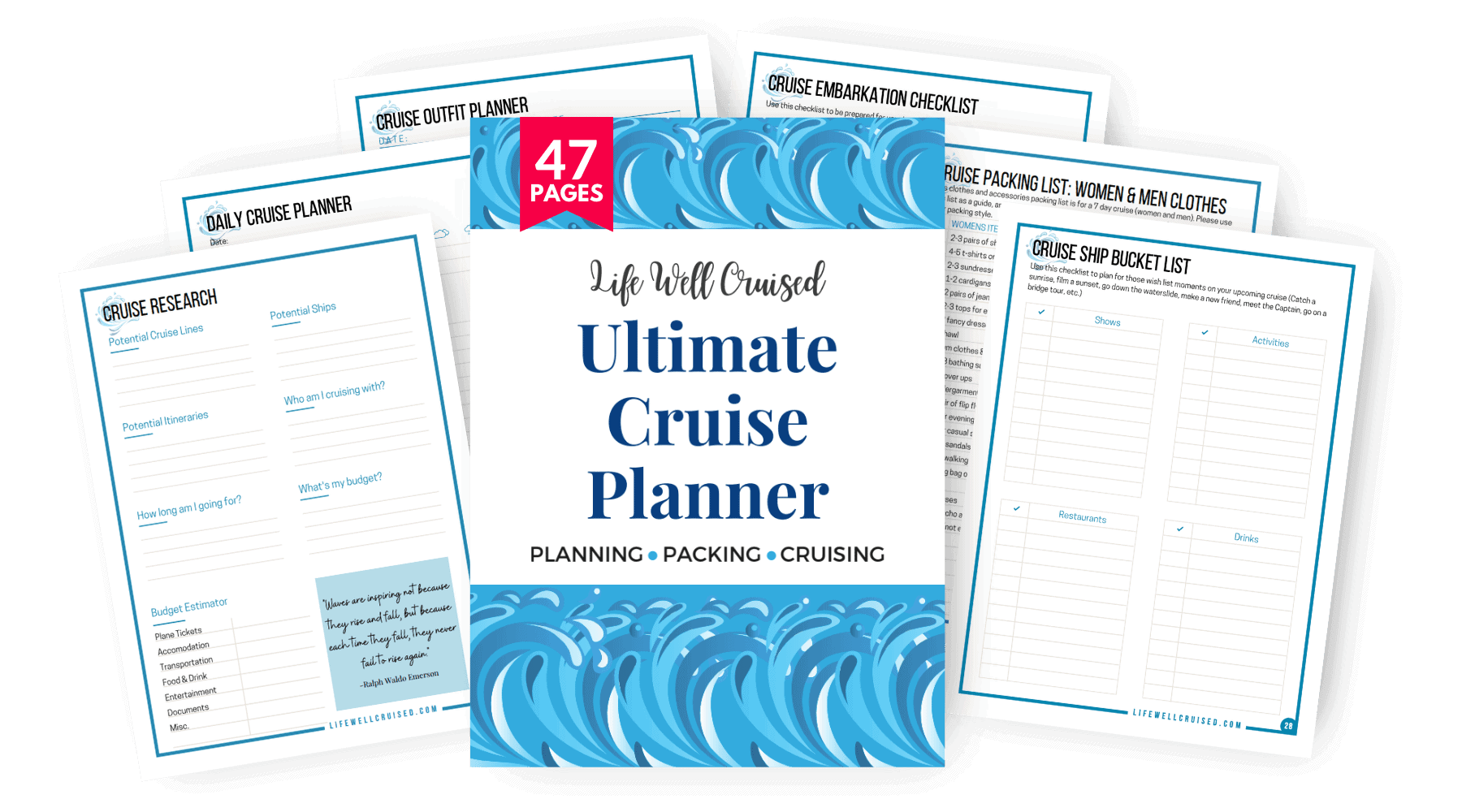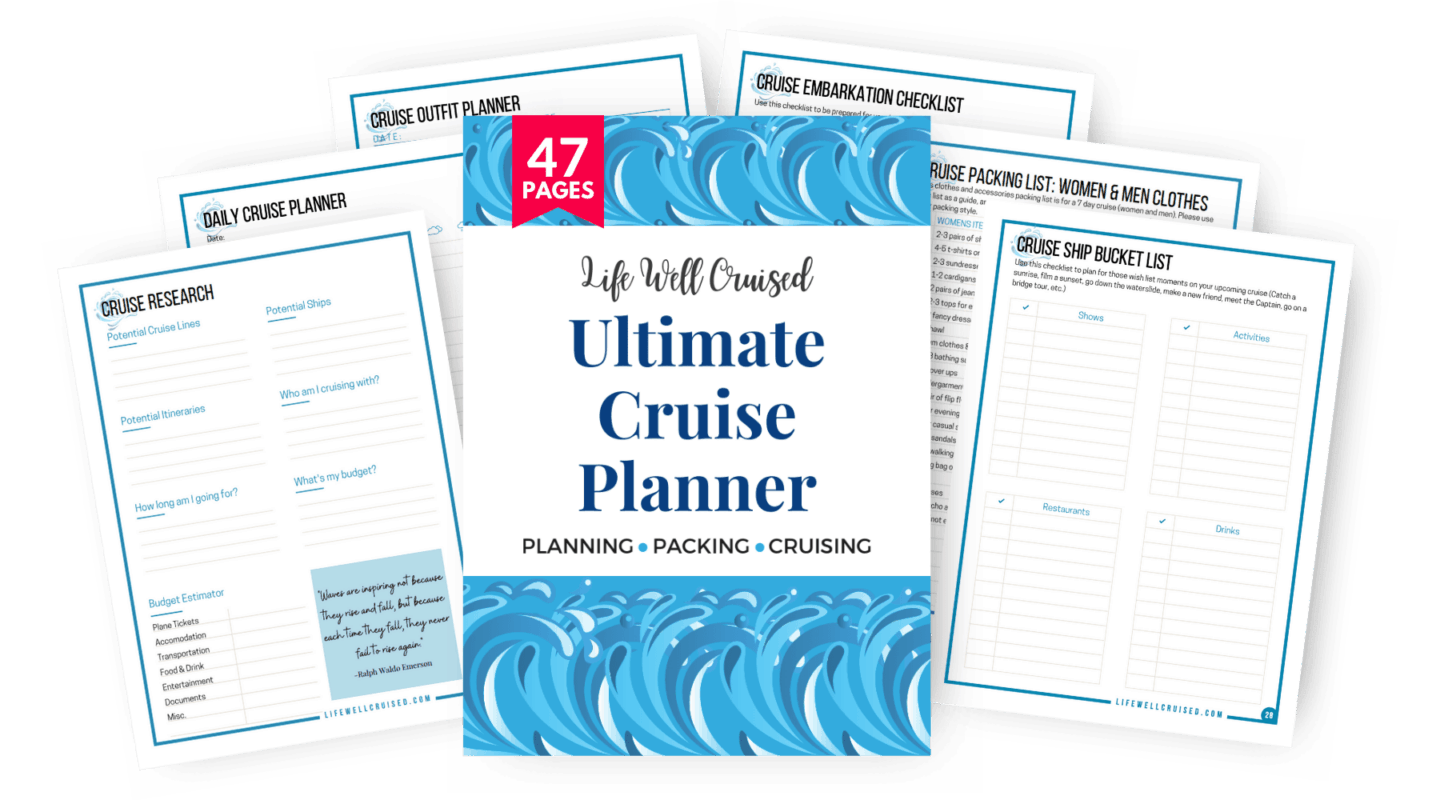 Final Thoughts on What to Pack for Kids on a Cruise
Well there it is, the ultimate kids cruise packing list!
If it's your first cruise, knowing what to pack for your children can be a real challenge. As a parent, the last thing anyone wants is to forget something important before going on their cruise.
In this post, we went over what clothes to pack for your children, children's cruise essentials, toddler and baby items, and things to pack for the family.
What cruise line are you cruising with on your upcoming vacation? Please let me know in the comments below.
Happy Cruising!
Ethan
P.S. If you found this helpful, please don't keep it to yourself ;-). Please share on Facebook or PIN to your favorite Pinterest board (share buttons at the top). Thanks so much!
Author Bio: Ethan Schattauer writes about fashion, travel and college advice on the website WhatToWearMen.com. As a frequent cruiser, Ethan shares his unique perspective on what cruising is like for teens and young adults.