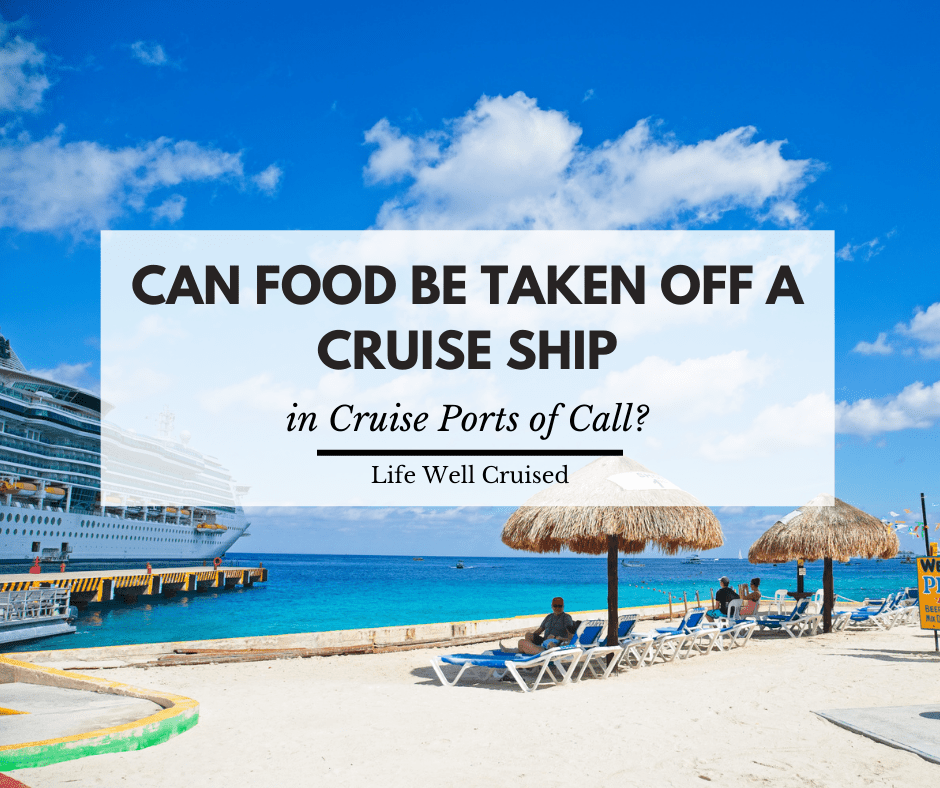 If you're going on a cruise you might be wondering if you can take food off the cruise ship while in a port of call. Maybe you'd like to pack a picnic lunch for your beach day, snacks for the kids, or specific foods for health reasons.
Bringing food with you can be both convenient and save money on your cruise, but you do have to be careful and know what is permitted and what is not. Planning ahead is key.
This post contains affiliate links which means if you click and buy that I may make a commission, at no cost to you. Please see my disclosure policy for details.
As an Amazon Associate I earn from qualifying purchases.
Can You Take Food Off of a Cruise Ship?
There are rules that prohibit bringing certain types of foods off the cruise ship in many cruise ports. In some cases, this can lead to confiscation and large fines for cruise passengers and crew.
Never attempt to bring fresh fruit or vegetables off the cruise ship when in a port of call. Most cruise ports have laws against anyone bringing fresh produce or meat into the country. Your cruise ship will often have a reminder to passengers in the daily planner or a sign on the gangway as you leave the ship.
However, it's still your responsibility to know the rules and abide by them. So, if you aren't sure or have specific needs, make sure to ask onboard before you get off the ship.
Many Caribbean countries, such as Cozumel, Mexico take this very seriously and there have been reports of cruise passengers who've faced large fines for taking apples or bananas off the ship.
Related: 63 Things to Never Do on a Cruise
What Food Can You Take off a Cruise Ship?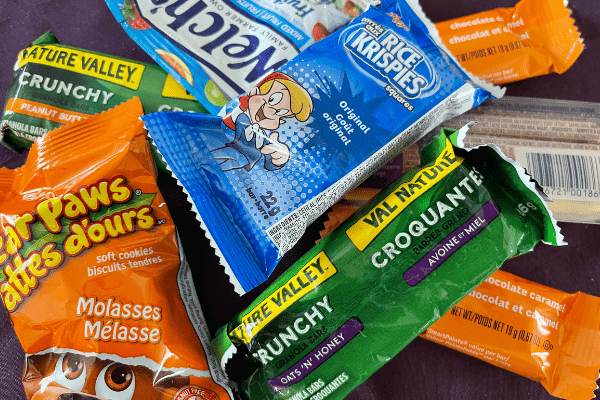 While most cruise ports don't allow you to bring fresh produce or meats off of the cruise ship while in port, dry foods and prepackaged snacks are usually fine.
Things like cereal, crackers, pretzels, meal replacement and granola bars are perfect. You may be able to pick up some of these foods onboard, like small boxed cereal. However, if you know that you'll need to have certain foods with you, you can pack unopened pre-packaged snacks and bring them onboard on embarkation day.
Can You Take Sandwiches Off the Cruise Ship in a Plastic Bag?
Sandwiches with fresh meat should not be taken off the cruise ship if the cruise port of call has a law against bringing fresh meat products into the country. Most countries do, so it's best not to risk it.
In practice, taking baked goods such as muffins, croissants and cookies off the ship isn't uncommon and seems to pass. However, to be sure of what is permitted and avoid any trouble, ask a crew member on board.
Related: What Food and Drinks Can You Bring on a Cruise? (snacks, water bottles, wine & more)
Can You Take Water Bottles off the Cruise Ship?
You can take unopened water bottles off the cruise ship in the cruise ports of call and it's recommended to do so.
Get The Ultimate Cruise Planner
Regular price: $27 Now just $17!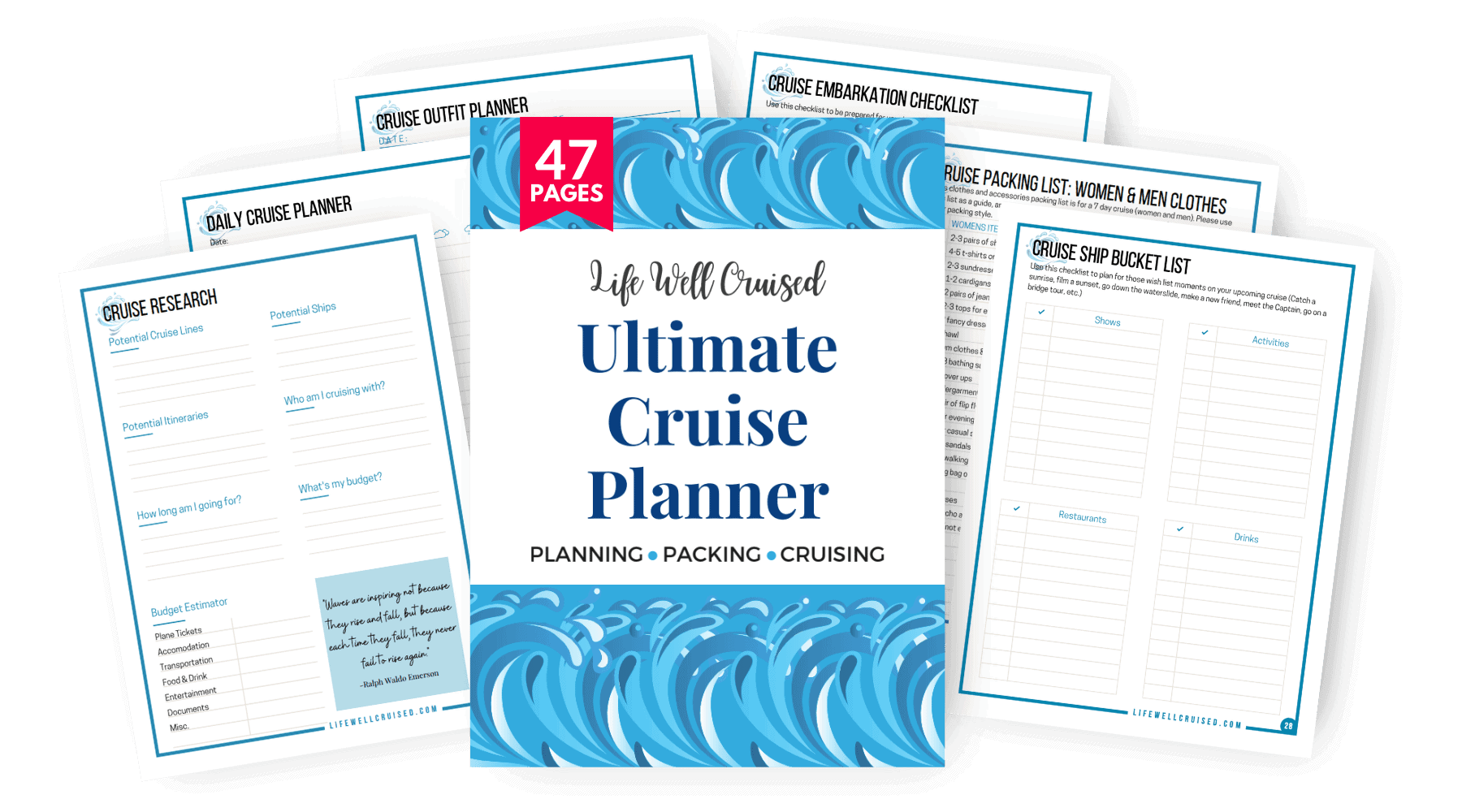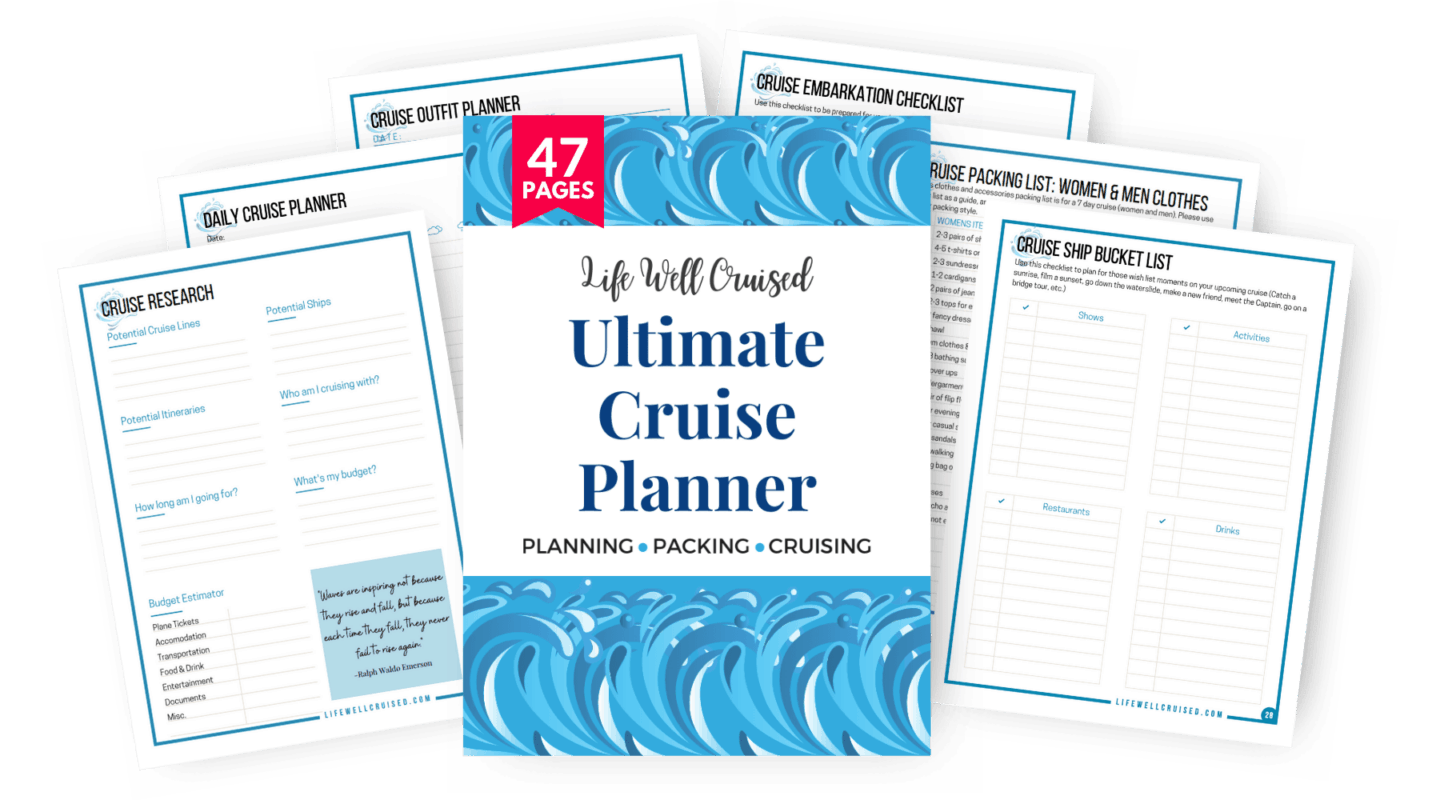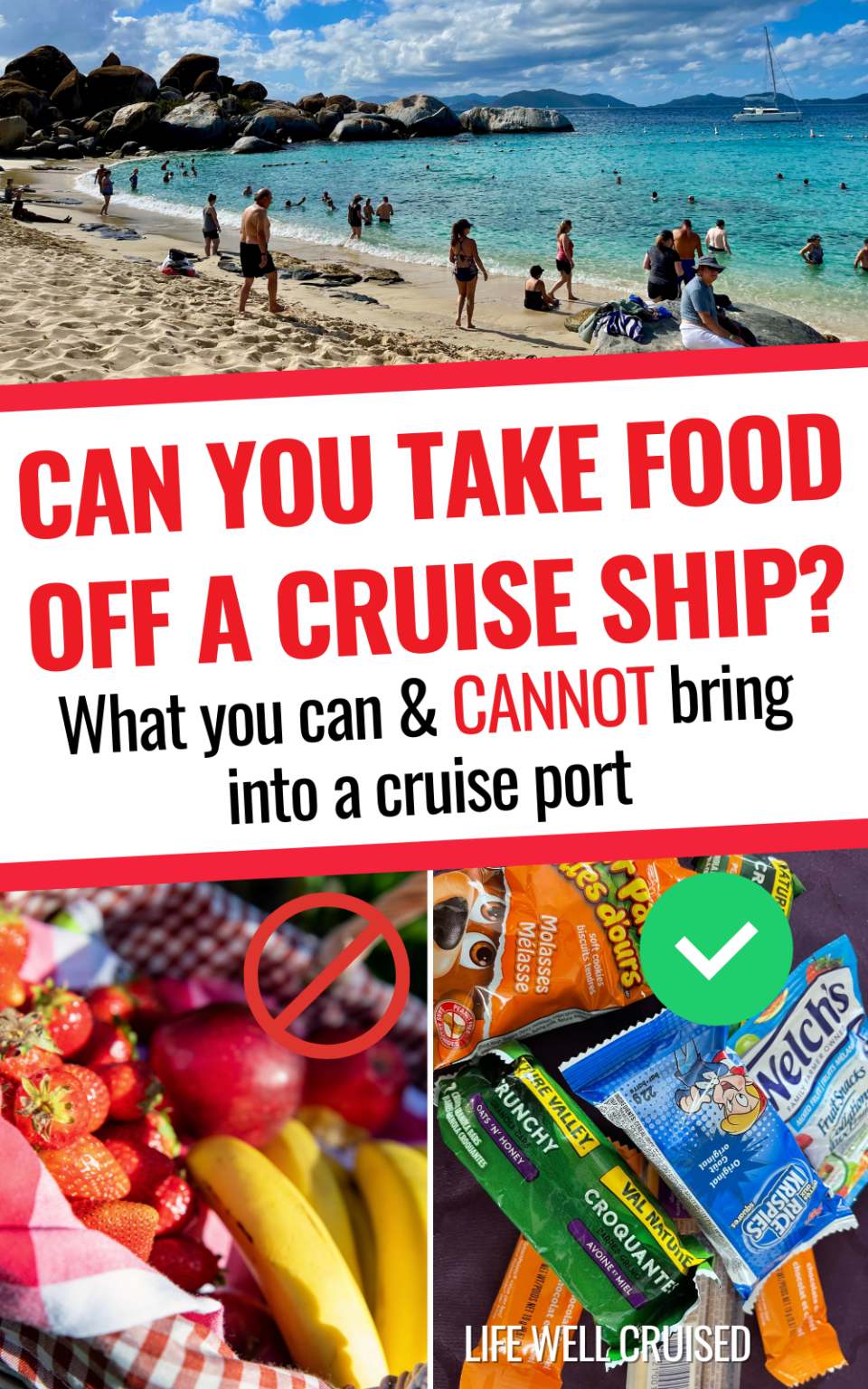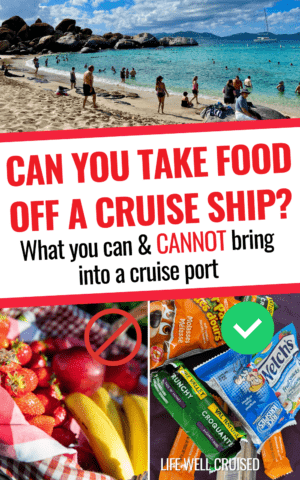 Popular & Related Posts:
What Food and Drinks Can You Bring on a Cruise?
50 Useful Cruise Accessories to Bring on Your Next Cruise
Tipping on a Cruise Ship – The Ultimate Guide to Cruise Gratuities
17 Cruise Ship Cabins to Avoid
What to Pack for a Caribbean Cruise
75 Genius Cruise Hacks and Tips
17 First Time Cruiser Mistakes to Avoid
Final Thoughts on Taking Food Off the Cruise Ship While in a Cruise Port
Even though you're on a cruise ship, abiding by the rules and laws of each country you visit is important. While taking food off the cruise ship can be convenient, many cruise ports of call prohibit bringing in fresh fruits, vegetables, meats and cheese.
If you have a long day in a cruise port, consider coming back to the cruise ship for a late lunch, bringing pre-packaged snacks, or going to a recommended local restaurant.
Have you brought food or snacks with you when getting off the cruise ship in port? Please share your experiences, both good and bad, in the comments below.
Happy Cruising!
Ilana
If you found this article helpful, please pass it along. Please feel free to share on Facebook or PIN to your favorite Pinterest board (share buttons at the top). Thanks so much!
Let's connect:
Follow me on Facebook at Life Well Cruised
Follow me on YouTube at Life Well Cruised
Follow me on Pinterest at Life Well Cruised
Follow me on Instagram at Life Well Cruised