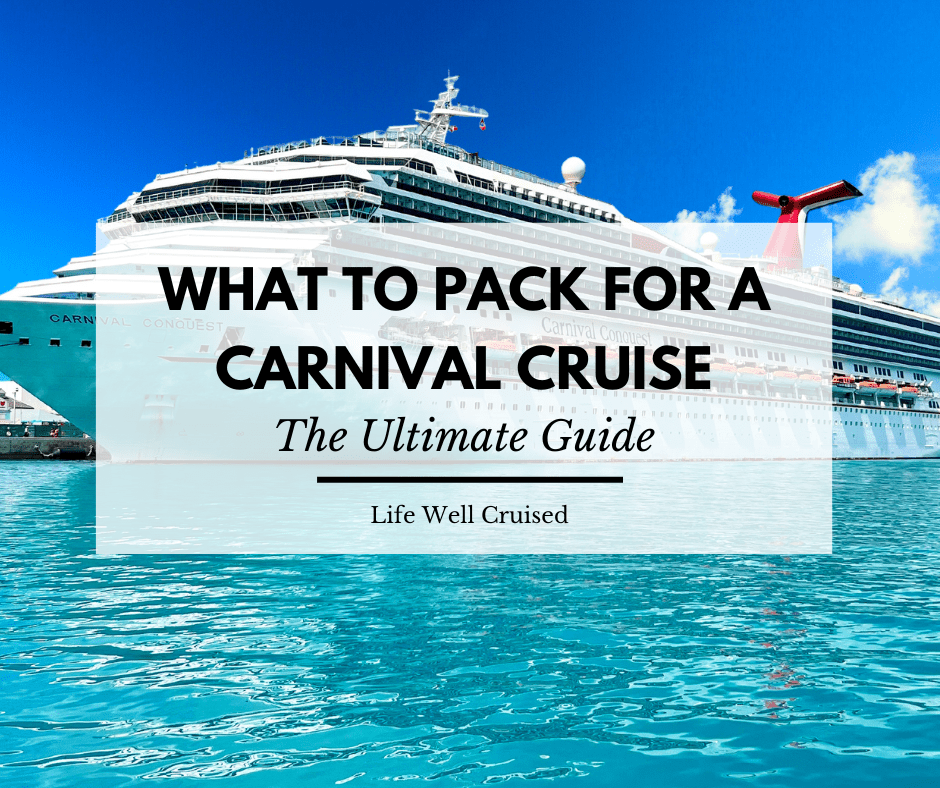 Are you going on a Carnival cruise and wondering what to pack? Cruise vacations are different from other holidays, and it's important to know what to bring, as well as what to leave at home.
Your Carnival cruise packing list should include cruise outfits to wear on casual sea days and evenings, as well as formal nights if you enjoy dressing up. It's also a good idea to pack a few cruise travel gadgets for your cruise ship and cabin, as well as for shore excursions.
In this post I share what to pack for your Carnival cruise, including must-have travel documents, clothing and cruise essentials.
This post contains affiliate links which means if you click and buy that I may make a commission, at no cost to you. Please see my disclosure policy for details.
As an Amazon Associate I earn from qualifying purchases.
Carnival Cruise Packing List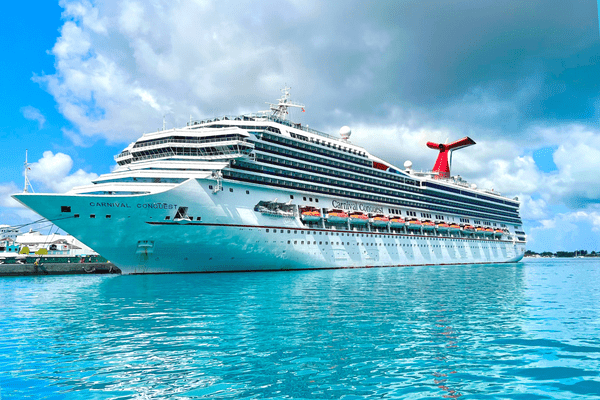 This cruise packing list is geared mainly towards Caribbean or warm weather Carnival cruises. However it can be easily adapted to other itineraries.
Here are specific cruise packing lists for different cruise itineraries (including clothing packing lists):
1. Government ID &/or Passports
The most important things to pack for your Carnival cruise are your government ID (driver's license) and passport if applicable.
It's a good idea to use a passport wallet holder to keep organized. Here are 2 great options.
This one is so practical when travelling with a family, and will ensure that you don't make the mistake of packing your passport in your luggage. This can result in being unable to board your cruise ship.
Recommended: Passport travel wallet (check price & reviews on Amazon)
Passport Holder
This passport holder is great for a single passport, is RFID protected and includes slots for credit cards and cash.
Recommended: RFID Passport holder case (see over 3000 reviews on Amazon here)
2. Travel Documents
Make sure to have your cruise and travel documents handy. This includes cruise or airline boarding passes, as well as shuttles or shore excursion reservations.
3. Proof of Vaccine & Test Results (no longer required for most cruises)
Make sure to check your cruise reservation and communication from Carnival or your travel agent, for your current travel requirements.
4. Carnival Luggage Tag Holders
Don't forget to print out your Royal Caribbean cruise ship luggage tags and attach them to your luggage on embarkation day.
Since they are made of paper, I like to buy and use these Carnival cruise luggage tag holders which are reusable, sturdy and convenient.
Recommended: Carnival luggage tag holders
5. Carry On Bag for Embarkation Day
Along with your checked luggage, be sure to pack a carry on bag with your first day essentials for embarkation day.
Some items to pack include medication, valuables, electronics and a bathing suit and cover up. It can take several hours until you get your luggage delivered to your cabin, so bringing on the items you may need is important.
This carry-on bag is roomy and expandable!
Recommended: Expandable carry on bag (check price & 4.5 reviews on Amazon here)
Related: 20+ Things to Pack in Your Cruise Carry-On Bag
6. Credit Card
It's a good idea to bring along at least one credit card when you travel. Even if you don't plan to use it, a credit card is good for emergencies and there is it's required.
7. Small Bills
Bring along some $1, $5 and $10 dollar bills on your cruise. I like to have some small bills handy from the time we get to the cruise terminal at embarkation to tip the porters, as well as to use for tipping for room service once on board.
It can be handy to have cash on hand when shopping for souvenirs at cruise ports as well.
8. Cruise Outfits
Carnival cruises are pretty fun and casual, so you don't have to over stress about what to wear on a cruise.
Plan on relaxed clothing for daytime, like shorts, t-shirts or tank top, or a sundress for ladies. On a Caribbean cruise, you'll likely spend a lot of time in a swimsuit and flip flops!
In the evening, you'll need some cruise outfits for the dining room. Most nights the dress code will be casual or smart casual.
As an example, for men this can be a polo style shirt with pants or jeans. For ladies a casual dress or a pair of pants or dark jeans with a pretty top is perfect.
Related: Cruise Wear for Men: Men's Packing List for a Cruise
9. Formal Wear (optional)
If you love to dress up or you have a special occasion to celebrate, you can wear elegant attire on Carnival's formal night.
In practice, formal night and dressing in an evening gown, suit or tuxedo is optional. However, dressing up a little more than usual is a nice idea (think beautiful family photos).
Related: What to Wear on a Cruise Formal Night
10. Theme Night Outfits
Carnival brings the fun with theme nights on short and longer cruises. You can plan to bring theme outfits if you want to participate.
2-5 nights cruises have an 80s Rock'n'Glow Deck Party. Cruises 6 nights and longer usually have a Mexican Mega Deck Party, 80s Rock'n'Glow Deck Party and a Caribbean/Island theme night in the main dining room.
When making your cruise packing list, consider bringing an 80's costume and even a Hawaiian shirt for an island theme.
Recommended: Hawaiin shirt (see different patterns & 2500+ 4.5* Amazon reviews)
11. Carry On Bag for Embarkation
Pack a carry on bag for the first day of your cruise. On embarkation day, it will take a few hours for your luggage to be delivered to your cabin.
Make sure to pack your first day essentials in your carry on bag including any medication, sunscreen and a bathing suit, and valuables.
Recommended: Carry on bag tote (check price & reviews on Amazon here)
12. Packing Cubes
Keep organized by using packing cubes for your cruise. They make it so much easier to unpack quickly once you get to your cruise cabin.
Recommended: Packing cubes set (check price & over 20,000 Amazon reviews here)
Get The Ultimate Cruise Planner
Regular price: $27 Now just $17!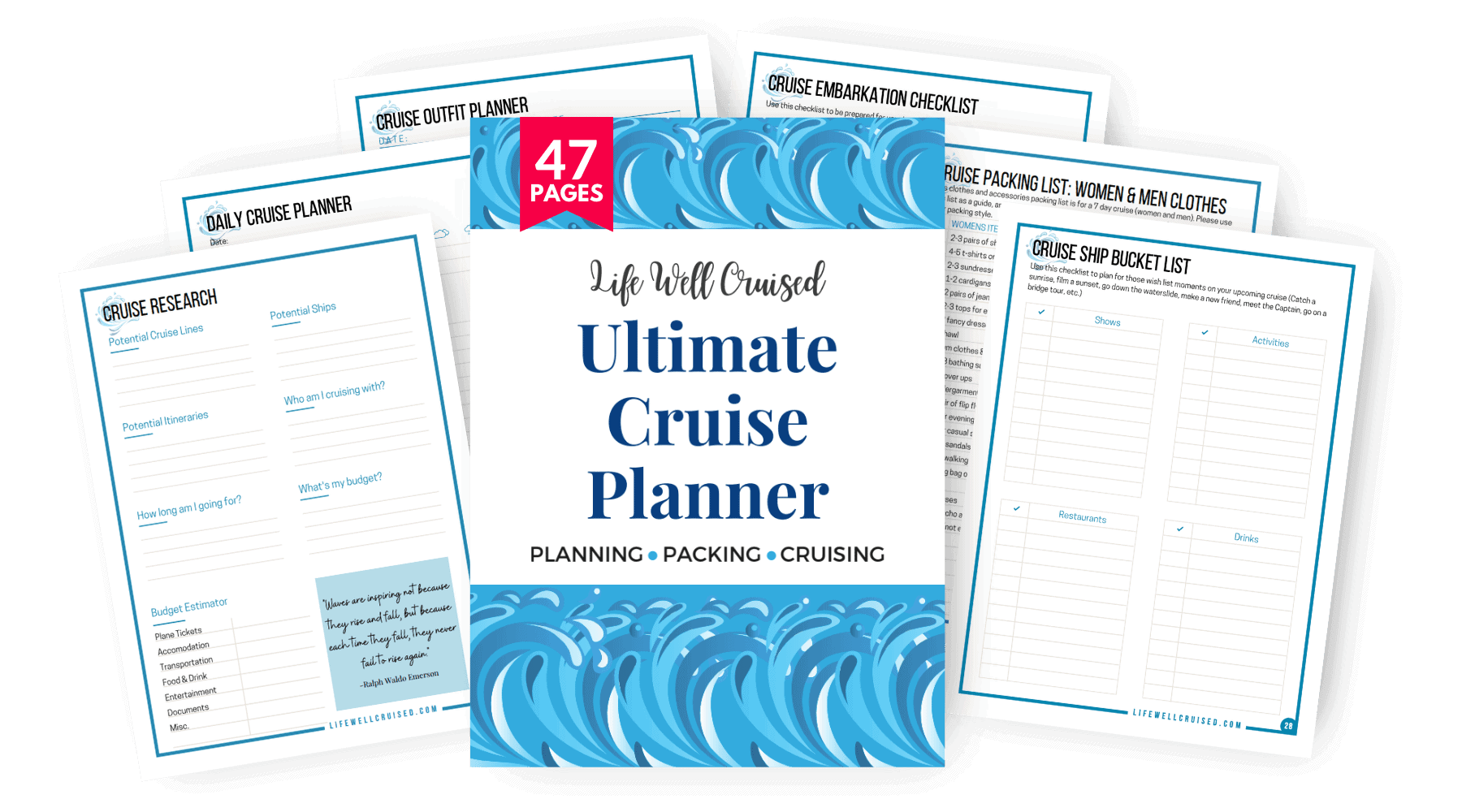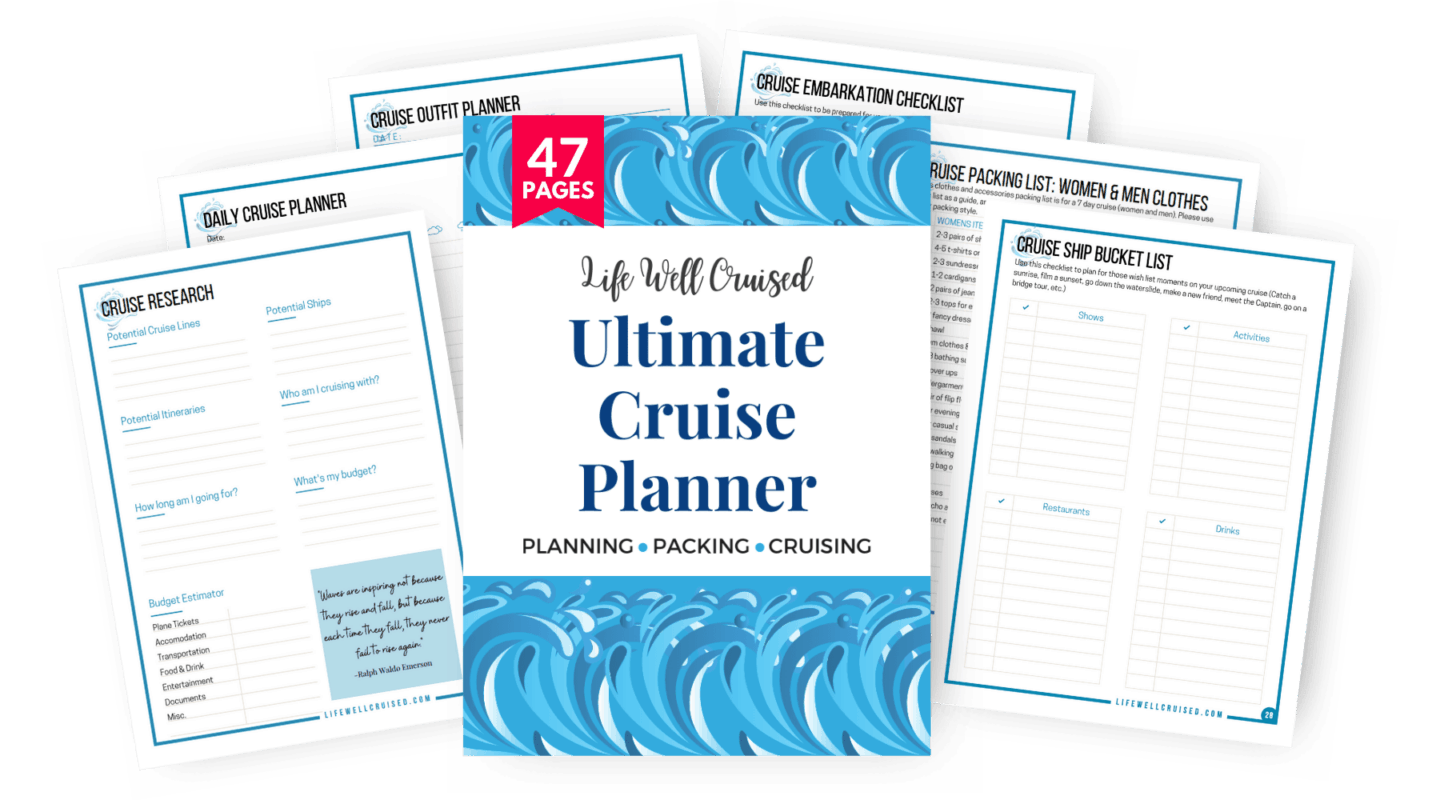 13. Lanyards
Cruise ship lanyards are a very useful cruise accessory! As someone who has misplaced my cruise card on past cruises a lot, this is a must for me in recent years.
Recommended: Cruise lanyards
13. Bottle of Wine or Champagne
Carnival allows you to bring one bottle of wine or champagne per person on embarkation day in your carry on bag.
This can be a good way to save money on your cruise if you are a light drinker and don't want to buy the Cheers beverage package.
Note – a corkage fee is charged if you drink the wine in the dining room, restaurant or bar.
14. Non-Alcoholic Beverages (small amount)
Carnival cruise passengers are able to bring a small amount of non-alcoholic beverages on board on embarkation day. The soda, juice or energy drinks must be in cans or carton (no plastic and glass bottles).
If you'd like to have bottles of water, Carnival has a reasonably priced water bottle packages available for purchase online before your cruise.
15. Reusable Water Bottle
Many cruisers like to bring a refillable water bottle for water and other beverages. Water is safe to drink on a Carnival cruise ship.
Recommended: Refillable & resuable water bottle
16. Toiletries
If you're flying to the cruise port, it's a good idea to bring your toiletries for your cruise in small travel size bottles and containers.
Don't forget to pack make up, personal care items and feminine hygiene products if needed.
Recommended: Leak proof TSA approved toiletry bottles (check price & amazon reviews here)
17. Cell Phone
Cell phones are not a necessity, but these days all cruise lines use an app onboard as well as pre-cruise. It's handy to have a smart phone, even if you don't buy a cruise ship internet package.
At the very least, you'll likely take photos with your cell phone.
18. Medication
Your Carnival cruise packing list should include prescription and over the counter medication. When traveling, it's a good idea to bring 2 extra weeks of prescription medication.
19. Sunscreen
Make sure to bring sunscreen. If you're going on a Caribbean cruise, it's a good idea to pack reef friendly sunscreen. There are many cruise ports destinations that now require reef safe sunscreen and can issue fines.
Recommended: Reef friendly sunscreen (check price & see over 20,000 5* reviews on Amazon)
20. Aloe Vera
With sea days and beach days, sunburns can happen on a cruise. Make sure to have some aloe vera in case you need sunburn relief!
This aloe vera gel is my favorite. It's organic and non-sticky.
Recommended: Organic aloe vera gel (check price & over 60,000 reviews on Amazon here)
21. Lip Balm with SPF
Lips can get burned and swollen in the hot sun. Be sure to bring lip balm with SPF for all family members.
Recommended: Lip balm with SPF
22. Swimsuit
Whether you're on a Bermuda cruise or Alaska cruise, you'll want to pack at least one bathing suit. For hot weather cruises, packing 2-3 bathing suits for a 7 day cruise is ideal.
Recommended: Ladies bathing suit
Related: Plus Size Cruise Wear: 25+ Beautiful Cruise Outfits
Recommended: Men's bathing suit
23. Swimsuit Cover Up
Make sure to pack a bathing suit cover up for the pool and hot tub on the lido deck, as well shore excursions.
Recommended: Swimsuit cover up (see different colors & over 23,000 reviews on Amazon here)
24. Flip Flops
You'll need a few pairs of shoes for a cruise. Don't forget to pack a pair of flip flops.
Recommended: Pool flip flops
25. Closed Toe Shoes or Sneakers
Closed toe shoes are a must to pack for a Carnival cruise. If you'd like to do some of the amazing activities onboard, many will require closed toe shoes.
Comfy sneakers are great walking shoes as well! I have these Reebok shoes and they are so cute and versatile.
Recommended: Supportive Reebok sneaker (check price & Amazon reviews here)
26. Socks
Make sure to pack sports for your daytime shoes and dress socks for dress shoes if you dress up for formal night.
27. Shawl or Pashmina
The air conditioning can be cool in the dining room on your cruise, so it's good to have a shawl, scarf, or pashmina to cover up your shoulders.
If you wear a cocktail dress on formal night, this wrap is a great accessory.
Recommended: Lightweight scarf wrap (see different styles on Amazon here)
28. Cruise First Aid Kit
You can make your own travel first aid kit, or purchase a cruise first aid kit that's ready made and pre-filled with bandages and other items you may need for your cruise.
Recommended: Cruise first aid kit (check price & see over 50,000 excellent Amazon reviews)
Related: Cruise First Aid Kit Essentials You Need to Have
29. Motion Sickness Medication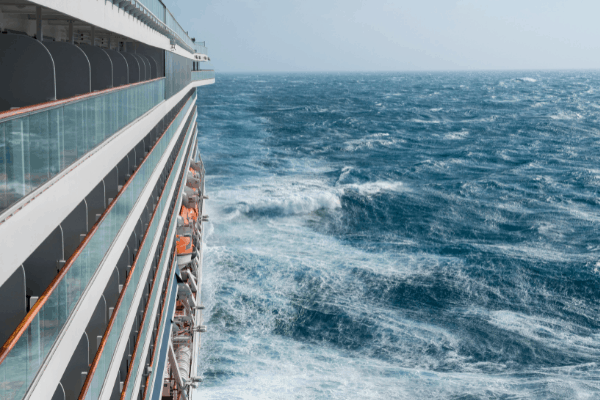 If this is your first cruise, make sure to be prepared for motion sickness just in case. These are some of the best things to bring on your cruise to prevent and deal with seasickness.
Cruise Essentials to Bring on a Carnival Cruise
These items are popular cruise essentials to bring on your cruise. Many can be used as cruise cabin hacks to add storage, while others can be used around the cruise ship and in the cruise port.
30. Non-Surge Protected Power Bar
Most Carnival cruise cabins won't have many electric outlets or USB's. Bring along a non-surge protected power bar.
Important – surge protector bars are prohibited on cruise ships, so don't bring one from home.
Recommended: Non-surge protected power bar (see 8000+ 5* amazon reviews)
31. Over the Door Organizer
Many people who cruise with kids swear by an over the door organizer and consider it a cruise cabin essential! You can also hang it on the wall with magnetic hooks.
Recommended: Over the door organizer
32. Magnetic Hooks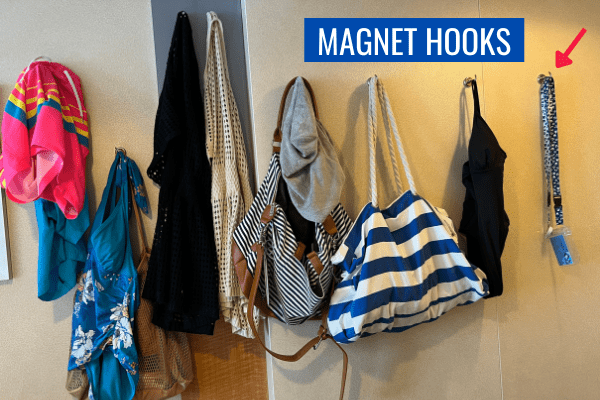 We like to hang a few magnet hooks on the cabin walls (they are metal). This way, we can hang our cruise lanyards, hats, bathing suits to dry and even backpacks and beach bags
Recommended: Magnetic hooks (35 lbs & up will work best)
33. Magnet Clips
Magnet clips are great to keep paperwork and your Carnival Fun Times (daily newsletter & planner) organized and off the counter in your stateroom.
Recommended: Magnet clips
34. Cruise Cabin Door Decorations
Decorating your cruise cabin door is very popular with Carnival cruise passengers. You can buy door decorations on Amazon, Etsy and even at the dollar store!
Recommended: Personalized cruise door decorations (see price & details on Amazon)
Related: Cruise Cabin Door Decorations: The Ultimate Guide for Cruisers
35. Hanging Toiletry Bag
This hanging toiletry bag is a must to keep small cruise cabin bathrooms organized!
Recommended: Hanging toiletry bag (see price & over 30,000 5* Amazon reviews here)
36. Poo-Pourri Bathroom Spray
A bathroom spray is useful in compact cruise cabins for obvious reasons. Poo-pourri is a favorite "before you go" spray that works quite well.
Recommended: Poo-Pourri bathroom spray (read 5* Amazon reviews here)
37. Waterproof Phone Case
It's a good idea to bring a waterproof phone case on your cruise, for sea days by the pool as well as port days by the beach. This one includes the ability to use the touch screen as well.
Recommended: Waterproof Phone Case with cruise lanyard
38. Towel Clips
Towel clips are wonderful to use on cruise ship deck chairs, to keep your towel in place when there's an ocean breeze. It also makes it easier to recognize your chair!
Recommended: Cute towel clips (set of 2 pairs)
39. Towel Bands
An alternative to towel clips, especially if you're trying to pack light or carry on only for your cruise, are towel bands.
Recommended: Towel bands (check price & 4.5* Amazon reviews here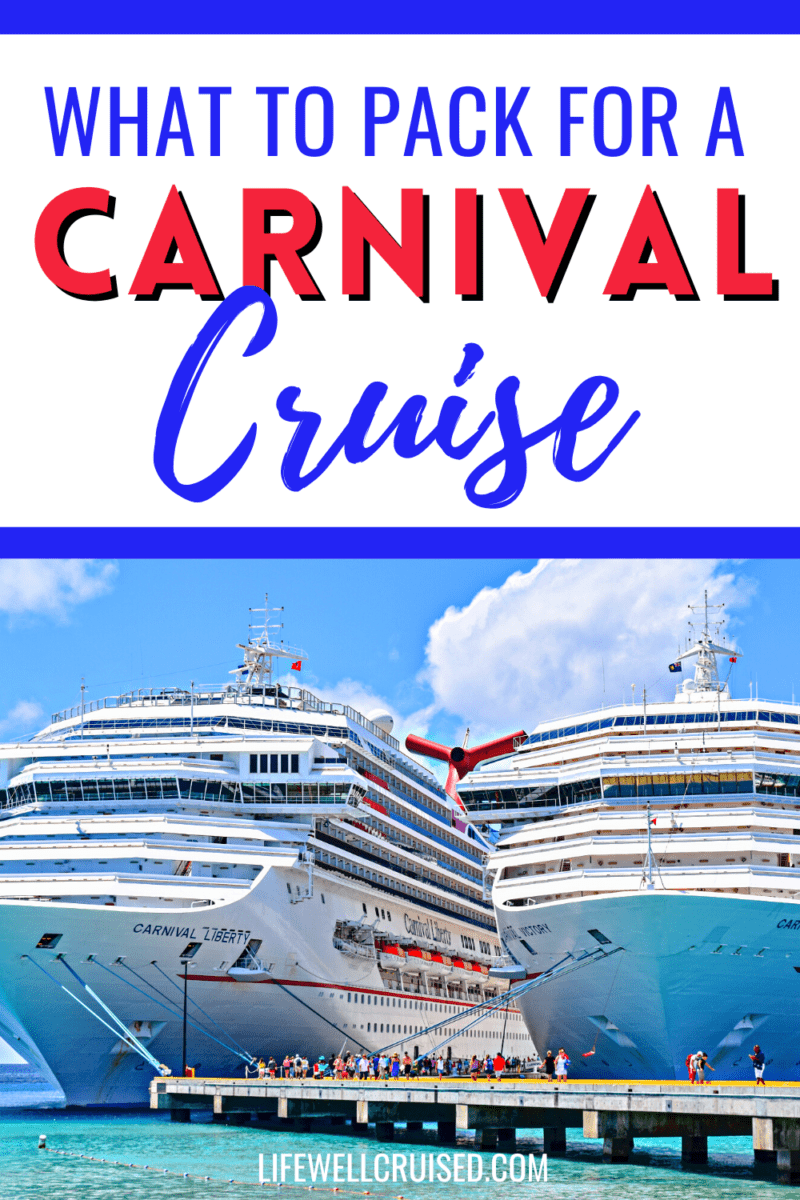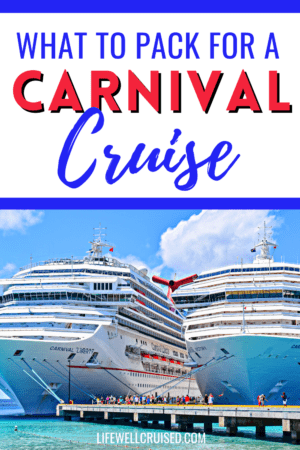 40. Beach Bag
Make sure to pack a beach bag or tote to use for excursions. You'll want one large enough for your towels, sunscreen and other essentials.
Recommended: Beach bag (extra large mesh tote)
41. Water Shoes
These lightweight water shoes are very comfortable and great for beach days at CocoCay or other destinations.
Recommended:Water shoes/Water socks (see different color choices on Amazon)
42. Wrinkle Release Spray
If you want to get wrinkles out of your cruise outfits, make sure to pack Downy Wrinkle Release spray.
Recommended: Downy Wrinkle Release (travel size)
43. Portable Fan
Cruise cabins can get stuffy. If you're cruising in an inside stateroom or ocean-view, you may want to pack a portable fan.
This small fan is battery operated, but rechargeable, and gets great reviews on Amazon.
Recommended: Portable Travel Mini Fan (see price & 8000+ Amazon reviews)
43. Motion Sensor Nightlight
This portable motion sensor nightlight is so practical and makes a great gift for cruisers. This is especially handy for inside cabins, which will be pitch black when the lights are off.
Recommended: Motion sensor nightlight
44. Mesh Laundry Hamper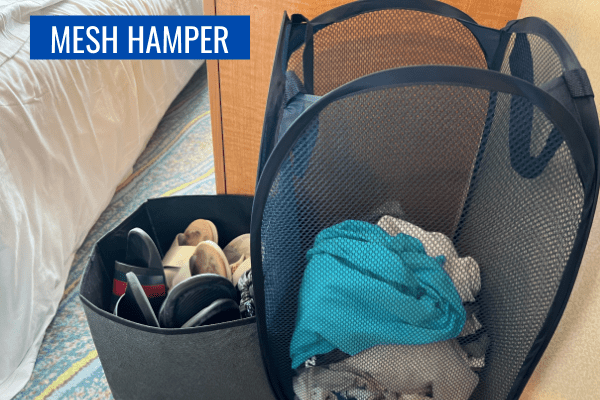 This foldable mesh laundry hamper was one of my most useful items for organizing inside and our balcony cruise cabin.
Recommended: Mesh laundry hamper (foldable & compact)
45. Travel Alarm Clock
This simple travel alarm clock is a favorite cruise travel essential. With time changes common on cruises, this simple clock will ensure that you won't be late for early morning shore excursions!
Recommended: Simple alarm clock (check price & see over 12,000 4.5* Amazon reviews)
Things You Can't Bring on a Carnival Cruise
A Carnival cruise packing list wouldn't be complete if I didn't let you know the things not to pack for your cruise. For safety reasons, many of these things are prohibited on a cruise ship.
If you bring these items, they'll likely be confiscated by crew members.
Here's a quick list:
Related and Popular Posts:
Get The Ultimate Cruise Planner
Regular price: $27 Now just $17!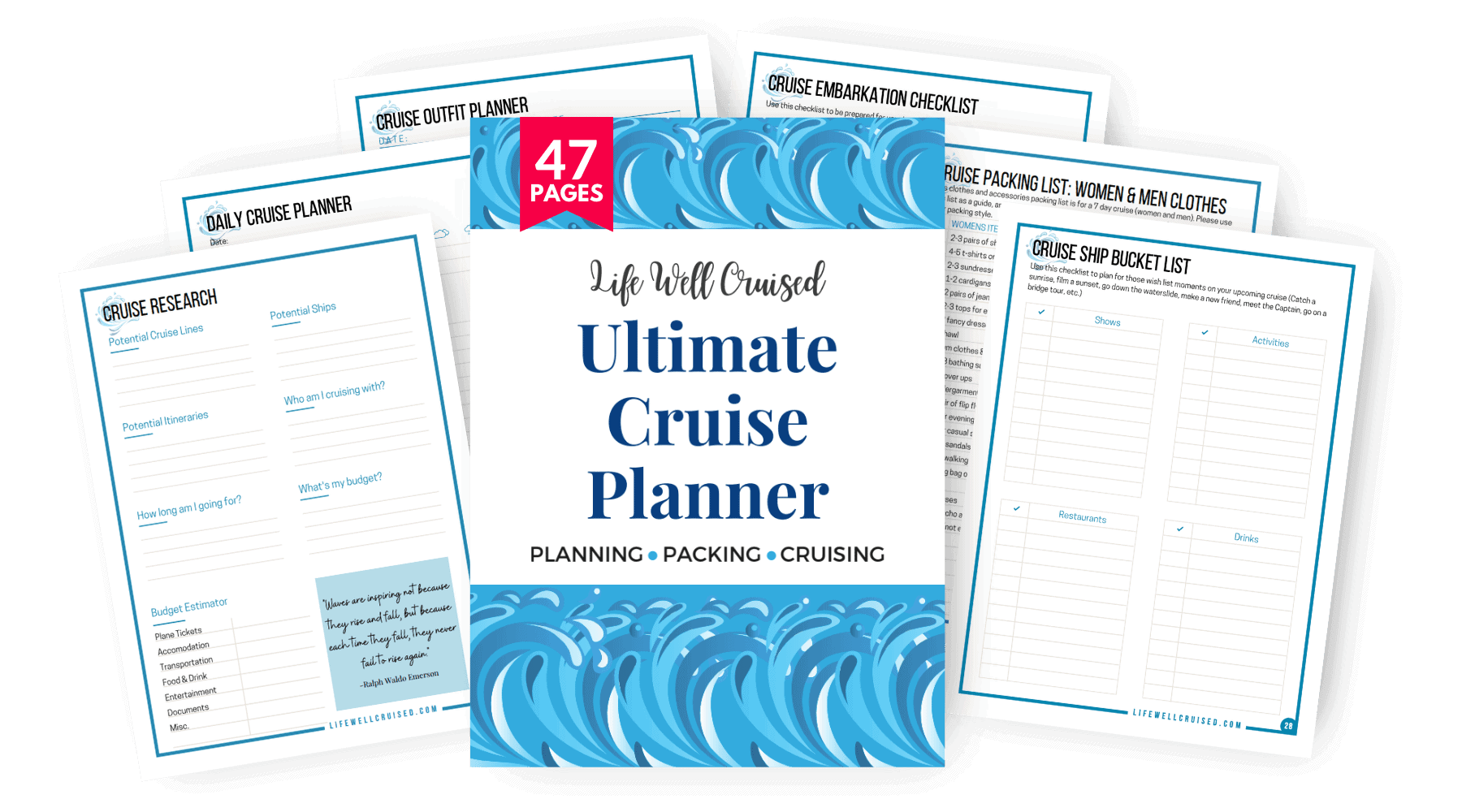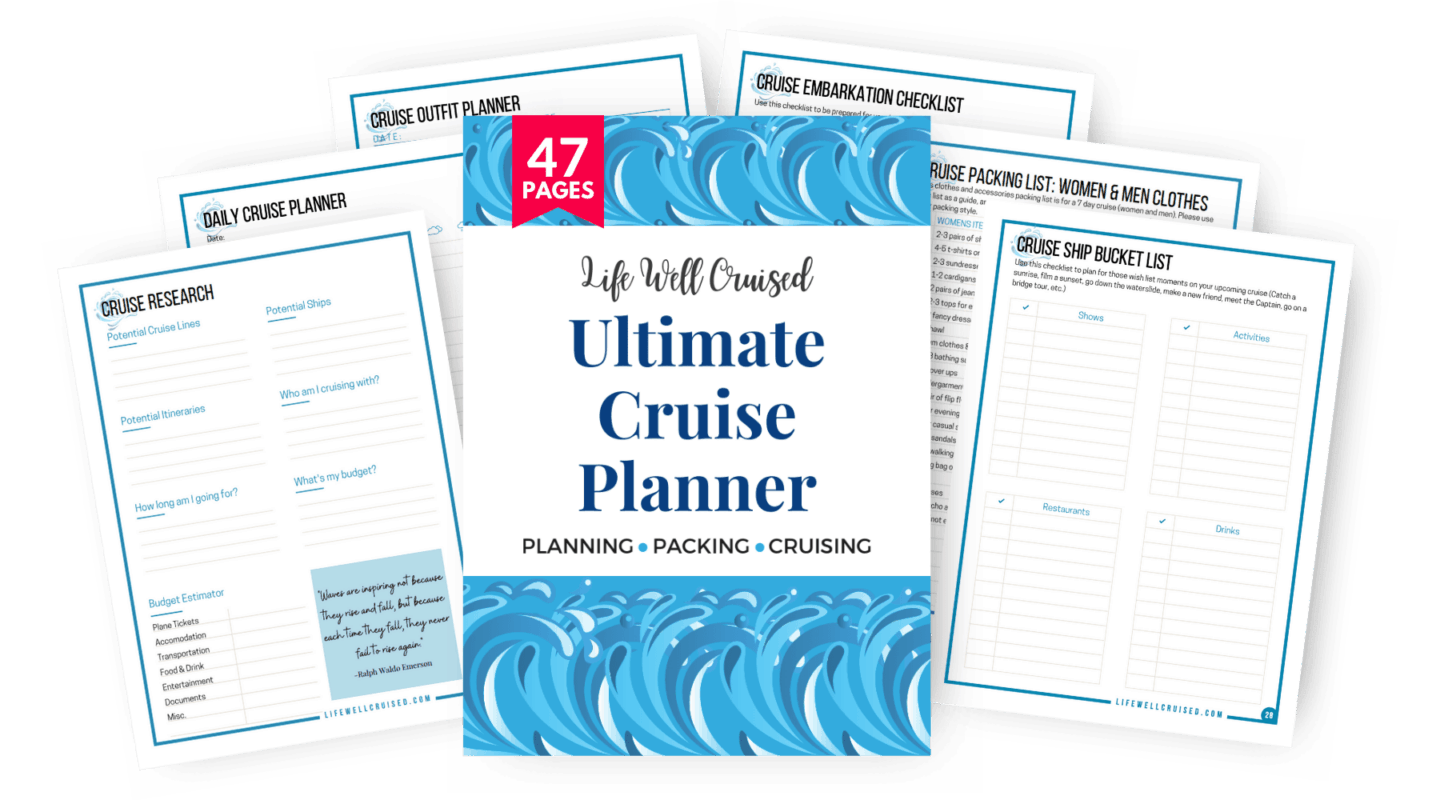 Final Thoughts on What to Pack for a Carnival Cruise
If you're going on a Carnival Cruise, this cruise packing list will help. This list includes important items to pack for your Carnival cruise, for the cruise ship, cabin and port visits.
Have you cruised with Carnival and do you have anything to add to this Carnival cruise packing list? Please let me in the comments below.
Happy cruising!
Ilana
P.S. If you found this helpful, please don't keep it to yourself ;-). Please share on Facebook or PIN to your favorite Pinterest board (share buttons at the top). Thanks so much!
Follow me on Facebook at Life Well Cruised
Follow me on YouTube at Life Well Cruised
Follow me on Pinterest at Life Well Cruised
Follow me on Instagram at Life Well Cruised