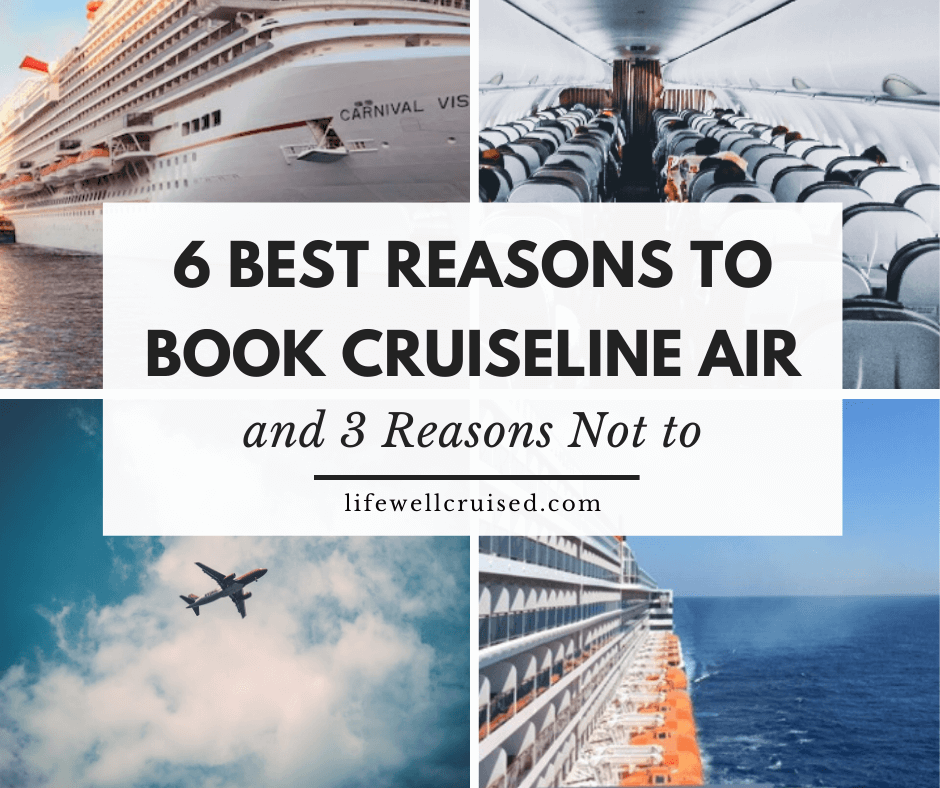 Flights for Your Cruise – Should You Book Airfare With Your Cruise?
If you're in the midst of planning and booking a cruise, you're probably thinking about your options for flights.
Maybe you're wondering if you should you book cruise line air or if should you book your flights on your own?
There are some advantages to both, and always have been.
However, if you're planning a cruise right now or even in the next few months, it's worth looking more closely at the pros and cons of booking flights with your cruise line.
During these uncertain times, we've seen that those booked with cruise line airfare had an easier time dealing with cruise cancellations and flight changes – definitely a plus!
In this post, I'll share the benefits of booking airfare with your cruise line, as well as why you still may prefer to book your flights independently.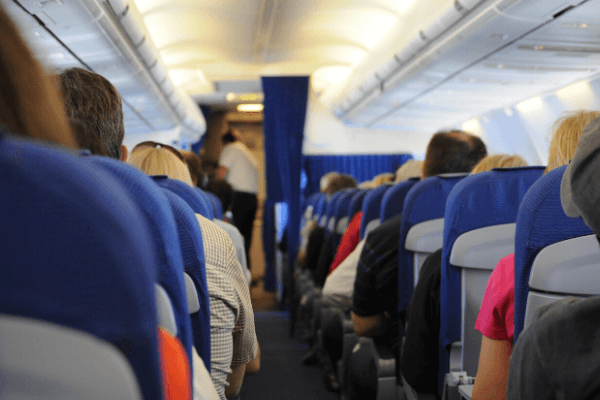 6 Advantages of Booking Your Flights with Cruise Line Air
Do keep in mind that different cruise lines have some different policies and options, so always check the specific details for your own reservation.
Pros and Cons of Cruise Line Air
1. Cruise line air is convenient
Cruise line air can be booked directly on your cruise line's website, which makes it a very convenient option for your flights. Once your cruise is booked, you can view the flight options and book your air anytime.
Something to note is that flights don't need to be booked at the same time as your cruise, so you can take time to consider your options. Once booked, having cruise and flights all available in the same place simplifies booking and planning your cruise vacation.
2.Reasonable pricing and promotional rates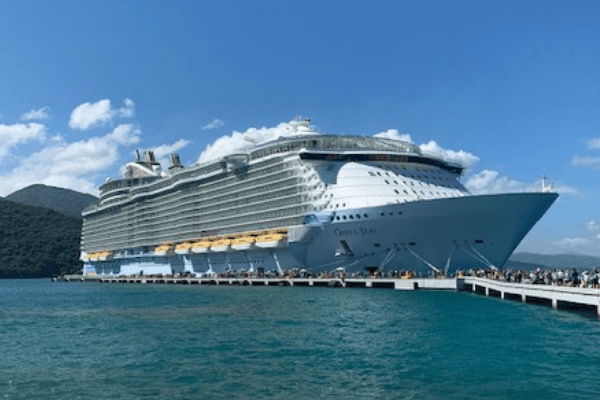 Often times, cruise line air is competitively priced, and about the same as booking directly with the airline. In some cases there are cruise line promotions where there's an additional discount on flights, and it can even be cheaper. It's absolutely worth a look.
Always check your pricing, terms and conditions and do some comparisons for yourself, as pricing and availability can fluctuate.
3. Enhanced flight options (better than cruise line air of the past)
A few years ago, there were some major disadvantages to cruise line air. One of the things in particular was a lack of flight options and flexibility. If you wanted to fly direct or even head in early, it was complicated and sometimes much more expensive.
However, several cruise lines now have very user friendly systems and it's actually easy to book your flight right on the cruise line website or even over the phone. You can choose your dates and fly in early (a smart cruiser tip), opt for flights of your choice. It's really easy.
I've personally had very positive experiences with Royal Caribbean's and Celebrity's Air2Sea as well as with Princess Cruises' EZAir.
4. Flexibility
If you're booking a cruise for next year or in a few months, you may really appreciate the flexibility of Cruise Line Air. Book now, change flights, cancel – it can be surprising how flexible cruise line air can be.
It's very important to make sure you book FLEXIBLE rather than RESTRICTED air (there may be 2 options) and verify the terms and conditions when you book.
For instance, with Princess Cruises EZAir, we were able to book our direct flights for an Alaskan cruise, a few months before final payment. However, we had flexibility to change the flights and even cancel them until a certain date. This really helped us as we planned for our first Alaska cruise.
Unfortunately, due to the current situation and cruise line cancellations, we've opted to put our June Alaska cruise on hold. However we've received a full refund for our flights, which were booked before final payment.
We do hope to rebook as soon as possible as cruising to Alaska is our dream!
If you've been dreaming of Alaska as well, here's post that will confirm why we NEED to go: Top 5 Reasons Why Everyone Needs to Go on a Cruise to Alaska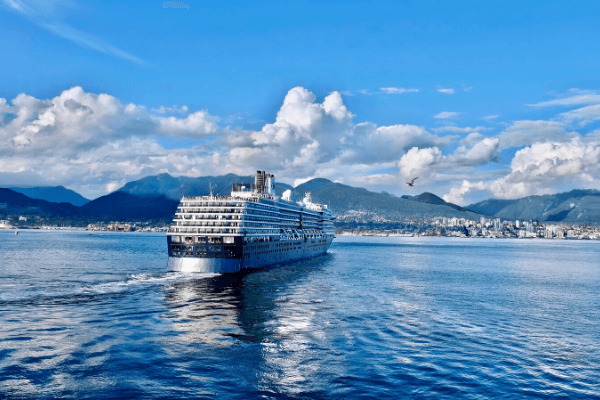 5. Book now and pay later
It's true. With many major cruise lines, you can book your air along with your cruise, and only pay the deposit for the cruise itself. The flights will be payable along with your final payment.
As a reminder, do make sure that you are booking Flexible, rather than Restricted Air if you need this flexibility.
6. Assistance if things don't go as planned – Flight protection
Perhaps the biggest benefit of cruise line air is help if you have a problem with your flights on the way to the cruise ship. Cruise lines do have a guarantee to get you to the next port of call.
A word of caution, even though cruise line's guarantee to get you to the ship (eventually) and do offer assistance, do make sure to fly in at least one day before your cruise and purchase travel insurance.
Missing 2-3 days of a 7 day cruise and all the headaches that come with it, just aren't worth saving on a night hotel.
If this is your first cruise, you'll want to read: 20 Super Practical Tips for first-time cruisers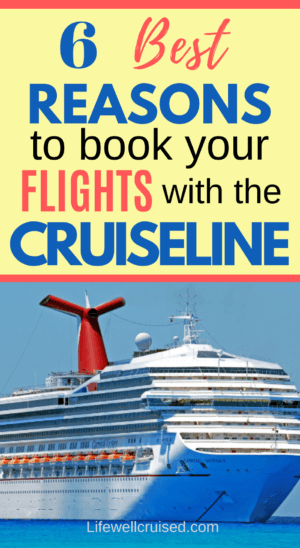 Disadvantages of booking cruise line air fare
While there are some good reasons to book your flights with the cruise line, there are always pros and cons. In some cases, based on your situation, booking air on your own or with your travel agent separately will be advantageous.
Here are 3 reasons not to book cruise line air
1. You can't use travel points to purchase your flights
If you have a lot of Air Miles, Aeroplan, Expedia Rewards or other travel points, you may want to use them to book your flights. While you can use a credit card of choice and still earn rewards, you wouldn't be able to redeem points if you opted for cruise line air.
2. Flight choices may be limited
In some cases, some air carriers may not among your flight options on the cruise line website. As well, some cruise lines may have terms and conditions that are restrictive.
Always verify the terms and conditions for your specific reservation with your cruise line or travel agent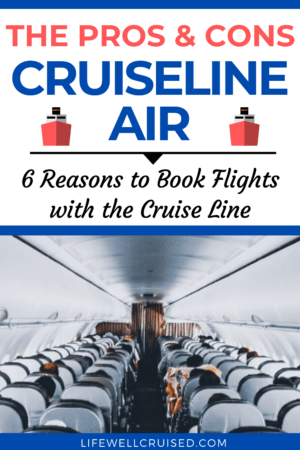 3. You still have to deal with the airline (if even you've booked air with your cruise)
This isn't really a disadvantage, however something to be aware of. Once you've booked your air, you still deal with the airline and their luggage policies and other requirements.
You're also responsible for pre-boarding online check in, just as if you have booked with an online travel website or directly with the airline.
Planning a cruise? Here are some must-read posts to help you plan.
10 Things You Need to Know AFTER You Book a Cruise
How to Avoid Getting Sick on a Cruise (keeping healthy tips)
10 Ways to Prevent and Avoid Seasickness on a Cruise
20 Cruise Packing Tips all Cruisers Need
Recap: 6 Reasons to Book Cruise Line Air – and 3 Reasons You Want to Book Your Own Flights
With cruise line's enhancing their cruise line airfare programs, the peace of mind and other advantages that come with this option are good reasons consider booking cruise line air. Even if you haven't opted to book your flights with your cruise line in the past, due to changes over the last couple of years, it may be worth another look.
Have you used cruise line air? If so, what tips can you share to make things go as smoothly as possible?
Happy Cruising!!
Ilana xoxo
P.S. If you enjoyed this post and found it helpful, please don't keep it to yourself ;-). Feel free to share on Pinterest, Facebook or Twitter (share buttons at the top). Thanks so much!
Popular posts:
30 Cruise Cabin Hacks Every Cruiser Needs to Know
What's included in your Cruise Price (and What Isn't)
25 most recommended Amazon Items to Bring on a cruise
Let's connect:
Follow me on Facebook at Life Well Cruised
Follow me onYouTube at Life Well Cruised (Vlogs and cruise tips)
Follow me on Pinterest at Life Well Cruised
Follow me on Instagram at Life Well Cruised