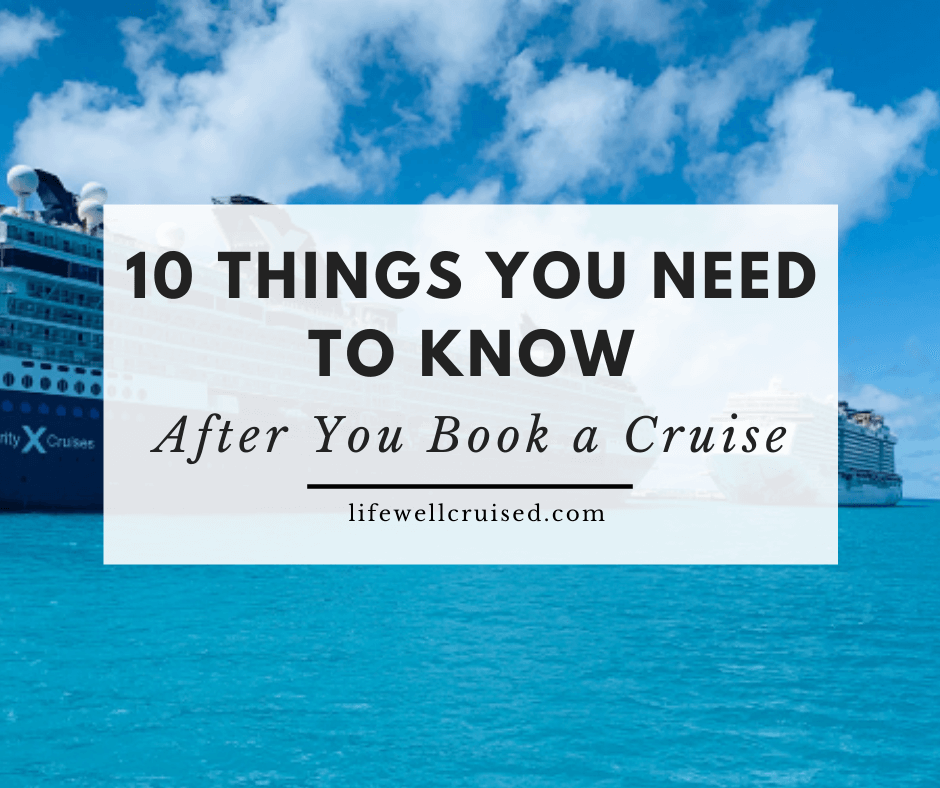 You booked a cruise… so what do you do next?
When I booked my first cruise, I was really happy and excited. But, then came a bit of overwhelm…
"What do I do next, now that I'm booked?", I wondered.
I'm dating myself, but when we took our first cruise, I don't remember even checking anything online.
Instead, we pretty much read the cruise brochure (from cover to cover), asked friends who had cruised, and our travel agent.
We were pretty lucky with a lot of the advice we'd been given, and our first cruise went pretty well (considering the hurricane that wreaked some havic, lol)
Since that very first cruise that hooked us, we've learned through both experience and the wisdom of other repeat cruisers.
So, I put this post together to help you with 10 important areas and things to think about once your cruise is booked. My hope is that it will help you to navigate the various things you need to do and prepare for, when taking a cruise.
I've also included some relevant videos from our YouTube channel, in case that can be helpful as well.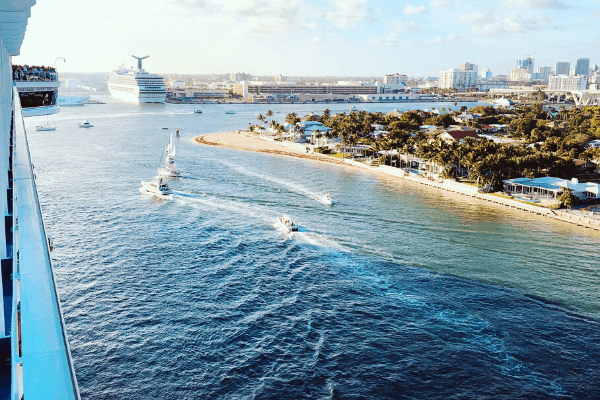 What you need to know, and do, AFTER You Book Your Cruise
1. Cruise Boarding Process
If this is your first cruise, you might be wondering what happens when you get to the cruise port, and if it's similar to an airport (hint – only slightly).
Preparing for the cruise boarding process actually starts way before the first day of your cruise.
Here are the steps:
Access your cruise booking on the cruise line website, using your reservation number on your confirmation
View your itinerary as well as onboard options and pre-cruise reservations which may be available
View the cruise line shore excursions, and consider pre-booking
Complete your online check-in, ideally a month or more before your cruise
More information about the boarding your cruise, including cruise line regulations are in this post: 11 Cruise Boarding Tips You Need to Know
2. Cruise Packing
What to pack for a cruise must be one of the most common questions first time cruisers have. Bringing what you actually need is pretty important, as contrary to a land vacation, if you forgot it at home, it's pretty difficult to get it once on the ship.
*True story*
When taking a 5 day cruise to Bermuda with good friends a few years ago, I was pretty confident that I didn't really need a detailed packing list.
Now, overall I did pretty well and had my necessities and more.
But do you know what I did forget?
My round hairbrush. Yup, I brought my good hairdryer, but didn't bring my hair brush!
If you have naturally curly hair like me, you know where this is going. I said goodbye to any thoughts of a great blow-out for evenings in the beautiful dining room.
Thank goodness I brought some hair product/curl cream, which saved the day. Lesson learned.
My motto – ALWAYS have a personalized cruise packing list.
Here's a great packing list to get started: 20 Cruise Packing Tips All Cruisers Need
3. Amazon Cruise Essentials
If you're wondering about what cruise accessories and travel items you need for your cruise, this post has some of the most useful items found on Amazon.
Personally, I don't think you need ALL the items, however I can attest to the fact that having magnetic hooks on my last cruise vacation actually made a HUGE difference!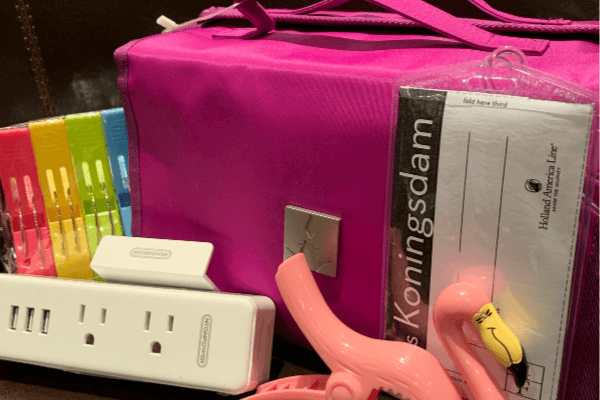 You can check out some items to bring on your cruise here: 25 Most Recommended Amazon Items to Bring on a cruise
Packing Cubes
You may also want to consider Packing Cubes.
Being honest, I wasn't an immediate fan, and even returned the first set I bought (gotta love Amazon!).
However, since so many cruisers just love packing cubes, I decided to purchase 2 well reviewed brands and give them another try.
Spoiler alert – they were more awesome than I thought!!
This post will help you decide if packing cubes are for you: The Pros and Cons of Packing Cubes for Cruise Vacations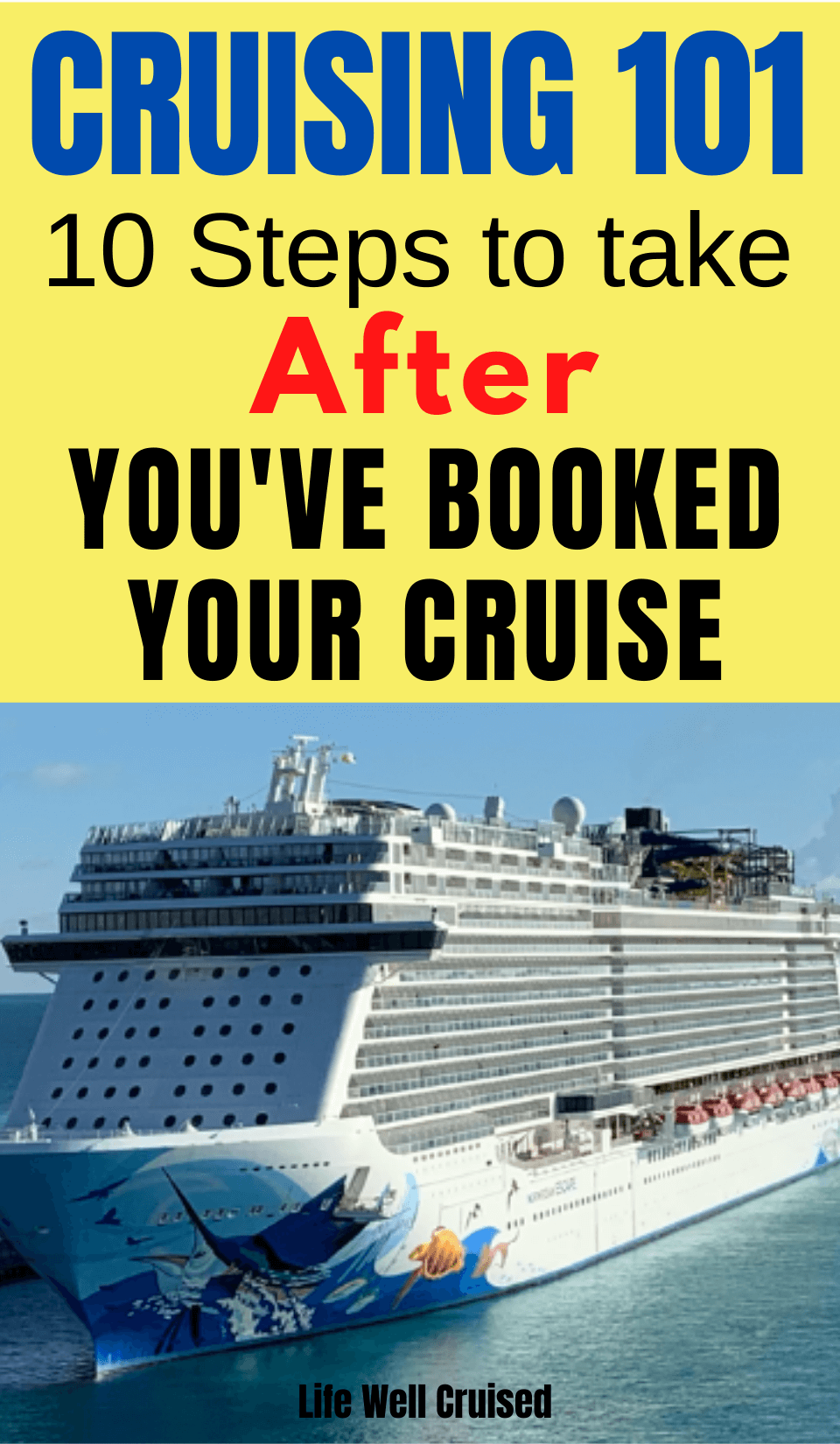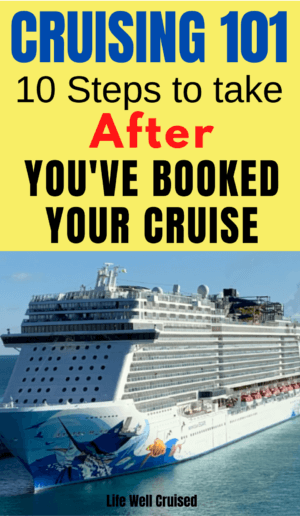 4. What to Wear on a Cruise on a Cruise
If you've ever asked this question in a cruise Facebook group, you know how contentious it can get. However, planning for your cruise outfits can be one of the most important things to do after your cruise is booked.
You may have questions such as:
Do we need to wear a tux and evening gown on Formal night?
Is a cocktail dress appropriate?
Can I wear capris, pants or jeans on casual nights?
Can I wear shorts in the dining room?
What can children wear on a cruise?
The fact is, cruise line dress codes have changed over the years, and on the most part have become more casual. BUT, there are dress codes.
However, each cruise line's dress suggestions are different, and there still are some that enforce "rules" more strictly than others.
This post has good guidelines for different cruise lines, so you can know what to expect and plan for day wear and evening wear on your cruise.
What To Wear on a Cruise Vacation (when dress codes are changing)
Save on Pinterest for later: What to Wear on a Cruise (PIN)
5. Cruise Embarkation Day
Believe me when I tell you that your cruise embarkation day, will be one of the best days of your entire cruise! That feeling at Sailaway, as your vacation begins and all stresses fade away… there's nothing like it.
Here are some tips, so you can really enjoy the first day of your cruise, and make the most of it!
Recommended reading: 15 Cruise Embarkation Day Tips Straight from the Pros
6. Pack a Carry On Bag
One of the best pieces of advice that my travel agent gave me once we booked our first cruise, was to pack a day bag for embarkation day.
We had our bathing suits, sunscreen, flip flops, valuables and more with us as we boarded the cruise ship.
This was perfect, as our luggage was delivered to our cabin a few hours after we boarded. We were thrilled to be able to hang out by the pool with a Pina Colada and really feel like we were on vacation.
I've put together this list of some things you'll really want to consider packing in your embarkation day bag.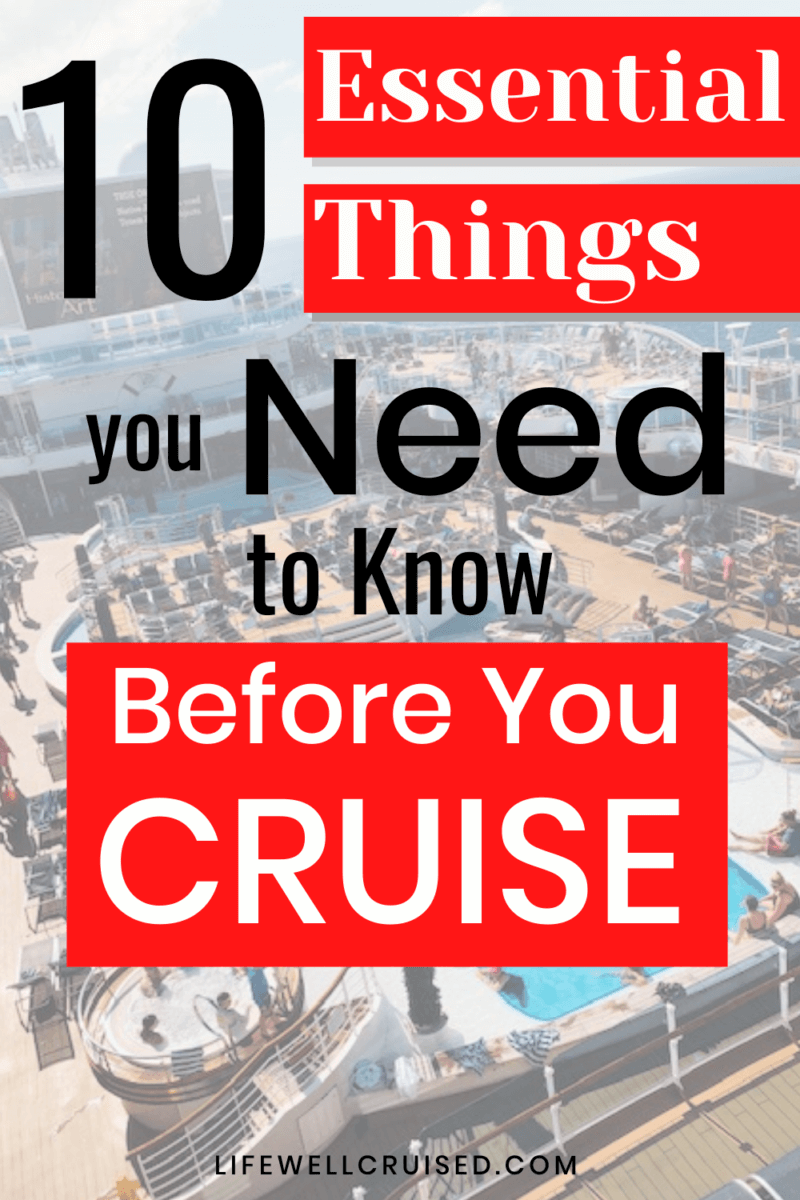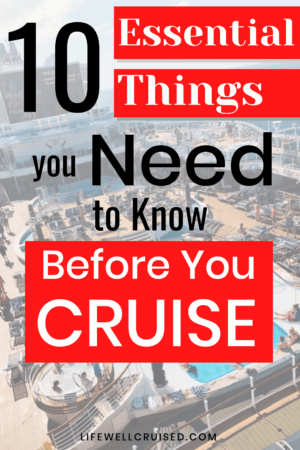 7. How to Organize Your Cruise Cabin
No matter what kind of cruise cabin you have, you'll likely want to get organized and make it as efficient as possible, while still feeling comfortable.
These cruise cabin hacks are especially helpful for families sharing a cabin: 30 Cruise Cabin Hacks Every Cruiser Needs to Know
Cruise Stateroom Accessories (that will make your life easier)
These cruise accessories are recommended by frequent cruisers for organization, comfort and to disinfect: 17 Cruise Stateroom Essentials Every Cruiser Needs
8. Prevent seasickness
One of the biggest regrets some first time cruisers have, is not being prepared with motion sickness medication for their cruise.
Today's cruise ships have stabilizers, and are unlikely to have a lot of movement most of the time. However, this doesn't mean that you won't feel any motion or vibration.
In reality, sometimes cruises just hit rougher seas, and you want to be prepared and try and prevent feeling seasick.
Here are 10 tips, both natural and medication, to help: 10 Ways to Prevent and Avoid Seasickness on a Cruise
9. Shore Excursion Do's and Don'ts
Planning for your days at cruise ports doesn't have to be complicated. One of the easiest things to do, is simply to choose a shore excursion provided by the cruise line.
However, if you don't necessarily want to book a tour, and are considering doing something on your own, do your research!
These cruise port and shore excursion tips will be helpful as you consider your options for each cruise port:
11 Cruise Shore Excursion Day Tips (Cruisers need to know)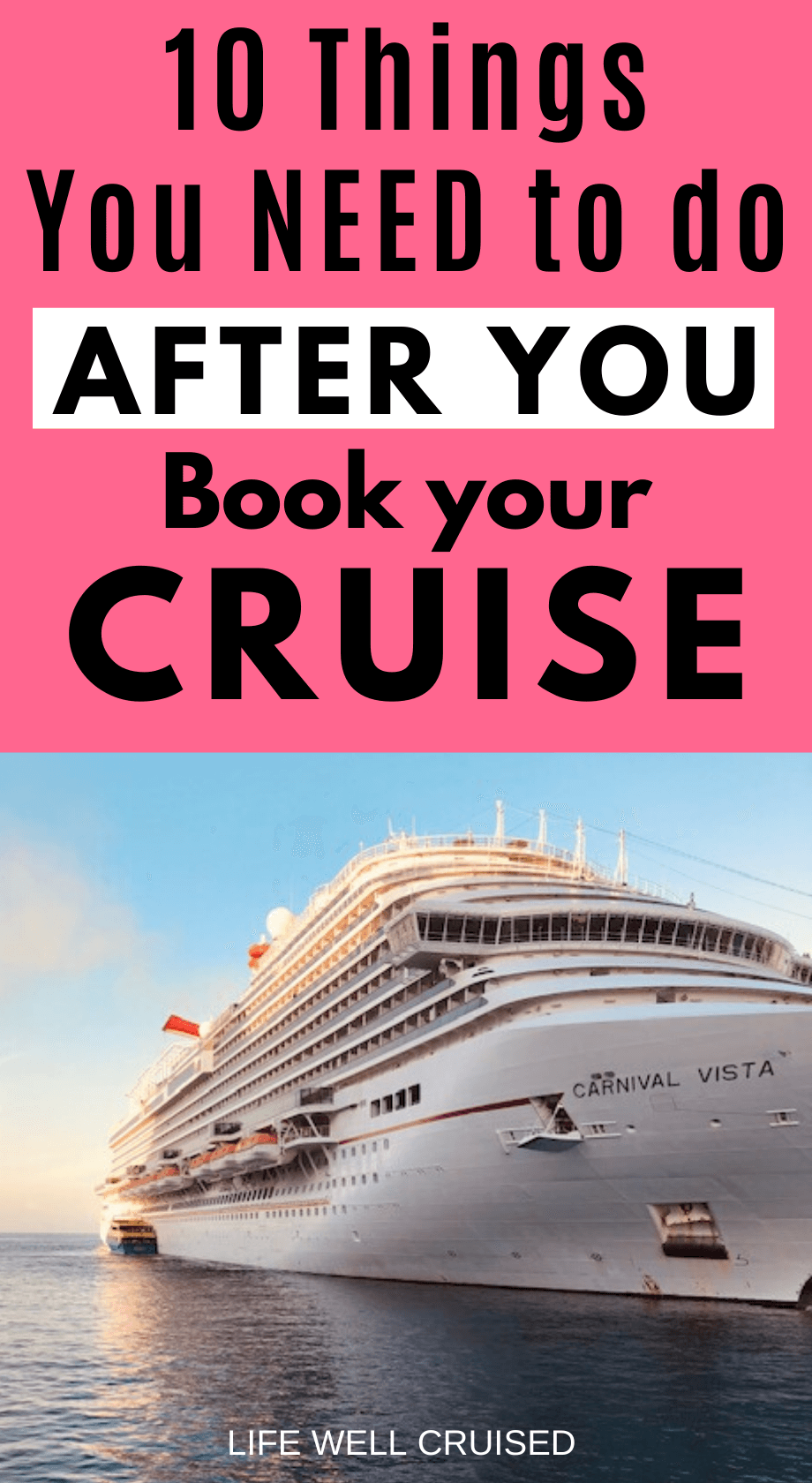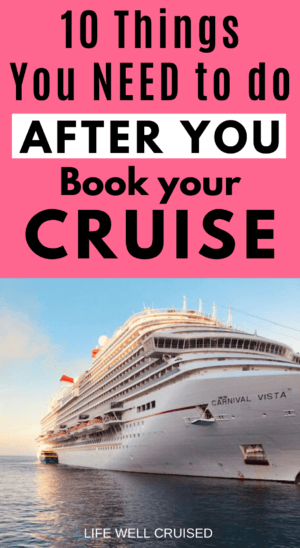 10. Disembark from Your Cruise Ship with Ease
There's no sadder day in a cruiser's life than "debarkation day". Settling the account, packing up your luggage, saying goodbye to new cruise friends and amazing crew…
While we don't like to think about the last day of the cruise, there are some things that are important to know. Unfortunately, once you get off the cruise ship, there's almost no way to fix these potential mistakes.
Here's what you need to know: 21 Cruise Disembarkation Tips You Need to Know
Recap: 10 Things You NEED to Know AFTER You Book a Cruise
There's definitely a lot to know about cruising. While we can't cover absolutely everything here today, I've included 10 most important things to think about and plan for, AFTER booking your cruise.
All article links are in the above post, in case you missed any. Feel free to PIN to your favorite Pinterest board to reference later.
Cruise documents and boarding process
Cruise packing
Amazon Cruise Essentials
What to wear on a cruise
Cruise embarkation day
Pack a cruise carry on bag
How to organize your cruise cabin
Prevent seasickness
Shore excursion do's and don'ts
Cruise disembarkation tips
Are you getting ready for your cruise? Do you have a question or any tips to make preparing for a cruise easier? Please let me know in the comments below.
Happy Cruising!
Ilana xoxo
P.S. If you enjoyed this post and found it helpful, please don't keep it to yourself ;-). Feel free to share on Pinterest, Facebook or Twitter (share buttons at the top). Thanks so much!
Related posts:
30 Cruise Cabin Hacks Every Cruiser Needs to Know
25 most recommended Amazon Items to Bring on a cruise
How NOT to Gain Weight on a Cruise
Let's connect:
Follow me on Facebook at Life Well Cruised
Follow me onYouTube at Life Well Cruised (Vlogs and cruise tips)
Follow me on Pinterest at Life Well Cruised
Follow me on Instagram at Life Well Cruised