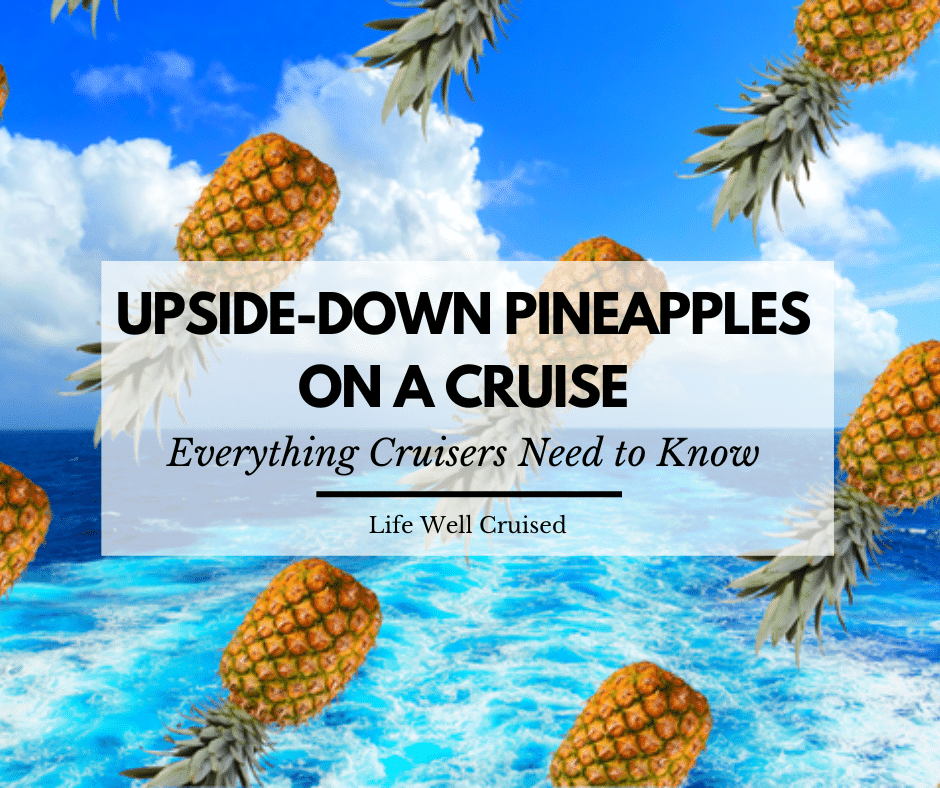 While pineapples are a fun tropical symbol, it's true that there is a potential secret meaning. While pineapple decorations are a symbol of hospitality, upside down pineapples on a cruise likely indicate something different.
Whether it's an urban myth or a true hidden meaning, cruise passengers will want to be aware of the not-so-secret code of the upside down pineapple.
Whether you're into the "lifestyle" or not, this is especially helpful for cruisers who enjoy decorating their cruise cabin door or wearing pineapple motif cruise wear.
In this post I share what an upside down pineapple symbolizes (both on land and on a cruise), its origins and answer some frequently asked questions.
This post contains affiliate links which means if you click and buy that I may make a commission, at no cost to you. Please see my disclosure policy for details.
As an Amazon Associate I earn from qualifying purchases.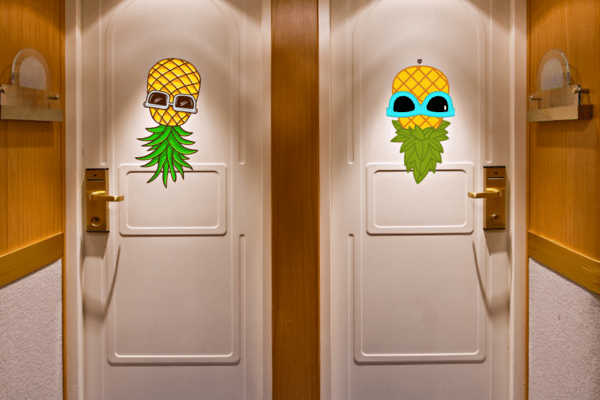 What Does an Upside Down Pineapple Mean On a Cruise Ship?
An upside-down pineapple is a secret code people use to let other cruisers know they are swingers. If you're not familiar, the swinging "lifestyle" includes engaging in group sexual activities or partner or "wife-swapping".
The upside-down pineapple symbol might be worn on a t-shirt, swimsuit, tote bag, badge or pin. Placing an upside-down pineapple decoration outside their cruise ship cabin door can be an invitation to join a swinger party. The meaning of upside-down pineapples is not limited to cruise ships, and can be seen in communities, resorts, campgrounds and more.
What Are The Origins of the Upside Down Pineapple?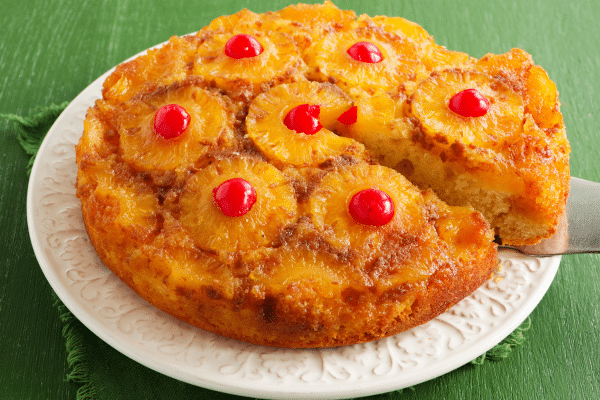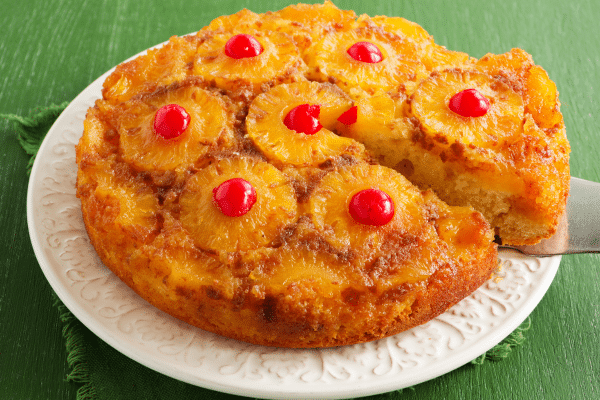 Pineapples have held various symbolic meanings in different cultures throughout history, often associated with hospitality, prosperity and friendship. So, how did the upside down pineapple come to be?
When it comes to the origin of the upside-down pineapple, there are two different theories behind its history.
Hawaii
Some believe that the upside-down pineapple originated in Hawaii. Hawaii is a state that is known for its pineapple plantations and pineapple upside-down cake.
The upside-down pineapple cake is a delicious dessert and a symbol of hospitality, which is served to guests when they visit.
Europe During the Renaissance Period
Others believe that the upside-down pineapple originated in Europe during the Renaissance period. At the time, the upside-down pineapple was a symbol of welcome.
Today
Over the years, urban legend has it that people began to use an upside down pineapple as a discreet symbol between those who were into a swinger lifestyle.
Even if pineapples are a symbol of welcome and hospitality, the upside-down pineapple has a different meaning today. Since we now have the internet and social media (including Facebook and TikTok), admittedly this is less of a secret as people share their experiences online.
Why is the Upside Down Pineapple Associated with Swinging?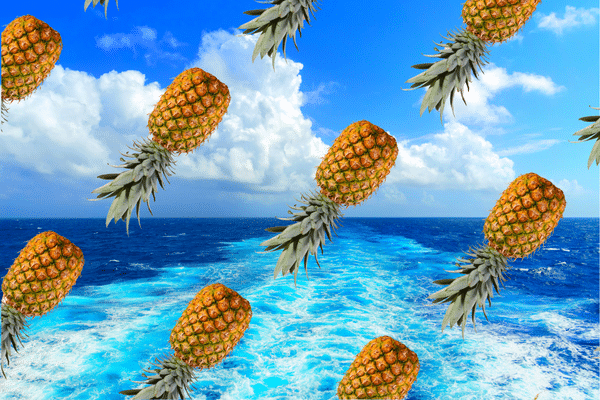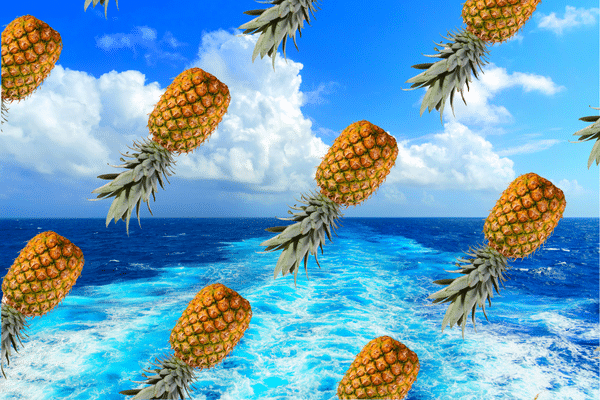 For swingers, pineapples are symbolic of friendship, openness and new connections, which lends itself well to this alternative lifestyle.
Its hard to pinpoint the exact time swingers adopted the upside-down pineapple as a symbol or secret code. However, urban legend has it that swingers have been placing an upside-down pineapple in their grocery shopping carts for years, to let others who were into the lifestyle know.
Nowadays, it is easier than ever for swingers to find like-minded people. If you want to be part of the swinging community, you can join swinger Reddit forums or post a pineapple emoji in a swinger Facebook group.
Another way to identify swingers is if they are wearing upside-down pineapple merchandise. It is common for swingers to wear upside-down pineapple clothing, an upside-down pineapple badge, or other upside-down pineapple signs.
Is Swinging on a Cruise Ship a Big Thing?
Yes and no. Swinging is a big thing on certain cruise ships. In fact, there are "lifestyle cruises" designed for cruise swingers and adult fun. On regular cruises, there may still be open-minded passengers who are open to swinging.
However, the truth is that you won't likely notice any swinging behavior unless you are looking for it.
To the average person, swingers won't make their lifestyle choice obvious. In fact, beyond the upside down pineapple, there are more discreet swinger's symbols. Wearing a toe ring, a black ring on the right hand, a wedding ring on the right hand or a woman wearing an anklet are secret symbols that signify the swinging lifestyle.
While on your cruise vacation, you may also notice an upside down pineapple sticker or pineapple magnets on a cruise cabin door. This can be a secret sign to let other cruise ship passengers know they are welcome to join.
How Often Do You See Upside Down Pineapples on a Cruise Ship?
Unless you're on a swingers cruise or if you are really looking for them, you won't see upside-down pineapples very often on a cruise ship. You may see a stateroom door decorated with an upside-down pineapple or pink flamingos. However, it is pretty rare.
There are plenty of other subtle signs swingers use to express their lifestyle. However, the most common symbol is the upside-down pineapple. For the most part, you won't notice other swingers unless you are looking for them.
Does Clothing With Upside Down Pineapples Mean Someone Is a Swinger?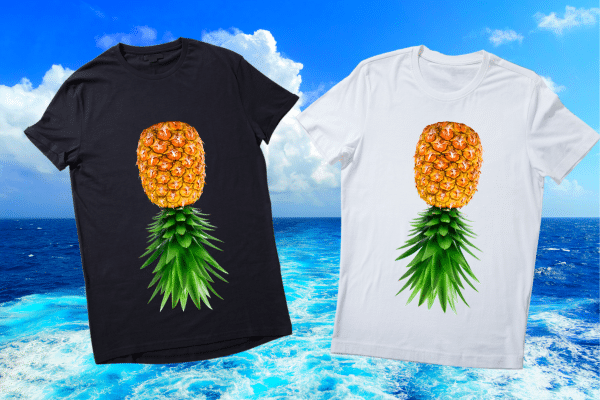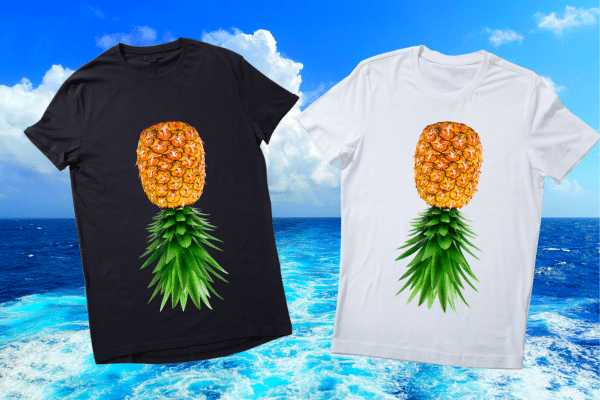 Although swingers wear pineapple print clothing, it is possible that someone wears pineapple print clothing without knowing its true meaning. To avoid any awkward interactions, you may want to avoid wearing cruise t-shirts and clothing with pineapples on it.
There is a story of a TikTok user and travel creator named "lindajeanw" who wore matching pineapple bathing suits, along with her husband, while on vacation. She did not know the hidden meaning behind the upside-down pineapple, and she said that people were "extra nice" to them.
It's important to note that when you see someone wearing pineapple clothing on a cruise vacation, its likely they are not swingers and are not aware of the true meaning of the upside-down pineapple. Since pineapples are tropical fruit, it is very common for them to be featured on vacation attire.
Should I Avoid Wearing Pineapple Printed Clothing?
There is nothing wrong with wearing clothing with a pineapple motif. However, it's important to understand that some people may make assumptions about you, especially if those pineapples are upside down.
If you're wearing a t-shirt or a pair of shorts with a small pineapple, most people won't notice. However, if you're dressed with pineapple prints all over your outfit, there is a good chance that you will get some funny looks.
Unless you are engaging in swinging, you should avoid clothing with an upside-down pineapple symbol.
Upside Down Pineapple Cruise Shirts
Whether it's for fun, a joke or a shirt you resonate with, here are some fun upside down pineapple shirts (on Amazon) to wear on a cruise.
This one's a little more sutble…
What Happens on a Cruise T-shirt
How to Connect With Swingers on a Cruise
If you are looking to partner swap on a cruise, there are Facebook groups and forums on Reddit to connect with other swingers on your particular cruise sailing. If there are a lot of swingers on the same sailing, there may be a swinger party for open-minded couples to meet.
Another way to meet like-minded cruise passengers is to wear an upside-down pineapple shirt. The upside-down pineapple is a code that tells other swingers that you are open to sharing.
The Upside-Down Pineapple Trick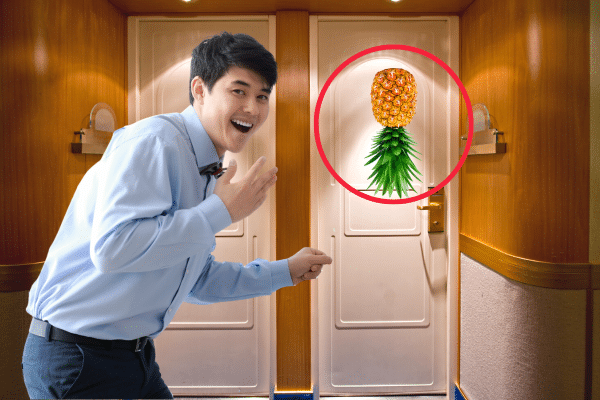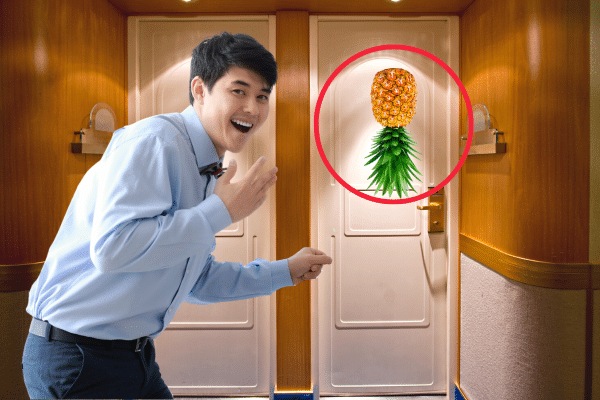 The upside-down pineapple trick is a prank people may play on others by turning pineapple decorations or other objects upside down on their doors.
While this can definitely be a funny joke, especially if you're cruising with friends, it might lead to some potentially awkward moments as well.
To do the upside-down pineapple trick, you'll have to purchase pineapple magnets, door decorations or a sticker. When your friend is in their stateroom, you will put the magnet or sticker on their door.
If it's your friend's first cruise, they most likely won't know what the upside-down pineapple signifies, so that they won't question it. After a few days, you can tell your friend what it means, or you can wait for them to receive a friendly knock on the door!
Another variation of this prank is to purchase your friend a pineapple t-shirt for the cruise vacation. While your friend is wearing the T-shirt, there is a good chance they will get some funny looks.
These pranks are probably harmless, and can be a great way to have some fun on your cruise holiday. However, do use your judgement, so as not to cause offense or distress unintentionally.
Get The Ultimate Cruise Planner
Regular price: $27 Now just $17!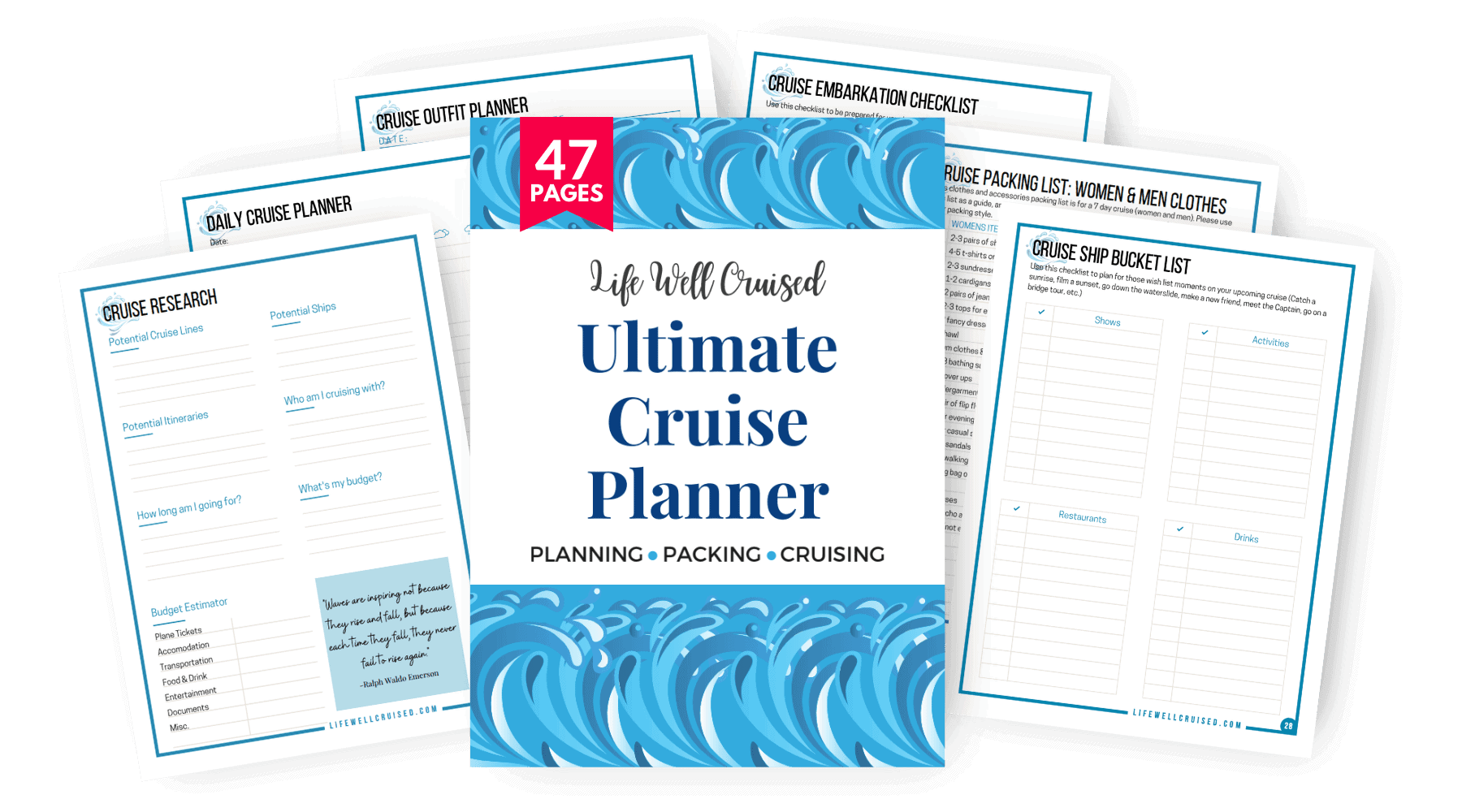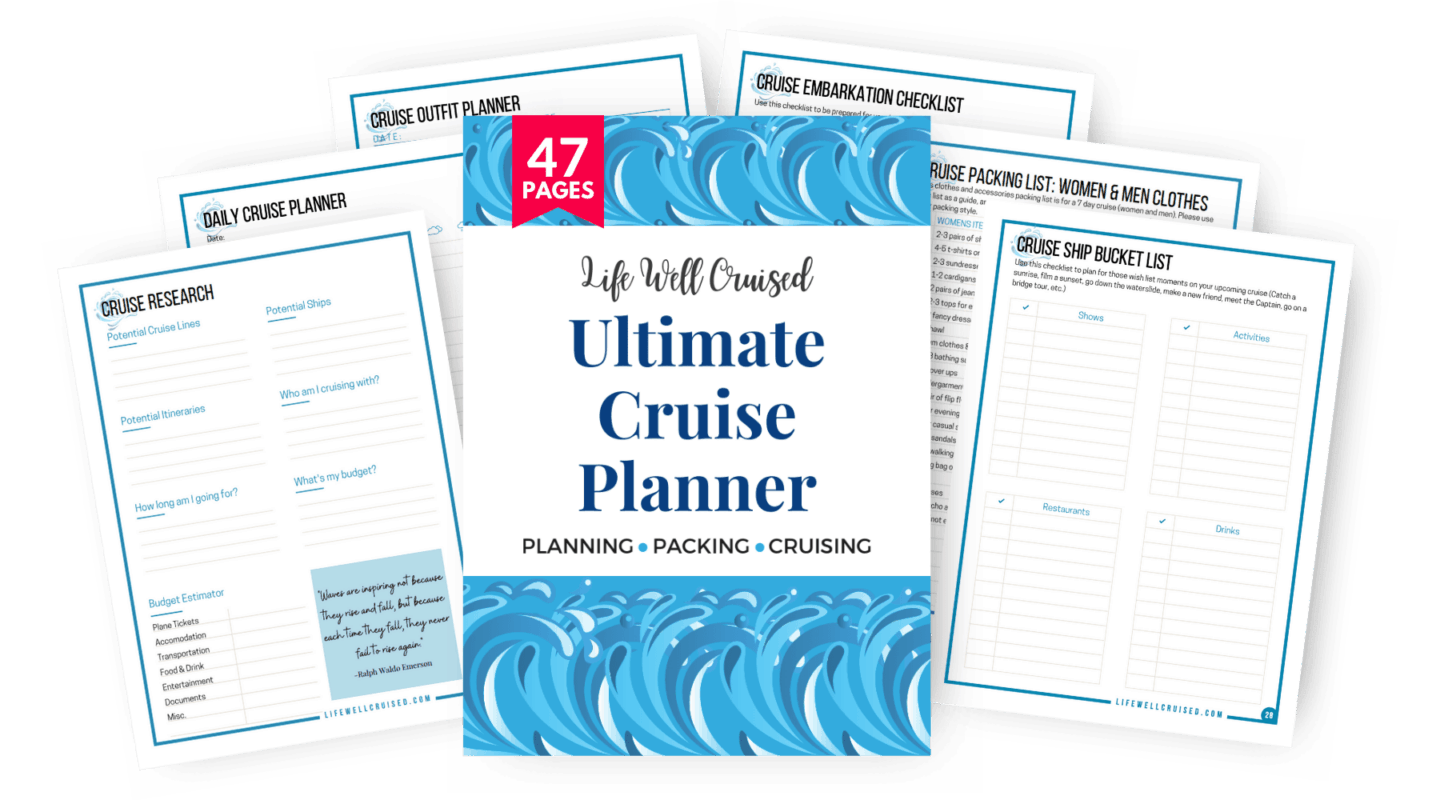 How Do Cruise Ship Swingers Identify Themselves?
The upside-down pineapple is the unofficial symbol swingers use as a secret way to identify themselves to other swingers on a cruise ship. If you see an upside-down pineapple on clothing, a cruise ship door, or accessories, there is a good chance it's a swinger.
Although it's not super common, swinging still occurs on cruise ships. There are Facebook groups and Reddit forums where swingers will arrange a private swinging party before their cruise ship sailing.
This way, it's easier to meet up with like-minded people once they are onboard the cruise ship.
Other Symbols Swingers Use To Identify Themselves:
In recent years, the upside-down pineapple became a very popular and well known symbol. These days, many cruisers understand its true meaning.
Since swingers like to be discrete about their lifestyle, they have adopted new ways to identify themselves. In fact, according to rumors, this includes the adoption of the pink flamingo.
Here are the other symbols swingers use to identify themselves:
Black ring on the right-hand ring finger
Pink flamingos
The "Queen of Spades" Symbol
An anklet
Toe Rings
Thumb Rings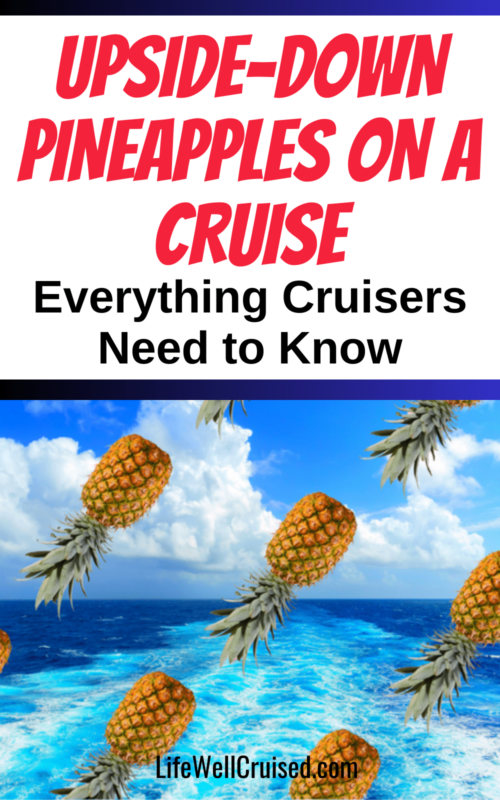 Frequently Asked Questions
What Does a Pineapple Unicorn Mean On a Cruise?
A pineapple unicorn is a term used by couples looking for single women to sleep with. This term is popular among the swinging community. So, if you're ever in a cruise Facebook group and you see someone making a post that says they are "looking for a unicorn," you know now know what it means.
Generally, swingers use discreet terms like "pineapple" and "unicorn," so it does not draw attention to their lifestyle choices.
Where Will You Find Upside-Down Pineapples on a Cruise?
On a cruise, passengers can find upside-down pineapples on cabin doors, clothing, and accessories. The upside-down pineapple is the most common way to identify swingers on cruises and on land. At land-based resorts, swingers will decorate their doors with pineapple decorations or place a real pineapple in front of it.
According to Reddit, a game some cruise passengers will play at night is trying to find rooms with upside down pineapple decorations on the doors. So, the cruise passengers will walk past every stateroom on the ship and count how many upside-down pineapples they see on cruise cabin doors.
Do Cruise Lines Know About The Upside-Down Pineapple?
Although cruise lines don't advertise the upside-down pineapple lifestyle, they certainly know it's a thing! Since the upside-down pineapple has become such a well-known symbol among cruisers, some cruise lines have acknowledged it.
A question people often ask is, "Is Virgin Voyages a swinger cruise?". Virgin Voyages is an adult only cruise, and some people can be into the swinging lifestyle. However it's not an official swingers cruise. In our experience on Virgin's Valiant Lady cruise ship, this wasn't something we noticed.
P&O is a cruise line in particular that has referenced the upside-down pineapple on several occasions. They have an upside-down pineapple drink and upside-down pineapple bags in their gift shop, and they use pineapple signage at their "Guilty Pleasures" party.
At one time, the upside-down pineapple was a secret symbol. Now, many cruisers know about it, and it has become the subject of many jokes in the cruise community.
Related & Popular Posts:
Get The Ultimate Cruise Planner
Regular price: $27 Now just $17!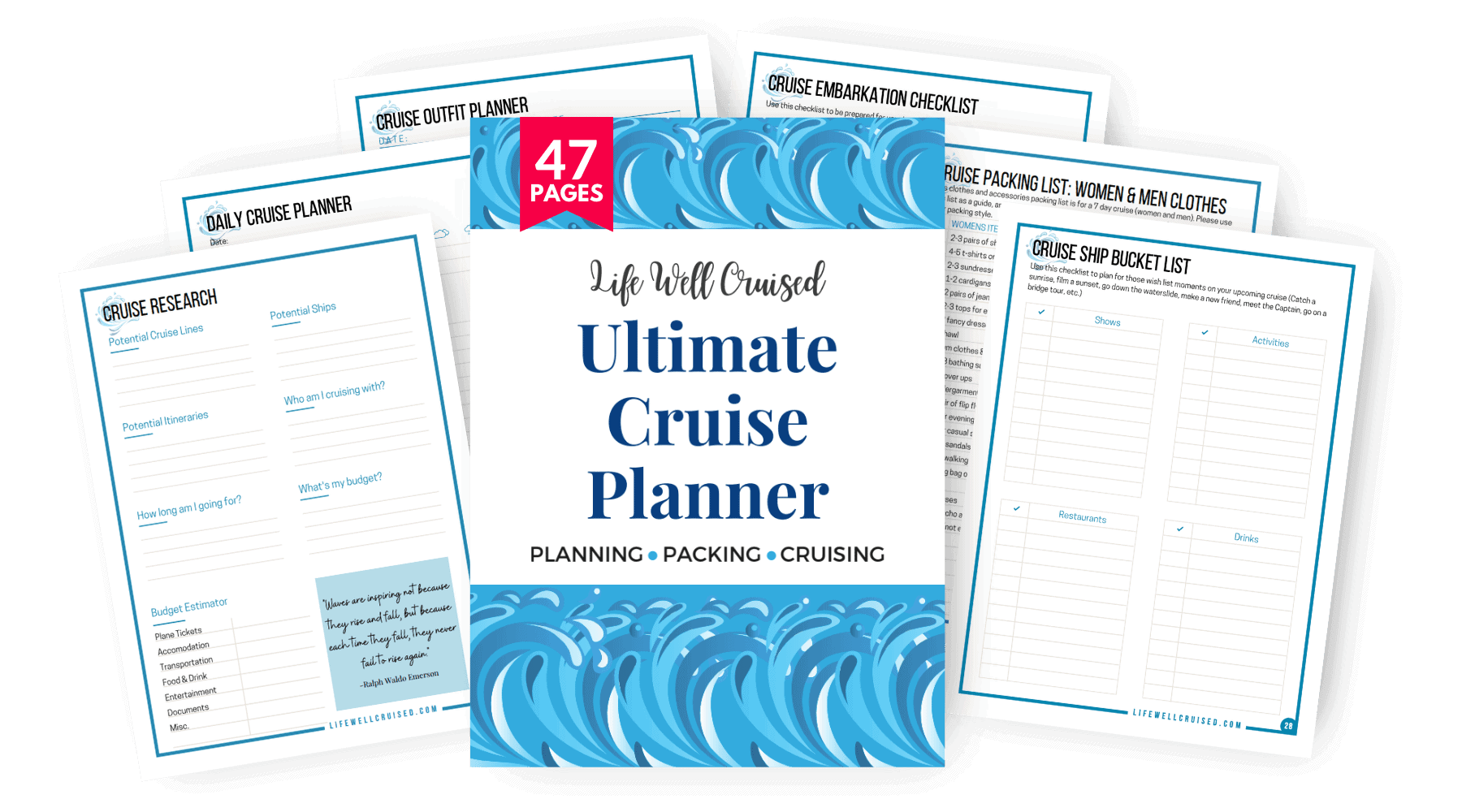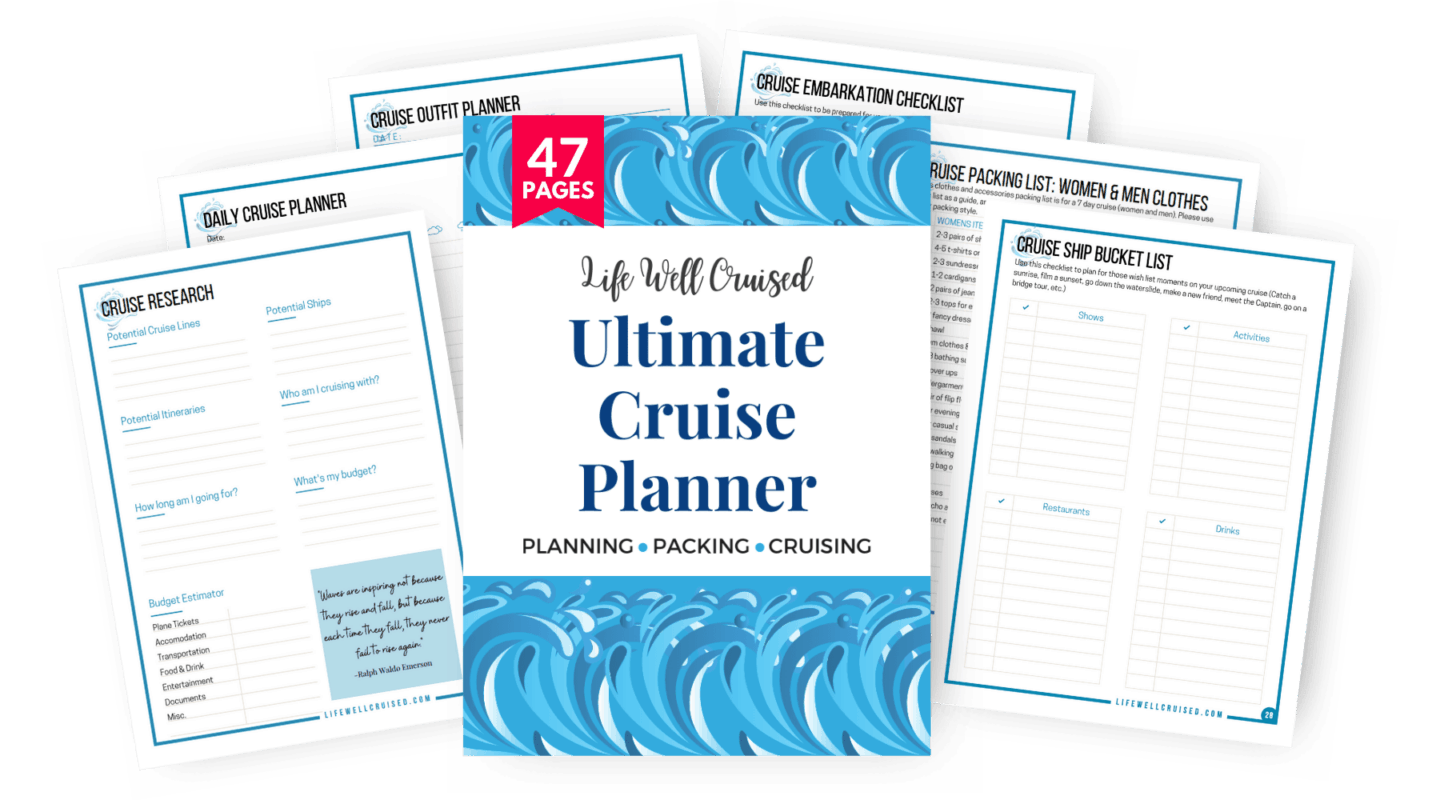 Final Thoughts On Upside-Down Pineapples On Cruise Ships
Well, there it is, everything you need to know about the upside-down pineapples on cruise ships!
If you're going on a cruise, chances are you won't see a lot of upside down pineapples. However, even if you do, it's not something to be concerned with unless you're into the lifestyle.
If you love pineapple motif clothing, this is probably something to reconsider as pineapples and swinging have become synonymous in cruise culture.
Have you seen upside down pineapples on a cruise? Please let me know in the comments below.
Happy Cruising!
Ethan
If you found this article helpful, please pass it along. Please feel free to share on Facebook or PIN to your favorite Pinterest board (share buttons at the top). Thanks so much!
Author Bio: Ethan Schattauer writes about men's fashion, travel and college advice on the website WhatToWearMen.com. As a frequent cruiser, Ethan shares his unique perspective on what cruising is like for teens and young adults.