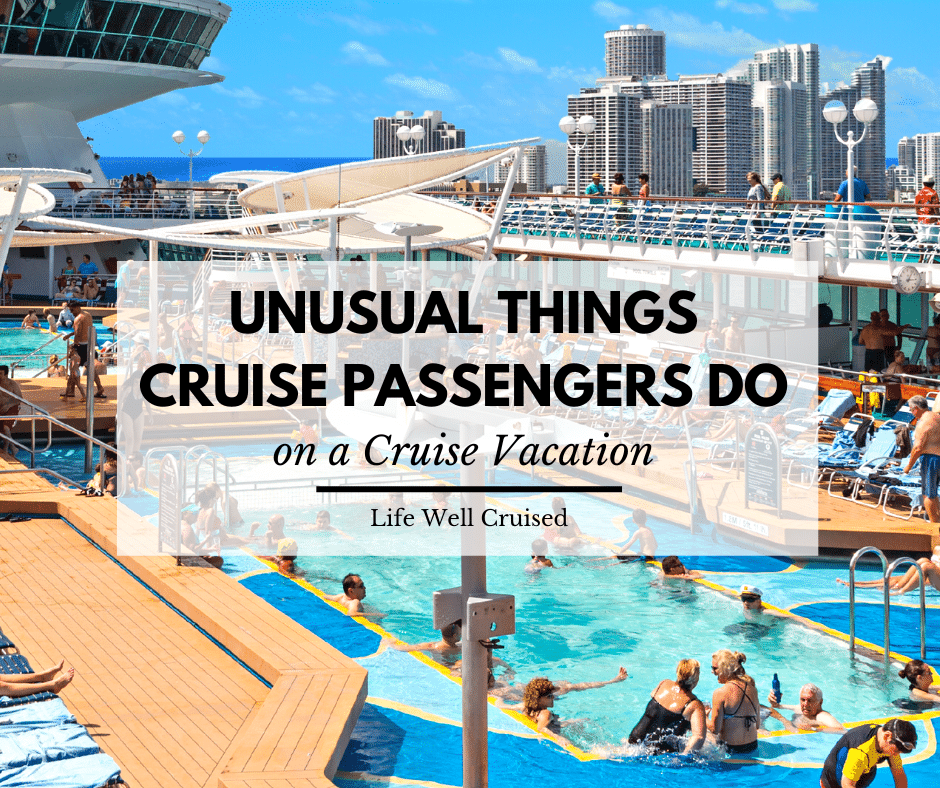 Cruises are different than other types of vacations, and this includes some unusual things that cruise passengers do!
Whether you're a first time cruiser or you've been cruising for a while, you've probably noticed that cruising has a culture of it's own. In fact, there are some fun, crazy and even strange things some people do on cruises, that you won't likely see anywhere else.
Don't worry, these cruise activities are all in good fun and always optional for cruisers.
This post contains affiliate links which means if you click and buy that I may make a commission, at no cost to you. Please see my disclosure policy for details.
As an Amazon Associate I earn from qualifying purchases.
Unusual Things People Do on Cruises
1. Cruise Cabin Door Decorations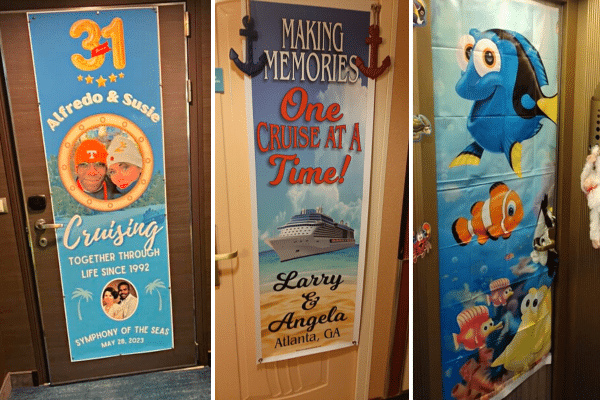 Cruises are fun vacations and nothing says fun like cabin door decorations! Decorating your cruise cabin door is a popular thing to do on many major cruise lines.
In fact, some people go all out and decorate their stateroom doors with huge banners. Other cruise passengers prefer to decorate with personalized signs that are a bit more discreet.
Cruisers say they enjoy decorating their cabin doors for fun, as well as practical reasons. On a cruise ship, it can be hard to find your cabin when every cabin door and hallway looks the same. Plus, cruise ships can be disorientating.
Even those who choose not to decorate, often enjoy seeing all of the themed door decorations.
Related: Cruise Cabin Door Decorating – Everything You Need to Know
2. Cabin Crawl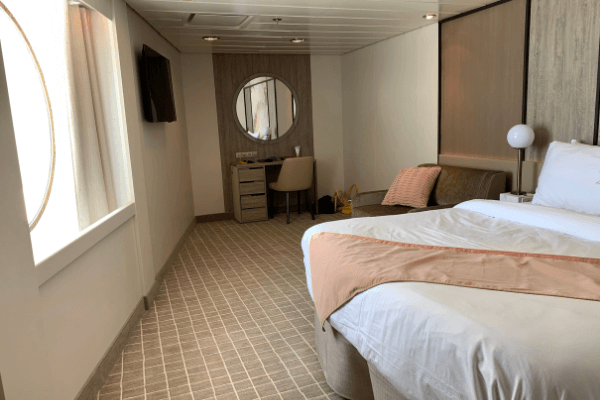 Cruise ship cabin crawls are often organized on group cruises or for people that have been part of a cruise facebook group or roll call.
The idea is that cruise passengers will offer up their cabin for others in the group to view. Ideally, there will be many cabin types represented from inside cabins, oceanview cabins, balcony cabins and suites. It's often fun for people to see some of the unique cabins on a cruise ship as well, such as a large forward ocean view or an aft veranda stateroom.
If you're part of a cruise roll call, someone from the group may take charge of organizing a cabin crawl on a sea day.
Related: Aft Facing Balcony Cabins Pros & Cons
3. Cruise Ducks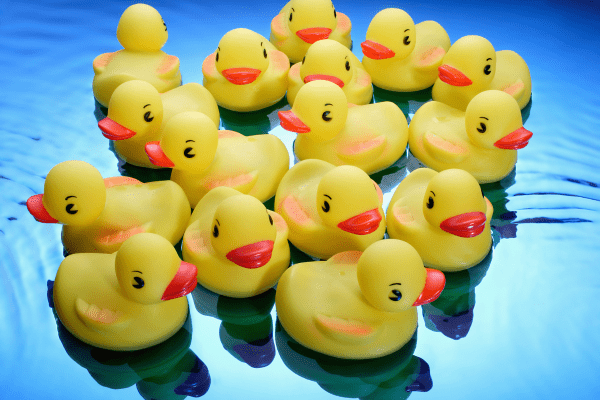 Cruise ducks continue to be a fun trend in cruising. This fun activity has captured the hearts and imagination of cruisers, as many people participate in hiding and finding cruising ducks.
While this fun game may be played elsewhere, cruise ducks are quite popular with cruise passengers. In fact, cruising ducks have a Facebook group and novelty cruise ducks, tags and passports can be found on Etsy and on Amazon.
Related: Cruise Ducks – Everything You Need to Know
4. Roll Calls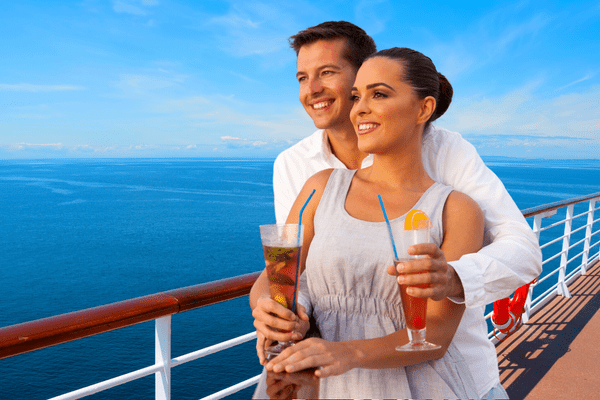 Many cruise passengers join roll calls before going on a cruise. Cruise roll calls are a great way to make new friends before you step onboard your cruise. You can join cruise roll calls on online forums like Cruise Critic as well on Facebook.
Why do cruisers join roll calls, you might wonder?
Roll calls are a great way to share information with other passengers on your cruise and share the excitement with other people that get it!
Bonus! It's not uncommon for cruise passengers in roll calls to organize private shore excursions, that others in the group can join.
5. Cruise Lingo
If you've been planning a cruise, you've likely run into some cruise terminology or cruise lingo. Cruises are definitely unique, and this includes using nautical terms and jargon both before and during a cruise vacation.
Cruise rooms are cabins or staterooms. Floors are decks. The pool deck is the lido deck and so on.
Don't be surprised if cruise passengers use cruise lingo and acronyms in Facebook groups. Word of caution – don't call a cruise ship a boat. Trust me on this 😉
Related: Cruise Lingo Glossary
6. Slot Pulls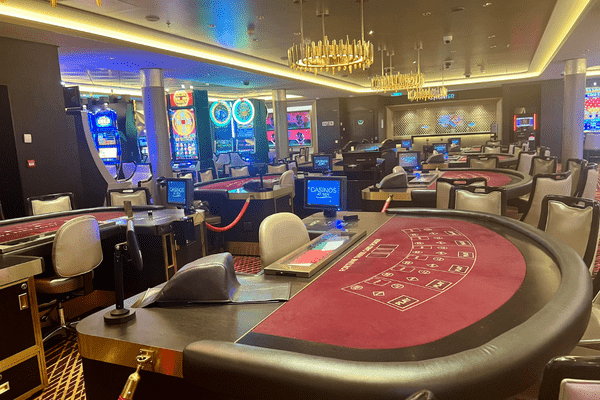 A slot pull on a cruise is a unique group activity where cruise passengers come together and play slots at the ship's casino. It's especially popular among groups cruising together or those who have connected through a roll call.
During this fun optional activity, cruisers will usually all put in an amount (such as $20). If there's a win, the group splits the winnings. Often, this is an organized activity by someone in the group's roll call.
Get The Ultimate Cruise Planner
Regular price: $27 Now just $17!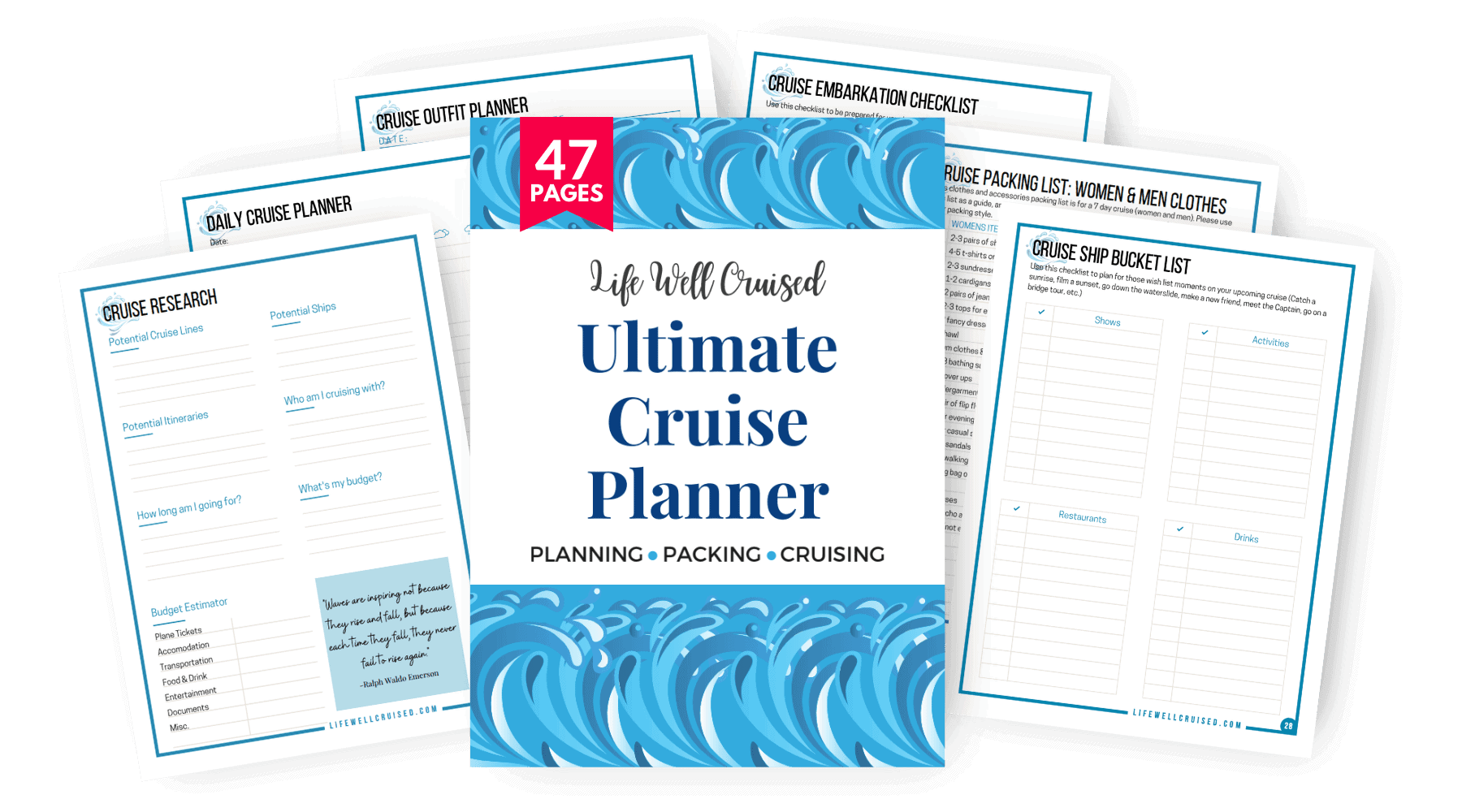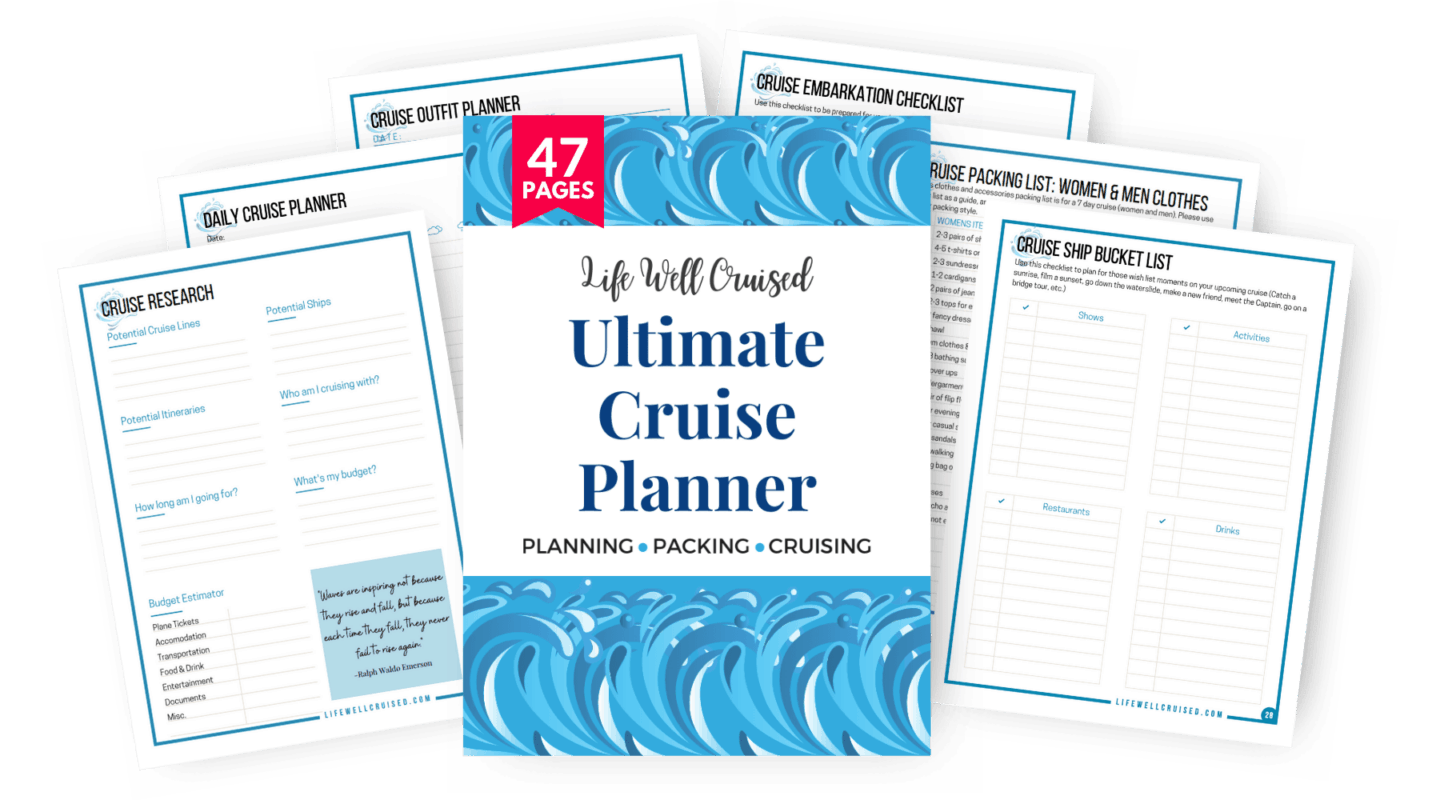 7. Meet & Mingle
A Meet & Mingle is something that you'll find on many cruises. The Meet & Mingle is a social event, often organized by someone in the cruise roll call or Facebook group. It's a great way to meet some of the people you may have been chatting with online before the cruise.
Cruise passengers will sign up in advance, and the cruise ship will usually provide a meeting venue with some light refreshments. Sometimes there are prizes or giveways provided by the cruise line. Other times, cruisers themselves may organize a fun little gift exchange for the get together.
8. Theme Cruises
There are many types of theme cruises that appeal to cruise passengers with different interests and passions.
In fact, you'll find music themed cruises, wellness cruises, knitting cruises, wine cruises and more! Theme cruises are usually sold through companies that specialize in organizing and promoting these unique vacations.
9. Group Cruise
Going on a group vacation isn't unique to cruising. However, many people swear that cruises are the best group vacation ever! After all, on a group cruise, everyone gets a good balance of togetherness and freedom to do what they want.
Friends and family can plan time together, but also choose to do some activities separately. Don't forget to discuss expectations before you go on a group cruise.
Related: How to Plan the Perfect Group Cruise Vacation
10. Pineapples & Flamingos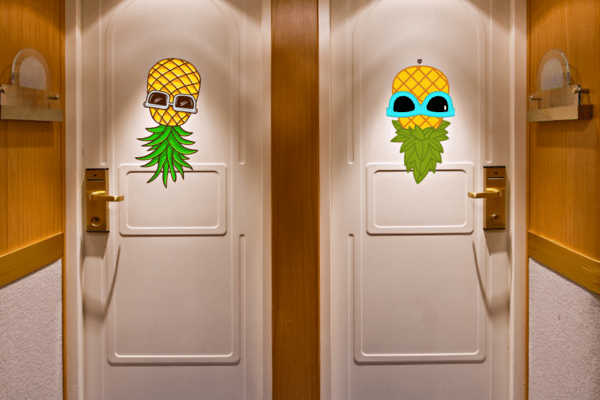 Did you know that pineapples can have a hidden meaning on a cruise? While most people decorating cabin doors with a pineapple decoration are probably unaware, pineapples can mean more than "welcome".
An upside down pineapple is associated with swingers, so you get the idea. These days, it's common knowledge in the cruise community to avoid pineapples, unless that's your lifestyle of course.
Recently, I've seen some chatter about pink flamingos also having a hidden meaning on a cruise. However, I don't believe this is a widespread or well-known symbol for swinging on a cruise.
Truthfully, I'm just not willing to give up another fun, tropical symbol. I'm keeping my flamingos for now!
11. Matching T-Shirts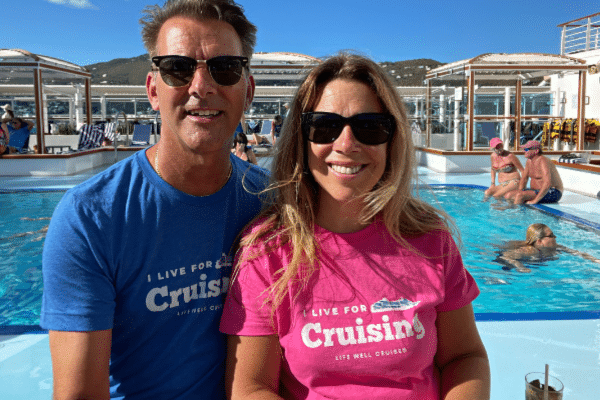 Cruisers love to wear fun cruise wear! This includes wearing matching t-shirts, especially those who are cruising as a group.
Fun cruise t-shirts are great for families, couples and anyone going on a cruise!
Related: 15 Fun Cruise T-Shirts for Everyone
12. Crew Member Gift Giving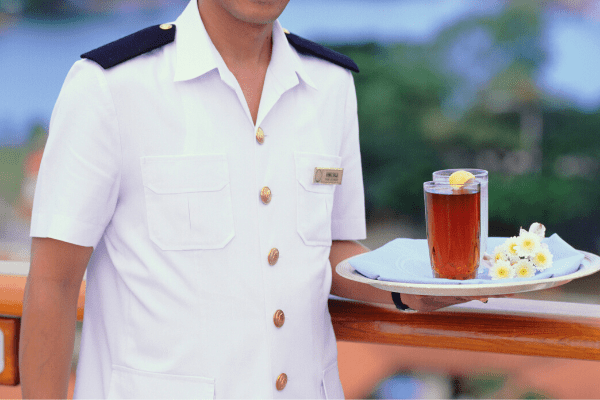 It's unlikely that you'd bring a gift to the hotel housekeeper. However, cruise passengers often ask about what gift they can bring their cruise cabin steward.
Gifts for crew members are not necessary, but the idea and thought behind the gesture is kind. Something ton remember is that cruise ship crew often share a very small cabin with at least one other person. Therefore they aren't able to collect a lot of "stuff".
If you want to recognize the hard work of the crew, bring some cash for additional tips. Crew members also appreciate positive reviews on post-cruise surveys (remember their name).
If you do want to give a gift, a box of chocolate or another snack is something they may enjoy either on their own or to share.
Related: 7 Gifts Crew Members Really Want
Video: 10 Unusual Things People Do on Cruises
Related & Popular Posts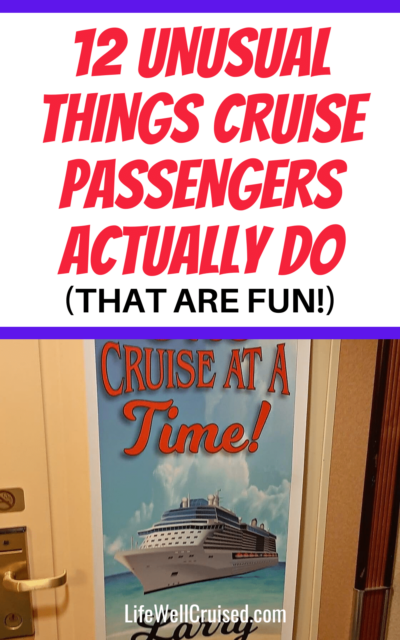 Final Thoughts on Unusual Things Cruise Passengers Do
There it is! These are some unusual things many cruisers do on cruise vacations. Cruises are unique vacations, and cruise passengers have some fun & strange cruise traditions.
Do you participate in any of these fun things people do on cruises? Please let me know in the comments below.
Happy Cruising!
Ilana
If you found this article helpful, please pass it along. Please feel free to share on Facebook or PIN to your favorite Pinterest board (share buttons at the top). Thanks so much!