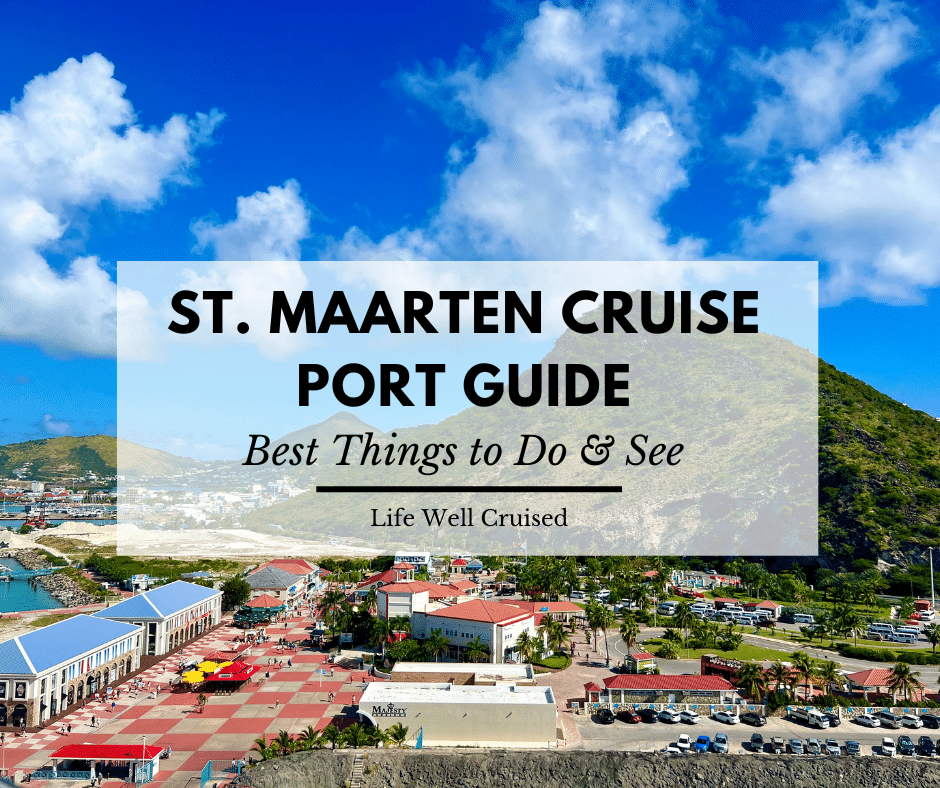 If you're visiting Philipsburg, St. Maarten on a cruise, you're in luck! St. Maarten is one of the most beautiful cruises port of call in the Caribbean and a favorite among cruise travelers.
This unique Caribbean island is home to two distinct cultures and countries, often referred to as the Dutch and French sides.
Cruise ships dock in the capital city of Philipsburg, Sint Maarten on the South side of the island. However, the island is a relatively small at only 34 square miles. Cruisers can also experience the French culture of St. Martin, on the South side of the island.
There are so many great things to do in St. Maarten, from beautiful beaches near the cruise port to exciting excursions and island tours. In fact, we've visited St. Maarten during a cruise several times, and always find fun things to see and do!
This post contains affiliate links which means if you click and buy that I may make a commission, at no cost to you. Please see my disclosure policy for details.
As an Amazon Associate I earn from qualifying purchases.
St. Maarten Cruise Port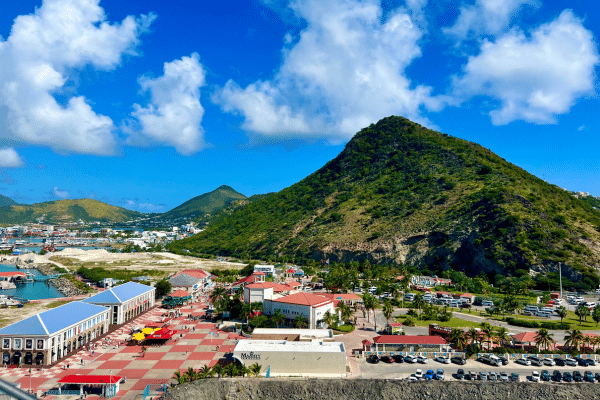 Cruise ships dock at the Dr. A.C. Wathey Cruise & Cargo Facilities, located in Philipsburg, the capital of St. Maarten, on the Dutch side of the island. The cruise port short walking distance from the heart of the town and nearby many popular attractions.
Many cruise lines dock in Philipsburg, from Celebrity Cruises to P&O and more. There can be as many as 5 cruise ships a day in port. However, when we were in St. Maarten recently, there were only 2 cruise ships docked.
Transportation options into the town of Philipsburg, local beaches and popular sights are conveniently located at the cruise terminal.
St. Maarten – What Cruise Passengers Need to Know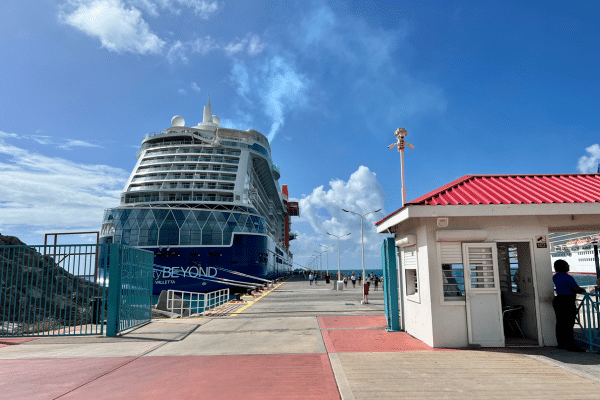 Currency
The official currency in St. Maarten is the Netherlands Antillean Guilder or Florin (NAf). However, US Dollars are widely accepted.
The local currency in St. Martin, on the French side of the island is the Euro (€). Similar to the Dutch side, US money is accepted across the island.
Tip: Credit cards are used and accepted widely, as are US dollars. Keep some small bills handy for tips for tour guides, to use at souvenir stands etc.
Language
In St. Maarten, the official languages are Dutch and English. However, there are several languages in Sint Maarten/St. Martin including French, Spanish and Creole.
Weather
St. Maarten has a tropical climate, and experiences sunny and warm temperatures throughout the year. It can get hot and humid in St. Maarten, which makes the island perfect for beach lovers.
Getting Around St. Maarten
The best ways to get around St. Maarten as a cruise traveler are by foot, taxi or water taxi.
There is a taxi stand within walking distance of the cruise port. From here you can pick up shuttle transportation to popular tourist spots including Maho Beach, on the Dutch side of St. Maarten and Orient Beach, in St. Martin, on the French side.
The water taxi booth located close by to the cruise ships. You can purchase one way or round trip water taxi tickets to downtown Philipsburg and Great Bay Beach. The water taxi is one of the easiest and most common way cruise passengers go from the cruise port to Philipsburg.
If you want to save money on a cruise, you can take the public bus, which is the least expensive option. This does take some planning and it's best to exercise caution.
It is also possible to rent a car in St. Maarten if you're comfortable driving. Keep in mind that the roads on the Island will be quite busy when several cruise ships are in port.
Best Things to Do in St. Maarten Cruise Port During Your Cruise
We've been St. Maarten/St. Martin several times by cruise ship over the years, and it's one of our all time favorite Caribbean cruise destinations. Even though St. Maarten is a small island, there are so many fun and interesting things to do!
You can visit St. Maarten on your own or with an organized shore excursion. Keep in mind that traffic can be heavier during peak times or when multiple cruise ships are in port. If you're taking a shore excursion with the cruise line, the transportation time will be included in the itinerary.
Here's a list of best things to do in St. Maarten during a cruise port day:
Best Beaches in St. Maarten/St. Martin
Heading to the beach is a popular way to spend a day in St. Maarten while on a cruise. These are the best and most popular beaches for cruisers.
1. Great Bay Beach (Dutch Side)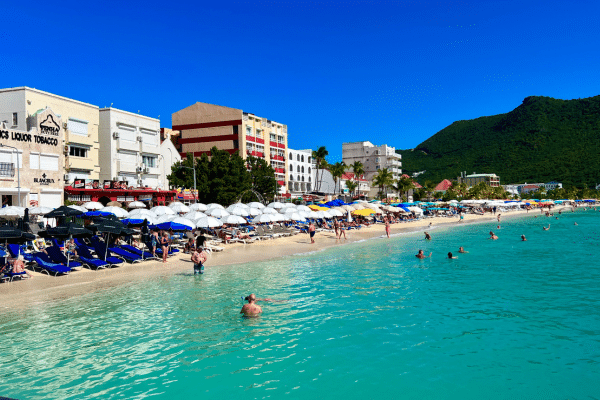 Located in Philipsburg, St. Maarten, Great Bay beach is easily accessible by water taxi. This pretty beach is minutes away from the cruise port, which makes this one of the most popular and best beach for cruise passengers.
At Great Bay Beach, you'll have a beautiful view of the cruise ships docked nearby. You'll also be within walking distance of local restaurants, bars and shops along Front Street and the downtown core.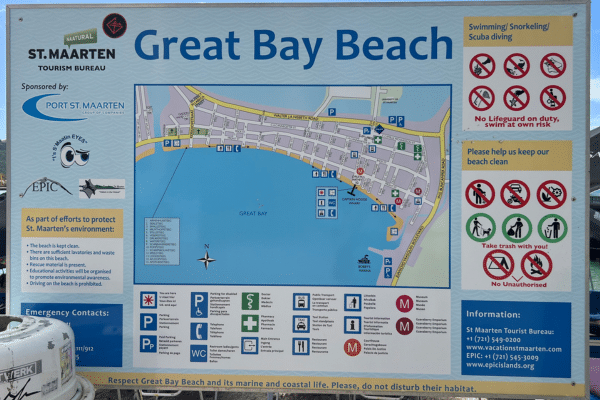 2. Orient Bay Beach (French Side)
Orient Bay Beach, located on the French side of St. Martin (St. Maarten), is one of the most famous and picturesque beaches in the Caribbean. In addition to it's natural beauty, you'll also find a vibrant beach club style atmosphere with restaurants, bars and water-sports all available.
Clothing Optional Section
Something to note is that there is a clothing-optional section known as "Club Orient." This area is designated for those who prefer a clothing-optional experience, and it's clearly marked. However, the main part of the beach is generally family-friendly.
3. Maho Beach (Dutch Side)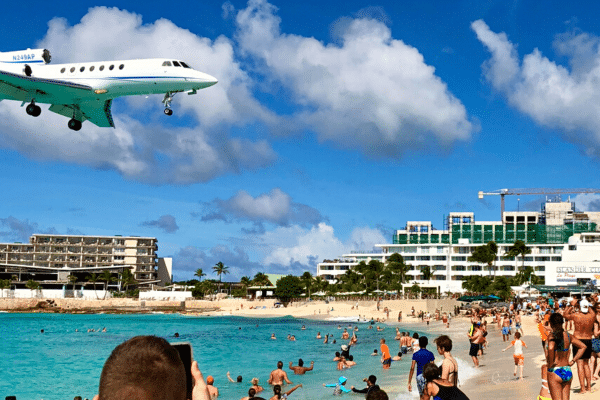 One of the most popular cruise excursions is a visit to St. Maarten's Maho Beach, sometimes referred to as "airplane beach". This beach is famous for its close proximity to the Princess Juliana International Airport, where planes fly low overhead during takeoffs and landings.
While Maho Beach can get crowded, especially when several cruise ships are in port, seeing planes flying almost overhead is a thrilling and memorable experience for beachgoers.
At Maho Beach, you'll find the Sunset Bar and Grill, a great place to grab a tropical drink and bite to eat, all while plane spotting at one of the coolest beaches you'll ever find!
4. Mullet Bay (Dutch Side)
Mullet Bay beach in St. Maarten is well loved by locals, tourists and cruise passengers who prefer a tranquil and laid-back beach experience.
The calm waters at Mullet Bay beach make it perfect for swimming and snorkeling.
5. Cupeboy Beach (Dutch Side)
Cupecoy Beach on the Dutch side of St. Maarten is a captivating and rugged destination known for its dramatic limestone cliffs and sea caves. It's a great option for cruisers who prefer a beach that's off the beaten path or those who have been to St. Maarten cruise port before.
6. Simpson Bay Beach (Dutch Side)
Simpson Bay Beach is a beautiful beach located on the Southwesten coast of the Dutch side of the island in Sint Maarten. Simpson Bay Beach is well known for it's beautiful white sand beach and clear turquoise waters.
Cruise passengers can relax or participate in fun activities and water-sports including jet skiing, banana boating, parasailing, snorkeling, sailing, scuba diving, surfing, and more.
Exploring St. Maarten
7. Take a Water Taxi to Downtown Philipsburg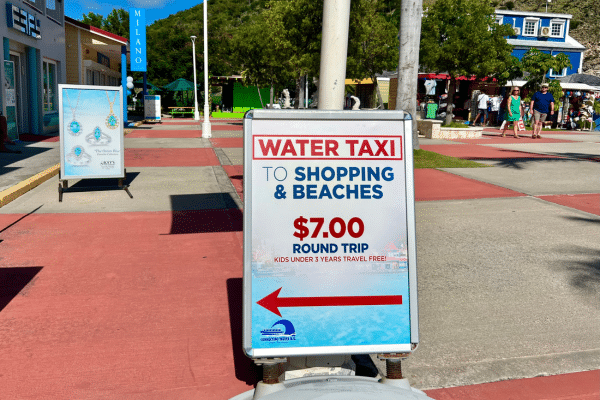 One of the easiest ways to spend the day while visiting St. Maarten on a cruise is to take the water taxi into town. While you can walk to downtown Philipsburg from the cruise port, it will take about 30 minutes or longer.
A water taxi is a nice 10-15 minute ride that will bring you to Great Bay Beach or Front Street, where you can spend the day exploring the town. Take a walking tour of Philipsburg or explore on your own.
The water taxi is $7 per person, round trip and free for children under 3 years of age.
Related: What to Pack for a Caribbean Cruise (full packing list )
8. Shopping in St. Maarten
Front Street
St. Maarten is well known for it's duty free shopping opportunities! Front Street, the main shopping area in Philipsburg, has a wide range of stores and souvenir shops selling jewelry, electronics, fashion, and more.
Historic Old Street
Continue walking to historic Old Street, which is charming area with boutique shops and art galleries, perfect for finding unique gifts and local crafts.
Cruise Terminal Shops
For cruise passengers who don't want to head into downtown Philipsburg, you'll find jewelry, souvenir and local goods sold at the shops at the cruise terminal building and surrounding area.
Shops include Little Switzerland, Diamonds International, Effy's and Boolchands. You'll also find little kiosks or stands with local crafts and foods for purchase.
St. Maarten Shore Excursions (Sightseeing & Activities)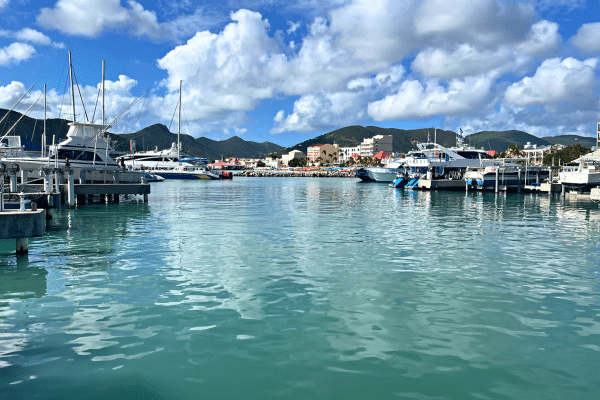 9. St. Maarten/St. Martin Island Tour
Take a guided excursion to explore both the Dutch and French sides, visiting scenic viewpoints and historical landmarks. This tour is a popular cruise excursion for cruise passengers who want to see highlights of St. Maarten during a half day or full day tour.
A tour will usually bring you to the French capital city of Marigot. Other major sights which are often included in the island tour are Fort Amsterdam, Baie Rouge, and Sunset Beach.
10. Loterie Farm
The Loterie Farm and Nature Sanctuary in St. Martin has a mission to protect its beautiful countryside land and trees. This incredible sanctuary combines nature, adventure, and relaxation.
Whether you prefer to explore lush hiking trails, relax at the sanctuary pool or enjoy thrilling zip line tours with breathtaking views, Loterie Farm is a must-visit.
11. Marigot
Visit the capital city of Marigot, St. Martin and be transported into the French culture of the small island. In Marigot you'll find boutiques, art galleries and duty-free shops. The charming town also offers markets with handicrafts, fresh produce and spices.
You'll also find pastry shops and restaurants with freshly made croissants. Check out Croissant Royale for delicious croissants and crepes with a water view!
Get The Ultimate Cruise Planner
Regular price: $27 Now just $17!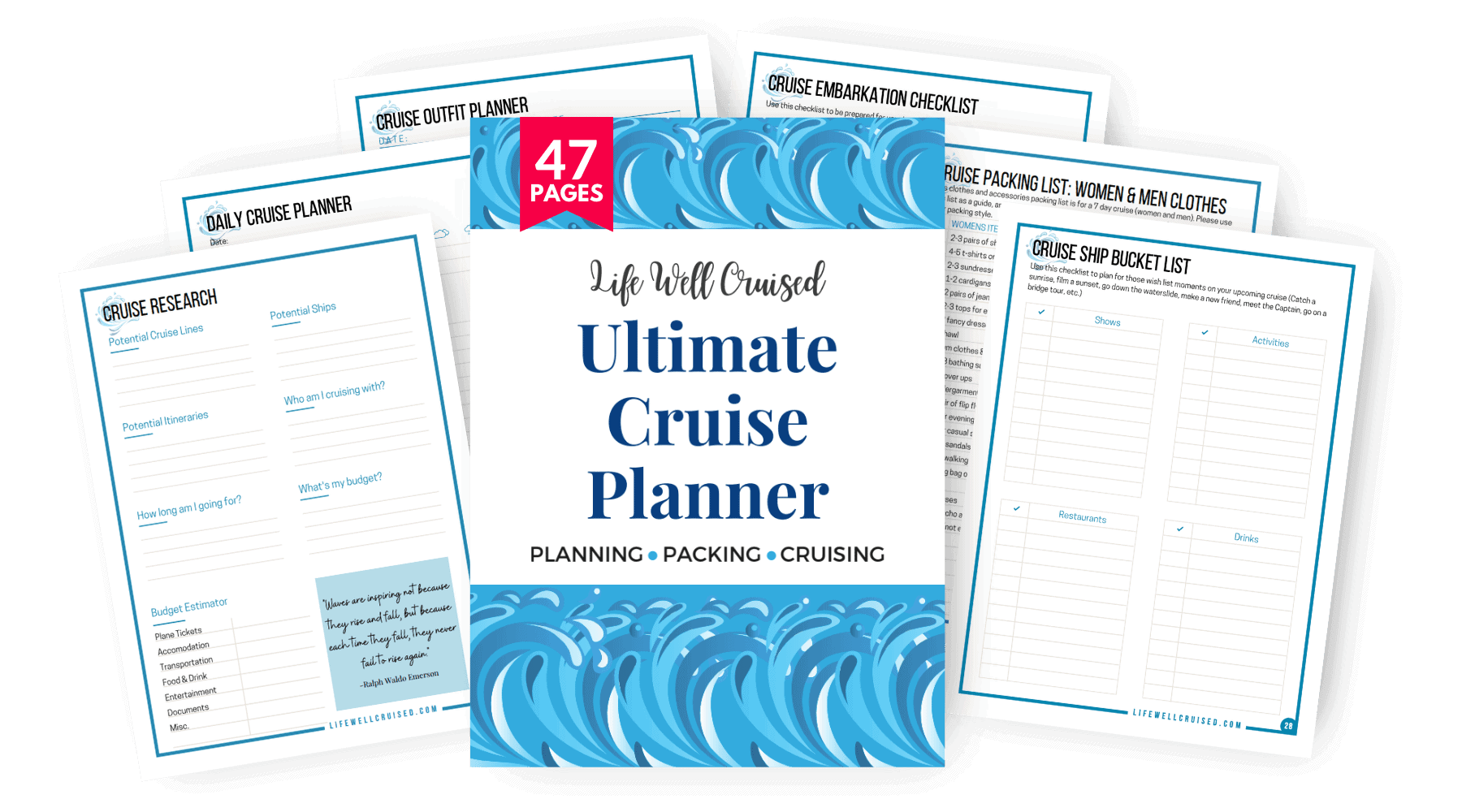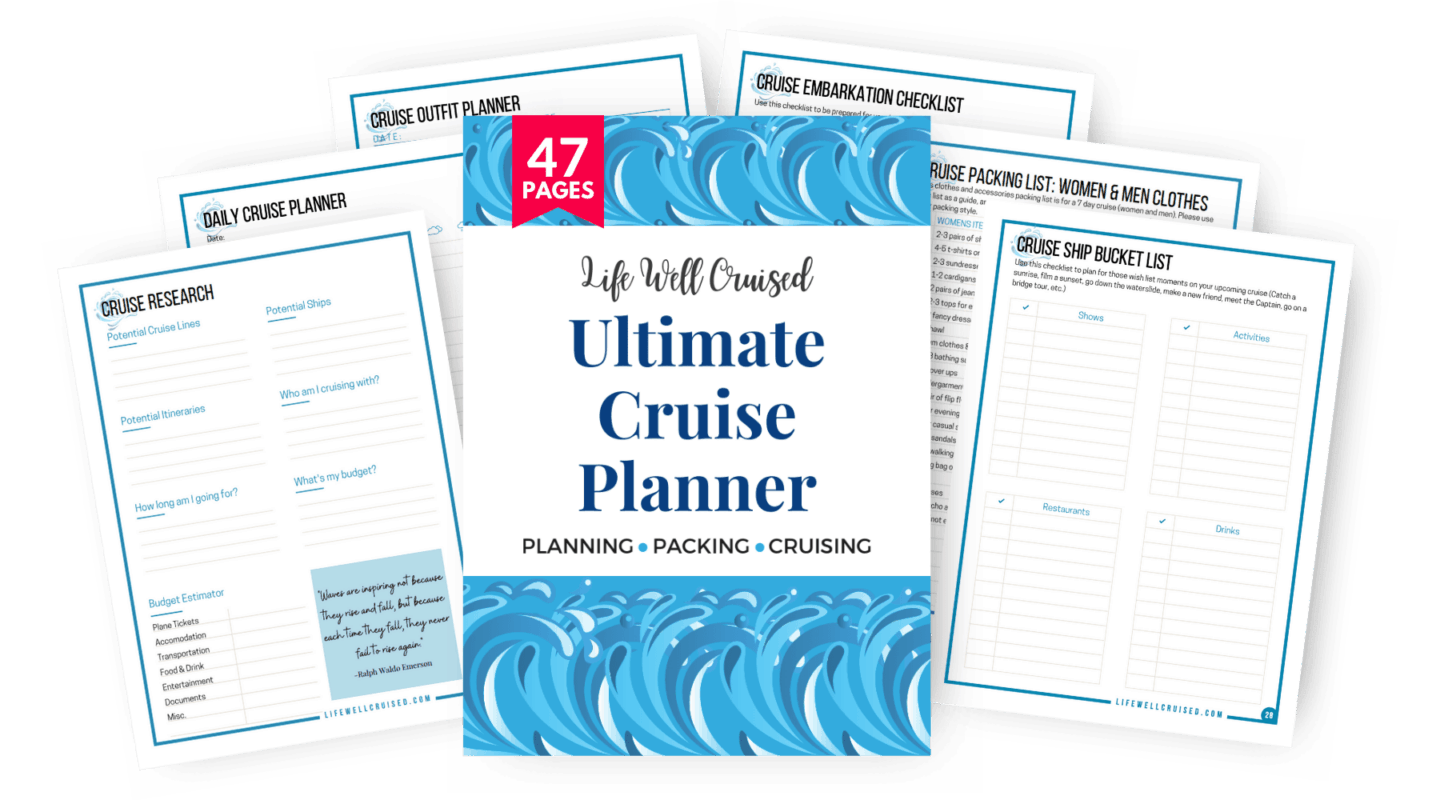 12. Fort Louis
Perched on a hill overlooking Marigot, Fort Louis is a fascinating historical site dating back to the 18th century. Climb to the top of Fort Louis for panoramic views of the town, Simpson Bay Lagoon, and the surrounding coastline.
The remnants of the fort offer a glimpse into St. Martin's past as a strategic stronghold. History buffs will appreciate a this popular tourist spot.
13. Fort Amsterdam
Fort Amsterdam, a historical fortress on the Dutch side of St. Maarten, was originally built in 1631. The fort's well-preserved walls and artifacts offer fascinating insights into the island's colonial past. Visitors can walk through its military buildings and cannons.
Impressively, the elevated vantage point offers panoramic views of Great Bay and the Caribbean Sea.
14. Catamaran Sail and Snorkle
The waters in St. Maarten are clear and beautiful. A catamaran sail and snorkel excursion is a fun way to enjoy the day in the sun!
15. Flying Dutchman Zipline
This zipline excursion is for those that are looking for an adventurous activity in St. Maarten. Located at the popular Rainforest Adventures Park, the Flying Dutchman Zipline will have you soaring down a 2,800-foot-long cable, descending from the top of St. Maarten's highest point, Sentry Hill.
16. Guided ATV Tour
Cruise passengers can join a fun, guided ATV tour of Dutch and French St. Maarten. This tour will bring you to several popular spots on the island, and have you viewing pastel colored houses, tuquoise waters and lush landscapes.
17. Parotte Ville Bird Sanctuary
The Parotte Ville Bird Sanctuary in St. Maarten is a hidden gem that thrills visitors of all ages. The bird sanctuary houses a diverse array of colorful and exotic bird species from around the world.
The Parotte Ville Bird Sanctuary is a fun, family-friendly attraction. The sanctuary's knowledgeable staff provide informative talks and feeding sessions, offering insights into the behavior and conservation efforts for these beautiful creatures.
18. Guava Berry Rum and Liquor Tasting
If you're looking for a unique and tasty experience during your time in St. Maarten, you'll enjoy a Guava Berry Liquor tasting. This locally-produced liquor is traditionally enjoyed at Christmas by local families.
The Guava Berry Liquor is made from the rare guava berry fruit, which is native to the island and known for its rich and distinctive flavor. During the tasting, you'll have the opportunity to sample different varieties of the liquor, with several fruit flavors.
19. Visit a Perfumerie
Create your own perfume or cologne at Tijon, a perfumerie in Grand-Case, St. Martin, on the French side of the island. Tijon is a boutique perfumery and laboratory that crafts custom fragrances.
The staff will help you to create a scent that suits your personality and unique style. Along with an experience, you'll also leave with a personalized fragrance that will be a great memory of your time in St. Maarten.
Video: St. Maarten Cruise Tips & Exploring Philipsburg & Great Bay Beach
20. Pinel Island
Pinel Island is a short boat ride away from St. Maarten. With an excursion, you may be able to kayak or canoe over.
At Pinel Island, you can snorkle and see colorful coral reefs and tropical fish. Beach chairs and umbrellas available for rent ($25 for 2 chairs & one umbrella).
There are other day trips to nearby islands that are available as well.
21. Casino
There are several casinos in St. Maarteen. The largest casino on the island is Casino Royale, located in Maho village. A casino that is closer to the cruise ships is Rouge et Noir Casino SXM, located on Back Street in Philipsburg.
Related: 50+ Must-have Cruise & Travel Essentials
22. Yoda Guy Movie Exhibit
For something completely different, check out the The Yoda Guy Movie Exhibit in Philipsburg, St. Maarten. This must-see attraction was founded by Nick Maley, a creator of the Yoda character from Star Wars.
This unique exhibit showcases movie memorabilia from iconic films like Star Wars, Superman, and The Terminator. Visitors can enjoy guided tours. This fun tourist attraction is a treat for movie enthusiasts and travelers alike.
23. Secret Garden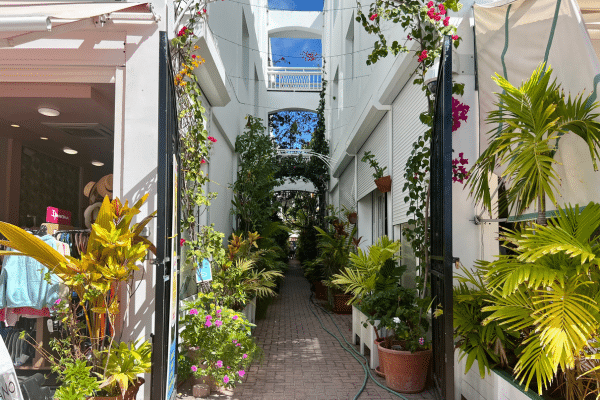 While in downtown Philipsburg, be sure to walk through the Secret Garden. This free tropical pathway will take you from Front Street to Back Street.
This pretty garden pathway is worth walking through as you're shopping and sightseeing in the town.
24. Philipsburg Courthouse
The Philipsburg Courthouse will be part of your walking tour, even if it's informal. In addition to the charming building, you'll find picturesque churches and hotels with interesting architecture.
A few years ago, St. Maarten was very badly affected by Hurricane Irma. While they have done an amazing job rebuilding much of the infrastructure of the island, the reconstruction is still a work in progress on the island.
25. Horseback Riding
If you've always wanted to go horseback riding, there are a few good options in St. Maarten. Lucky Stables at Seaside Nature Park offers a 1 hour trail and beach ride, riding lessons and a private or semi-private ride through the trails.
26. St. Maarten Bicycle Tour
For a different kind of tour, you can book a bicycle tour or e-bike tour where you'll drive through the streets of Philipsburg, St. Maarten. You can also book a tour that will allow you to explore more of the island, including St. Martin. You can check the cruise line excursions as well as excursions with Viator, Shore Excursions Group and other local tour providers.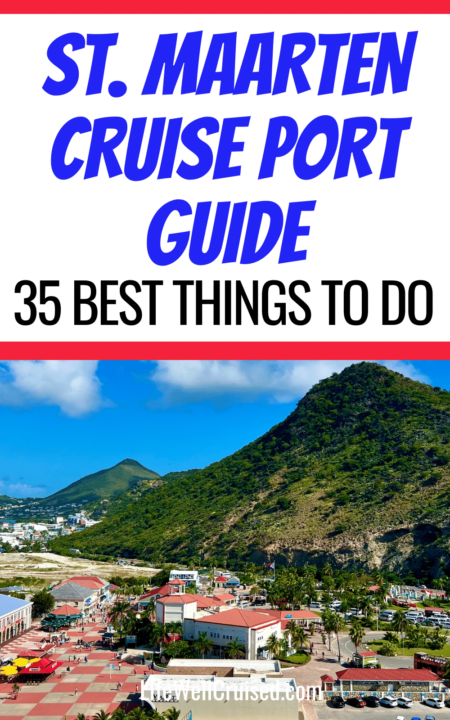 27. Ferry Ride or Boat Trip to Anguilla
If you've been to St. Maarten before, consider taking a ferry ride or boat trip from St. Maarten to Anguilla. The 25 minute ferry ride from Marigot will allow you to discover a tranquil paradise.
You'll find stunning beaches, clear waters, and water sports like paddleboarding and kayaking. Anguilla has a great, laid-back atmosphere.
Keep in mind that you need to get back to the cruise ship on time, so this might be best as a cruise line shore excursion or if you are in St. Maarten for a long port day.
28. St. Maarten Art Galleries
St. Maarten's art galleries showcase a diverse collection of Caribbean and international artwork, from paintings to sculptures. Located in Philipsburg and Marigot, art galleries offer a glimpse into the island's culture. Whether you're an art enthusiast or looking for a meaningful souvenir, exploring the local art galleries is well worth it.
29. Butterfly Farm
Unfortunately, at this time St. Martin's Butterfly Farm is closed.
30. St. Martin's Nature Reserve
St. Martin's Nature Reserve is a serene sanctuary on the French side of the island, boasting diverse ecosystems, including mangroves and wetlands. This nature park is ideal for nature lovers and birdwatchers. The reserve offers guided tours and opportunities to spot indigenous wildlife.
31. Grand Case Beach
Grand Case Beach is a less popular, but very beautiful beach on the French side of the island. The beach is well known for it's clear waters (more clear than on the Dutch side).
Unfortunately, according to recent reviews, the beach hasn't fully recovered from the devastation of Hurricane Irma a few years ago.
32. Kayaking in Simpson Bay Lagoon
Paddle through the calm waters of Simpson Bay Lagoon, spotting wildlife and mangrove forests. Guided tours are available. This eco-friendly activity is a nice alternative to some of the busier beaches and excursions in St. Maarten.
33. Enjoy a Local Restaurant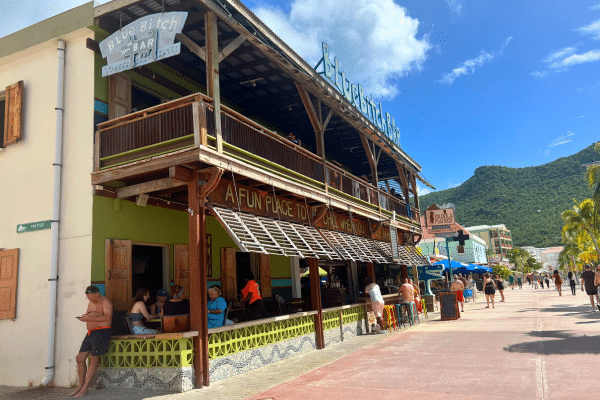 There are many good restaurants in St. Maarten, and the ones on the boardwalk in Philipsburg are popular with cruisers and beachgoers alike.
Here are a few suggestions:
Oualichi (we ate lunch here and enjoyed it)
Lazy Lizard Restaurant & Craft Bar
Taloula Mango's / Blue Bitch Bar
Ocean Lounge at Holland House
Bold Buddha (Asian)
Chez Delphine (French)
Shieka's Vegetarian & Caribbean Cuisine (Caribbean)
Kalua Beach Bar & Restaurant
34. Enjoy a Beer or Drink at a Bar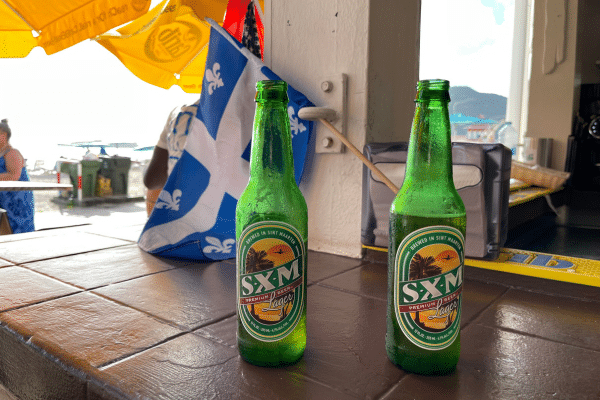 Whether you like to beach bar hop or to grab a stool at a bar closeby to the cruise port, St. Maarteen is a great place to enjoy a frozen cocktail or local beer.
Any drink made with guavaberry is a must-try when in St. Maarten for the day on a cruise. You'll find several popular bars along Great Bay Beach as well as near the cruise terminal.
What to Buy in St. Maarten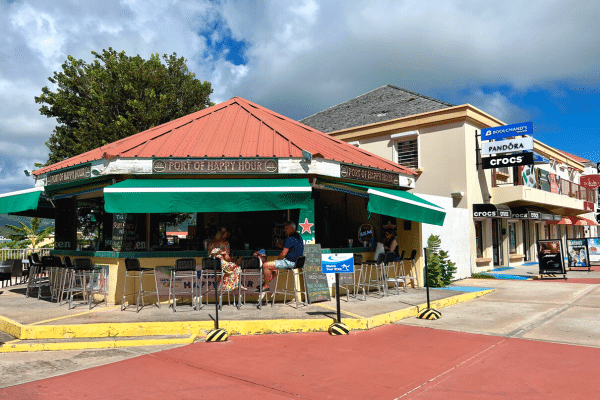 35. Souvenir Shopping
There are quite a lot of shopping opportunities in St. Maarten. These are some of the best things to buy while in St. Maarten during your Caribbean cruise.
Guavaberry Liquor
Caribbean Spices
Hot Sauce
Rum
Local cheese
Duty-Free Jewelry and Watches
Handi-crafts and local artwork
Local Handmade Soaps
Delftware Pottery
T-shirts & souvenirs
Is There a Border Crossing in Sint Maarten – St. Martin?
This small island is unique, as it encompasses two countries, Sint Maarten (Dutch) and St. Martin (French). However, there is no border and people can move freely around the island.
Get The Ultimate Cruise Planner
Regular price: $27 Now just $17!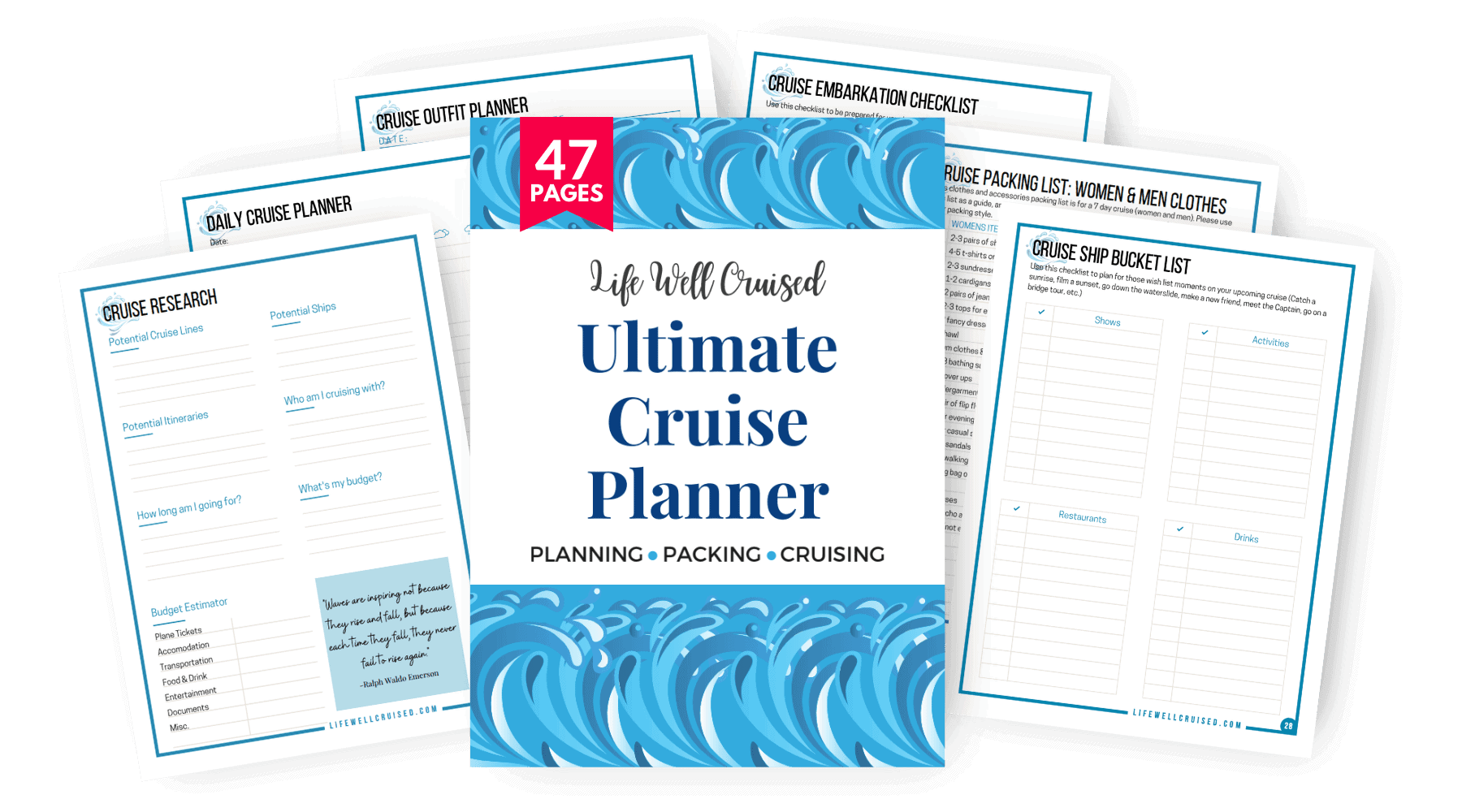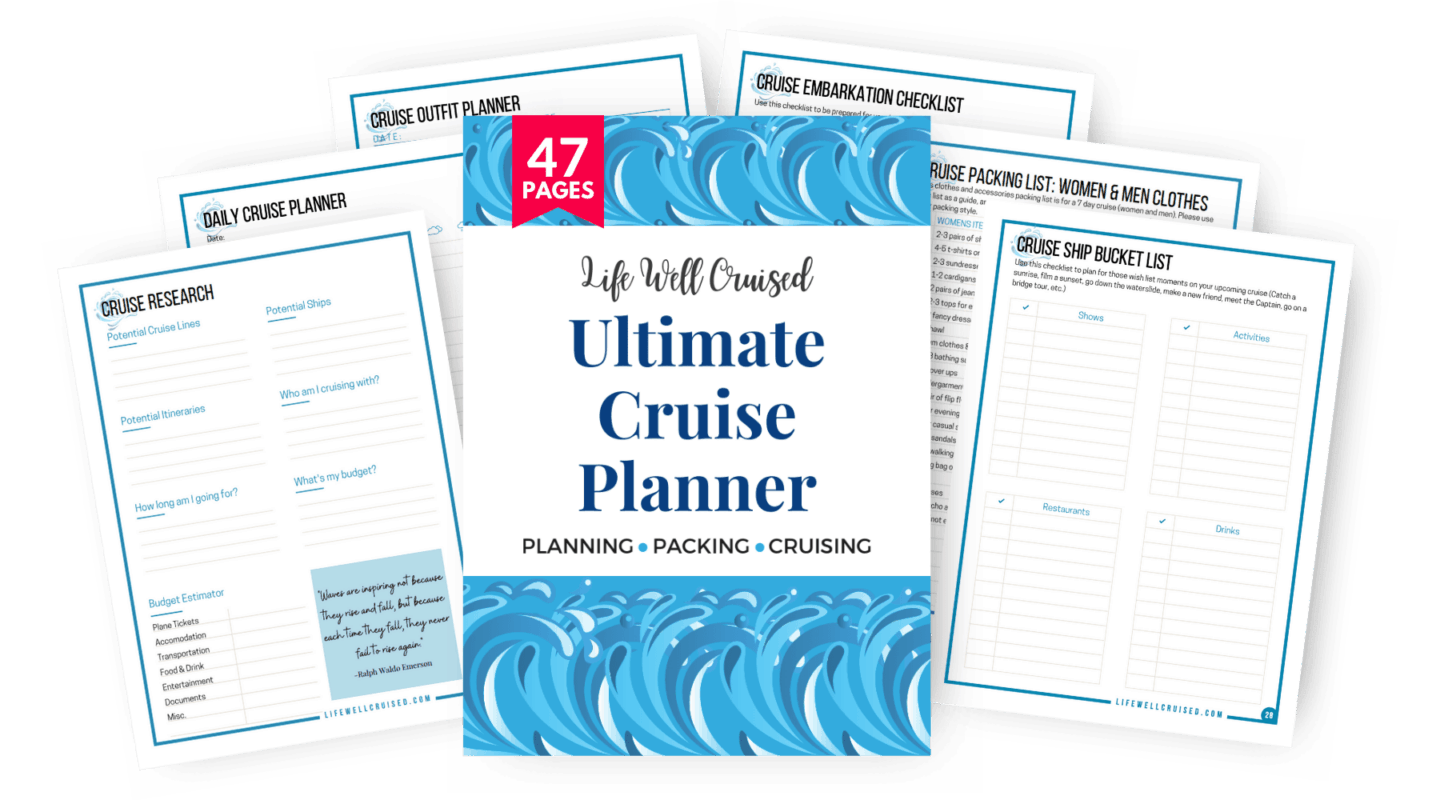 Related & Popular Posts
Final Thoughts on St. Maarten Cruise Port and Best Things to Do
St. Maarten is one of the most beautiful and enjoyable ports of call in the Caribbean. From crystal clear water and white sand beaches to duty-free shopping, its a favorite cruise port for cruise passengers!
In this St. Maarten cruise port guide, we went over the information you need to have a great day visiting St.Maarten during a cruise.
Happy Cruising!
Ilana
If you found this article helpful, please pass it along. Please feel free to share on Facebook or PIN to your favorite Pinterest board (share buttons at the top). Thanks so much!