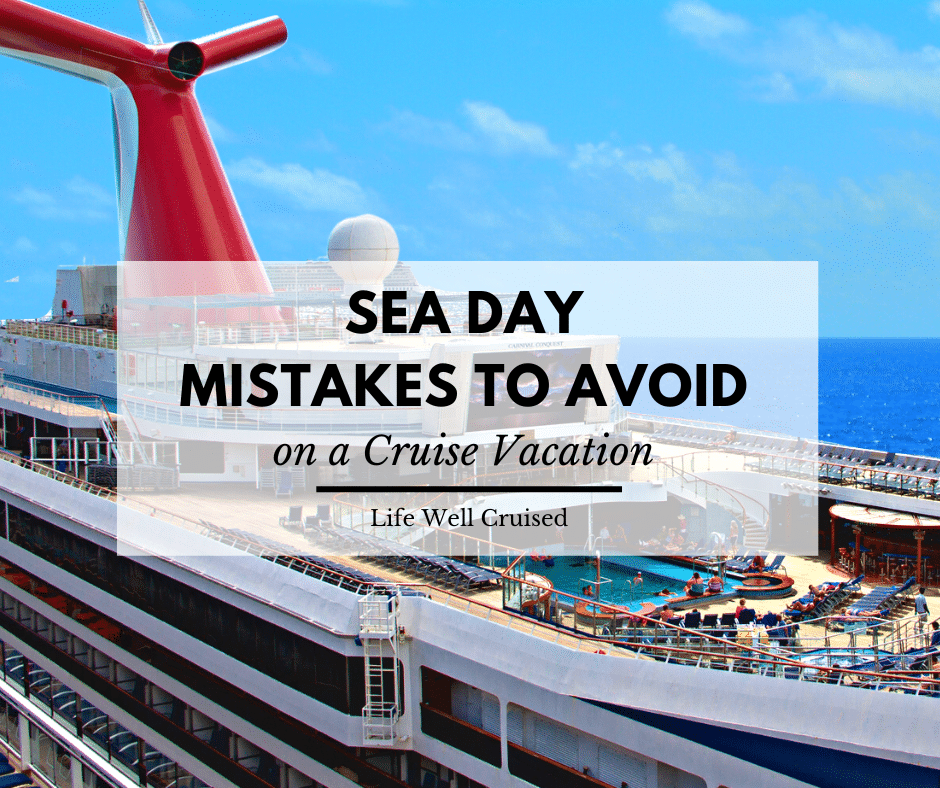 While there are no hard and fast rules to how to spend a sea day, there are some common cruise sea day mistakes to avoid! These cruise sea day tips will ensure that you don't miss out on one of the best parts of your cruise vacation!
First-time cruisers often worry that they may be bored on sea days on a cruise ship. However, this probably won't be the case! Cruise sea days can be fun and enjoyable, but it's important to make some good decisions.
There are some cruise do's and don'ts to help you make the most of each day of your cruise holiday. From wasting time on cruise sea days to missing out on cruise dining, these cruise tips and tricks will be helpful as you plan your cruise vacation.
In this post, I share the 15 cruise sea day mistakes cruisers almost always regret making.
This post contains affiliate links which means if you click and buy that I may make a commission, at no cost to you. Please see my disclosure policy for details.
As an Amazon Associate I earn from qualifying purchases.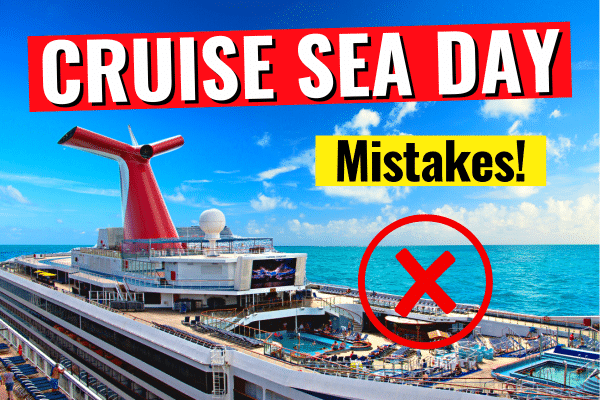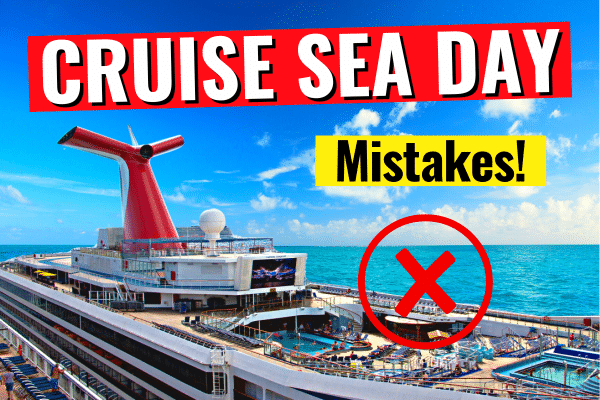 15 Sea Day Mistakes Cruisers Should Avoid
1. Getting Too Much Sun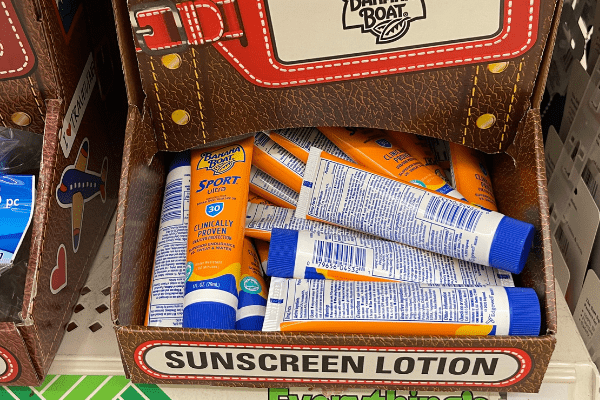 Getting too much sun on a cruise is a common a sea day mistake for many cruise passengers. New cruisers may not realize that the sun appears to be hotter when you're at sea, which makes it easier to get a sunburn or heat stroke.
It's very important to apply and reapply sunscreen regularly and to stay hydrated throughout the day. Additionally, its a good idea to pack an SPF lip balm as well.
2. Not Checking the Cruise Planner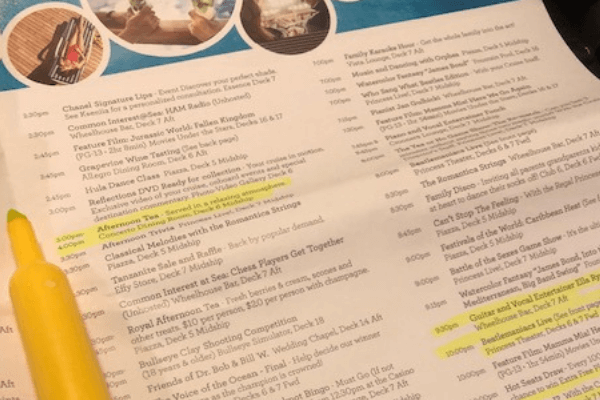 Not checking the cruise planner or cruise line app for the schedule of activities the night before a sea day is a huge mistake. It's important to plan your day ahead of time and to see which activities and attractions are taking place.
Something newer cruisers may not realize is that certain onboard attractions have opening and closing hours on a sea day. While every minute of the day doesn't need to be scheduled, you don't want to miss out on a fun activity you were hoping to do.
3. Not Sleeping In
It may seem like you have to make the most of your sea days by waking up early and catching the sunrise. However, if you've had some busy port days, you may want to take advantage of a sea day to sleep in a little.
Often times cruisers want to be wake up early and go to sleep late, so as not to miss a moment of their amazing cruise vacation. That said, if you're going to be exhausted, don't feel guilty about taking some time to catch up on sleep.
This especially applies to those port-intensive cruises, where you wake up early and do a lot throughout the day. We all need to rest, and that's what sea days are for.
4. Not Arriving Early to the Lido Deck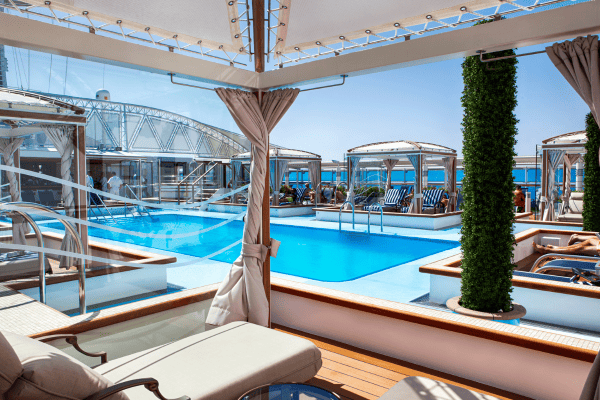 Getting to the lido deck early has it's benefits, especially on a sea day! Not only will you have the choice of where to sit around the pool, but the lido deck will also be fairly quiet.
Whether you want to swim, read or, relax, getting to the lido deck early is the best time to do it. I recommend taking some pool time in the morning, going for lunch, and then trying out some activities in the afternoon.
This is also the best time to grab the best located lounge chairs by the pool!
5. Not Eating at Alternative Restaurants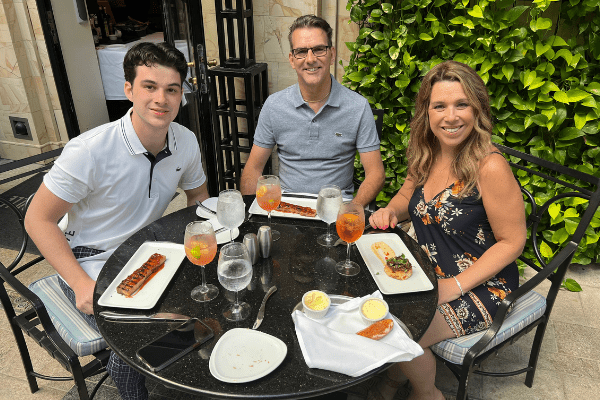 Dining can be a great activity on a sea day, but not many people take advantage of the offerings. While there's nothing wrong with eating lunch at the cruise ship buffet, trying some of the alternative restaurants can shake up the routine.
Going for lunch at one of the specialty restaurants is a great way to try something different. There may even be lunch time specials which make it a better deal that going for dinner.
There are also casual alternative restaurants that are included on a cruise, which can have a great selection of food. Whether you're in the mood for Italian, Mexican or cafe style food, don't be afraid to try some of the lesser known dining venues.
Another included lunch option that many people don't think of is the main dining room. If you're in the mood for a tasty sit-down meal, the main dining room is a great choice for a sea day meal.
6. Not Booking Exclusive Adult-Only Cruise Ship Areas
Personally, I prefer not to pay extra to lounge in an exclusive area on a cruise. However, if you're on a very busy cruise ship, it's worth considering.
In fact, you may regret not booking some time in the cruise ship's quieter adult only areas. Norwegian Cruise Line has the Vibe Beach Club on several cruise ships. Princess Cruises has The Sanctuary and Holland America has The Retreat.
These exclusive areas are a refuge, especially if you're cruising during school breaks and summer holidays. Even though these venues do cost a bit of extra money, the peace, quiet and enjoyment can certainly be worth it.
Tip: If you're planning on booking an exclusive area of the cruise ship, book it in advance. Private areas have a very limited capacity, and they can sellout quickly.
7. Not Getting in Some Movement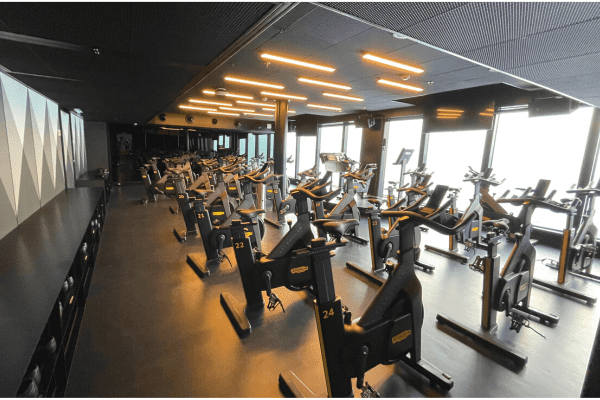 Let's face it, when were on a cruise we're often eating and drinking much more than we would at home. Oftentimes, that means that we may feel bloated or swollen.
Whether it's going for a walk, swim or going to the gym, getting some movement can make us feel better. I like to either go for a 30 minute walk or do a quick workout in the fitness centre, to stay active while at sea.
Beyond walking, there are tons of activities that will get your body moving on a cruise ship. Playing basketball, pickleball, or dodgeball are all great ways to stay active on a sea day.
Get The Ultimate Cruise Planner
Regular price: $27 Now just $17!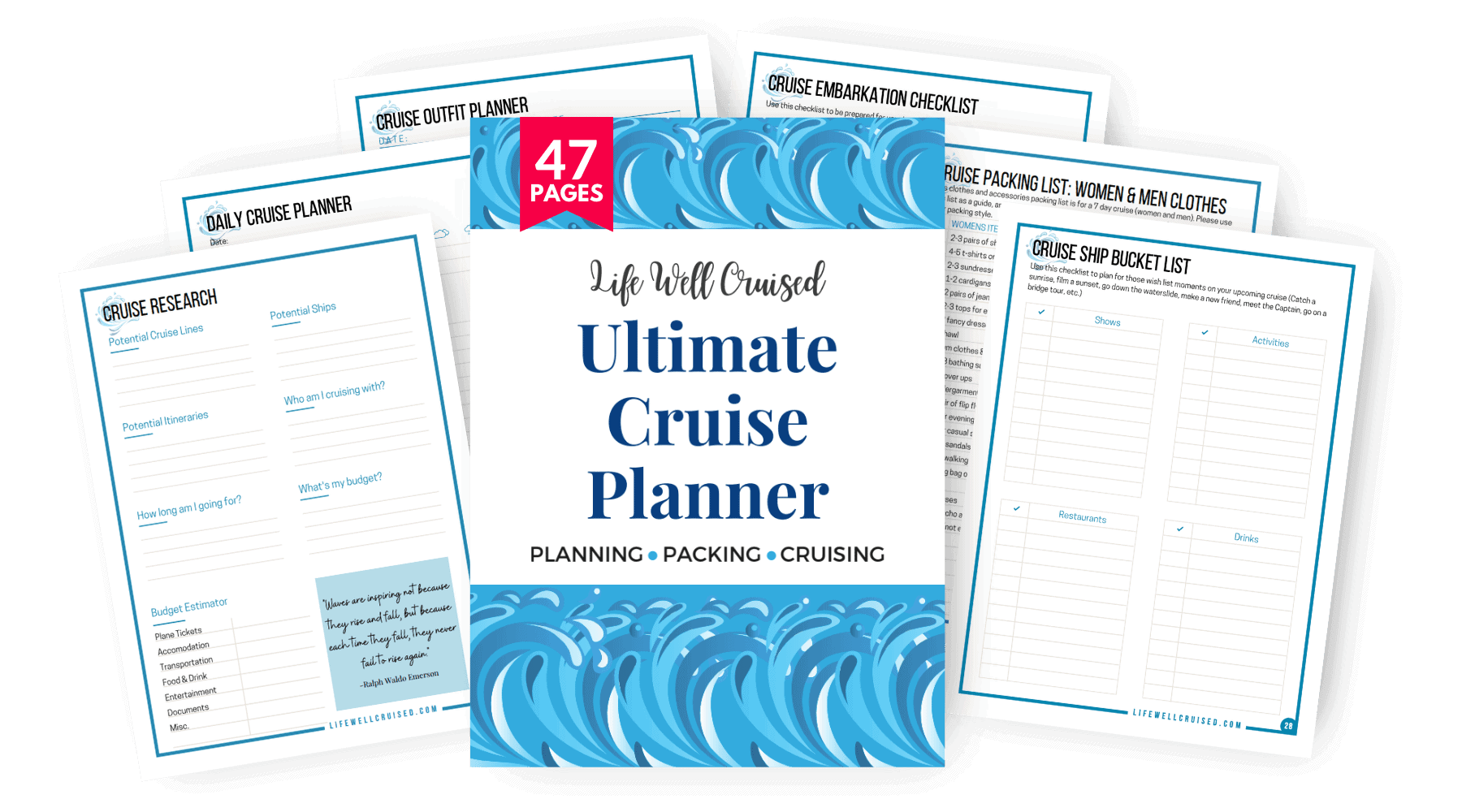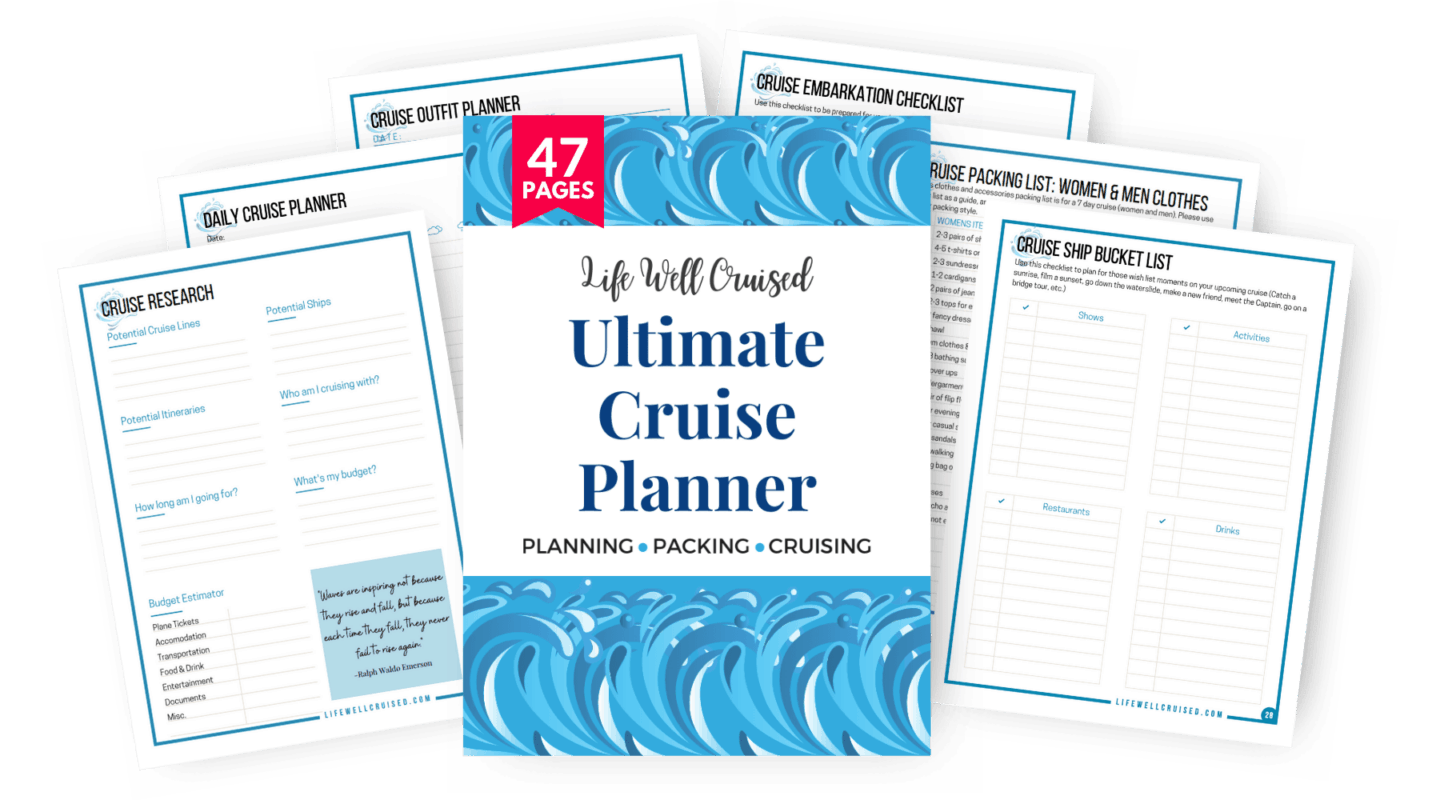 8. Not Doing Indoor Activities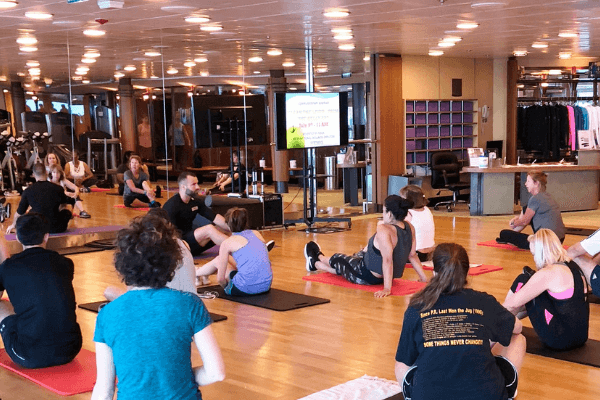 On a sea day, you may think that you have to spend the whole day outdoors by the pool. However, there are plenty of indoor activities going on around the cruise ship on a sea day.
Whether it's a Zumba class, art class, dance class, or attending an enrichment lecture, there are plenty of indoor activities taking place on a sea day.
One activity that I always like to attend is the Captain's Talk. It's a great way to learn and see what life is like onboard a cruise ship.
9. Not Getting Pampered at the Spa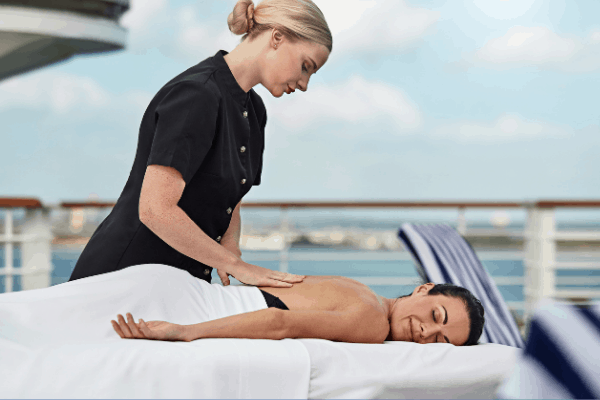 Whether it's going to the thermal spa or getting a massage, the treatments are amazing. Something that no cruiser regrets doing is getting pampered at the spa.
Even if you don't want a massage, many cruisers say they enjoy going to the salon for a blow out, manicure or pedicure while on cruise.
10. Not Going to Afternoon Tea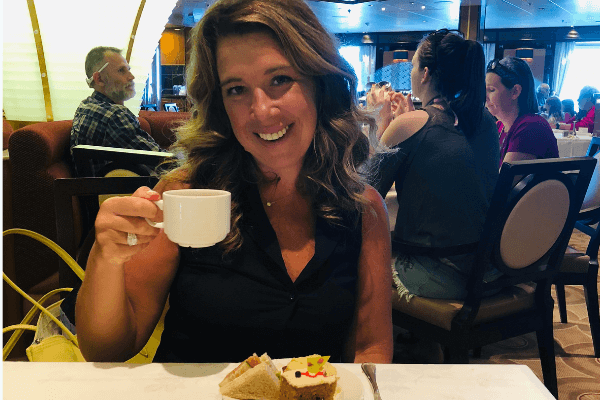 Afternoon tea is offered on Princess, Holland America, and Carnival cruises, among other cruise lines. Typically, afternoon tea takes place around 3:00 PM, and it's a great sea day afternoon activity.
You will be given some little tea sandwiches, scones, and petits fours cakes when you attend afternoon tea. This is a great way to relax in the middle of the afternoon on a sea day.
11. Not Shopping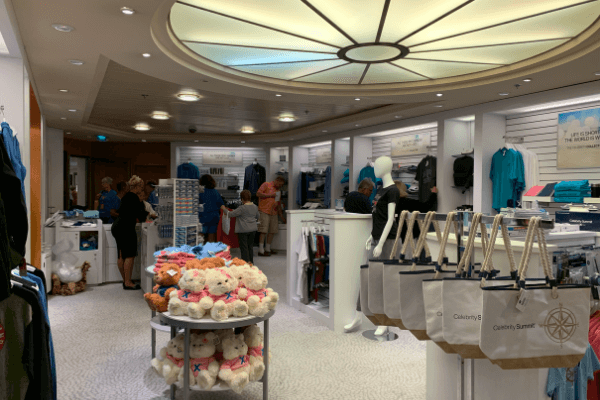 Sea days are the best days to go shopping on a cruise. This is because the shops have to be closed on port days.
The sea days are the best time to get good deals on jewelry, clothing, or accessories from the shops. Oftentimes, the shops will have great promotions during the sea days.
Tip: Look at the cruise planner for raffles. The more raffles you enter, the higher your odds of winning some free items!
12. Not Going to the Casino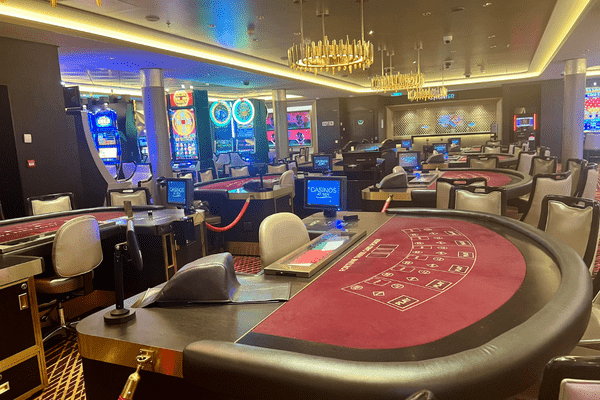 Just like the shops are not open when you are in port, the Casino is closed as well. So, sea days are great for casino players, as you have ample time to play and enjoy.
On a sea day, the Casino will also have different events including poker tournaments, which can be tons of fun.
13. Not Appreciating Being at Sea
Let's face it, newer cruise ships have such amazing attractions that it can be easy to forget we are on a vacation at sea. However, a sea day is a great opportunity to look at the ocean and try to spot marine life.
When you look into the sea, you may see whales, dolphins, flying fish, a coastline, or just the sea, which is so rejuvenating.
14. Not Planning for Sea Days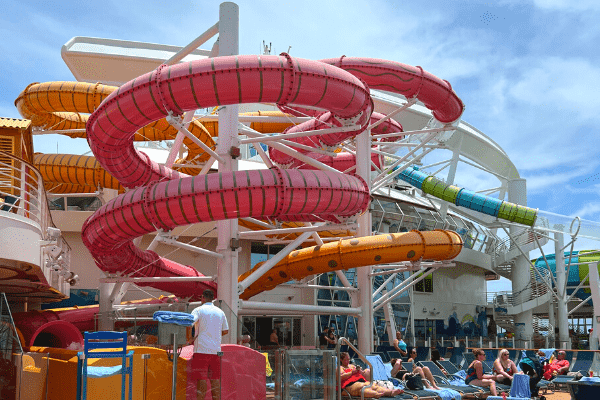 On a sea day, it's important to plan and prioritize the things you want to do. Whether it's going zip lining, trying the water slides or, attending a dance class, it's important to try and get these things done on your first sea day.
The thing that many people don't consider is that weather and sea conditions can effect the opening hours of attractions on a cruise ship. So on your first sea day, make a plan to do the things that you want to do. Otherwise, you might regret it.
15. Last Sea Day Things To Do
On the last day of your cruise, be sure to check your invoice. It's always possible that there are some mistakes, so checking your invoice before the last day of your cruise is a good idea.
Unfortunately, on the last sea day, you will need to pack your suitcase. It's best to pack your suitcase before dinner, so you can enjoy your last evening on the cruise.
If there are any tips that you want to give out, the last day is a good day to do so. Tipping is a great way to show your appreciation to your room attendant, a bartender, or another crew member who made your trip special.
If you made any new cruise friends, the last day or night is a great time to take down their contact information. These days, keeping in touch with cruise friends is easier than ever, thanks to social media apps like Facebook and Instagram.
Video: Cruise Sea Day Mistakes
Related & Popular Posts:
Get The Ultimate Cruise Planner
Regular price: $27 Now just $17!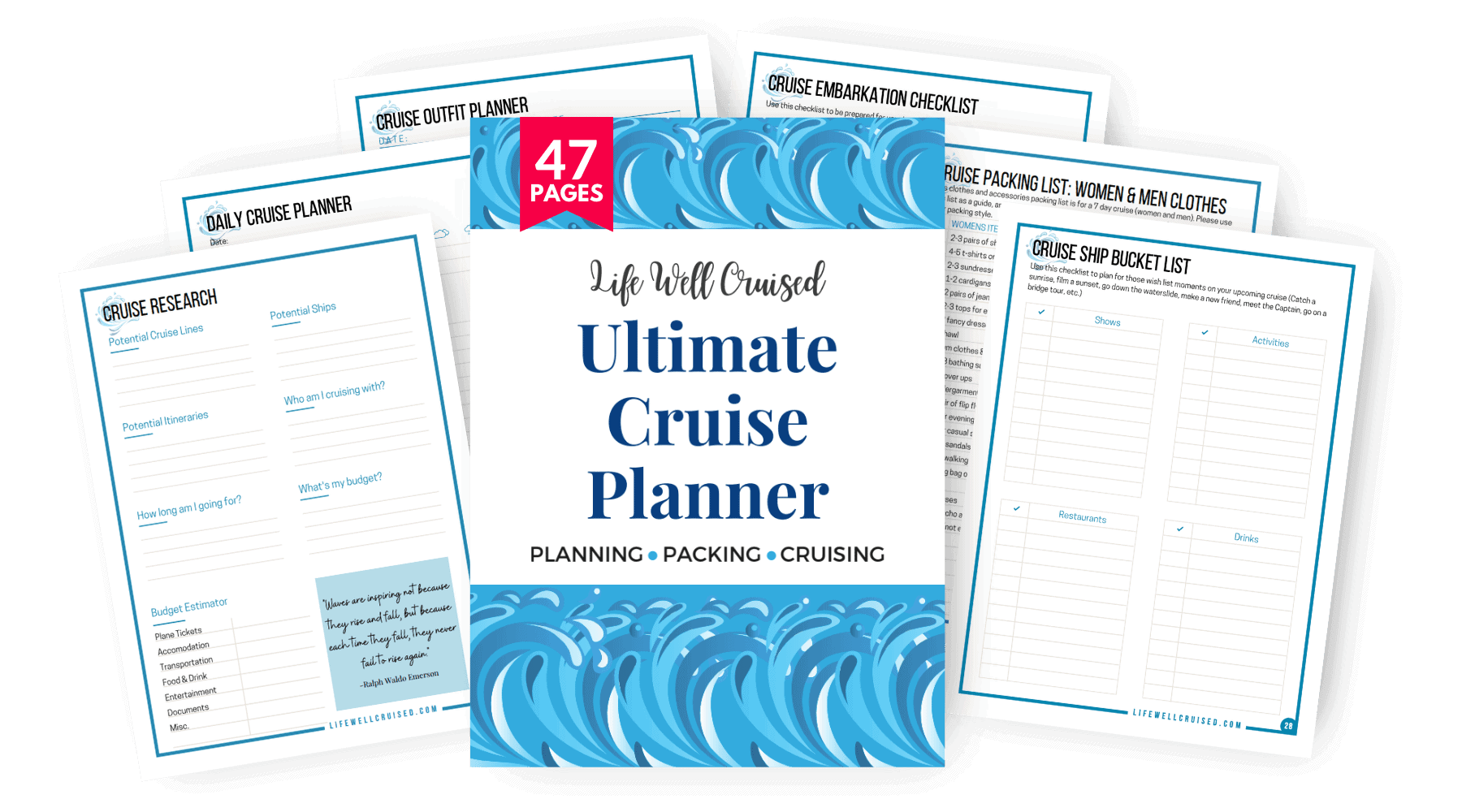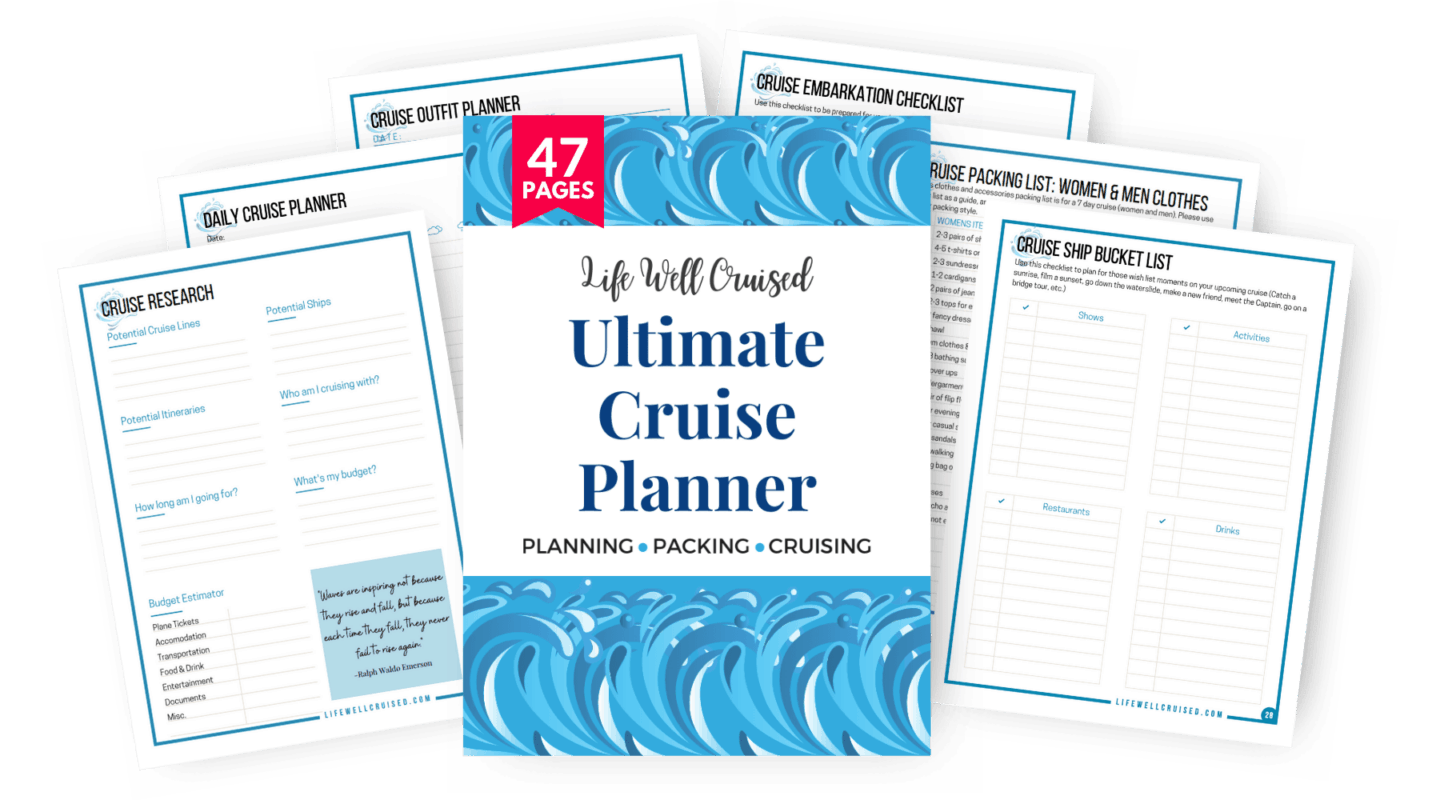 Final Thoughts on Cruise Sea Day Mistakes Cruise Always Regret Making
For many cruisers, sea days are the best part of a cruise vacation. A sea day is a great chance to relax, try new activities and enjoy a drink by the pool.
As cruisers, it can be easy to forget how amazing a sea day really is. This means that you're going to want to make the most out of your sea days.
In this post, I shared the 15 sea day mistakes cruisers always regret making.
Do your prefer port days or sea days? Please let me know your thoughts and tips in the comments below.
Happy cruising!
Ethan
If you found this article helpful, please pass it along. Please feel free to share on Facebook or PIN to your favorite Pinterest board (share buttons at the top). Thanks so much!
Author Bio: Ethan Schattauer writes about men's fashion, travel and college advice on the website WhatToWearMen.com. As a frequent cruiser, Ethan shares his unique perspective on what cruising is like for teens and young adults.