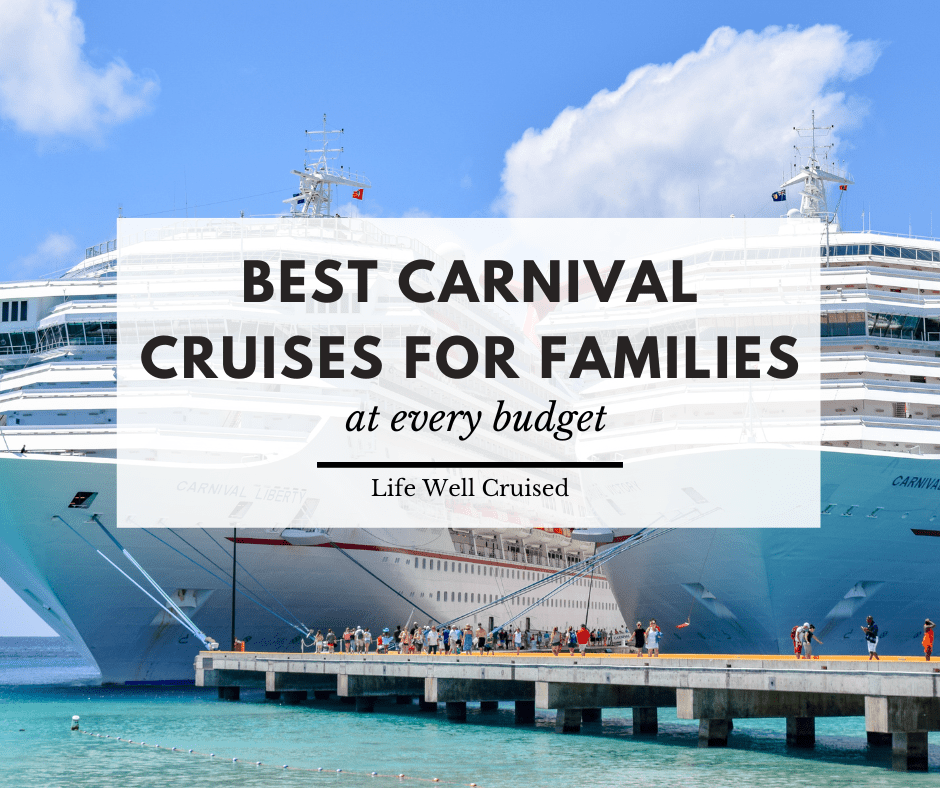 Are you planning a Carnival Cruise and wondering about the best cruise ships for families? As someone who has cruised with Carnival with my own family, I know first hand which Carnival cruise ships are best.
Choosing a cruise for a family vacation, isn't one size fits all. Carnival is known for having some of the best cruise lines for families and kids. However, you'll want to find the best Carnival cruise ship to fit your needs, budget and vacation preferences.
With that being said, here are the 7 best cruises for families.
This post contains affiliate links which means if you click and buy that I may make a commission, at no cost to you. Please see my disclosure policy for details.
As an Amazon Associate I earn from qualifying purchases.
7 Best Carnival Cruises for Families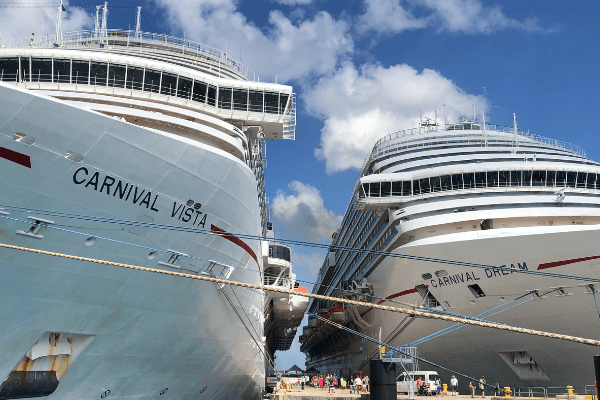 1. Carnival Vista
The Carnival Vista is a fun ship for every member of the family. This cruise first set sail back in 2016, and has been a popular favorite ever since!
Since the Carnival Vista isn't super new anymore, it's going to be more affordable than newer ships. This is great is you're cruising on a budget or just trying to save some money on your family vacation.
The Carnival Vista has some great restaurants onboard including: Guy's Burger Joint, BlueIguanna Cantina, and you can't forget the main dining room!
Some unique attractions on the Carnival Vista are the IMAX theatre, the SkyRide, the ropes course and water play areas. Kids and young adults who enjoy fun thrills will absolutely love these cruise ship attractions!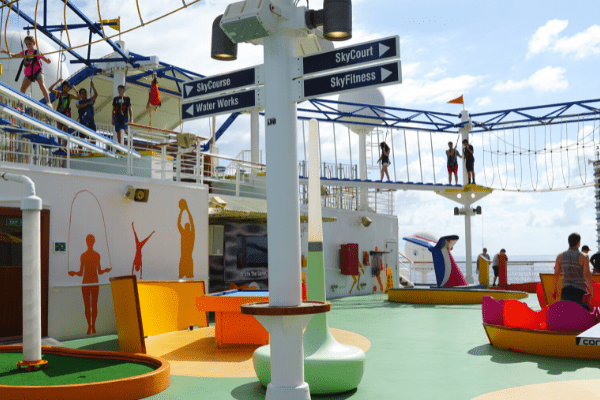 Carnival Kid's and Teen Club Information:
The great thing about all Carnival Ships is that they have kids clubs which are separated by age group.
Camp Ocean is for younger kids ages 2-11
Circle C is for young teens ages 12-14
Club O2 is for teenagers ages 14-17
When I was a younger kid, I would spend my days hanging out at the kid's club, making new friends and having a good time. There are activities for kids 17 years and under, going on throughout the day and in the evening.
Activities like scavenger hunts, sports games, movie nights and dance parties are always fun. There's also an area to hang out, a dance floor and an area to play video games, which every kid likes!
2. Carnival Mardi Gras
The Carnival Mardi Gras is a fan favorite, which gets a lot of repeat cruisers. The Mardi Gras is one of the largest ships and newest ships in Carnivals fleet, with over 5,200 passengers onboard!
The Carnival Mardi Gras cruise ship has 26 total dining options. You can bet that there is something for everyone to eat on this cruise ship!
Whether you're cruising with young children, teens or young adults, this cruise is fun for the whole family.
The Mardi Gras is one of the best cruise ships at sea for families, as there is so much to do for every member of the family. Whether it's hanging out by the pool, playing in the waterparks or relaxing in the hot tubs, the Carnival Mardi Gras makes for an awesome family vacation.
The main attraction on the Carnival Mardi Gras is the Bolt Roller Coaster, which is the first roller coaster at sea. This does have an additional cost, however going on a roller coaster at sea is not something you do everyday!
3. Carnival Panorama
The Carnival Panorama is the sister ship to the Carnival Vista and Carnival Horizon. This cruise ship first set sail back in late 2019, and is known for having plenty of cruise ship activities and attractions.
Some of the attractions on the Carnival Panorama include the SkyRide, Sky Zone (trampoline park), a ropes course, an enclosed basketball court, mini golf and an outdoor exercise area. This cruise ship is amazing for teenagers!
There are also two water slides called Red Fun (raft slide) and Blue Fun, which is a standard water slide. If you're cruising with older children who are afraid of water slides, there is a splash park which is also really fun.
Onboard the Carnival Panorama there are also plenty of bars, places to eat at and a Casino. In the evening time, there are parties going on around the ship.
There is a great kid's club on Carnival, so you leave your children in the kids club (there is a fee after 10 pm) and let loose for the evening!
There is so much included on a Carnival cruise, which makes it a good time and great value for everyone.
Related: Carnival Cruise Packing List – The Ultimate Guide
4. Carnival Sunrise (Refurbished)
The Carnival Sunrise is a mid-size ship that is known for it's shorter sailings (2-5 days). If you're looking for a short family getaway, the Carnival Sunrise is perfect.
This cruise ship holds over 2,700 passengers and was originally built in 1999. The Carnival Sunrise was recently refurbished in 2019, so the look of this cruise ship is pretty modern and new looking.
The Carnival Sunrise has two waters slides, a splash park and a ropes course. There is also a nice pool area, which has fun activities and games going on throughout the day.
By the pool, you'll find is a giant screen that will play movies and shows throughout your cruise. This is a great place to take it easy with the family and spend some quality time together.
Since this cruise was recently refurbished, the kids clubs and teens club looks super modern. If you're cruising with kids, good luck getting them out of the teens club or kids club!
Related: 50 Popular Cruise Essentials from Amazon
Get The Ultimate Cruise Planner
Regular price: $27 Now just $17!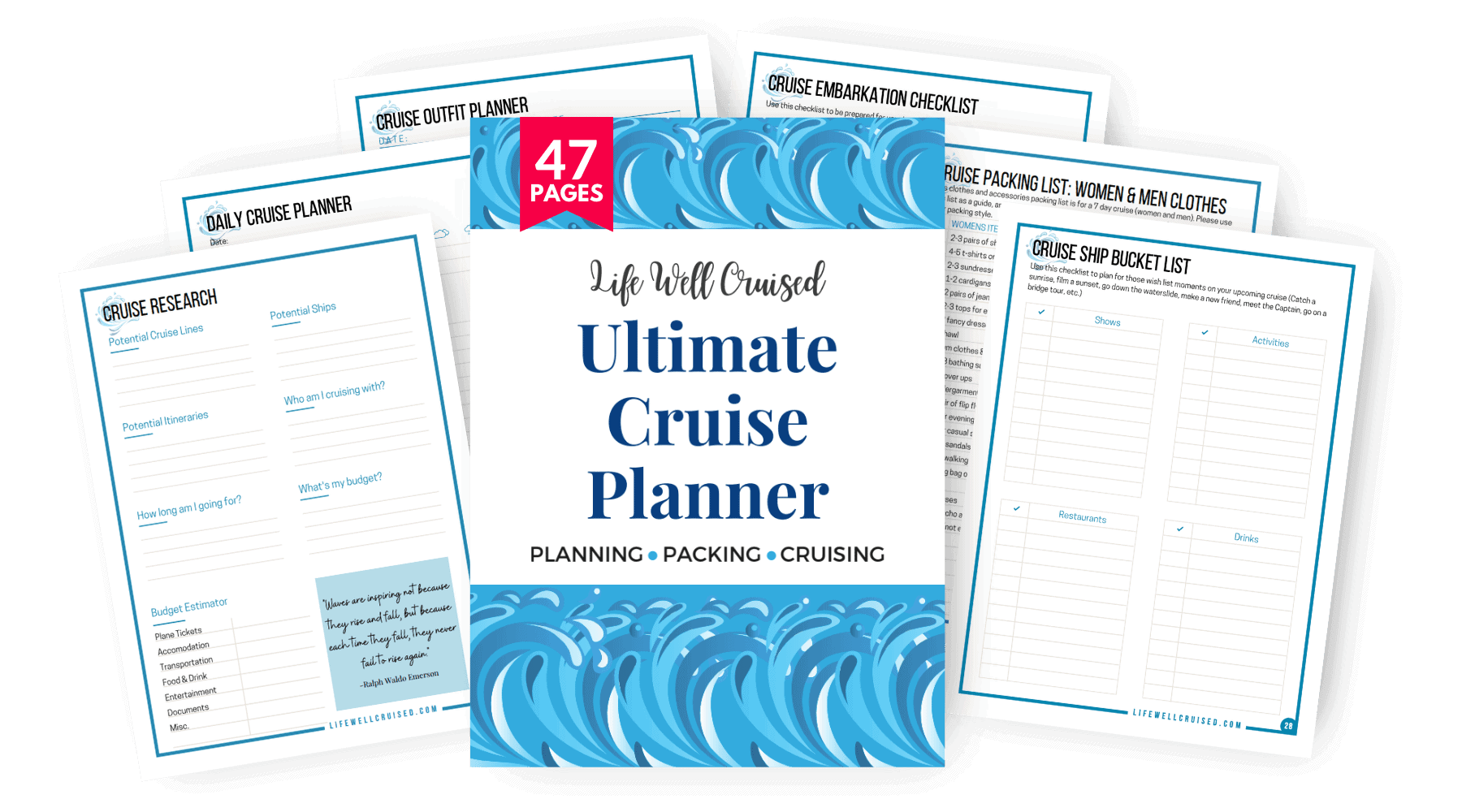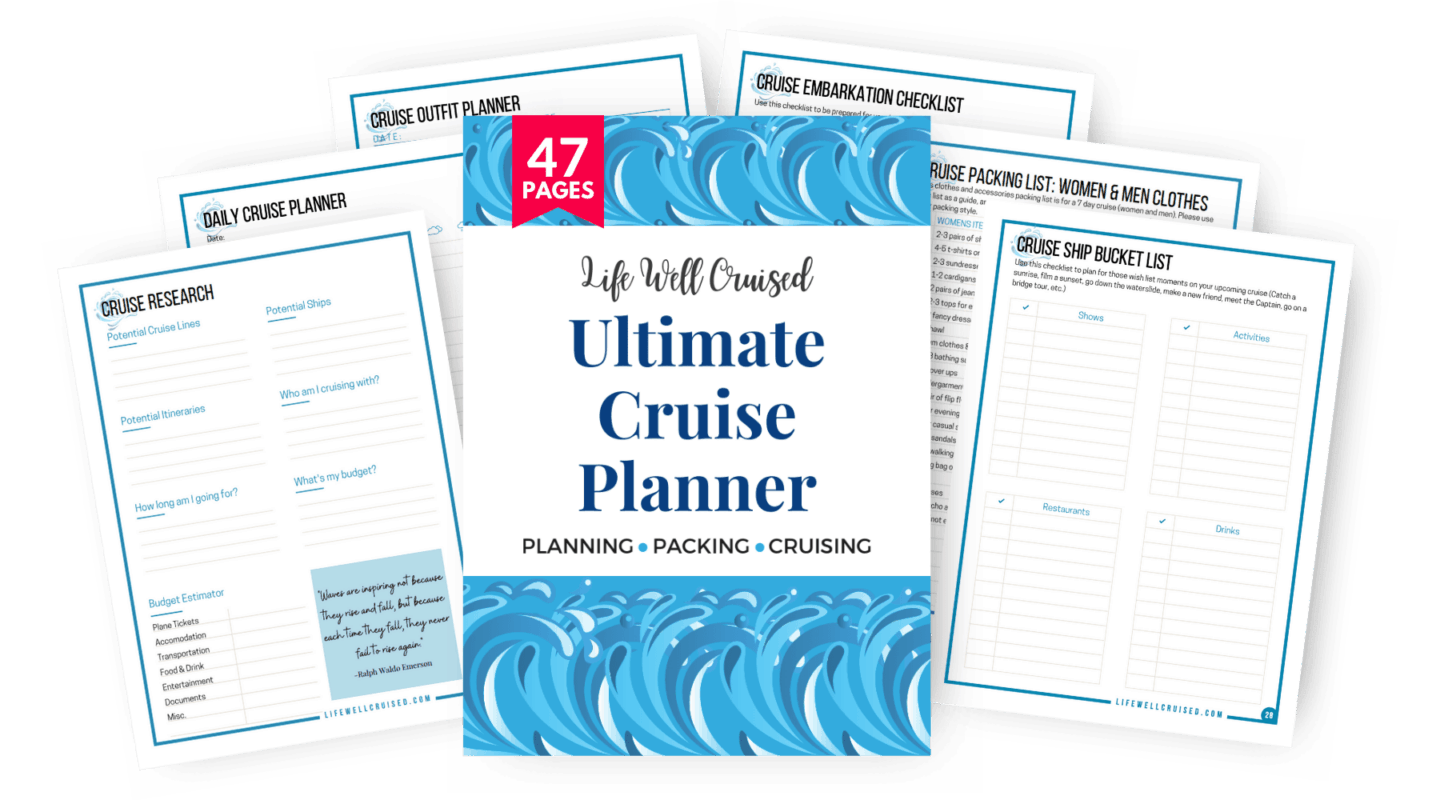 5. Carnival Horizon
The Carnival Horizon is the sister ship to the Carnival Vista and the Carnival Panorama. Unlike the Carnival Panorama, this ship does not have a SkyZone, however it does have an IMAX theatre.
Like its sister ships, the Carnival Horizon has a ropes course, SkyRide and water slides.
If you like fine dining, then you will love the wide variety of specialty restaurants onboard the Carnival Horizon. Please note that specialty restaurants do have an extra charge.
Carnival Horizon Specialty Restaurants:
JiJi Asian Kitchen
Steakhouse
Seafood Shack
Cucina Del Capitano
Bonsai Teppanyaki
Guy's Pig & Anchor Smokehouse
Overall, the Carnival Horizon is a fun ship for the whole family. A Carnival cruise is quite affordable, which is one of the reasons why cruising is the best family vacation!
Related: How to Save Money on a Cruise: 27 Tips, Tricks & Hacks
6. Carnival Dream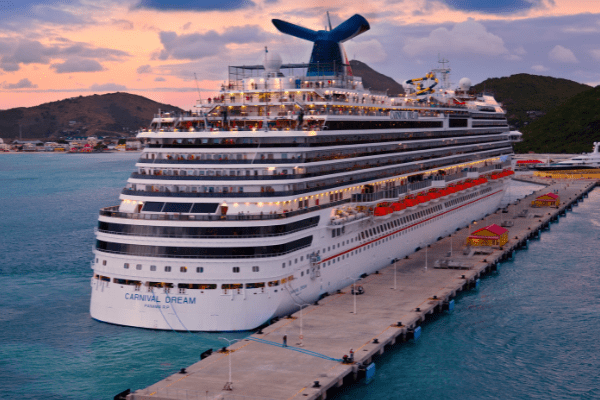 The Carnival Dream launched back in 2009. However it was refurbished a few years ago in 2017. The ship received the Fun Ship 2.0 upgrades, which includes new restaurants like Guy's Burger Joint, BlueIguanna Cantina, the Alchemy Bar and Bonsai Sushi.
This Carnival cruise ship has multiple pool areas, water slides and serenity, which is the adult only area. Serenity is a great place to relax while your kids are on the water slides or at the kids club.
In the evening time, there are family friendly shows, as well as adult only shows. The Punchliner Comedy Club is a great spot to go see some hilarious comedians onboard the Carnival Dream.
The Carnival Dream has something for everyone, so expect the whole family to love this cruise.
Related: 27 Cruise Packing Tips All Cruisers Need to Know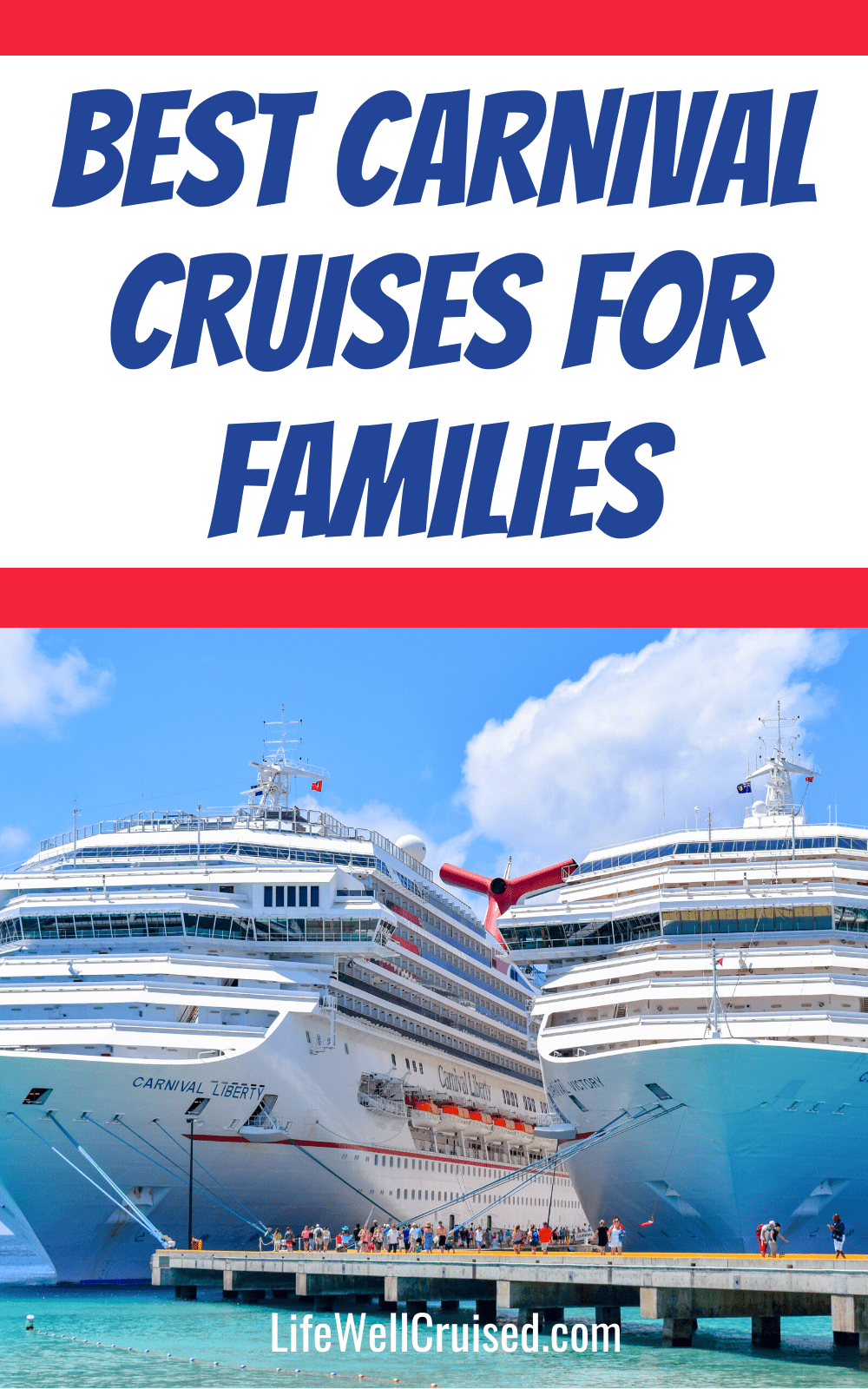 7. Carnival Celebration (coming soon!)
The Carnival Celebration looks like it might be the best Carnival cruise ship yet! The Carnival Celebration is a new cruise ship that will set sail in November 2022, in celebration of Carnival Cruise Line's 50th anniversary.
Some of the highlights on the Carnival Celebration include it's 6 zones to explore: Celbration Central, The Gateway, Summer Landing, 820 Biscayne, Lido and The Ultimate Playground.
You'll have The Bolt, the world's fastest, and first (along with Mardi Gras) roller coaster at sea. The kids and all family members will love Waterworks, an incredible water slide and water park area onboard the ship.
You'll also experience some of the best entertainment onboard Carnival cruise ships, including the popular Family Feud Live game show.
This Carnival Celebration is a sister ship to the Carnival Mardi Gras, so it has similar restaurants and onboard activities. Although the Carnival Celebration is similar to the Mardi Gras, they did add three new restaurants.
New Restaurants on the Carnival Celebration:
Latitudes
The Golden Jubilee
Emeril's Bistro 1397
Going on new cruise ships are usually more expensive than cruising on ships that are a few years older. If you want a really special cruise for the whole family, consider the Carnival Celebration for a vacation no one will forget.
However if you're on a tight budget, consider waiting a few years before booking the Carnival Celebration and choose one of the slightly older cruise ships.
Related & Popular Posts:
Get The Ultimate Cruise Planner
Regular price: $27 Now just $17!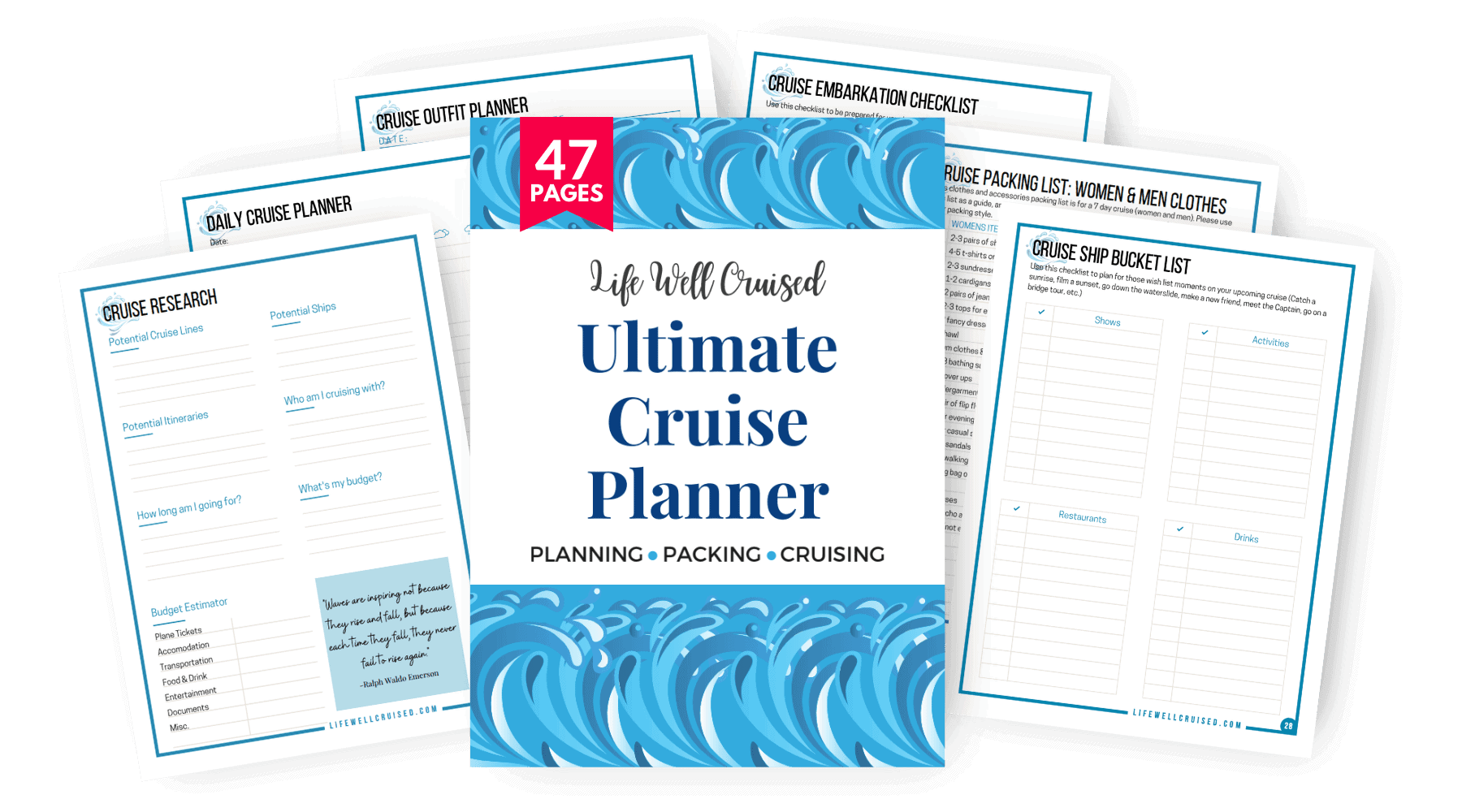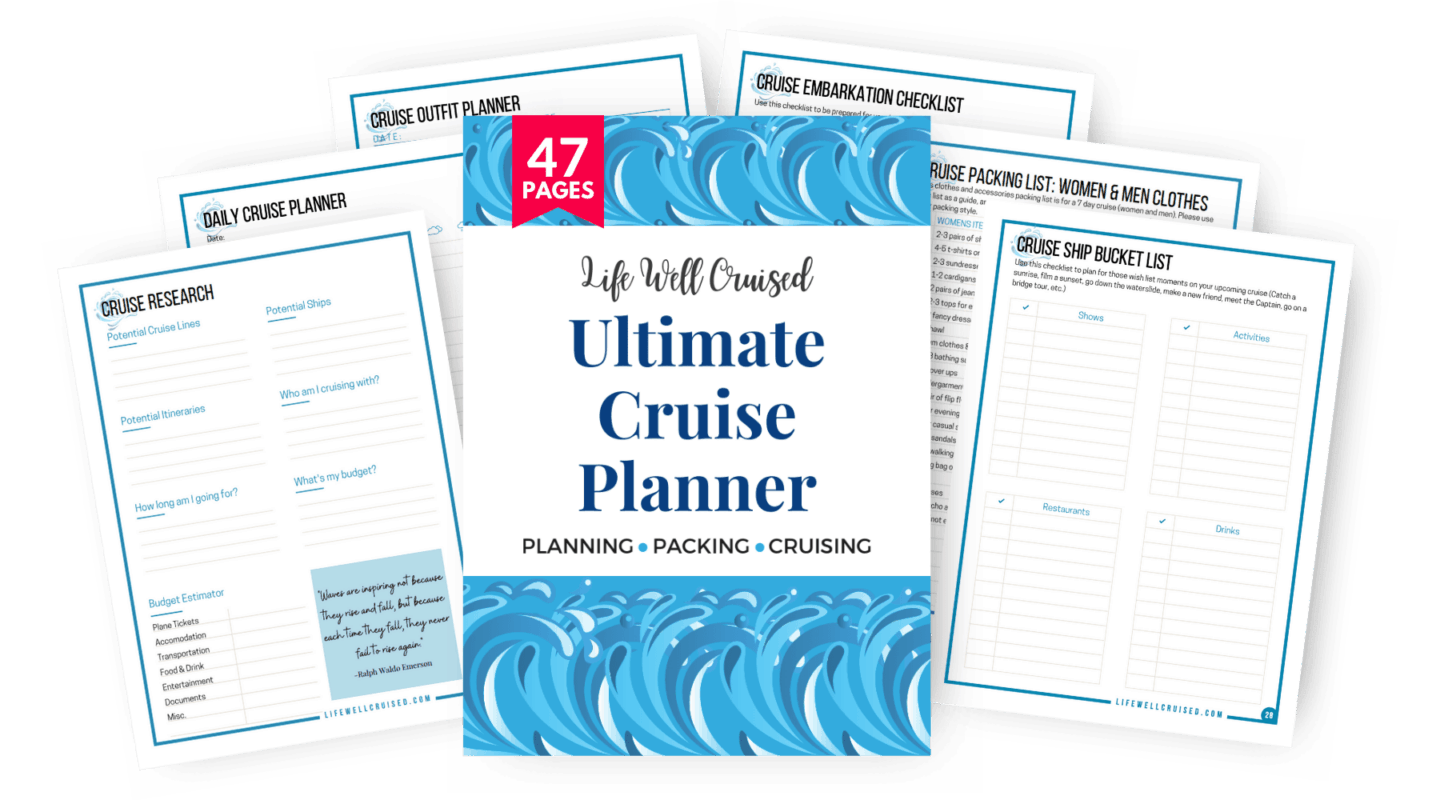 Final Thoughts on Best Carnival Cruises for Families
Well there it is, the best Carnival cruises for families!
When it comes to a family cruise, it's hard to beat the value you get with Carnival. The endless entertainment, amazing attractions and plentiful food options makes Carnival one of the best cruise lines for families.
When are you booking your Carnival cruise? Let me know in the comments below.
Happy Cruising!
Ethan
P.S. If you found this helpful, please don't keep it to yourself ;-). Please share on Facebook or PIN to your favorite Pinterest board (share buttons at the top). Thanks so much!
Author Bio: Ethan Schattauer writes about fashion, travel and college advice on the website WhatToWearMen.com. As a frequent cruiser, Ethan shares his unique perspective on what cruising is like for teens and young adults.
Let's connect: