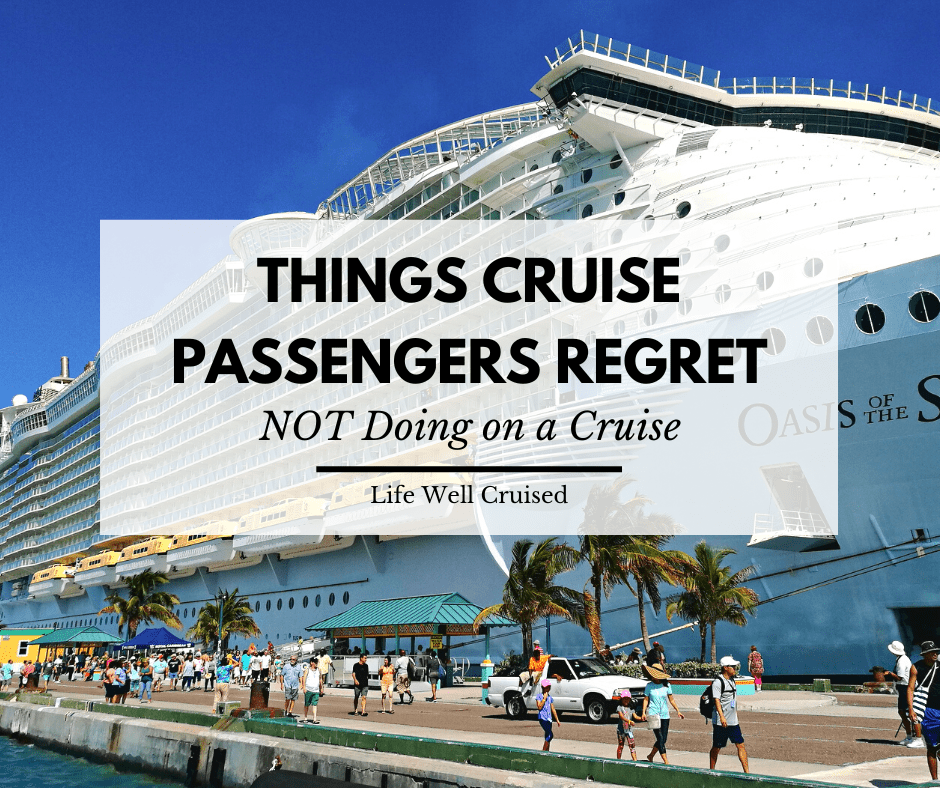 Cruises are amazing vacations! After planning a cruise for months, the last thing you want is to get to the end of your cruise vacation, and have any regrets.
There really is so much to do on a cruise, that you won't be able to do it all. However, this is a list of big and small things that you may regret not doing on a cruise.
Whether you're a first time cruiser or an avid cruiser, this post includes cruise tips and information that can be helpful as you plan your cruise vacation. If you've ever thought of making a bucket list of things to do on a cruise, these ideas will help.
This post contains affiliate links which means if you click and buy that I may make a commission, at no cost to you. Please see my disclosure policy for details.
As an Amazon Associate I earn from qualifying purchases.
Things You'll Regret Not Doing While on a Cruise
1. Not Watching a Sunrise & Sunset at Sea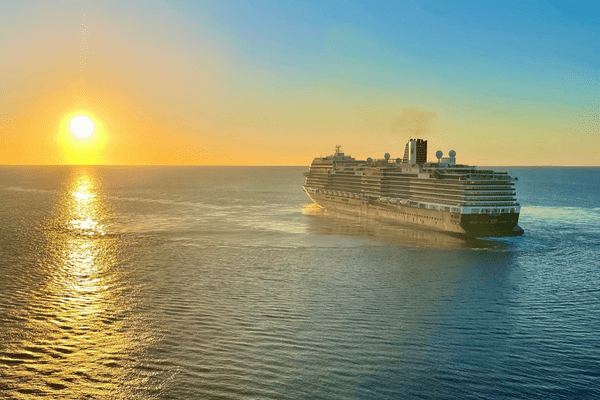 Ask cruisers, and many will say that there's nothing better than seeing a sunset at sea. As the sun goes down on the open water, a feeling a peacefulness and calm just can't be ignored. The colors of the sun and sky contrast against the darkening sea.
It's special! Many cruisers like to enjoy a glass of wine or a cocktail or just sit and watch from their cabin balcony.
If you're a morning person, or even if you're not, consider waking up early to catch a sunrise while your ship docks into a new port of call. A morning cup of coffee combined with a sunrise at sea is perfection!
2. Not Eating in the Main Dining Room for Breakfast or Lunch (at least once)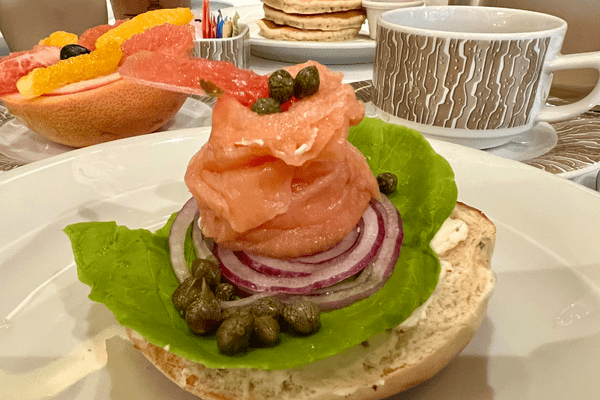 Something you may regret not doing on a cruise is eating only in the buffet, even for breakfast and lunch. While the cruise ship buffet is great and offers a lot of choice, it can be a bit hectic.
For mornings when you need to rush off the cruise ship for an excursion, this might be best. However, if you have a sea day and can spare the time, consider taking the time to enjoy a hot breakfast served in the main dining room.
On every cruise, we try to eat at least one lunch in the main dining room. It's nice to take a break from cruise ship activities during the day, and have some down time where we enjoy the great service in the dining room.
Even if you do this only once or twice, you might find that it really adds to your cruise experience.
Related: 13 Cruise Main Dining Room Tips All Cruisers Need to Know
3. Not Registering Children in the Kid's Club the First Day
If you're on a family cruise with your children, there's something important you need to do on embarkation day. Don't forget to register and visit the kid's club the very first day of your cruise.
On boarding day, most cruises will have an open house style registration and visitation to the kid's club. If your kids are shy, this visit will be key. During the registration, your children will see the fun space and activities, meet the staff and even make a couple of friends. You'll also feel more comfortable as a parent.
When your child returns later on or the next day, it will be so much easier as they've made a friend or two and know the staff. Not doing this can make it much harder to join a day or two later.
4. Not Booking a Future Cruise While Onboard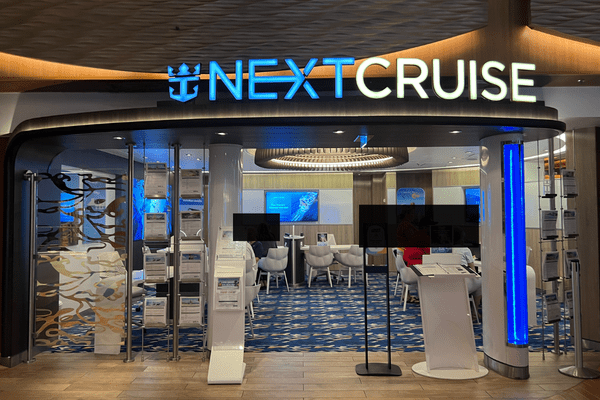 Most repeat cruisers know a little secret to saving money, and also avoiding some of those post cruise blues. When you're on your cruise, you can book your future cruise onboard.
Most cruise lines have an option of simply putting down a deposit, so you can do your cruise shopping and planning once back home. Also, your travel agent can assist you once you're back home.
The benefit of making an onboard cruise booking is that you'll likely get an incentive, which may be in the form of an onboard credit (OBC). You also won't have regrets when you disembark from your cruise on the last day, as you'll know you have another cruise to look forward to.
5. Not Taking and Being in Cruise Vacation Photos
Whether you're on a romantic anniversary cruise, a family cruise or a solo cruise, having photos of your trip will bring back those amazing memories.
Of course you can purchase the photos and photo packages on cruises. However, it's never been easier to take photos even from your phone.
One mistake not to make, is forgetting or simply not planning to be in some of the photos. Whether it's a family photo or a solo photo, you'll look happy and amazing. Cruise photos even make great profile photos, so why not?
Related: The Ultimate Cruise Lingo Glossary – 85 Terms You Need to Know
6. Not Booking Shore Excursions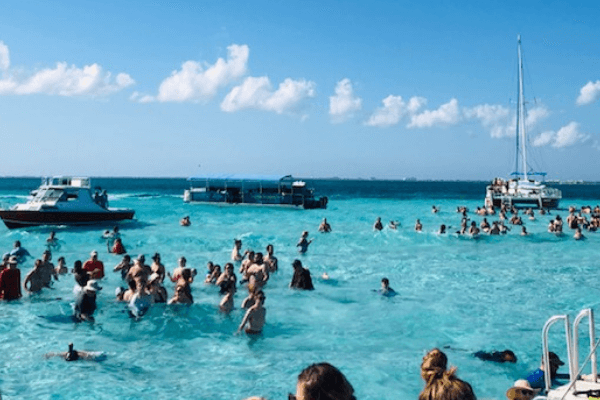 Not booking shore excursions, is a cruise mistake many first time cruisers regret. While you don't need to book a cruise line excursion, it's important to research a little and plan something. This can be a tour with a local vendor or a private excursion. This can also be exploring on your own.
However, in some cruise ports, there may not be a lot that's close-by or in walking distance. A bit of planning will help you avoid getting off the cruise ship and being disappointed.
Related: What to Pack in Your Cruise Shore Excursion Day Bag
7. Not Taking Advantage of Free Cruise Activities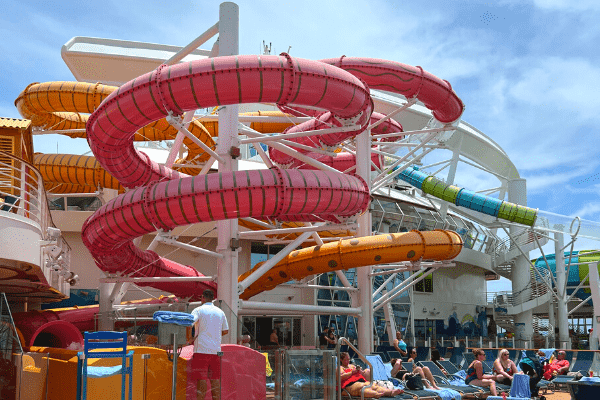 These days, there are a lot of ways to upgrade our cruise vacation experience with some extra charge activities. However, there are so many things included in a cruise, that it's worth not ignoring them.
From free classes at the fitness center, to cooking demonstrations, dance class and more – there are many things that are "free" or included on a cruise!
Of course, there are also fun waterslides on some cruise ships, which can be fun for everyone.
Related: 17 Free Things to do on a Cruise (that are awesome!)
Get The Ultimate Cruise Planner
Regular price: $27 Now just $17!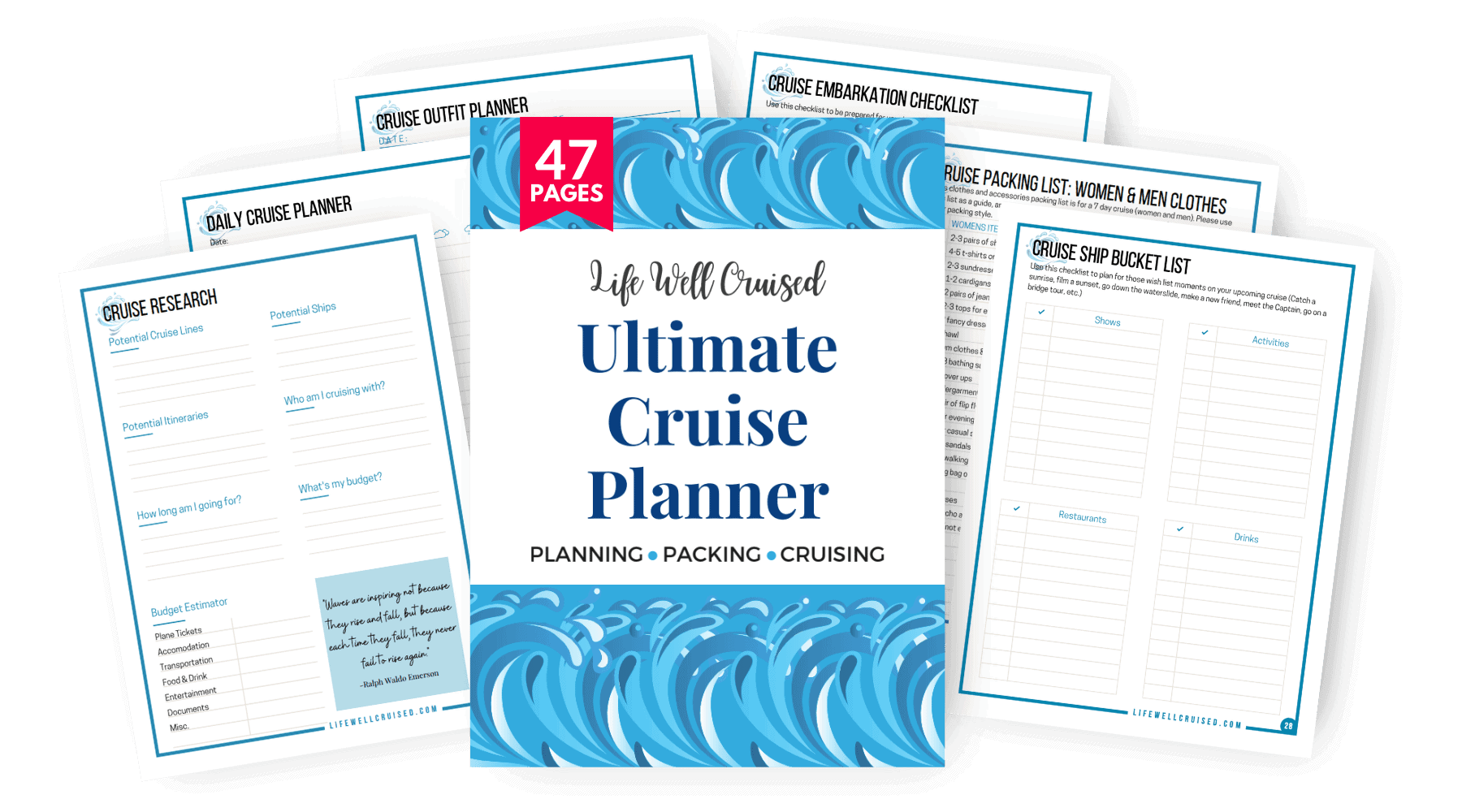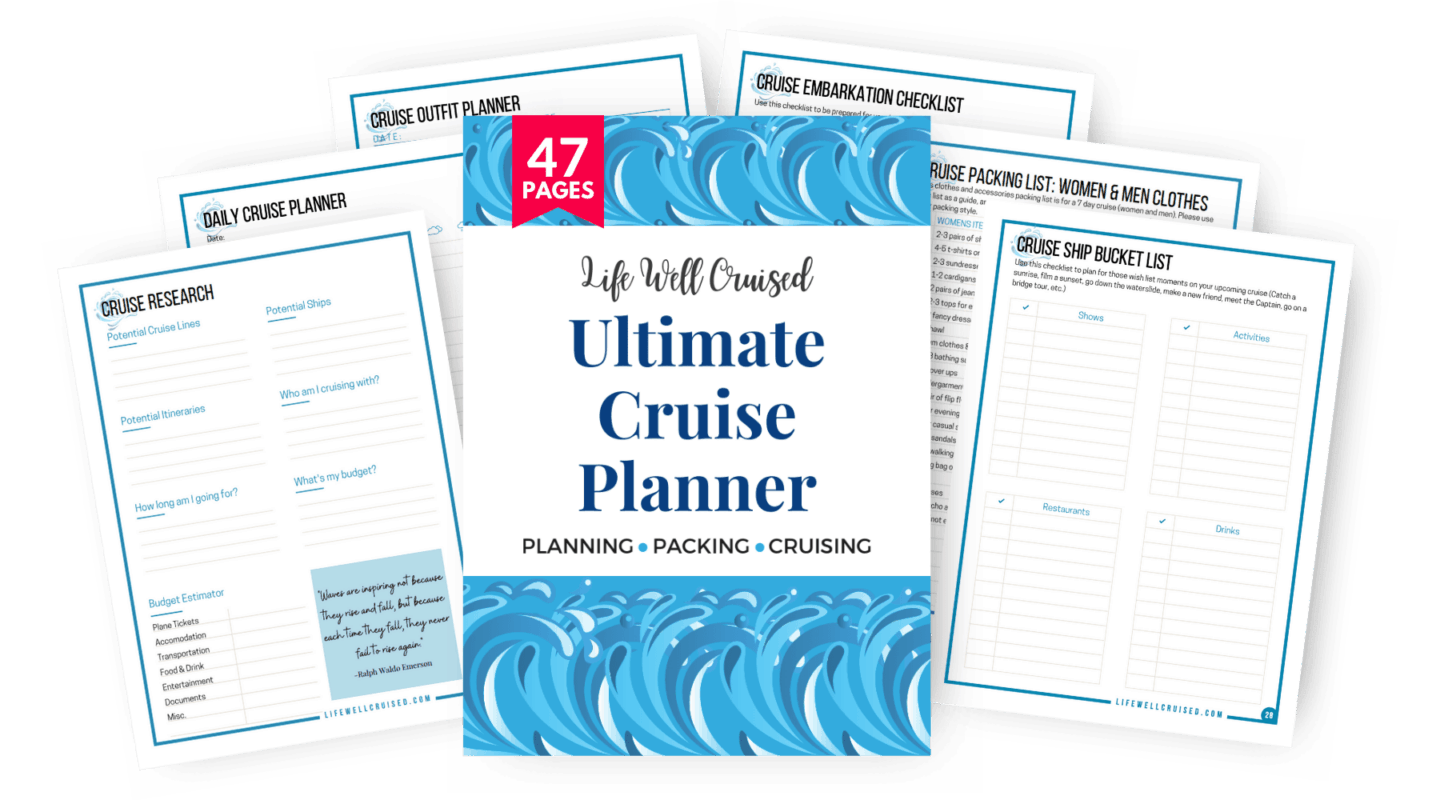 8. Not Getting a Beverage Package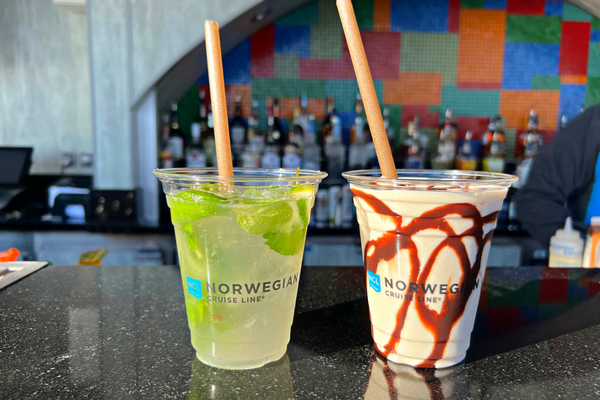 In fairness, not everyone regrets not getting a beverage package on a cruise. In fact, there are some people who regret buying drink packages and didn't find them worth it.
When it comes to cruise line beverage packages, the key is doing a bit of research. Finding out the price of the package (even on sale), how much drinks are on the cruise ship and taking a guess at how much you may drink is important.
Drinks can really add up, so a beverage package can help you to avoid a big surprise bill at the end of your cruise!
Related: Norwegian Cruise Line's Free at Sea Perks Explained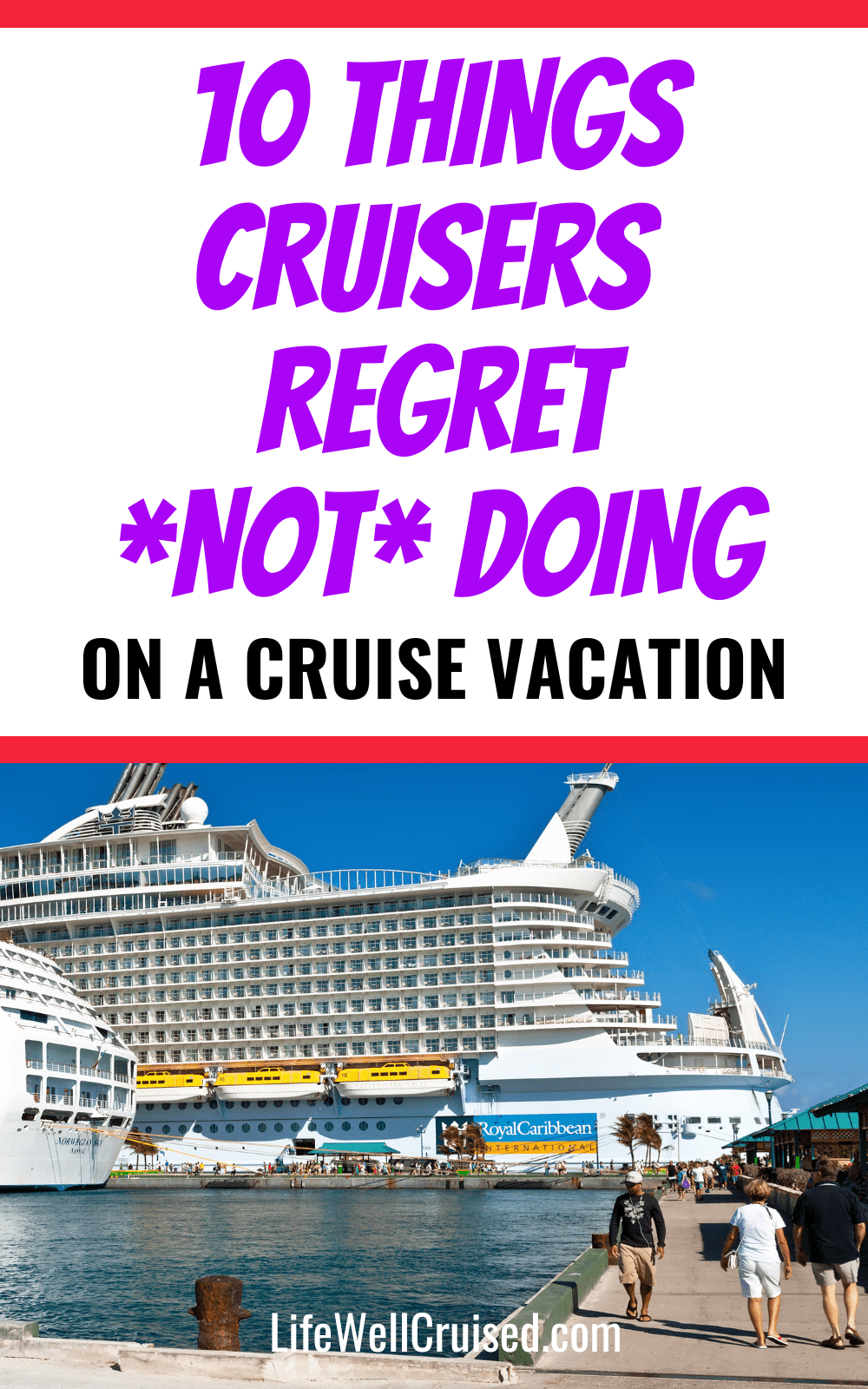 9. Not Asking Questions
There's a lot to know when you go on a cruise. First time cruisers, and even those who are cruising on a new ship or cruise line, can benefit from asking questions onboard.
Many new cruisers have admitted that they didn't know the main dining room was included, or a cafe, or that some areas of the cruise ship were accessible and did not have an extra charge.
The crew on cruise ships is amazing, and they'll be happy to answer questions. In our experience, people on cruiser are nice too, and you should never feel shy to ask your fellow cruisers for recommendations.
10. Not Appreciating Your Cruise (even if it's not perfect)
Let's face it, we all spend months or longer planning a cruise. It can be disappointing if there are changes or snags. Although this could always happen, these days we continue to see fluctuations and challenges, that have the potential to affect our cruise.
However, even if things aren't exactly as planned, there are always things to appreciate. Hopefully, we only have small issues, if any, and can truly enjoy our time on our cruise and the opportunity to travel.
Related: 27 Cruise Packing Tips All Cruisers Need to Know
Video: 10 Things You'll Regret Not Doing on a Cruise
We go into more detail in this video. Plus there are some amazing comments from new and experienced cruisers. If you're not yet subscribed to Life Well Cruised on YouTube, I'd love to have you join us!
Related & Popular Posts:
Get The Ultimate Cruise Planner
Regular price: $27 Now just $17!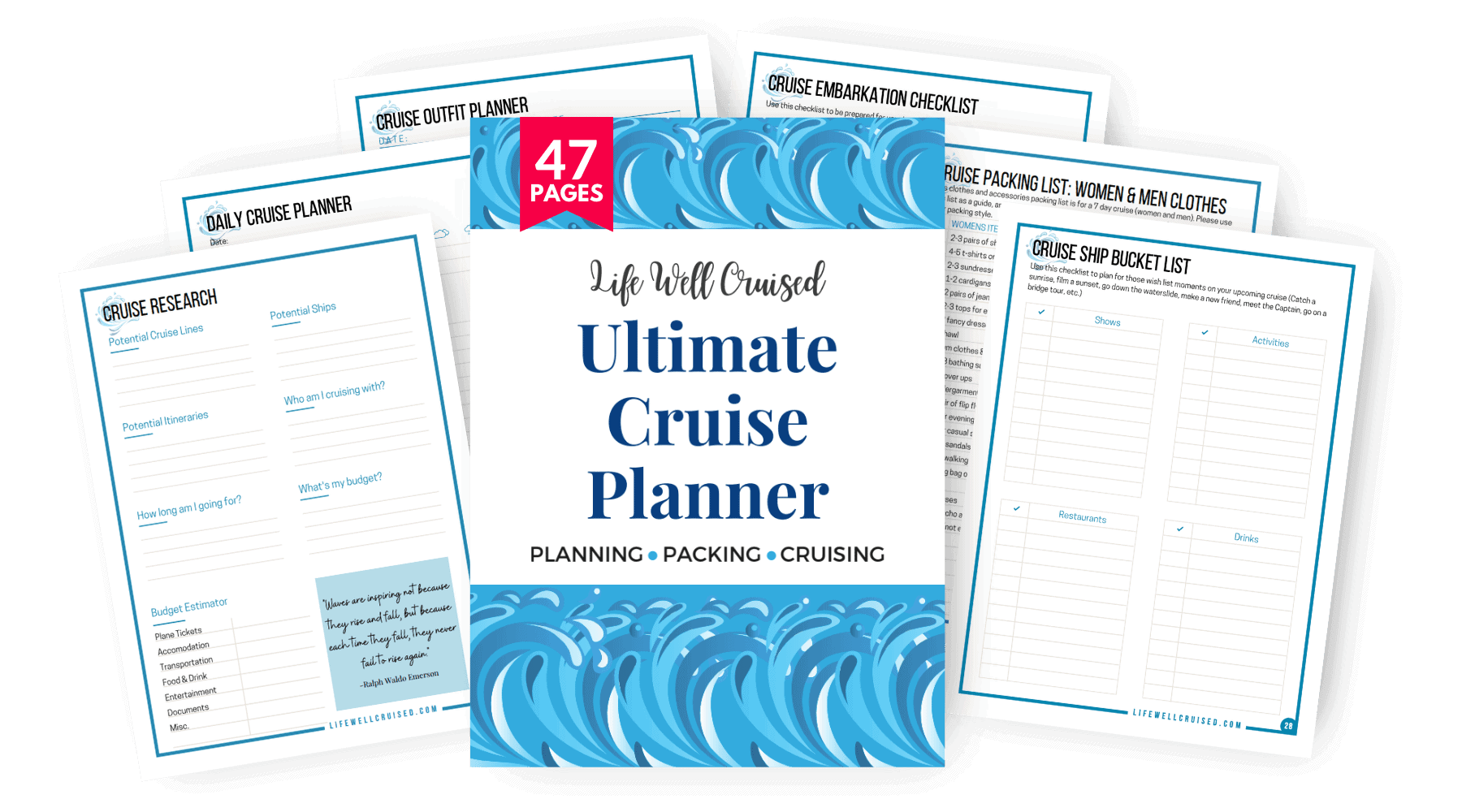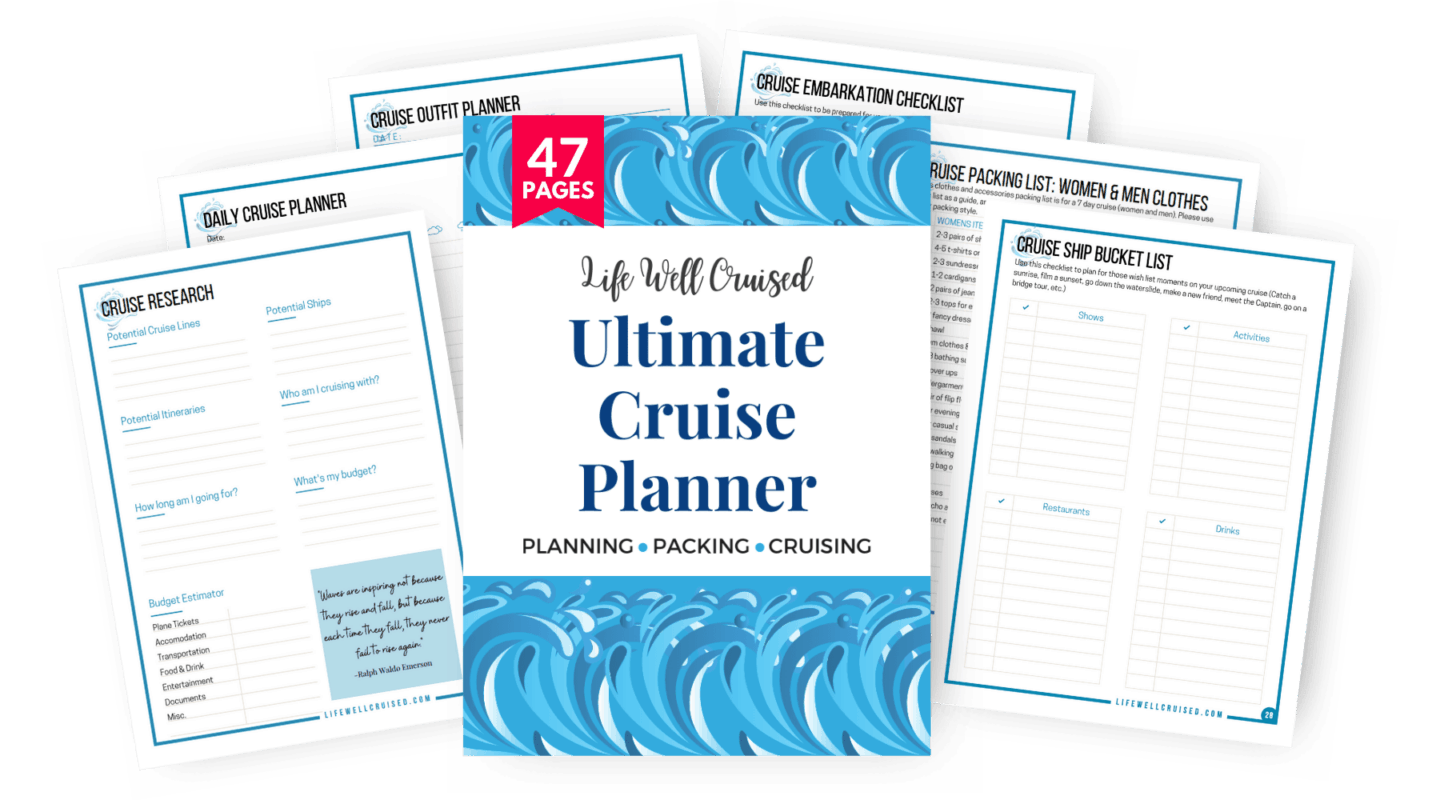 Final Thoughts on Things You'll Regret Not Doing on Your Next Cruise
Cruising is a wonderful way to travel and enjoy a much needed vacation. These are just a few things that you may regret not doing on your next cruise.
Please let me know what experiences you make sure to plan or do on your cruise in the comments below.
Happy Cruising!
Ilana