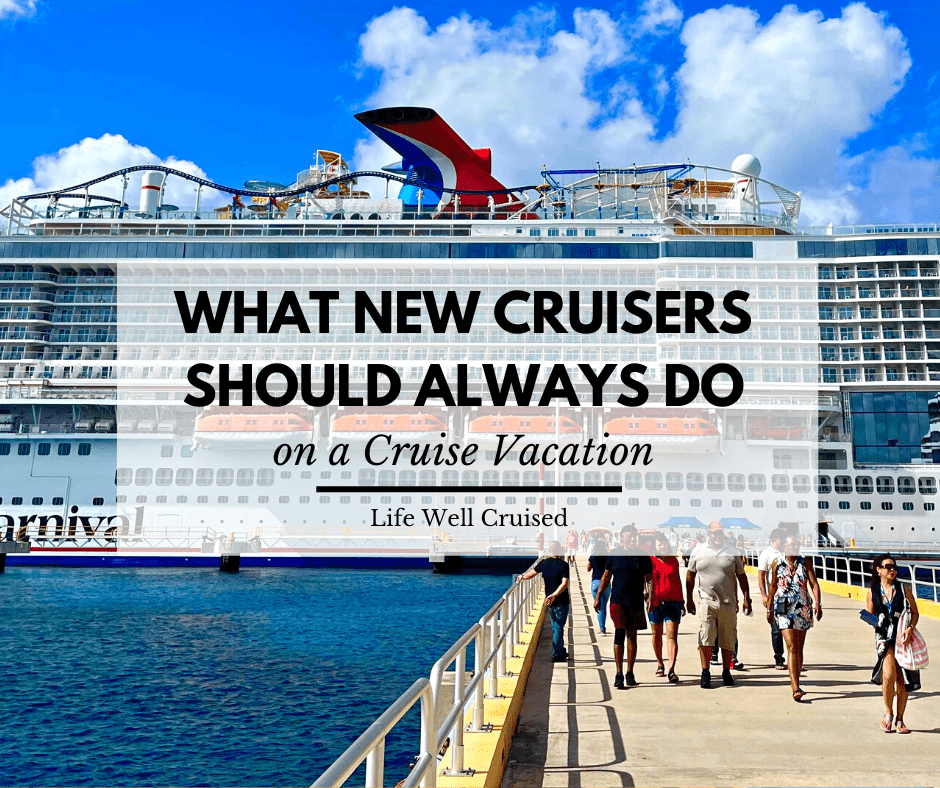 Cruise vacations are very different from land vacations, and going on a cruise as a first timer can be both exciting and overwhelming.
I've been on over 30 cruises, but I never forget what it was like to plan a cruise for the first time. There's nothing worse than going on a cruise and realizing half way through that you've missed out on some of the best parts, just because no one told you.
Think of me like your cruise BFF. I'm here to tell you all the cruise tips, tricks and secrets first time cruisers need to know. By the time you go on your cruise, you'll be cruising like a pro!
With that being said, here are 15 things first time cruisers should always do on a cruise.
This post contains affiliate links which means if you click and buy that I may make a commission, at no cost to you. Please see my disclosure policy for details.
As an Amazon Associate I earn from qualifying purchases.
Things First Time Cruisers Should Do on a Cruise Vacation
1. Explore the Cruise Ship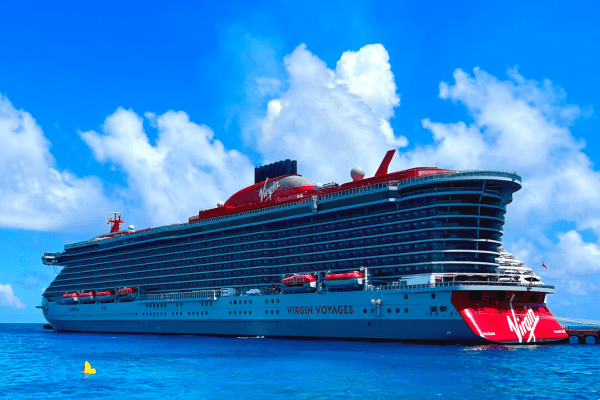 If you're going on a cruise, one of the best ways to get the most out of your vacation is to research and explore the cruise ship. In fact, a pro tip is to read blogs and watch YouTube videos about your cruise ship. You may even want to download the cruise ship deck plans.
This makes it easier to be able to enjoy the cruise from the moment you board, and not waste time getting lost on the cruise ship. This way, you'll already know where the buffet, the main pool, and other popular areas are located.
Another way to familiarize yourself with the cruise ship is to explore the cruise ship soon after you board your cruise on embarkation day. You can explore on your own or join a cruise ship tour if it's available.
2. Read the Daily Planner
During your cruise, you'll find most of the information you'll need in the daily planner. These days, most cruise lines have an app where you can access the daily planner. You can often get a printed daily planner if you like as well.
Your daily planner will have a schedule of the daily activities, including the shows, activities, and events that are happening around the cruise ship.
It's essential to look at the daily planner everyday because you don't want to miss any of the amazing shows or special events. Cruises have incredible entertainment including comedy, magic, and production shows that are worth seeing!
Tip: If you prefer a paper version of the daily planner, you can request it from your cabin attendant or at guest services.
3. Book Shore Excursions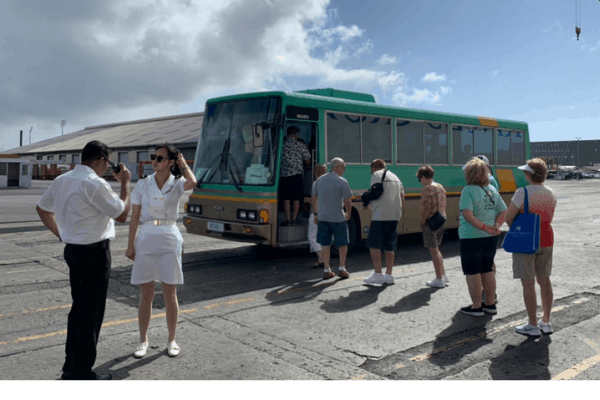 Now, booking shore excursions is completely optional. However, booking shore excursions is especially recommended for first-time cruisers because it's a stress-free way of exploring the ports of call.
Ofcourse, you can visit destinations on your own or with a private tour. However, as a first-time cruiser, there are some things that you should know.
For example, if you book a private tour you're late returning to the cruise ship, the cruise line is not responsible. The cruise ship may leave without you.
When you book an excursion with the cruise line, it does come with some assurances. This includes the cruise ship waiting if your excursion is late coming back to the ship.
First time cruisers also often appreciate the fact that you'll have a specific meeting location close to the cruise ship, making your day more enjoyable and stress-free.
Related: 10 Shore Excursion Mistakes Cruisers Almost Always Regret
4. Consider Using a Travel Agent
If you're booking your first cruise, consider using an experienced travel agent to help. Cruising is totally different from other vacations, so it can be hard to know where to start.
A travel agent will help you decide which cruise and cruise line is best for your style of travel. Choosing the right cruise for you is extremely important, and it can make or break your vacation.
A travel agent can offer guidance, answer all of your questions and make the process of booking a cruise super easy.
Tip: Make sure you use a travel agent with experience booking cruises. This way, you will get the proper guidance and have an amazing cruise experience.
5. Unpack
If there's one mistake not to make on a cruise, it's not unpacking the first day! Don't live out of your suitcase when you're on a cruise. Unpacking your clothes will help you feel at home and comfortable inside your stateroom.
In my experience, unpacking my clothing helps me feel at home and settled-in in my cruise cabin. After a long day in a port of call, it feels great to get back to my cabin and have all my clothes put away properly.
Tip: If you need extra hangers, you can ask your stateroom attendant for more.
6. Attend Shows & Activities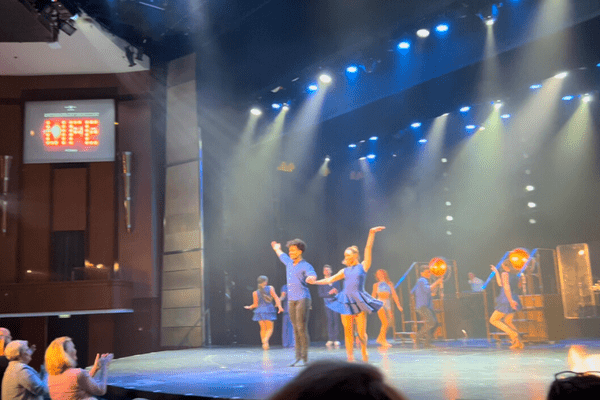 One way cruising is different from hotel stays and all-inclusive vacations are the great shows and activities through the day and evening.
Typically, the shows are very entertaining and worth seeing. If you were on a land vacation like Las Vegas, you'd have to pay extra for the broadway style or comedy shows. Going to the show after dinner is a fun activity in the evening.
There are daytime activities like trivia, bingo, art classes, dance classes, and more. Attending the onboard activities is a great way to have fun and learn new things.
Tip: Arrive 15-30 minutes early to get a good seat. Shows can fill up quickly, and you may not find seats if you arrive late.
7. Don't Forget Your Necessities
Whether you're going on a long or short cruise, you will need some cruise essentials. Sunscreen and sea sickness medications are two necessities that you should never forget!
If you forget to pack your sunscreen or motion sickness medication, you'll be able to buy some on the cruise ship. However, the selection is limited and the items will be more expensive than what you can purchase at home.
Related: How to Prevent Seasickness on a Cruise
Get The Ultimate Cruise Planner
Regular price: $27 Now just $17!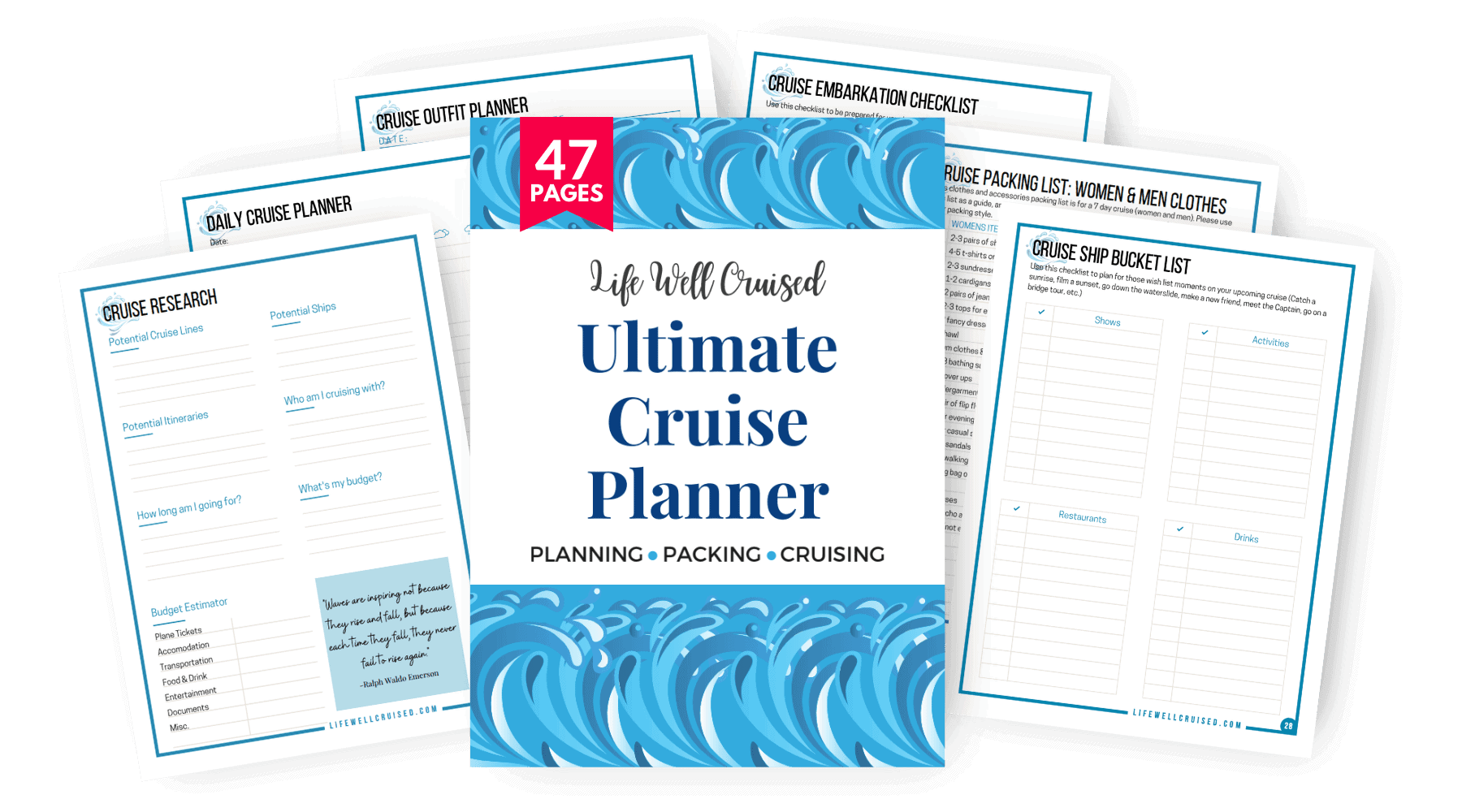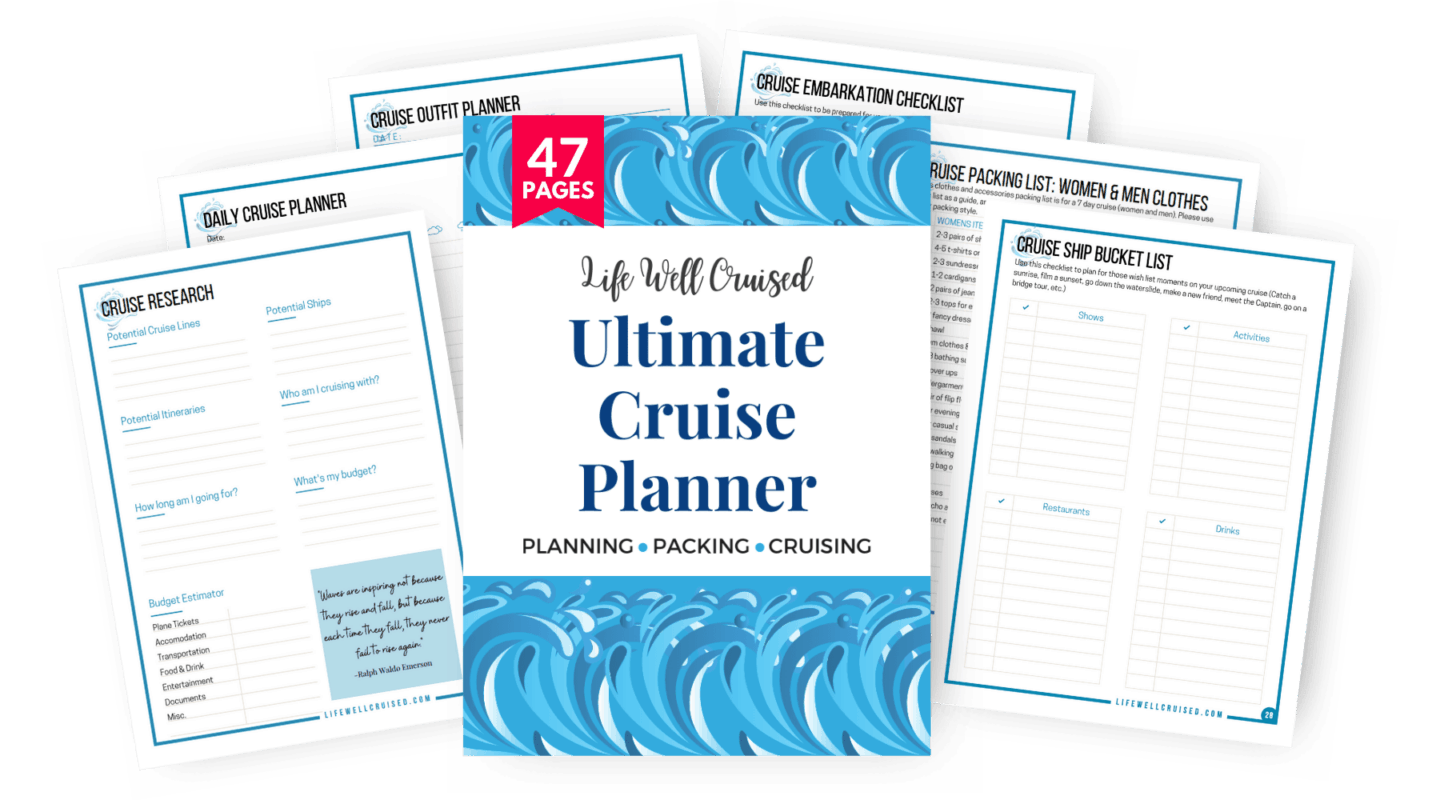 8. Don't Be Shy
If you're cruising for the first time, it's normal to know know what to expect. However, cruise travelers are usually very friendly, so feel free to talk to the other passengers. One of the best parts about cruising is that everyone is on vacation, so most passengers will be helpful and in a good mood.
Whether you're at a bar, the pool, or in the main dining room, don't be afraid to socialize.
If you have any questions, you can ask other cruisers. Most cruisers remember being first-time cruisers, so they will be happy to help you.
In addition, if you have an issue with your cabin or in the main dining room, don't be afraid to mention it to the crew. You can either go to guest services or ask the crew member directly. Cruise ship crew want you to have a great cruise, and will usually do their best to accommodate you.
9. Bring a Carry-On Bag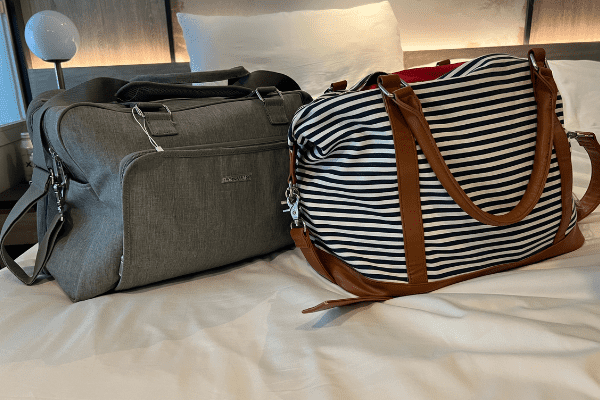 When you think about what to pack for a cruise, don't forget to about embarkation day. Many first-time cruisers don't know that they should pack a carry-on bag for embarkation day.
This is because you'll drop your checked luggage at the cruise terminal before boarding the cruise ship. It can take a few hours for your luggage to be delivered to your stateroom, so you'll want to bring a carry-on bag with your first day essentials.
Related: 23 Essential Things to Pack in Your Cruise Carry-On Bag
10. Don't Take Food Off the Cruise Ship
Something that may not be obvious to new cruisers is that you can't take food off of the cruise ship. This is often the law in many cruise ports of call. In particular, taking off fresh meat, fruits, and vegetables can result in consequences like a fine.
11. Consider Buying a Drink Package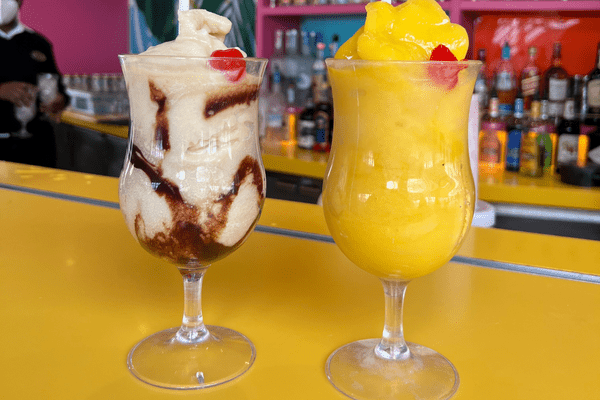 If you're planning on drinking while on the cruise, consider purchasing a cruise drink package. Alcoholic beverages on a cruise can be expensive and will add up quickly.
It's a good idea to calculate how much you might drink each day, and don't forget to include sodas and specialty coffee, if that's included in your cruise line's beverage package.
Tip: Cruise ships have water, juice, iced tea, tea, and coffee available and included.
12. Try New Foods
As a new cruiser, don't be afraid to try new foods. One of the best parts about cruising is that most of your food is included, which means that you can try different foods.
Feel free to order multiple appetizers, main courses, or desserts when you're in the main dining room. Cruising is a great way to experience different types of foods from around the world.
Related: 13 Ridiculous Time Wasters All Cruisers Must Avoid
13. Book a Hotel Near the Cruise Port
More first time cruisers are taking the cruise advice to fly in a day before the cruise. However, something to remember is to book a pre-cruise hotel close to the cruise embarkation port.
These days, hotels can be expensive. However, if you book a hotel that's far from the airport or cruise port, you'll have to take an expensive taxi or Uber and this may not be worth it.
Tip: Reserve the earliest embarkation time to make the most of your first day of your cruise.
14. Enjoy the Sea Days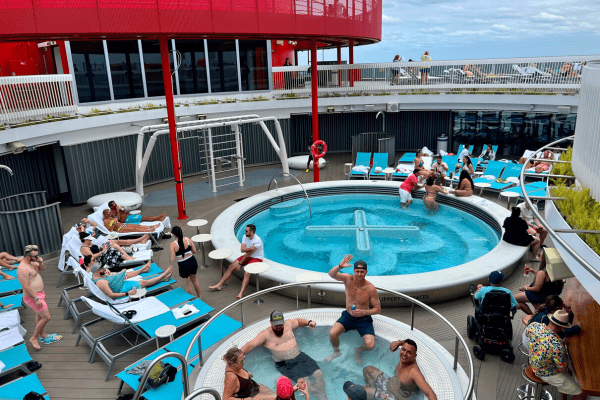 When booking a cruise, it's not uncommon for rookie cruisers to think they'll be bored on sea days. For this reason, they may look for itineraries with many cruise ports of call, and few days at sea.
However, most experienced cruises love cruising because of the days at sea.
The great thing about a day at sea is that they are relaxing and fun. Whether you enjoy reading by the pool, relaxing in the hot tubs, or participating in activities, you will have a great time during the sea days.
15. Go With the Flow
For a new cruiser, the lead-up to a cruise can be stressful. However, once you get on the cruise ship, just go with the flow and enjoy your vacation.
Once your check-in is done and you board the cruise, your vacation has officially begun. A cruise is a great vacation and a great way to make some amazing memories!
Related & Popular Posts:
Video: 10 Things New Cruisers Should Always Do on a Cruise
Get The Ultimate Cruise Planner
Regular price: $27 Now just $17!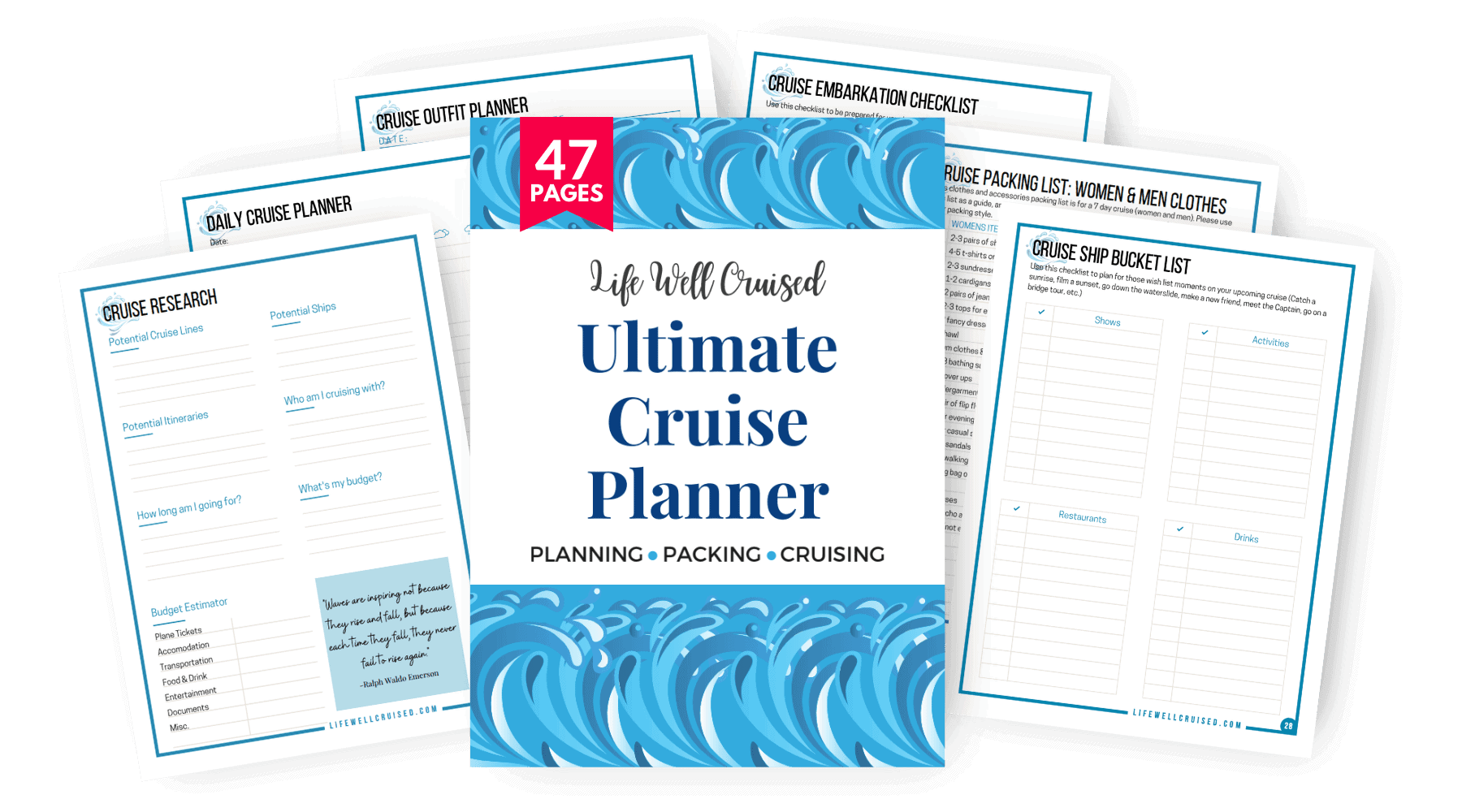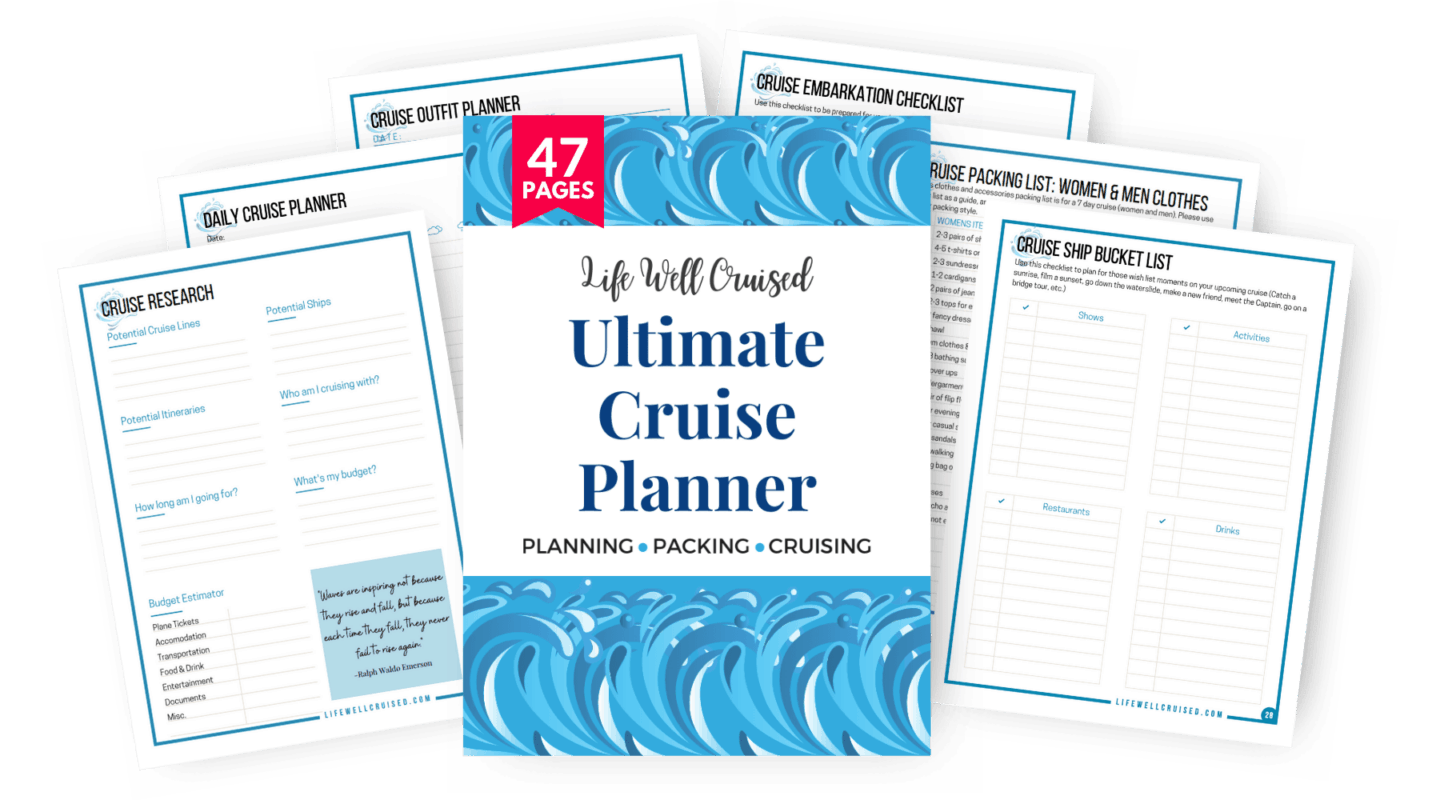 Final Thoughts On Things First Time Cruisers Should Do on a Cruise
As a first-time cruiser, it's important to know what you should do on a cruise vacation. Researching and preparing before your cruise is the best way to have a fantastic vacation.
In this post, I shared what new cruisers should always do on a cruise.
Are you planning your first cruise or do you remember your first cruise? Please let me know in the comments below.
Happy Cruising!
Ethan
If you enjoy this post please don't keep it to yourself ;-). Please feel free to share on Facebook or Pinterest (share buttons at the top). Thanks so much!
Author Bio: Ethan Schattauer writes about fashion, travel and college advice on the website WhatToWearMen.com. As a frequent cruiser, Ethan shares his unique perspective on what cruising is like for teens and young adults.