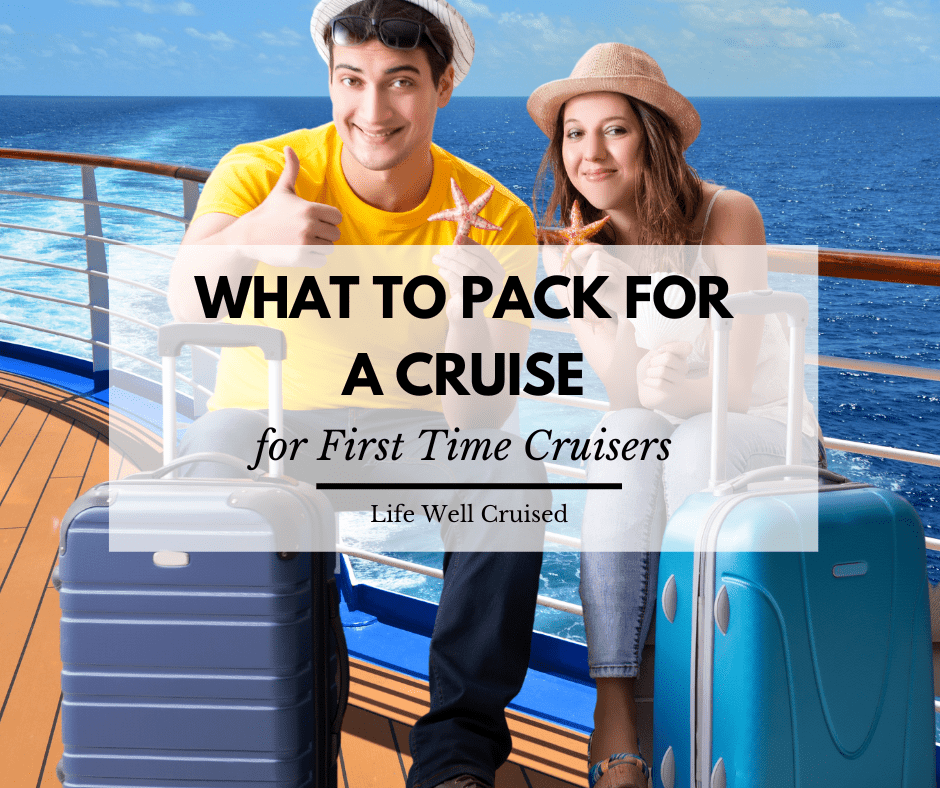 Are you going on your first cruise and wondering what to pack? This cruise packing list for first timers can help!
Cruise vacations are very different from land trips and resorts. You'll want to make sure that you have everything you need for days at sea and in ports of call.
Planning a first cruise and knowing what to pack can seem overwhelming. However, this cruise packing list includes all the things that you may not think of as a first time cruiser.
In this post, we go over:
Cruise Clothing Packing List For Women
Cruise Clothing Packing List For Men
Cruise Essentials For First-Timers
Bonus Items For First Time Cruisers
This post contains affiliate links which means if you click and buy that I may make a commission, at no cost to you. Please see my disclosure policy for details.
As an Amazon Associate I earn from qualifying purchases.
Cruise Clothing Packing List For Women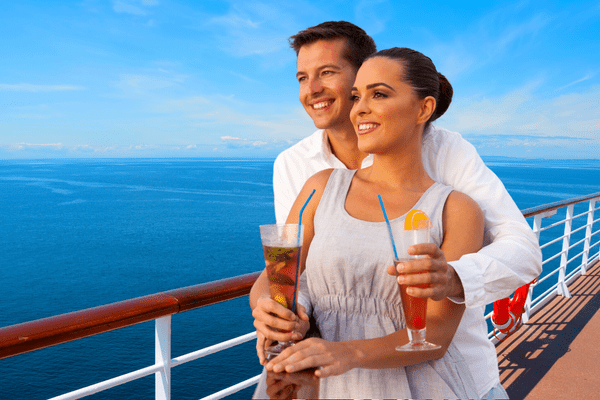 This cruise outfit packing list is a general guide for warm weather cruises (Caribbean, Bahamas, Mexico, Bermuda). It's a good idea adjust your items based on length of your cruise, as well as your personal preferences and style.
More cruise packing lists for other itineraries are listed below.
2-3 bathing suits
2 cover ups
2-3 pairs of shorts
4-6 t-shirts or tank tops
2-3 sundresses
2-3 casual evening dresses
1-2 cocktail dresses/fancy dresses (for formal night)
2-3 Light tops/blouses for evening
1-2 nice pants or jeans for evening
Gym wear (including gym shoes)
Sleepwear
undergarments & socks
Comfortable shoes for walking
Dressy shoes (evening)
Flip flops or sandals for beach or pool
Casual shoes for day
Casual shoes/wedge for evening (optional)
Shawl or cardigan (cruise ship air conditioning on the shoulders)
Light sweatshirt or hoodie
Sun hat
Evening bag or clutch
Jewelry (optional)
Cruise Clothing Packing List For Men
3-4 shorts
7 t-shirts
2-3 bathing suits
2-4 pairs jeans or khakis
3-4 polo style shirts
1-2 buttoned shirts
1 suit or dress pants (for formal night)
1-2 dress shirts
undergarments and sleepwear
work-out clothes
1 sweater or sweatshirt
sandals/flip flops
Gym shoes
1 pair dress shoes
1-2 pairs casual shoes
socks
baseball cap or hat
sunglasses
belt
Related: What to Pack for Children on a Cruise
More Cruise Packing Lists:
Cruise Essentials For First-Timers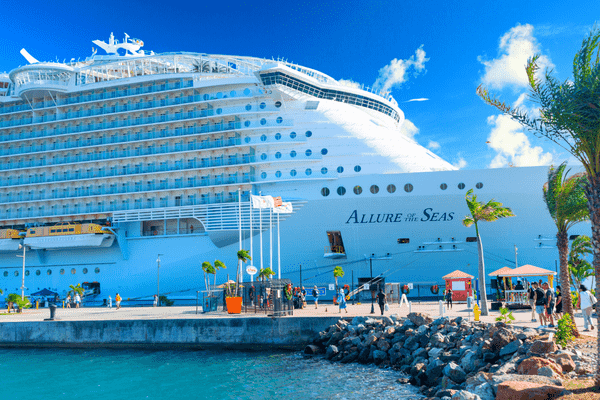 There are some essential items and travel gadgets that you'll want to pack for your cruise, that may not be obvious for first time cruisers.
1. Government ID or Passports
The most important things to pack for your cruise is a government ID and passport if applicable. Make sure to have this on you, and never pack it in your checked luggage. Unfortunately, if you don't have it with you, you'll be denied boarding.
It's a good idea to use a passport wallet holder. This one is so practical as it can be worn with a wristband or around the neck.
Recommended: Passport travel wallet (check price & reviews on Amazon)
Tip: Always make sure to keep your passport, ID and important documents in your carry-on bag as you board your cruise. Never leave important items in your checked luggage as they can get lost.
2. Cruise Documents
Save or print out your cruise documents, as well as flight and hotel reservations and other travel documents you might need. Keep those handy in a physical file or in a folder on your phone, for easy access.
3. Credit Card / Cash and Small Bills
Whether if it's for the casino or for when you're in ports of call, you're going to want to bring your credit card and some cash. When it comes to spending money in ports of call, make sure to have some cash on hand for a souvenirs, drinks, and taxi fares.
Tip: If possible, use a credit card or cash, rather than a debit card, for your onboard cruise account. Cruise lines will often place a hold on debit cards, which can be a source of frustration even after the cruise.
Related: How Do You Pay on a Cruise – Onboard Purchases Explained
4. A Bottle of Wine
Many cruise lines allow cruisers to bring one bottle of wine per passenger over 21 years of age, on embarkation day. If you don't have a drink package, check with your cruise line to see what beverages are allowed onboard.
5. Medication
Your cruise packing list should include both over the counter and prescription medication. It's also a good idea to pack few days of extra medication as a precaution when traveling.
Tip: Don't forget to keep your medication on you on your flight and as you board your cruise on embarkation day.
6. Pill Organizer for Travel
I've recently purchased this pill organizer so I can have medication and vitamins that we need for our cruise, all in one place.
Recommended: Pill travel case (check price & over 5000 Amazon reviews here)
7. Embarkation Day Bag
While you'll check your luggage at the cruise terminal, you'll want to have a cruise carry on bag with all you need for embarkation day. In here, you can keep your essentials like a change of clothes, a bathing suit and cover up, medications and any valuables.
This trendy weekender bag makes a great carry on bag. It's roomy bag has a separate shoe compartment, a small make up or toiletry bag, and comes with a USB charging port.
Recommended: Weekender bag duffel (see price & over 2000 4.5* reviews on Amazon)
8. Lanyard
A lanyard will hold your cruise card both on the ship and in port, keeping your hands free. It's one of the most useful items first timers can bring on a cruise.
Recommended: Cruise lanyards
Tip: Reuse your lanyard on future cruises!
9. Cruise Card Holder
If you aren't sure you want a lanyard, you can opt for this cruise card holder that sticks easily onto your phone case.
Recommended: Cruise card holder
10. Packing Cubes
If you haven't tried packing cubes yet, consider giving them a go. They can be a great help with packing for your cruise, as well as pre and post cruise hotel stays.
Since cruise rooms tend to be on the smaller side, packing cubes are a great way to make the most out of your small space.
Recommended: Packing cubes (verify price & read over 24,000 5* Amazon reviews)
Tip: Consider having different colored packing cubes for each member of the family in order to keep organized.
11. Luggage Tag Holders
Your cruise luggage tags will need to be printed, then folded and stapled and put on your luggage. While this is perfectly fine, the paper can be flimsy and it takes time to do this the morning of your cruise.
Luggage tag holders are reusable, and truly one of the best cruise accessories you'll ever have. They're available for every cruise line (in wide or long sizes).
Recommended: Plastic Sleeve luggage tags (check link for specific cruiseline options)
12. Sunscreen
Sunscreen is a must-pack item for a cruise. First time cruisers are often surprised at how they much stronger the sun seems to be when out at sea. While sun tan lotion is sold onboard, it will be more expensive to purchase in the cruise ship's store, than at home.
Since many Caribbean islands now require it, it's best to bring a reef friendly sunscreen.
Recommended: Reef safe sunscreen SPF 50 (see 1500+ excellent reviews on Amazon here)
13. Lip Balm with SPF
Remember to pack lip balm with SPF, as lips can burn in the sun and get swollen if this happens.
Recommended: Lip balm with SPF
14. Insect Repellent (optional)
Most of the time, you won't need insect repellant. However, if you plan any off the beaten path shore excursions, like zip-lining though the rainforest or river tubing, it's best to pack the bug spray.
Recommended: Deep Woods Insect Repellant (see reviews here)
15. Aloe Vera
If you get too much sun, you'll be happy to have packed an aloe vera gel. This is the best Aloe Vera I've ever used and I never cruise without.
Recommended: Aloe vera (organic & non-sticky see over 60,000 reviews)
16. Sunglasses
Remember to pack a pair or two of sunglasses. I like to bring a pair of sunglasses from Amazon that is less expensive, and leave my good ones on the cruise ship.
Recommended: Trendy sunglasses (check price & amazon reviews here)
17. Non-surge Protected Power Bar
Cruise cabins are well known for not having enough electric outlets. If you're bringing electronic items like cell phones, an iPad, hair straighteners or any other electronic item, you'll likely want more plugs and USB outlets.
Many cruisers pack a non-surge protected power strip, which is cruise compliant. Please note that you can't bring a regular surge protected power strip, as it's considered a safety hazard on a cruise.
Recommended: Cruise Power Strip with USB Outlets – Non Surge Protection & Ship Approved (verify price here)
18. Hanging Over the Door Organizer
Cruisers swear by the over the door hanging organizer to keep your cruise cabin organized.
Recommended: Hanging cabin organizer (see Amazon link for price & details)
19. Toiletries & Hanging Toiletry Bag
In addition to your cruise outfits, pack travel sized toiletries. This includes basic items such toothbrushes, toothpaste, shaving cream etc. You may also want to pack perfume, moisturizers and other personal items.
This hanging toiletry bag is a great way to keep small cruise cabin bathrooms organized!
Recommended: Hanging toiletry bag (over 40,000 5* ratings on Amazon)
Related: What Toiletries to Pack for a Cruise (packing list)
20. First-Aid Kit
You can make your own travel first aid kit, or purchase a cruise first aid kit that's ready made and pre-filled with bandages and other items you may need for your cruise.
Recommended: Cruise first aid kit (check price & see over 60,000 5* Amazon reviews)
Related: Cruise First Aid Kit Essentials You Need to Have
21. Magnetic Hooks
Magnet hooks are a cruiser's "secret" organization hack! Since most cruise ship cabins are metal, you can use magnet hooks to add storage space to the walls in your stateroom.
Hang bathing suits to dry, baseball caps, and even backpacks for excursions. Be sure they are heavy-duty and strong.
Recommended: Magnetic hooks (50 lb+ is best to hold items)
22. Magnetic Clips
Magnet clips are great to keep shore excursion tickets and other paperwork from cluttering your desk or vanity.
Recommended: Magnet clips (set of 6 on Amazon)
23. Poo-Pourri Bathroom Spray
If this is your first cruise, something you should know is that cruise cabin bathrooms are generally small and not usually well ventilated. The bathroom spray pro cruisers rely on is Poo-Pourri.
Recommended: Poo-Pourri Before-You-Go Toilet Spray Bottle (verify Amazon price here)
Get The Ultimate Cruise Planner
Regular price: $27 Now just $17!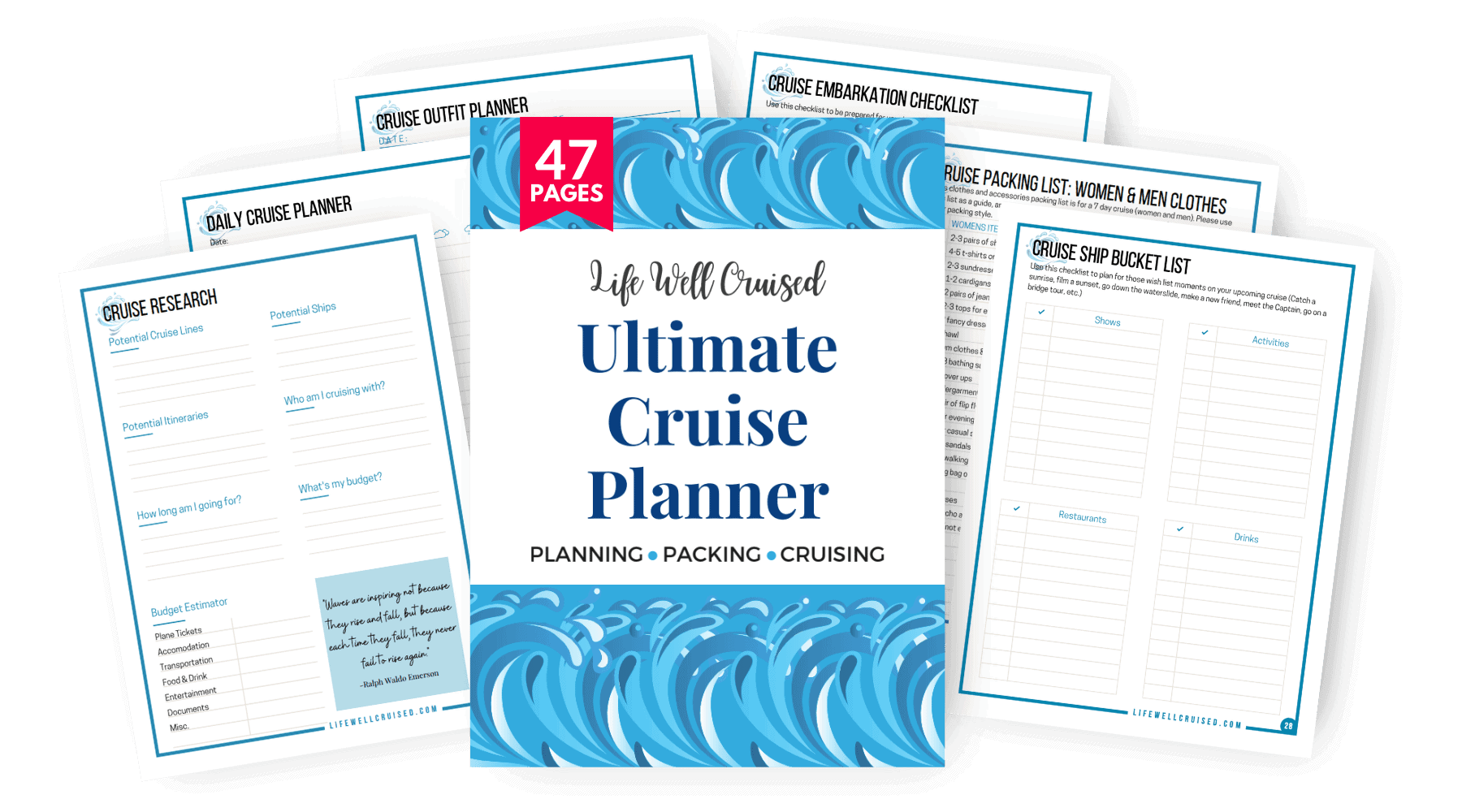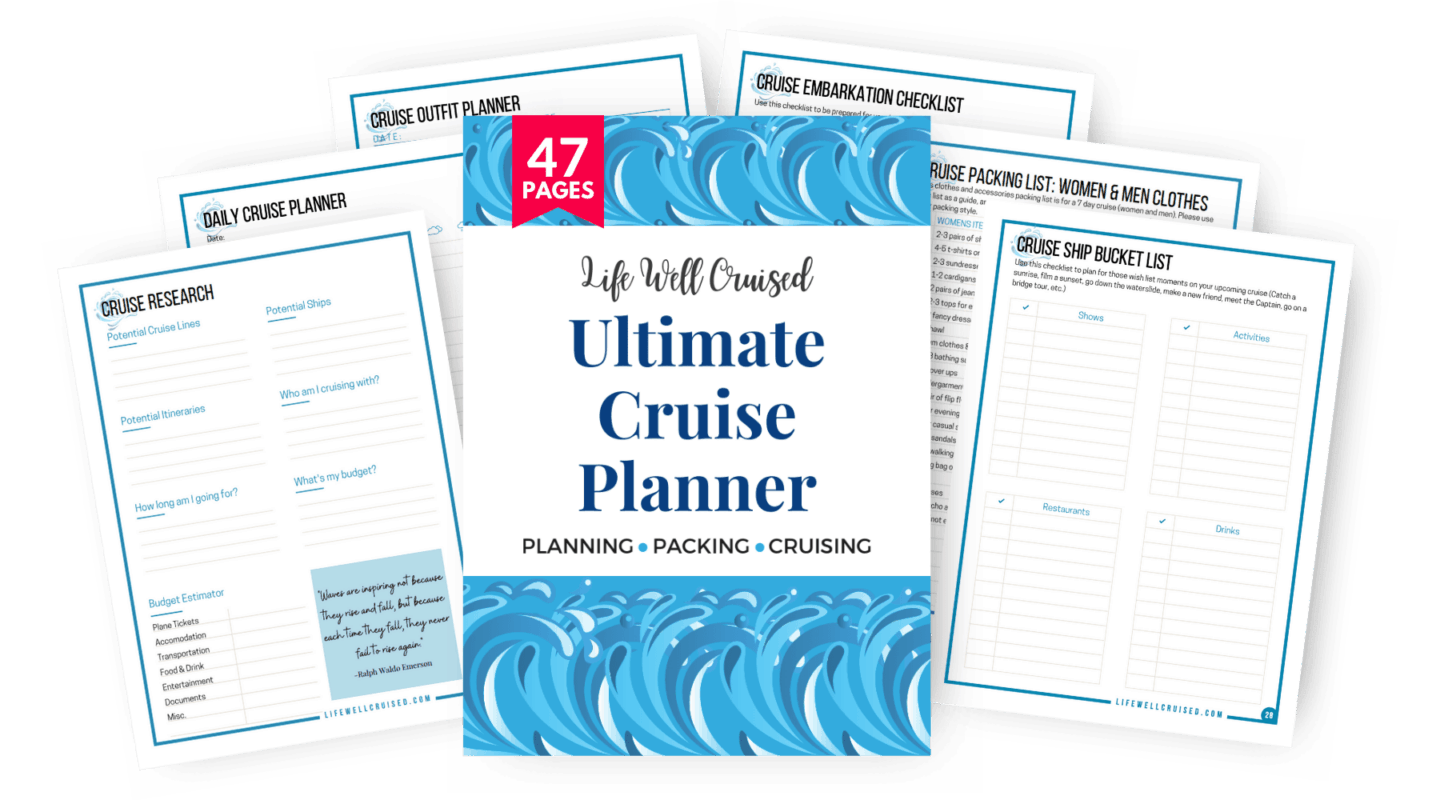 24. Reusable Plastic Bags
On a cruise, packing a few reusable plastic bags will come in handy. Small plastic baggies are great to keep cookies or snacks you may have brought back to your cabin from the buffet. If you have wet items, larger ziploc baggies will save the day.
Recommended: Plastic Bags (variety pack)
25. Towel Clips
First time cruisers are often surprised at how windy it can get on the lido deck. Towel clips are perfect to use on cruise ship deck chairs, to keep your towel in place when there's an ocean breeze.
Recommended: Cute towel clips (set of 2 pairs)
26. Towel Bands
If you're trying to pack light or even carry-on only, towel bands are a great alternative to towel clips.
Recommended: Towel bands (check price & over 2500 4.5* amazon reviews)
27. AirTags
Nowadays, it is very common for peoples luggage to get lost at the airport or even at the cruise port. AirTags are a great way to track your luggage so you will know where your luggage is at all times.
If you don't have an iPhone, there are alternatives available as well.
Recommended: Apple AirTags (see price & over 50,000 amazon reviews)
Tip: Put an AirTag in each piece of luggage so you can ensure that your luggage has been boarded onto the cruise ship.
28. Motion Sensor Nightlight
This portable motion sensor nightlight is so practical and makes a great gift for cruisers. This is especially handy for inside cabins, which will be pitch black when the lights are off.
Recommended: Battery operated nighlight
29. Portable Fan
Cruise cabins are pretty compact and can get stuffy, especially at night. This small fan is battery operated, but rechargeable, and gets great reviews on Amazon.
Recommended: Portable Travel Mini Fan
30. Wrinkle Release Spray
Cruise cabins will not have irons, as they're a fire hazard. Clothes steamers are prohibited on most cruise ships as well. So Downy Wrinkle Release spray is a good way to get wrinkles out of your cruise outfits.
Recommended: Downy Wrinkle Release (travel size)
24. Beach Bag
It's a good idea to bring a large beach bag that can be used for to pack for a beach day on a Bahamas or Caribbean cruise, or to use on the ship as well (for sunscreen, towels, books, water bottles and more).
Recommended: Large beach bag (zippered & waterproof)
25. Tote Bag
Bring a tote bag for shopping and cruise excursions on your first cruise. This cute mesh tote bag is perfect for beach days too!
Recommended: Mesh tote bag (available in different colors)
26. Motion Sickness Medication
Being affected by motion sickness is a worry for many people who are going on their first cruise. You'll likely be just fine. However having an over the counter seasickness medication like dramamine or bonine is always a good idea, just in case.
Recommended: Bonine
27. Seabands
Make sure to have some motion sickness remedies, as it's always possible to be affected by some seasickness during your cruise.
Seabands are a practical, natural remedy for many experienced cruisers.
Recommended: Seabands (see both adult and children's sizes on Amazon)
28. Ginger Candies
Ginger candies are a natural way to ease an upset stomach or mild motion sickness on a cruise. They're great on small boat excursions and tenders as well.
Recommended: Tummydrops ginger candies
30. Portable Charger
All first cruisers should pack a portable charger or power bank. On your cruise, the days spent in port can be long and it's easy for your phone's battery to run low. This portable charger will charge your cell phone very fast!
Recommended: Portable cell phone charger (see price & details on Amazon here)
An alternative that is small, and really good for traveling is this compact phone charger.
Recommended: Compact phone charger (see price & 18,000+ Amazon reviews)
31. Reusable Water Bottle
An essential item to pack for a cruise these days are refillable water bottles that are insulated to stay cool. You can fill our water bottles at the drink stations on most cruise ships.
Recommended: Refillable & collapsible water bottles (check price & 7000+ Amazon reviews)
32. Foldable Lightweight Backpack
Bringing a lightweight backpack for your cruise is a great idea. Whether you take an excursion or if you are simply walking over to the beach from your cruise ship, having a water resistant foldable backpack will be so useful!
Recommended: Foldable backpack (water resistant)
33. Electronics Travel Organizer Case
If you're bringing electronic items, a travel organizer case help you to stay organized.
Recommended: Electronics organizer case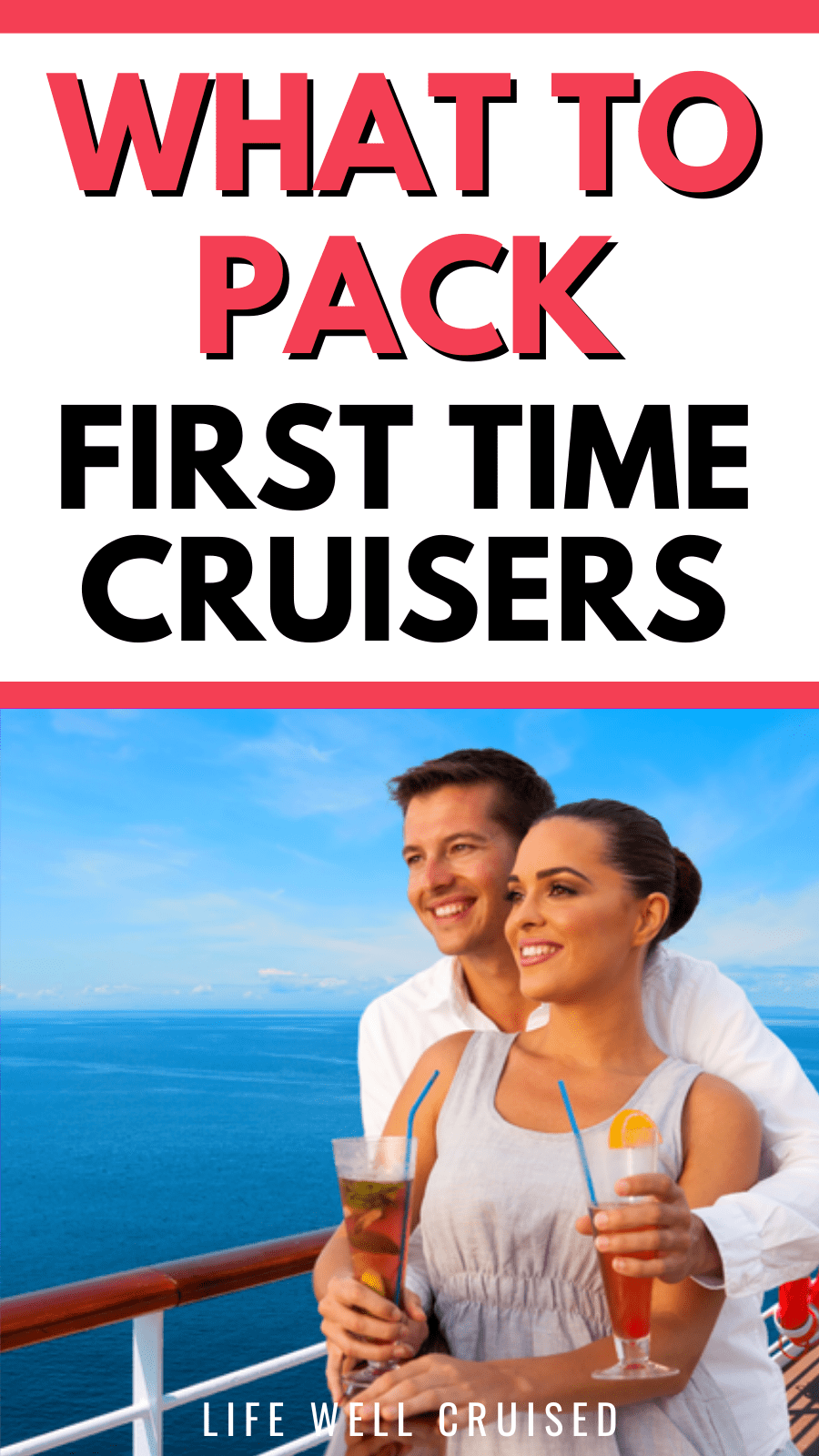 Bonus Items For First Time Cruisers:
Here are some bonus items to pack for first time cruisers. These aren't items that every cruiser needs, however they are items that many cruisers enjoy bringing on their cruises.
33. Goggles
If you're cruising with your kids, make sure you bring goggles for pool days.
Recommended: Goggles
34. Snorkel Gear
If you love the beach, ocean and sea life, it's a good idea to pack your own snorkel gear. You won't regret it packing snorkeling gear for your cruise vacation.
Recommended: Snorkel set with panoramic & anti-fog view (check price & reviews on Amazon)
35. Microfibre Beach Towels
While you can take the cruise ship's towels to the beaches and off the ship, many cruisers say they prefer to use lightweight micro-fibre sand-free towels. These towels are quick dry, larger than a normal tower and absorbent.
Recommended: Microfibre Sand-free beach towels
36. Bluetooth Headphones
One of the best parts about cruising, is sitting by the pool and relaxing in the sun. On most cruises, there will be either a live band or music playing throughout the day.
If you like listening to your own music, then you'll likely want to bring a pair of good earphones.
Recommended: Bluetooth headphones (great quality for the price)
37. Kindle
When avid cruisers are asked for their favorite things to bring on a cruise, the Kindle is highly recommended. Rather than bringing heavy books, download as many as you like on your Kindle.
Recommended: Kindle Paperwhite
38. Cruise Themed T-Shirts
If you're going on a family cruise, a group cruise or if you want to have a little bit of extra fun, consider getting some cruise themed t-shirts. This fun cruise shirt is a great example!
Recommended: Cruise graphic t-shirt
39. Water Shoes
These lightweight water shoes are very comfortable and easy to pack for your cruise. Generally, the sand is soft in Bermuda and the Caribbean, however there are large rocks on certain beaches. The rocks can be rough and water shoes will come in handy.
Recommended: Water shoes/Water socks (see different color choices on Amazon)
40. Mesh Foldable Hamper
Like it or not, you'll have some dirty clothes on your cruise, and you don't want it getting in the way. A pop-up mesh hamper is a great space saving cruise cabin hack.
Recommended: Pop-up Foldable Mesh Hamper
41. Lock Box Safe Box
Wondering how to keep your belongings safe on a cruise and on excursions? This lock box portable safe is a popular cruise and beach essential.
Recommended: Portable safe (see price & reviews on Amazon here)
42. Waterproof Phone Case
A must for water sports and shore excursions, these waterproof phone cases are great to store cash and credit cards, cruise cards, identification and more.
Recommended: Waterproof phone case (see over 2000 4.5* reviews)
43. Travel Luggage Scale
If you're flying to and from your cruise, it's important to bring a travel luggage scale so you know you're luggage isn't over the weight limit.
Recommended: Travel luggage scale
44. Money Belt
A money belt is very useful if you're going on a cruise and want to keep your passports and money safe, especially if you're in cruise ports where pickpocketing might be a concern.
A money belt or neck wallet is a good addition to a Mediterranean cruise packing list.
Recommended: Money belt (available in several colors)
45. Travel Binoculars
You may see marine and other wildlife during your cruise. Travel binoculars are especially good to pack for Alaska cruises as well as cruises that go to Canada and New England.
Recommended: Lightweight travel binoculars
Get The Ultimate Cruise Planner
Regular price: $27 Now just $17!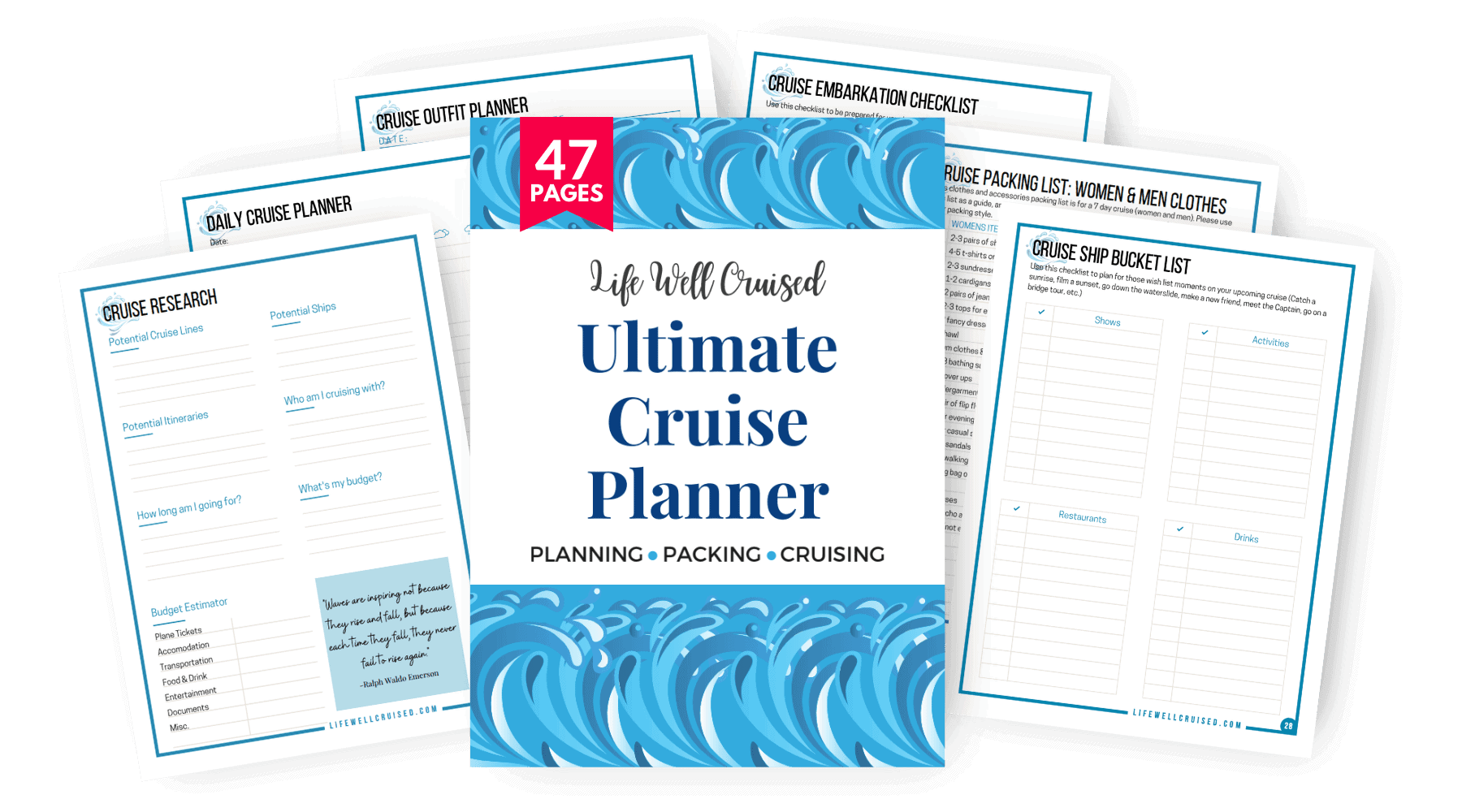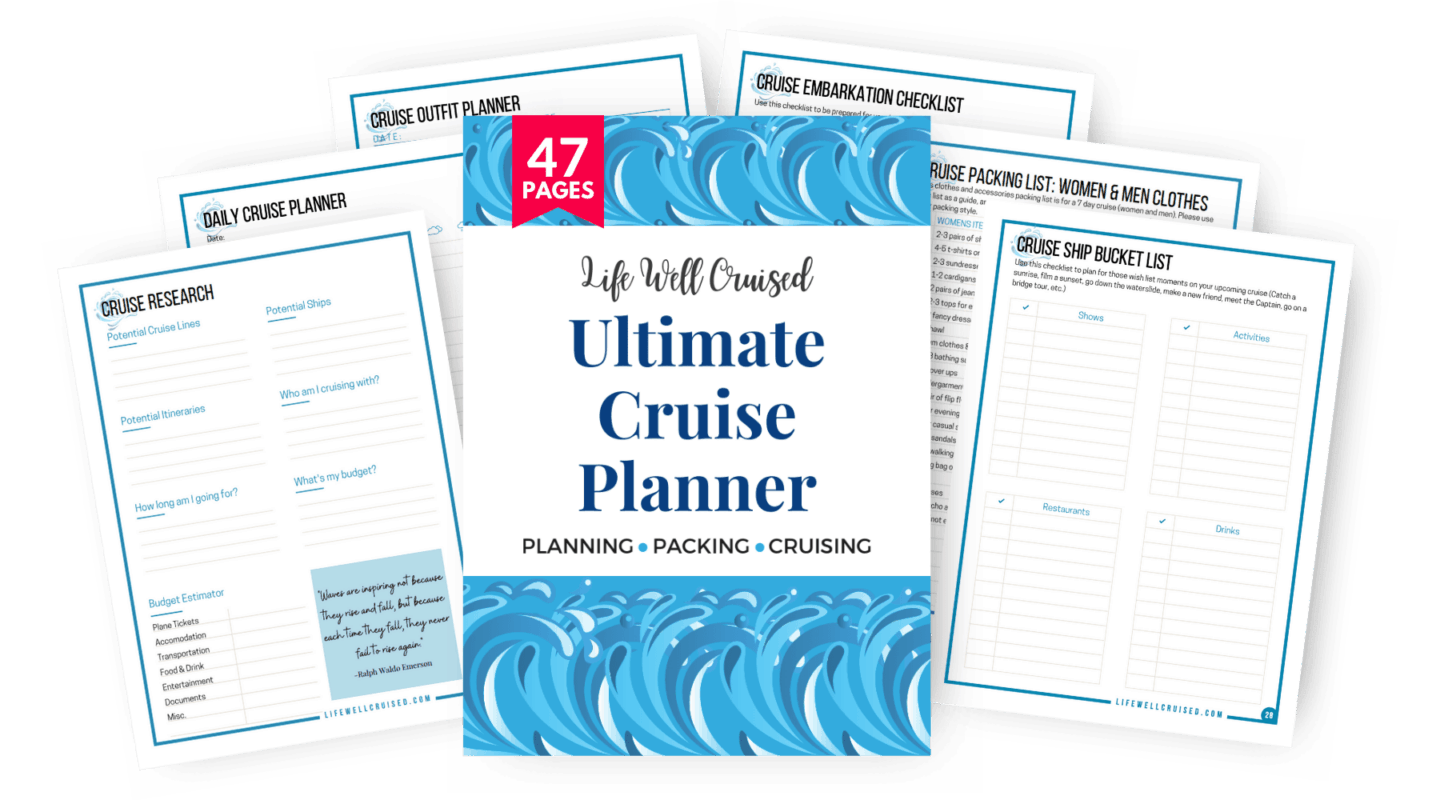 Related & Popular Posts:
Final Thoughts on What to Pack for Your First Cruise
Well there it is, everything you need to pack for your first cruise!
If you're a first time cruiser, it can be hard to know what clothing and items to bring on your cruise. If you're feeling a bit overwhelmed before your cruise, don't worry!
This cruise packing list includes the essentials and cruise accessories you might need.
If you're planning your first cruise, please let me know any questions or comments you might have in the comments below.
Happy Cruising!
Ethan
If you enjoy this post please don't keep it to yourself ;-). Please feel free to share on Facebook or Pinterest (share buttons at the top). Thanks so much!
Author Bio: Ethan Schattauer writes about fashion, travel and college advice on the website WhatToWearMen.com. As a frequent cruiser, Ethan shares his unique perspective on what cruising is like for teens and young adults.