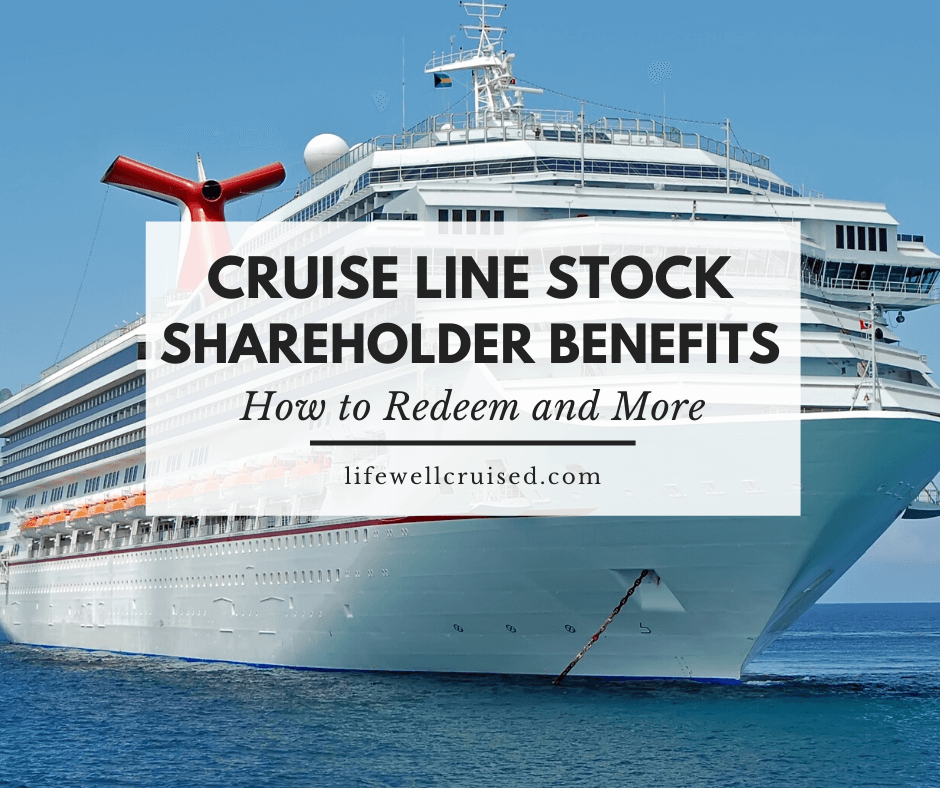 Should You Buy Cruise Line Stocks? Shareholder Benefits and Perks for Cruise Travelers
If you've considered buying cruise line stocks, you're not alone. Cruise stocks have some awesome benefits and perks for those who love to cruise.
In the last few months, we've seen a massive drop in the price of cruise line stocks. Carnival Corp, Royal Caribbean Cruises Ltd. and Norwegian Cruise Line Holdings are significantly down over their average price this year, and much longer.
This is leading many to ask, is this a good opportunity to buy cruise line stocks?
Now I should mention that isn't meant to be financial investment advice. You'll want to do your own due diligence which may include talking with a financial advisor.
However, I will go over some important information that you'll want to know, including the advantages of cruise line shareholder benefits and how this works.
Why Buy Cruise Line Stocks?
There are a few good reasons to invest in cruise stocks.
Firstly, consider if this is a good investment for you. Shares in cruise line stocks are low right now, and there's potential for increases in the future. However, there is risk and you could gain or lose money. As mentioned, it's important to do your own research before investing.
Once you've considered this, there are other reasons that you may want to buy shares in your favorite cruise line.
Cruise lines actually reward their shareholders with a perk that's advantageous to anyone who cruises often (or even less often).
Each and every time you go on a cruise, you'll receive an onboard credit – the cruise line stock shareholder's benefit. If you take a couple of cruises a year, or longer cruises, this is a nice advantage!
When buying shares, you're supporting your favorite cruise lines. If you like to invest your money in things you love, this might be a good reason as well.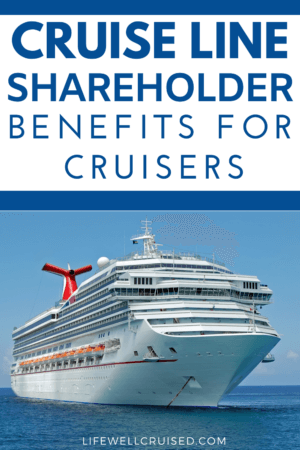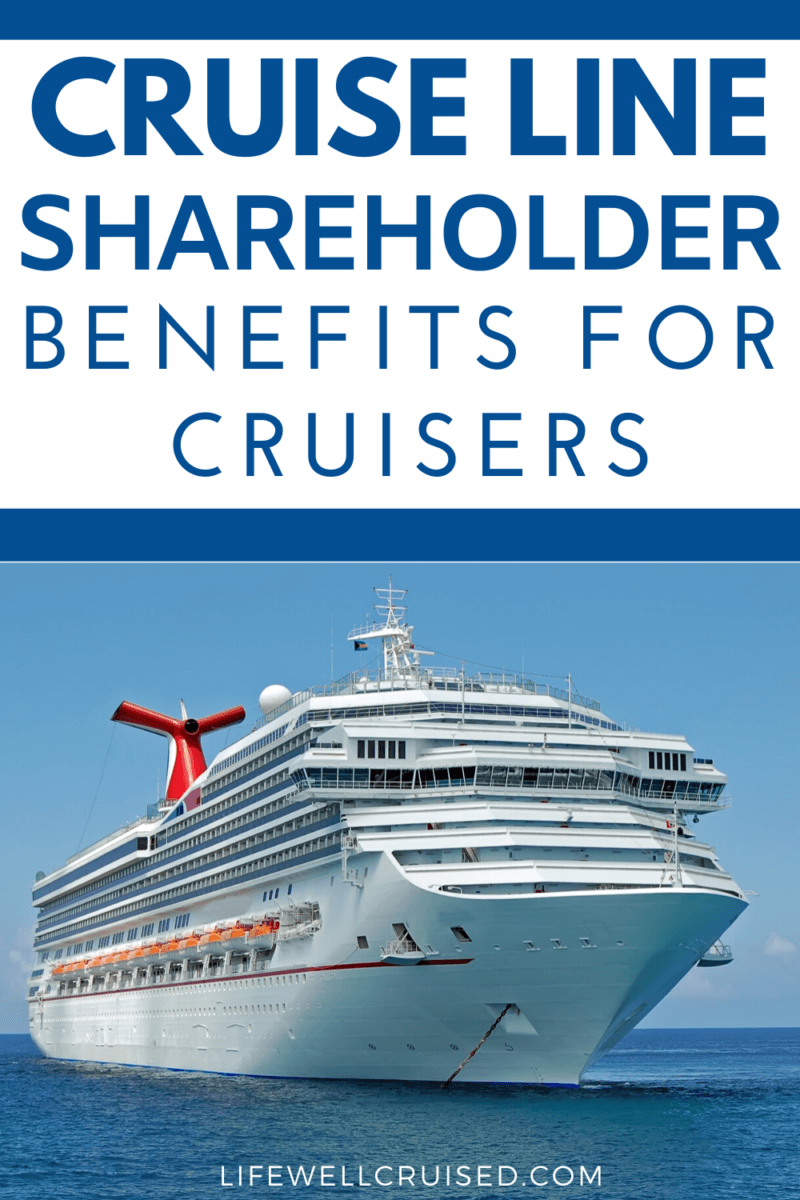 Cruise Line Stocks to Buy
3 publicly traded Cruise Line Stocks that have shareholder benefits are Carnival Corp (CCL), Royal Caribbean Cruises Limited (RCCL) and Norwegian Cruise Line Holdings (NCLH).
Since each cruise company owns several brands, you'll be able to benefit with a shareholder on-board credit (OBC) if you sail with any cruise line within in the larger company.
Carnival Corp includes these brands:
Carnival
Princess Cruises
Holland America
Seaborne
Costa
Cunard
Aida
P & O
Royal Caribbean Cruises Ltd includes:
Royal Caribbean
Celebrity Cruises (excludes Celebrity Expedition – Galapagos sailings)
Azamara
Norwegian Cruise Line Holdings includes:
Norwegian Cruise Line
Regent Seven Seas
Oceania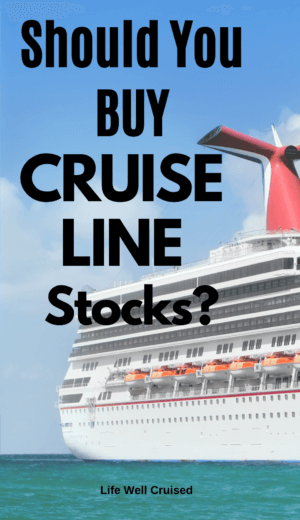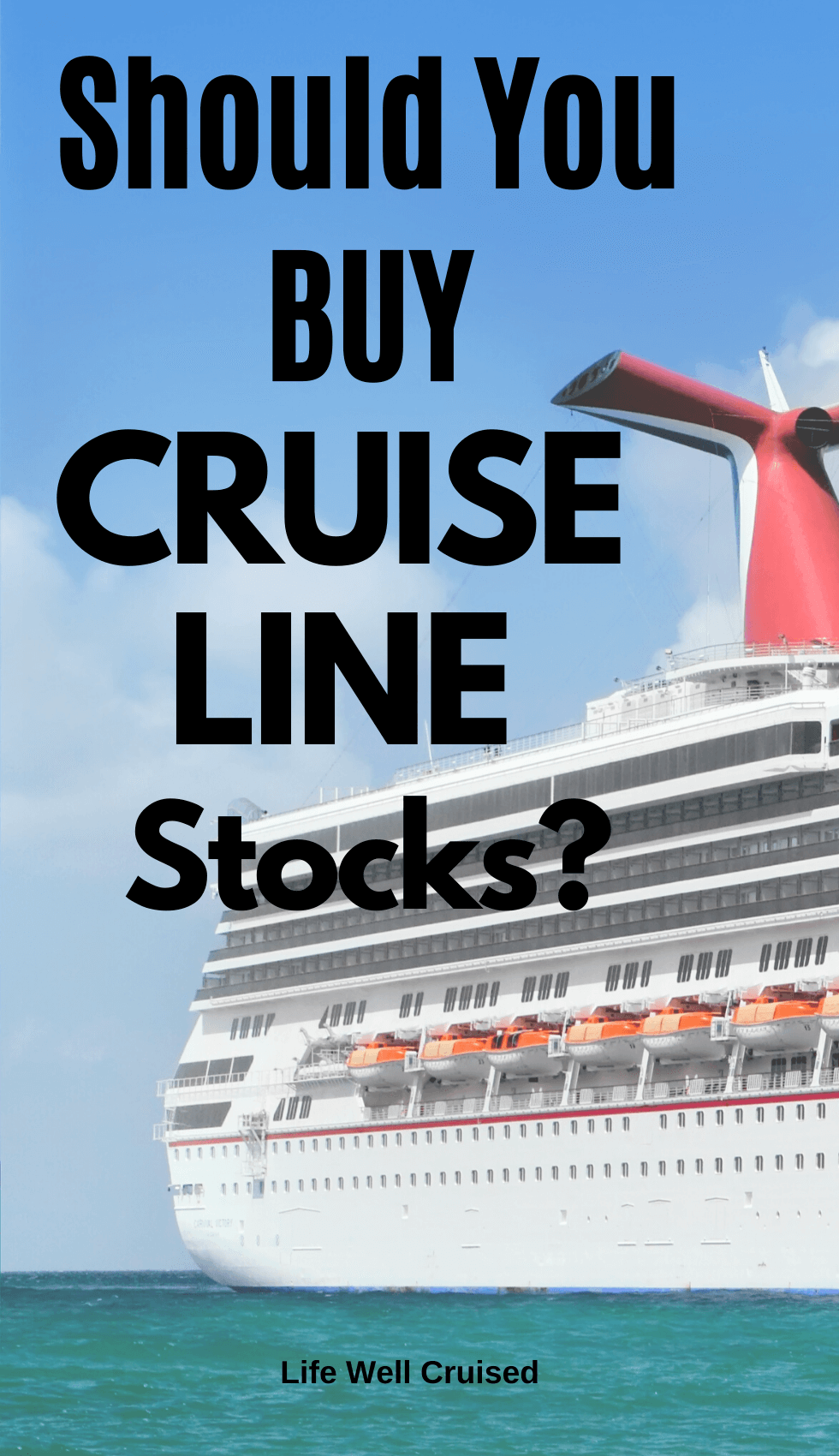 Cruise Line Shareholder Benefits
Firstly, to receive shareholder benefits, you'll need to own at least 100 shares of your favorite cruise line stock. Each cruise company works a little differently, but does offer an onboard credit each time you cruise.
Carnival (CCL)
$50 – 6 days and less
$100 – 7 to 13 days
$250 – 14 days and more
If you sail with the North American brands, you'll receive an on board credit in USD. However, if you sail with one of the Europe, or Australia brands, the OBC will be in the currency that is used on board.
Royal Caribbean (RCCL)
$50 – 5 nights and less
$100 – 6 to 9 nights
$200 – 10-13 nights
$250 – 14 nights and more
Norwegian (NCLH)
$50 – 6 days and less
$100 – 7 to 14 days
$250 – 15 days and more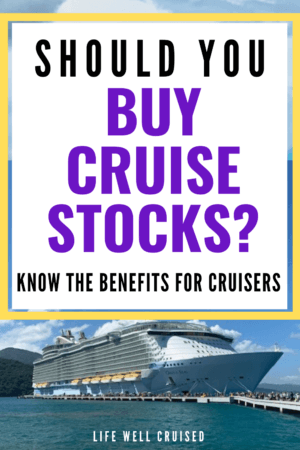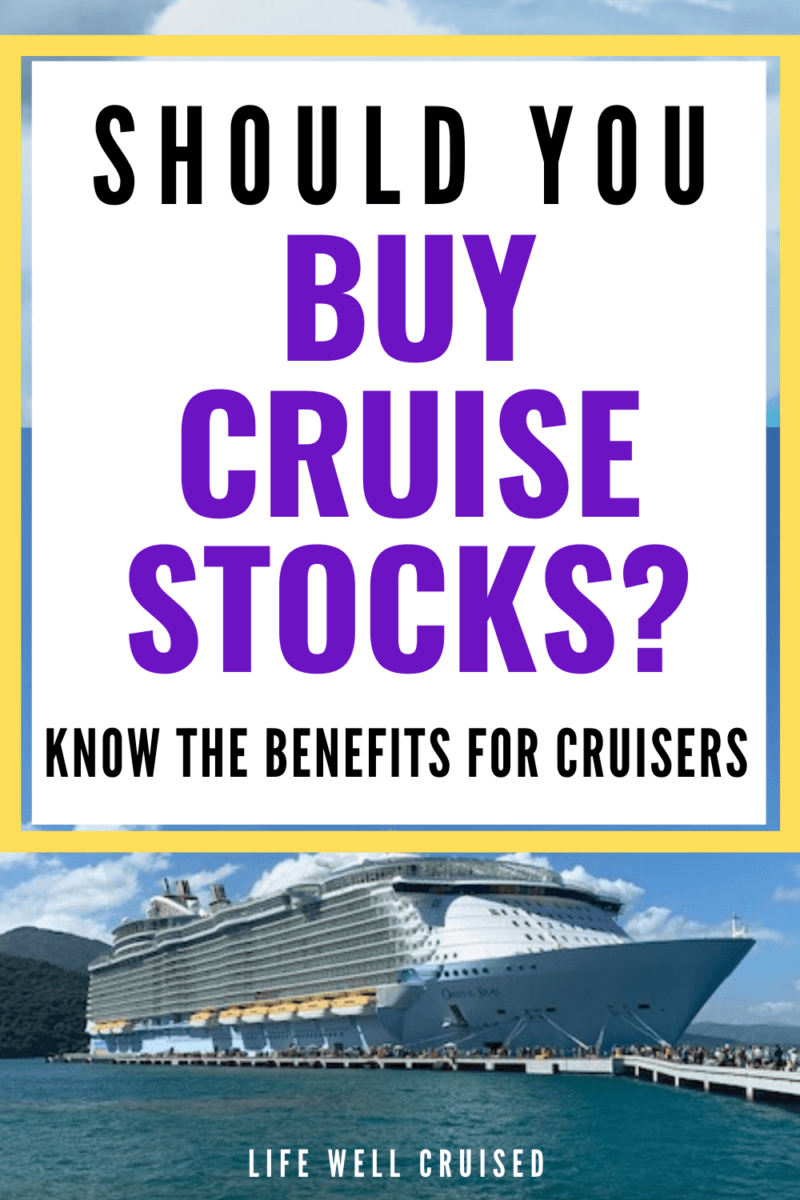 How to Redeem Shareholder Benefits
It's quite easy to redeem your cruise stock shareholder benefits. Simply go to the cruise line website and print out the form and complete it with the information required – your name, booking number, ship and sail date. You'll also be asked to send in a prof of stock ownership, such as a brokerage statement.
If you've used a travel agent to book your cruise, you can ask her to send in the forms for you (and you can black out the specific investment information) and follow up.
Otherwise you can send this in directly to the cruise line.
You can here more about this on our YouTube channel at Life Well Cruised
Things to know – When You Won't Get Shareholder Benefits/On Board Credits
There are some restrictions about when you can redeem and receive your on board credits/shareholder benefits.
Do make sure to read the fine print, as some cruise line offers are not combinable with this benefit. This applies to travel agent rates, free cruises, and chartered sailings, as well as some other circumstances.
Cruise Tip – Only one person in the cabin will receive an on board credit, even if two people own shares in the cruise line. If you're cruising with family and booking more than one cabin, consider the options for how the passengers are placed in each cabin.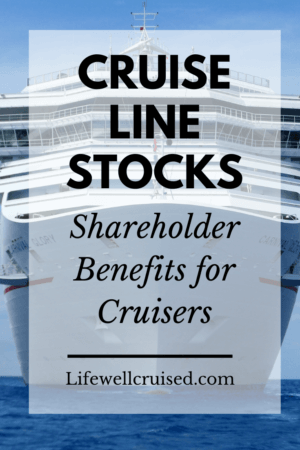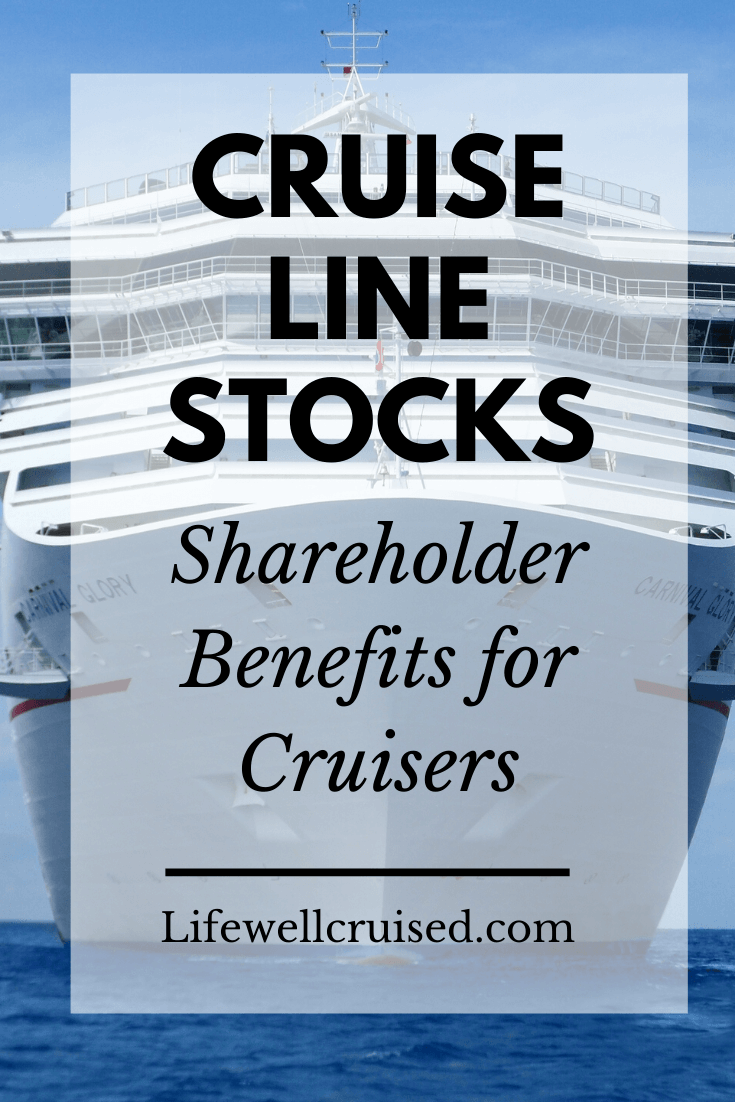 Final Thoughts: Cruise Line Stocks – Shareholder Benefits for Cruisers
There's a lot to think about of you're considering buying cruise line stocks. As any investment, there's some risk involved.
Cruise line's are on a pause at this time and things may look bleak, however they've also secured funds to help make it through until they can sail again. Personally, I believe that cruising continues to have a strong future and the will adapt and make changes as needed as they recover.
If you enjoy cruising and plan to continue to cruise in the future, the shareholder benefits are a nice perk of stock ownership.
Do you own cruise line stocks or are you considering it? Please let me know your thoughts and tips in the comments below.
Happy cruising!
Ilana xoxo
P.S. If you enjoyed this post and found it helpful, please don't keep it to yourself ;-). Feel free to share on Pinterest, Facebook or Twitter (share buttons at the top). Thanks so much!
Related posts:
How Will Cruising Change, Recover and Restore Cruiser's Confidence Once Again
9 New Cruise Health Guidelines – What Does this Mean for Cruisers?
4 New Cruise Passenger Travel Guidelines, Best Practices and Recommendations
Should You Take a Refund or Future Cruise Credit on a Canceled Cruise?
Let's connect:
Follow me on Facebook at Life Well Cruised
Follow me onYouTube at Life Well Cruised (Vlogs and cruise tips)
Follow me on Pinterest at Life Well Cruised
Follow me on Instagram at Life Well Cruised