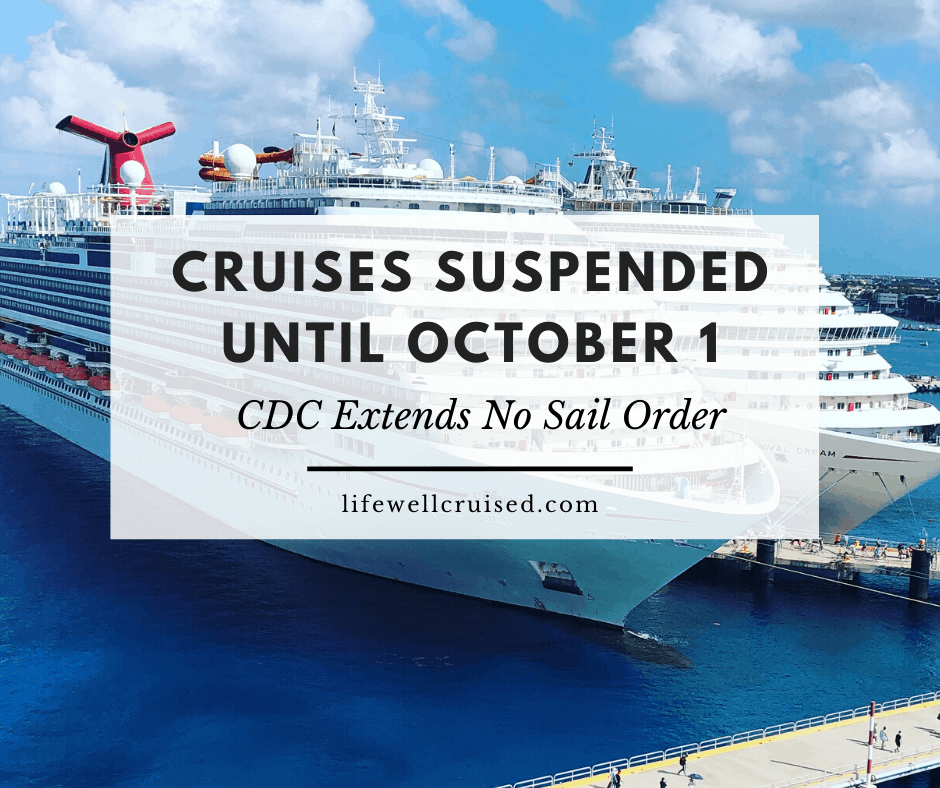 CDC Extends No Sail Order Until September 30
The fact that cruises will be suspended until at least October 1, isn't really a surprise. After all, CLIA, the trade association representing most major cruise lines, extended a voluntary pause of cruising from North America until September 15.
In addition, Carnival cruises went a step further and cancelled their cruises until the end of September, effectively matching the CDC order.
However, the CDC did offer some details to the public that weren't available before. In a 20 page PDF document, the CDC outlines their position and also gives some details of some of what has been happening during this time of pause.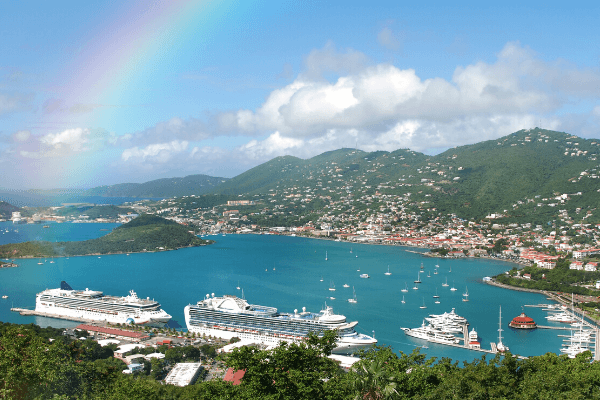 What does the CDC No Sail Order mean?
This order applies to all cruise ships which carry more than 250 passengers and crew, which are sailing in waters subject to U.S. jurisdiction.
The CDC announcement pointed out that they support the voluntary extension of the suspension of cruise operations, however they point out that the extension was made to ensure all ships comply and do not resume operations prematurely.
This Order will remain in effect until the earliest of:
The expiration of the Secretary of Health and Human Services' declaration that COVID-19 constitutes a public health emergency,
The CDC Director rescinds or modifies the order based on specific public health or other considerations, or
September 30, 2020.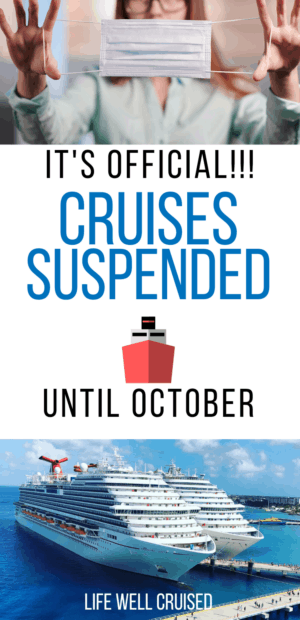 According to data shared by the CDC, they have remarked, "Cumulative CDC data from March 1 through July 10, 2020, shows 2,973 COVID-19 or COVID-like illness cases on cruise ships, in addition to 34 deaths. These cases were part of 99 outbreaks on 123 different cruise ships. During this time frame, 80 percent of ships were affected by COVID-19. As of July 3, nine of the 49 ships under the No Sail Order have ongoing or resolving outbreaks. According to U.S. Coast Guard data, as of July 10, 2020, there are 67 ships with 14,702 crew onboard."
The CDC goes on to explain their concerns for the cruise ship environment and the health of both passengers and crew, in that cruise ships have generally a more densely populated environment than most urban settings. They fear that if cruise ships would resume "unrestricted", those onboard and the communities in which they return to would be at an unnecessary risk.
The full document and the statement from the CDC is available here.
The 20 page PDF on CDC site: CDC document details
I've already read some of the larger document, however since it's 20 pages, I do want to make sure I highlight and share the important details with you.
*Update*
I've gone through the CDC report and have highlighted 6 main points. We discuss this report in the video below.
Please subscribe to my YouTube channel, Life Well Cruised, where we go through the details of this report, as well as what it will take for cruises to start again in 2020.
Here's a recent related video, where we discuss cruise ship safety and health, and what we can expect.
Final thoughts: Cruises Suspended Until October 1 as CDC Extend a No Sail Order
As the original deadline for the CDC no sail order was due to expire on July 24, the CDC has now extended the no sail order until September 30. In essence, if things improve and cruise lines have plans approved to sail, cruises can in theory resume on October 1.
Of course, much of this will also be dependent on the health situation of the communities from which people live, as well as embarkation ports and ports of call.
What do you think of the CDC no sail order and are you surprised in any way? Please let me know in the comments below.
Happy future cruising!
Ilana xoxo
P.S. If you found this helpful, please share on Facebook, Twitter or PIN to your favorite Pinterest board. Thanks so much!
Suggested posts:
What You Need to Know About the Cruise Shutdown
How Will Cruising Change, Recover and Restore Cruiser's Confidence Once Again
9 New Cruise Health Guidelines; What Does this Mean for Cruisers?
25 Cruise Essentials Most Popular on Amazon
Let's connect:
Follow me on Facebook at Life Well Cruised
Follow me onYouTube at Life Well Cruised (Vlogs and cruise tips)
Follow me on Pinterest at Life Well Cruised
Follow me on Instagram at Life Well Cruised