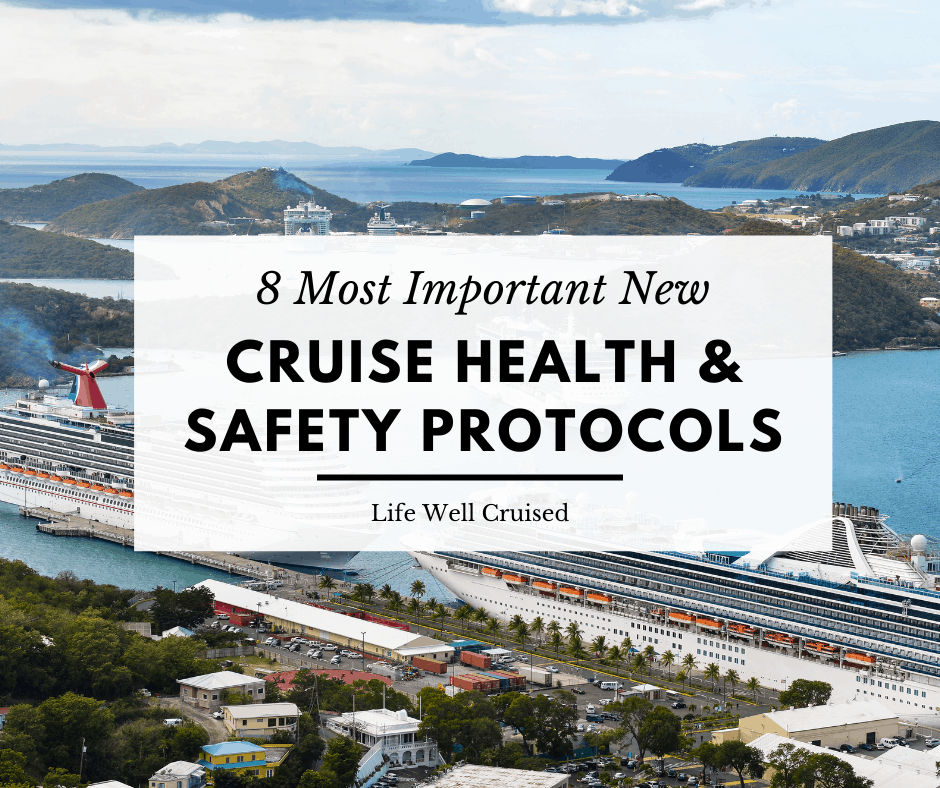 New Protocols for Cruising Safely as Cruises Resume
For several months as cruises have been paused and our own cruises cancelled, we've all wondered what cruising will be like when it returns. We've speculated on changes and new protocols, and observed as cruising has restarted in Europe.
We've each had questions, and opinions, on potential changes and how they would impact our future cruises.
Will masks be required on cruise ships?
Will there still be a buffet?
Will testing be mandatory?
What happens if someone on the ship tests positive? Will we be quarantined?
*Will the CDC lift the no sail order?
We finally have answers to most of our questions, as major cruise lines including Carnival, Princess, Royal Caribbean, Celebrity, Norwegian Cruise Line and others have announced their health and safety protocols as cruising gets ready to restart in the Americas.
Through CLIA, the Cruise Line International Association, the major cruise lines have agreed to mandatory core elements of health protocols.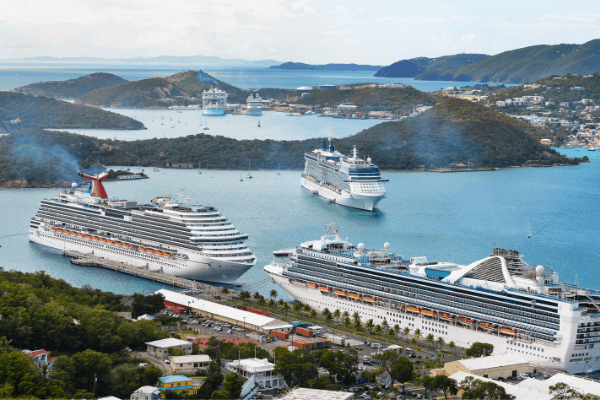 The Cruise Industry is Ready to Return with Strict Safety Procedures
It's been over 6 months since cruises have sailed out of America, and the cruise industry is ready to return. This week, a turning point was reached as all major cruise lines agreed to strict guidelines aimed at getting cruising restarted safely.
In major news, the Healthy Sail Panel submitted 74 recommendations to the CDC, for how cruising can safely resume in the current environment and into the future. In addition, CLIA, an association which includes all major cruise lines, came out with protocols that every cruise line has agreed to follow.
They are waiting for final steps, including the lifting of the No Sail Order by the CDC. However, there is no doubt that this news paves the way for the return of cruising, sooner rather than later.
How Will Cruises be Different when They Resume?
When cruises do return some aspects of cruising will look and feel quite different than before. Yet, judging from what we've seen from cruises that have sailed in Europe, such as MSC and Costa Cruises, guests are enjoying the cruise and travel experience.
In this post I'll share the most important new protocols and changes we'll see as cruises restart. You'll notice that some of this is information that you may have heard before. Other guidelines are very new and may even appear more restrictive than what we've heard up until now.
Cruise lines have worked hard to strike a balance between health and safety, while still maintaining many of the great things that people love about cruise vacations. Their priority is doing everything possible so that this virus does not enter the ship, and if it does, that the impact is a low as possible.
New Safety and Health Protocols as Cruises Resume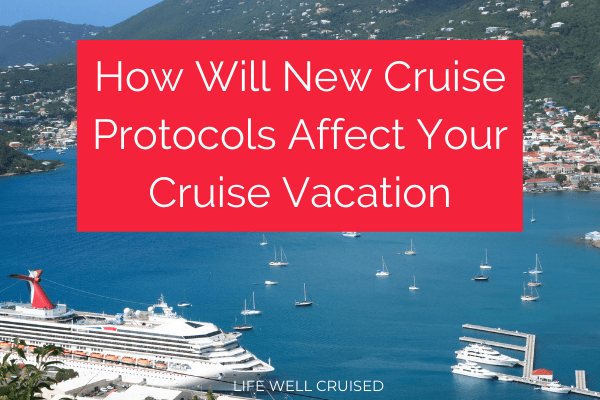 Please keep in mind that while some of these measures might seem strict, many are intended to be modified over time as the situation evolves. Things change continuously, and treatments and even vaccines will surely help as time passes.
These 8 health and safety protocols are the major changes that we'll see as cruises start sailing again (from the USA)
1. Testing and Health Screening
All guests and crew are required to have a Covid 19 test before their cruise. Passengers must take the test 24 hours to 5 days before the cruise. When possible, a second test may be administered at the cruise port terminal.
What happens if someone tests positive for the virus?
If any person tests positive for the virus, they and their party will be denied boarding. As well, people who have had contact with anyone who has tested positive for the virus within 14 days prior to the cruise will also not be allowed to sail.
Health Screening
At embarkation there will be a health screening and questionnaire, as well as a touchless temperature check. During the cruise, there will also be daily temperature checks.
Will a medical note be required?
For those wondering if there are restrictions for individuals with health conditions or age, there aren't. However it's recommended to consult a doctor to assess your own level or risk. No medical note is required.
2. Face Masks
Face masks will be mandatory on cruises, from embarkation at the cruise terminal and during your cruise in most indoor areas. Some exceptions include when you're in your own cabin as well as when eating or drinking at a restaurant or lounge.
When outdoors, as long as physical distancing can be maintained, masks won't need to be worn. For instance, the open deck and pool area would likely be fine as there will be space between loungers.
In outdoor areas where distance may not be able to be maintained, masks will be needed. This could include outdoor shows and other times when the space may become more crowded.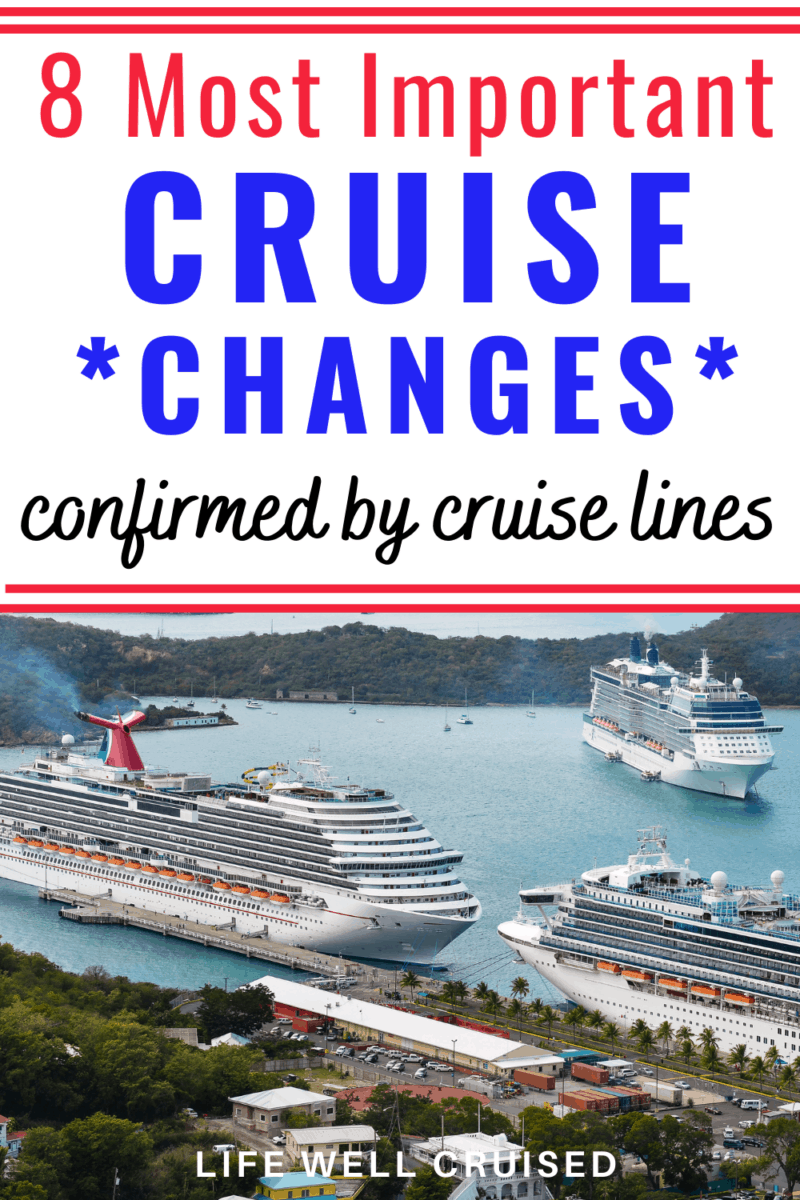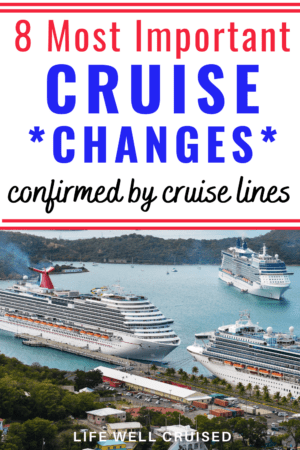 3. Physical Distancing
Cruise ships will sail with a reduced capacity as they restart, making social or physical distancing possible on cruise ships.
On the cruise ship, dining rooms and lounges will have more space between tables and chairs. In theaters there will be space between passengers, and on pool decks lounge chairs will be spaced out as well.
In some cases, there may be changes or adaptations to activities on the ship, to make sure that the guidelines are followed.
4. Ventilation and sanitation
While some new protocols are meant to be modified over time, other changes will remain. This includes many positive changes that impact safety and health behind the scenes.
Ventilation systems
Improvements are being made to the cruise ship's ventilation systems. While this won't impact the guest experience directly, this is really a positive change.
New technologies and filters will be put into place. As well, outside fresh air will be brought in to the ship as much as possible.
Cruise ship sanitation
As we would expect, sanitation and disinfection are very important as cruising resumes. While cruise ships have always been very clean environments, this will improve in many ways.
There will be more hand-washing stations and hand sanitizers placed around the cruise ship. As well, cruise ships will be using new methods and technologies for sanitizing and disinfecting.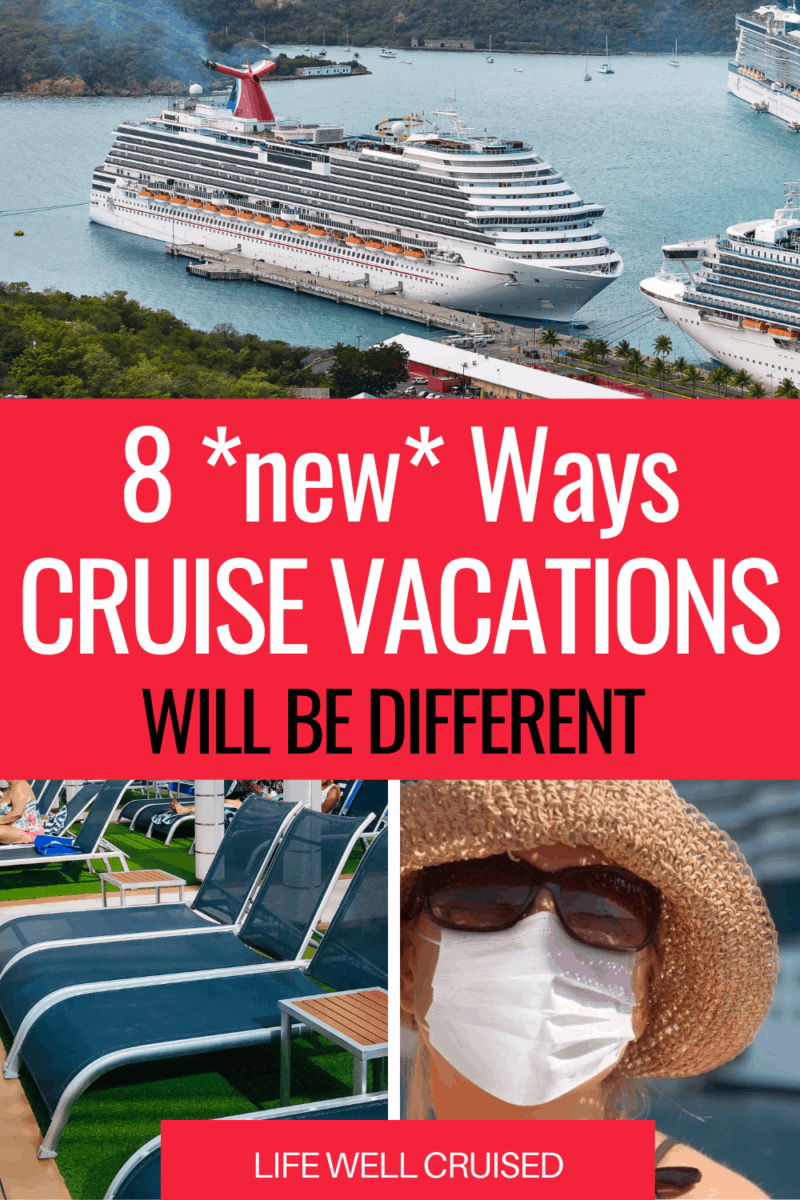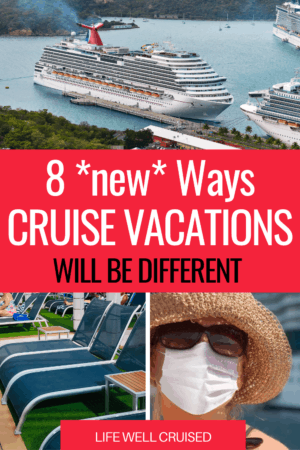 5. Shore excursions
In the early stages as cruises restart, cruise passengers will need to book cruise line excursions or remain on the ship. The shore excursions available with the cruise line, will have the same guidelines to ensure safety of passengers.
While many people enjoy and book cruise line excursions, many also also like exploring on their own, and others prefer to book excursions with local vendors.
Cruise lines do know this, however this is a change being made to protect the safety bubble established onboard the cruise ship. As well as protecting the safety and health of passengers, it also protects the destination's population, which is an important factor as cruises resume visiting ports of call.
This is a protocol that is expected to be modified over time.
6. Itinerary planning – safe passage
If you've had concerns about how cruise ships can ensure that people won't be stuck on cruise ships in quarantine, without a way to get off the ship or get home safely, you'll appreciate this.
As cruise ships are planning their itineraries and ports of call, they are doing so with 2 things in mind.
Firstly, they need to establish that the destination is safe and that the local government authorizes the visit. However, they also have to establish an agreement and plan for safe passage home for guests and crew, should there be an outbreak or even a single case of the virus.
This is very reassuring for anyone planning a cruise, now and in the future.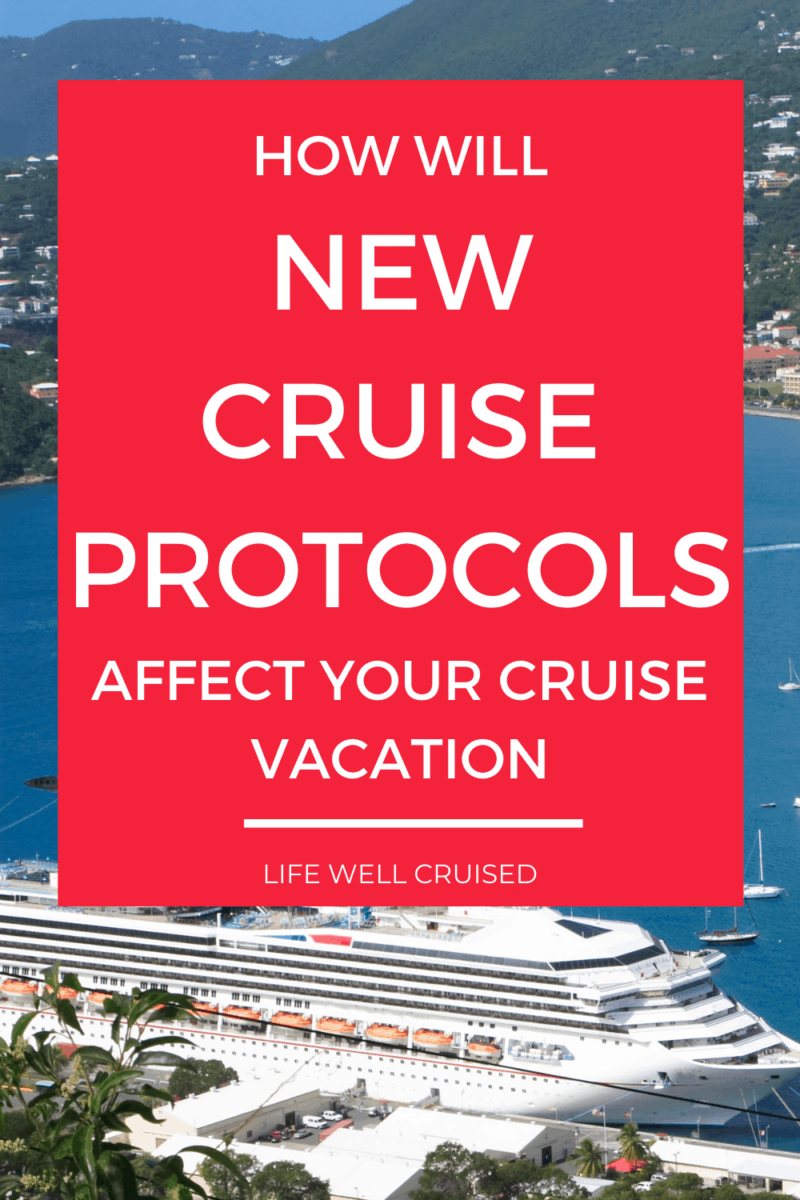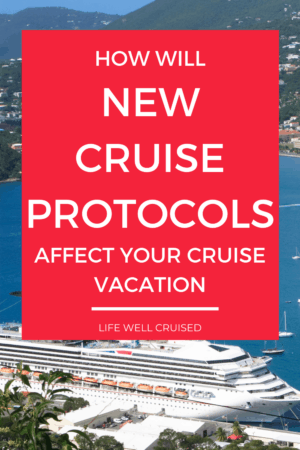 7. Medical Facilities and personnel
Upgrades are being made to the medical facilities and care on board. Cruise ships will now be better equipped to deal with medical issues and potential cases of the virus.
The medical team will be larger, with a greater ratio of medical staff to guest. There will also be a doctor onboard who can care for critically ill patients. In addition, the medical team will have established medical relationships shore side, and even use technology like remote or virtual consultations.
This is something none of us wants to see and use, however its reassuring to know that the medical care onboard cruise ships will make cruises safer than before.
8. Isolation areas
In case of suspected or confirmed cases, there will be cabins available for isolation and quarantine.
For more information, please watch this video on our YouTube channel about the safety protocols and changes to cruising.
Final thoughts: The Most Important New Cruise Health and Safety Protocols
There are surely many changes to cruising, as the industry prepares to resume safely in the Americas.
Just like life in our communities at home, we are adapting in ways that we probably couldn't imagine – the cruise industry is adapting too.
As I researched this post and read through the Healthy Sail Panel recommendations and CLIA protocols, I am even more assured of the safety and future of cruising. When this time passes, and it will, what will remain are changes that will be better for passengers, crew and the cruise industry.
How will these new protocols affect your cruise vacation? Please let me know what you think of the changes and if you have any questions about cruising when it resumes.
Happy future cruising!
Ilana xoxo
P.S. If you've enjoyed this post, please share it with a friend on Facebook or save for later on Pinterest. Thanks so much!
Popular and related posts:
10 Big Changes to Cruising as They Start Up
25 most recommended Amazon Items to Bring on a cruise
23 Essential Things to Pack in Your Cruise Carry-On Bag
17 Cruise Stateroom Essentials Every Cruiser Needs
Let's connect:
Follow me on YouTube at Life Well Cruised
Follow me on Facebook at Life Well Cruised
Follow me on Pinterest at Life Well Cruised
Follow me on Instagram at Life Well Cruised