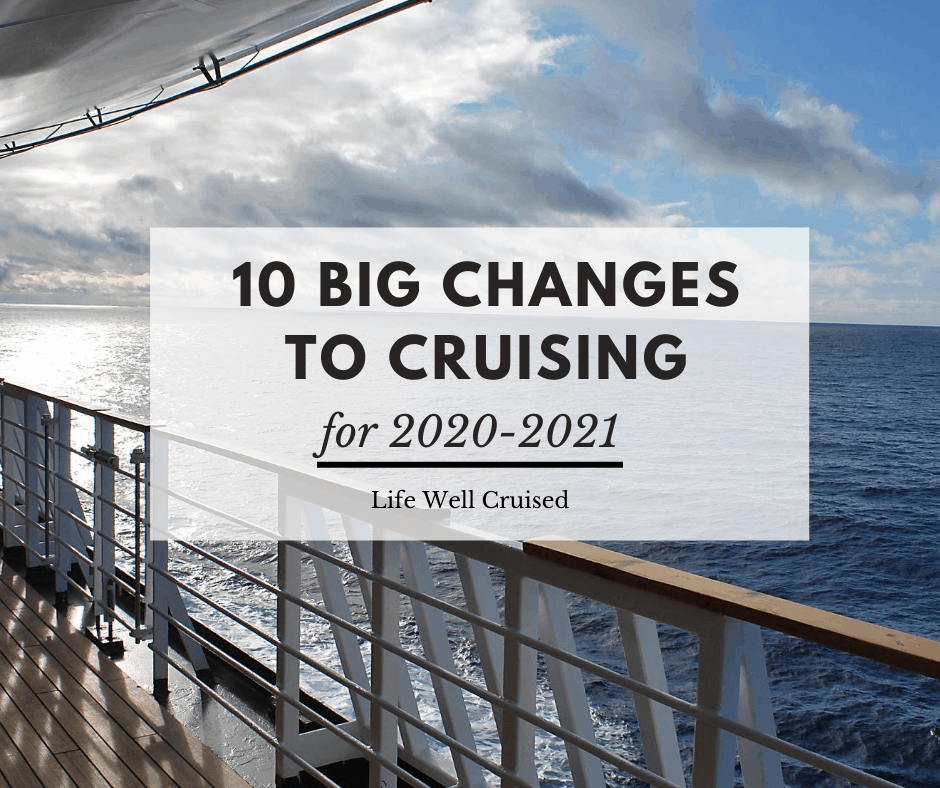 Major Changes to Cruising We'll See in 2020-2021
Since the pause in cruising, we've heard a lot about the changes to cruising, that will come when cruises start up again. However, we do know that while some changes are temporary, others will likely be permanent changes.
Some cruise lines have released information on their web sites confirming changes they're going to make when cruises resume. Other cruise lines have shared information through social media and news interviews.
Of course, the situation is still fluid and information can change. Cruise lines are still waiting for the CDC to approve plans to resume cruising. At the same time, the situation on land needs to be safe and stabilize as well for cruises to resume.
But, this too shall pass and we do know there will come a time, that will probably pass faster than we think, when we will be cruising and traveling again.
So in this post I'm going to be sharing with you the changes that will be coming to cruising, once they finally sailing again. This includes some changes that will likely be temporary, changes that will be permanent and some that are probably up for debate.
Some of these are going to be good for cruise passengers and crew in the long run.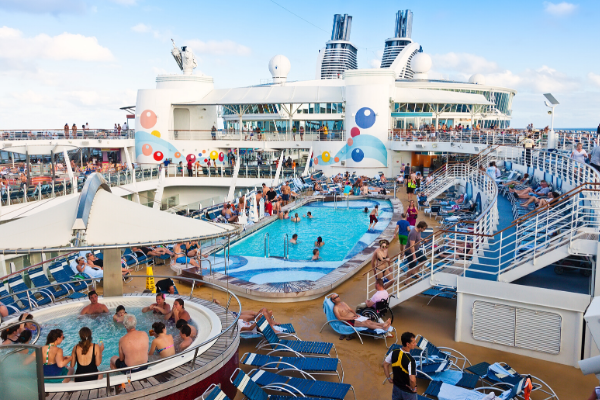 Changes to Cruising that Will be Temporary
Let's start with the changes to cruising that will be temporary. These are probably the changes to cruise ships that we'll find the most difficult, but they are unlikely to last very long.
1. Social distancing
Cruise lines plan to sale at a reduced capacity once they start up, in large part so that they can facilitate social distancing on board the cruise ship.
While cruise lines haven't shared an exact number, there have been reports that they could sail 50 or 60% full. This would definitely make it easier to have people social distance on the pool deck in the dining room, lounges and other public areas.
However this change will be very temporary. As soon as it's safer and the cruise lines have measures in place to ensure passenger and crew health and safety, they will bring their capacity closer to a normal range.
The fact is that cruise lines rely on a business model where they sail pretty full. Beyond the cruise fare itself, cruise lines know that each passenger on a ship is important to make a sailing profitable. We buy excursions, drinks, spa packages and play money in the casino (and more), which is all important to their bottom line.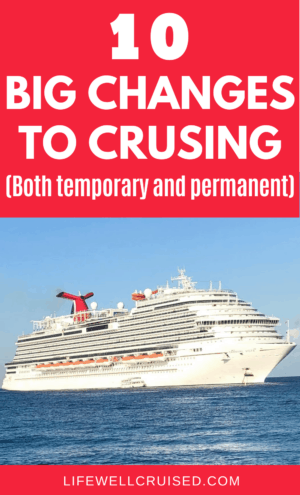 2. Limited cruise ports
At this point it's hard to say what cruise ports will be open to cruise ships when cruises begin again. At the same time, cruise lines have said that they will only sail to ports that are deemed safe for their passengers.
Cruise lines also have to have a good working arrangement with ports of call, in that they are willing to work with each cruise ship on adhering to protocols and offering safe excursions.
This will mean, when cruises start again, that we'll have to be flexible. Itineraries may need to be adapted and it's also possible that excursions may be a bit more limited. There may even be less ports.
We may see more stops at cruise line private islands, like Royal Caribbean's Coco Cay, Princess Cruises Princess Cays, and Norwegian Cruise Line's Harvest Caye.
This won't last forever, but will be probable as early cruises sail again.
3. Facemasks
Please note, that face masks are not a confirmed change officially made by cruise lines at this point. However, cruise lines have indicated that if this is the norm on land, this will be the norm on the cruise ship. We've seen cruise ships which have begun sailing in Europe, and this is one of the new measures for both passengers and crew.
I know that none of us want to spend a vacation wearing a face mask all the time. However, this will be unlikely to be the case.
If we do need to wear face masks, it will be in areas where we cannot easily social distance, similar to on land. Pool decks will have chairs spaced out, so that this shouldn't be an issue.
Of course this is a change that is not going to last, but surely is a sign of our times
Recommended: You May Need to Wear on a Mask on a Cruise
4. Set dining
When we start cruising again, it's likely that guests will be asked to choose a set or reserved dining time. This will be so that they can better plan and ensure social distancing and a safe cruise environment.
Likely, passengers will be dining with their own party, and not be sharing tables.
I know many people love to socialize on cruises, and some people enjoy sharing a table with other passengers. Unfortunately, it looks like we will probably probably not be allowed, at least at the beginning as cruising restarts.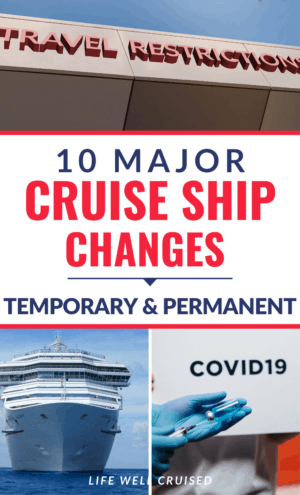 Changes to Cruises that Will be a "New Normal"
Now let's talk about the changes that will likely be permanent. Cruise lines are investing money on certain new technologies, that are actually improvements to cruise ships, so these are likely to stick around.
5. Changes to the Muster Drill
Have you been wondering about how cruise lines are going to manage the muster drill?
Let's face it, during the safety drill we're all packed together at our muster station and it would be and it would seem impossible to actually socially distance. So we knew cruise lines would have to make a change here.
However this change will likely be permanent – for good reason.
Royal Caribbean has come out with a new technology called Muster 2.0. which will be implemented on Royal Caribbean, Celebrity and Azamara cruise ships.
This this is a new tech and you can either review the safety information on your phone or mobile device, or on your stateroom TV. After going through the information, passengers will go to the assembly station we are a crew member will verify that all the steps have been completed.
This was actually tested out in January 2020 on the Symphony of the Seas and guests and crew were very satisfied.
So while this new technology was patented before this situation ever happened, it does alleviate a problem that cruises would have faced when they resumed.
Interestingly, Royal Caribbean has offered this technology to other cruise lines and are waiving the patent licensing fee. So far. Norwegian Cruise Line Holdings has taken up Royal Caribbean on their offer and they will be using this technology on their cruise ships.
I don't think passengers will mind saying good bye to the least pleasant part of embarkation day, the dreaded muster drill!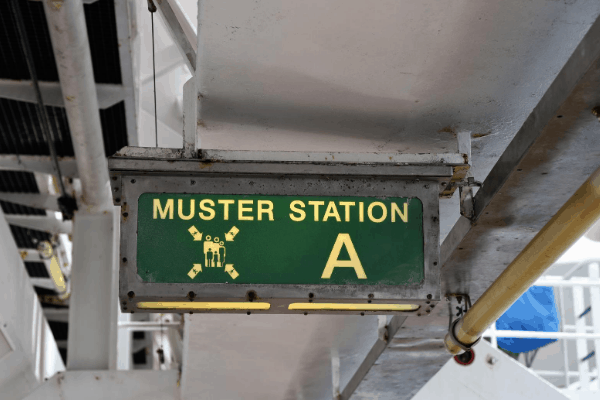 6. New cleaning technologies
Cruise lines have always been vigilant with cleaning and sanitizing, however they will now be implementing new technologies and going even further.
As an example, Norwegian Cruise Lines will be cleaning all cruise cabins with an Electrostatic Spray Technology and there will be fogging in all public areas.
After investing in these new technologies, cruise lines are definitely going to keep this. When we get through this season, the cruise ship environment will be even cleaner than it already was.
7. Air filtration systems
In the past, cruise ships used an air circulation system where the inside air was partially "recycled". In other words, the air circulating on a cruise ship, may have been 50% inside air (old air) and 50% fresh air.
While this has never proven to be unsafe, everyone is learning more about how to be as safe and healthy as possible. Some cruise ships have opted to change or adapt their air filtration systems.
Virgin Voyages and Norwegian Cruise Line have confirmed that they will be using new air filtration systems on all cruise ships.
Norwegian Cruise line has said that they will be installing H13 HEPA filters across the fleet, which removes 99.5% of pathogens in the air.
Other cruise lines have agreed at a minimum to use only 100% fresh air versus the old system of recirculating fresh air with inside air.
We suspect that other cruise lines will also announce changes to their air filtration systems once they have more information and recommendations from experts, like the Healthy Sail Panel.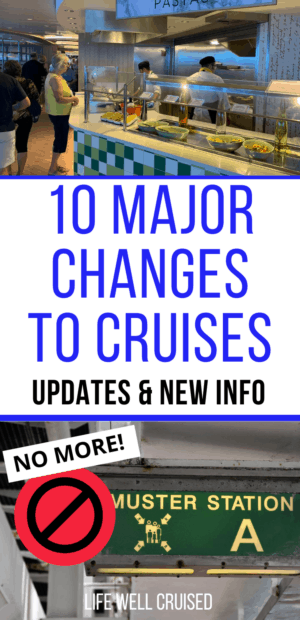 8. Hand sanitizers everywhere
This is probably on of the most obvious changes to cruising. Even before cruises shutdown in March, cruise ships placed hand sanitizers everywhere and really encouraged using this, along with frequent hand washing.
Cruise ships will continue this practice and strongly encourage passengers to use hand sanitizer before entering the cruise ship, before going into dining venues, and many other places on board.
This is good practice at any time, and not just when we're dealing with a specific illness. It's actually one of the easy ways, we, as cruisers can keep healthy and avoid getting sick at any time.
Recommended: Avoid Getting Sick on a Cruise: 10 Easy Stay Healthy Tips
Cruise Ship Changes that May or May Not Continue
There are a few changes, that may or may not be part of the "new normal" of cruising.
Time will likely tell – and I'd love to hear your thoughts on this as well (please see comment section below)
9. No more self-service buffet
Cruise lines have stated that they will be getting rid of the self-service buffet, at least for now. However, don't worry. The cruise ship buffet will still exist, but it will become a "full-serve" buffet. In other words, cruise passengers will be be served by crew members.
This is actually something that cruise ships to do when there are cases of any contagious illness on a cruise ship, such as norovirus. We know that this step does make a big difference in keeping everybody on the cruise healthier.
So it stands to reason that eliminating the self-serve buffet altogether may be a permanent change. However, once this situation passes there are always possibilities that cruise ships are able to return to at a partial self-service buffet
We'll have to see what happens with this one.
10. Embarkation procedures and health screenings
When cruises resume, cruise ships will likely implement a staggered embarkation. This means that guests will likely have a set time to arrive so that we all don't show up at the same time and that we aren't stuck in a large crowd at the cruise terminal for boarding.
Part of the embarkation and boarding procedures, is that there will be health screenings. They're always were health screenings but they but they will be more stringent for everyone health and safety.
Having a more thorough pre-embarkation health screening makes sense to ensure passengers are healthy before boarding the cruise ship, and perhaps during.
However, it's possible that these screenings and health declaration forms change and adapt based on new knowledge that cruise lines and the health experts and authorities know with time.
As an example, we've heard that temperature taking will be the norm but time will tell if this is the most effective way to screen passengers for illnesses.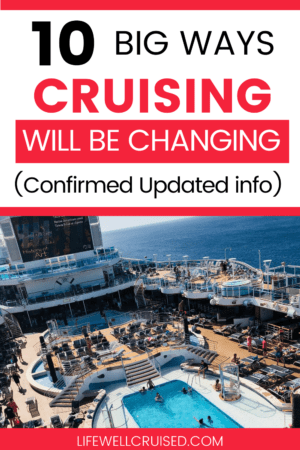 11. Flexible cancellation policies
Flexible cancellation policies were implemented by cruise lines once this situation began, to allow passengers to feel more confident with their existing booking, as well as in making new reservations.
Basically, most cruise lines will allow you up to 48 hours before the cruise to cancel and receive a future cruise credit that you can use on a cruise down the line, should you opt to cancel your cruise. Usually, there are cancellation penalties imposed by the cruise lines after final payment.
This is helpful for passengers who may be ill or might simply not be comfortable to go on their cruise.
This was also helpful for cruise lines, because it gave people the confidence to actually book a future cruise, knowing that they would not lose out.
However, it's hard to say whether cruise lines will continue with this very flexible policy, once life returns closer to normal.
In some ways, this is in their best interest as it's less likely that people who are are sick to decide will decide to cruise anyway. After all, nobody wants to lose money and be out a cruise!
Perhaps this is something cruise line's will work on, and come up with a creative solution. However, this may be something to explore with travel insurance, either with the cruise line or through a third part insurer, like a "cancel for any reason" policy.
Do you want more information? I discuss the changes to cruising in this YouTube Video. Please feel free to watch and subscribe to the channel.
Final thoughts: 10 Big Changes to Cruising as They Start Up – Permanent and Temporary
We've gone through changes to cruising that will be both permanent and temporary. Although it's hard to see it now, it's very likely that cruise travel is going to be safer and better than ever when it does return.
What do you think of the changes to cruises that we'll see as they start again? Are there other changes that you think are going to happen? Please let me know in the comments below.
Happy future cruising!
Ilana xoxo
P.S. If you've enjoyed this, please don't keep it to yourself ;-)! Please share it on Facebook or save for later on Pinterest. Thanks so much!
Popular and related posts:
25 most recommended Amazon Items to Bring on a cruise
The Pros and Cons of Packing Cubes for Cruise Vacations
17 Cruise Stateroom Essentials Every Cruiser Needs
Let's connect:
Follow me on YouTube at Life Well Cruised
Follow me on Facebook at Life Well Cruised
Follow me on Pinterest at Life Well Cruised
Follow me on Instagram at Life Well Cruised