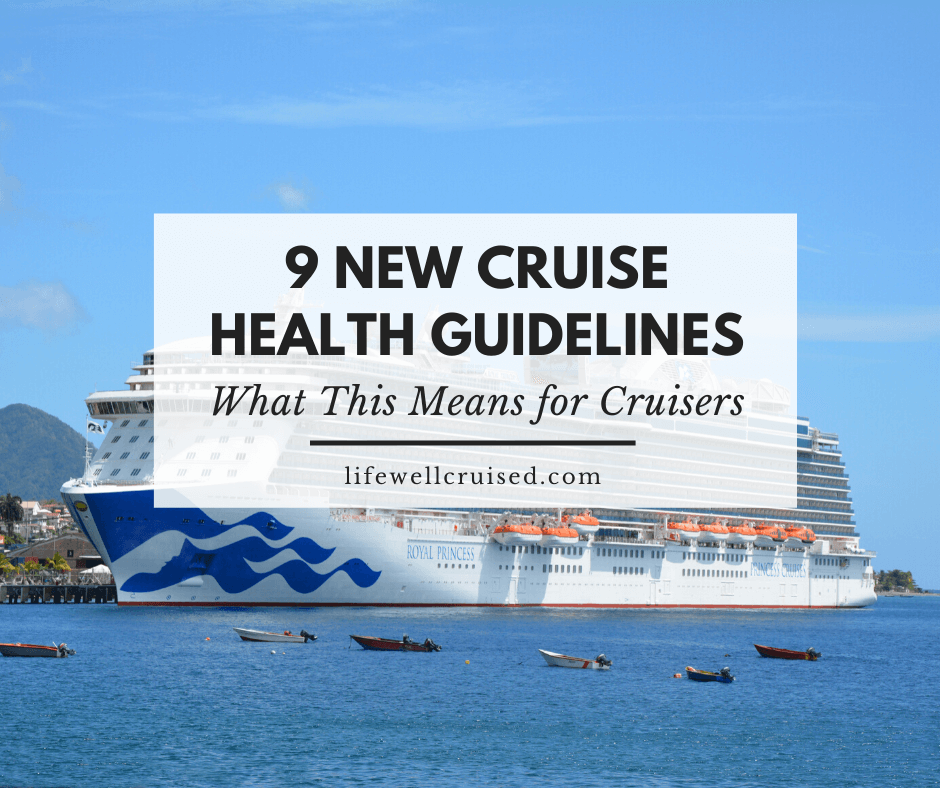 As cruise lines prepare for future cruises, we're seeing new health guidelines being posted and shared with their cruise passengers. Most recently, Princess Cruises has announced updates to their pre-boarding health protocols and restrictions , embarkation procedures, on board cleanliness and sanitation and more.
This is all in an effort to communicate with passengers as to how the cruise line is planning to ensure safety and health when cruising resumes.
As cruise passengers, we'll have to be flexible, as information is changing and being updated frequently. The good news is that we are starting to hear more from the cruise lines as they communicate their health and safety plans.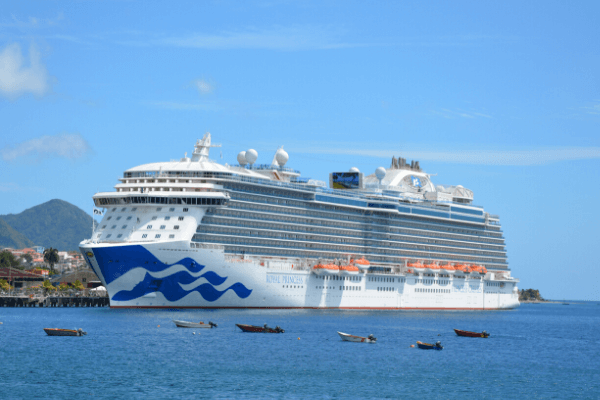 Updated Cruise Health Guidelines and Protocols – What Cruise Passengers Can Expect
At the moment, this is an interpretation of the information from Princess Cruises, which is the first of the major cruise lines to publicize such a document. Please keep in mind that the information may be different for other cruise lines, once they announce their policies, however this gives us a good guideline to know the direction of the cruise industry, for now.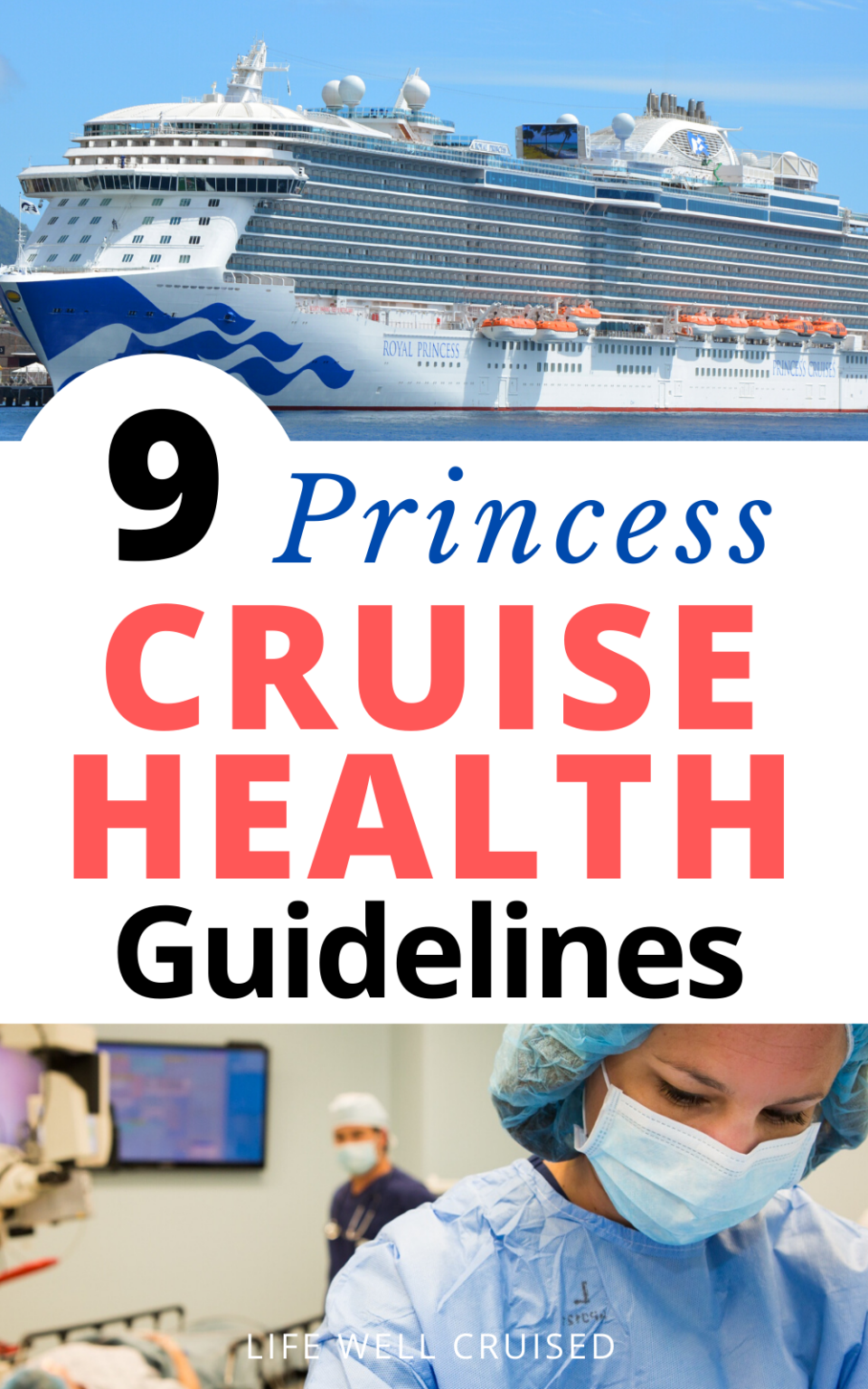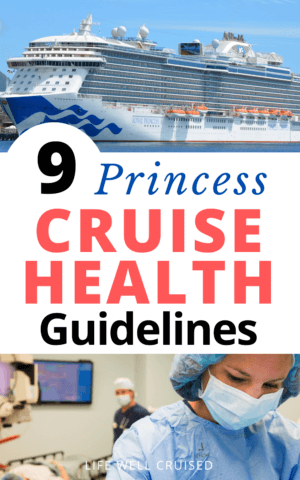 1. Itinerary modifications
Firstly, with travel restrictions and current health situations affecting various cruise ports, the new health guideline has pointed out that the cruise line will be closely monitoring and modifying itineraries.
Keeping in mind that cruise ships have been denied entry into certain ports in the past, the updates to the Cruise with Confidence program's health and safety update states that they may replace a port, rather than risk being unable to dock.
This makes a lot of sense given the times and situation.
However, something we need to be aware of, as cruise travelers, is that we have to have our most flexible outlook as we resume cruising. While surely things will normalize over time, we have to be aware that destinations and itineraries may change.
Read more: Is Now a Good Time to Book Your Cruise? 7 Things to Consider
2. Travel restrictions: health guidelines and who can board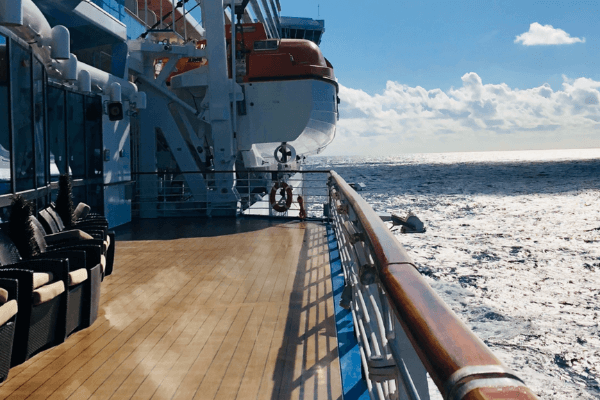 Under certain circumstances, both guests and crew may be unable to board and sail. At this time, this includes:
anyone who has the virus, or who has been in contact with someone who has or is suspected of having the virus
those with a fever or flu like symptoms
** Important to note – when this document first appeared on the Princess Cruises website, it indicated that there would be restrictions as well for those have a severe chronic health condition. It also asked that guests communicate any questions about their own health conditions and possible restrictions to Princess. This item is no longer there, indicating a recent change.
3. Health screenings at embarkation
At embarkation, there will be thermal scanning of all guests and crew, meaning that they will be looking for higher than normal temperatures. Anyone who has a fever or flu like symptoms won't be allowed to board, and will receive a full refund or cruise credit.
Guests and crew will also be required to fill out a health declaration, reporting any symptoms of illness. In some cases, a secondary screening by medical staff will be done.
Something to note, is that there will be serious circumstances, including possible legal action, for anyone who gives false information.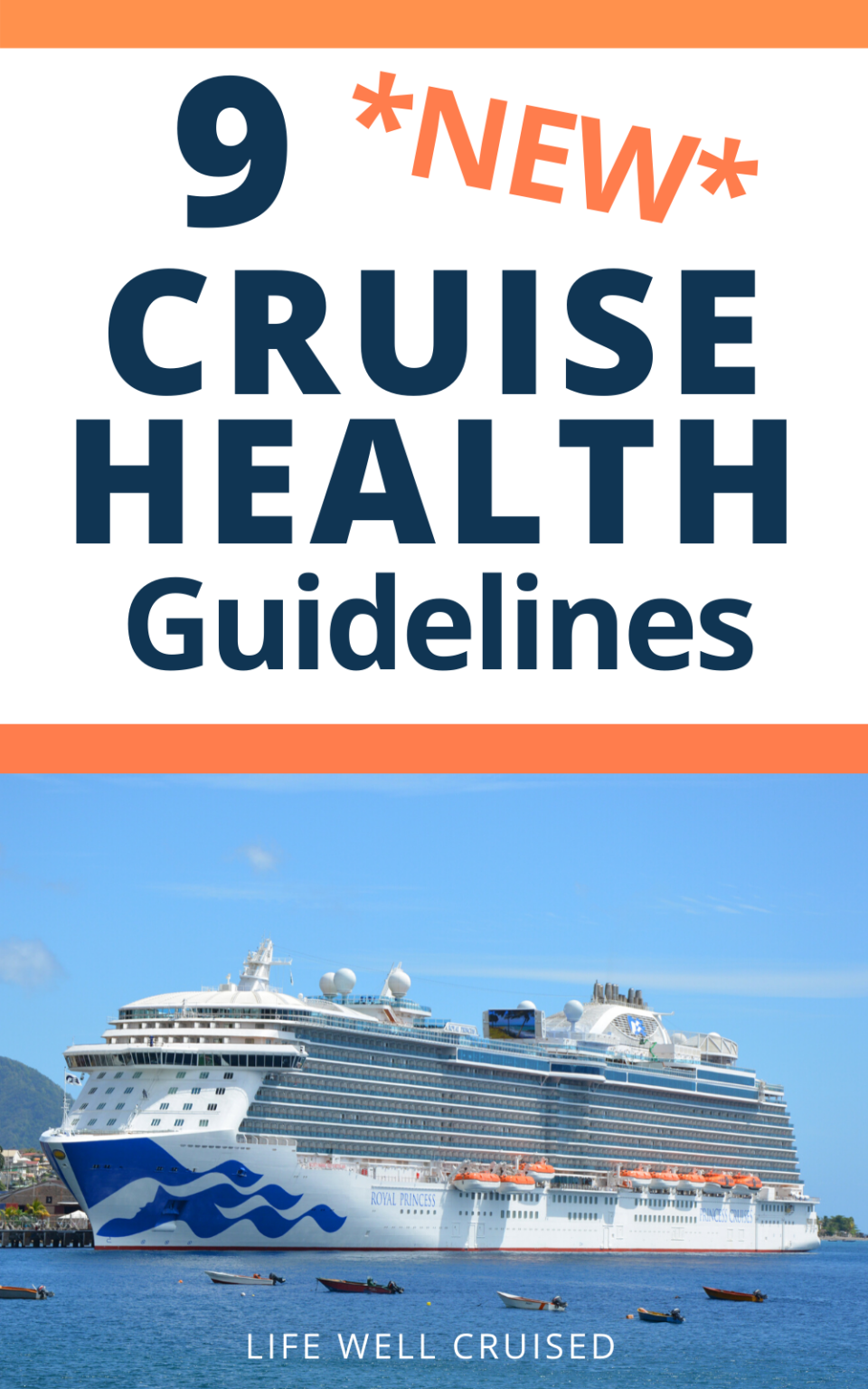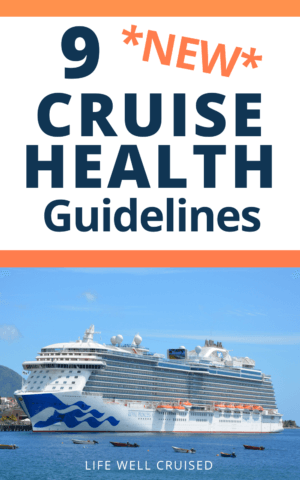 4. Sanitation on board and in cruise terminals
Before boarding
According to Princess Cruises' Cruise with Confidence update, something interesting to note for cruise passengers, is that sanitation and disinfection will begin even before guests make it to the cruise ship.
Beginning with transfers, guests will board buses which have been disinfected, and will be given hand sanitizer before boarding their shuttle to the cruise port.
The cruise terminal will undergo an enhanced disinfection before embarkation and after disembarkation. Hand hand sanitizers will be placed in multiple places.
On board
Cruise passengers can expect an enhanced sanitation and disinfection of public areas: including restaurants and dining areas, open decks including the pool and sports deck.
Guest cabins will be cleaned twice a day, with a focus on the washroom and areas that are frequently touched.
More frequent disinfection will be done for surfaces that are frequently touched, such as elevator buttons, handrails, slot machines and gym equipment.
There will be more frequent cleaning and disinfection of public bathrooms.
Public lounge doors and washroom doors will be propped open, to avoid even further touchpoints.
5. Dining areas / buffet and self serve areas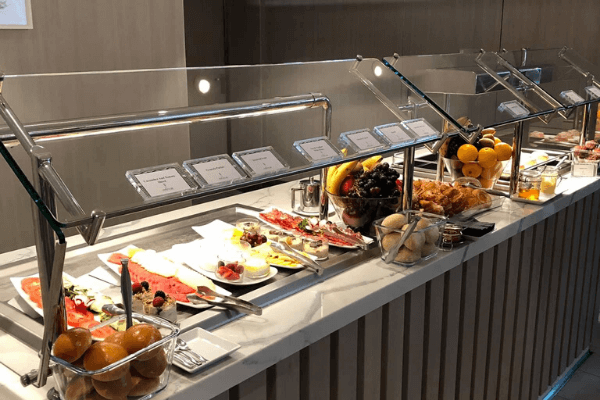 On the most part, the cruise line will have crew serve guests in the buffet and other formally self serve areas, such as a soft ice cream station. They have pointed out, that this will be done wherever possible, and when not feasible, the staff will monitor closely and utensils will be changed out regularly.
6. Hand sanitizer and hand washing
In many ways on board, the cruise line will communicate healthy guidelines and proper hand washing techniques to passengers.
Hand sanitizers will be placed in multiple locations around the cruise ship, where sinks may not be available.
Before entering all dining areas and food stations, the crew will monitor and remind guests to wash hands or use the hand sanitizer.
7. Crew health and sanitation protocol
As passengers, we don't often hear about the crew life on board. However, in these circumstances, this is welcome information.
Some of the steps the cruise line will be taking to maintain a healthy environment in the crew area is by reinforcing frequent hand washing, avoiding hand contact and the use of sanitizers.
Crew will also be encouraged to report guests who show signs of illness. As well, on some voyages, some crew may wear masks when dealing with guests.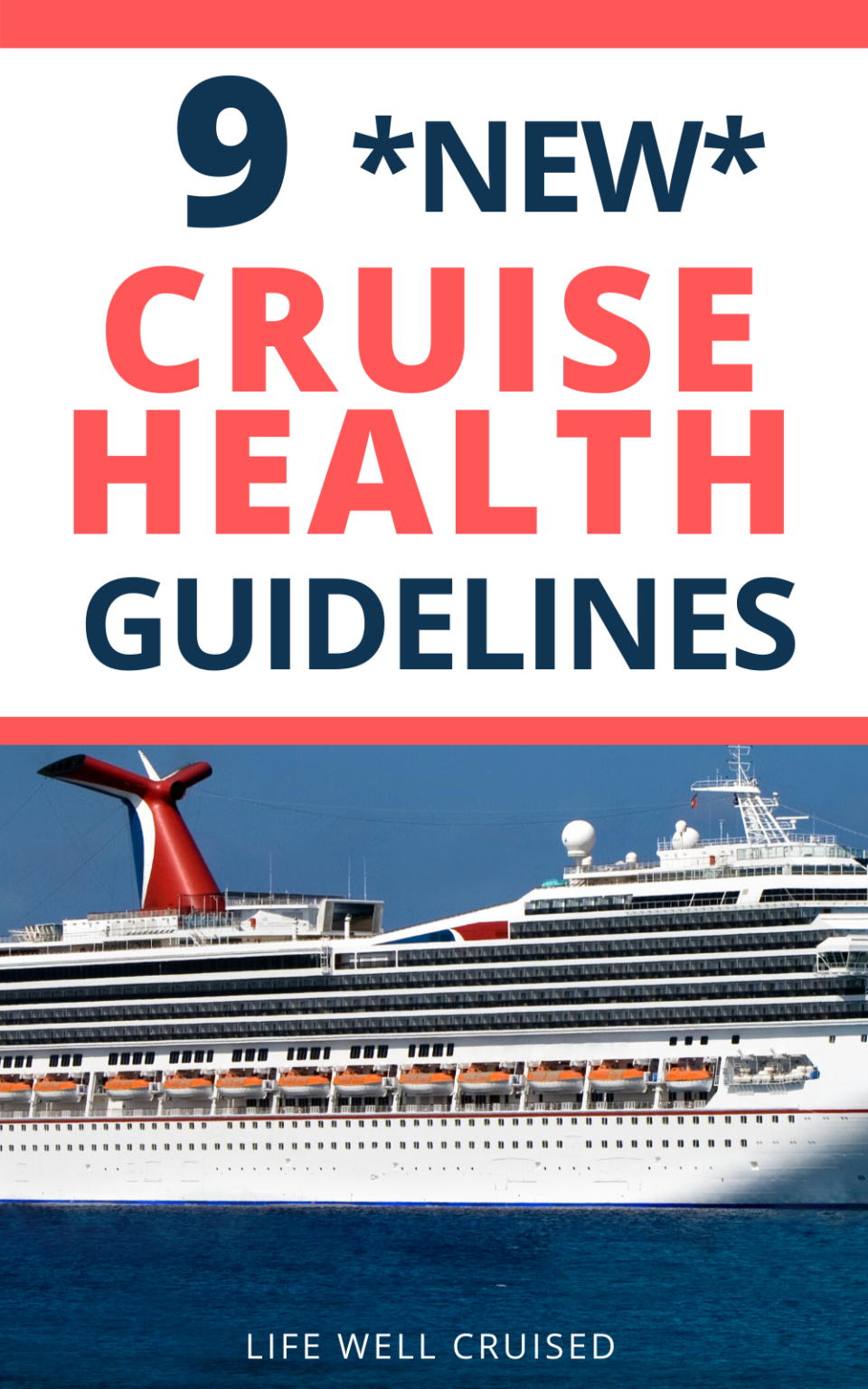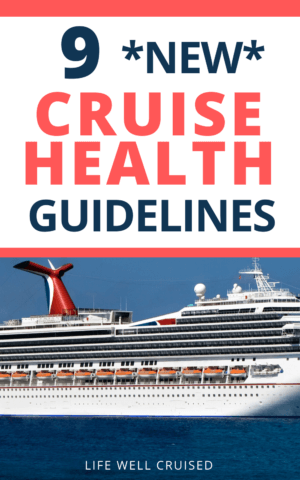 8. Medical care onboard
Cruise passengers and crew who show signs of respiratory illness will be encouraged to visit the medical center for a free consultation.
Medical screening and testing will be able to be done on board.
9. Princess Cruises Book with Confidence
The Book with Confidence policy allows flexibility during these times, for passengers to change plans and reschedule cruises.
Princess Cruises points out that they are monitoring the world health developments and are working with government agencies, medical experts, as well as travel industry partners.
As the situation is continuously evolving, they will be optimizing their plans and protocols.
Did you know that we have a YouTube channel? Here's a video to explain further, plus you'll find other cruise tips videos and cruise vlogs uploaded each week.
When will cruising resume?
Here is a list of updates on the cruise cancellation schedule and protected return to service dates: When Will Cruising Resume (Updated) and Frequently Asked Questions
Final thoughts: 9 New Cruise Health Guidelines – What Does this Mean for Cruisers?
This new health and safety update from Princess Cruises is an amazing start in communicating with passengers, and anyone who's following the situation on cruise ships and wondering when it's safe to travel again.
Here's the full document from Princess Cruises
Read more: How Will Cruising Change, Recover and Restore Cruiser's Confidence Once Again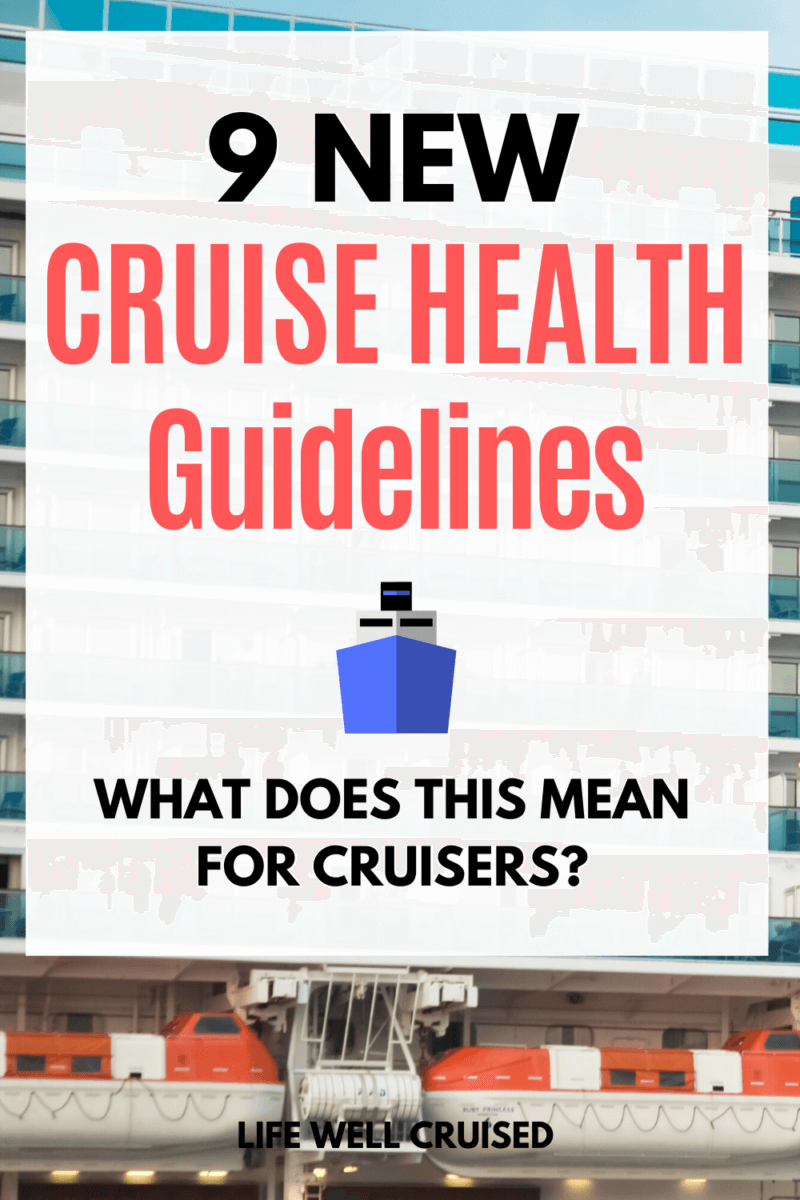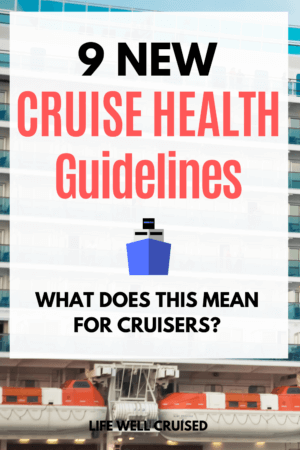 Questions from cruisers about cruise travel restrictions
This update does leave cruisers with some questions. Hopefully as we hear more from Princess and other cruise lines, cruisers affected will get answers as quickly as possible to be able to make plans.
In several Facebook groups, avid cruisers are wondering what constitutes a severe chronic illness and when could someone be denied boarding due to this? If someone has a severe chronic condition, will the cruise line give them a reimbursement (rather than FCC) for the time being, as they need to implement this health restriction?
Others wondered if the stipulation (from before the pause in cruising), that those who are over 70 need a doctor's note to cruise, is still valid? Of course this affects many in the cruise population so it's important information.
Finally, cruisers wonder what happens if a passenger is denied boarding? While they'll receive a reimbursement or FCC for the cruise, will the cost of air fare be reimbursed and how will this affect accompanying passengers?
Likely, we need to be patient. After all, cruises haven't resumed just yet and cruise lines will surely be coming out with more information in the coming days and weeks. However, these are important questions people have as they are planning a new cruise, or rescheduling one with a future cruise credit.
What do you think of the new health guidelines for cruises? Are you feeling more confident as you hear more about the changes that cruise lines will be making as cruise travel resumes?
Happy future cruising!!
Ilana xoxo
P.S. If you enjoyed this post and found it helpful, please don't keep it to yourself ;-). Feel free to share on Pinterest, Facebook or Twitter (share buttons at the top). Thanks so much!
Related posts:
How Will Cruising Change, Recover and Restore Cruiser's Confidence Once Again
Is Now a Good Time to Book Your Cruise? 7 Things to Consider
Popular posts:
25 most recommended Amazon Items to Bring on a cruise
20 Cruise Packing Tips all Cruisers Need
30 Cruise Cabin Hacks Every Cruiser Needs to Know
Let's connect:
Follow me on Facebook at Life Well Cruised
Follow me onYouTube at Life Well Cruised (Vlogs and cruise tips)
Follow me on Pinterest at Life Well Cruised
Follow me on Instagram at Life Well Cruised