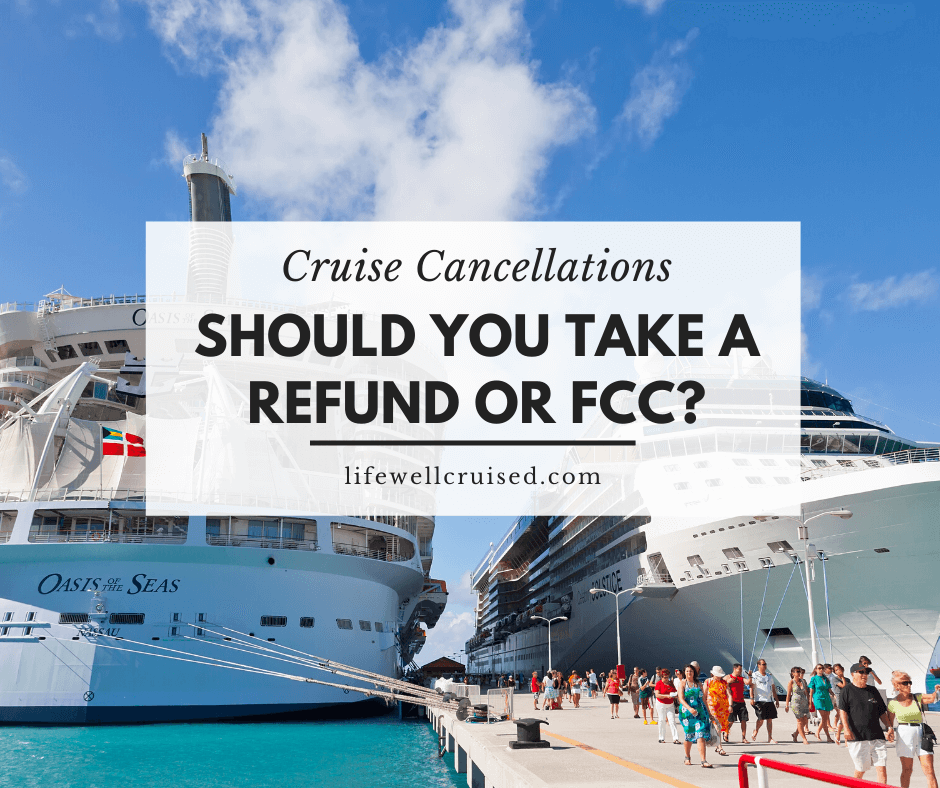 As cruise lines have extended their original pause in cruising due to the world situation, sadly this means more canceled cruises. For those with cruise cancellations, cruise lines are offering passengers 2 options – a refund or a Future Cruise Credit voucher.
While there are advantages to both options, ultimately the decision is personal and will depend on your own situation. In this post, we'll go through the 2 options (FCC vs refund), and lay out the pros and cons to help with your decision.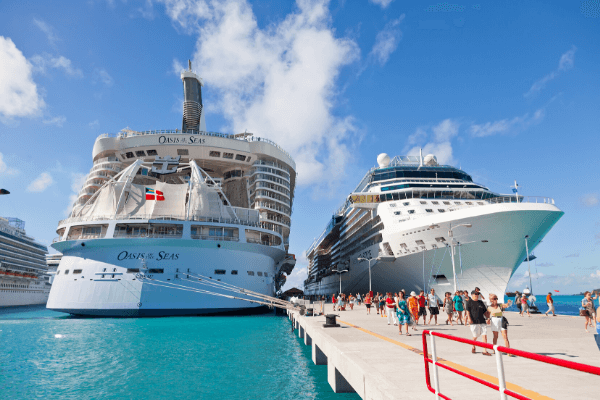 Future Cruise Credit or Refund – Pros and Cons
Update on Cruise Cancellations
At this time, most major cruise lines have announced cruise cancellations up to mid-June to July 1, and in some cases going further into July and August. The Alaska cruise season has been highly affected, and the majority of Alaska cruises have been cancelled.
What does this mean for cruisers?
If your cruise has been canceled by the cruise line, you have 2 options:
Future Cruise Credit
Refund
Cruise passengers may opt for a full refund of all monies paid or you may choose a Future Cruise Credit (FCC). In some cases your cruise line might be offering an extra bonus or incentive should you choose an FCC.
Please keep in mind that the situation remains fluid and more cruise cancellations can occur in the future.
These options only apply if the cruise line cancels your cruise, and not if you cancel it. If you would like to cancel your cruise, I'll go through your options at the end.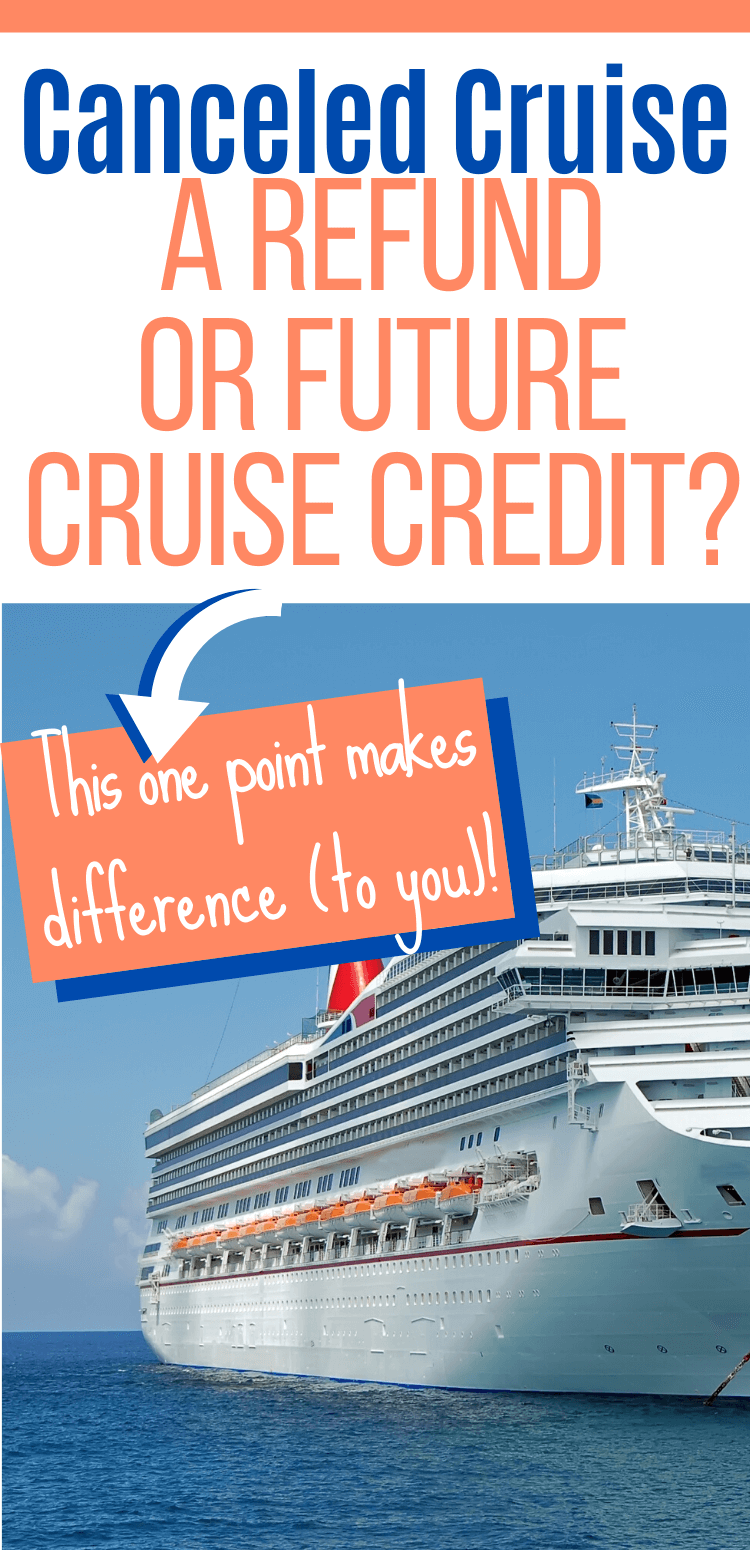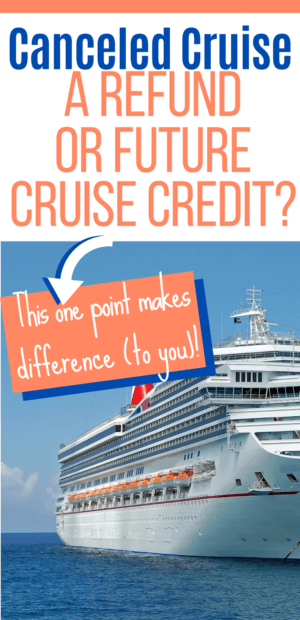 Option 1 – Future Cruise Credit (FCC)
Many cruise lines are offering a Future Cruise Credit, which is essentially a voucher for future travel with a specific cruise line. To make this option more attractive to cruise passengers, cruise lines are offering additional incentives.
Future Cruise Credit is often referred to by it's acronym FCC.
Future Cruise Credit Voucher (FCC)
Most recently, many cruise lines are offering a Future Cruise Credit of 125% of the cruise fare.
This means that if your cruise cost $1000 per guest, each passenger will receive a Future Cruise Credit (FCC) of $1250.
This is now the default option, so if you like this option, in most cases, you don't need to do anything at all. It may take some time to show up in your cruise account, due to the volume of future cruise credits to process.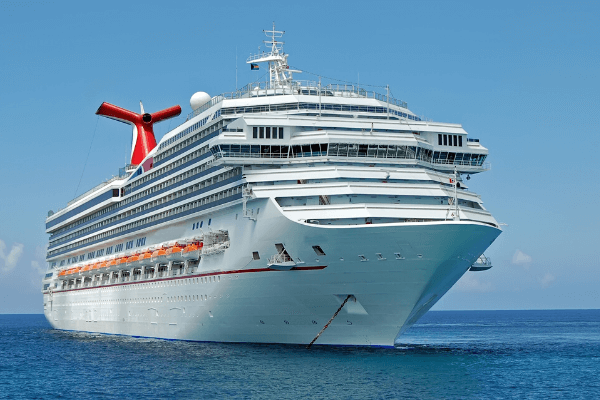 Carnival Cruises Onboard Credit offer
Carnival cruises is offering a somewhat different incentive for cruisers to rebook future cruises. Rather than a Future Cruise Credit (FCC) voucher, Carnival is offering cruisers a future onboard credit (OBC) of $300 per cabin for cruises 5 days and less, and $600 per cabin for cruises 6 days and more.
Although passengers can use this on board credit on cruises up until Dec 31, 2022, they must book a new cruise by December 31, 2020.
More Cruise Line Bonuses (when you take the FCC)
Other cruise lines are also offering bonuses to encourage booking with Future Cruise Credits.
As an example, Norwegian Cruise Line is offering those who take the future cruise credit option and book a new cruise, a 20% discount on a future cruise.
Princess Cruises is offering Alaska cruisers an additional $15o per person onboard credit if they book an Alaska cruise for next year.
Celebrity and Royal Caribbean are offering cruisers the option to transfer monies that were paid for shore excursions and other onboard packages into a value of 125% on board credit on their next cruise (25% extra).
Please note that these bonuses do have time limitations, so do check the dates and terms of conditions of these and any other offers.
Option 2 – Refund option
A second option for those affected by cruise cancellations is that you can choose to get a 100% refund (back to original form of payment).
If you choose this option, you won't be entitled to any of the bonuses or incentives.
It's also important to note that the refund won't appear very quickly. Due to the sheer volume of transactions and refund requests, cruise lines have said that it may take between 60-90 days to refund payments of canceled cruises.
If you do want to opt for the refund option, there is a form on your cruise line website, or you may have been sent a form in an email from the cruise line.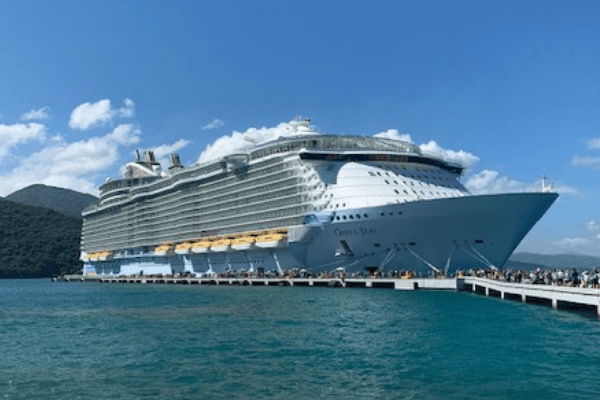 Refund vs Future Cruise Credit – Things to consider
At first glance, taking the Future Cruise Credit might seem like the best choice. After all, it has a lot of benefits! However, there are some things to be aware of and consider as you make your decision.
Will you be cruising with the same cabin mates on your next cruise?
In most cases, the FCC voucher is per passenger, and not per cabin. So, if you were cruising with 4 people in the cabin, but aren't 100% sure if you'll be cruising together in the next 18 months or so, you might be loosing money this way.
In our case, we often travel with our son, which means we're 3 passengers in our stateroom. If we went on our next cruise as a couple, we would be forfeiting the money we had spent on the third passenger if he didn't join us.
Do you want to cruise with the same cruise line?
If you usually sail with your favorite cruise line and don't sail with other cruise lines, you'll be more likely to use the future cruise credit.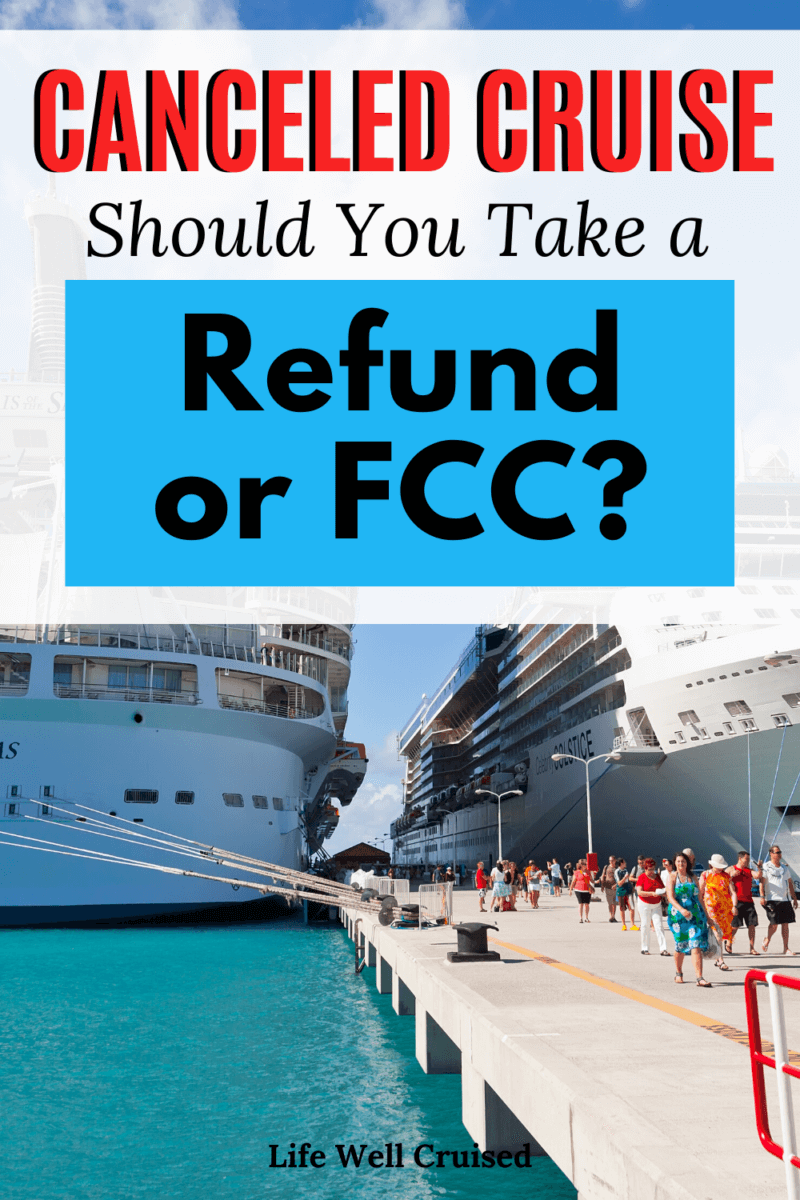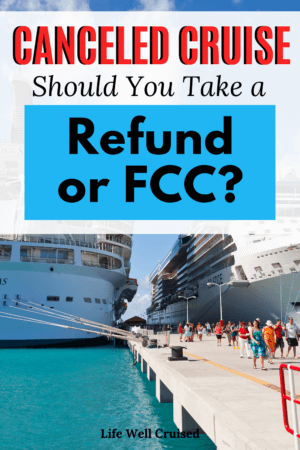 Can you take advantage of booking bonuses?
If you're in a position to book soon and take advantage some booking incentives, you might be able to get a fantastic deal on a cruise. This might be worth it – and you'll have a cruise to look forward to!
Do you need the cash refund more than a future cruise?
Let's face it, times might be difficult for many these days and having the money on hand might be better for you financially. If this is the case, you'll want to apply for the refund as quickly as possible, as this is not automatic.
Something to keep in mind, is that in usual circumstances cruise line refunds take about 10 days. Unfortunately, if you opt for a refund you'll be waiting between 30-90 days from the time you requested it.
Will you get the cruise and vacation time you want?
Some cruisers have pointed out that availability may be limited on the most popular cruise dates and, like school holidays and typical high season, as well as certain cruise itineraries. This might be the case for the next year or so, as so many cruise passengers have Future Cruise Credits and travel vouchers to use up.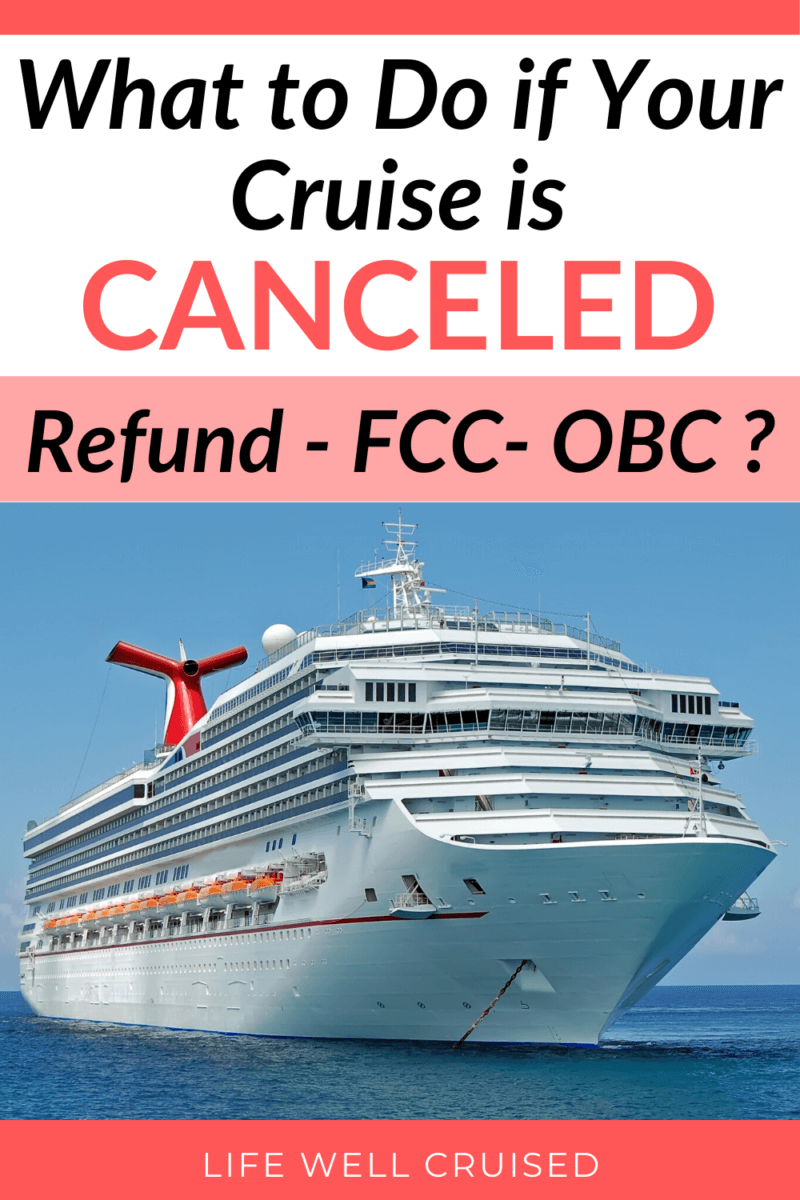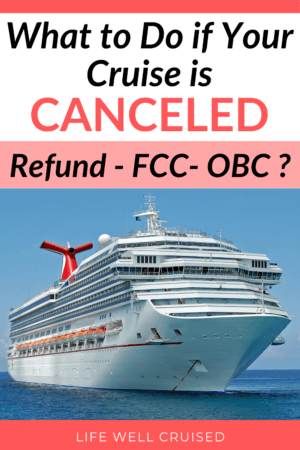 Are you flexible?
Will having a refund, rather than a voucher or certificate give you more flexibility to take advantage of future cruise specials with different cruise lines?
Finally, are you loyal to your favorite cruise line and do you want to support them at this time?
Cruise lines are in a better position when many potential cruisers have booked sailings into 2021 and beyond, as well as FCC's to use up. If you want to support your favorite cruise line, this is one way to do so.
What happens if you want to cancel you cruise?
Something to remember, is that these 2 options apply if the cruise line actually cancels your cruise.
However, given the current situation, some people are asking "Can I cancel my cruise and get a refund?".
If you have a cruise that's paid in full and want to cancel, most major cruise lines are offering a Cruise with Confidence program, which gives you flexibility to cancel. If you cancel your cruise, you'll receive a Future Cruise Credit for the amount paid, however you won't be able to get a refund.
If you prefer to have a monetary cash refund option, you'll want to wait until the cruise line cancels the cruise.
Here's a video from my YouTube channel going into the details of the pros and cons of taking a Refund versus a Future Cruise Credit. If you enjoy cruise tips videos and vlogs, please watch and subscribe.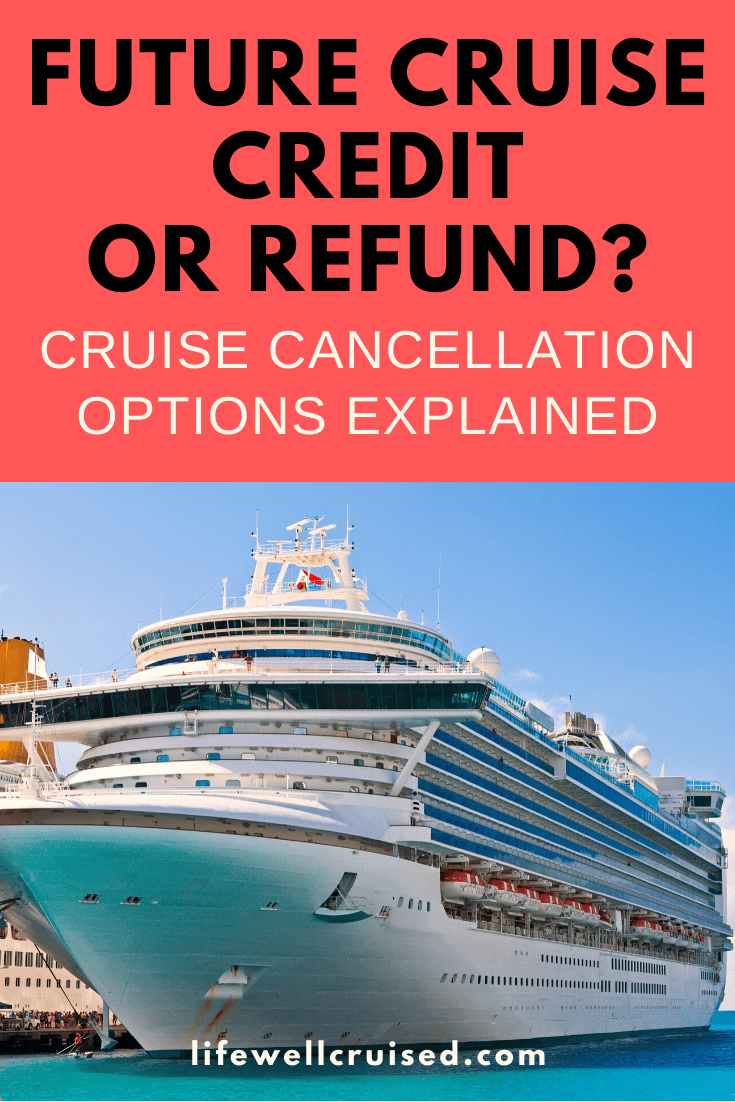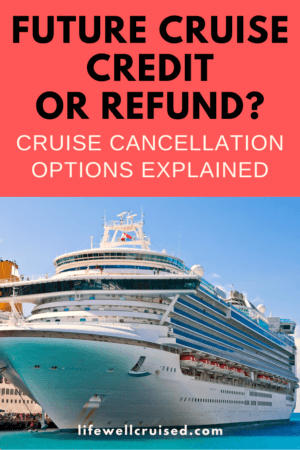 Recap: Cancelled Cruise – Should You Take a Refund or Future Cruise Credit?
While it's not a fun decision to make, there are definitely some strong pros and cons to the 2 available options if your cruise has been canceled.
Future Cruise Credit (voucher or certificate)
Refund
Is it better to take a refund or future cruise credit? What would you do in this situation? Please let us know in the comments below.
Happy future cruising!!
Ilana xoxo
P.S. If you enjoyed this post and found it helpful, please don't keep it to yourself ;-). Feel free to share on Pinterest, Facebook or Twitter (share buttons at the top). Thanks so much!
Related posts:
How Will Cruising Change, Recover and Restore Cruiser's Confidence Once Again
9 New Cruise Health Guidelines – What Does this Mean for Cruisers?
Is Now a Good Time to Book Your Cruise? 7 Things to Consider
Popular posts:
25 most recommended Amazon Items to Bring on a cruise
31 Cruise First Aid Kit Essentials You Need to Have
20 Cruise Packing Tips all Cruisers Need
30 Cruise Cabin Hacks Every Cruiser Needs to Know
Let's connect:
Follow me on Facebook at Life Well Cruised
Follow me onYouTube at Life Well Cruised (Vlogs and cruise tips)
Follow me on Pinterest at Life Well Cruised
Follow me on Instagram at Life Well Cruised