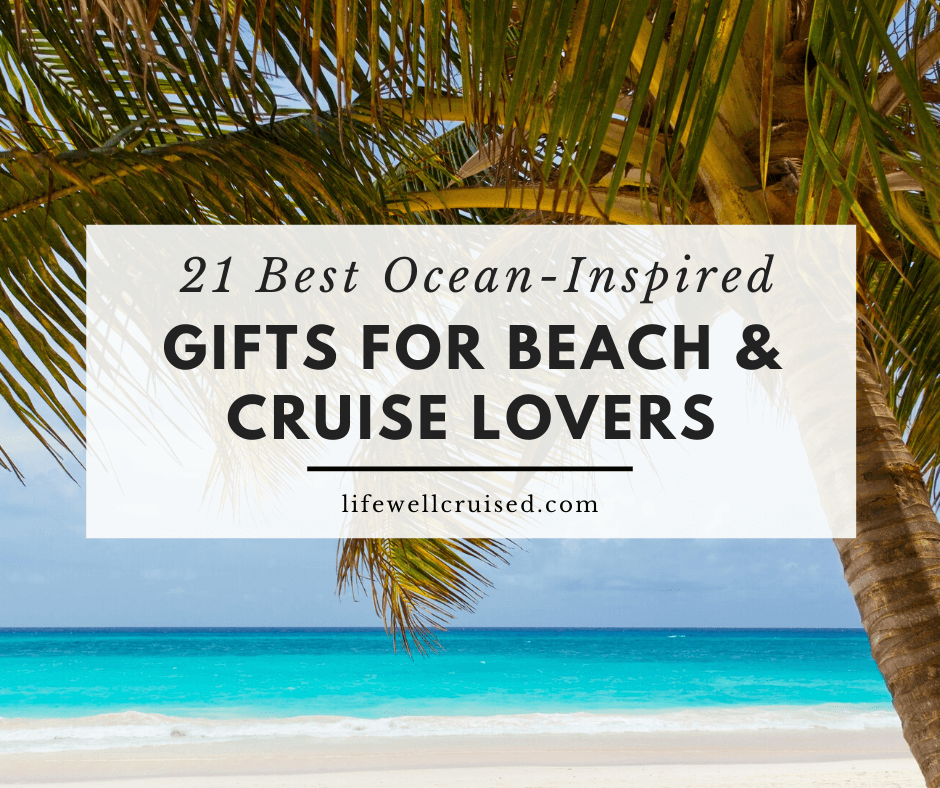 The Ultimate List of Ocean Inspired Gifts and Practical Cruise Travel Accessories
We may not be traveling right now, but with Mother's Day coming up, I'm willing to bet many Moms would love to be reminded of the beach and their future cruise travels. If you know someone who loves cruising, these ocean inspired gifts and cruise essentials will be probably be just perfect.
If you can't visit Mom, all of these travel gift items is all able to be delivered by Amazon, which is why I put it together at this time.
You'll find 20 of the prettiest beach and cruise jewelry items, as well as travel accessories, luggage, cruise gear and more. There's sure to be a favorite nautical gift for the beach and cruise lover in your life.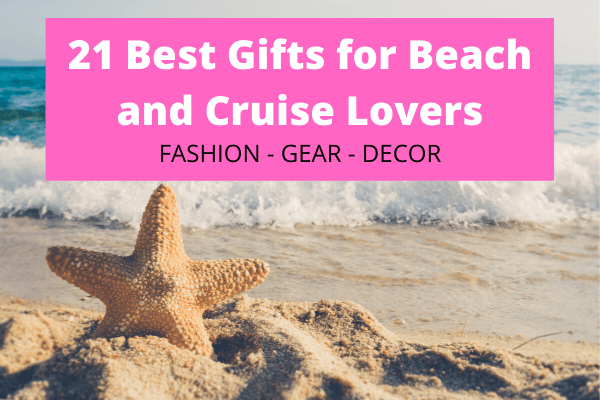 Ocean Inspired Fashion and Jewelry to Wear on a Cruise
One of my favorite pieces of jewelry I ever had, was a starfish pendant in white gold with diamonds. I got it on a vacation in Florida a few years ago, and wore it every summer and on every beach vacation.
Sadly, I've since lost it and I'm always looking out to find a replacement piece that I love just as much.
There's just something about the starfish that I find inspiring and hopeful, but in truth, I LOVE everything that reminds me of the beach and the ocean. The waves, the sand, the palm trees, the boats and cruise ships, and everything nautical.
If you love the beach and cruising, this ocean inspired jewelry will be perfect both on vacation and for every day!
This post contains affiliate links which means if you click and buy that I may make a commission, at no cost to you. Please see my disclosure policy for details.
Nautical Themed Jewelry Inspired by the Sea
1. Stainless Steel Expandable Bangle Style "Under the Sea" Charm bracelet
This adorable bracelet is cute and casual, with pretty sea life charms. Other beachy styles are also available on Amazon.
Recommended: Ladies adjustable wire bangle with mermaid theme charms (Amazon)
2. Ocean Wave Necklace
This pretty and simple necklace is actually inspired by a an ocean wave. So delicate and simple and can be worn with just about anything on a cruise or even everyday.
I love that it's available in silver, gold and rose gold
Recommended: Ocean Wave Necklace
(see color options on Amazon)
3. Cruise Inspired Nautical Cluster Charm Necklace
So cute! I'm loving the nautical stripes, gold anchor and pop of color!
Recommended: Gold Anchor Nautical Cluster Necklace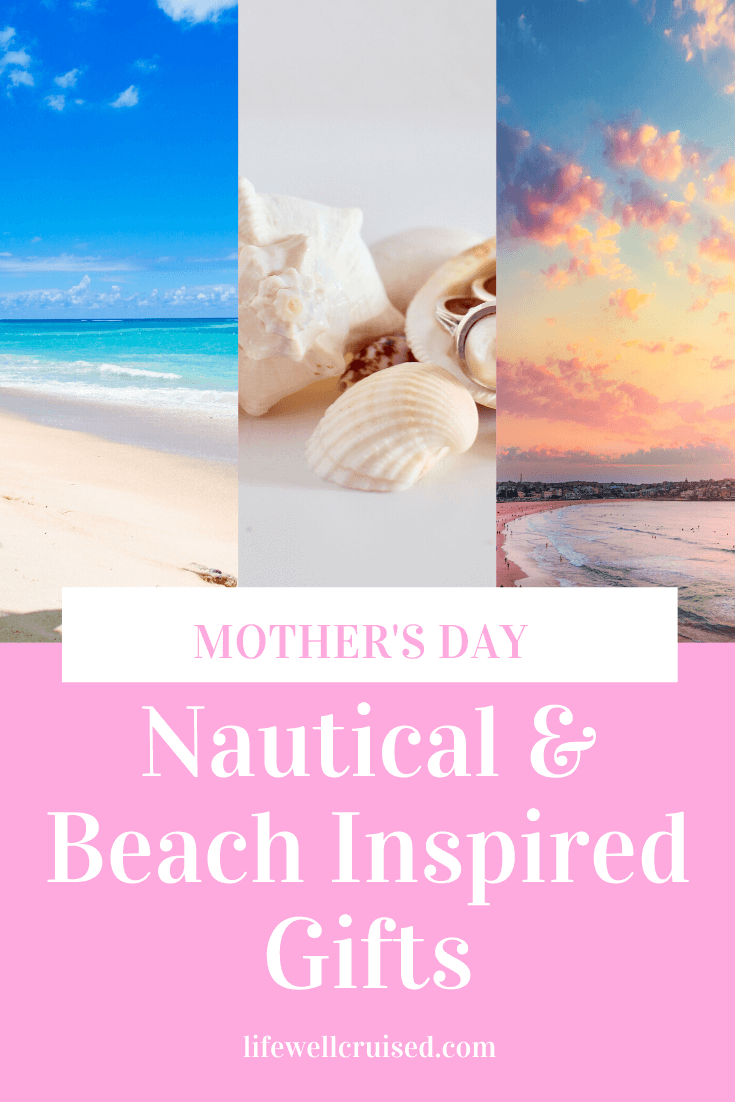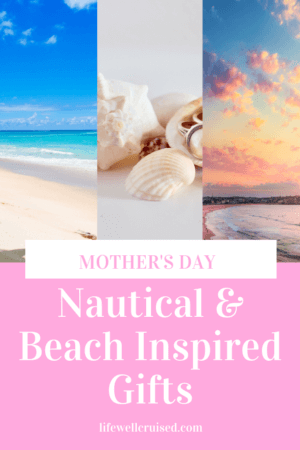 4. Sterling Silver Sideways Cruise Anchor Necklace
Both modern and classic, this is a great quality for the price (and well loved!). This trendy anchor necklace will look great on future cruise vacations.
Recommended: Trendy sideways anchor necklace
5. Sterling Silver Sailor's Knot Bracelet (adjustable)
This delicate sailor's knot bracelet is so pretty and available in both gold color and sterling silver. I'm imagining how great this would look paired with a cute navy top and white capris or pants on a casual night on a cruise.
Recommended: Sailer's Knot Bracelet (adjustable)
Suggested post: What To Wear on a Cruise Vacation (when dress codes are changing)
Men's wear – nautical inspired jewelry and watches
While the jewelry here is mostly for women, I did include this gorgeous Nautical look for men. We need to think about Mother's Day and Father's Day, right? 😉
6. Seiko Men's Stainless Steel Japanese-Quartz Watch with Nylon Strap
This nautical inspired watch is not only handsome, but it's water resistant and great for beach days, swimming and snorkeling. It also gets great reviews, which is always nice.
Recommended: Men's Seiko Recharge Stainless Steele (good for Snorkeling) – check Amazon reviews here
Travel Accessories for Beach and Cruise Vacations
7. Passport and travel document holder and wallet
Having a place to put passports and cruise documents is definitely important. This flamingo themed travel wallet is just adorable, but also available in other colors and patterns.
Recommended: Flamingo passport holder wallet (check other styles and colors here – Amazon link)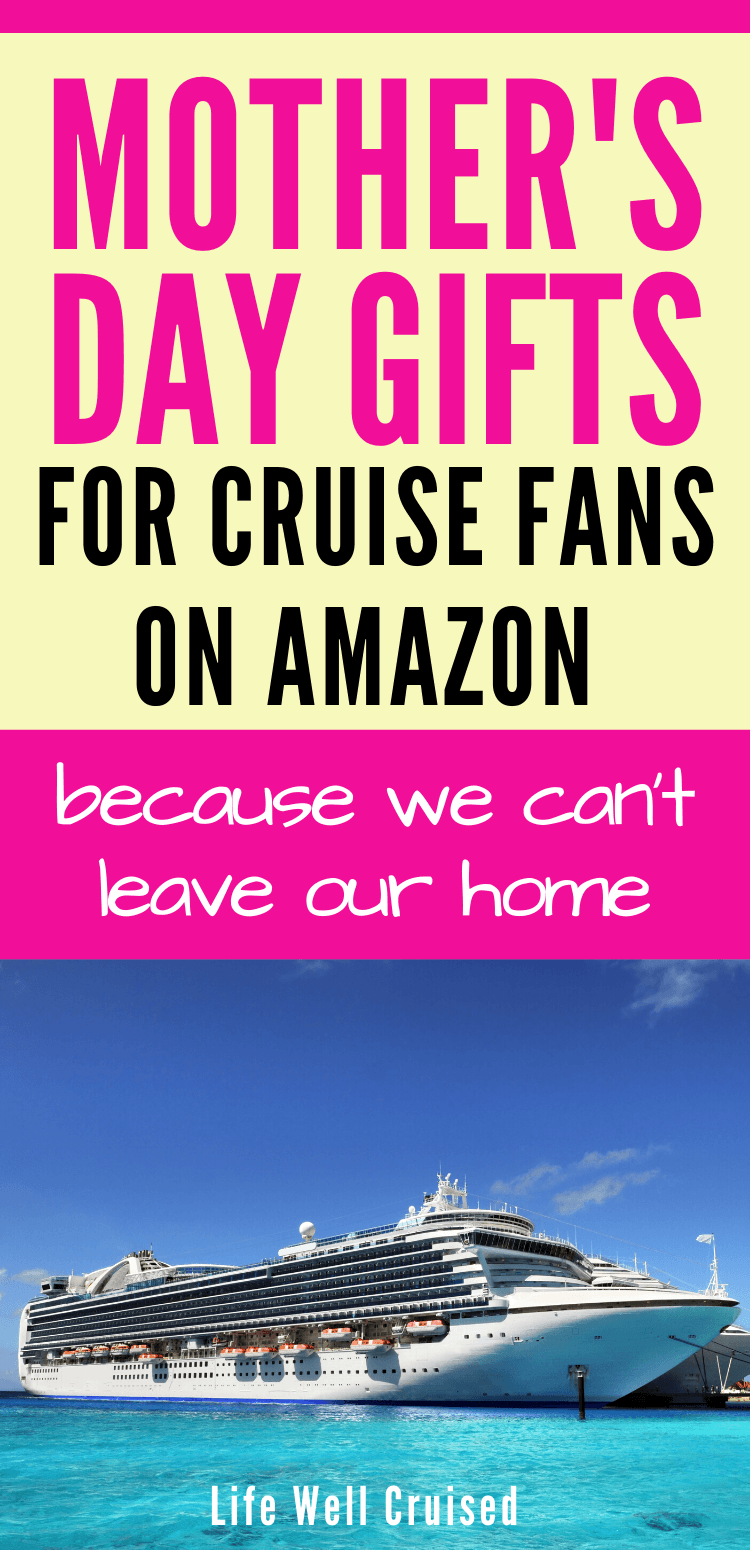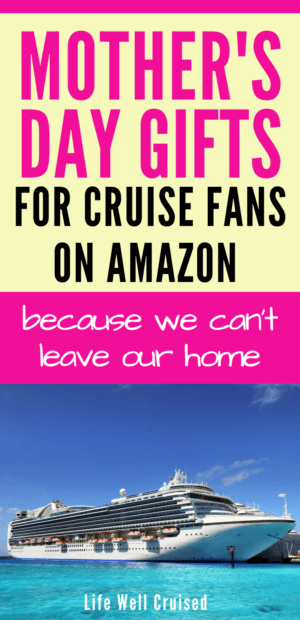 8. The Cruise Planner – A cruise travel planner
A cruise travel planner is a great way to keep organized both before traveling, as well as on the cruise. It's a great way to keep all cruise planning and research together for months before cruising.
Recommended: The Cruise Planner by Cathy Rogers (Amazon link)
Suggested post: 12 Things First-Time Cruisers Should Know for Planning a Cruise
9. Deck and beach chair Towel Clips
A favorite and fun cruise essential, which can be used equally on deck chairs on a cruise ship, and lounge chairs on the beach. They can be used again and again, and are available in many fun varieties.

Recommended: Towel clips – variety available (flamingos, margaritas, flip-flops)
10. Cruise and Travel Binoculars
Travelers who love looking out onto the ocean and seeing whales, dolphins and flying fish say that binoculars are an absolute cruise essential! Cruise gear wouldn't be complete without some travel binoculars. These binoculars are reasonably prices and come highly recommended.
Recommended: Quality binoculars for the cruise traveler (see features HERE – Amazon)
Best Beach and Cruise Gear
11. Portable lock-box safe – perfect for beach outings
This small lox box is really handy for both beach vacations and cruise shore excursions. Travelers can place identification, money and other valuables in this safe portable lock box. It's quickly becoming one of the most popular cruise gear items for frequent cruisers.
Recommended: Portable lock box safe (check reviews on Amazon)
12. Waterproof phone case
These water proof phone cases are so great to keep your phone dry, and keep the sand out when you're at the beach.
Recommended: Universal Waterproof Case (check for compatibility)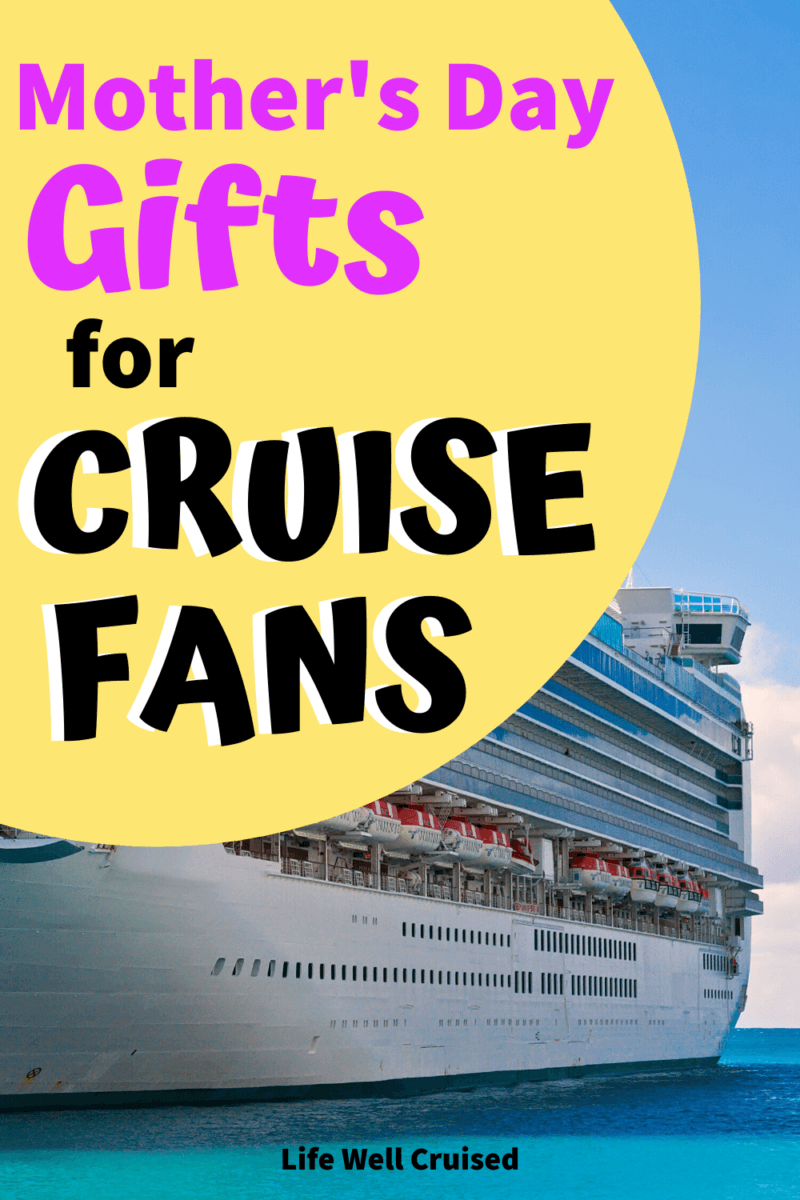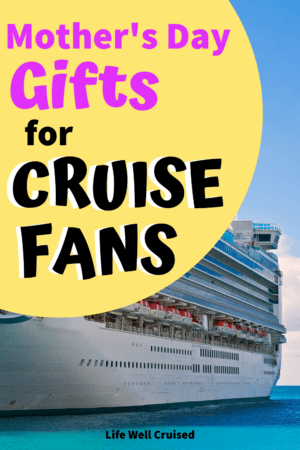 A good size beach bag is perfect for beach days, excursion day bags, and can pull double duty as a cruise carry on bag.
I actually have this bag and can attest to the fact that it's not only super cute, with it's nautical stripes, but it's solid, waterproof and great size for both beach and cruise.
.
Recommended: Nautical Beach Bag (with zipper)
Suggested post: 21 Essential Things to Pack in Your Cruise Carry-On
14. Lighweight foldable cruise and beach day bag / backpack
This portable and foldable bag is amazing and will last years!
Recommended: Lightweight backpack (water resistant)
Luggage and Packing Items that Cruisers Love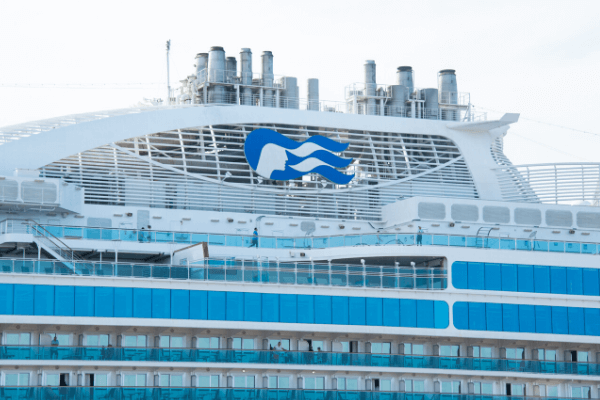 15. Packing cubes
Packing cubes are amazing to keep clothes and other travel items organized. Consider a his and hers set for the easiest packing and unpacking ever!
Recommended: 5 star rated Packing Cubes (see varieties HERE on Amazon)
16. Hanging toiletry bag
This hanging toiletry bag has 4 clear removable pouches, all attached by velcro. Available in a gorgeous pink, as well as silver grey and black.
Recommended: Space-saving hanging toiletry bag (available in pink, black and grey on Amazon)
17. The ultimate luggage set for cruises and flights
If a new set of luggage is required, this lightweight set is perfect!
Recommended: Luggage and travel set (check Amazon link for reviews and pricing)
Suggested post: 20 Cruise Packing Tips all Cruisers Need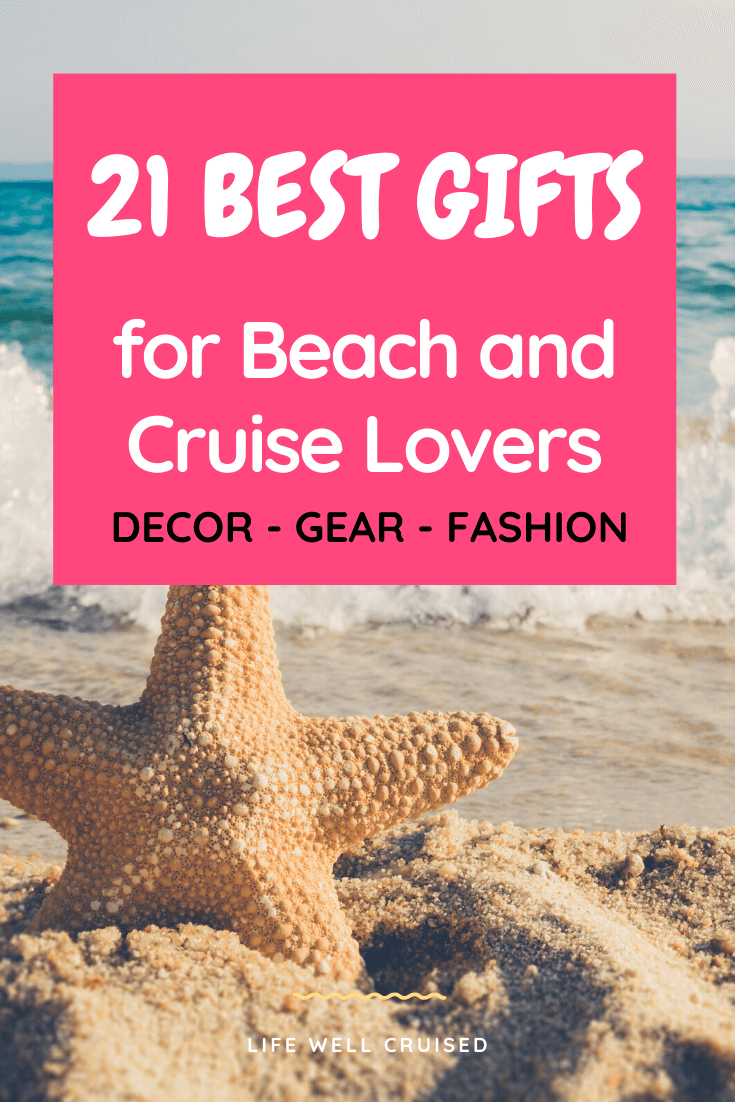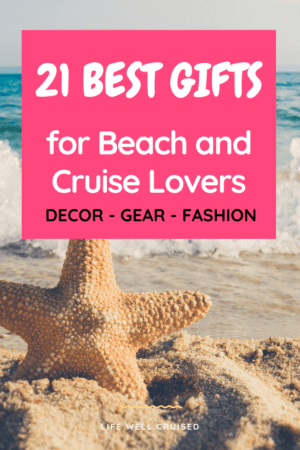 Cruise Essentials, Gadgets and Cruise gear
Cruise staterooms can sometimes use a little cabin makeover. The cruise accessories help both organize a cabin, and make it more comfortable as well.
18.Portable phone charger
Phone batteries don't last the way they used to, so having a portable charger is really a cruise neccesity these days, especially if you want to take photos and videos. This one charges two phones at a time – so practical!
Recommended: INIU Portable Charger – compatible with most phones (but do verify)
19. Magnetic wall hooks for cruise cabins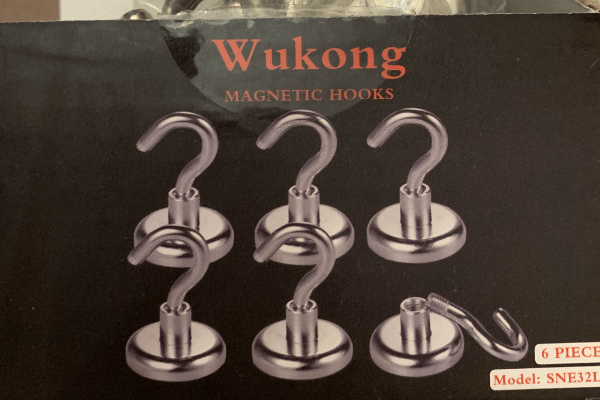 Recommended: Heavy Duty Magnetic Hooks
20. Portable mini-fan
A battery operated portable fan is great for cruise cabins that can get stuffy.
Recommended: Portable Travel Mini Fan
Suggested post: 25+ most recommended Amazon Items to Bring on a cruise
Nautical Decor for the Home
21. Cruise anchor welcome door mat
This nautical door mat is a perfect for any cruise lover!
I love this cruisey welcome mat and have ordered one for my home! If I can't be on a cruise right now, at least I can be reminded of it and have a little fun!
Recommended: Cruise anchor welcome door mat (see pricing on Amazon)
Suggested: What To Wear on a Cruise Vacation
Recap: 21 Best Gifts for Beach and Cruise Lovers; Nautical jewelry, travel essentials, home decor
This list of best gifts and items for cruisers and beach lovers, covers everything from everyday nautical jewelry and home decor, to cruise and travel essentials.
As Mother's Day and other holidays approach, I love that these items are all available online on Amazon, which makes it so much easier during these times.
What nautical or ocean inspired items are your favorites? Please let me know in the comments below.
Happy cruising!
Ilana xoxo
P.S. If you enjoyed this post and found it helpful, please don't keep it to yourself ;-). Feel free to share on Pinterest, Facebook or Twitter (share buttons at the top). Thanks so much!
Popular posts:
25 Most Recommended Amazon Items to Bring on a cruise
How Will Cruising Change, Recover and Restore Cruisers Confidence Once Again
17 Cruise Stateroom Essentials Every Cruiser Needs
Let's connect:
Follow me on Facebook at Life Well Cruised
Follow me onYouTube at Life Well Cruised (Vlogs and cruise tips)
Follow me on Pinterest at Life Well Cruised
Follow me on Instagram at Life Well Cruised