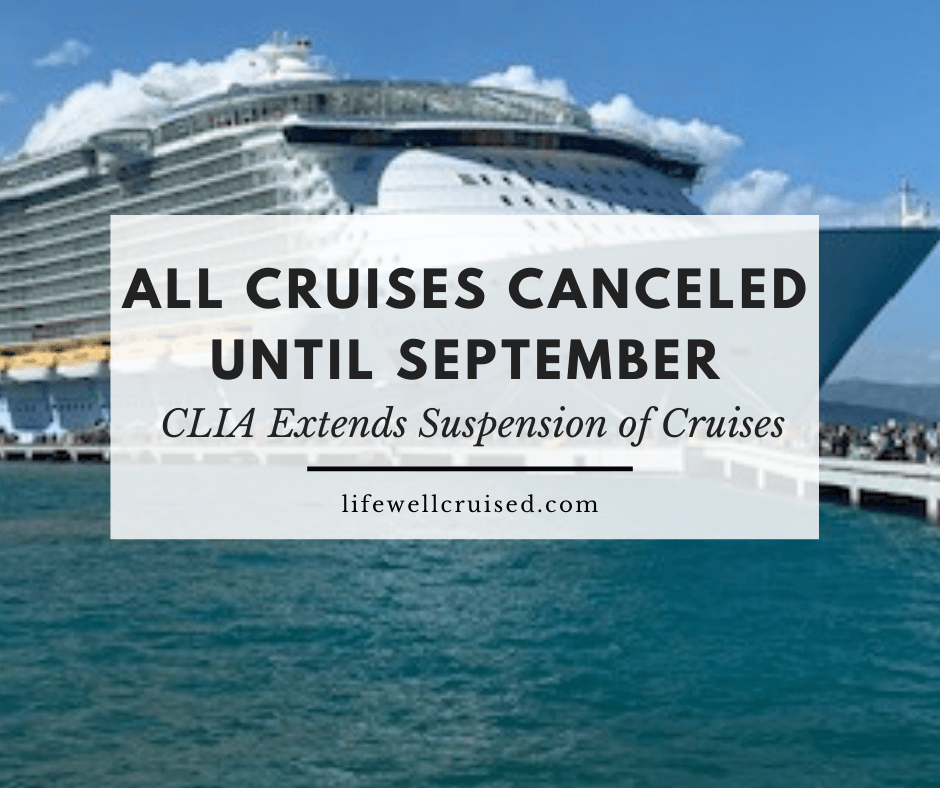 While the CDC's no-sail order was due to expire July 24, CLIA, the Cruise Line International Association announced a voluntary extension of suspended cruises, until September 15. This applies to cruises departing US ports.
If the latest cruise cancellations are getting to you, you're not alone. It's certainly difficult, especially if your cruise is affected.
After the Norwegian Cruise Line cruise cancellation announcement just a few days ago, this isn't a total surprise – we all expected something, didn't we?
However, this announcement comes from CLIA, representing all members. Consequently, this extended suspension of operations affects every cruise line.
In case you're wondering, CLIA represents the interests of the cruise industry as a whole. It's the largest cruise industry trade association, and all major cruise lines are members. It also provides resources and professional development for travel agents and industry partners.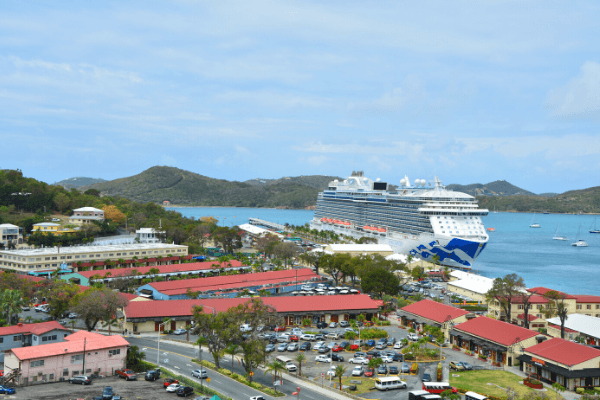 Breaking News: Voluntary Extension of Suspension of Cruises Until September 15
Here's an excerpt from the CLIA announcement, which can be found on the CLIA website as well as on their social media pages:
"Due to the ongoing situation within the U.S. related to COVID-19, CLIA member cruise lines have decided to voluntarily extend the period of suspended passenger operations. The current No Sail Order issued by the U.S. Centers for Disease Control and Prevention (CDC) will expire on 24 July, and although we had hoped that cruise activity could resume as soon as possible after that date, it is increasingly clear that more time will be needed to resolve barriers to resumption in the United States."
They go on to explain that when cruising does resume, CLIA is confident that cruises will be safe, and following the "latest protective measures". Further, this decision and more cautious timeline was made in the best interests of passengers and crew.
The statement continues, "The additional time will also allow us to consult with the CDC on measures that will be appropriate for the eventual resumption of cruise operations."
"This voluntary suspension applies to all CLIA members to which the No Sail Order applied (vessels with capacity to carry 250 persons or more). CLIA member cruise lines will continually evaluate the evolving situation and make a determination as to whether a further extension is necessary."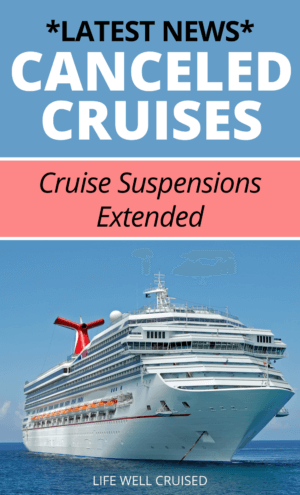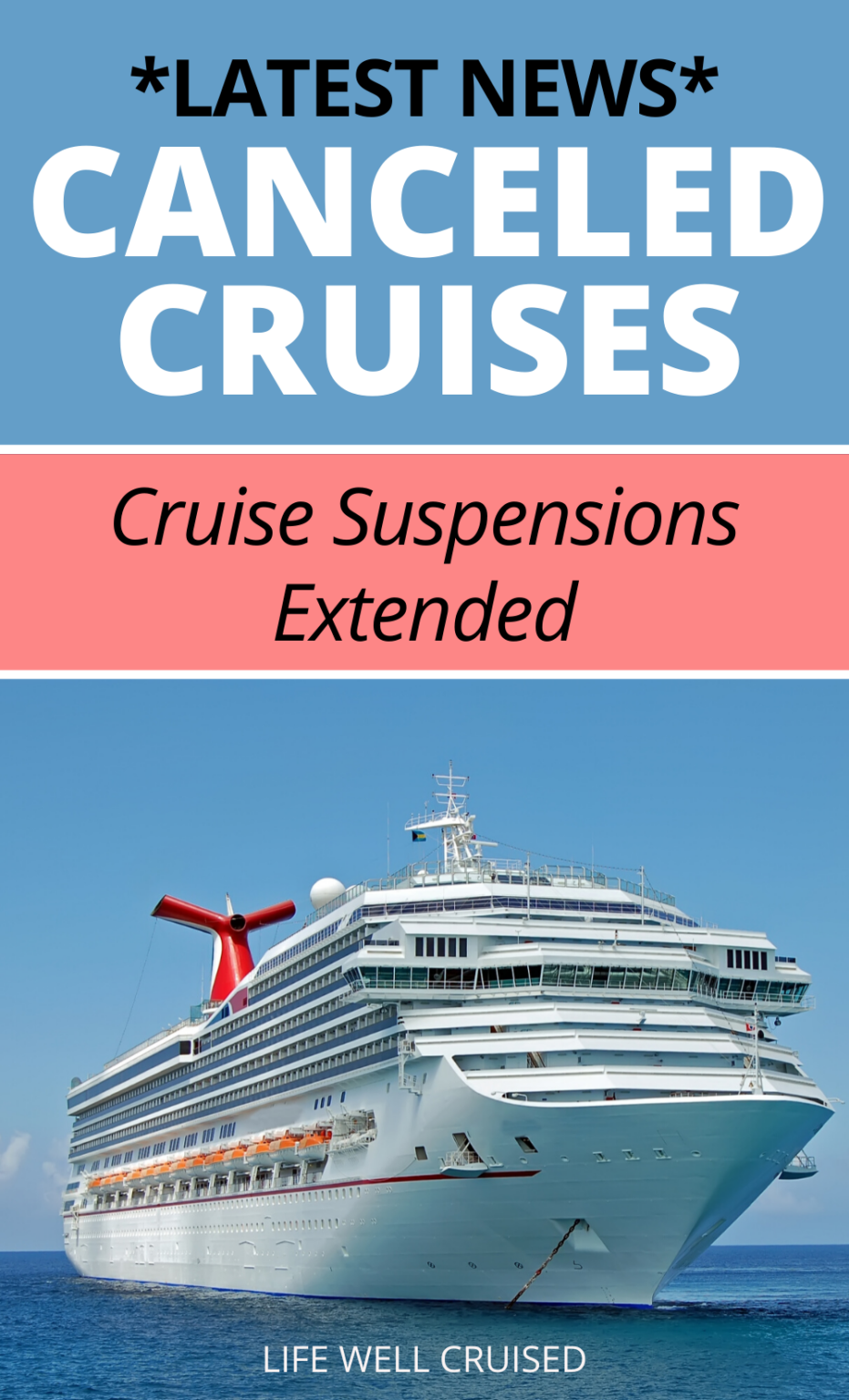 Economic Impact
CLIA also pointed out the economic impact of the cruise suspensions. The cruise industry, both directly and indirectly, supports many jobs and businesses in the US. It's estimated that for every day of the suspension of cruises, there is a total loss of approximately $110 million in economic activity, and 800 jobs. (source CLIA statement June 19, 2020).
What to do if your cruise is canceled
During the last few cruise cancellations, most cruise lines were offering cruise passengers 2 options. Although not yet confirmed, this is the likely scenario.
You'll be able to choose either a full refund or a future cruise credit, which has been 125% during recent cancellations.
Keep an eye for an email from your cruise line in the next few days, for any specific instructions you must follow. In most cases a Future Cruise Credit is the default option, so if you prefer a refund, you'll need to be more pro-active.
Always look at the terms and conditions, including your date to rebook as well as to use your future cruise credit voucher.
Suggested: Should You Take a Refund or Future Cruise Credit on a Canceled Cruise?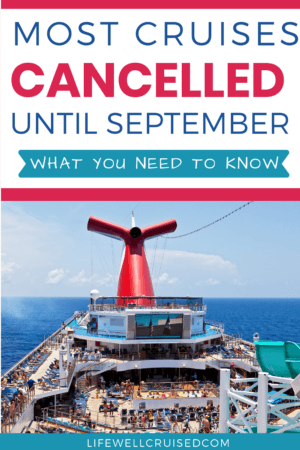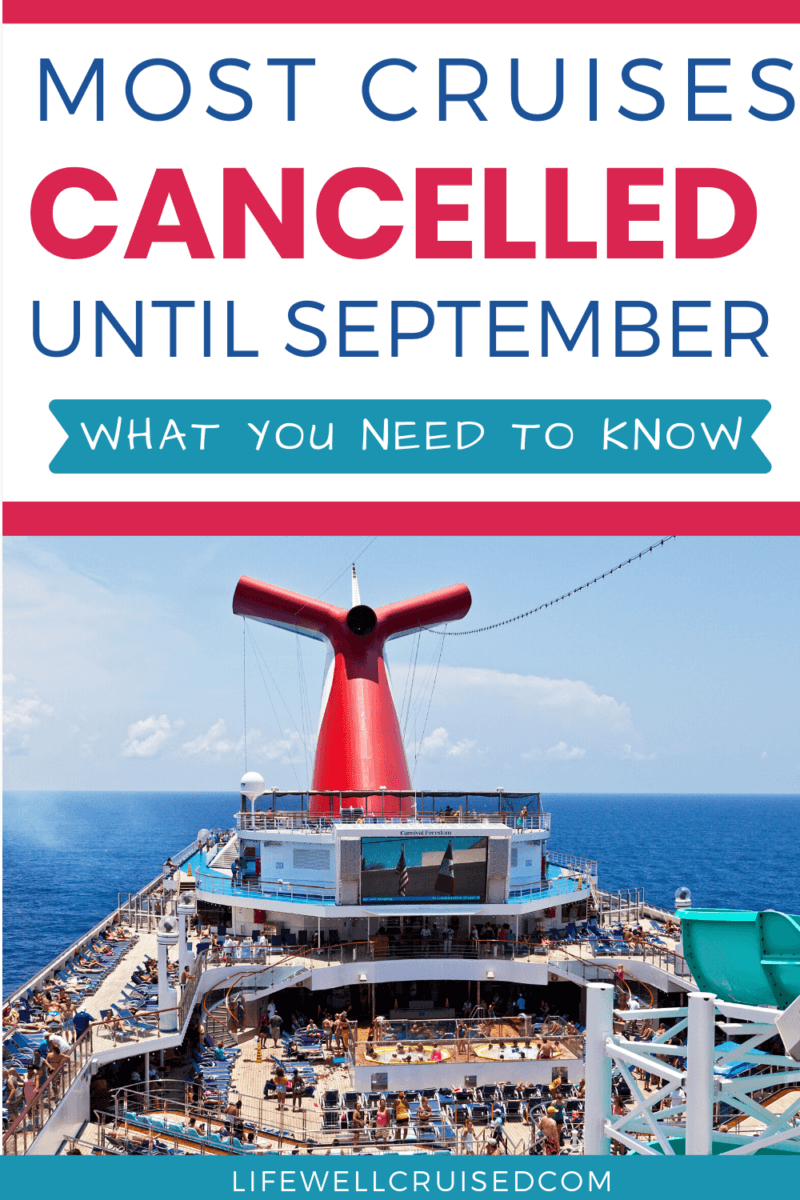 Final Thoughts: CLIA Announcement – Cruises Cancelled Until September 15
As the world health situation continues to be impacted, despite the innovations and health and safety measures cruise lines are implementing, it's clearly not yet time to cruise. While we all wish it were different, and some of us may be ready to cruise, this clearly is a complicated situation for cruise lines.
I do hope that the CDC will begin communicating with the public, and working cooperatively with cruise lines to ensure safe cruising resumes as soon as possible.
Are you satisfied with this statement and supportive of the decision to delay cruising until September 15? Do you think this has the potential to be extended further? Please let me know in the comments below.
Happy (future) cruising!!
Ilana xoxo
P.S. If you found this helpful, please don't keep it to yourself ;-). Please share on Facebook or PIN to your favorite Pinterest board (share buttons at the top). Thanks so much!
Suggested posts:
How Will Cruising Change, Recover and Restore Cruiser Confidence Once Again
25 Cruise Essentials Most Popular on Amazon
Should You Take a Refund or Future Cruise Credit on a Canceled Cruise?
Let's connect:
Follow me on Facebook at Life Well Cruised
Follow me onYouTube at Life Well Cruised (Vlogs and cruise tips)
Follow me on Pinterest at Life Well Cruised
Follow me on Instagram at Life Well Cruised