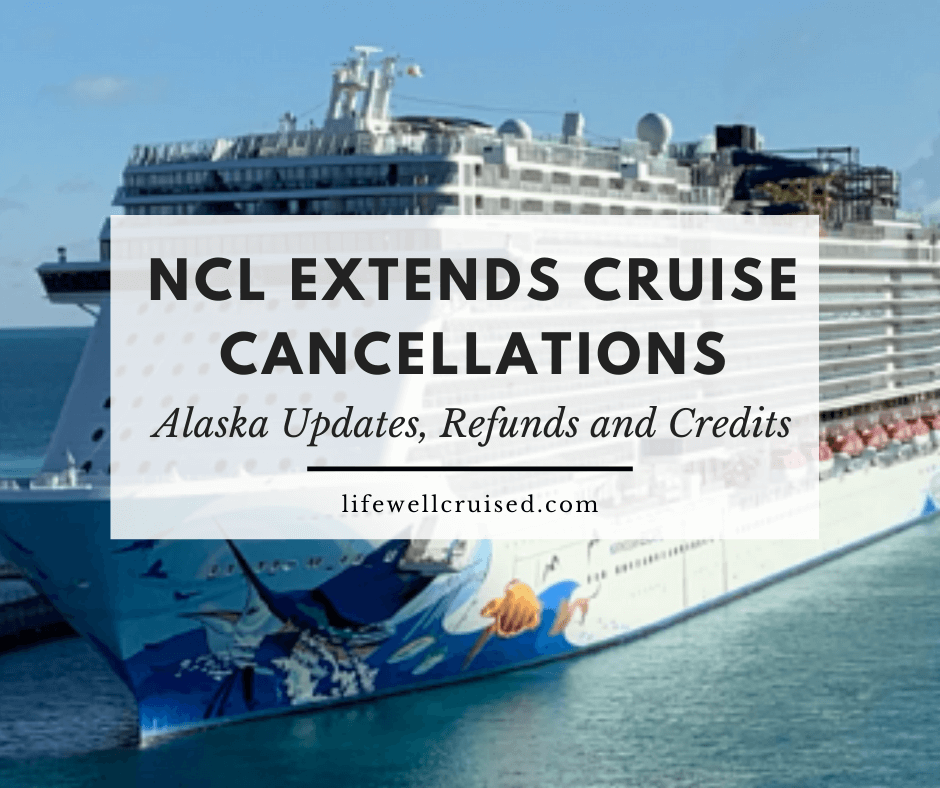 In unfortunate, but not completely unexpected news, Norwegian Cruise Line has extended it's suspension of cruises until the end of September, as well as some in October. However, as with most cruise cancellations we've seen during this crisis, there are quite a few details, and this may not affect all cruises.
Norwegian Alaska Sailings – Cancellations and Updates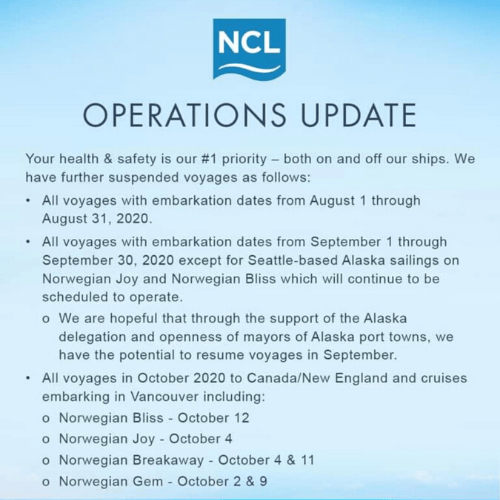 In an interesting development, Norwegian Cruise Line has shared news that it is hoping to sail in Alaska with Seattle based cruise ships, the Norwegian Joy and Norwegian Bliss, beginning in September. This move would be circumventing the Jones Act, which requires that cruise ships stop in at least one non-US port as part of the itinerary.
They explain that they are working with local governments in Alaska and authorities and are hopeful that this may come to pass. If this does happen, this would be great news for cruisers, as well as for the Alaska tourism and local businesses.
There are a few October cruises that are also cancelled (Canada/New England), however in a statement, Norwegian Cruise Line says that they "remain optimistic and expect to relaunch cruise operations in the near future." They go on to explain that "due to the evolving nature of the circumstances we are making decisions as thoughtfully as possible, and as always, keeping our guests and travel partner's best interests at heart."
Sister brand cruise lines, Regent Seven Seas Cruise and Oceania Cruises are also affected, through October.
Read next: How Will Cruising Change, Recover and Restore Cruiser Confidence Once Again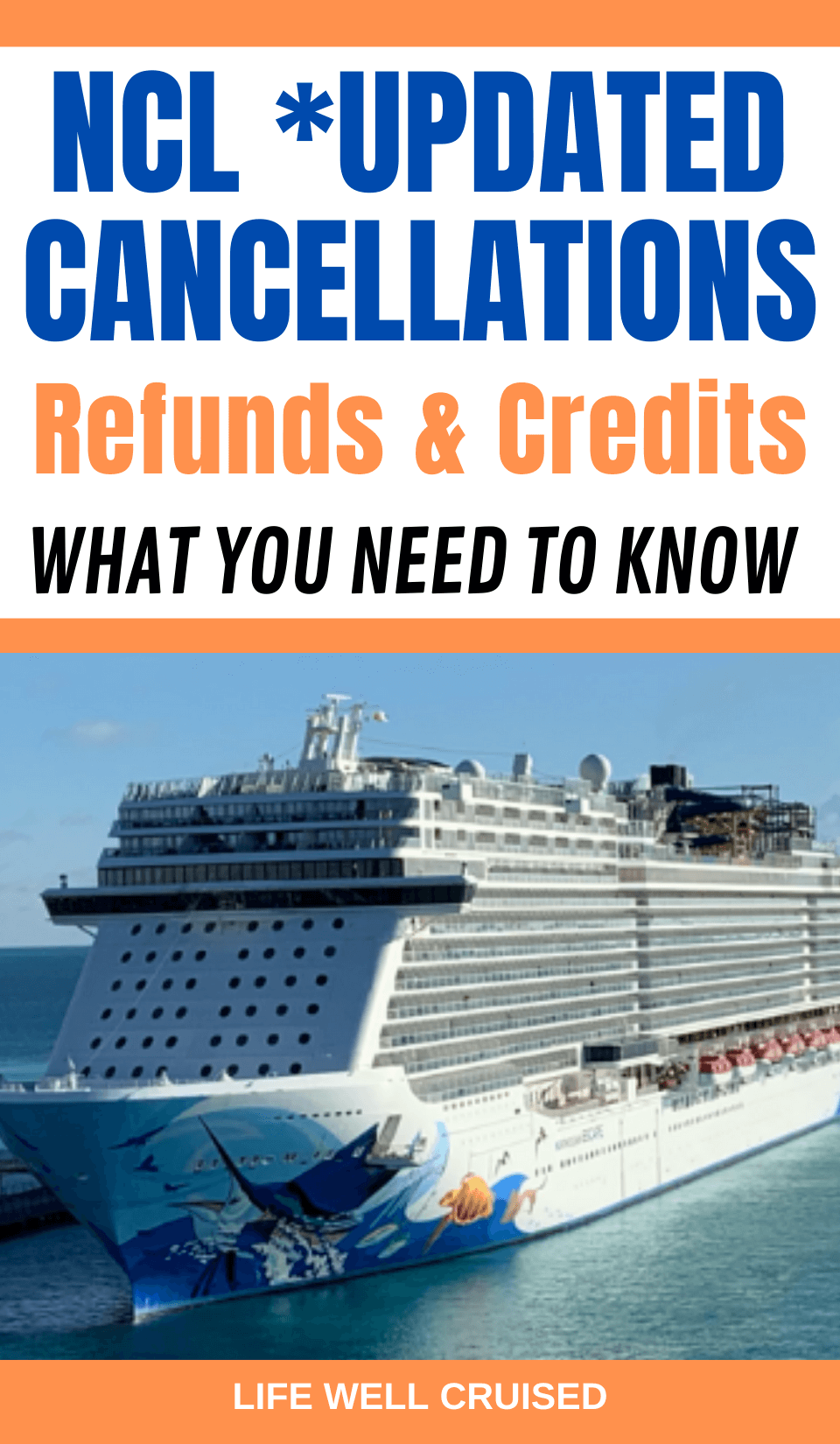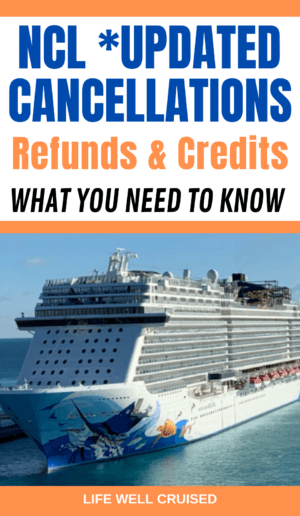 How to Obtain your Future Cruise Credits or Refund
If your Norwegian cruise is canceled, there are some things you should know about getting a full refund or Future Cruise Credit.
By default, you'll be issued a Future Cruise Credit of 125%. Your FCC is valid for up to one year from the issue date, and applicable on any cruise up to December 31, 2022.
Very important – If you would prefer a refund, there is a limited time to apply for this. At this point the dates to apply for a refund are between July 6 and 17. Always check the details on your own booking.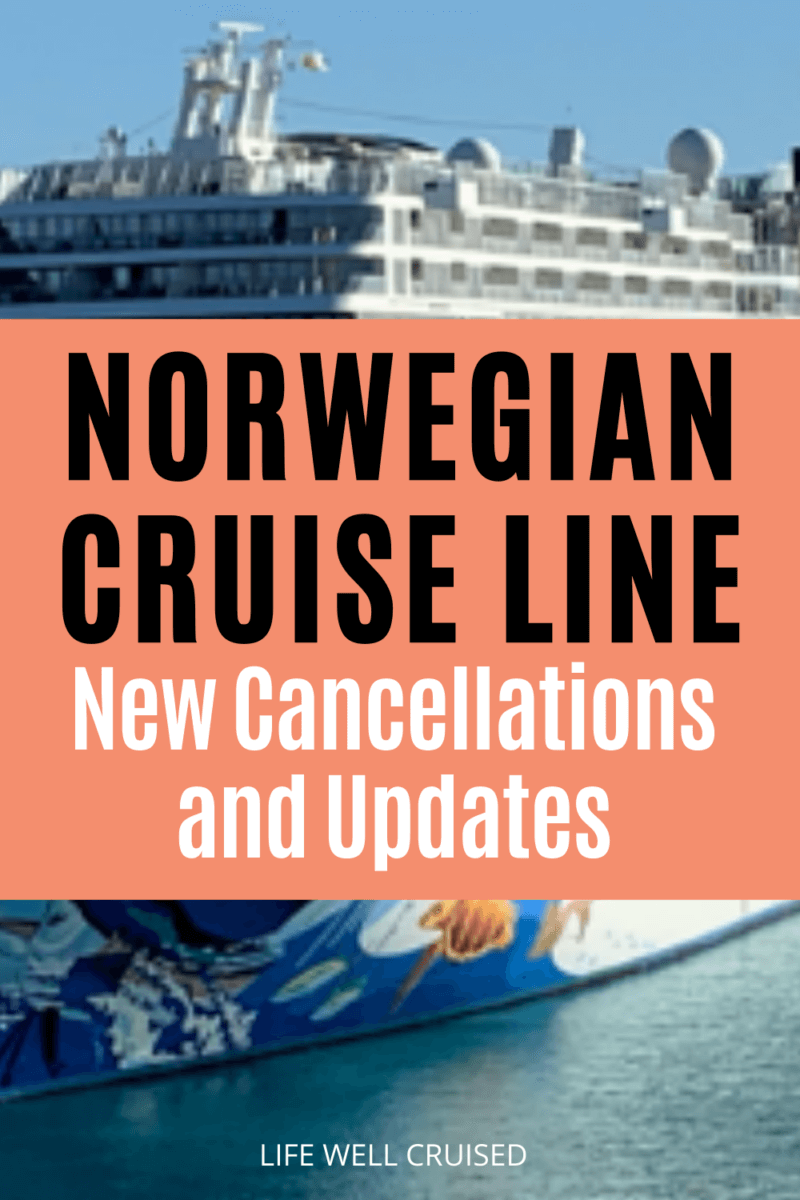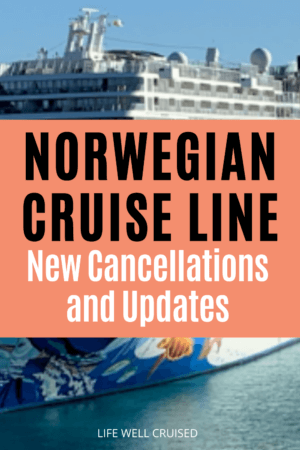 Read next: Norwegian Cruise Line Reveals Plan: NEW Cruise Health and Safety Protocols
In this YouTube Video, we discuss potential cruise cancellations from other cruise lines, as well as answer some Frequently Asked Questions
Final thoughts: Norwegian Cruise Lines Cancellations and Alaska Exceptions
New cruise cancellations just isn't what any of us want to hear. I know I can't wait to actually have some GOOD cruise news.
However, given Norwegian Cruise Line's new health and safety measures, announced recently, I'm confident that when cruises do return, it will be safe and they will rebound and re-establish confidence in this mode of travel.
Do you think other cruise lines be following, and also announcing more suspensions? Have you had a canceled cruise and received your FCC or refund yet? Please let me know in the comments below.
Ilana xoxo
P.S. If you found this helpful, please don't keep it to yourself ;-). Please share on Facebook or PIN to your favorite Pinterest board (share buttons at the top). Thanks so much!
Suggested posts:
How Will Cruising Change, Recover and Restore Cruiser Confidence Once Again
25 Cruise Essentials Most Popular on Amazon
Should You Take a Refund or Future Cruise Credit on a Canceled Cruise?
Let's connect:
Follow me on Facebook at Life Well Cruised
Follow me onYouTube at Life Well Cruised (Vlogs and cruise tips)
Follow me on Pinterest at Life Well Cruised
Follow me on Instagram at Life Well Cruised