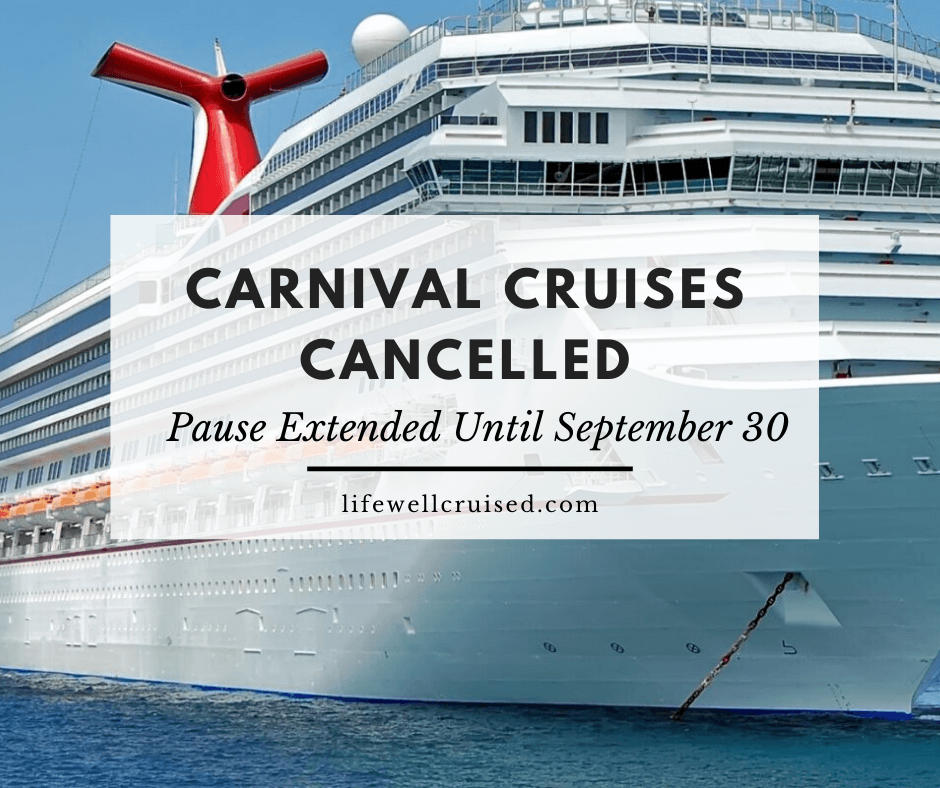 After the Cruise Line International Association (CLIA) announced a voluntary suspension of cruise operations until September 15, Carnival Cruises has now advised passengers and travel agents that it is canceling cruises through September 30, 2020.
This, of course, comes as sad and frustrating news for cruise passengers who are anxious to get back to cruising once again.
Confirmation of this news comes from the PR Newswire as well as on Carnival Cruises social media on June 22.
Carnival Cruises Extends Pause in Cruising
"During this unprecedented pause in business, we have continued to confer with public health, government and industry officials, and watch with great interest as commerce, travel and personal activities begin to resume. The cruise industry announced that it would voluntarily extend its pause in North America through September 15th.
We must share disappointing news that we are extending our pause in service and cancelling all cruises through September 30th.
If your sailing has been impacted, you will have received an email direct from Carnival or your travel advisor. The email will have all the instructions you need to claim your cancellation offer or refund. Please continue to take care of yourself and your loved ones. Your health and safety are important to us whether you're on land or on one of our ships." – Carnival Cruises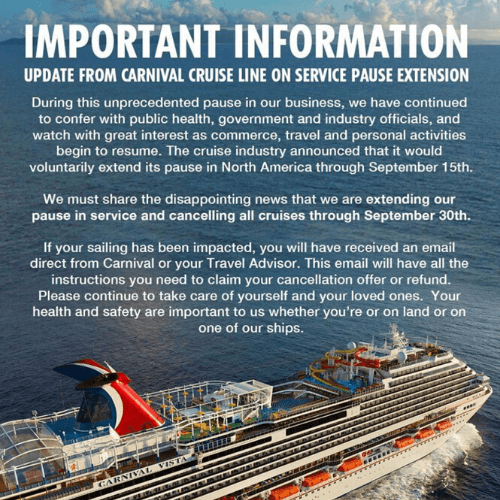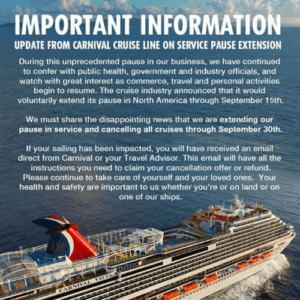 Carnival Ambassador John Heald, posted a Live video on his Facebook page explaining this decision, and empathizing with all those affected by these latest cancellations.
From the live video:
"We will be back stronger and better than ever! We will give you more fun than you've ever had in your life! We will have all the different precautions on board ready to keep you safe, but the smiles from the crew will be ready to light up those darkest days, and bring you the fun back!" – John Heald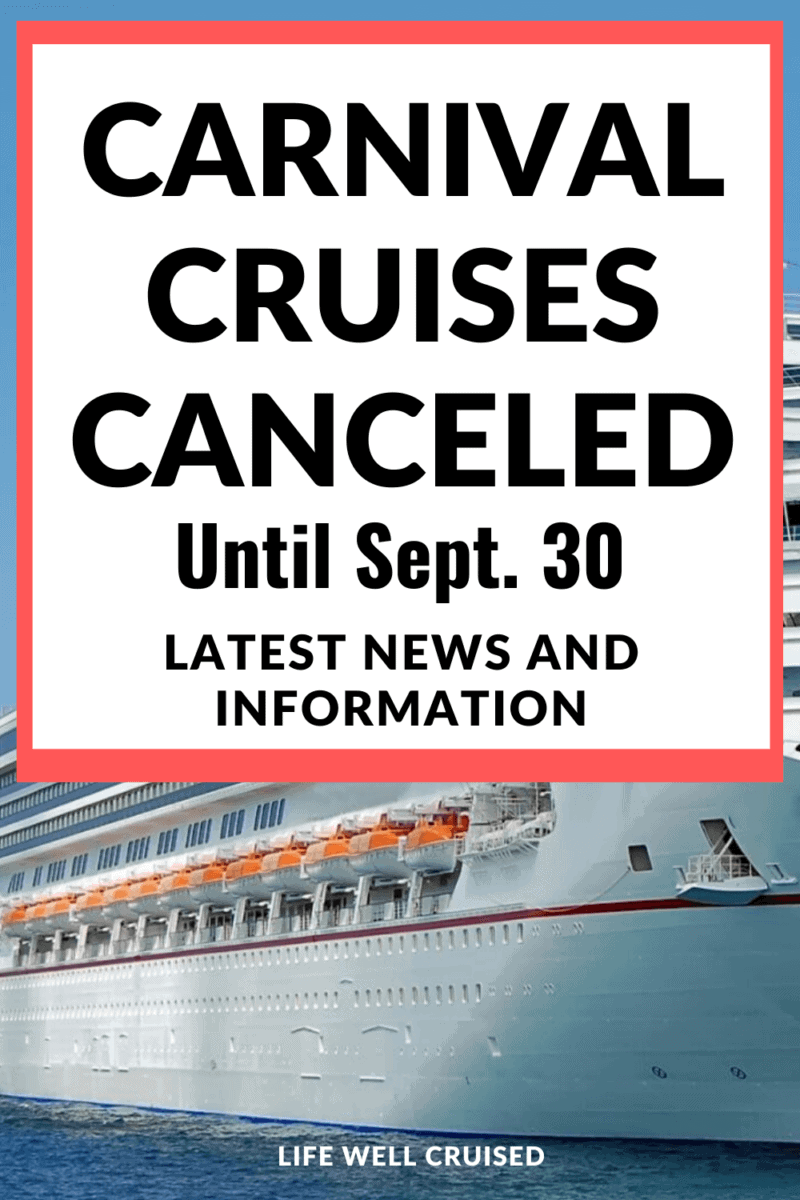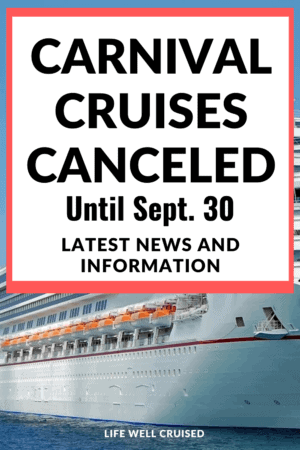 What to do if your Carnival Cruise is canceled
Similar to past cruise cancellations, Carnival Cruises has a couple of options for you.
1. Full refund
2. Onboard Credit (OBC) of either $300 (5 days or less) or $600 (6 days or more)
Please note that all taxes, fees, prepaid gratuities, Carnival Vacation Protection and shore excursions are automatically refunded to your original method of payment.
Carnival will be sending an email to guests, and you can apply for the option of your choice by clicking directly on the link.
Has your cruise been affected by the latest pause in cruising? Please let me know your thoughts in the comments below.
Happy (future) cruising!
Ilana xoxo
P.S. If you found this helpful, please don't keep it to yourself ;-). Please share on Facebook or PIN to your favorite Pinterest board (share buttons at the top). Thanks so much!
Suggested posts:
CLIA Announcement: Cruises Canceled Until September 15
How Will Cruising Change, Recover and Restore Cruiser Confidence Once Again
25 Cruise Essentials Most Popular on Amazon
Should You Take a Refund or Future Cruise Credit on a Canceled Cruise?
Let's connect:
Follow me on Facebook at Life Well Cruised
Follow me onYouTube at Life Well Cruised (Vlogs and cruise tips)
Follow me on Pinterest at Life Well Cruised
Follow me on Instagram at Life Well Cruised