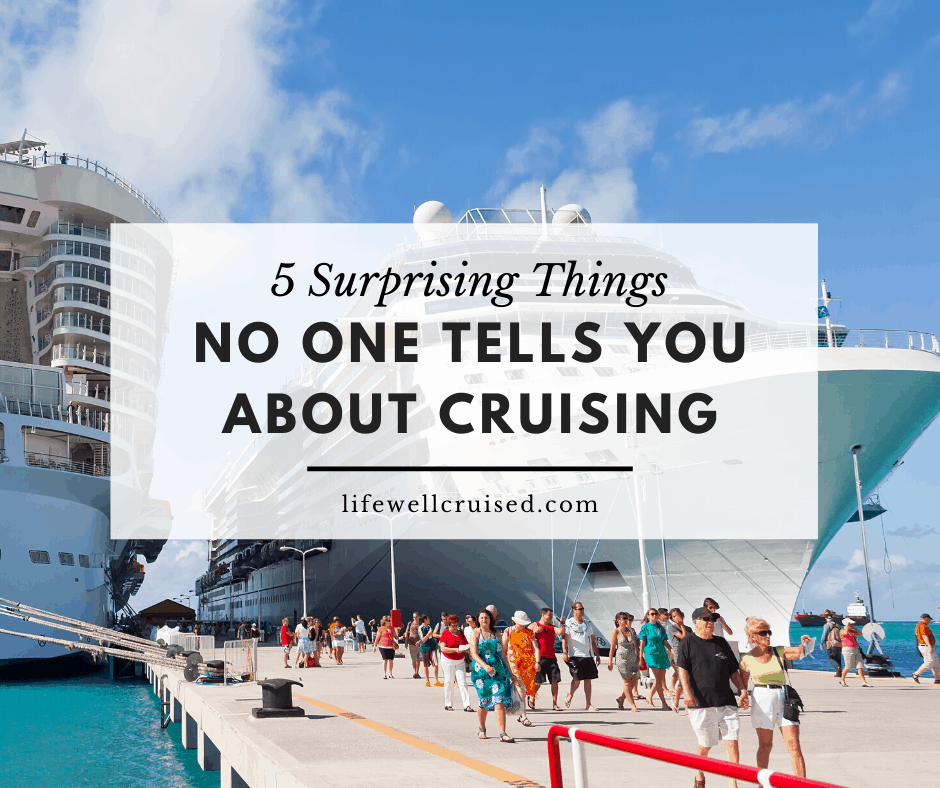 5 Things You Should Know Before You Cruise
However, there are a few things that no one tells you about cruising. Perhaps because they've forgotten or they might just be used to it.
As a
first-time cruiser
these things might surprise you. This is why I want to share these
cruise ship facts
with you, as I believe if your well-informed you're never going to be disappointed.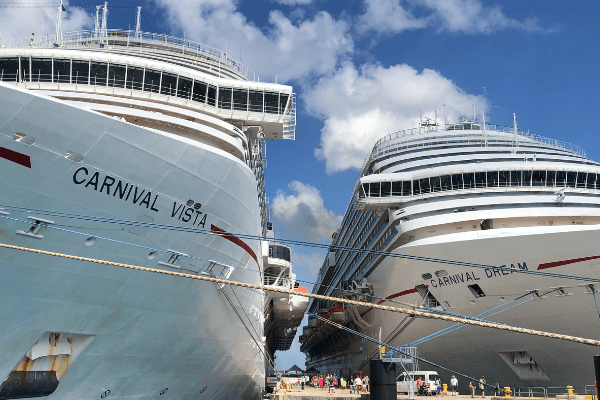 Before I get into the 5 things that we don't always hear about cruising, I want to share this short anecdote, that involves my brother on his first cruise.
My brother and his wife were newly married, and soon after buying their first home, decided they wanted to go on their first cruise.
Of course, my husband Frank and I had cruised a few times, as had some friends. However, my brother told us that he absolutely wanted to be surprised and experience cruising all on his own.
We were under strict orders not to tell him anything about the cruise ship, itinerary and ports of call, or even activities on the ship.
He let us know, that if he had questions he'd ask, but he did not want any unsolicited advice.
So, of course we obliged. As he had a question about a specific excursion or online check in, we answered, but nothing more, as per his wishes.
They were going on Royal Caribbean's Explorer of the Seas, a very beautiful and fun ship for a young couple.
Well, they had a great time and really enjoyed it (and have cruised many times since then).
However he came home and said, among other things…
"Why didn't you tell me the pool was saltwater? My eyes were burning for a full day!"
It seemed he jumped right in and this didn't occur to him.
By the way, something to know is that some cruise ships have salt water in their main pools (and don't desalinate much). All cruise ship pools are ocean water, but some are worse than others.
Anyway, we laughed and reminded him of his wishes…
Moral of the story – a little knowledge is never a bad thing 😉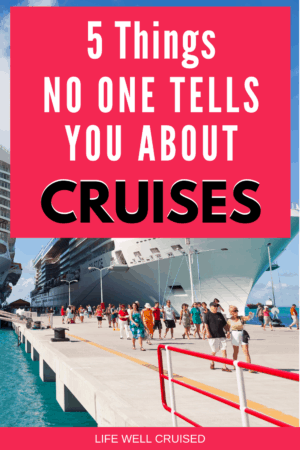 Things to know if you're cruising for the first time
1. You'll feel the ship move
This was actually the first thing that we noticed on our first cruise, that totally surprised us.
You see, everyone told us that we wouldn't even feel the ship move, so we were totally unprepared for this non obvious truth about cruising.
We booked with a travel agent and we were a little bit worried about getting seasick, and she assured us that because the ship was so big and had stabilizers we would not even know we were on a boat.
Oh believe me… we knew we were on a boat!!
We'd feel the vibration of the ship at times and one time in the bar lounge, our drinks actually slid across the table.
Although we got used to it pretty quickly and never did get seasick, we learned a truth about cruising, you'll feel the cruise ship move, at least a little.
2. Cruise ship excursions are expensive
When you first book your cruise, you may not be aware that there are a few extra expenses to consider. Cruise gratuities and shore excursions are extra costs of cruising, that are important to be aware of.
Depending on your cruise itinerary, the extra cost of shore excursions, can really add up. Many excursions can be $50-100 per person or more.
However, don't be discouraged, as there are ways to save money on shore excursions. You may want to book shore excursions with a private vendor, or in some ports you can easily take a cab or shuttle to the beach.
Personally, I still suggest you book any long day excursions or activities you really want to do with the cruise line. If this is your first cruise, you'll appreciate the peace of mind.
If you do choose a cruise line excursion, always check if they do you have a price matching policy. As an example,
Princess Cruises
has a Shore Excursion Price Guarantee, which we've been able to use several times.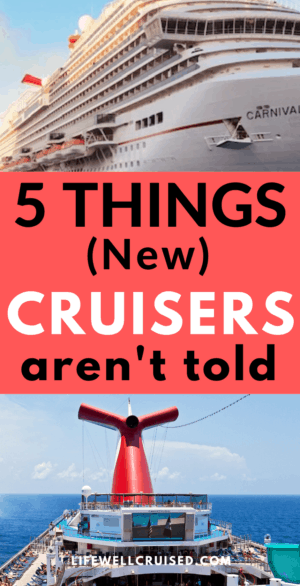 3. The pool and hot tub will likely be packed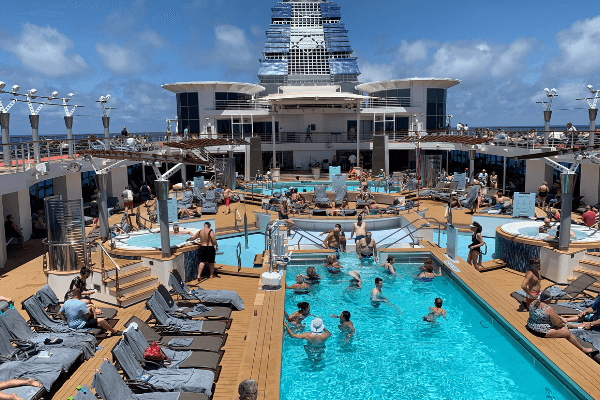 If you're imagining days by the pool that look like the cruise brochure, that's probably not going to happen.
The fact is, the pool areas and hot tubs will be crowded, especially on hot weather cruise itineraries.
Personally, I love sitting by the pool and taking in the sun and the ocean breeze on the pool deck, so I have some tips to share.
1. Get up early if you want a lounge chair close by to the pool. While you don't want to be a chair hog, you can grab a couple chairs early in the day and leave occasionally to grab a bite to eat or go into the pool.
Another great location for deck chairs, is the top deck, just one level over the pools. It does tend to be breezy, so make sure to use towel clips to keep everything from flying away.
2. If you'd like a less crowded pool area, you may want to choose a cruise line or cruise ship that offers more space per passenger and that attracts a slightly older demographic. More family orientated cruise ships do tend to have busier pool areas.
Suggested: 25 Most Popular Amazon Items to Bring on a cruise
4. Your cruise itinerary can change
One thing that disappoints and surprises many new cruisers is that your cruise itinerary can actually change, even once you're on the cruise ship. It's actually part of the cruise contract that we all agree to (in the fine print) when we book a cruise.
Most of the time, itinerary changes are due to weather. If there's a storm, the Captain may choose to go to another port and change the itinerary, which often happens during
Hurricane season
.
Other times a port can be missed due to rough seas or high winds, which happened to us on our last cruise on Crown Princess.
One thing to remember is that cruise line's make this decision to keep passengers and crew safe. If you are on a cruise and this happens, try to embrace and enjoy the extra
sea days
, which can be both relaxing and fun.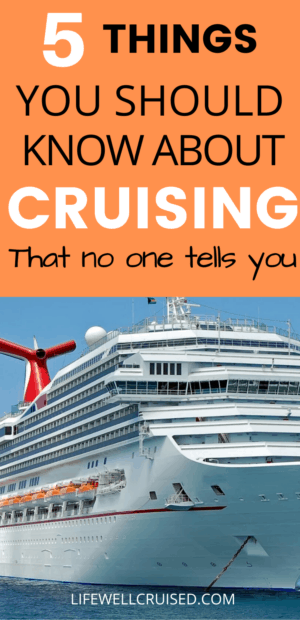 5. Cruise ship balconies are small
No matter which type of stateroom you've chosen, cruise ship cabins are on the small side (unless you have a suite). However, it may surprise you to know that the outdoor space, balconies or verandas are on the compact side too.
Now I love a
balcony cabin
and the beautiful view on the water, as well as the opportunity to have a calm and relaxing space all our own. However, something you should know is that balconies are not terribly wide.
This means you'll usually have two garden style chairs and a small patio table. On some ships, when sitting, you knees may actually touch the glass. (true story lol –
Norwegian Breakaway
).
Typically older cruise ships, even if refurbished, have larger balconies. Meanwhile, newer ships were built to maximise space, and tend to have slightly smaller balconies.
If you've cruised in the past, and are now going on a newer cruise ship, you're forewarned 😉
Final thoughts: 5 Things No One Tells You About Cruising
There are so many things to know when you're cruising for the first time, that we don't always remember the less obvious cruise truths.
These aspects certainly won't detract from an amazing cruise. However, I believe that we'll never be disappointed if we know what to expect.
If you're going on a cruise for the first time, you may enjoy these posts with awesome cruise tips, to help you have the very best cruise vacation!
17 New Cruiser Mistakes You Might be Making
30 Cruise Cabin Hacks Every Cruiser Needs to Know
27 Cruise Travel Hacks Repeat Cruisers Swear By
25 most recommended Amazon Items to Bring on a cruise
What things have you found surprising, that aren't often talked about when it comes to cruising? Please let me know in the comments below.
Happy Cruising!!
Ilana xoxo
P.S. If you've enjoyed this, please don't keep it to yourself ;-)! Please share it on Facebook or save for later on Pinterest. Thanks so much!
Popular and related posts:
25 most recommended Amazon Items to Bring on a cruise
The Pros and Cons of Packing Cubes for Cruise Vacations
17 Cruise Stateroom Essentials Every Cruiser Needs
Let's connect:
Follow me on YouTube at Life Well Cruised
Follow me on Facebook at Life Well Cruised
Follow me on Pinterest at Life Well Cruised
Follow me on Instagram at Life Well Cruised