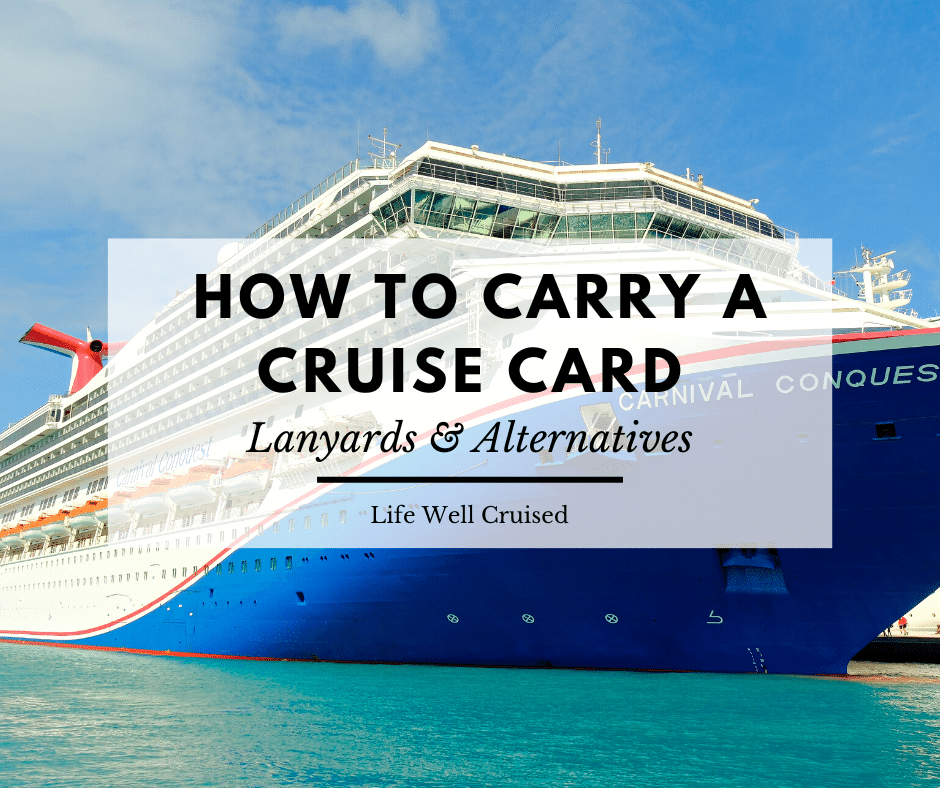 If you're going on a cruise, there is one very practical cruise item that you won't want to cruise without. A cruise lanyard!
I resisted for a while, but now make sure that I always travel with cruise lanyards to carry my cruise card.
Since you'll need to carry your cruise card everywhere you go, a cruise lanyard (or an alternative) will ensure that you never misplace or fumble for your cruise key card.
This post contains affiliate links which means if you click and buy that I may make a commission, at no cost to you. Please see my disclosure policy for details.
As an Amazon Associate I earn from qualifying purchases.
Why Do Cruisers Use a Lanyard?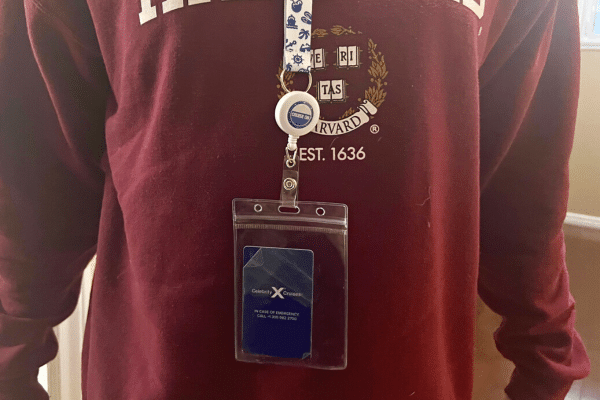 If you're a first time cruiser, you might wonder why cruise passengers would need a lanyard. Lanyards are used to hold a cruise card, which serves as a room key card and more.
Since you'll need your cruise key card to pay for drinks, make reservations and get off and on the cruise ship in port, it's essential that you always have you cruise card on you.
It's not uncommon for cruise passengers to lose or misplace their key cards, often at the worst times. For example, if you're trying to get into a show and need your card scanned, you must have it. If you've misplaced it, you'll need to go to guest services to have a new one made.
If you want to save yourself time and anguish, it's a good idea to use a cruise lanyard or a lanyard alternative to carry your cruise card.
Cruise Lanyard Ideas
Here are a few popular cruise lanyard ideas, all available on Amazon.
Cruise Lanyards
These cruise lanyards are fantastic. They have a retractable reel and a detachable clasp, very handy both on the ship and in ports of call.
These cruise ship card lanyards are compatible with any cruise line and are very reasonably priced. I have these and they are my personal recommendation.
Recommended: Cruise lanyards with waterproof pouch (check price & over 6000 Amazon reviews here)
I Love Cruising Lanyard
If you're looking for the perfect gift or stocking stuffer for an avid cruiser (even if that's you), this is a fun variation of the cruise lanyard above.
The I Love Cruising lanyard will probably make you a popular cruiser as well!
Recommended: I love cruising lanyard (check Amazon price here)
Nautical Cruise ID Holder Lanyard
This simple cruise card holder lanyard has a waterproof sealed pouch and solid clasp, perfect if you want the most affordable option.
This cruise lanyard is great for Carnival cruises, Royal Caribbean, Norwegian Cruise Line and all other cruise lines that require guests to carry their cruise card.
Recommended: Nautical ID card holder lanyard (receives 5* ratings on Amazon)
Waterproof Cell Phone Lanyard for Cruise
This handy travel gadget is genius! I've used this waterproof cell phone pouch dry case on water excursions (like a lazy river) and on the lido deck around the hot tub.
This waterproof pouch lanyard will hold your cell phone, as well as other items you want to keep inside to stay dry. Plus, it has a touch screen, so you can take phones, text and more.
Recommended: Waterproof cell phone dry case pouch lanyards (check to see if it's compatible with your phone)
Get The Ultimate Cruise Planner
Regular price: $27 Now just $17!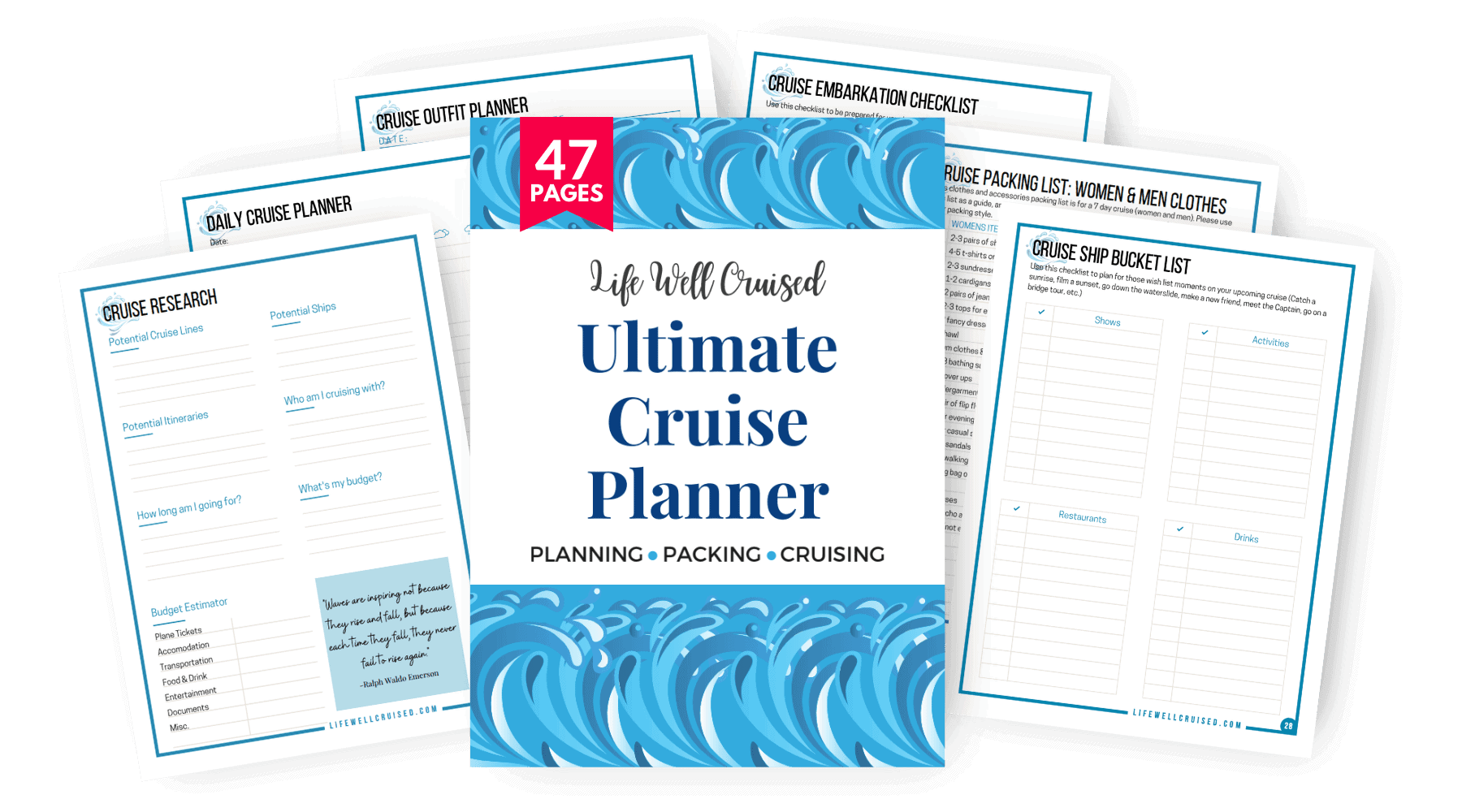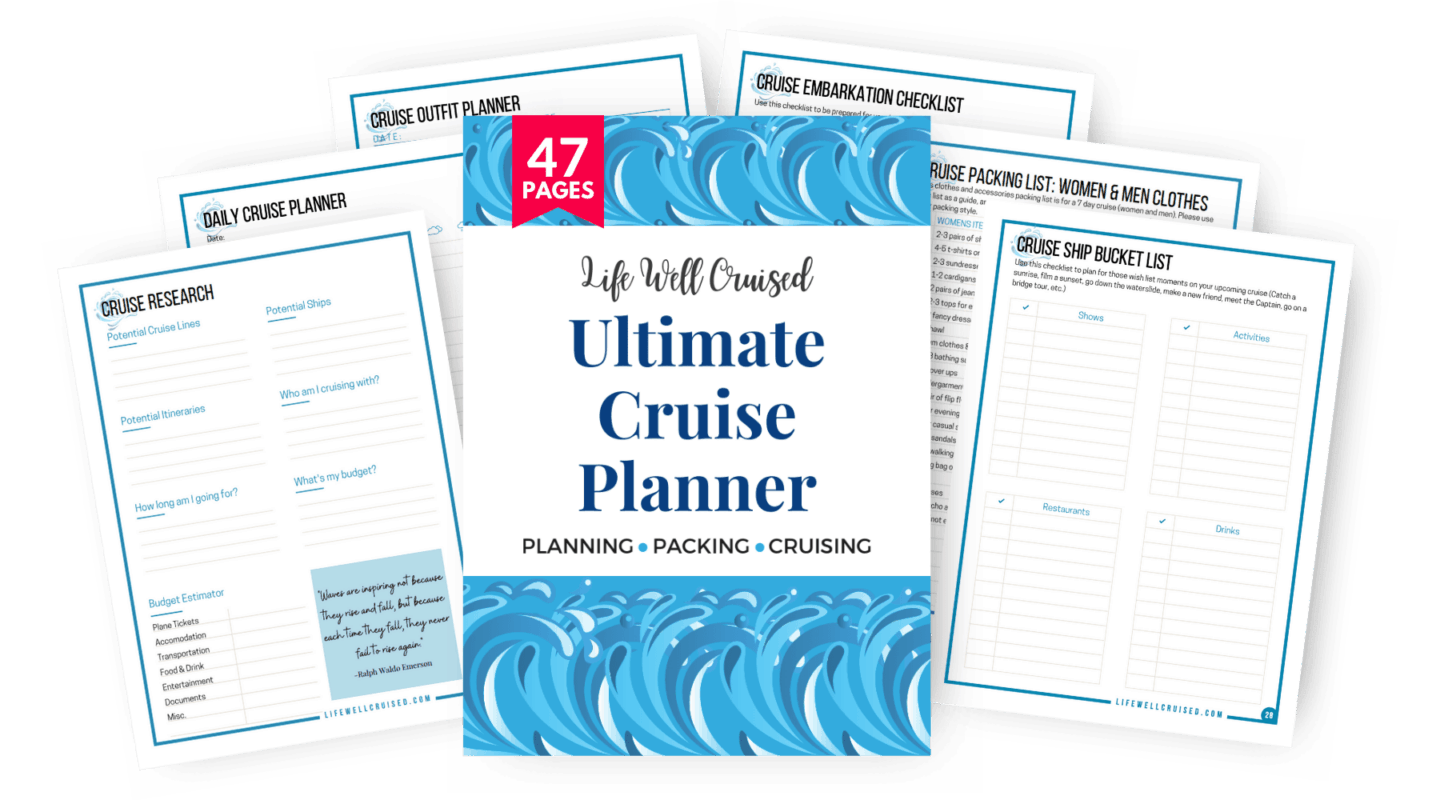 Cruise Lanyard Alternatives
While we all know that we need to keep our cruise card handy, not everyone loves to wear a lanyard around their neck. Here are some good cruise lanyard alternatives.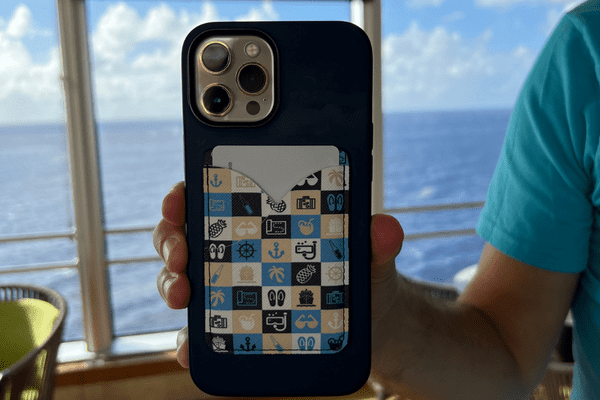 Cruise Key Card Holder Phone Pouch
This cruise card holder phone wallet has a fun cruise theme design. It's a convenient option for people who are carrying around their phones (ie. everyone).
My husband has used this newer cruise accessory ever since it came out last year and loves it!
Recommended: Cruise card holder phone pouch
Princess Medallion Holders
Princess Cruises does not have cruise cards. Instead, Princess has a Medallion, which is a quarter size wearable device.
You can purchase bracelets, sports bands, necklaces and other fashionable accessories to hold your Princess medallions onboard your ship or on the cruise line website,
There are also some Medallion compatible accessories that are sold on Amazon. Here are the most popular and well reviewed Ocean Medallion holders.
Recommended: Medallion holder for watch strap (check price & see 4.5* Amazon reviews here)
Medallion Phone Card Holder
This Ocean Medallion phone card holder is perfect for those who prefer to keep their cards, cash and medallion on their phone. It adheres to your phone or phone case, and easily comes off at the end of the cruise.
Recommended: Medallion phone card holder (love this for Princess cruises!)
Wristlet Wallet Card Holder
As alternative to traditional lanyards for cruising, a wristlet wallet card holder is both convenient and cute. You could actually wear this during the day or evening and it would go with your cruise outfit.
Recommended: Wristlet wallet card holder for cruise (see different colors on Amazon)
Do I Need a Lanyard to Cruise?
Cruise Lanyards are a convenience, but they are not mandatory for cruise passengers. Keep in mind that you'll be using your cruise card several times a day.
You'll need to present your cruise card ID every time at the bar, at specialty restaurants, at the coffee shop, at the onboard gift shops, at the casino, to play bingo and to get on and off the cruise ship.
Having a lanyard is a safe and convenient way to make sure that you don't misplace your cruise ship card. Trust me, it happens to the best of us…
Related: 50 Best Selling Amazon Cruise Essentials
Do Cruise Lines Give Out Free Lanyards?
Most cruise lines don't give out free lanyards. However, there are some exceptions.
Disney Cruise Line
Disney Cruises gives out lanyards to past passengers or Castaway Club members. First timers will need to bring their own.
Princess Cruise Lanyards ( for Medallions)
Princess Cruises give out a basic free lanyard with the Princess Medallion (replaces the cruise card). You can also purchase accessories for your Ocean Medallion before or during your cruise.
Carnival Cruise Lanyards
Many cruisers report that Carnival used to give out free lanyards in the cruise ship casino (as part of the Players Club). However, it seems like this has stopped in recent times.
Carnival does sell lanyards onboard, from sporty styles to blingy styles.
Related: What's Included on a Carnival Cruise and What Is Not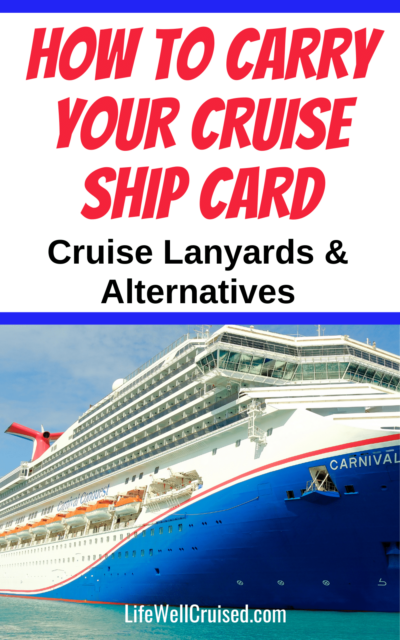 What to Look for in a Cruise Lanyard?
When purchasing a cruise lanyard, you'll want to make sure that it has a plastic sleeve with a sealed waterproof pouch to hold your cruise card. This is because you may want to keep a few dollars in it while out in a port for an excursion. You can also add your license or government ID and remain hands free.
You cruise lanyard pouch should be able to fit a standard cruise card (they are all the same size). The size of a cruise key card is very similar to a credit card and measures 3 3/8 in length by 2 1/4 in width.
You'll want a sturdy attachment and you may want to have a detachable clip for versatility.
Where Can I Purchase a Cruise Lanyard?
There are a wide variety of cruise lanyards sold on Amazon and other online retailers. You can also purchase lanyards for your cruise on the cruise ship, although availability may be limited.
Related & Popular Posts
Get The Ultimate Cruise Planner
Regular price: $27 Now just $17!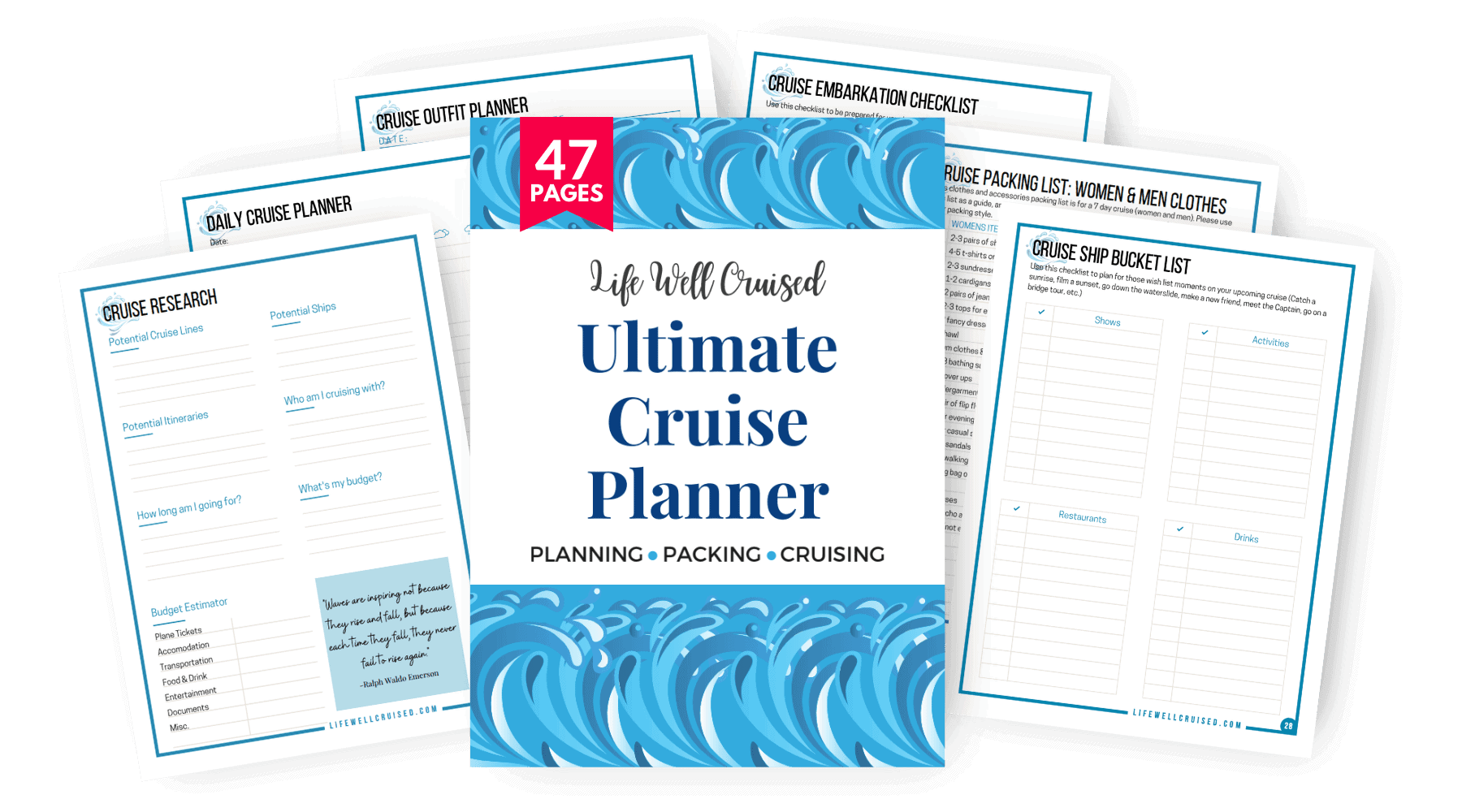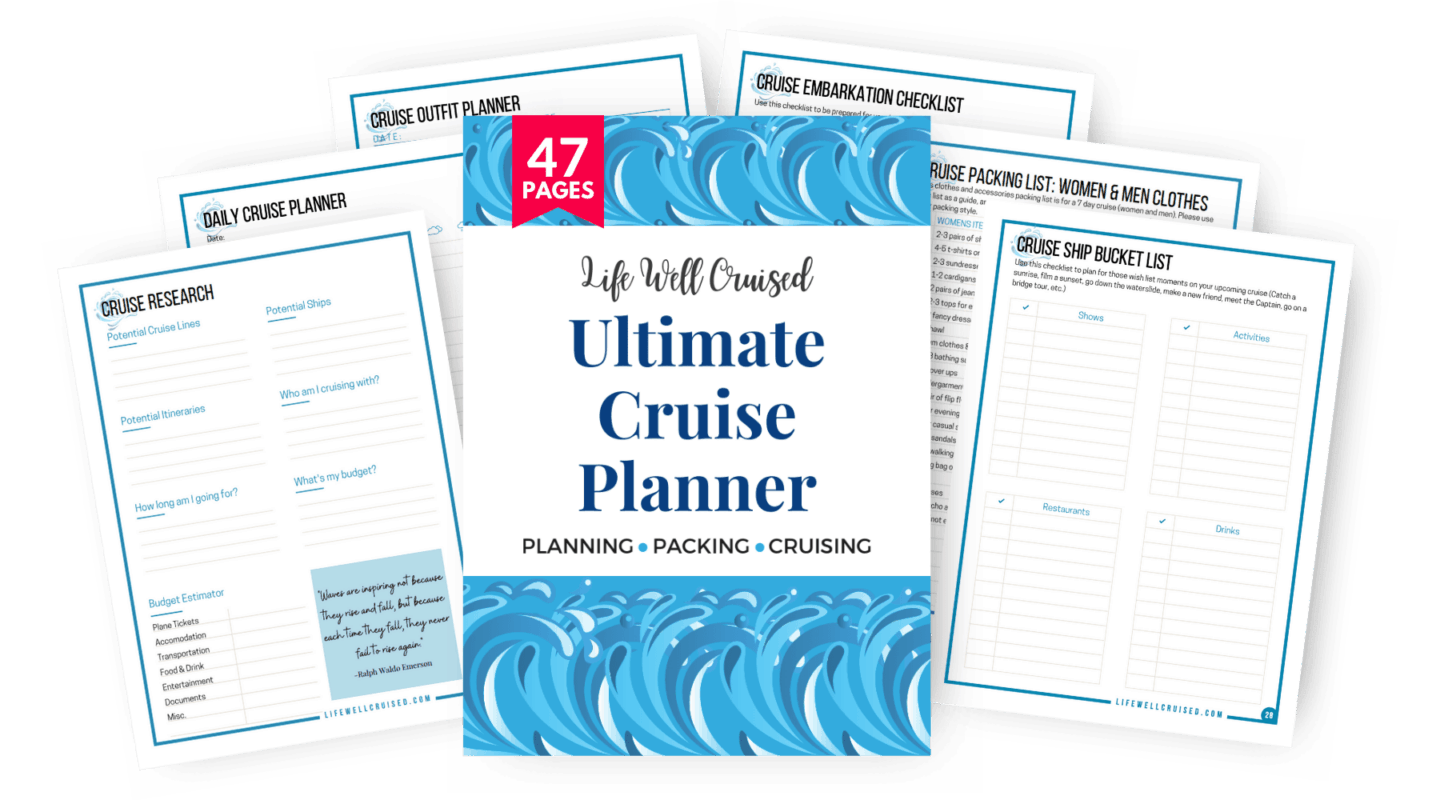 Final Thoughts on How to Carry a Cruise Card
Since cruising is a cash free environment, your cruise card serves not only as a key card for your cabin, but as a charge card as well. A cruise lanyard is a convenient way to make sure you always have this with you.
Do you use a cruise ship lanyard or an alternative card holder? Please let me know in the comments below.
Happy Cruising!
Ilana
If you found this post helpful, please don't keep it to yourself ;-). Share it on Facebook or Save for later Pinterest (share buttons at the top). Thanks so much!