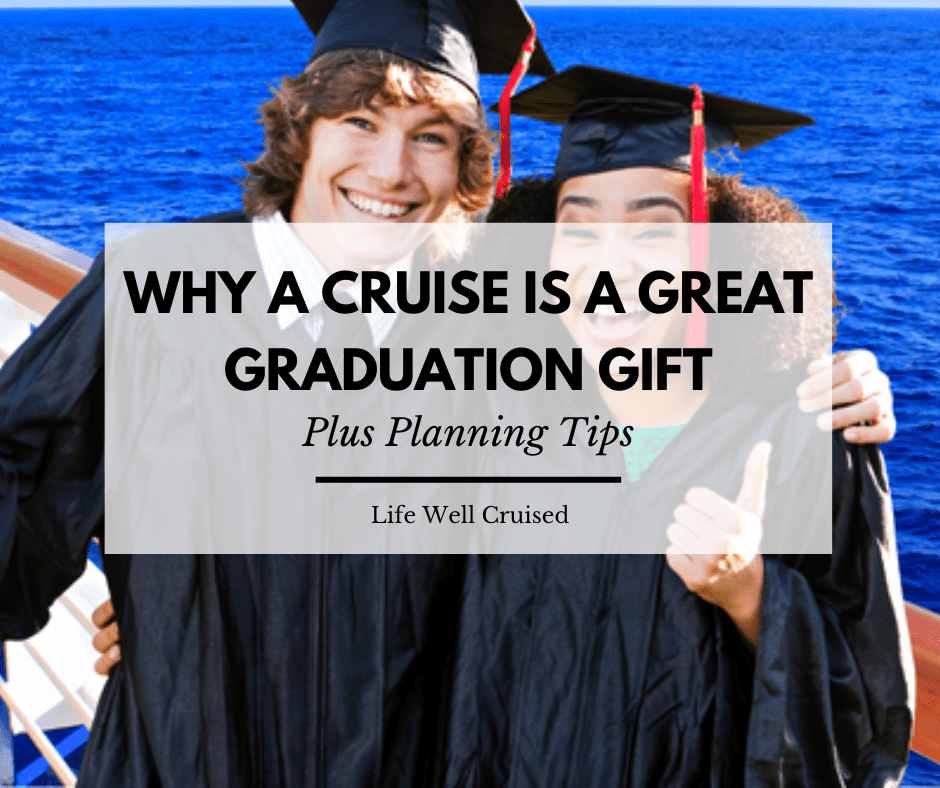 If your son or daughter is going to be graduating soon, you might be thinking about planning a graduation cruise. Whether you're a first time cruiser or a certified cruise addict, celebrating this special milestone on a cruise ship is a great idea!
As someone who has grown up cruising, from pre-school through my college years, I know first hand what you should consider when planning a graduation cruise.
With that being said, here are 6 reasons why a cruise is the perfect graduation gift and how to plan a graduation cruise.
This post contains affiliate links which means if you click and buy that I may make a commission, at no cost to you. Please see my disclosure policy for details.
As an Amazon Associate I earn from qualifying purchases.
6 Reasons Why a Cruise Is a Great Graduation Gift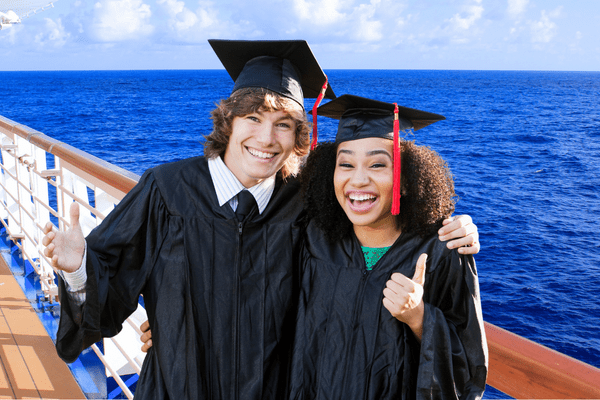 1. Memorable Experience
Whether if it's for high school, college or university graduation, a family cruise is the perfect way to celebrate this special milestone. Cruising is a memory that your graduate and the rest of your family will cherish forever.
Your son or daughter may be going off to college to live on their own. Going on a cruise is a great family trip that you can do to make lasting memories.
As someone who's been fortunate to cruise throughout my teenage and young adult years, I have been blessed with so many amazing memories – thanks to cruising!
As a teenager or young adult, travelling the world, visiting interesting places and having fun on a cruise is an amazing experience. A cruise vacation is the perfect way to celebrate and an experience that every graduate will really enjoy.
2. Celebrating a Milestone
Graduating is an important milestone in your son or daughter's life, but it's also an important milestone for your whole family. A lot of hard work goes into graduating school, and there is no better way to celebrate the big achievement than by booking a family cruise.
Whether if it's graduating from high school or from college, going on a cruise is a great graduation gift and way to celebrate.
3. Being Exposed to New and Different Cultures
One of the greatest parts about cruising, is that you get to experience different cultures. Being exposed to the way people live in different parts of the world can be very eye opening and can change your perspective.
Whether if it's on a European cruise, Caribbean cruise or a cruise to the Bahamas, every destination has it's own unique culture. Exploring historic sites, trying local food, visiting a beach and travelling to new places, is a memorable time for the whole family.
The great thing about cruising is that you get to visit multiple destinations in a short period of time. This will give your graduate, and the rest of your family, the opportunity to visit destinations that you otherwise wouldn't have been able to in one trip.
4. Your Graduate Will Meet New and Interesting People
One reason why many young people love cruising, is that they get to meet new people from all around the world. Cruising during winter break, spring break and summer break is a great time, as many young adults and teenagers will be onboard.
If your kid is still a teenager, they will be in the teen club, where they will be grouped up with other teenagers their age. They will also have an exclusive place to hangout, make new friends and participate in activities.
For young adults and college students who are over 18, there will be a club and events onboard that attract a younger demographic. This is a great way for your graduate to meet people their age and make new friends.
Since I've cruised throughout my whole life, I have friends all over the world. Thanks to social media, I still keep in touch with them and can reach out to them whenever.
Related: 7 Best Cruises for Teenagers
Get The Ultimate Cruise Planner
Regular price: $27 Now just $17!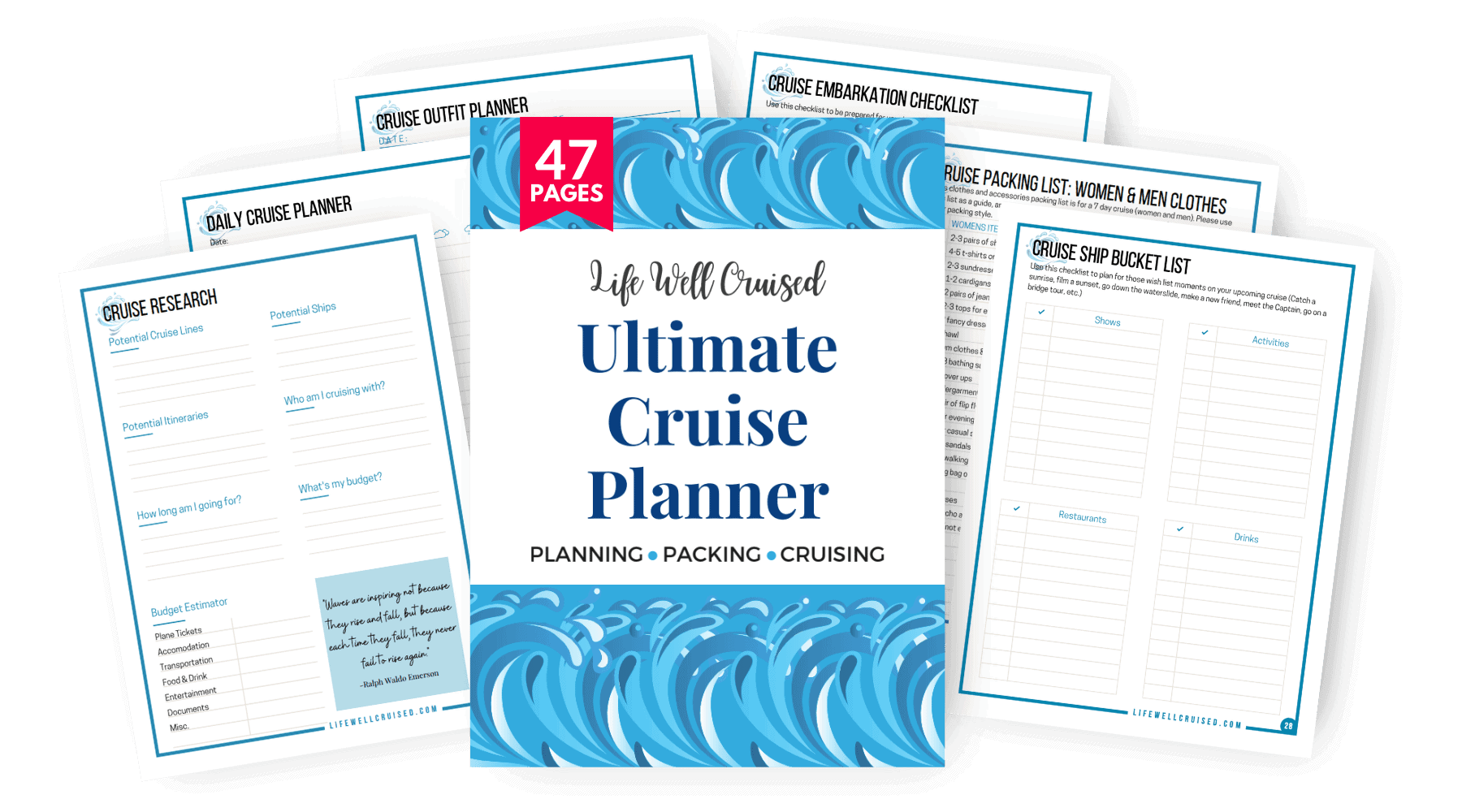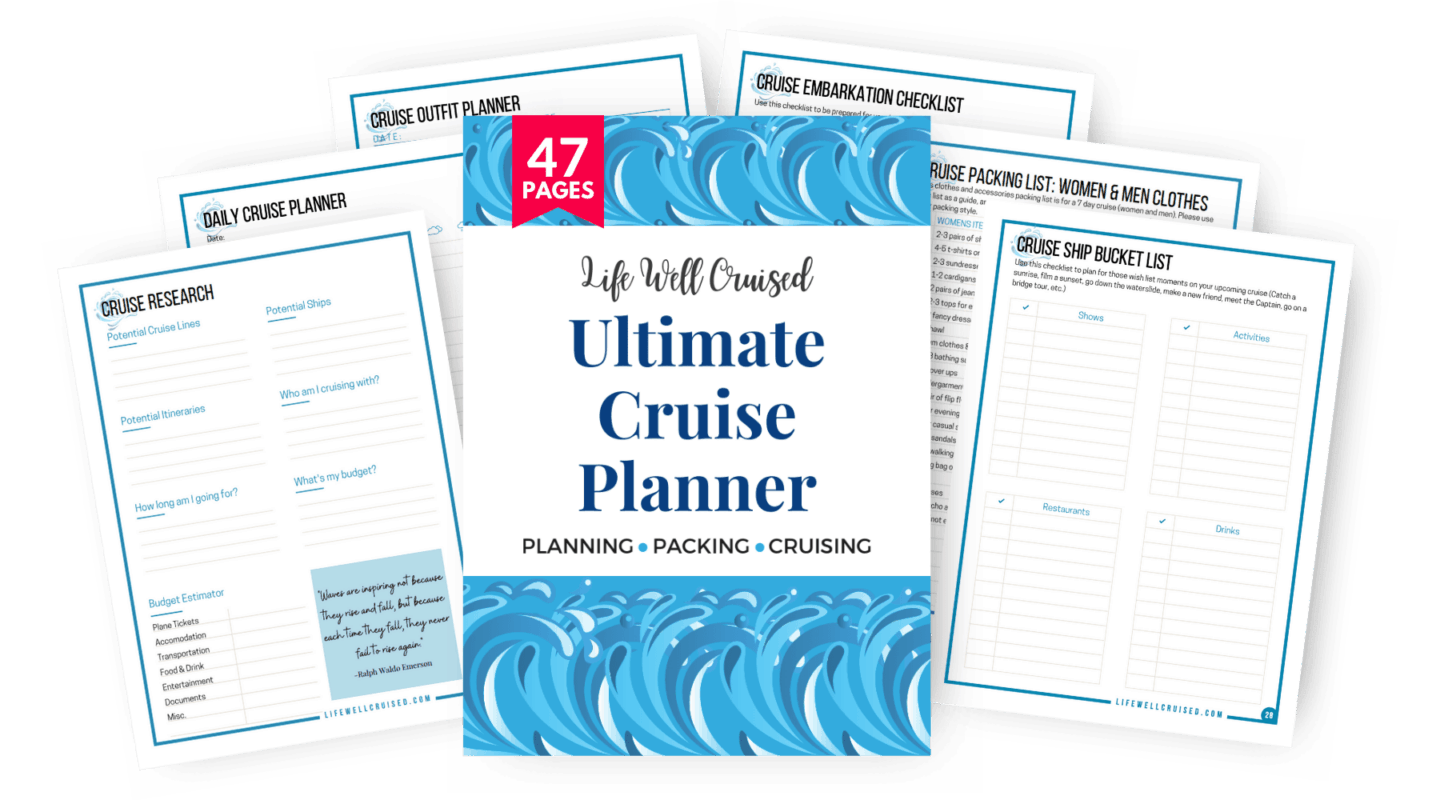 5. An Opportunity to Visit Place You Read About in History Books
As a student, we always read or see videos about popular tourists destinations in school. However, having the opportunity to actually visit them can be very eye opening and even educational.
When I was 15, I went on a Mediterranean cruise and visited Rome, Athens and Pompeii which were all places I learned about in history class. Actually visiting the places that I would look at in history books is something I will never forget!
Related: 6 Best Cruise Lines For College Students
6. Good Alternative to Parties
It's no secret that a graduation party isn't for everyone – and a family cruise is a great graduation party alternative.
If your son or daughter isn't too interested in a graduation party, a cruise is one of the best ways to celebrate the big milestone. A cruise will be a lot more memorable than a party as they will get the opportunity to visit destinations while relaxing on a beautiful cruise ship.
How to Plan a Graduation Cruise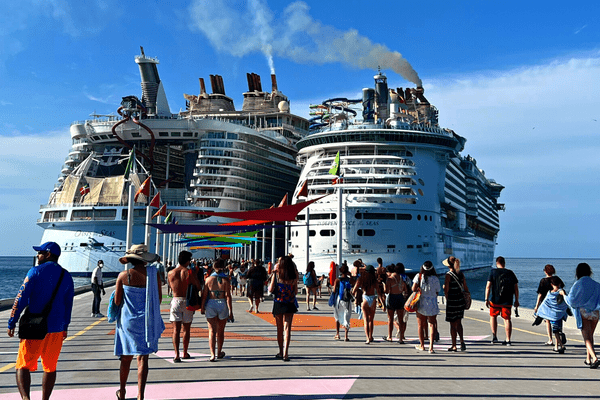 Here are the steps to planning a graduation cruise:
Choosing the Itinerary
Choosing the literary is the first step to planning a graduation a cruise. Where you are looking for itineraries here are the three factors to consider:
Families Interests
Budget
Time of year
Family Interests
If your family likes a fun and relaxing vacation, they will love a cruise to the Bahamas or the Caribbean. These cruises typically attract families with young adults and teenagers and the cruise will be a lot of fun.
If your family like sightseeing, history and experience new cultures, then they will love a Mediterranean cruise. A Mediterranean cruise is fast paced and exhausting as it is jam packed with destinations.
If your family enjoys nature and wildlife they will really appreciate an Alaskan cruise or a Canada and New England cruise. This cruise will be more laid back and tends to attract an older more relaxed demographic.
Budget
A big part of choosing a cruise itinerary is your trip budget. Cruising to the Caribbean or Bahamas can be very affordable, whereas cruising in the Mediterranean will likely be more costly.
When you are looking at the price, don't forget to factor in the costs of shore excursions. If you're visiting Europe, Alaska or Canada and New England, you will probably want to book some excursions.
Whereas if you were to visit the Caribbean or Bahamas, most cruisers will go to the beach. There is also the option to rent jet skis, explore the cruise port or book a snorkeling excursion.
Time of Year
When you're booking a cruise, the time of year is a major factor.
There are certain times of the year that may be better or worse for certain destinations. For example, you may want to avoid a cruise to the Caribbean or Bahamas during hurricane season.
If you're interested in booking a Mediterranean cruise, the best time to go for a family cruise is in the early summer. The weather in Europe is absolutely beautiful in the early summer, and there will be other families travelling once school is out.
If you're interested in going to Alaska, the best time to visit is during the summer. Since the temperatures can be cooler in the shoulder seasons of spring and late fall, there is no better time to visit than during the summer months.
Choosing the Right Cruise Ship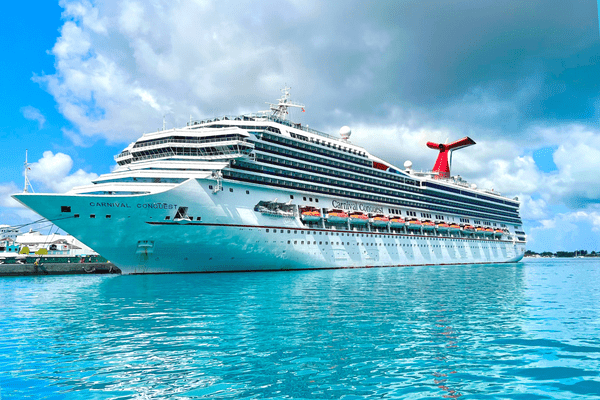 Choosing a cruise is not one size fits all. Every cruise line is different so it's important to choose one that fits your budget, wants and needs.
If you're looking for the fun party atmosphere, check out Carnival Cruise Line, Royal Caribbean, Norwegian Cruise Line and MSC. These are the cruise lines and cruise ships that tend to attract a younger clientele.
If you're looking for a more laid back and relaxed environment, check out Princess Cruises, Celebrity and Holland America. These cruise lines might be a great fit if you like good food, service and don't mind not having attractions like water slides, rock climbing and zip lines.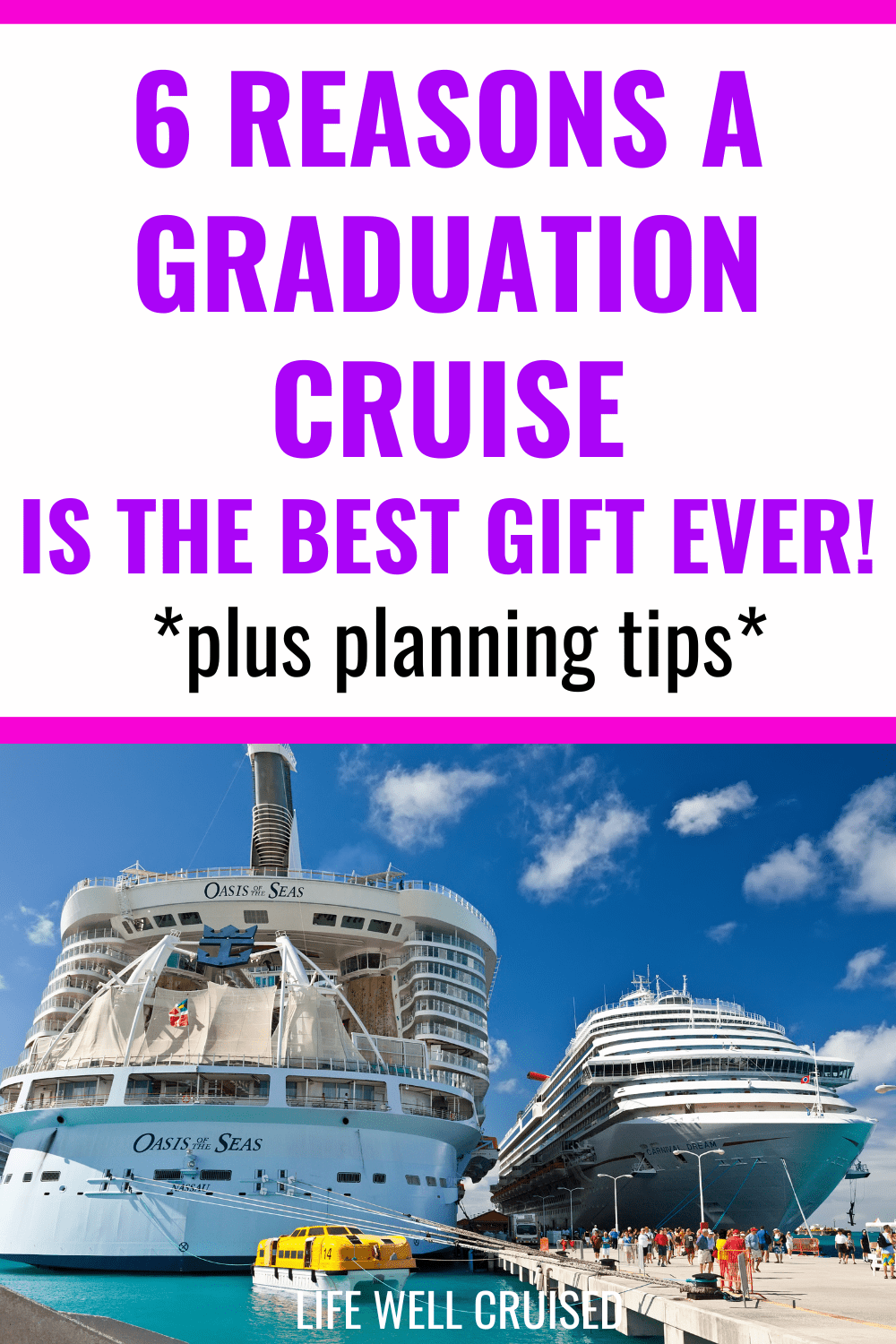 Choosing the Right Cabin
When you're booking a cruise, there are a few different options for cabins. There are budget friendly cruise staterooms including inside cabins, as well as more luxe accommodations like a suite.
Interior cabins are the most affordable rooms on a cruise ship. Having more than two people in an interior cabin will be tight, however many people don't spend much time in their cabins.
There are also ocean view cabins, which have a nice window. Balcony or veranda cabins are a bit bigger, with a private outdoor balcony that offers extra space.
If you have a bigger budget, there are suites which can have multiple rooms, bigger balconies and other onboard benefits.
Teen Club
If your graduate is over 18, something to be aware of is that the cruise line kid's club only goes up to age 17. It can sometimes be hard for 18 year olds, & plus, to meet people if they are a bit shy. Some families like to bring a friend, if there isn't a sibling in the family that is close in age.
Choosing The Excursions
A special thing you can do to celebrate your child's graduation, is to let him or her pick their favorite shore excursion. This can be swimming with dolphins, a jet ski tour or visiting a historic site that they are interested in.
This is a great way to create an awesome memory that will last a life time!
How to Celebrate During the Cruise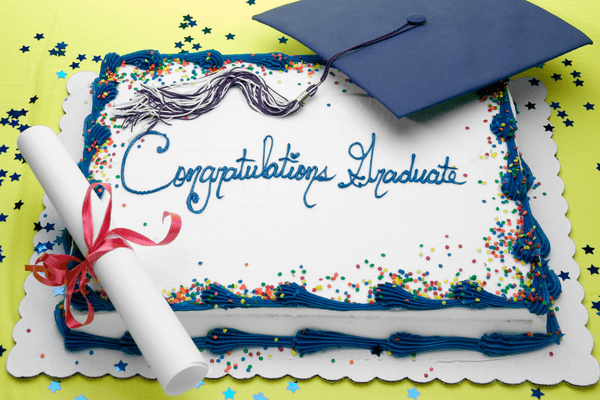 During the cruise, there are a few fun ways to celebrate the special occasion of graduation.
You can celebrate by going to a specialty restaurant onboard the cruise ship. Specialty restaurants offer a unique experience and a different menu from the other restaurants onboard.
On most cruises, there may be a seafood restaurant, Italian restaurant and a steakhouse that have an additional cost. Having the graduate choose a specialty restaurant is a great way to celebrate during the cruise.
Ordering a graduation cake is another way you can have a graduation celebration onboard the cruise. If you're interested in ordering a celebration cake, talk to the dining room staff onboard the cruise.
Decorating the cabin door is a nice way to show how proud you are of the big accomplishment. Many people will decorate their doors on cruise ships for birthdays, anniversaries and other special occasions.
If you're celebrating your daughters graduation, consider booking a mother and daughter spa day. This is a great way to relax while you are on the cruise.
Related & Popular Posts:
Get The Ultimate Cruise Planner
Regular price: $27 Now just $17!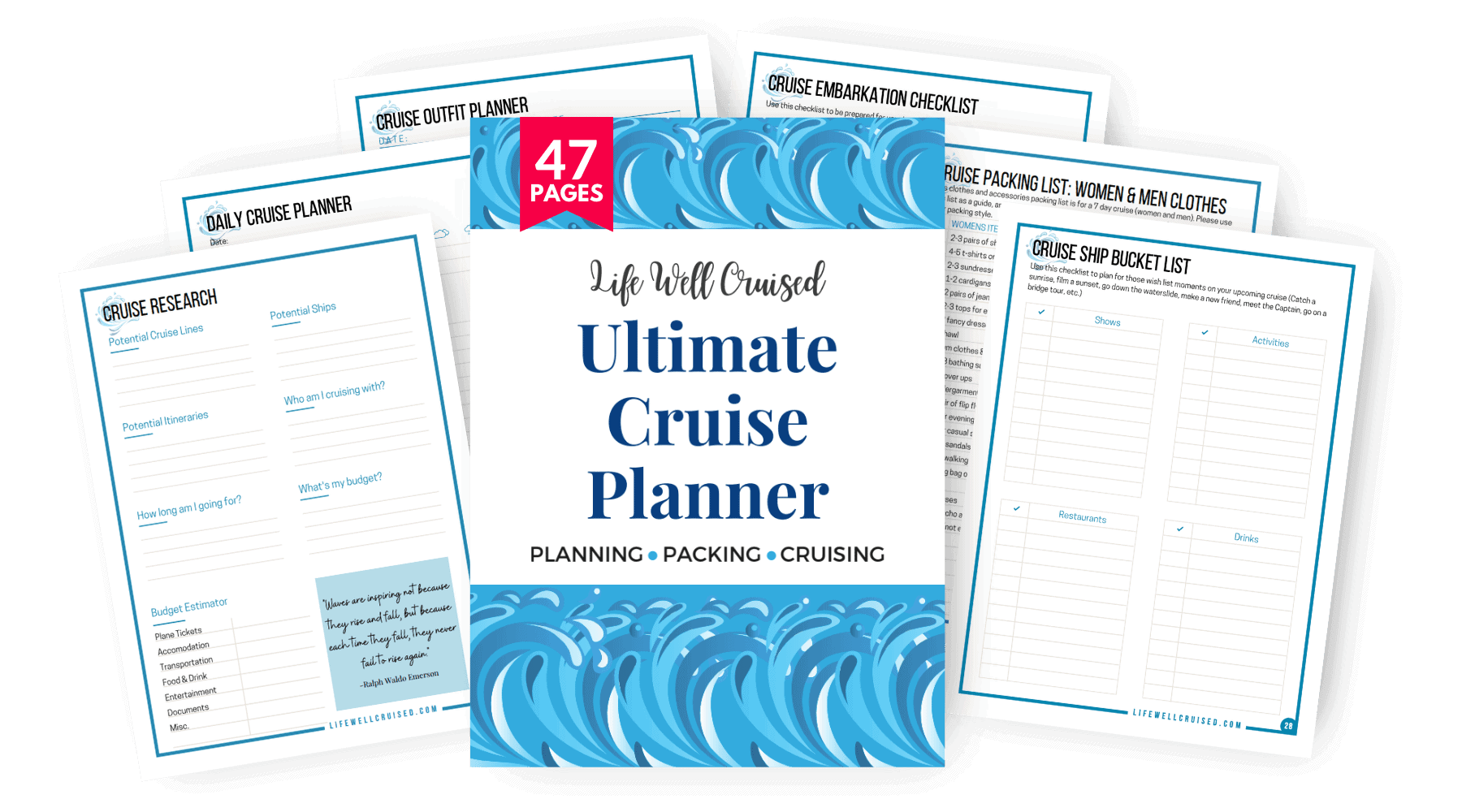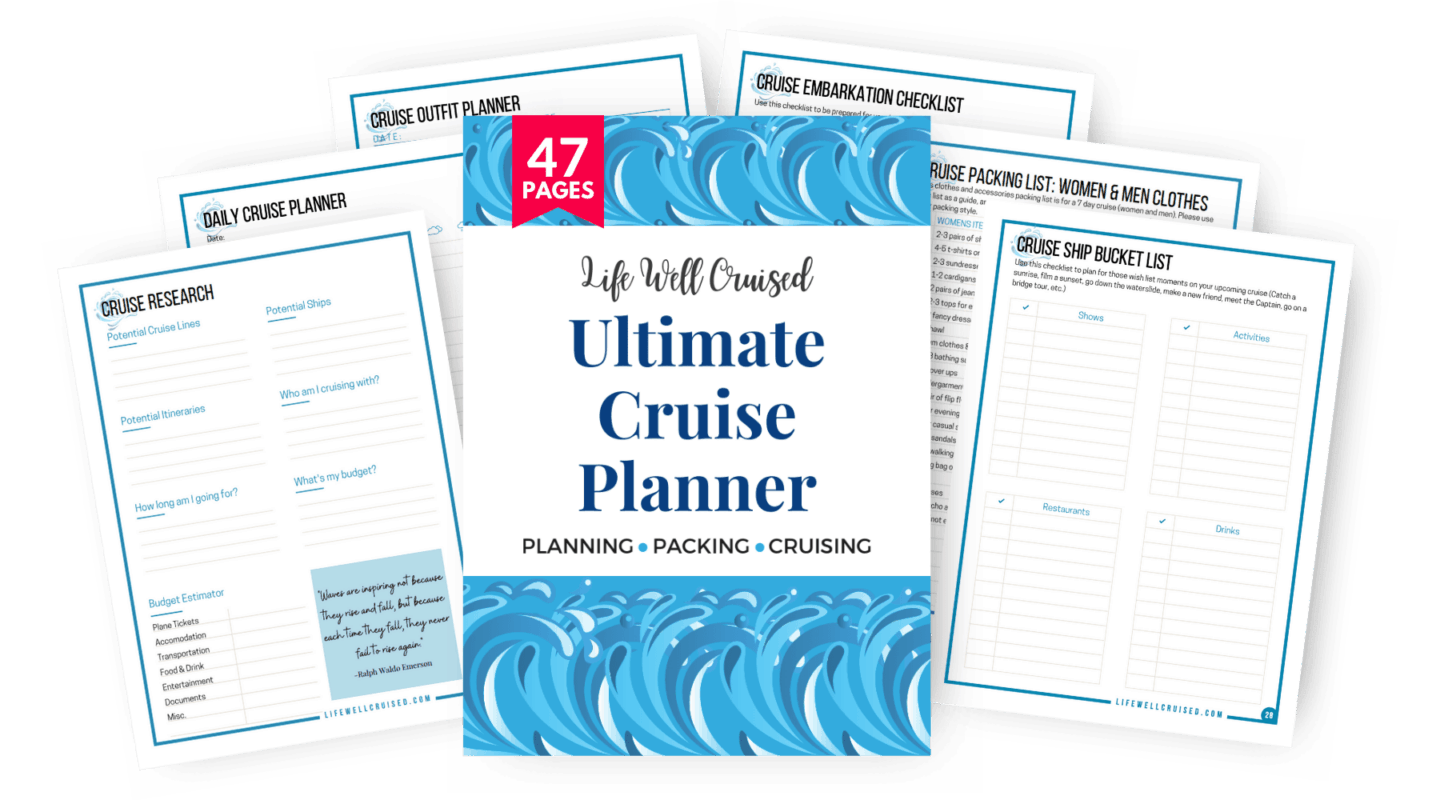 Final Thoughts on Why a Graduation Cruise Is The Best
A graduation is an important milestone that deserves to be celebrated. For a new graduate, there is no better way to celebrate the big achievement then by going on a graduation cruise.
Cruising will be the best gift ever and something that your child will always appreciate. On a cruise, your teen or young adult will meet new people, visit new places and make memories that will last a lifetime.
In this post, I share why a graduation cruise is the best and how to plan a graduation cruise.
Are you thinking of doing a graduation cruise? Please let me know in the comments below.
Happy Cruising!
Ethan
P.S. If you found this helpful, please don't keep it to yourself ;-). Please share on Facebook or PIN to your favorite Pinterest board (share buttons at the top). Thanks so much!
Author Bio: Ethan Schattauer writes about fashion, travel and college advice on the website WhatToWearMen.com. As a frequent cruiser, Ethan shares his unique perspective on what cruising is like for teens and young adults.
Follow me on Facebook at Life Well Cruised
Follow me on YouTube at Life Well Cruised
Follow me on Pinterest at Life Well Cruised
Follow me on Instagram at Life Well Cruised