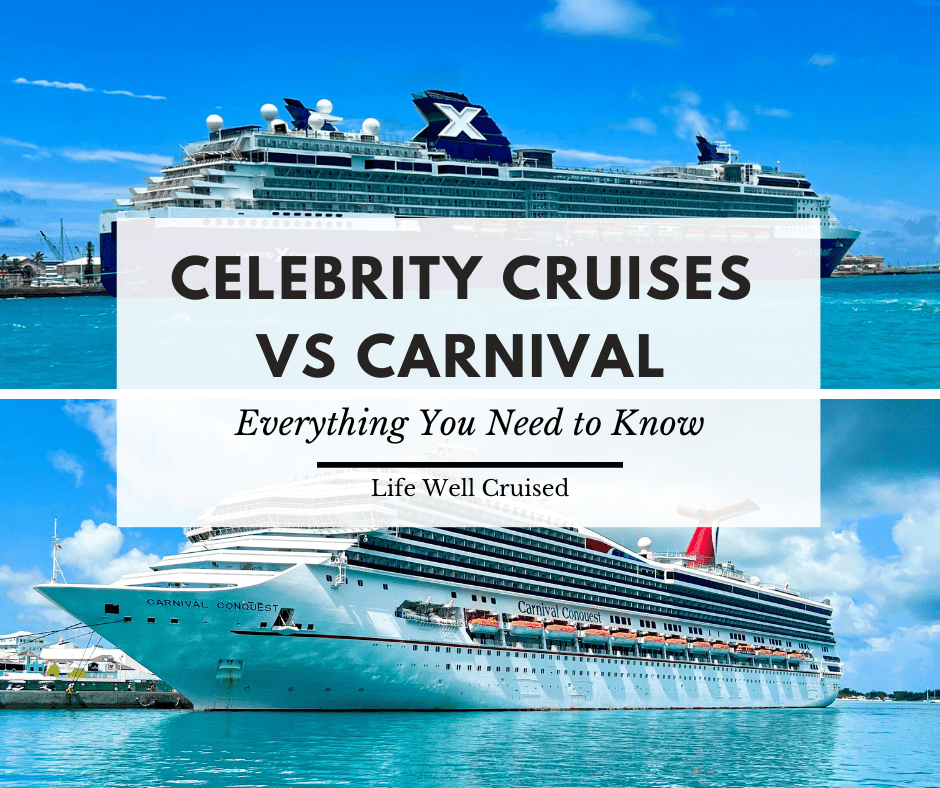 Are you planning on booking a cruise and comparing Celebrity Cruises and Carnival, to see which is best for you? Since they are both popular well-loved cruise lines, this is a great question.
While cruise lines all have similarities, Carnival and Celebrity have some big differences. As someone who has cruised with both Celebrity and Carnival, I know first hand that both cruise lines have a lot to offer.
Cruising isn't a one size fits all experience, so finding the right cruise line that fits your needs, preferences and budget is important.
With that being said, here's everything you need to know about Celebrity Cruises vs Carnival.
This post contains affiliate links which means if you click and buy that I may make a commission, at no cost to you. Please see my disclosure policy for details.
As an Amazon Associate I earn from qualifying purchases.
Why Cruisers Like Celebrity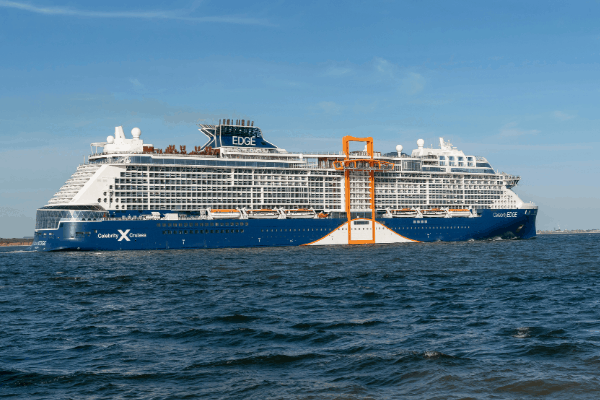 Celebrity Cruises is considered to be a premium cruise line. They also refer to themselves as "modern luxury".
The clientele on Celebrity enjoys good food, service and a relaxing vacation experience. Celebrity cruise ships are known for their beautiful, modern and elegant design.
Food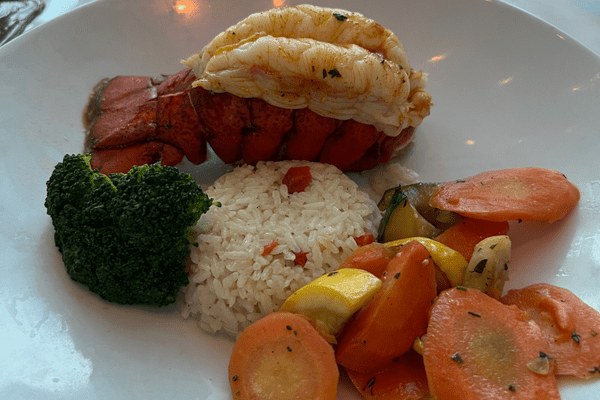 The food and dining on Celebrity is consistently very good. Whether you're eating in the main dining room, the buffet or at speciality restaurants, the food is always amazing.
When it comes to mainstream cruise lines, it's hard to beat the experience that Celebrity offers in the main dining room. The level of service is top notch and every meal is delicious.
Dress Code
Since Celebrity is an upscale cruise line, and the dress code in the main dining room ranges from smart casual to evening chic. Cruise passengers tend to dress nicely, as if they were going to a nice restaurant or elegant evening out.
Related: What to Wear on a Celebrity Cruise (with real passenger photos)
Service
The crew members on Celebrity are there to accommodate all of your needs, which makes for a very pleasant vacation.
From bartenders to waiters, to cabin attendants that will clean your room twice a day, the service on Celebrity is better than many other cruise lines.
We've also found that Celebrity have a few extra special touches that are appreciated. These include citrus water being served, along with icy cold towels when guests return back to the ship on ports days.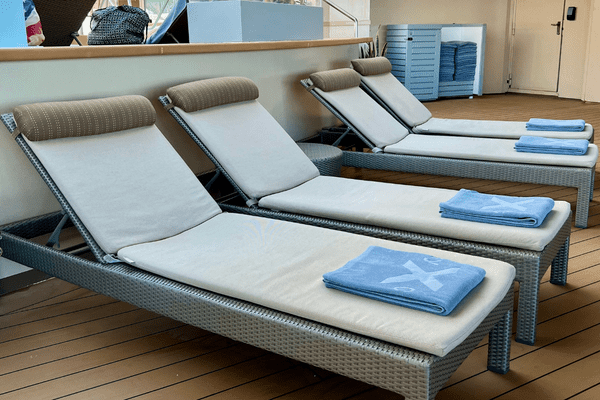 On the pool deck, towels are often placed on lounge chairs for guests, so you won't have to find towels and sign them out.
On occasion, sorbet may be served on the lido deck and passed around to passengers, a nice unexpected treat.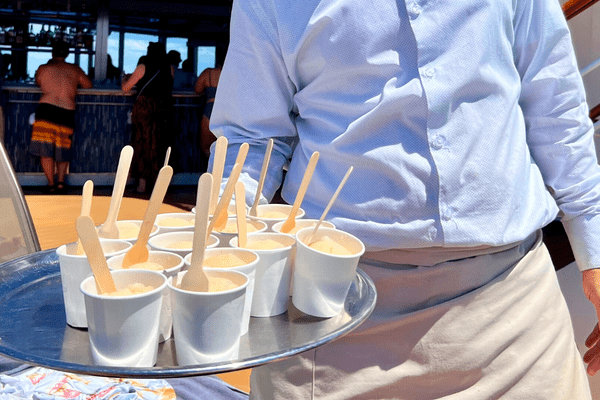 Related: The Ultimate Cruise Lingo Glossary – 85 Terms You Need to Know
Entertainment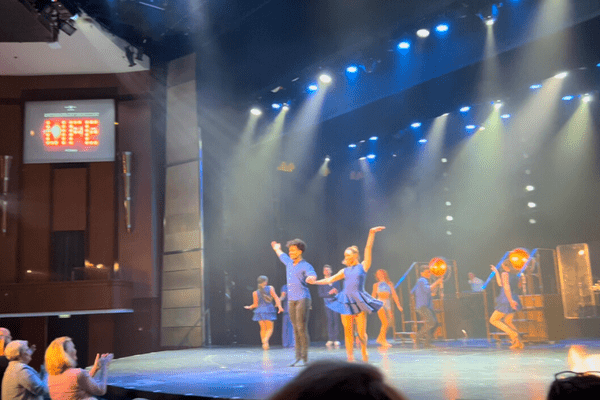 Overall, the entertainment on Celebrity is very enjoyable and varied. You can expect Las Vegas style production shows with singers and dancers, guest entertainers including comedians and illusionists, and some incredible acrobatic original acts.
There are also live music performances in the different bars and lounges around the cruise ship.
Atmosphere
Even though the service and overall experience on Celebrity Cruises is upscale, the cruise ship atmosphere on a Celebrity cruise is fun, laid back and relaxed.
While Celebrity may attract an older clientele, there are a fair share of younger cruisers as well.
During the day, guests may hang out by the pools or in the different lounges throughout the cruise ship. There is live music, trivia, lectures and other activities, so everyone can find something to enjoy.
In the evening time, the martini bar is a big hit, before or after dinner or a show. The casino is a popular venue, and the night club can be "happening", depending when you cruise. In our experience, holiday sailings, Spring Break and summer holidays attract a younger and more active crowd.
Related: Celebrity Cruises: 7 Reasons You Will LOVE Cafe Al Bacio
Onboard Attractions
When comparing Carnival and Celebrity, Carnival definitely has more "fun" attractions than Celebrity. However, Celebrity does have plenty of enjoyable attractions that are cater towards a different demographic of cruisers.
Some attractions onboard celebrity include resort style pools, adult only solariums, meditation classes, stretching classes and more.
On the Edge class ships, there is the Magic Carpet, which is a floating bar (13 floors above sea level). There is live music, comfortable seating and a full bar. Those who cruise with Celebrity absolutely love the Magic Carpet.
On the Celebrity Silhouette and Reflection you'll find the lawn club. This is an area with real grass lawns where guests can eat, play games and relax on the grass.
All Inclusive Options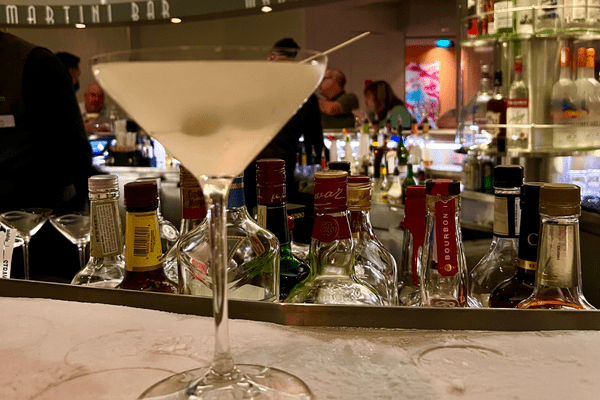 When you book Celebrity, you have a choice between a cruise only rate or an all included cruise fare. The all included cruise fare is a great value and it includes the classic beverage package, basic wifi and daily gratuities.
Itineraries
Celebrity Cruises offers a wide range of Caribbean itineraries ranging from shorter cruises (4-5 days) to longer sailings (10 days and more).
Beyond this, Celebrity has diverse itineraries including Bermuda, the Mediterranean, Greek Isles, the Baltic, Alaska, Galapagos Islands and more.
Celebrity's focus on travel experiences attracts passengers that tend to be well travelled.
Related: Are Cruises Fun? Why Cruising is a Great Vacation
Kids Club
Considering Celebrity tends to target an older or more mature demographic, they actually have one of the best kid's clubs at sea. Celebrities' youth program is called Camp at Sea, and it's really fun for kids.
Here are the age groups for Camp at Sea:
Shipmates (3-5)
Cadets (6-9)
Captain (10-12)
Teens (13-17)
Each age group has their own area where the kids can hang out, meet new friends and participate in activities. The youth staff is always super friendly and makes the kid's club a really fun place to spend time.
Related: 7 Affordable Cruise Lines for Families (Kids Sail Free Deals)
Price
The price of a Celebrity cruise is on the upper end of the major cruise lines. Considering the great experience, high quality food and service, Celebrity is an excellent cruise line for a vacation.
If you have the budget and want to have a more luxurious cruise experience, without the price tag of a luxury cruise line, Celebrity is a great option.
Related: 25+ Fashionable Cruise Outfits for Ladies
Why Cruisers Like Carnival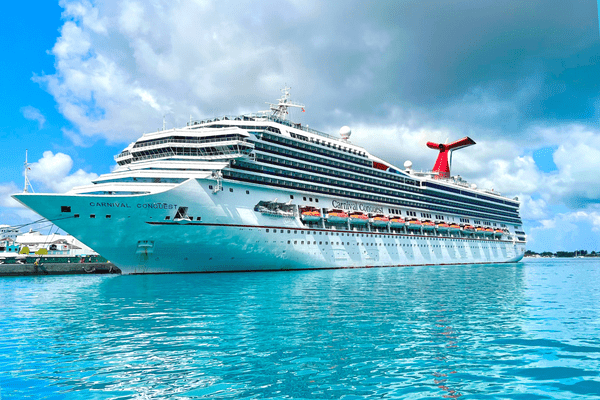 Carnival Cruise Line refers to themselves as "America's cruise line". They are a contemporary cruise line and one of the most popular cruise lines in the world.
Guests like to cruise on Carnival because it's fun, family friendly and affordable. Carnival cruise ships are known for having incredible onboard attractions, a wide variety of restaurants and a very fun vibe.
Food
When it comes to food options on a cruise ship, it's hard to beat all the dining options that Carnival has to offer. Carnival ships can have over 20 dining options onboard, so there is always something to eat for everyone.
Those who cruise with Carnival love Guy's Burger Joint, Big Chicken and BlueIguanna Cantina. These are some included restaurants on Carnival, that have delicious food.
Related: 13 Cruise Main Dining Room Tips All Cruisers Need to Know
Dress Code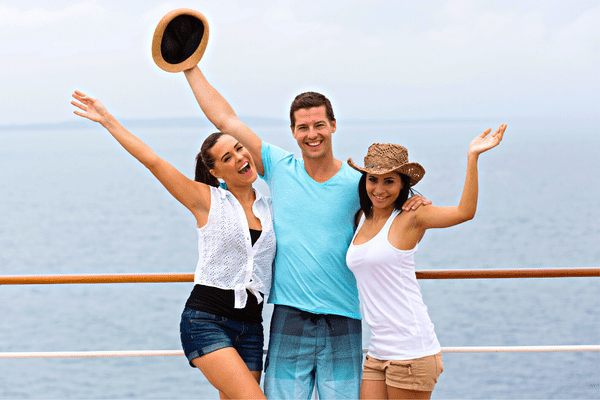 For those who prefer a more casual vacation, Carnival has a way more relaxed dress code for their main dining room.
Carnival states that some ships enforce a cruise casual dress code, which includes pants or jeans and a polo style shirt. An "elegant night" is available, for cruise passengers who enjoy dressing up and having a more traditional formal night.
This is great for those who don't like to dress up while they're on vacation or families with younger children.
Related: What I Wore on a 7 Day Caribbean Cruise (Cruise Outfits with Photos & Links)
Itineraries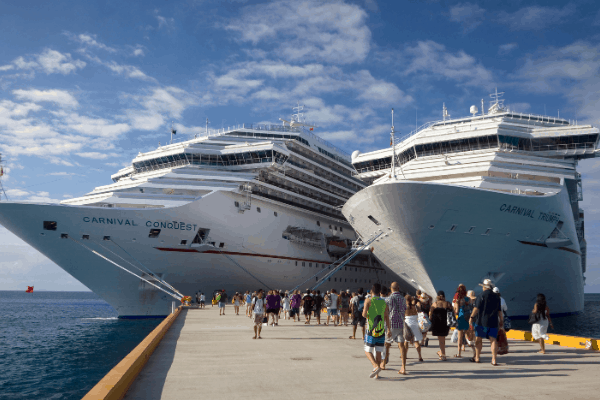 The nice thing about Carnival's cruise itineraries is the fact that they have so many cruises leaving from cruise ports in the United States. The benefit of this is that there will likely be a cruise port or cruise terminal that you can drive to.
This is great if you are looking to save money on a cruise vacation!
Carnival offers short Bahamas, Mexico and Caribbean cruises as well as popular 6, 7 and 8 day cruises in the Caribbean and Alaska.
The focus of their Itineraries is mostly from the United States, however Carnival will often have one or two cruises that sail in Europe.
Related: 25 Best Things to Do in Cozumel on a Cruise
Onboard Attractions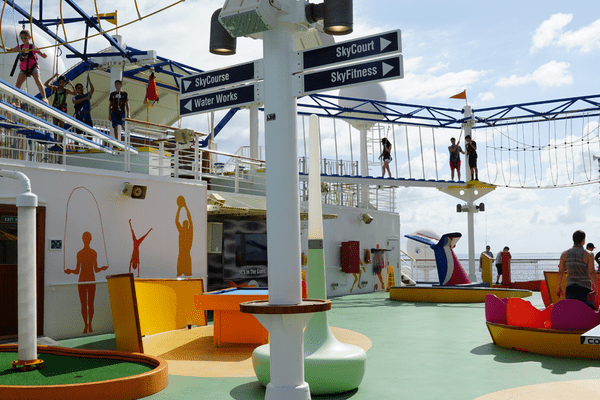 Carnival has some of the largest cruise ships in the world that are packed with fun things to do onboard. Different attractions will be found on different ships, however you will always find waterslides, mini golf and a sports court.
Here are the attractions on Carnival Ships:
Bolt Ultimate Sea Coaster (Roller Coaster)
Sky Ride (Suspended Bike Ride)
Mini Golf
Rock Climbing
Waterparks
Water Slides
Video Arcade
Sports Court
Sky Zone (Trampoline Park)
Carnival Sky Course (Ropes Course)
Related: 7 Best Cruises for Teenagers
Entertainment
Carnival has production shows which are very entertaining. Additionally, Carnival is known for having some of the best adult comedy shows at sea.
On a Carnival cruise there will be a lot happening in the evening time. Parties, casino events and shows keep guests entertained throughout the cruise.
Related: 15 Matching Cruise Shirts for Families, Couples & Groups
Interactive Cruise Directors
Those who cruise with Carnival like the way the cruise directors gets involved in day to day activities and with the guests. The cruise director and activities staff on Carnival are energetic, fun and always putting on great events throughout the cruise.
Deck Parties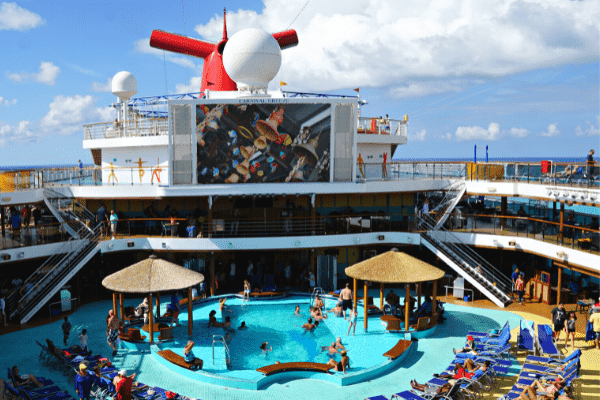 Carnival is known for having super fun deck parties. The highlight of many Carnival Cruises are the themed deck parties where everyone can let loose, have a drink and dance.
Depending on the cruise you are on there will be a different themed deck party. Some passengers will bring outfits special for the deck party.
If you like to party on a cruise, Carnival is a great option.
Deck Parties on Carnival:
Sail Away Party
Mega Deck Party
80's Night Deck Party
White Hot Night Party
Northern Lights Glow Party (Alaska Cruises)
Kids Club
The kid's club on Carnival is a great place to leave your kids during the day. They will be able to meet new friends, play video games and participate in fun activities.
In the evenings there are different events like movie night, dance parties and game night. The youth program is separated by age group.
Here is the Age Groups for the Kids Clubs on Carnival Ships:
Penguin Colony (2-5)
Stingrays (6-8)
Sharks (9-11)
Circle C (12-14)
Club O2 (15-17)
There is also a babysitting service for children 6 months to 11 years old, however there is an additional fee.
Price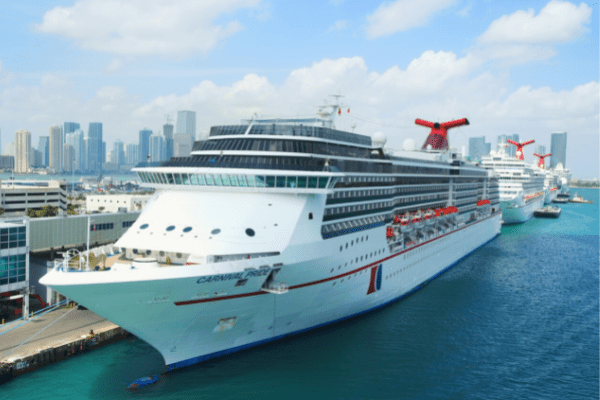 The bottom line is that Carnival offers a tremendous value for your dollar. If you're looking to book a family vacation and affordable price, it's hard to beat what Carnival has to offer.
Cruising with Carnival is a great way to travel, have fun and enjoy a wonderful vacation.
Related: 7 Best Carnival Cruises for Families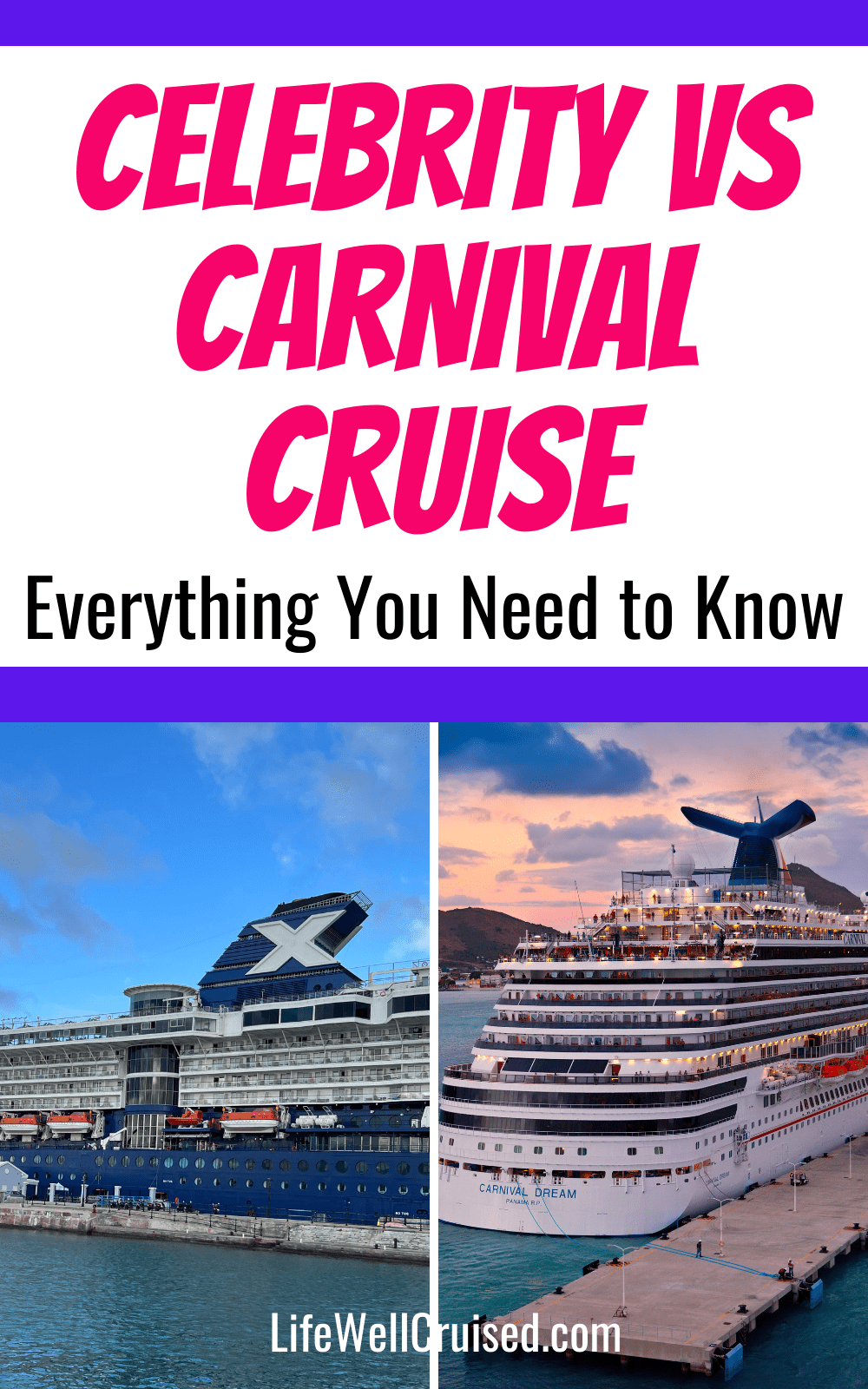 So Which Cruise Line is Best for You? Celebrity or Carnival
Celebrity Cruise Line is Best For:
For those who are looking for a relaxing and luxurious vacation. The amazing food, top notch service and relaxing atmosphere is why passengers love cruising with Celebrity.
Generally, the clientele on Celebrity tends to be older. However, during school breaks and summer vacation the cruise can have a younger and more lively crowd of people.
Carnival Cruises is Best For:
Families who are looking for fun activities, attractions and bells & whistles to keep their kids busy. Carnival is also great for couples, friends and anyone who enjoys a casual good time.
Contrary to what some people might thing, Carnival is not only for young people. Cruisers of any age who like a fun vacation at a great price, will appreciate the value of a Carnival cruise.
Related & Popular Posts:
Final Thoughts on Celebrity Cruises Vs Carnival
Well there it is, Celebrity Cruises Vs Carnival.
Comparing Celebrity and Carnival is in some ways like comparing apples to oranges, because they are so different. Both cruise lines have their pros and cons.
When it comes to which cruise line is better it really comes down to preference and what you value in a cruise vacation.
In this post, I shared everything there is to know about Celebrity and Carnival.
Are you planning a cruise? Please let me know which cruise line you're leaning towards!
Happy Cruising!
Ethan
P.S. If you found this helpful, please don't keep it to yourself ;-). Please share on Facebook or PIN to your favorite Pinterest board (share buttons at the top). Thanks so much!
Author Bio: Ethan Schattauer writes about fashion, travel and college advice on the website WhatToWearMen.com. As a frequent cruiser, Ethan shares his unique perspective on what cruising is like for teens and young adults.
Follow me on Facebook at Life Well Cruised
Follow me on YouTube at Life Well Cruised
Follow me on Pinterest at Life Well Cruised
Follow me on Instagram at Life Well Cruised