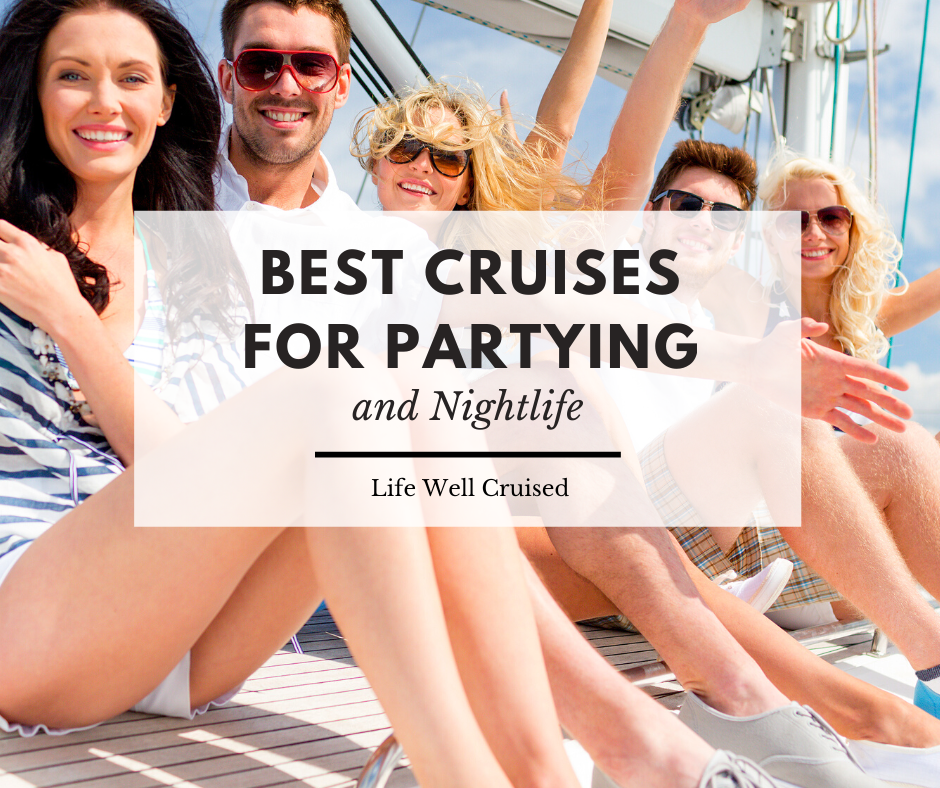 Are you looking for the best party cruises? Don't worry, I've got you covered.
As a guy in my 20's who cruises a lot, I know first hand which are the best cruises for partying. Whether it's for a boy's trip, a girl's trip or if you just like to party, there are plenty of fun, party cruise ships!
With that being said, here are the 10 best party cruises.
This post contains affiliate links which means if you click and buy that I may make a commission, at no cost to you. Please see my disclosure policy for details.
As an Amazon Associate I earn from qualifying purchases.
10 Best Party Cruises
1. Oasis of the Seas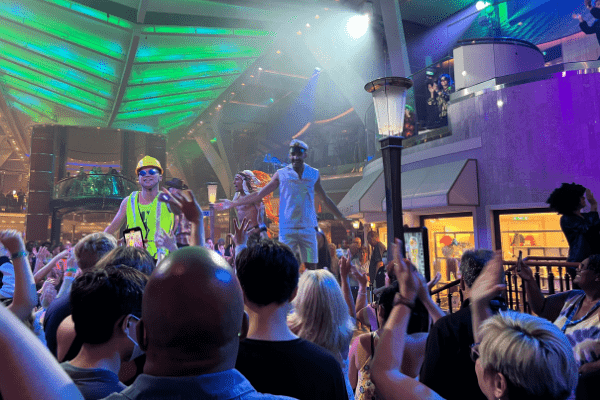 Royal Caribbean is known for making some of the most extravagant cruise ships in the world. Recently, I was on the Oasis of the Seas and the party never stopped.
Whether it was at Spotlight Karaoke, The Rising Tide Bar, The Pig & Whistle English Pub or Blaze Night Club, there was always something going on. Having all these entertainment venues, is one of the best things about the Oasis of the Seas cruise ship, because the fun never stops.
If you like live music and dancing, there is the Music Hall. This bar and club has live performances and a dance floor.
During the day, there is the pool deck with many bars, hot tubs, pools and water slides. Hanging out by the pool is a great time and a great way to meet new people.
Another cool thing about the Oasis of the Seas is the amazing Boardwalk neighborhood, with Johnny Rockets and Playmakers sports bar. If you're into sports, you'll have the best time watching a sports game at Playmakers.
Tip: Cruising during winter break, spring break and summer vacation are the best ways to ensure that you will be on a fun party cruise.
2. Norwegian Joy
Norwegian Cruise Line tends to cater towards a younger crowd, so if you're a young adult, you'll love cruising with Norwegian. Norwegian is one of the best cruise lines for drinking, partying and having fun.
The Norwegian Joy is a newer cruise ship which began sailing in North America in 2019. This cruise ship has plenty of activities onboard including a virtual reality room, water slides and Go-Karting.
Onboard the Norwegian Joy, there is an adult only area called Spice H20 on deck 17, which is inspired by Ibiza. During the day it's an area to grab a drink and relax, however in the evening it becomes a completely different atmosphere.
In the evening time at Spice H20, you'll get to party and dance under the stars, something fun and unique about the Norwegian Joy.
Tip: On most cruise lines passengers have to be 21 to drink. Onboard Norwegian, passengers who are 18 years old can consumer beer or wine in international waters with the permission of a parent.
Related: Norwegian Cruise Line Beverage Packages: What's Included and is it Worth it?
3. Carnival Mardi Gras
Carnival Cruise Line is known for having fun ships, and fun passengers who like to have a good time. On the Carnival Mardi Gras, there are plenty of activities for young people and the young at heart, such as a water park, a 600 foot ropes course and the Bolt Roller Coaster!
Since the Carnival Mardi Gras has nearly 20 different bars onboard, a fun thing for passenger to do is bar crawling. Experiencing the different bars onboard is so much fun and a great way to try the beverages that Carnival has to offer.
If you're looking for a fun party cruise, check out the Carnival Mardi Gras. You'll find that many of the other passengers onboard are looking to party and have a good time as well!
Tip: Short Bahamas cruises (3-4 days) usually attract those that want to party more than any other. Plan a long weekend cruise for a fun friends getaway.
Related: What to Pack for a Caribbean Cruise
4. Virgin Scarlet Lady
Virgin Voyages is a fairly new, adult only cruise line which first set sail in 2021. Virgin Voyages is not your traditional cruise line. The target market for Virgin Voyages are a younger demographic, however active and open minded cruisers of all ages will feel at home.
The Virgin Scarlet Lady has a cool, fun party vibe. This cruise ship has a tattoo parlour onboard and the "Scarlet Night Party", which is known as one of the best parties at sea.
For the Scarlet Night, cruise passengers or "sailors", as Virgin calls them, are told to wear red. Scarlet night is a crazy pool party that is loads of fun! As the night progresses, the party moves down into the various bars and clubs around the cruise ship.
The Manor is the Scarlet Lady's nightclub, which might be the nicest nightclub at sea! The Manor is a two story night club with a dance floor, live music and a DJ.
Since Virgin is an adult only cruise line, this means that there will be no kids. This means that the entertainment onboard is catered towards adults instead of it being family friendly.
If you're looking to party and have the ultimate adult only experience, check out the Virgin Scarlet Lady.
Get The Ultimate Cruise Planner
Regular price: $27 Now just $17!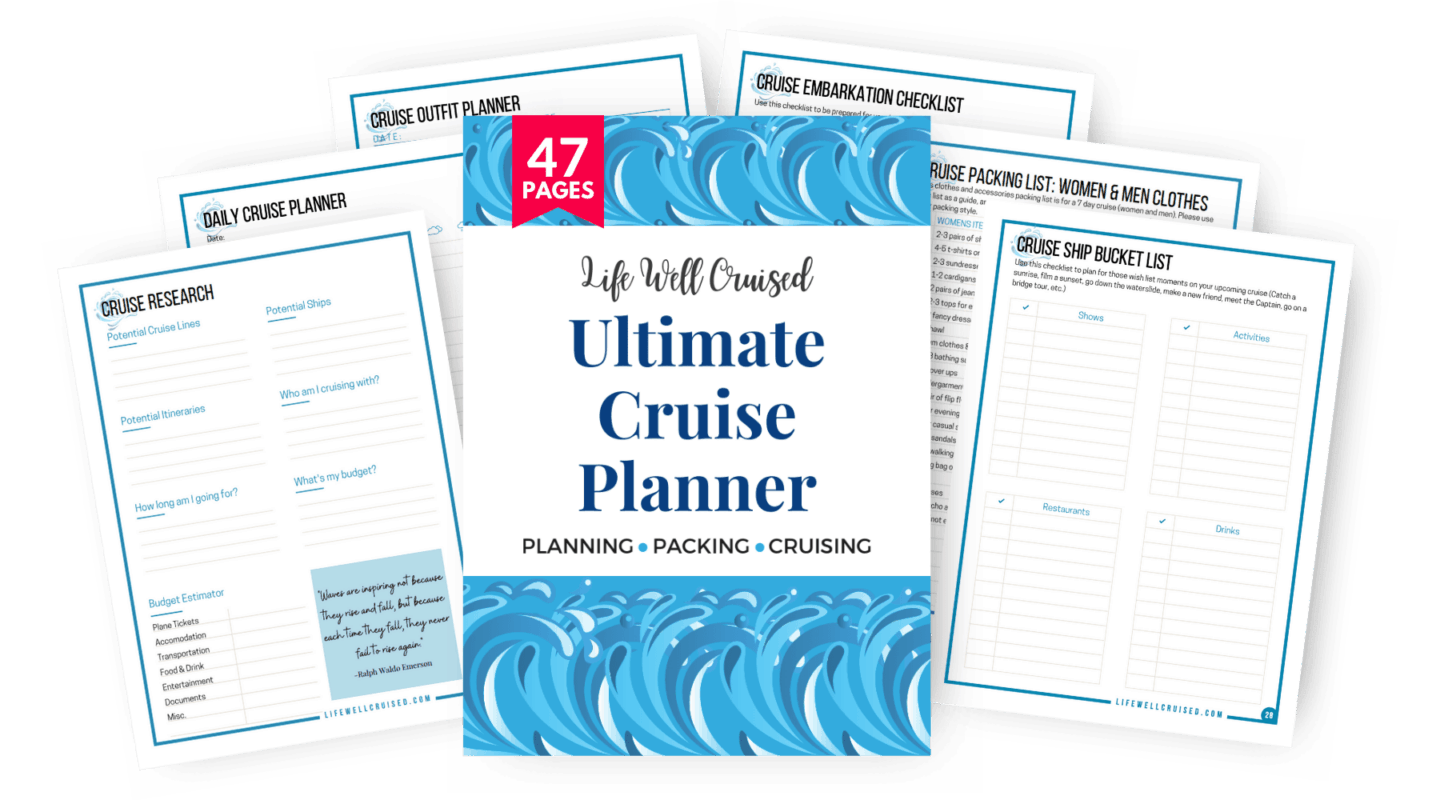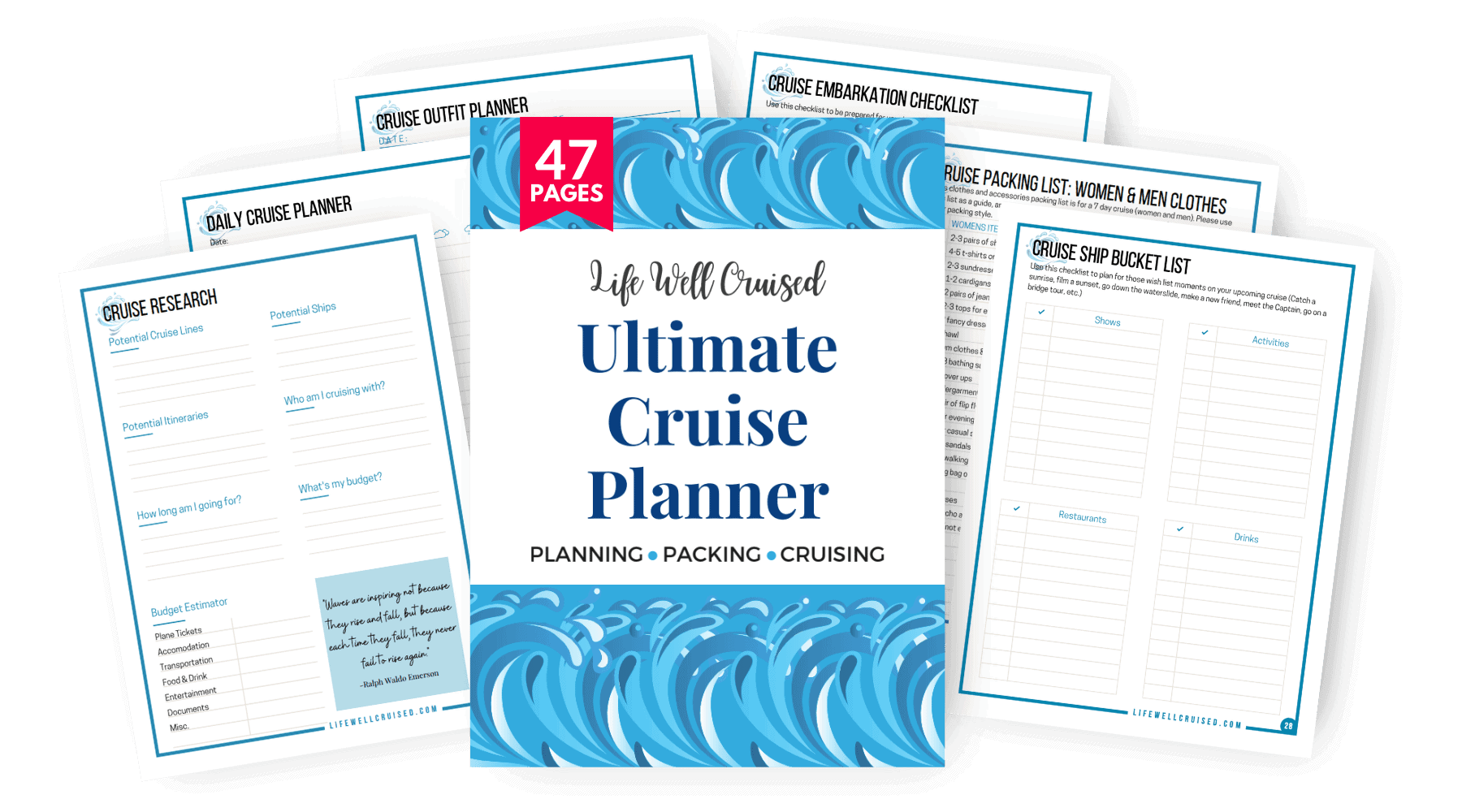 5. MSC Meraviglia
The MSC Meraviglia came in 2017. This cruise ship is known for its beautiful two story Infinity atrium, glittering Swarovski staircase and its resort style pool deck. Luckily, MSC tends to be a more affordable cruise line, which attracts a lot of young adults.
Here are some things to expect on this cruise if you like to party:
The TV & Studio bar is an area where you can do karaoke, watch live shows and grab a drink. As it gets later, check out the Meraviglia bar & lounge. This is the night club area where passengers drink, dance and party late into the night.
Overall, the MSC Meraviglia is a fun and beautiful cruise. The great thing about cruising with MSC is that they tend to be very affordable vacation.
Tip: Caribbean and Mexico cruises are fun party cruises as the party continues on the beaches and affordable excursions.
6. Wonder of the Seas
The Wonder of the Seas is the newest ship from Royal Caribbean cruise line, and the largest ship in the world!
This cruise ship is very similar to the Oasis of the Seas, which is in my opinion, the ultimate party cruise. Of course, the Wonder of the Seas is new and there are even more great things to do!
Cruising on the Wonder of the Seas is a great way to travel and have fun while doing it. There is plenty of entertainment, including an Aqua Show.
Whether it's during the day or in the evening, the party never stops on Royal Caribbean's Wonder of the Seas.
Related: What to Wear on a Royal Caribbean Cruise
7. Carnival Vista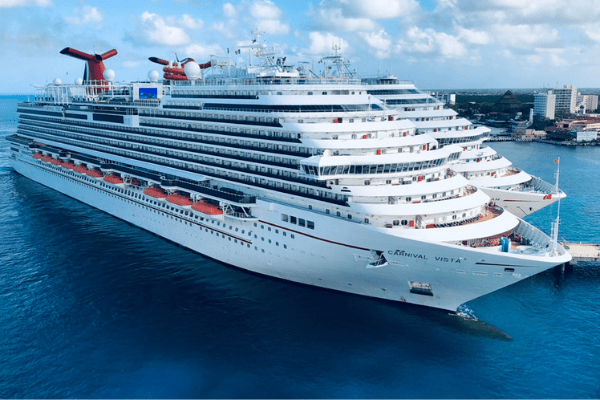 Carnival Cruises are always a good time and the Carnival Vista is no different. This ship first set sail back in 2016, and it is known as an affordable and very fun cruise.
In fact, Carnival Cruise Line includes a lot, and is an amazing value for a vacation.
Since Carnival ships tend to be less expensive, they attract a fun and younger demographic. This means that if you're a young adult, you'll have no trouble making friends and finding people to party with in the evening time.
On the Carnival Vista, there is the Sky Box Sports Bar, which is a really nice place to watch sports game and have drinks. In the evening, Sky Box turns into a night club with a live DJ and a dance floor.
There are also deck parties, which are outdoor pool parties, with dancing and more.
During the day you can grab drinks at the Blue Iguana Tequila Bar, the poolside bar. This is a great place to have a cocktail and relax by the pool.
Overall, the Carnival Vista is one of the best cruise ships to party at sea. The various bars, entertainment venues and the fun atmosphere makes for a really good time.
Related: What's Included on a Carnival Cruise – Everything You Need to Know
8. Norwegian Breakaway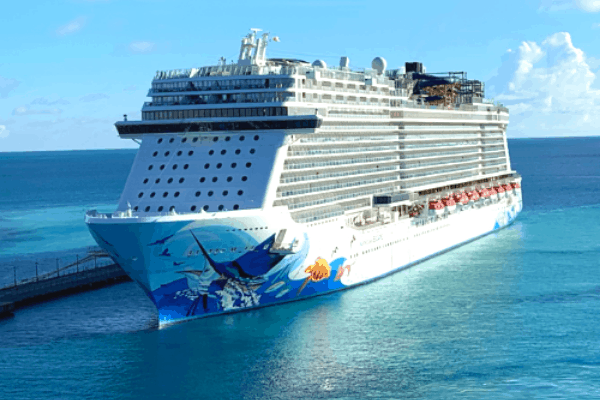 When I originally went on the Norwegian Breakaway, I was still a teenager and not old enough to drink. However, one thing I do remember is that the party never stopped.
On the Norwegian Breakaway, there are so many fun activities and there is a great night life. The entertainment and activities, and even the cruise director and staff are very high energy.
Bliss is the night club onboard the Norwegian Breakaway. and it is an absolute blast. With great music from the DJ, a dance floor and bar, you can't ask for more!
As it gets later, the Norwegian Breakaway, many cruise passengers stop in at O'Sheehans, which is placed conveniently near the Bliss night club. O'Sheehans is a bar and grill that serves wings, burgers and nachos 24-hours a day.
One thing that is super unique about the Norwegian Breakaway, is that there is an ice bar (it's actually really cold!), where your actual glass, the chairs and decor are made of ice. The Ice Bar is a popular attraction onboard the Norwegian Breakaway, so be sure to check it out.
Tip: If you're planning on drinking on your cruise, consider purchasing a beverage package as it can cost well over $10 per drink on a cruise!
Related: Norwegian Cruise Line's Free at Sea Perks Explained
9. Anthem of the Seas
Royal Caribbean's Anthem of the Seas is known for amazing attractions like indoor sky diving, rock climbing and bumper cars. With these amazing activities onboard, the Anthem of the Seas tends to attract young people who are looking for a good time.
The Anthem of the Seas is one of the largest ships in the world, with over 4,000 passengers. Generally, those who cruise with Royal Caribbean are either younger or, as I like to say, young at heart.
The vibe on the Anthem of the Seas is fun and everyone onboard is looking to have a great vacation.
In the evening, there are plenty of amazing shows going on that are worth seeing. From production shows, guest entertainers and comedians, Royal Caribbean is known for its outstanding entertainment.
Later at night, the party often starts in Boleros, the latin themed night club. Going to the night club is the perfect way to party and meet people, dance and have a great time.
Related: 7 Best Cruises for Teenagers
10. Norwegian Escape
The Norwegian Escape came out in 2015, but is a favorite cruise ship for many! This cruise ship has water slides, a ropes course and many bars.
When it comes to getting drinks, there is Cellars wine bar, the Skyline Bar, which is the casino bar and the Atrium Bar, which is a great place to grab a drink and socialize with people.
The Skyline Bar is where most of the partying and dancing happens later at night.
Similarly to the Norwegian Breakaway, the Norwegian Escape has O'Sheehans, a great place to eat grab a bite to eat late at night with friends.
The Norwegian Escape is a very cool ship with plenty of activities to do. There are fun things going on throughout the day and the party goes late into the evening.
Tip: Checkout themed cruises which can be party cruises for people of all ages. Some popular ones that are known for their adult parties include Groove Cruise and Temptations (swingers cruise).
Get The Ultimate Cruise Planner
Regular price: $27 Now just $17!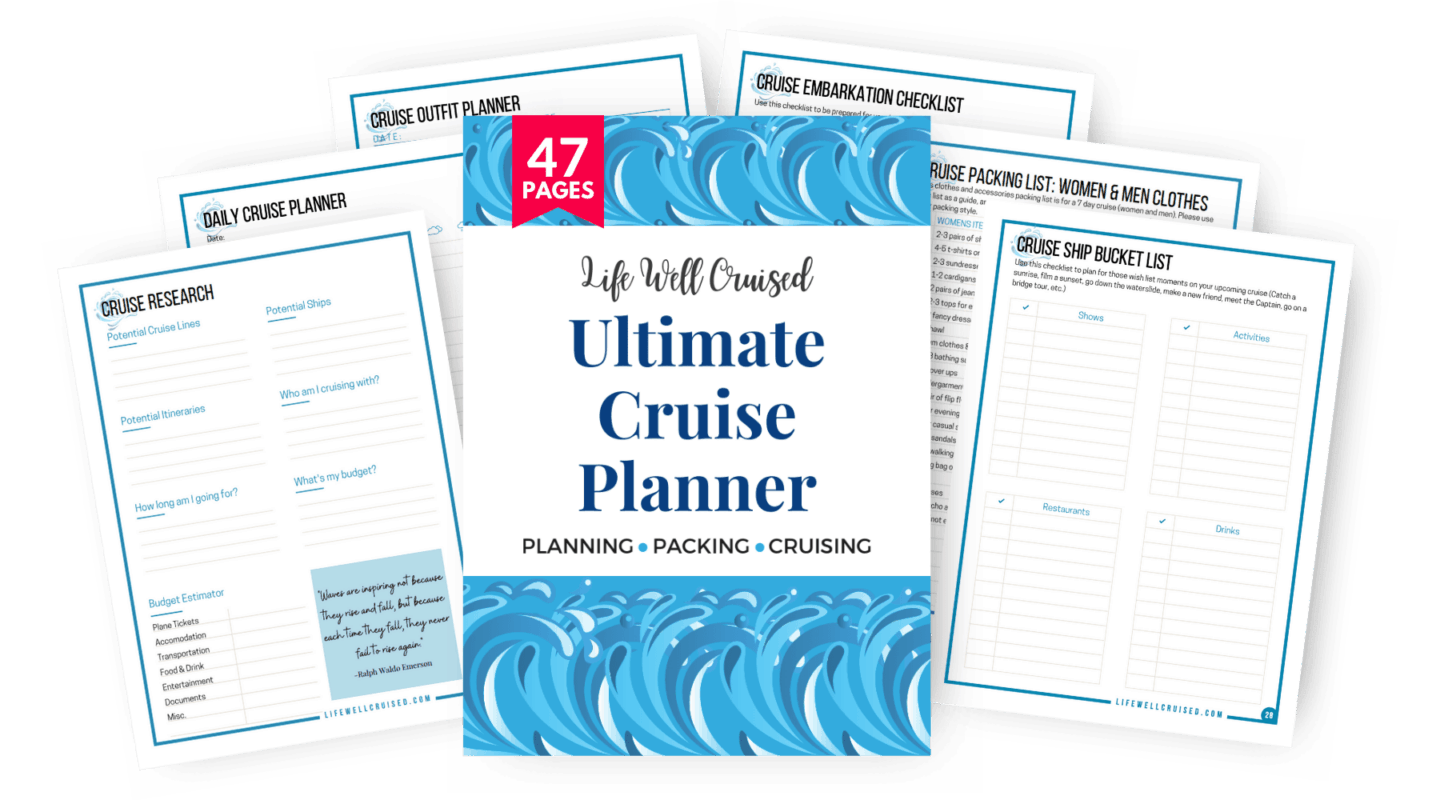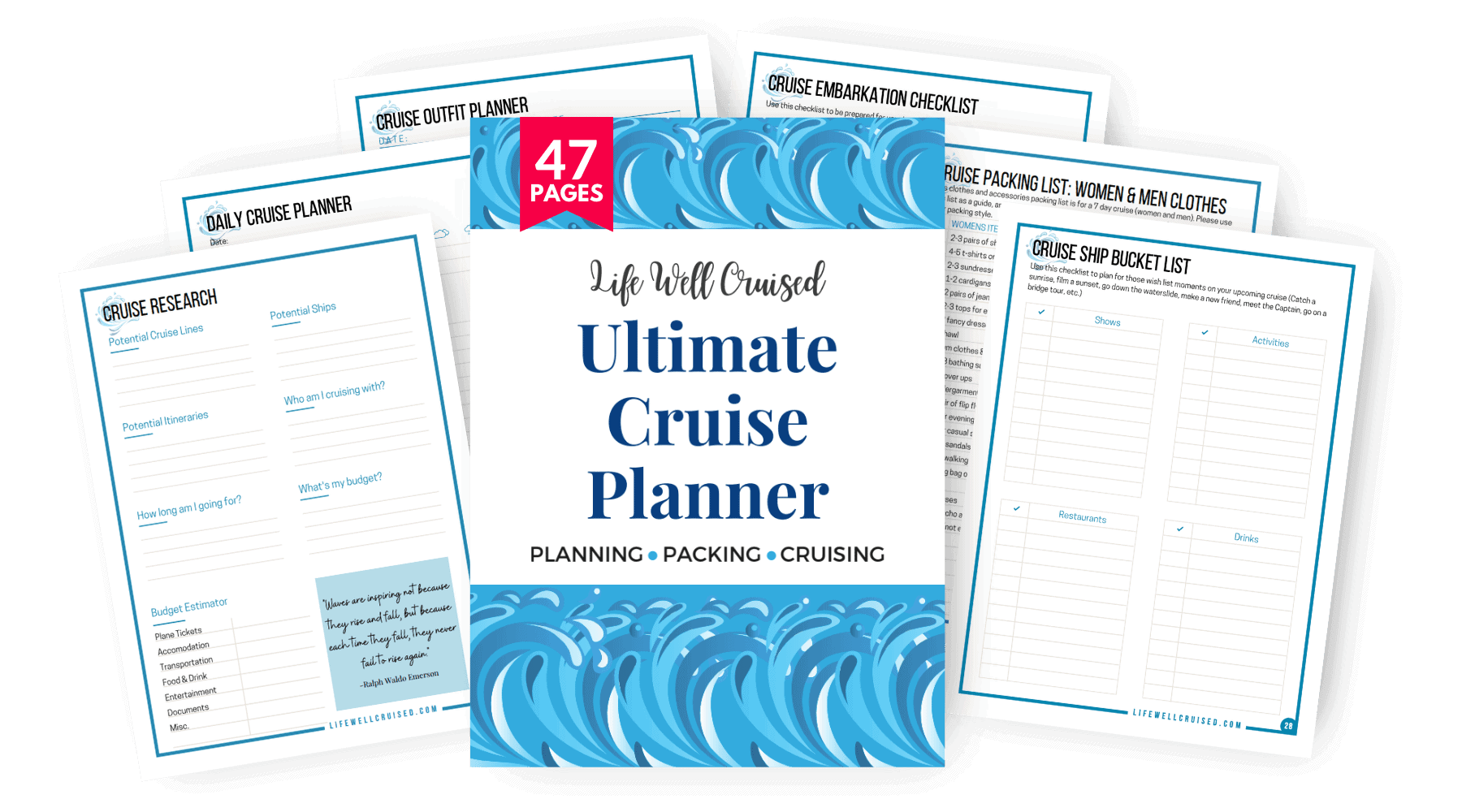 Related & Popular Posts: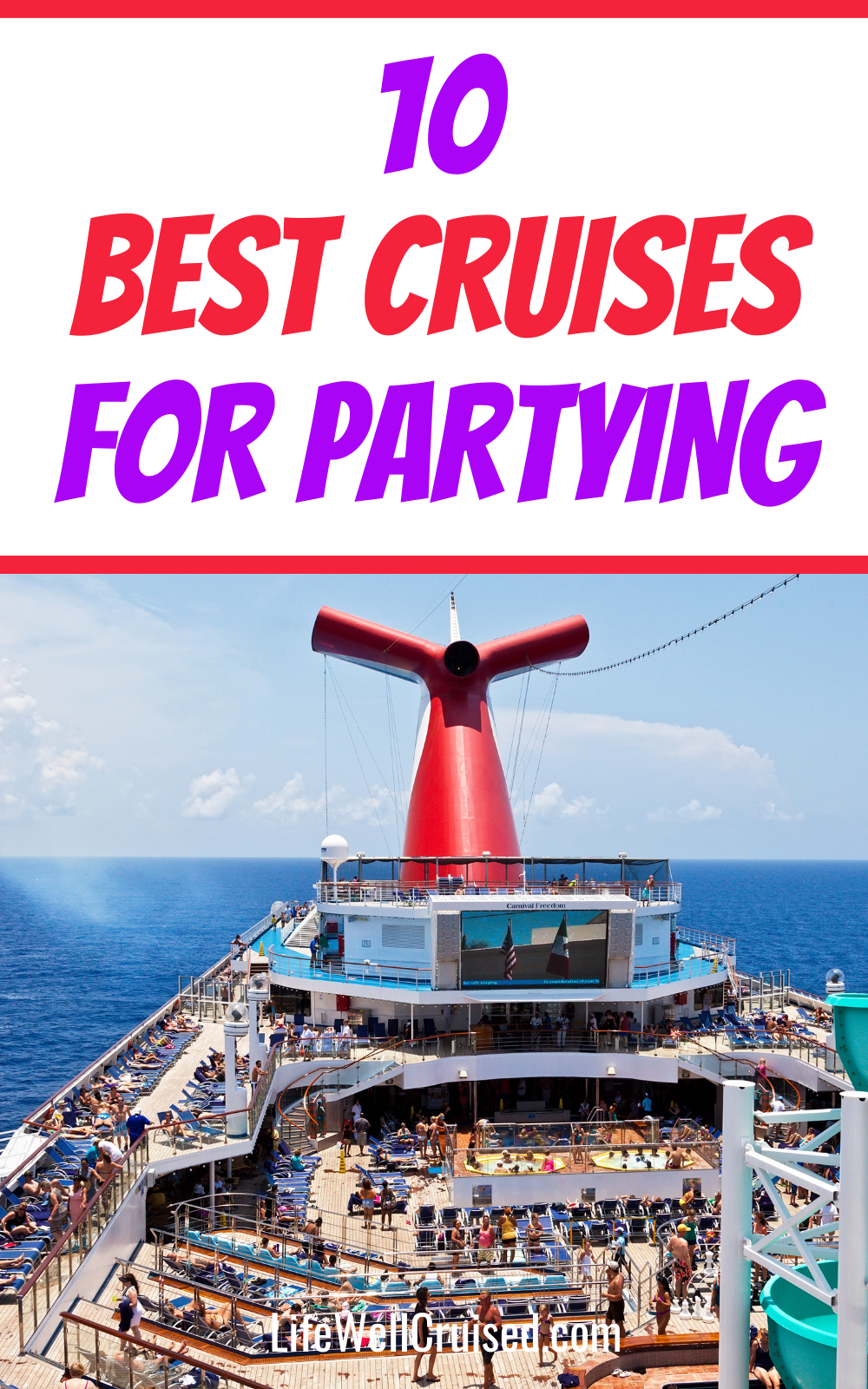 Final Thoughts on The Best Party Cruises
Well there it is, the best party cruises!
When it comes to partying on vacation, it's hard to beat cruising. As someone who has cruised a lot, I know how on the right cruise, the partying never stops!
As an adult, letting loose on a cruise and having a good time is what makes for an awesome vacation.
Happy Cruising!
Ethan
P.S. If you found this helpful, please don't keep it to yourself ;-). Please share on Facebook or PIN to your favorite Pinterest board (share buttons at the top). Thanks so much!
Author Bio: Ethan Schattauer writes about fashion, travel and college advice on the website WhatToWearMen.com. As a frequent cruiser, Ethan shares his unique perspective on what cruising is like for teens and young adults.
Join me on Facebook at Life Well Cruised
Join me on YouTube at Life Well Cruised
Join me on Pinterest at Life Well Cruised
Join me on Instagram at Life Well Cruised