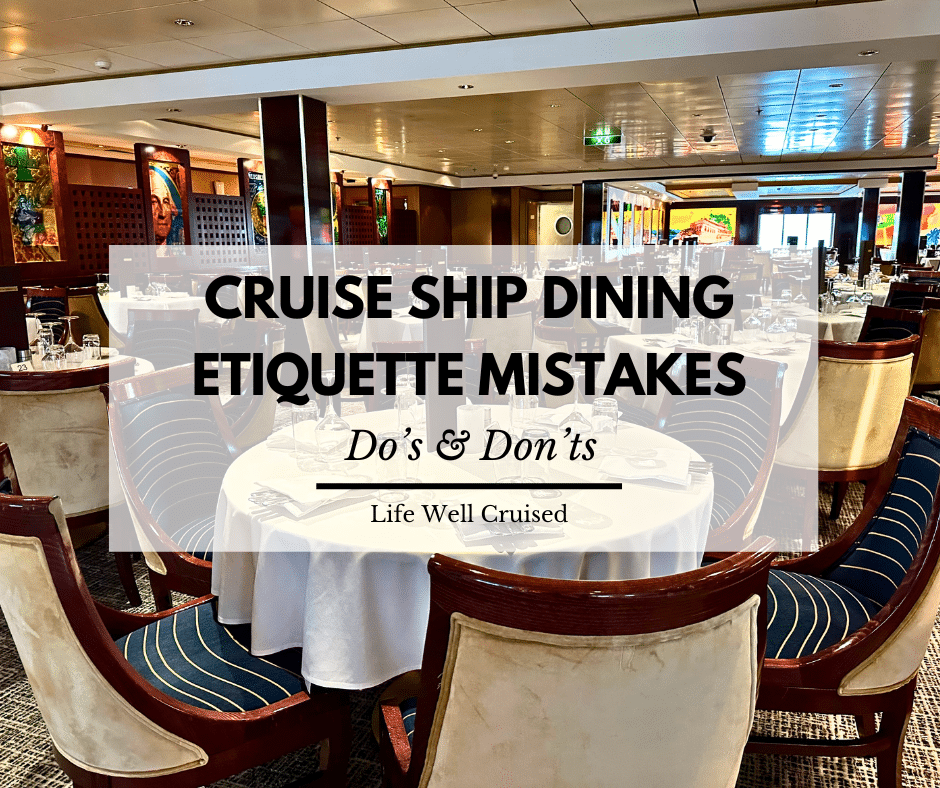 Are you going on a cruise and wondering about cruise ship dining? While there aren't many strict rules to dining on a cruise, there are some cruise dining etiquette rules and best practices to be aware of!
Beyond cruise line dress codes, there are cruise etiquette do's and don'ts that all cruisers should know.
Don't make these common cruise mistakes when it comes to the main dining room, specialty restaurants, and buffet on a cruise. Cruise ship crew members and fellow cruise passengers will appreciate the effort.
In this post, I share cruise dining etiquette and tips that will help you have a better vacation experience.
This post contains affiliate links which means if you click and buy that I may make a commission, at no cost to you. Please see my disclosure policy for details.
As an Amazon Associate I earn from qualifying purchases.
Cruise Ship Dining Etiquette Tips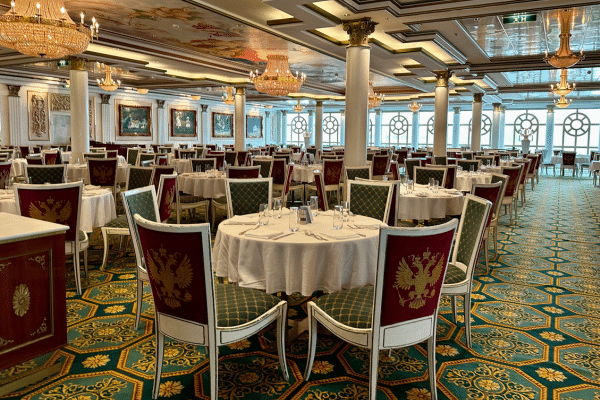 1. Be on Time
If you have reservations in the main dining room or a specialty restaurant, try and be on time. Being punctual is important, especially in extra charge venues. Being more than 15 minutes late could result in your reservation being canceled and incurring extra charges.
If you have traditional early or late dining, there are set dining times. If you've opted to share a table with other cruise passengers, you'll also want to arrive on time out of respect for your table mates.
2. Bringing Wine
If you plan to bring your own bottle of wine to the main dining room or specialty restaurants, be aware that a corkage fee (typically $15 to $20) may apply. You can bring your bottle or just fill a glass in your cabin (you won't be charged if you bring a filled glass).
You can also leave your bottle if you don't finish it, and the waiter will have it stored until your next visit.
3. Cruise Line Dress Codes
While cruise line dress codes have relaxed, there are still clothing attire guidelines in many cruise ship restaurants. Resort casual attire is perfect for most dining venues during the evening.
Outside of the cruise ship buffet, you'll find some dress suggestions and rules. Poolwear and tank tops (for men) are not permitted in dining rooms and nicer restaurants.
Even on casual cruise lines, like the Freestyle Norwegian Cruise Line, some venues have specific dress codes. For example, Le Bistro's dress code includes no short shorts and t-shirts. In this case, its a good idea for men to pack at least one polo style shirt and pair of pants or jeans.
4. Be Kind to the Crew
Showing respect and kindness to the ship's crew members is a basic courtesy. Saying "please" and "thank you" to waiters and other dining staff goes a long way.
Its also nice to reciprocate any questions. For example, ask how they are doing and how their day has been. People don't often ask and crew do appreciate the gesture.
Acknowledging their service is also appreciated and helps create a pleasant dining atmosphere.
5. Ordering Food
Cruise dining is one of the best parts of cruising! When it comes to the included or complimentary restaurants, you can usually order multiple dishes, including more than one appetizer or entrée.
While you don't want to waste food, it's a nice opportunity to try different foods.
Feel free to ask for recommendations from the waitstaff, as they are familiar with popular items and can guide you to a satisfying choice.
6. Show Appreciation
Express your appreciation for the waitstaff's service. Let them know if you enjoyed their recommendations, and consider mentioning their names in post-cruise surveys.
7. Dining Table Etiquette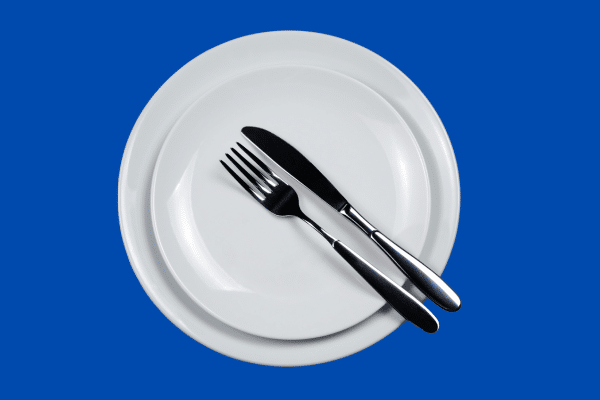 Knowing some basic table manners can enhance your dining experience. Here are a few basics that can come in handy, especially if you're dining with strangers.
Your bread plate is typically on the left, and your glass is on the right. When finished with your meal, place your knife and fork together on the left side of the plate to indicate you are done.
Place your cloth napkin on your lap during your meal. When finished dining, place it on the table.
Get The Ultimate Cruise Planner
Regular price: $27 Now just $17!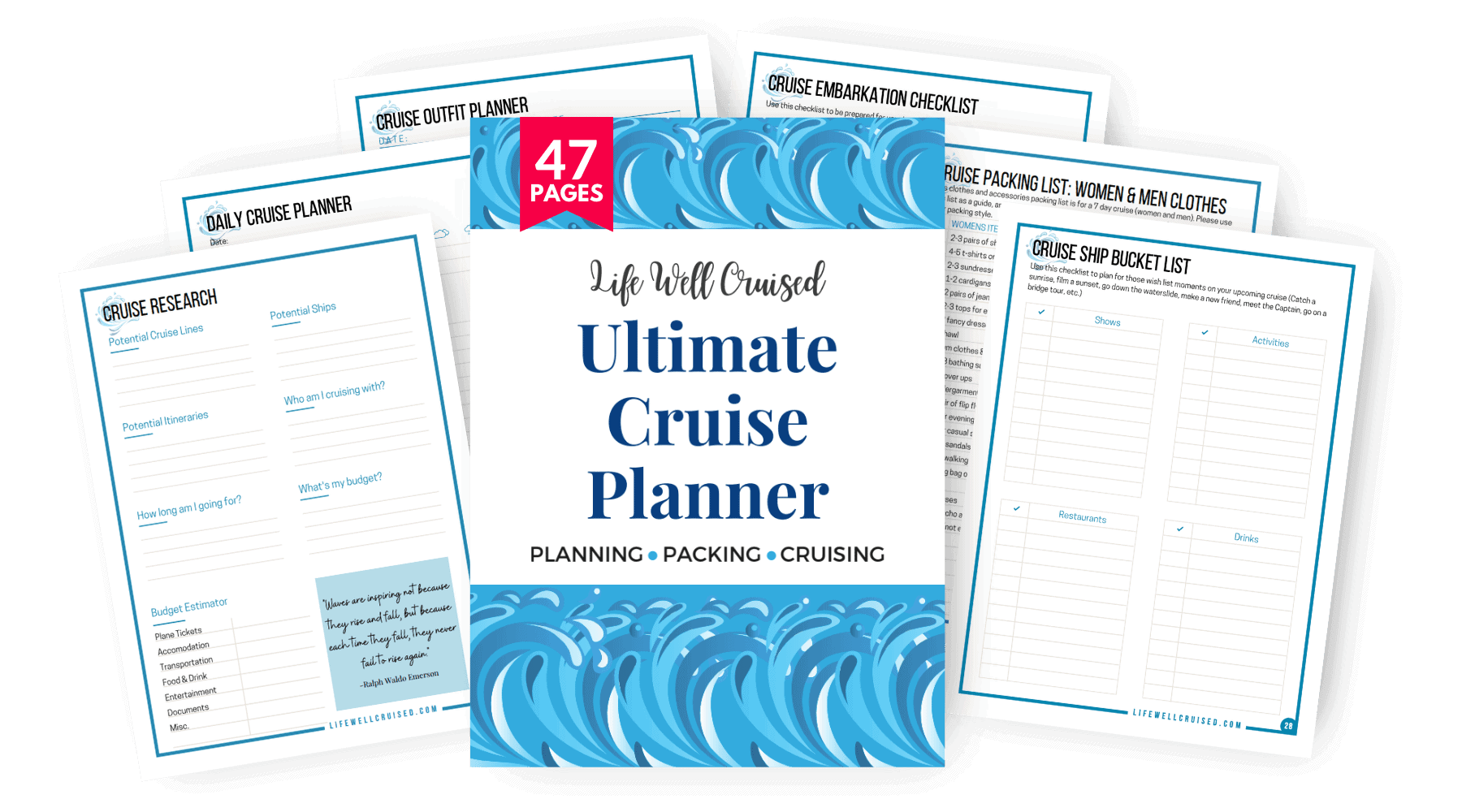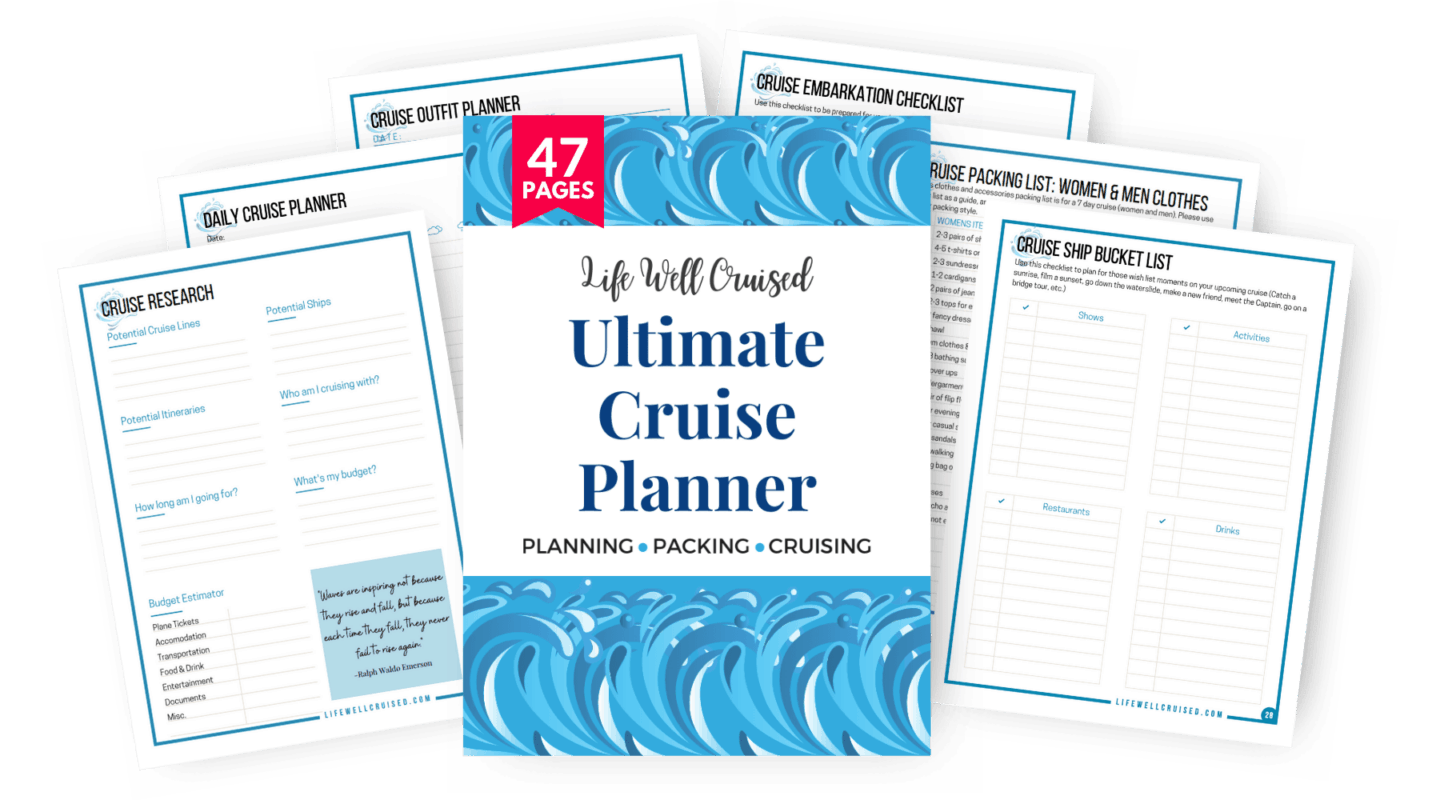 8. Etiquette with Fellow Passengers
If seated with new people, avoid discussing controversial topics like politics or religion when dining at a shared table.
Try not to complain during your meal about any issues on your cruise, as it spoils the enjoyment for everyone. Instead, bring your concerns to guest services and leave any complaints for a post-cruise survey.
Try and refrain from judging others based on their clothing choices, as individual preferences for "dressing up" can vary. How someone else chooses to dress really won't affect your cruise.
9. Explore Alternative Dining Venues
Don't limit yourself to the main dining room every night. Cruise ships offer various dining options for breakfast, lunch, and dinner. Mix it up and try specialty restaurants, casual venues, or buffets.
10. Dietary Requirements
Cruise lines are usually accommodating when it comes to dietary restrictions or allergies. You can inform them in advance through your cruise planner or travel agent, and they will often provide dedicated menus or assist in selecting suitable options.
Once onboard, be sure to speak with the Maitre D or wait staff.
11. Tipping the Dining Staff
Cruise ship gratuities and tipping can be a controversial topic. You may have opted to prepay gratuities or are paying the automatic daily crew appreciation charge.
Some cruise passengers like to give extra tips to a waiter or waiters, which is optional.
Related: 13 Big Tipping Mistakes To Never Make on a Cruise
12. Bonus Tips
Let your waiter know in advance if you plan to order specialty coffee with dessert, as it may take longer to prepare.
If you would like to be served more quickly because you have a show after dinner, inform the waitstaff so they can try to expedite your service.
Video: 12 Cruise Dining Etiquette Mistakes You're Probably Making
Get The Ultimate Cruise Planner
Regular price: $27 Now just $17!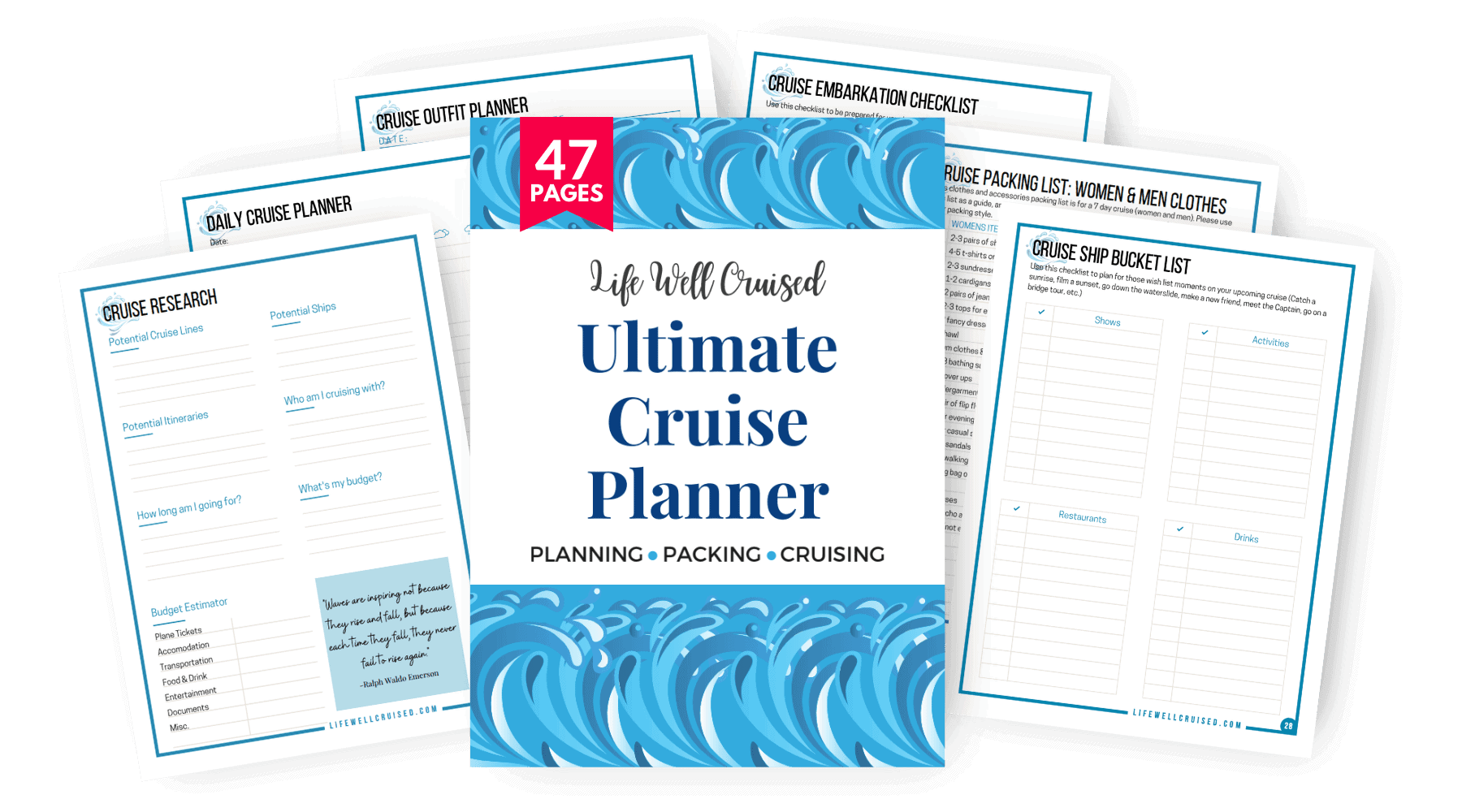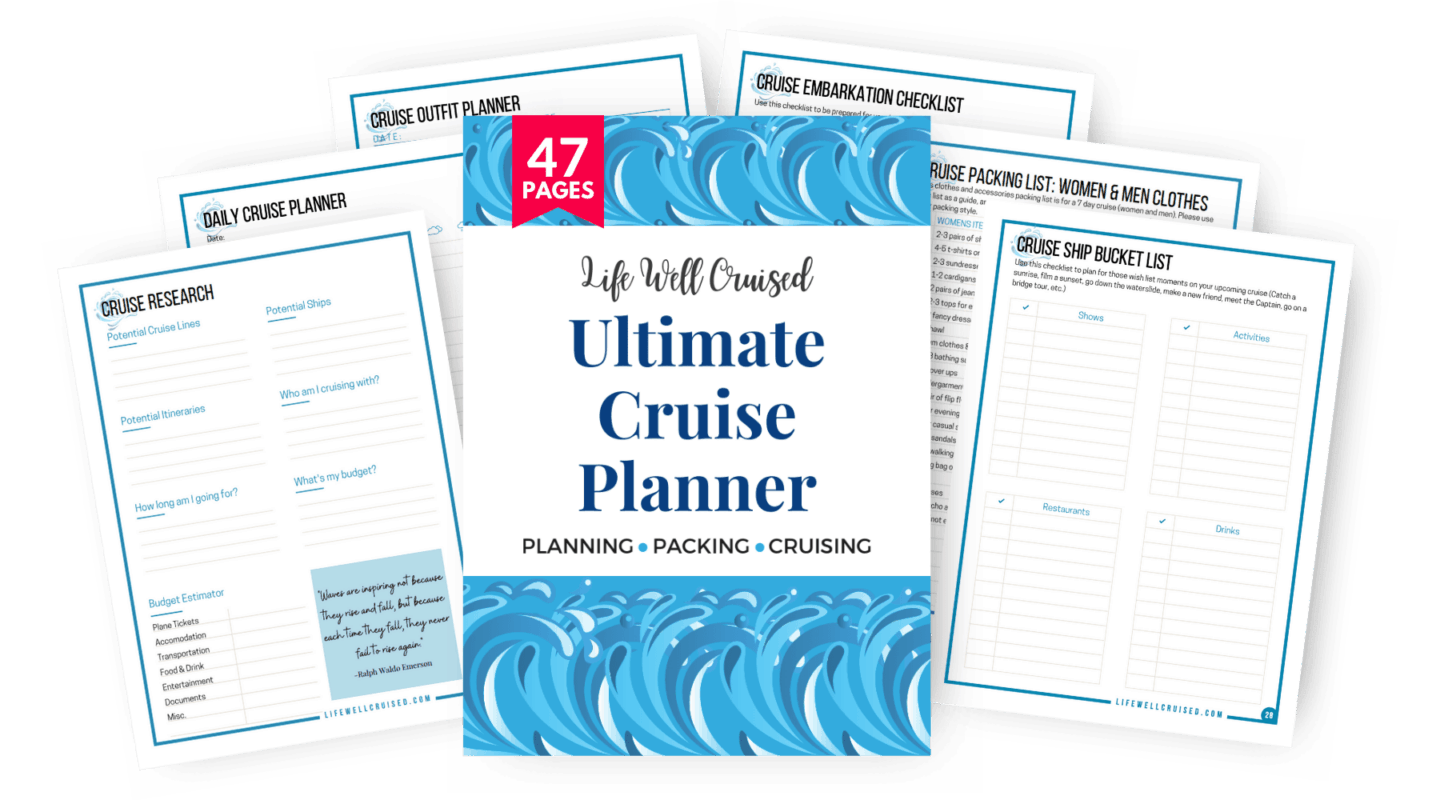 Final Thoughts on Cruise Dining Etiquette Tips, Tricks and Things to Know
Cruise ship dining is one of the best parts of going on a cruise. Whether you're a first time cruiser or a seasoned cruiser, these cruise tips will help you have a better dining experience.
Do you enjoy cruise ship dining? Please share your dining and cruise etiquette tips in the comments below.
Happy Cruising!
Ilana
If you found this article helpful, please pass it along. Please feel free to share on Facebook or PIN to your favorite Pinterest board (share buttons at the top). Thanks so much!