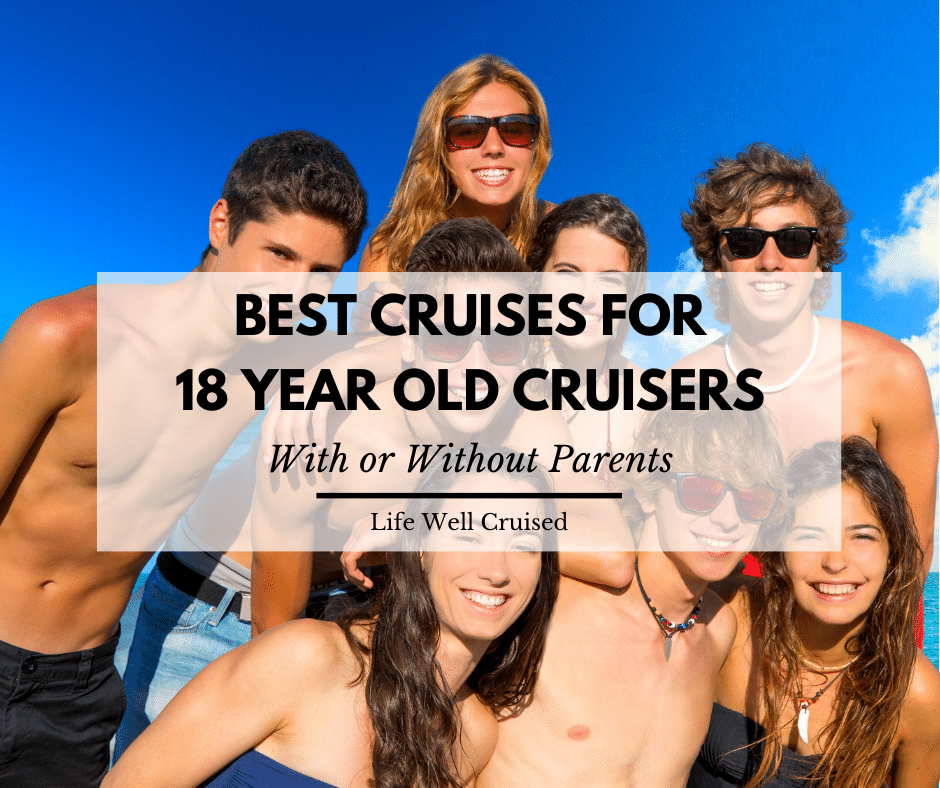 Cruises are amazing vacations for young people, but it can be hard to find the right cruise if you're around 18 years old. Whether you're an 18 year old wanting to go on a cruise, with or without parents, there are some different options to consider.
A cruise is a great way to visit multiple destinations, try new foods, meet new people, and experience exciting activities!
However, cruise lines have different policies when it comes to treating 18-21 year olds as adults. In addition, some cruise ships offer more activities for younger cruisers than others.
As someone in my early 20s, I have first-hand experience cruising as an 18-year-old, and I can confidently say that it is one of the best ways to travel!
That said, many people wonder if it's even possible to cruise as an 18-year-old without parents.
Which raises the question…
Can You Book a Cruise at 18 Years Old?
Yes, you can book a cruise at 18 and travel without your parents. However, only certain cruise lines allow this, and it depends on the destinations. Most cruises leaving out of the United States require their guests to be 21 to travel independently.
What Cruises Can You Go on Alone at 18 Years Old?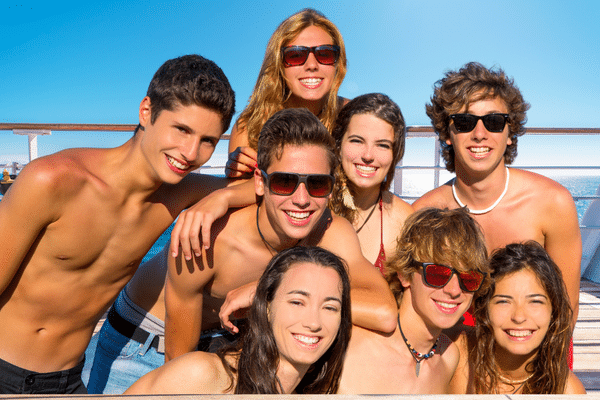 Virgin Voyages, P&O Cruises, and Marella Cruises allow passengers over 18 years old to cruise independently. Select American and European cruise lines like Celebrity Cruises, MSC, Disney, and Royal Caribbean allow guests under 18 to sail without a guardian on European itineraries.
In this article, I share the top 8 cruises for 18-year-olds, both with and without parents. We also explore the perks of cruising when between 18 and 21 years of age. Finally, I share my firsthand cruise experience as a young adult who has cruised with my parents.
This post contains affiliate links which means if you click and buy that I may make a commission, at no cost to you. Please see my disclosure policy for details.
As an Amazon Associate I earn from qualifying purchases.
8 Best Cruises For 18 Year Olds
There are a few cruise lines that are suitable for 18-year-olds. Although each cruise line has pros and cons, you will have a good time no matter which one you choose.
1. Virgin Voyages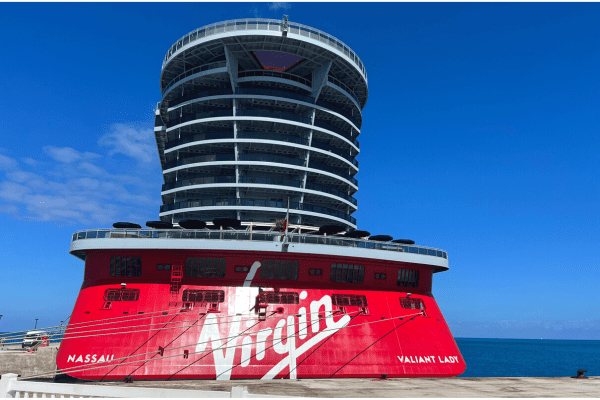 Virgin Voyages is a newer cruise line known for being 18 plus. This means that passengers, or sailors as Virgin calls them, must be over 18 or older to sail with the cruise line.
As an adult-only cruise line, you wont find any kids onboard a Virgin cruise ship!
If you're an 18-year-old looking for a cruise ship where you can drink, party, meet new people, and enjoy amazing food, then Virgin Voyages is the cruise line for you.
On Virgin, you'll experience deck parties, pool parties, risque entertainment, nightclubs, themed events, beach parties, great food and more!
The cool thing about Virgin is that this cruise line allows passengers who are 18 and older sail without a legal guardian. Virgin also permits cruisers over 18 to drink and gamble on their cruise ship, as long as they are 12 nautical miles away from an American cruise port and in international waters.
Overall, Virgin Voyages is the perfect cruise line for an 18-year-old looking to meet new people or vacation with friends!
Related: Why Virgin Voyages Is the Ultimate Cruise Line for Young Adults
2. Royal Caribbean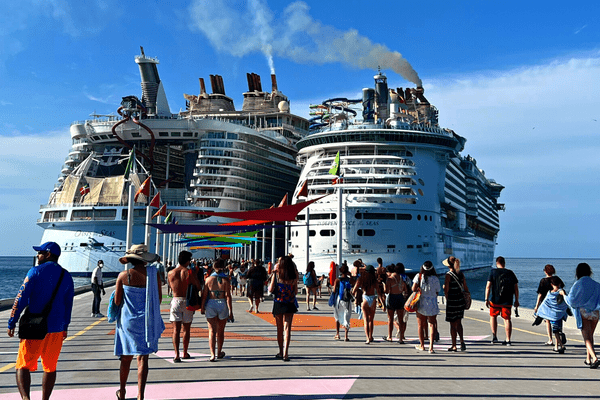 Royal Caribbean cruises are perfect for adventure seekers, as their cruise ships feature rock climbing walls, zip lines, water slides, ice skating, surfing simulators, and more!
Royal Caribbean cruises sailing out of North America require guests to be 21 years of age to sail unaccompanied by an adult. However, Royal Caribbean allows 18-year-olds to cruise individually for sailings out of South America, Europe, Asia, Australia, and New Zealand.
The best thing about Royal Caribbean ships is that there is always something to do.
During sea days, you can relax in the hot tubs, participate in poolside activities, or play on the basketball court. In the evenings, there are awesome shows, live music, and night parties in the club.
The cool thing about cruising with Royal Caribbean is that there will be a lot of passengers around your age. On the first day, make sure to check out a hosted meetup for 18 to 20-year-olds.
Even if you're cruising with your parents and other family members, you'll have a great time!
Royal Caribbean is known for having the best private island out of any cruise line (Perfect Day at Cococay). There are beautiful beaches, pools, included restaurants, water parks, zip lining, a hot air balloon, and more. If your cruise stops at Cococay, you're in for an amazing day!
Cruising with Royal Caribbean will be a memorable vacation and a great way to visit fantastic destinations while making new friends.
3. Norwegian Cruise Line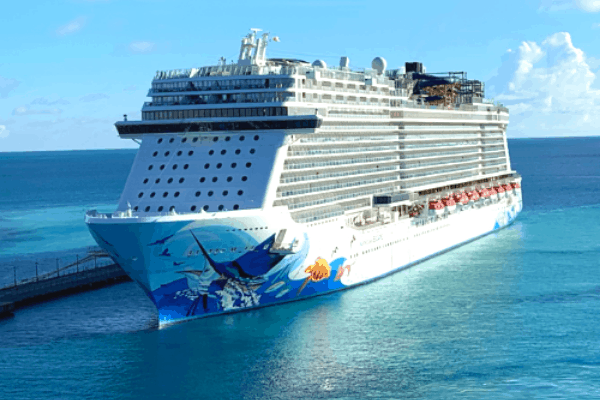 Norwegian is another cruise line known for its fun activities and great nightlife. On Norwegian Cruise Line ships, you will find water slides, laser tag, ropes courses, and even go-karting!
Norwegian Cruise Line requires their guest to be 21 to travel without a guardian. However, Norwegian allows passengers 18 years and older to drink beer and wine as long as they get consent from their legal guardians.
The cool thing about cruising with Norwegian is that plenty of young people will be onboard. This means you will have no trouble making friends and finding other young adults to hang out with.
As an 18-year-old, you will have tons of fun on a Norwegian cruise. There are always fun activities going on around the cruise ship, and there are multiple venues that are active in the evening times.
Overall, Norwegian is the perfect cruise line for an 18-year-old who is active and likes to have fun. There is never a dull moment on a Norwegian cruise, from the morning to late at night!
Related: What's Included on Norwegian Cruise Line and What Is Not
4. MSC Cruises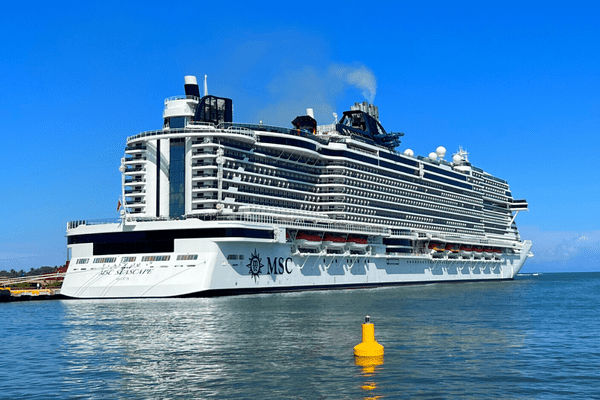 MSC Cruises is an Italian cruise line known for its beautiful ships, fun activities, and enjoyable evening entertainment. MSC Cruises have unique activities like an F1 simulator, 4D cinema, and Robotron, an exciting thrill ride.
While MSC has great cruises for families, there are a large number of young adults who cruise with MSC. You'll definitely be able to meet new people.
MSC's nightlife features live music, fantastic entertainment, and a DJ. The itineraries are great too!
Unless you travel with your parents, you can only cruise with MSC out of the United States if you're 21 or older. However, you can cruise independently with MSC if the cruise ship does not stop at a U.S. port.
For Caribbean itineraries, the drinking age onboard MSC is 21. Although, all other itineraries have a drinking age of 18 years old.
Overall, MSC is a great cruise line for 18-year-old cruisers, young adults and college students. They have a great mix of fun activities and an exciting nightlife, so you will never be bored.
Related: 6 Best Cruise Lines For College Students
Get The Ultimate Cruise Planner
Regular price: $27 Now just $17!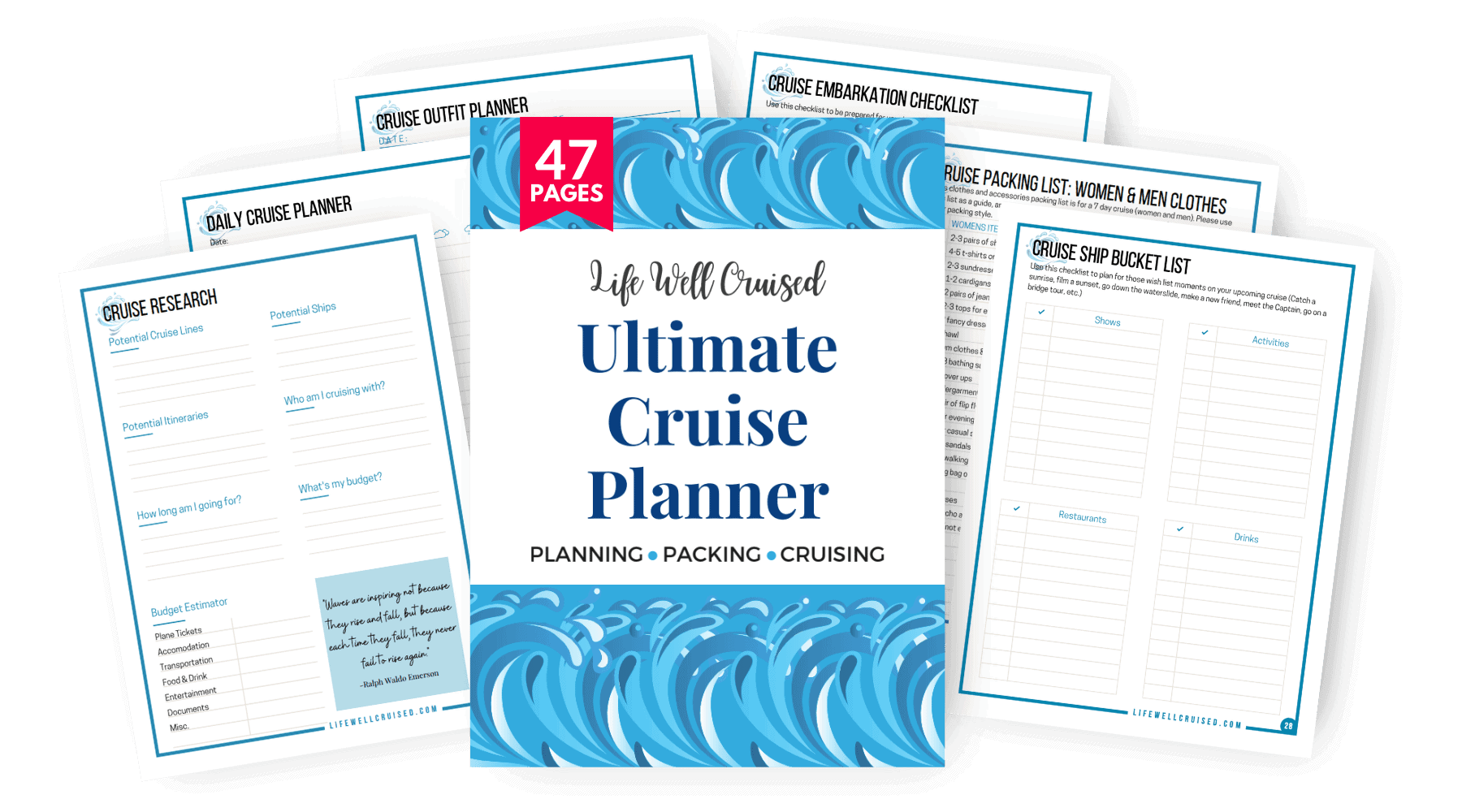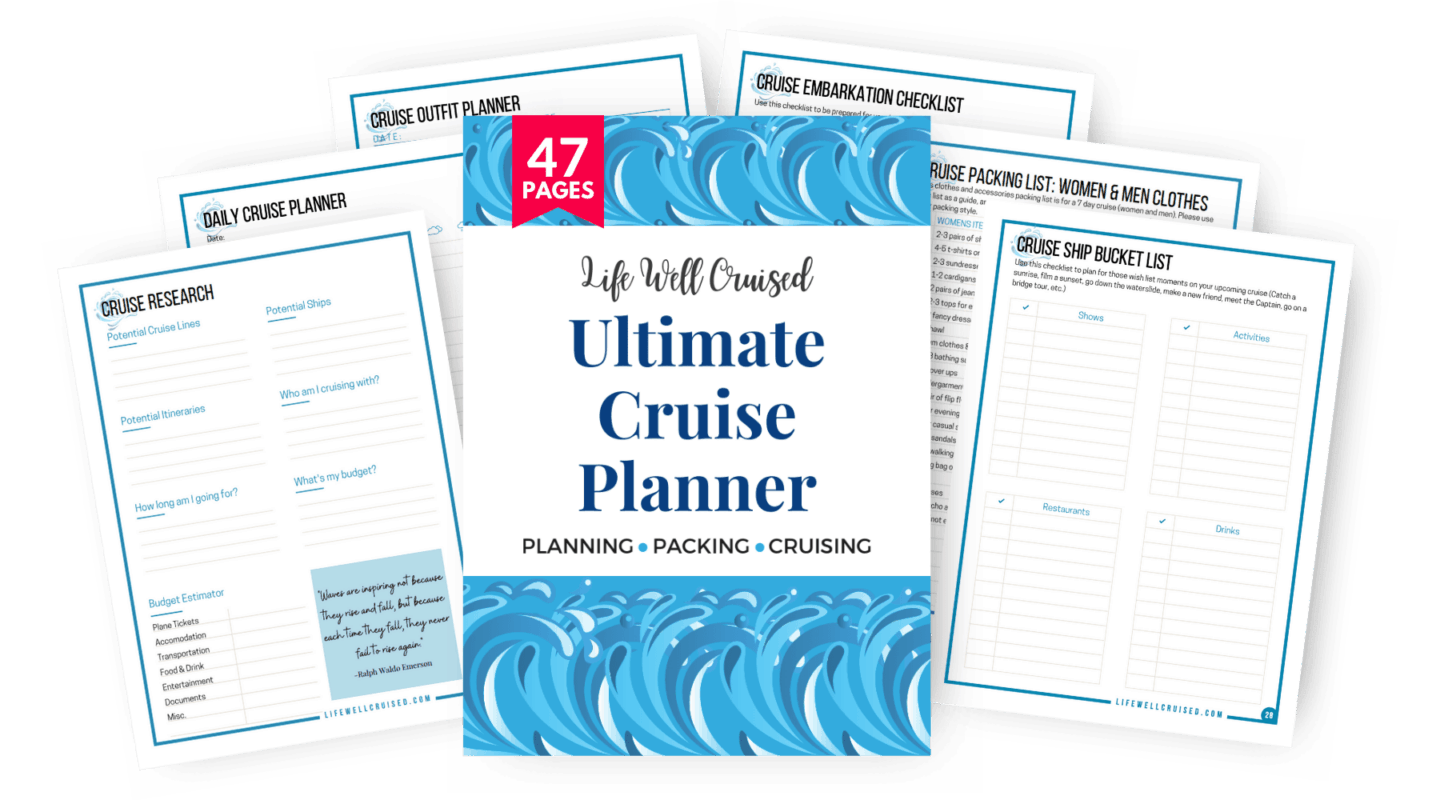 5. Carnival Cruise Line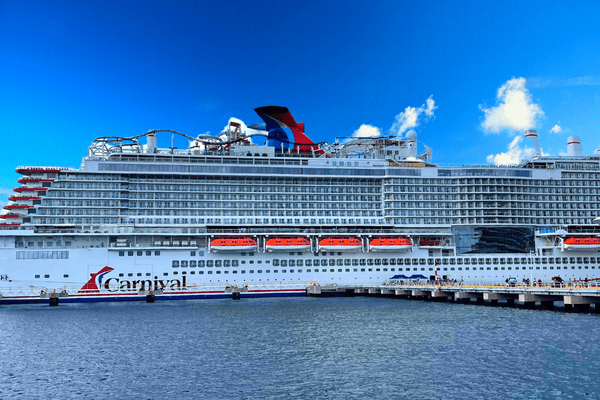 Carnival Cruise Line is one of the most popular cruise lines in the world. Carnival ships are known for having tons of activities, great casual dining options, and a party atmosphere.
Onboard Carnival cruise ships, you will find ropes courses, mini golf, water slides, splash parks, a sports court, and even a roller coaster on certain cruise ships! If you're an adventurous 18-year-old, you will love the activities onboard a Carnival cruise.
Since Carnival is a family-friendly cruise line, younger crowds will be onboard. This means there will be many younger adults around your age cruising with you.
Guests are required to be 21 years of age to cruise alone and to consume alcoholic beverages on Carnival. However, you can cruise with Carnival if you are accompanied by someone 25 years old and older.
The nightlife onboard a Carnival cruise line is extremely fun. You will have a great time watching the comedy shows, participating in game shows, or dancing the night away at the nightclub!
Related: What's Included on a Carnival Cruise – Everything You Need to Know
6. Disney Cruise Line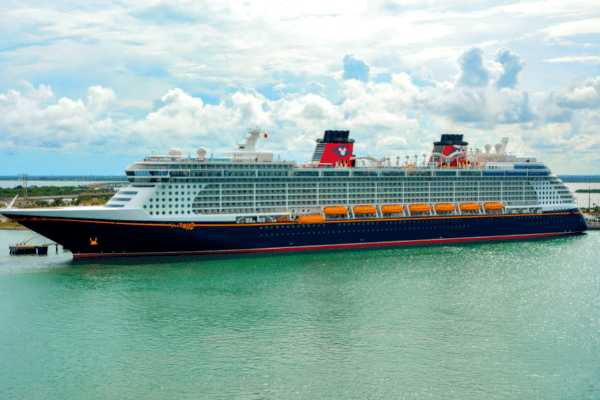 If you're a Disney lover, you should check out Disney Cruises! Disney is known for having fun, family-friendly, Disney-themed cruises.
Onboard a Disney cruise, there are Disney-themed restaurants, character meetups, and water slides. There is also a relaxing adult-only area, a fitness center, and nightclubs and lounges open in the evening.
You must be 21 to cruise alone if you're sailing with Disney out of the United States. However, you can cruise with Disney alone at 18 if you leave from Europe.
Disney isn't a budget cruise line and the cruise fares are pretty expensive, so this might be something to consider when choosing the best cruise for young people.
If you want to drink on a Disney cruise, you must be 21 years old. However, Disney is not a booze cruise it has a more family-friendly vibe.
Overall, Disney is an excellent choice for Disney lovers! If you've been to Disneyland and Disneyworld and want to experience something different, you will love cruising with Disney.
Related: 60 Cruise Packing Tips & Hacks All Cruisers Need to Know
7. Celebrity Cruises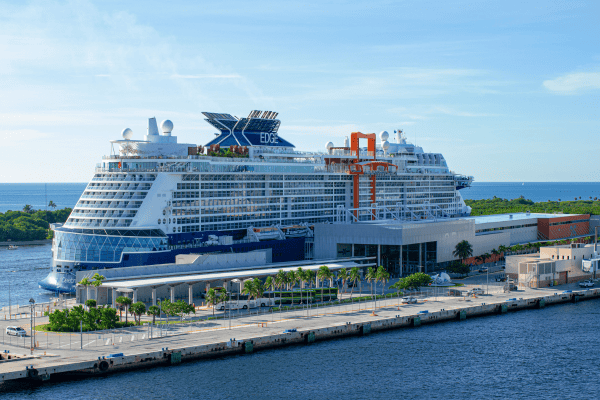 If you want a more upscale and laid-back cruising experience, check out Celebrity Cruises. Celebrity is known for having beautiful cruise ships, great food, and a relaxed vibe.
Celebrity Cruises isn't a party cruise line like Virgin Voyages, Carnival, or NCL, so don't expect a wild nightlife. Cruise passengers on Celebrity are more generally more laid back and enjoy grabbing a drink at the bar, reading a book, or watching a show in the evening.
Fellow guests on Celebrity tend to be on the older side. However, younger cruisers are often during the holidays and summer.
As an 18-year-old, there are still ways to have fun on Celebrity. They have great activities happening throughout the day, dance classes, and shows in the evening time.
On Celebrity, you won't be able to cruise alone as an 18-year-old. However, you can cruise with Celebrity if you are in a cabin with someone who is over the age of 25.
8. Princess Cruises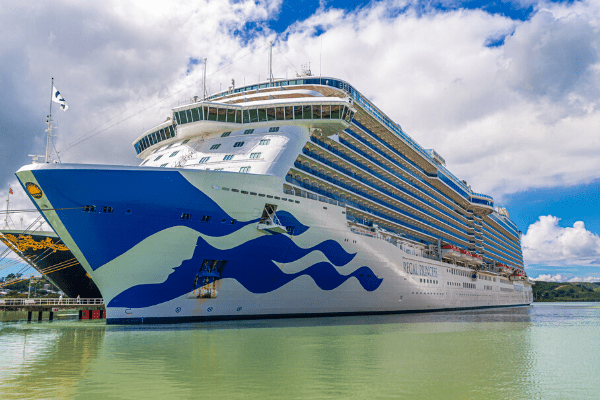 Similarly to Celebrity Cruises, Princess Cruise Line aren't big party cruise ships. Princess cruises are known for their unique itineraries, excellent food options, and amazing service.
If you're looking for a relaxing getaway, then a Princess cruise is for you. Onboard a Princess cruise ship, there are many areas to relax, look at the water, and read a book. Plus, there are tons of fun activities and entertainment both during the day and evening.
As an 18-year-old, you may have trouble meeting passengers your age while cruising during the off-season. However, if you cruise during the holidays or over the summer, several 18-25 year olds will likely be onboard.
As an 18-year-old, you won't be able to cruise on Princess alone. However, you can cruise on Princess if someone above the age of 21 accompanies you.
Overall, Princess is a great cruise line for someone looking for a laid-back and enjoyable experience.
Honourable Mentions:
P&O Cruises
Marella Cruises
Cunard
Can You Drink on a Cruise at 18?
All passengers must be 21 years old to consume alcohol on a cruise except on European, Australian, and South American itineraries. Parents must also consent to their children drinking alcoholic beverages on the cruise. The only exception is Virgin Voyages, which permits 18-year-old guests to drink in international waters.
Can You Gamble on a Cruise at 18?
Guests must be 18 to gamble in the casino, play bingo, and participate in gambling-related games on most mainstream cruise lines. Some cruise lines require passengers to be 21 to gamble in certain places like Alaska or the U.S. waters.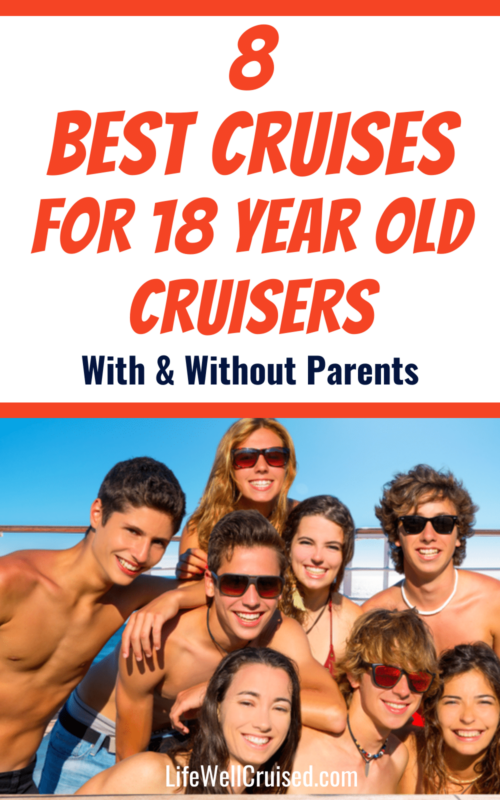 What Is it Like to Cruise as an 18 Year Old?
As someone in my early twenties, it hasn't been too long since I've cruised as an 18-year-old. Whether it's your first cruise or your first cruise as an adult, cruising is a fun experience and a great way to travel.
Here is my firsthand experience of cruising as an 18-year-old:
Meeting New People
As an 18-year-old, you can no longer go to the teen club. This can be difficult for teenage cruisers who spent years hanging out in the kid's and teen club on cruise ships.
This means that you'll have to make an effort to meet people by going to bars and clubs, participating in activities, and talking to other passengers on the lido deck.
Making friends on a cruise isn't very hard as a young adult. However, you must step out of your comfort zone and introduce yourself to strangers.
Drinking and Gambling
Since most cruise lines require guests to be 21 years old to drink, you cannot consume alcoholic beverages. However, you can still have a good time without drinking on a cruise ship.
In fact, I went on many cruises before the age of 21, where I had fun without consuming alcohol. You can still enter the clubs, bars, and casinos and participate in the nightlife.
If you're into gambling, you can go to the casino. The casino is quite busy in the evenings, and it's a good place to meet new people.
Choosing a Cruise Line
When it comes to a cruise vacation, choosing the right cruise line can make or break your trip. It's important to research the cruise line in advance and to choose something that fits your budget and style of travel.
Check out Virgin Voyages, NCL, and Carnival if you want a fun party ship. These cruises tend to attract younger cruisers, and they are tons of fun!
Royal Caribbean and MSC are perfect for you if you're looking for a cruise line with a balance of fun activities, good nightlife, and relaxing areas. These cruise lines attract a mix of families and older cruisers who are young at heart!
Princess and Celebrity are great choices if you're looking for a relaxing, upscale cruise experience. These cruise lines offer great service, tasty food, and have many areas to sit back, relax, and recharge.
Related & Popular Posts:
Get The Ultimate Cruise Planner
Regular price: $27 Now just $17!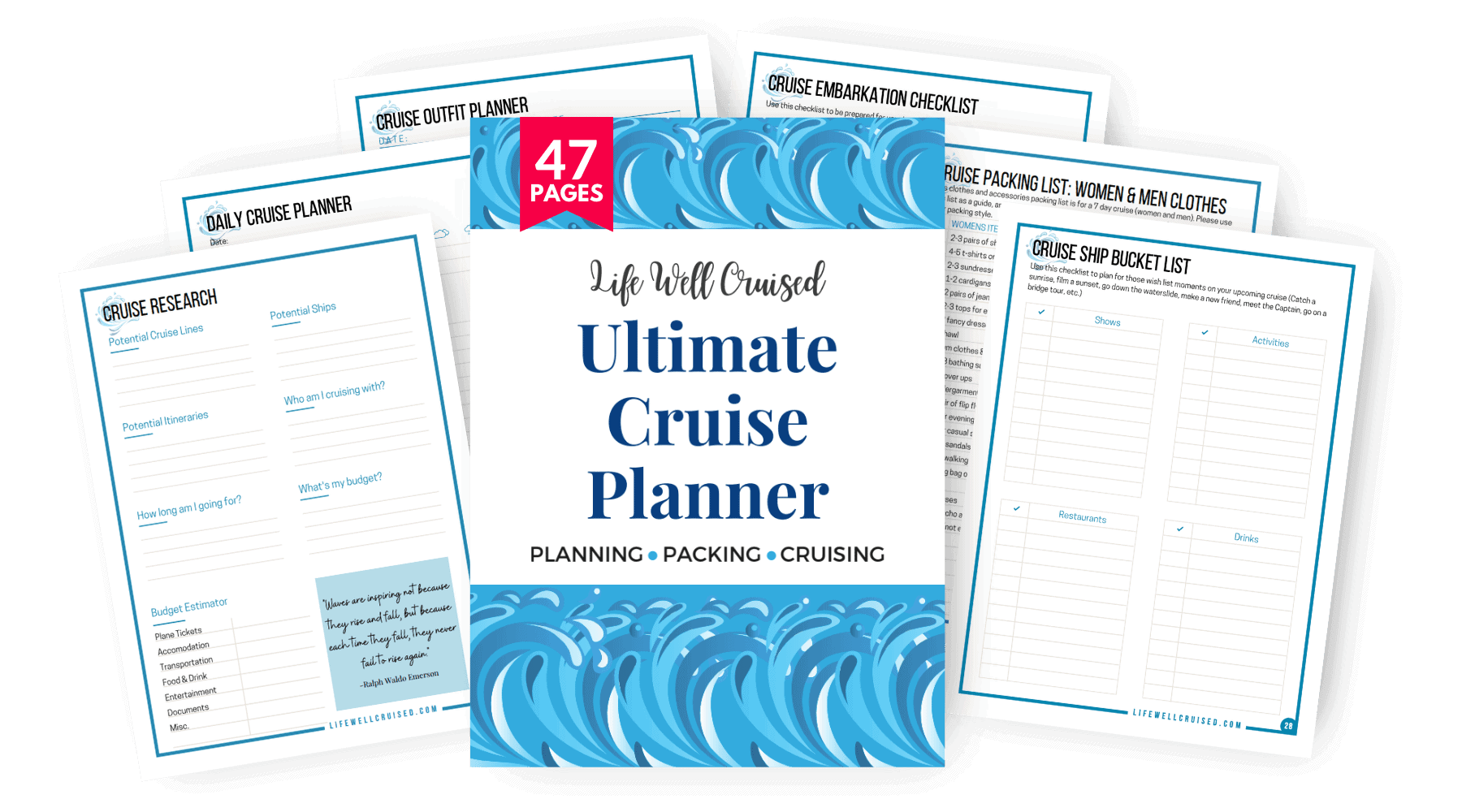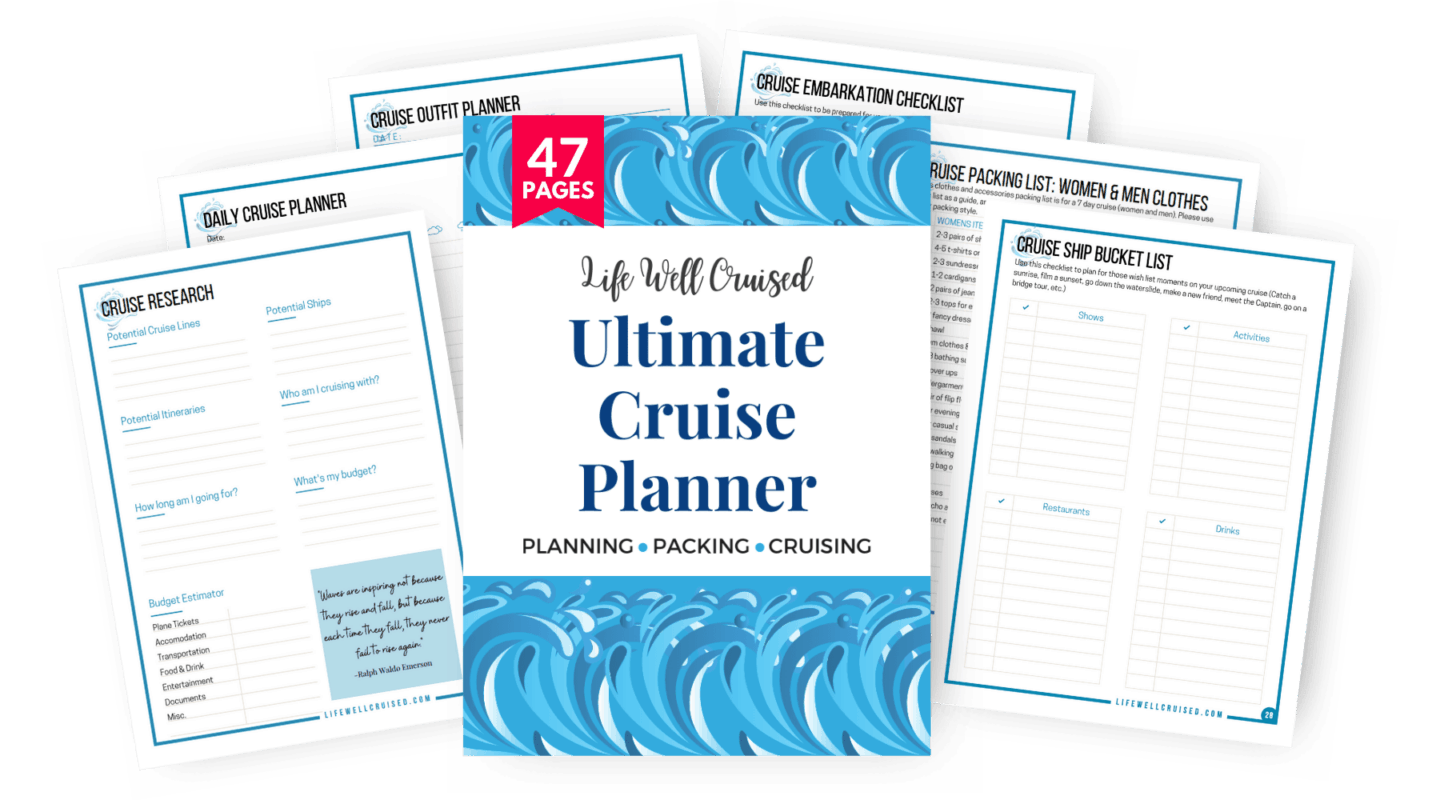 Final Thoughts On The Best Cruises For 18 Year Olds
Well, there it is, everything you need to know about cruising as an 18-year-old!
Cruising as an 18-year-old may seem intimidating. However, it isn't as challenging as it may seem.
A cruise is one of the best options if you're an 18-year-old who wants to travel and explore new places. Instead of organizing a big trip, you can pay for a cruise, and most of the planning is done for you.
On a cruise, even if you're cruising solo, you will always have food and a place to sleep, and you can book excursions through the cruise line. This makes cruising is a stress-free style of travel.
The great thing about cruising is that meeting new people is easy because everyone is on vacation. If you choose the right cruise, you will meet many people your age and make new friends.
Whether solo traveling or with your family, a cruise is a great time, and you will enjoy it!
In this post, I shared the best cruise lines for 18-year-olds bothn with and without parents. As a young adult who has been on over 30 cruises, I also shared my cruising experience as an 18-21 year old.
Have you taken a cruise as a young adult or with your own kids of that age? Please let me know in the comments below.
Happy Cruising!
Ethan
If you found this article helpful, please pass it along. Please feel free to share on Facebook or PIN to your favorite Pinterest board (share buttons at the top). Thanks so much!
Author Bio: Ethan Schattauer has been cruising since he was in preschool! As a frequent cruiser, Ethan now shares his unique perspective on what cruising is like for teens and young adults. Ethan is a freelance writer and also writes about men's fashion, travel and college advice on the website WhatToWearMen.com.