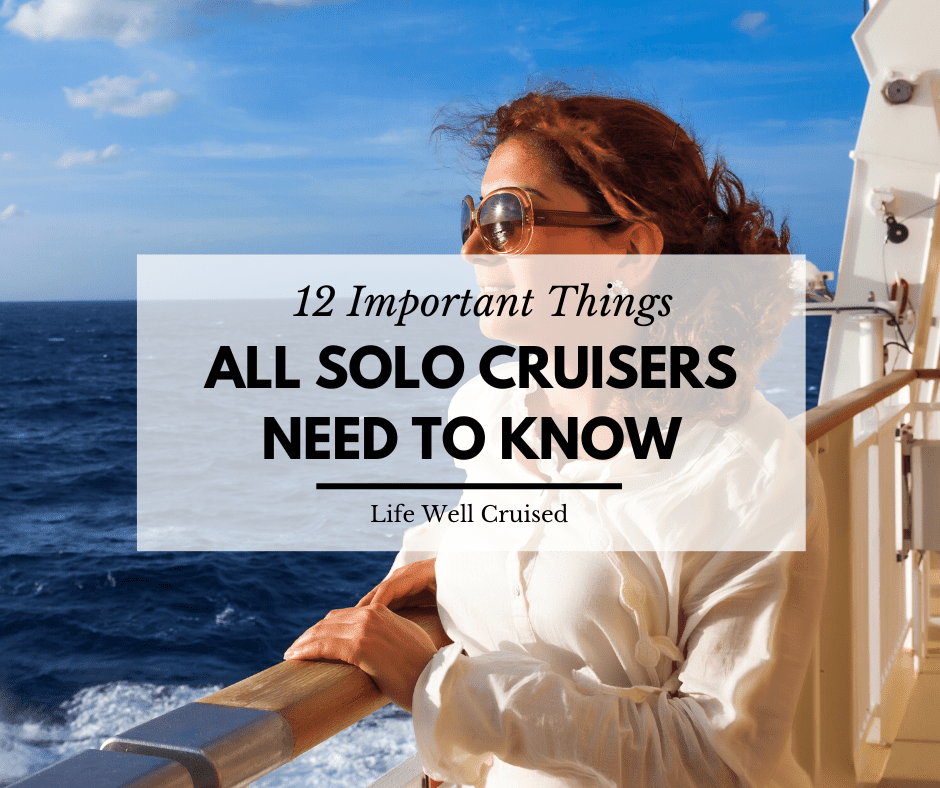 Solo cruising is gaining popularity! While cruise vacations are popular with couples and families, there's a growing trend of people who are cruising on their own.
Cruise vacations offer a unique environment, where a solo traveler can relax, rejuvenate, dine, be entertained, and visit destinations in a safe way.
Cruising on your own has many advantages. Solo cruisers explain that they love traveling at their own pace and enjoy their independence.
In this post, I share 12 things every solo cruiser should know, as well as some helpful tips for cruisers who are traveling alone.
This post contains affiliate links which means if you click and buy that I may make a commission, at no cost to you. Please see my disclosure policy for details.
As an Amazon Associate I earn from qualifying purchases.
12 Things Every Solo Cruiser Should Know Before Cruising Alone
1. There's a Difference Between Cruising Single and Cruising Solo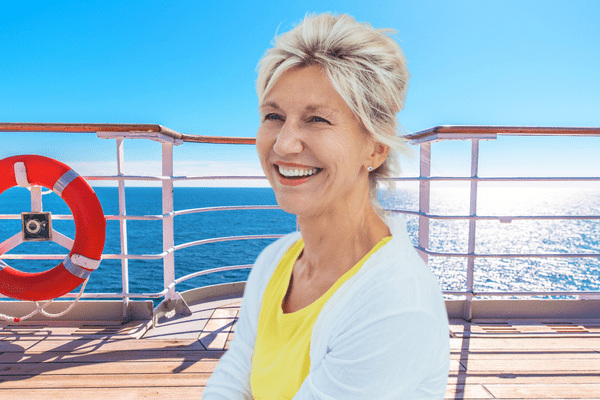 When it comes to solo cruising, cruise travelers are not all the same.
As many solo cruisers explain, there's cruising single, where the cruise passenger may be looking for a potential romantic encounter. Then there's cruising solo, where the cruise passenger may or may not be married, but is traveling on their own.
On a cruise, there are often singles events, which may be more interesting for single cruisers hoping to meet like minded cruisers. Solo cruisers are often interested in making casual friendships, visiting destinations and spending time relaxing on their own.
Some solo cruisers enjoy both cruising with their family or friends, as well as cruising on their own when there's an opportunity.
2. Cruising Solo Allows You to Move at Your Own Pace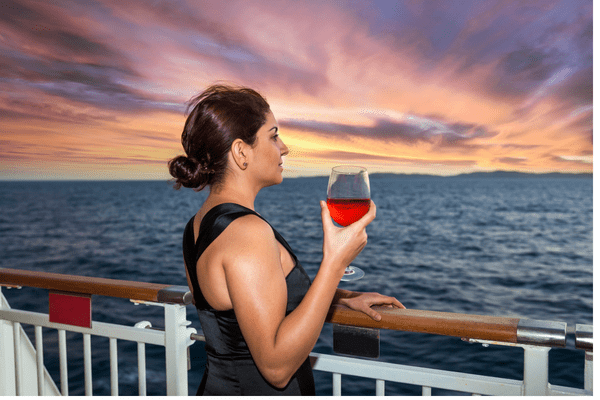 Cruising solo gives you the freedom to do what you want, when you want. Whether you want to lay by the pool all day, relax in the spa or go to the casino, no one will have anything to say.
Those who love to cruise alone, enjoy it because they have the freedom to attend different activities, shows and events, all on their own schedule.
For instance, if you're at an activity and you're not enjoying it, there's nobody stopping you from getting up and leaving. You can easily jump from one entertainment venue to the next, without hesitation.
Plus, there's no need to wait on anyone else when you're only responsible for yourself.
3. Dining Solo
Dining solo is a concern for who are considering taking a solo cruise.
"How does the main dining room work and will I feel lonely or awkward?", many would-be solo cruise travels wonder.
We asked solo cruisers in the Life Well Cruised facebook community for their tips on this one. We found out that dining solo on a cruise is actually easy and more common than you would think!
Here are a few ways that you can dine as a solo cruiser:
Shared Table
If you are interesting in dining with others in the main dining room, you can share a table. Sharing a table is very common and a great way to meet new people, while enjoying a meal together.
If you want to share a table, it's best to go for a larger table of about 8 other guests rather than a smaller table with 4 guest. The more people you have to chat with, the better chance you have to find people that you have things in common with.
Tip: If you meet people on the cruise that you get along with, you can request to have dinner together.
Eating Alone
If you enjoy to eat at your own pace, there is nothing wrong with eating alone. It's actually quite common for solo cruisers to get a table for one, so they can relax while eating.
If you think that it may be weird to eat alone, rest assured that it is not! There are many benefits to eating alone and nobody looks down on it.
Alternative Dining Venues
If you don't like the idea of eating in the main dining room alone or if you want a change, you can always try and alternative dining venue.
There will always be a buffet and specialty restaurants, as well as some smaller restaurants around the cruise. As a solo cruiser, it should be quick to get you seated, which is a huge perk of cruising alone.
4. Purchase an Internet Package
If you plan on cruising solo, it's a good idea to have an internet package to keep in touch with friends and family back home. Once you are onboard the cruise, checking in will let your loved ones know that you're safe and well.
By purchasing the internet package, you will be able to send photos, emails and messages to your family members back home.
Tip: If you're on a tight budget, purchase a basic internet package or social media packages, so you can send Facebook messages and check email.
5. Plan Your Pre and Post Cruise Arrangements Carefully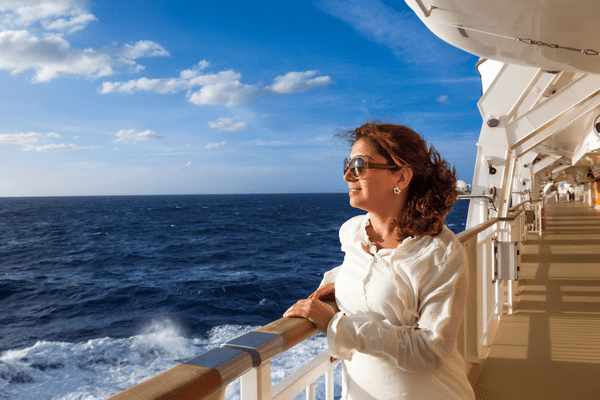 As a solo cruiser, it's important plan your pre and post cruise arrangements in advance. Everything from your flight, to the hotel and your transportation to the cruise port should be planned in advance.
Whether if you're flying in or driving to the port, it's a good idea to stay nearby the cruise port, the night before your cruise. This way you can wake up the day of your cruise and you won't have to worry about missing your cruise.
When choosing a pre-cruise hotel, look for hotels with restaurants and shopping in close proximity to the hotel for convenience and safety.
Related: 75 Genius Cruise Hacks and Tips
6. Meeting New People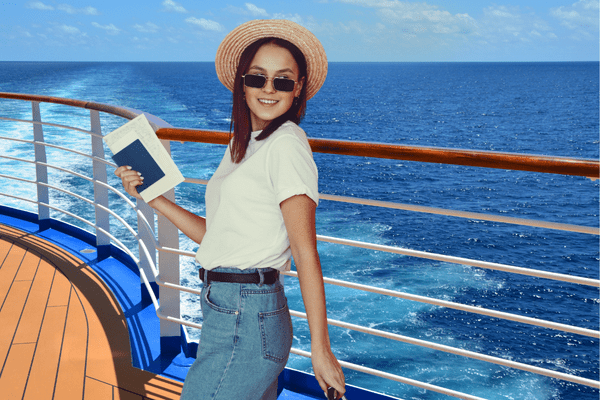 If you're going on a solo cruise to do you own thing and prefer not to socialize, that's just fine. Many people who cruise alone enjoy their own company.
However, if you want to meet new people and make new friends on your cruise, that's very possible. Most cruise ships have activities, events and venues for solo cruisers to meet new people.
Here are some ways you can meet new people on a cruise as a solo traveler:
Solo Travelers Get Together
One of the best ways to meet people on your cruise is by attending the solo travellers get together. This usually takes place on the first evening of the cruise, and is a great way to get to know the other solo cruisers.
Even if you don't click with everyone, it's still nice to see some familiar faces around the cruise ship.
Ask for a Shared Table
While you can sit on your own in the main dining room, asking for a shared table is a good way to meet other cruisers. You may meet other single or solo cruisers, as well as couples or families.
This is a great way to chat and enjoy the company of others, while you are eating dinner. You may even make a new friend or companion.
Participate in Activities and Classes
Cruise ship activities like trivia, bingo, poolside games, demonstrations and classes, are great places to meet new people. You'll likely find that you0r fellow passengers are pretty friendly, especially when they are participating in the onboard activities.
If you like to gamble, then you will definitely meet some new people in the casino. Throughout the duration of the cruise, you'll usually seem the same people in the casino.
Whether if it's at the slot machines or the blackjack tables, other passengers will usually be nice and in a good mood.
The Night Club
Whether if it's because you're a single cruiser or you just love to dance, the night club is a great place to meet new people.
If you go to the night club, expect people to be dancing, drinking, talking and listening to the music. The night club is the central place to go in the evening time, if you're looking to meet and hang out with other single cruisers.
Happy Hour at Your Favorite Bar
During the late afternoon, on most cruises will have a happy hour in some bars. The late afternoon and pre-dinner time is a great time to go to your favorite bar to meet up with other passengers in a casual way.
Around the ship
It can be surprising that on a cruise ship, you can meet people just about anywhere. You can strike up conversations when in line, while waiting for an elevator, sitting alone in a lounge or just hanging out around the ship.
The reality is that other guests often chatty because they're relaxed and on vacation. Don't be scared to start a conversation and see where it goes from there.
Get The Ultimate Cruise Planner
Regular price: $27 Now just $17!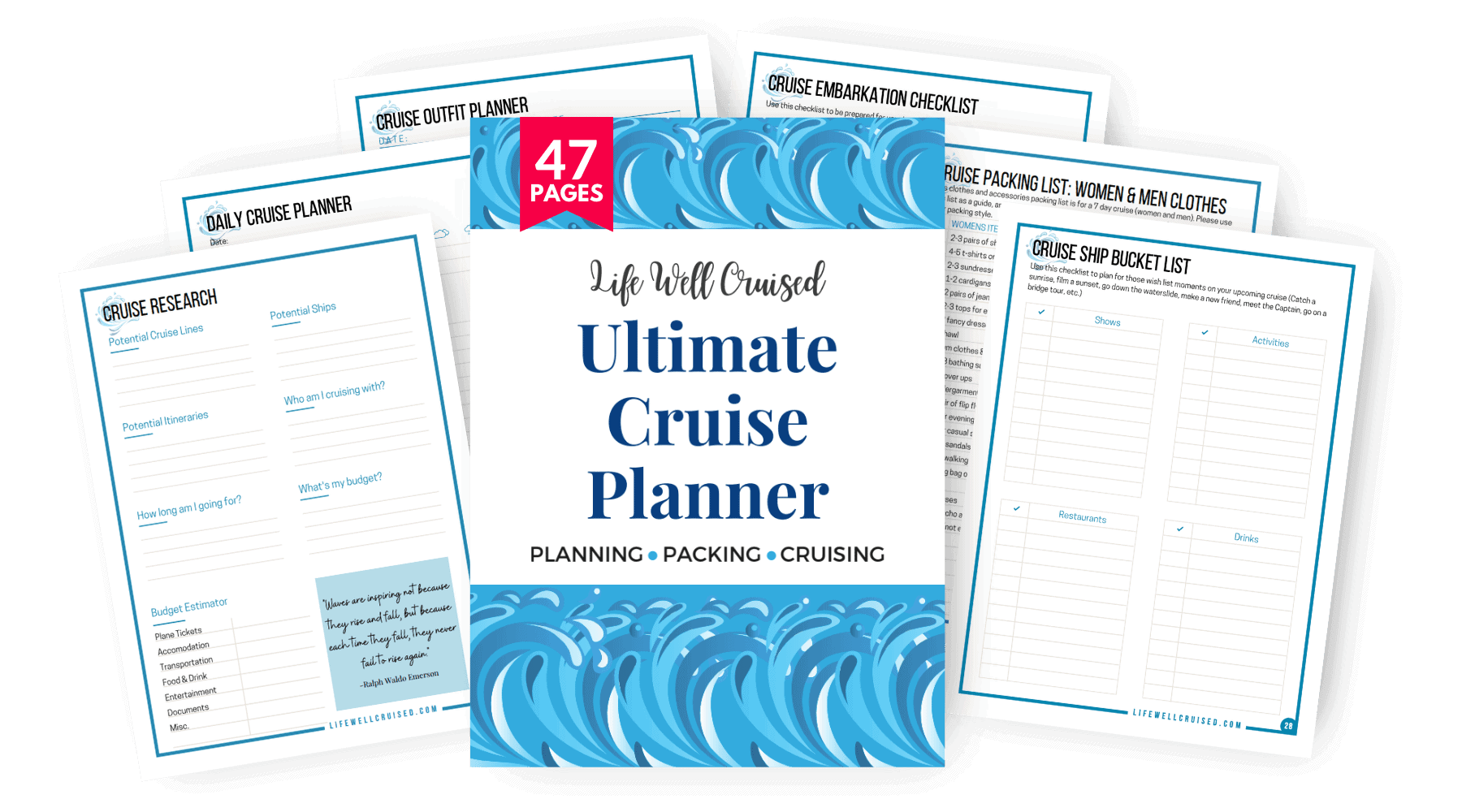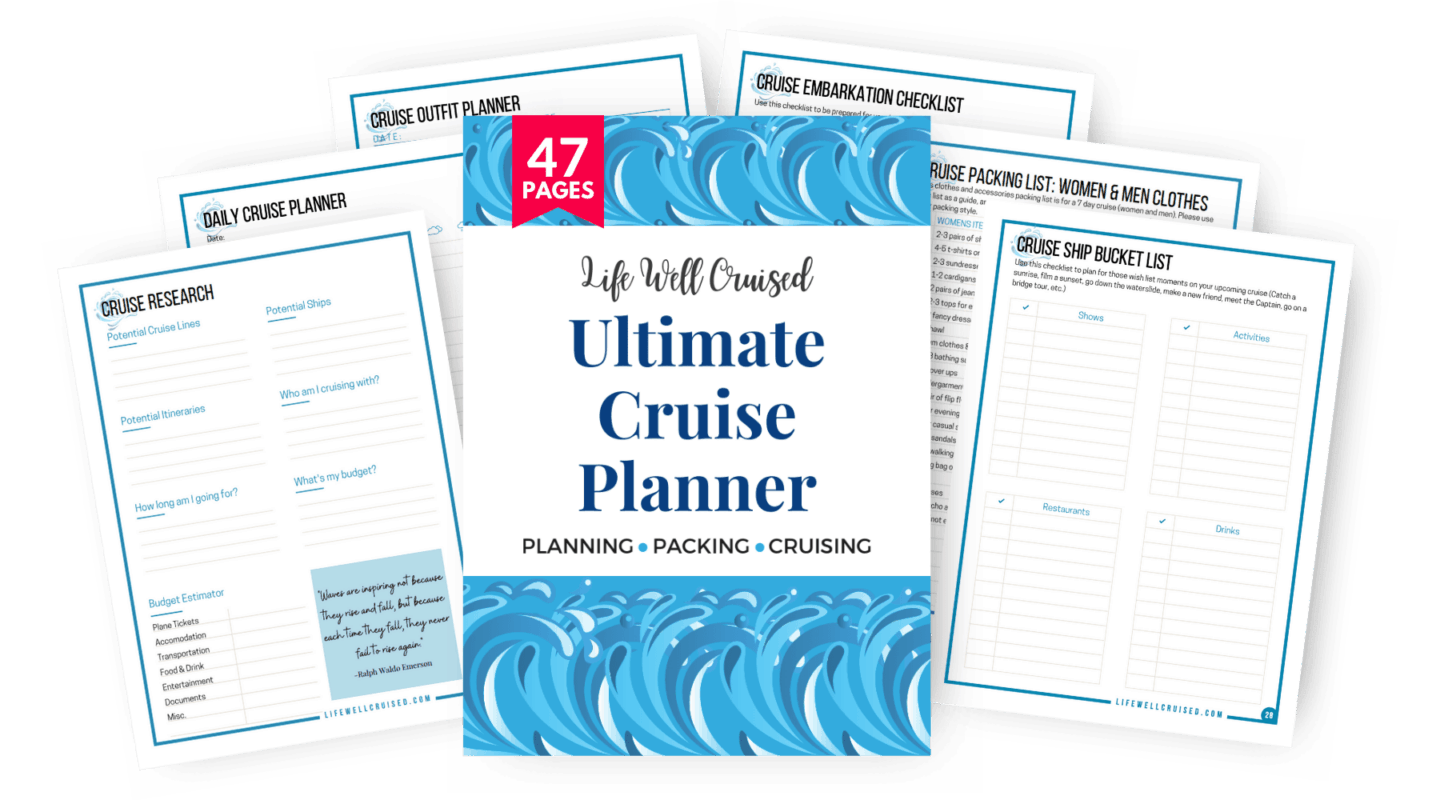 7. Stay Safe in Port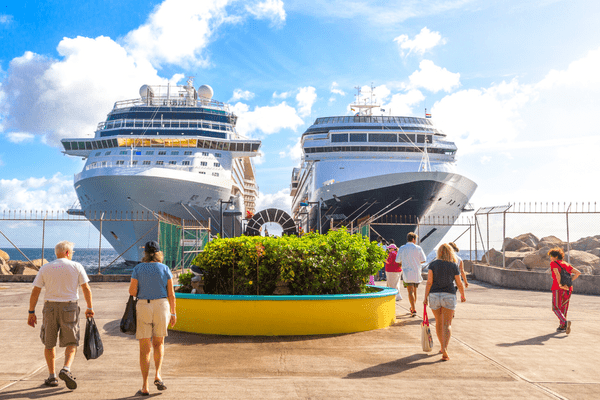 Although it's unlikely, traveling alone does have some risks, especially when you're in ports of call. When you're in port, you're going to want to take some precautions to be safe.
Here are a few ways you can stay safe in port as a solo cruiser:
Book Excursions Through the Cruise Line
If you're cruising solo, booking a shore excursion through the cruise line is a good idea. You'll have convenient and a safer way to visit the cruise port of call, then if you explore on your own.
Not only will you be with a group of people, but you won't have to worry about the cruise ship leaving without you. When you book an excursion through the cruise line, there is an assurance that the cruise ship will wait if your excursion is late.
Stay Nearby the Cruse Ship
If you don't want to do an excursion, make sure to stay nearby the cruise ship and don't wander too far. A good rule of thumb, is to stay within the port area with other tourists and cruise passengers.
This is the best way to ensure that you are still safe, while getting out and visiting a destination.
Visit Popular Tourist Attractions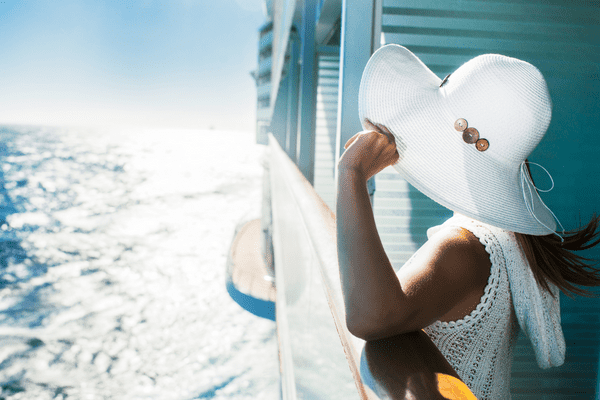 If you're on your own and want to explore the destination you are visiting, consider checking out the popular tourist attractions. Typically, it will be quite safe at the popular tourist attractions and people will be friendly.
If you go to places that are not typically tourist areas, you may find yourself in a dangerous situation. Since you are cruising alone, it is a good idea to be cautious and avoid going off the beaten path.
Join Other Passengers
A good way to visit a destination, is to join other passengers that want to visit the same places. If you make friends onboard your cruise, sometimes they will be open to exploring the destination with you.
A few years ago we were docked in Cozumel, Mexico and met a lady in the elevator as we were heading into port. She explained that her husband had gone on a scuba diving excursion, and she didn't feel like staying on the cruise ship.
Since we were taking a cab to Paradise Beach, a local beach resort, she asked if she could join us and split the cost. Of course, this was no problem for us. However, it was a bit of comfort and extra security for her.
On a cruise, many passengers are open to meeting new people and will look out for each other.
8. Make the Most Out of Your Days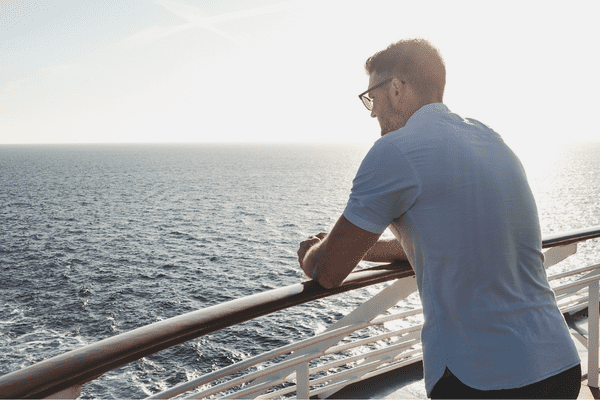 Make the most of each day on your cruise by choosing which activities and shows you want to attend. Be sure to download the cruise line app to see the schedule of activities and opening hours, or look on the daily planner.
The great thing about solo cruising, is that you can easily go from one activity to the next. You'll never have to wait on anyone, which is a big reason why so many people enjoy cruising by themselves.
9. Join a Cruise Facebook Group or Roll Call Forums
Joining a roll call on website forums or on Facebook is a great way to chat with people, virtually, before your cruise. People will exchange information about the cruise, destinations and related topics.
Solo cruisers can benefit by connecting with other cruisers that will be on the sailing. There may be an official gathering for members of the roll call, often called a Meet & Mingle, as well as informal meet ups planned.
If you're going on a cruise on your own, it's nice to have a few people that you connect with, both before and on the cruise ship. You may even meet other ladies or men that are cruising solo too.
10. Understanding the Single Supplement
Typically, a single supplement is a fee that solo cruisers need to pay when they are are occupying a cabin that is intended for two. Cruise lines often charge the single supplement, since single cabins are generally designed for two passengers.
Some cruise lines may have promotions, where they will waive the single supplement in order to attract more solo cruisers to a ship that may not be full. Certain cruise lines will also offer studio cabins, which are designed for one passenger.
11. Choosing a Cabin as a Solo Cruiser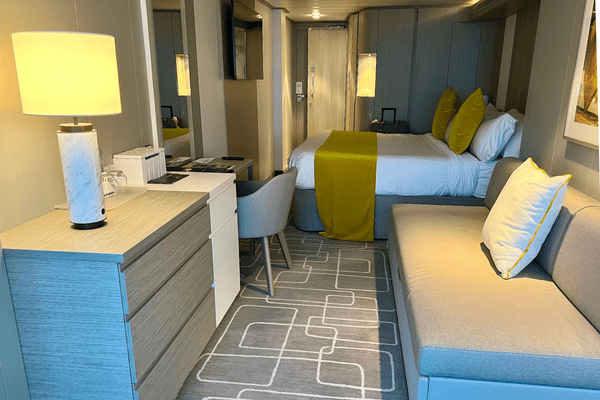 As a solo cruiser, it's important to choose the cabin that is right for you. It may seem obvious to choose an interior cabin, however there are some great alternative options for solo passengers.
Here are the recommended cabins for solo cruisers:
Single studio
Since solo cruising is becoming more and more popular, more cruise lines are incorporating single studio cabins into their ship designs. Single studio cabins are designed for those are cruising alone as the rooms are smaller and are made for a single passenger.
Cruise lines like Celebrity, Royal Caribbean and Norwegian have all included single studio cabins into their recent cruise ship designs.
Norwegian Cruise Line's studio cabins deserve a special mention. Studio cabins are small, interior cabins with one bed, always priced at a single occupancy rate.
Beyond the advantageous pricing, solo cruisers benefit from having exclusive access to a studio lounge, as well as gatherings planned for studio guests. There is also an aspect of safety that is rarely mentioned, but important for many people who are cruising by themselves.
The studio area and cabins have restricted key card access, which is especially good for women who are cruising alone, who many be concerned about safety and security.
Interior
An interior cabin is usually the least expensive option and a great value for solo cruisers. If you don't plan on spending a lot of time in your cabin, then you will enjoy having an inside cabin.
If you prefer to spend time in your cabin and you want to have have your own space to relax in, then you may want to consider looking into a balcony cabin.
Balcony
A balcony cabin is the perfect place to get some alone time and enjoy the fresh air and beautiful ocean view. Whether if it's reading a book on the balcony, catching the sunrise or watching the sunset, a balcony cabin is truly wonderful.
For those who are travelling solo, a balcony cabin is the perfect place to rejuvenate and relax. Cruising with a balcony or veranda stateroom, will really take your travel experience to the next level.
If you're a solo cruiser and you want a balcony, Celebrity offers a single Infinite Veranda on their Edge class ships which are worth checking out.
12. Cruising Solo is Gaining Popularity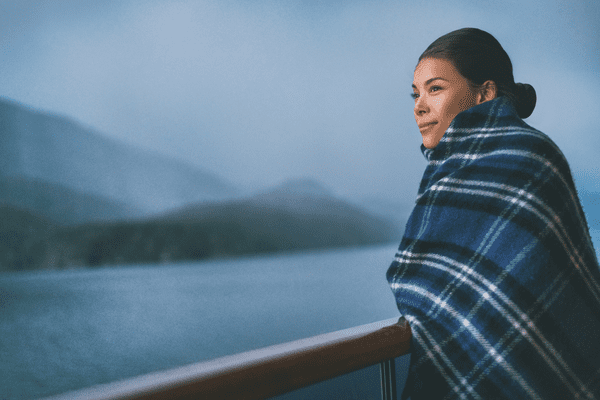 A common misperception about solo cruising, is that it will feel weird or awkward. You might even think that you'll be the only solo cruise passenger on the ship. However, this simply isn't the case for most people.
People have been cruising on their own for years and solo cruising is only getting more popular. In fact, cruise lines like Celebrity and Norwegian, have studio staterooms specifically designed for solo cruisers.
Since solo cruising is becoming more and more common, you will find activities that designed for those who are cruising on their own.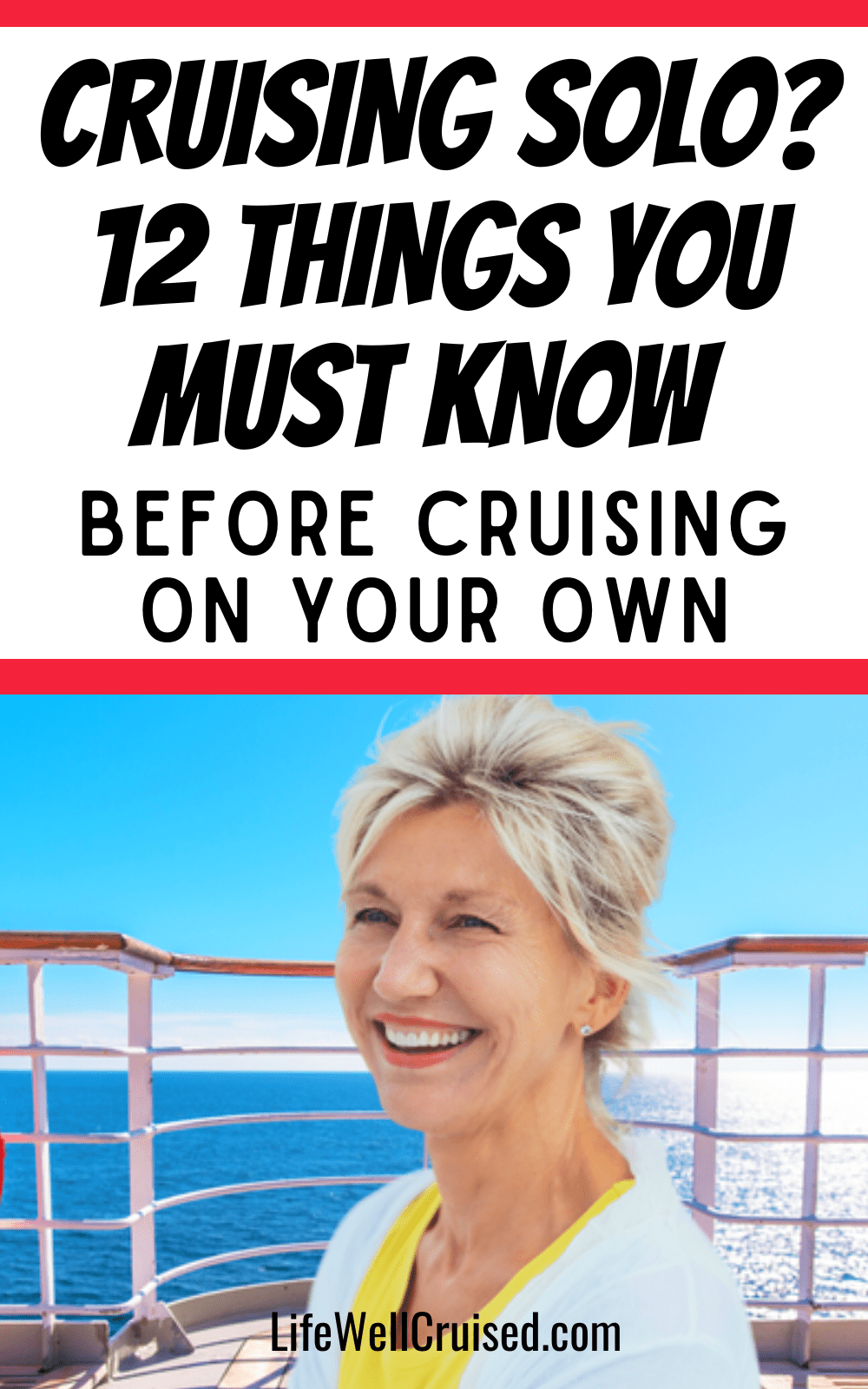 Frequently Asked Questions:
Here are a few frequently asked questions about cruising alone.
Is it Cheaper to Cruise Alone?
Cruising alone is usually more expensive than cruising with another person. This is because most cruise ship cabins are sold at double occupancy. However, it is possible to find some cruises that do have sales for solo cruisers, where the single supplement is reduced or waived.
Are Cruises Good for Solo Travel?
Cruises are a good way for solo travelers to have a fun or relaxing vacation, while visiting beautiful destinations. Since solo cruising has become so popular, cruise lines such as Celebrity, Norwegian and Royal Caribbean offer studio cabins for solo cruisers, on select cruise ships.
Onboard the cruise, there are plenty of events and activities designed for those who are cruising alone. This is a great way for a solo cruiser to meet new people, make new friends and have a memorable cruise vacation
Can You Meet Singles on a Cruise?
In short, yes! On the first day of a cruise there will normally be a singles and solo traveler meetup. Here, solo cruisers will meet and mingle.
There is also a night club, where singles can meet one another at the bar or on the dance floor. Overall, cruising is a great way to meet singles and new people from all around the world.
Related & Popular Posts:
Get The Ultimate Cruise Planner
Regular price: $27 Now just $17!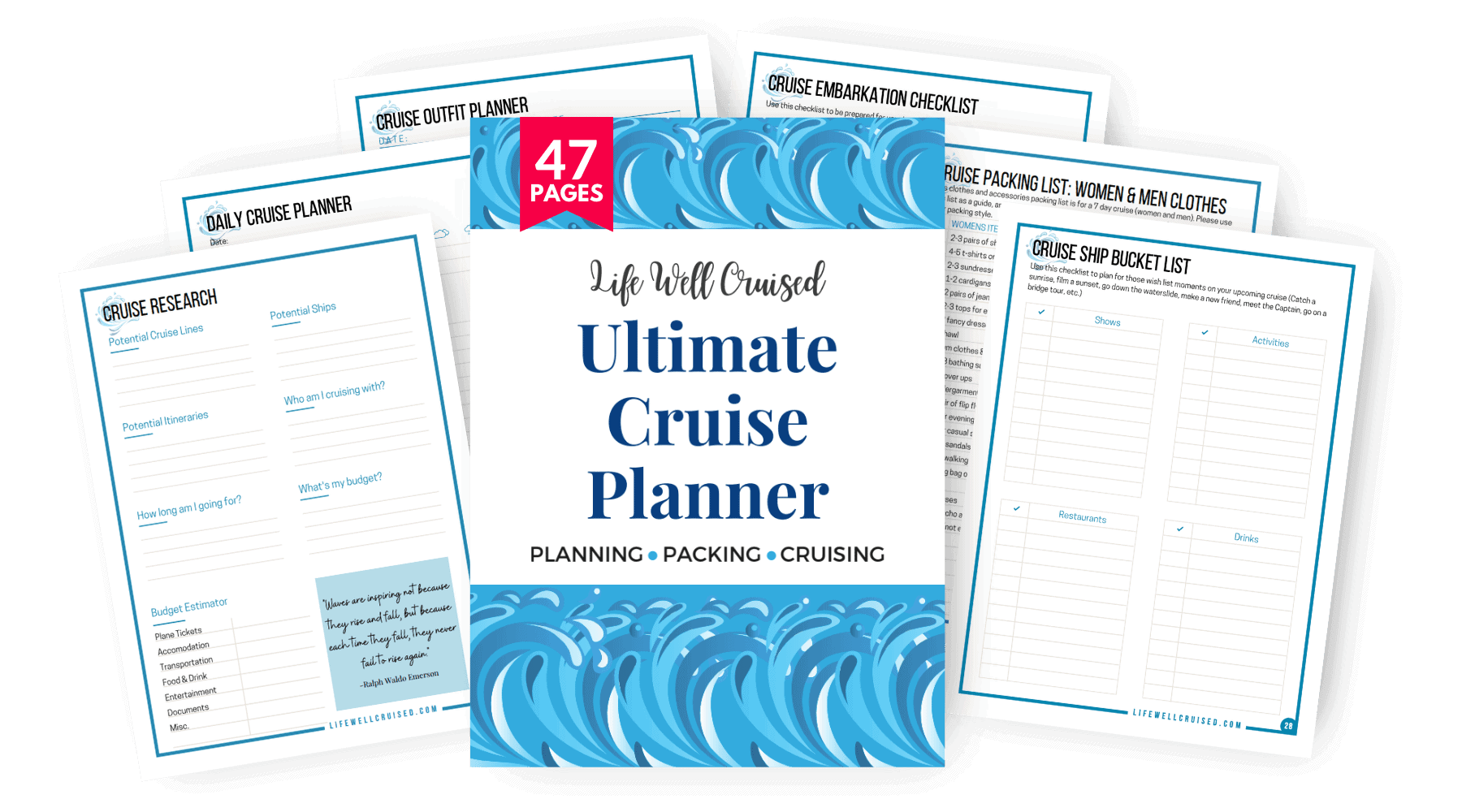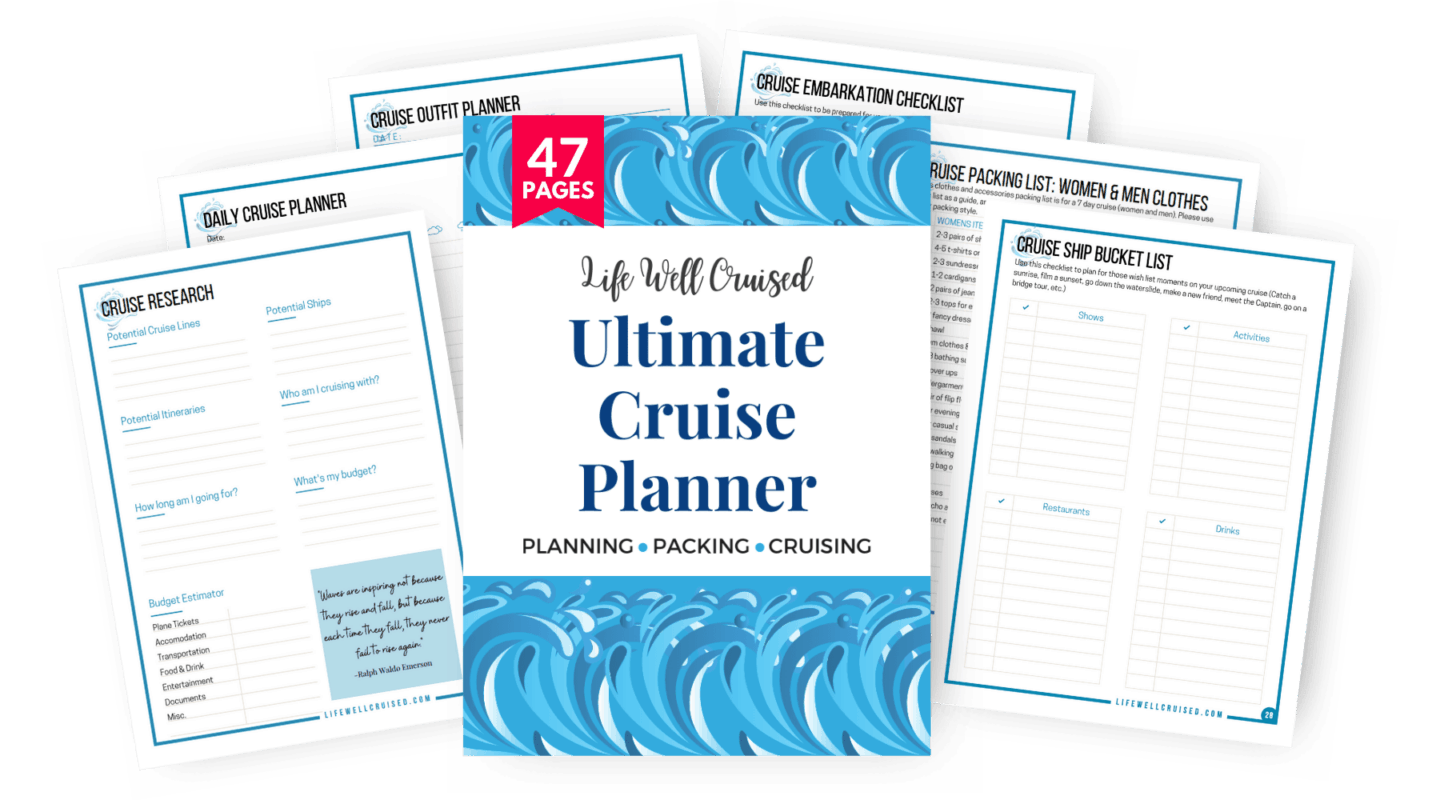 Final Thoughts on Cruising Solo
Well there it is, everything you need to know about cruising alone!
If you're planning a solo cruise, then be prepared to have fun and enjoy the freedom of travelling alone. Moving at your own pace and doing when you want, when you want is the ultimate feeling, when you are on vacation.
In this post, I shared the 12 things you should know if you are planning a solo cruise. I also answered some frequently asked questions about solo cruising.
Are you planning a solo cruise? Please let me know in the comments below.
Happy Cruising!
Ethan
If you enjoy this post please don't keep it to yourself ;-). Please feel free to share on Facebook or Pinterest (share buttons at the top). Thanks so much!
Author Bio: Ethan Schattauer writes about fashion, travel and college advice on the website WhatToWearMen.com. As a frequent cruiser, Ethan shares his unique perspective on what cruising is like for teens and young adults.