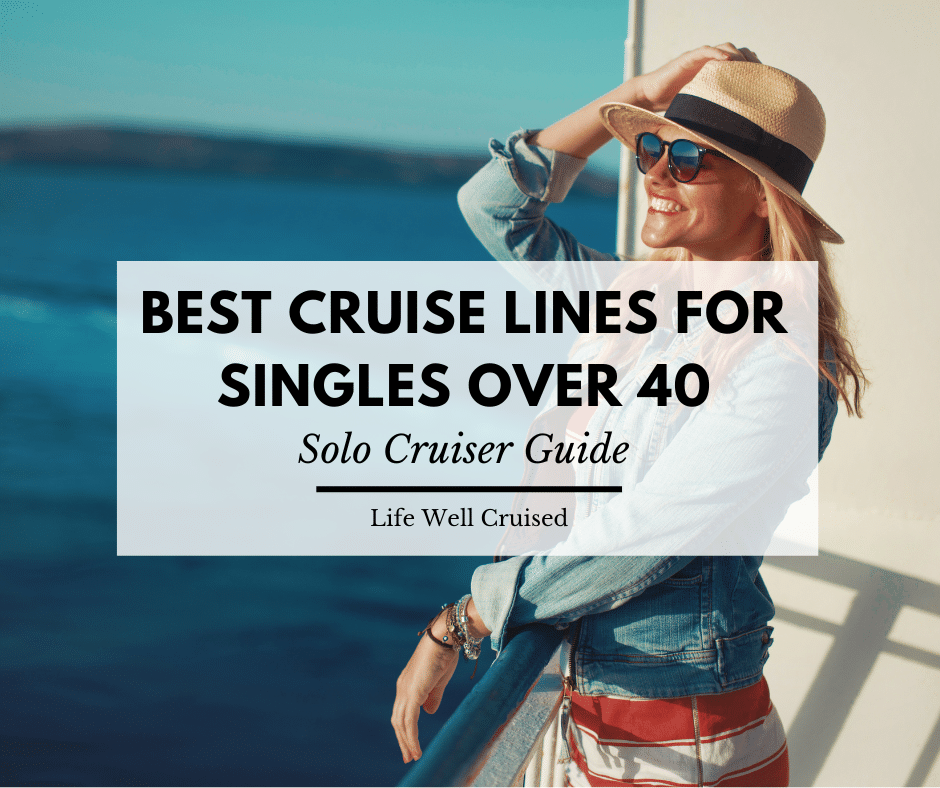 Cruises are a great way for single travelers in their 40's to explore the world, meet new people, and create unforgettable memories. Whether you're looking for small river cruises, luxury cruises, a major cruise line, or a fun party cruise, there's a cruise line for everyone!
One of the benefits of cruising is that it's a comfortable and safe way for singles over 40 to mingle, explore in groups, and visit beautiful destinations.
However, there is a potential downside for single cruisers. The cost of cruising solo is often higher than for couples.
This is because many cruise lines charge a single supplement for solo travelers. However, certain cruise lines will waive this fee to make it more affordable for single cruisers.
Choosing the right cruise line may seem like an overwhelming experience. However, many cruises are perfect for single cruisers.
In this post, I share the best cruises for singles over 40, and include which cruise lines have solo cabins or better rates.
This post contains affiliate links which means if you click and buy that I may make a commission, at no cost to you. Please see my disclosure policy for details.
As an Amazon Associate I earn from qualifying purchases.
7 Best Cruises For Singles Over 40
1. Norwegian Cruise Line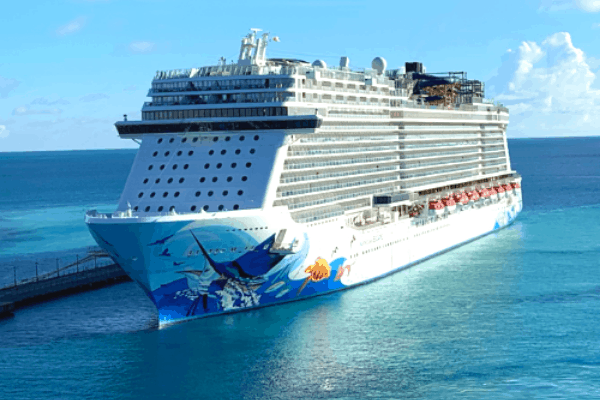 Typically, major cruise lines charge a single-supplement fee for solo travelers. However, Norwegian Cruise Line solved this dilemma by offering studio cabins for those cruising independently. This makes a Norwegian cruise one of the best options for solo cruises.
Solo Studio Cabins are available on the the following cruise ships: Norwegian Breakaway, Norwegian Bliss, Norwegian Getaway, Norwegian Escape, Norwegian Epic, Norwegian Encore, and Pride of America.
Book a studio stateroom is a great way to save money as a solo cruise traveler! NCL's Studio Cabins offer 100 feet of space and trendy decor.
As a bonus, NCL offers the Studio Lounge for cruise passengers staying in the studio cabins. This is an exclusive area where solo cruisers can meet other solo travelers, grab a drink and snack, and relax.
Onboard a Norwegian cruise, there are plenty of bars to have a drink and venues to enjoy live music. Norwegian Cruise Line is known for its fun atmosphere and lively clientele.
The O'Sheehans Bar and Grill, Skyy Vodka Ice Bar, and Sugarcane Mojito Bar are great places for solo cruisers to meet new people, enjoy live music, grab a drink, and dance.
Since Norwegian is a family-friendly cruise line, there may be kids onboard (especially during school breaks). However, the Spice H2O lounge is an adult-only area where late-night deck parties will take place.
Norwegian offers itineraries that are as short as five days, which is ideal for professionals who have limited vacation time.
Related: What's Included on Norwegian Cruise Line and What Is Not
2. Regent Seven Seas Cruises
Regent Seven Seas is a luxury cruise line that emphasizes creating a community environment for single travelers. Onboard a Regent cruise, a designated social host will plan activities, group dinners, and cocktail parties for solo cruisers.
Since Regent Seven Seas has sailings that are 150 days and longer, it's best to book shorter cruises if you want to meet other single cruisers. Typically, younger singles (40+) take weeklong cruises because they have less time off work.
Although Regent is one of the industry's most expensive cruise lines, they are known for being the most all-inclusive cruise line at sea. On Regent, you'll get shore excursions, alcoholic beverages, wifi, specialty restaurants, amenities, and gratuities all included in the cost of your cruise.
Regent also takes 25-75% off the single's supplement on select voyages.
When you cruise with Regent Seven Seas, you'll experience top-notch service, a high space-to-passenger ratio, and no kids. Regent is a great cruise line for single travelers looking for a luxurious, all-inclusive cruise experience.
3. Holland America Line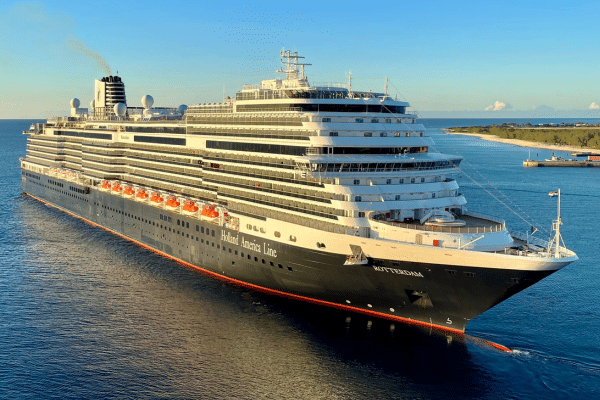 If you're looking for a laid-back and refined cruising experience, consider trying a Holland America cruise.
Holland America Line is a great cruise line for those traveling alone because they have a solo cruiser get-together on embarkation day. This is an excellent chance for independent cruisers to meet and mingle on the first day of the cruise.
Additionally, HAL offers activities that are a great way for solo travelers to meet each other and have fun. The activities include team trivia, dance classes, painting lessons, pickleball lessons, lectures, and fitness classes.
A weeklong Caribbean itinerary is perfect for cruisers in their 40's and 50's (and beyond). Holland America's shorter cruises attract more younger travelers, whereas longer itineraries will have an older demographic including retirees.
Holland America is known for its Music Walk, which features BB. King's Blues Club, Billboard Onboard, and the Rolling Stone Rock Room. The Music Walk is great for enjoying a drink, meeting other cruise passengers, and dancing the night away!
The Music Walk is featured on the following Holland America Cruise Ships:
Nieuw Statendam
Noordam
Westerdam
Koningsdam
Westerdam
Zuiderdam
Nieuw Amsterdam
Since Holland America is a popular cruise line among solo travelers, they'll offer to seat single passengers together in the main dining room. This is a great chance to enjoy a meal with your fellow passengers.
HAL also offers solo cabins on select cruise ships, which are between 127 to 172 square feet. These single passenger rooms are available on the Nieuw Statendam and Koningsdam.
You can always request a roommate if you want to avoid the single supplement. HAL will pair you with a same-sex roommate, so you don't have to pay the single-supplement fee.
Overall, Holland America is a great cruise line for a solo traveler looking for a relaxed vacation. On HAL, the food and service are top-notch, and it truly is an amazing cruising experience!
Related: Princess Cruises Vs Holland America – Everything You Need to Know
4. Royal Caribbean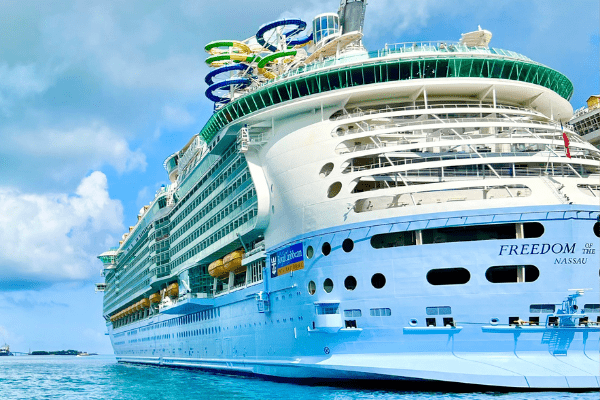 Royal Caribbean is a family-friendly cruise line known for being fun and energetic. However, RCL is a great cruise line for solo travelers over 40, since there is good nightlife and plenty of opportunities to meet other cruisers traveling independently.
During the evenings on a Royal Caribbean cruise, you'll find multiple entertainment venues with different vibes. There is pub-style bar where you can enjoy live music, a Latin bar where you can dance, a nightclub, and more.
Since Royal Caribbean makes some of the biggest cruise ships in the world, there will always be other solo cruisers. On embarkation day, there is a singles meetup, which is a great chance to meet other cruisers traveling alone.
Royal Caribbean cruises can include activities like sky-diving simulators, surfing, waterslides, dodgems, rock-climbing, dry-slides, zip-lines, escape rooms, mini golf, and laser tag. This is an excellent opportunity to try something new or feel like a kid again!
Since Royal Caribbean is a family-friendly cruise line, you may think kids are running around everywhere. Although this can be the case for certain parts of the cruise ship, there are also many adult-only areas.
There is a wide range of adult-only bars, lounges, and a casino where adults can hang out and socialize with one another. An adult-only solarium is featured on every Royal Caribbean. These are great areas to meet and mingle with other solo cruisers.
Royal Caribbean offers single cruiser balconies, inside cabins, and virtual balcony staterooms. Since these are solo cabins, there is no single supplement.
However, these cabins are only available on select cruises, and very few are available. If you want to book a solo cabin, it's a good idea to book it immediately, as they sell out quickly.
Related: What to Pack for a Royal Caribbean Cruise: The Ultimate Guide
5. AmaWaterways
AmaWaterways is a river cruise line that offers voyages to Asia, Africa, South America, and Europe. You will experience a high level of personalized service onboard AmaWaterways.
As a solo traveler, one of the benefits of taking a river cruise is the intimate environment. On average, AmaWaterways has 156 guests per sailing, so you will become familiar with the other cruise passengers.
Although the initial cost of a river cruise is on the pricey side, your shore excursions, beverages, internet, and specialty dining are included.
Compared to mainstream cruise lines, the cabins on Amawaterways are much more spacious and comfortable.
One of the great things about cruising with Amawaterways is their activities. They offer a variety of onboard and land activities that you won't find on other cruise lines.
The cruise carries rental bikes, so you can take a bike ride around the city when you are in port. There are also walking, hiking, and wine-tasting excursions specialized for each cruise port.
Onboard, you will find yoga classes taught by a wellness host and resistance band workouts.
One of the main features of AmaWaterways is its sun deck, which features a swim-up bar. The sun deck is great for relaxing, rejuvenating, and enjoying the stunning scenery.
Since Amawaterways is a river cruise line, you won't have to worry about kids being onboard. Typically, the demographic onboard a river cruise is travelers in their 40s, 50s, 60s, and 70s.
Overall, Amawaterways is a great cruise line for a solo traveler looking for an upscale cruising experience.
Get The Ultimate Cruise Planner
Regular price: $27 Now just $17!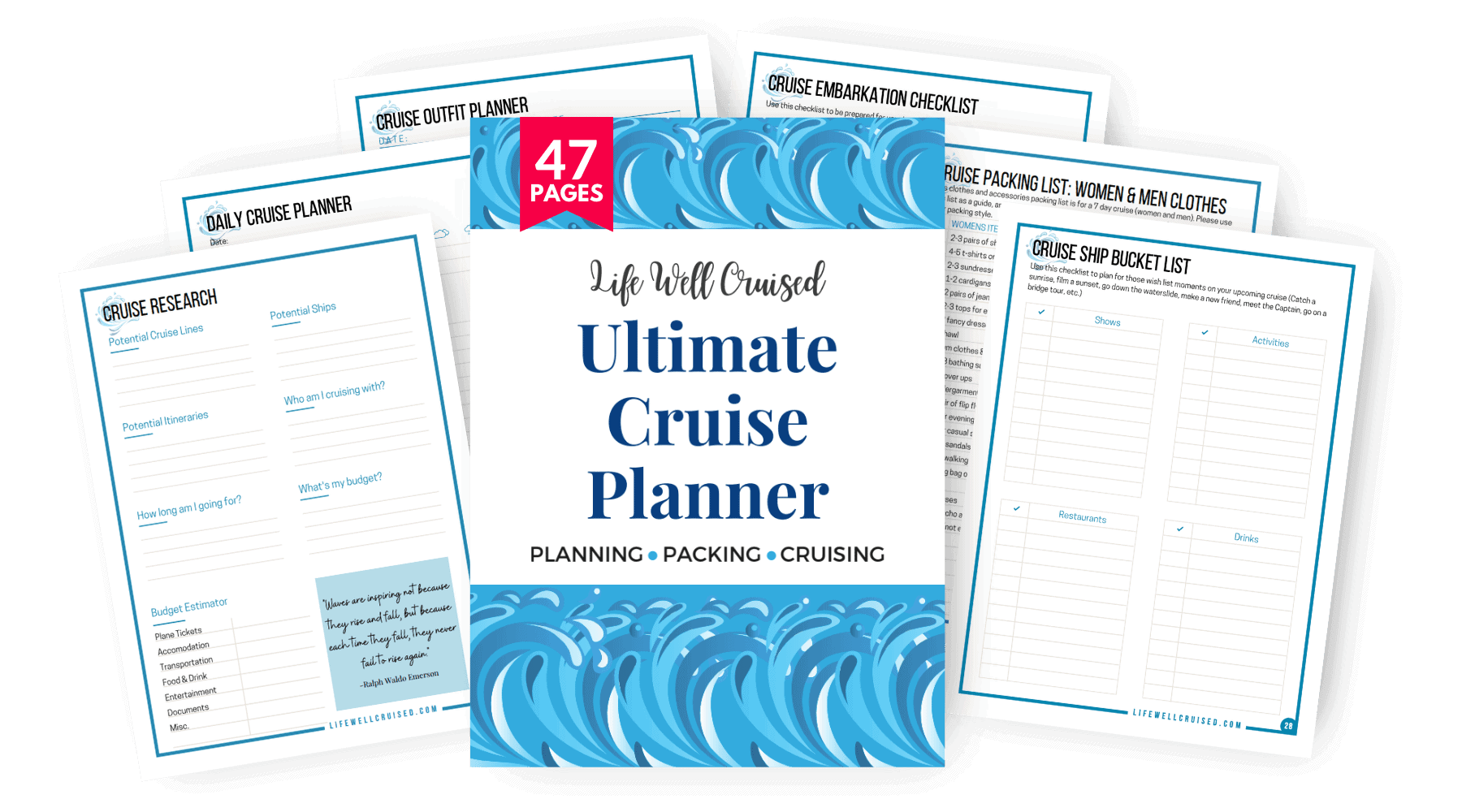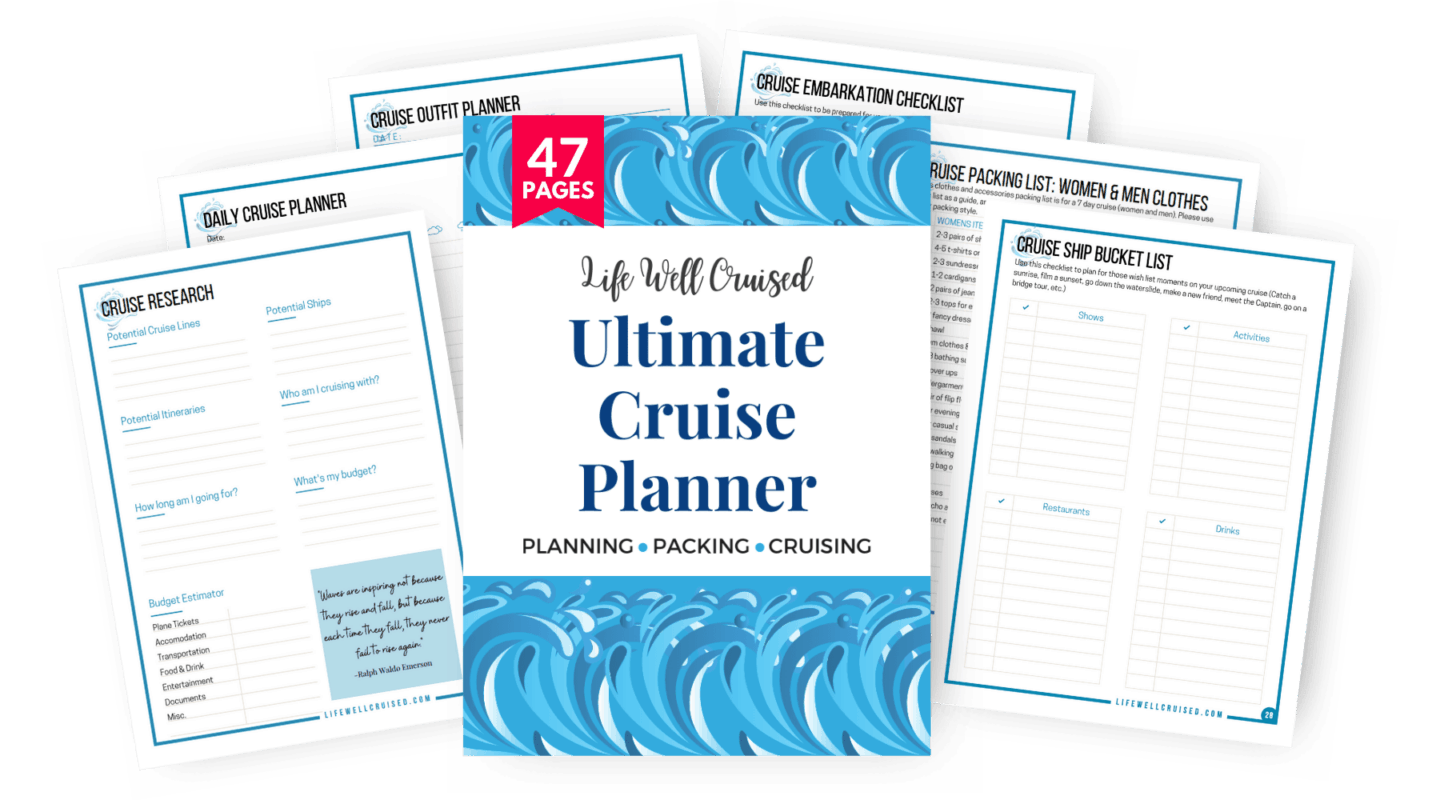 6. Silversea
Silversea is a luxury cruise line known for its small, intimate ships, personalized service, and inclusive offerings. The activities onboard Silversea are educational and adult-orientated.
Each cruise itinerary is centered around a specific field of interest. So, you will already have a way to break the ice with the other solo cruisers.
Onboard Silversea, all of the cabins are ocean-view suites, and you will have access to butler service. Silversea is known for its fine dining and unique culinary experience. The dining venues are absolutely stunning, and the food is delicious.
Silversea offers an almost entirely all-inclusive experience. This means that most of your onboard expenses, such as fine dining, premium wine and spirits, shore excursions, wifi, and gratuities, are included in the cruise fare. This allows you to relax and enjoy your cruise vacation without worrying about extra chargers.
Unfortunately, Silversea does not offer any solo cabins. However, they offer promotions where solo travelers only pay 25-75% of the single supplement charge.
7. Virgin Voyages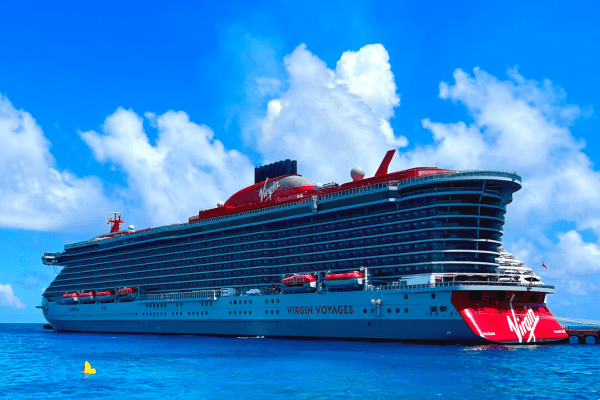 If you're looking for a fun cruise to meet other solo cruisers, you will have a great time on Virgin Voyages. Virgin is a newer cruise line, and they are known for being very different from traditional cruise lines.
Onboard Virgin Voyages, there will be many social events and themed parties, where you can meet other cruise passengers. Virgin's onboard entertainment is interactive, and you will never experience anything like it on other cruise lines.
On Virgin, the demographic ranges from young adults to cruise passengers that are 40 plus. Since Virgin is an adult-only cruise line, the decor, shows, parties, and activities are designed for a mature demographic.
A unique activity that Virgin offers is a pub crawl where you will be put in a group and go from bar to bar around the cruise ship, trying different drinks, playing games, and hanging out with other passengers.
Virgin Voyages can be called a party cruise, if that's what you're looking for!
Although the evenings are full of partying and having fun, the daytime focuses on relaxation, health, and wellness. There will be included fitness classes, comfortable lounge chairs, hot tubs, and pools to relax in.
One of the benefits of cruise with Virgin is that your wifi, dining, and gratuities are all included. The dining experience on Virgin is fantastic, and they have a great variety of food options.
Unlike other cruise lines, there is no drink package on Virgin. Each drink is purchased individually, or you can purchase drink credits (bar tab) before your voyage.
Overall, Virgin is a great cruise line for singles over 40 looking for a fun cruising experience. Compared to other cruise lines, Virgin Voyages appeals to those who enjoy staying up late, drinking, dancing, partying, and relaxing during the day.
Honourable Mentions:
Princess Cruises (something for everyone)
Celebrity Cruises (upscale premium)
Viking Ocean Cruises (for mature travelers)
Margaritaville at Sea (short party cruises)
Related & Popular Posts:
Get The Ultimate Cruise Planner
Regular price: $27 Now just $17!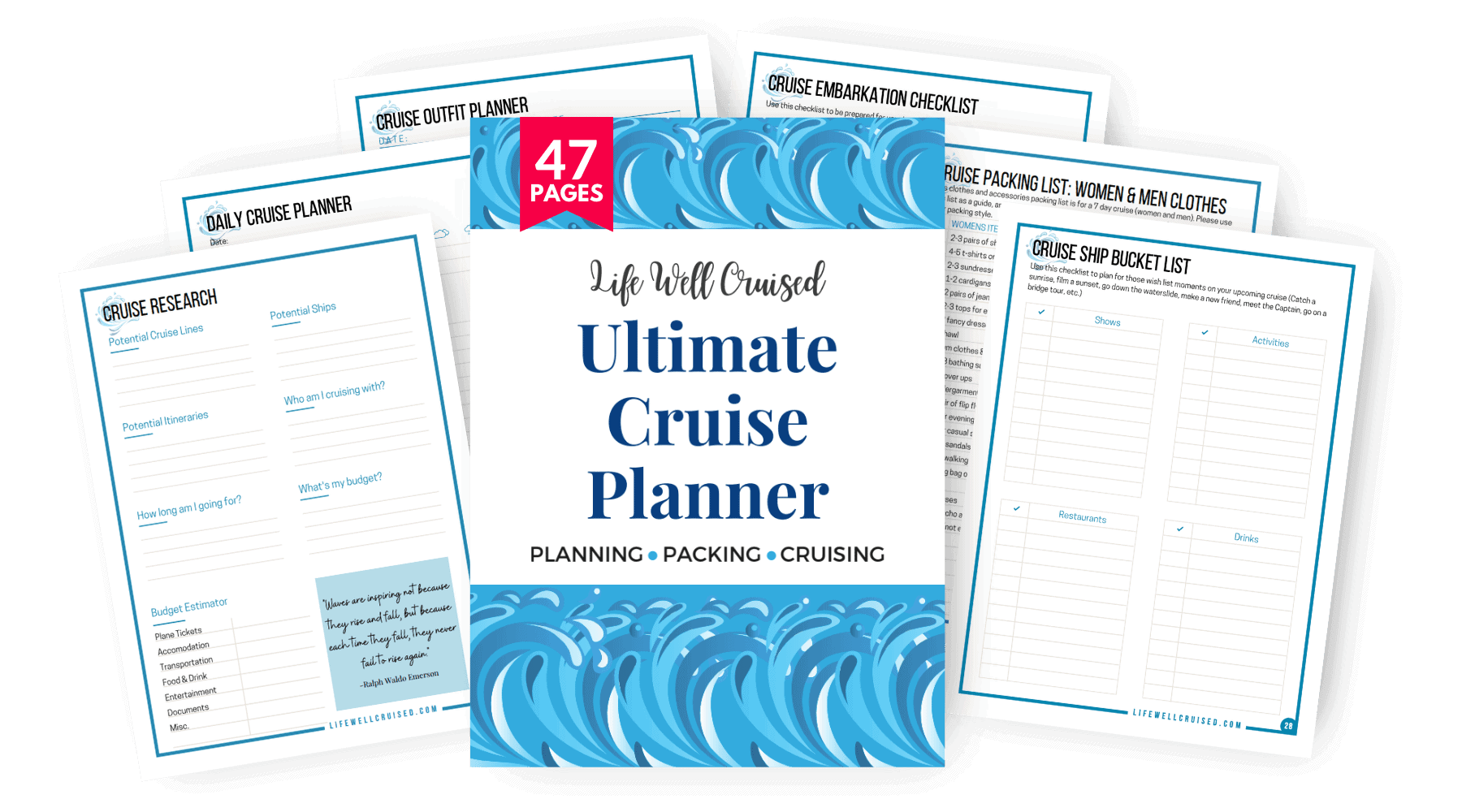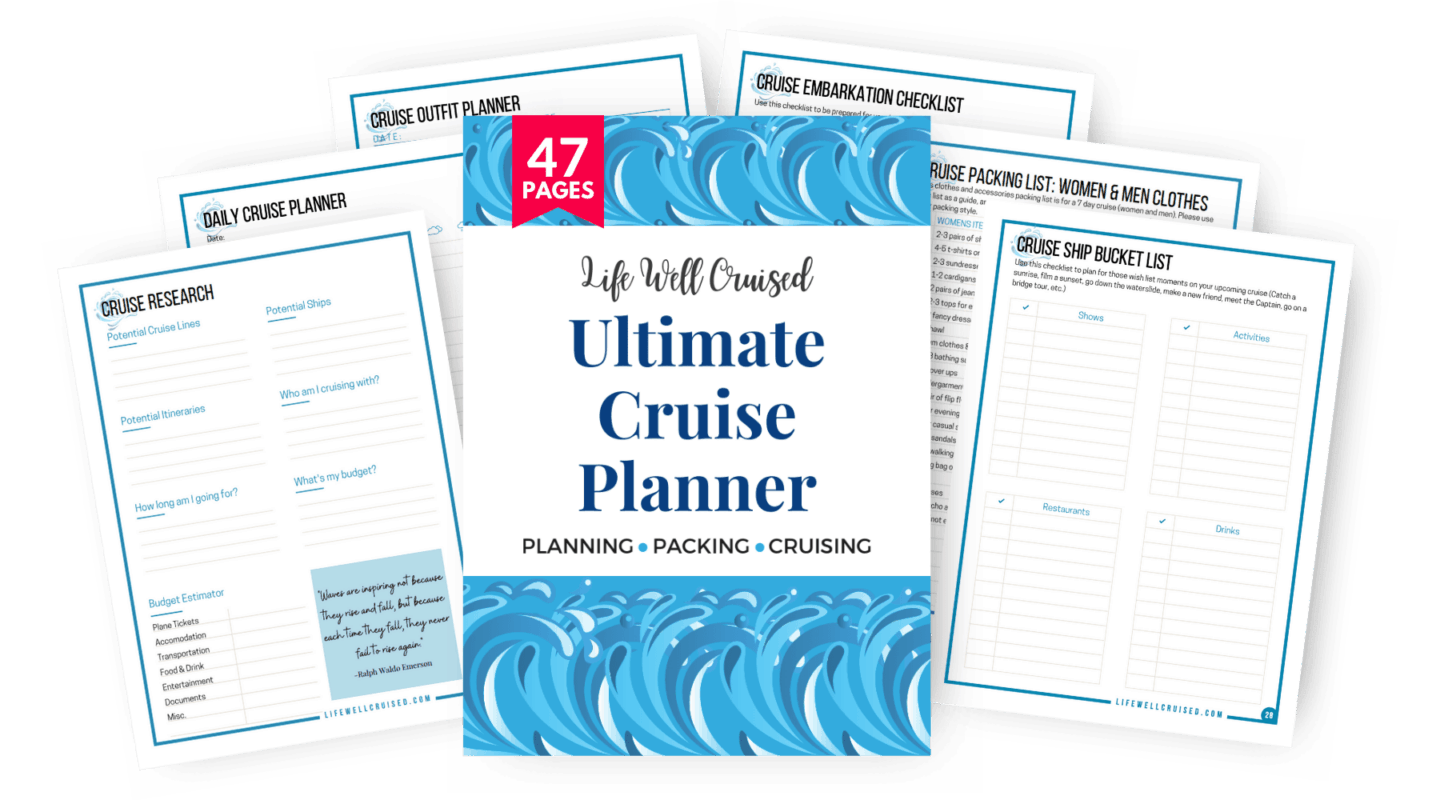 Final Thoughts On Best Cruises For Singles Over 40
Well there it is, everything you need to know about the best cruise for singles over 40!
As a solo cruiser over 40, choosing the right cruise comes down to personal preference, desired atmosphere, and interests. Whether you're looking for a relaxing vacation, new adventures, or the opportunity to meet like-minded travelers, there is a cruise line for everyone!
In this post, I shared the best cruises for singles over 40.
Happy Cruising!
Ethan
If you found this article helpful, please pass it along. Please feel free to share on Facebook or PIN to your favorite Pinterest board (share buttons at the top). Thanks so much!
Author Bio: Ethan Schattauer writes about men's fashion, travel and college advice on the website WhatToWearMen.com. As a frequent cruiser, Ethan shares his unique perspective on what cruising is like for teens and young adults.