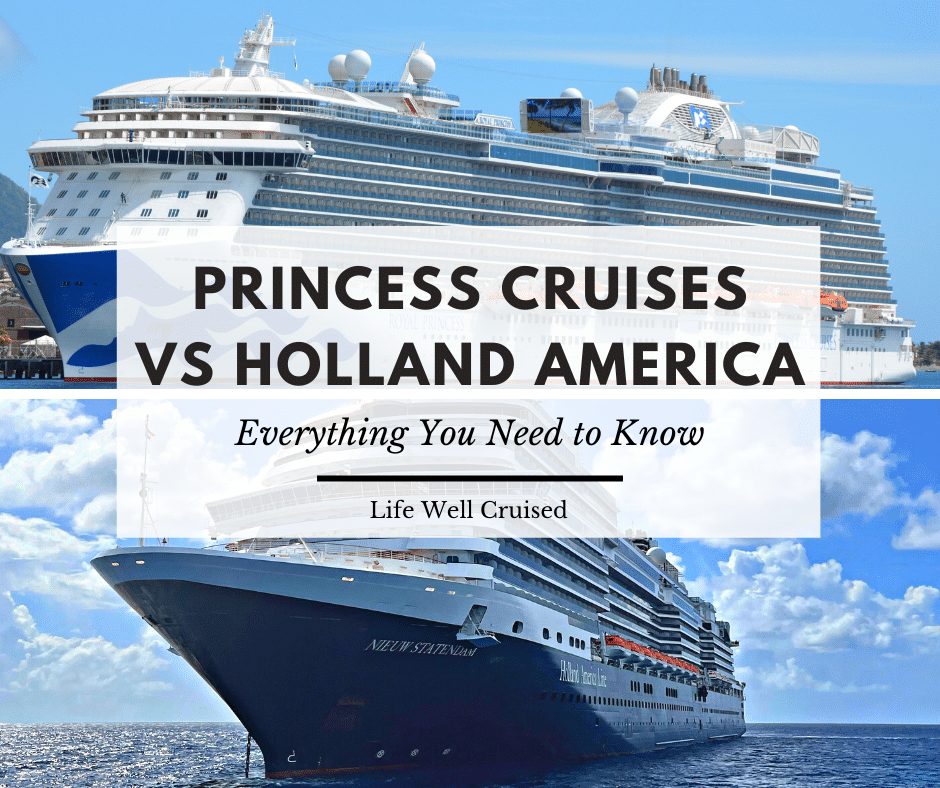 Are you planning a cruise and wondering which cruise line is best for you, Princess Cruises or Holland America?
Since both Princess and Holland America are popular and well loved cruise lines, this is a great question.
Both cruise lines are good quality, premium cruise lines and they do have some similarities. However, there are some key differences to be aware of so you can decide if Holland America or the Princess cruise line is for you.
I've cruised recently on Princess and Holland America cruise ships, so I know first hand that both of these cruise lines have a lot to offer.
With that being said, here's everything you need to know about Princess Cruises and Holland America.
This post contains affiliate links which means if you click and buy that I may make a commission, at no cost to you. Please see my disclosure policy for details.
As an Amazon Associate I earn from qualifying purchases.
Why Cruisers Like Princess Cruises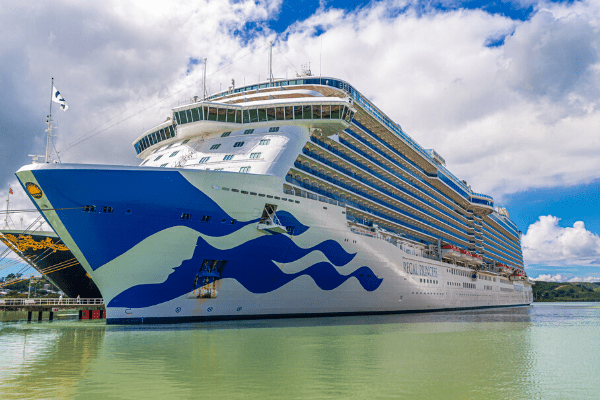 Ship Size and Design
Princess is known for having elegant and beautiful ship designs. The "sea witch" Princess logo is one of the most recognizable and iconic logos in the cruise market.
On most Princess cruise ships, you'll find a grand atrium, the Piazza, which is the central hub of the cruise ship .The Piazza is a gathering place where passengers can eat at the International Cafe shop, sit in a bar with new friends, shop in the boutiques or relax while listening to live music.
If you like the traditional cruise ship layout, then you'll love the Princess cruises ship design. Their ships have a traditional feeling, while incorporating modern details and technology.
Princess has both smaller cruise ships as well as larger vessels. The all new Sphere class is going to be Princess's largest ships to date. The Sun Princess and Star Princess will be 175,500 tons.
Whether you prefer a medium size cruise ship or a larger one, Princess offers a variety of choices.
Related: 10 Big Changes Coming to Princess Cruises Newest Ship – Sun Princess
Cabins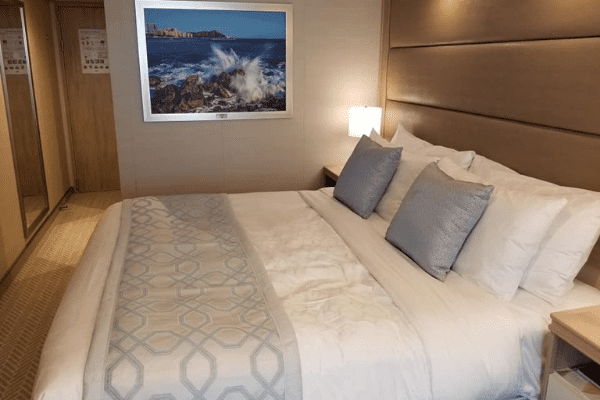 Princess has some of the best designed cruise cabins at sea. Princess Cruises' unique cabin layout provides a lot of storage, which is great for longer cruises and anyone who doesn't pack light.
Like most cruise lines, Princess cruise cabins have two twin beds that can be made into a queen bed, a desk with drawers and night tables next to the bed.
However, where Princess's staterooms differ from Holland America and most other cruise lines, is that inside cabins, balcony staterooms, and mini suites feature a large open closet design which faces the bathroom. This open closet and shelving provides the perfect amount of storage space for your cruise outfits, shoes and essentials.
Traditional Cruise Experience
For those who enjoy a traditional cruise experience, Princess cruises is the right cruise line for you. Princess is a modern cruise line which still values the traditional cruising experience.
For instance, Princess Cruises has dress codes in its dining rooms, which include casual and formal nights. There are also options for early dining, late seating and open seating in the main dining room (Dine my Way).
Private Island
Princess Cays is Princess's private island which is located in Eleuthera, Bahamas. If you're taking a Princess cruise in the Caribbean, there's a good chance that Princess Cays will be on your itinerary.
This gorgeous private island is the perfect place to grab a drink, relax and tan on the beach. There is water sports, a banana boat ride, snorkeling, private bungalow rentals, a stingray excursion and a beach barbecue.
One nice benefit for Princess cruise passengers is that both Medallion Net wifi and the beverage package are able to be used when in Princess Cays.
Service
Since most of Princess fleet are mid-size to large cruise ships, you might be wondering what to expect in regards to service. As someone who has cruised with Princess for over a decade, I can say that they have some of the best service out of all the major cruise lines.
The crew members are always professional, friendly and happy to help. Whether it's by the pool, in the main dining room or in your stateroom, the service on Princess is always fantastic.
Food & Dining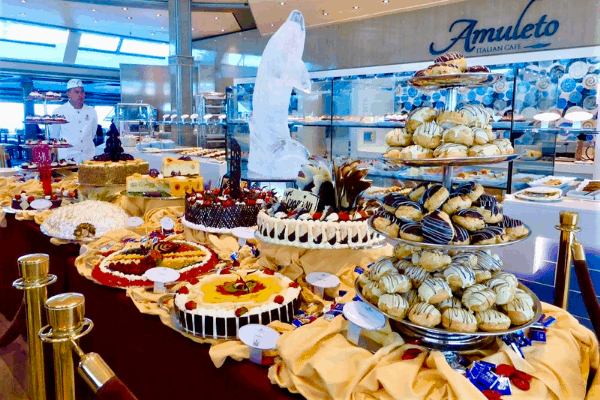 Main Dining Room
One of the highlights about cruising with Princess is their main dining room. Princess cruise ships have elegant main dining rooms, with classic decor and good quality menus and dining options.
In the main dining room, you'll find a variety of dishes including meat, chicken, fish, pasta and vegetarian options. One of Princess's most famous dishes is the popular and delicious Fettuccini Alfredo.
Specialty Restaurants
Princess also has some fantastic specialty restaurants that are available at an additional cost. If you want to have an enhanced dining experience, check out Crown Grill, Sabatinis, The Catch by Rudi, Sterling Steakhouse, Crab Shack or Chef's Table. Specialty restaurants may vary by cruise ship.
Casual Dining
Princess Cruises has some of the best casual dining at sea. Beyond the cruise ship buffet, you'll find the International Cafe, which serves delicious breakfast, lunch and snacks. Princess Cruises is also known for having some of the best pizza at sea, great poolside burgers and a very nice room service menu.
Tip: Room service is included on Princess Cruises
Variety of Itineraries
Princess offers many cruise itineraries from the Caribbean and Bahamas, Alaska, British Isles, South America, Asia, South Pacific and more. Princess Cruises prides themselves on going to over 300 cruise destinations in over 100 countries around the world.
When it comes to the variety of itineraries that a cruise line offers, it's hard to compete with Princess. If you love to travel and meet like minded cruisers, Princess attracts many loyal cruisers and well traveled guests.
Alaska
Princess is the one of the leading cruise lines in Alaska. Princess' Alaska cruise tours, give you exclusive access to railway services and Princess Wilderness Lodges near national parks.
Cruising to Alaska is a great opportunity to see wildlife and visit national parks and glaciers. Cruising to Alaska with Princess is a wonderful experience and a great way to experience the natural beauty of Alaska.
Related: What to Wear on an Alaska Cruise (outfit ideas with photos)
Demographic
You might be wondering who cruises with Princess. Princess's shorter cruises, 7 days or less, attract passengers of all ages, including younger travelers. However, Princess generally attracts mature cruisers that appreciate travel.
It's not uncommon to see families young children and teens cruise with Princess during the Christmas holidays and school breaks. Princess has an excellent kid's club and family orientated activities. However, you won't find waterslides and rollercoasters on Princess cruise ships.
Princess tends to target a demographic of well travelled guests and like minded cruise travelers. This means that the atmosphere on a Princess ship will be relaxed and enjoyable, but don't expect a boisterous crowd.
Multigenerational Travel
Princess Cruises have something for everyone. In recent years, Princess Cruises has been a popular cruise line for multi-generational travel. In fact, our own family has cruised with 3 generations for a 50th anniversary cruise. Everyone, from ages 7 to 77 had a great time!
During the Alaska season, summer months and school breaks, you'll find families with kids on board.
Related: 7 Best Cruise Lines for Families with Kids
Entertainment & Activities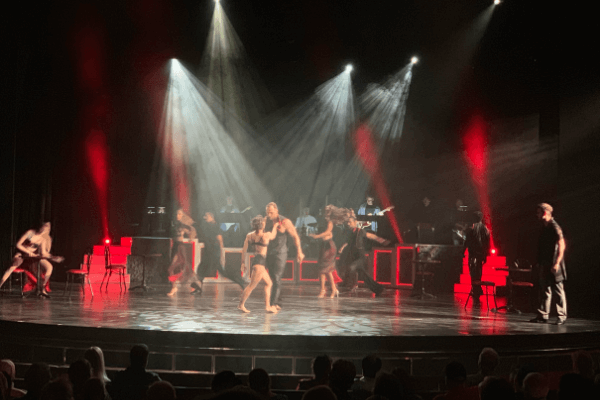 Princess has great entertainment options, such as Broadway-caliber production shows, live music, magic shows, performances by comedians and more. There are also fun interactive shows such as Deal or No Deal and The Voice of the Ocean.
If you're a fan of large scale production shows, then you will really enjoy the entertainment onboard Princess cruises.
When it comes to activities onboard a Princess cruise, there are dance classes, art auctions, basketball courts, pools and hot tubs. Throughout the day, there is music by the pools and on sea days there are poolside activities.
A unique experience that Princess offers is Movies Under the Stars, and outdoor movie experience.
Imagine this, you can relax on your lounge chair under the big screen and stars above. Princess makes the experience special by providing blankets and popcorn for the best movie night at sea ever.
MedallionClass Experience
Most cruisers agree that the Princess Medallion experience is pretty fantastic. The Medallion replaces the function of a traditional cruise key card, and more! The Medallion wearable device is used to unlock your cabin door, offering hands-free convenience.
You can also order food and drinks from your Medallion app or stateroom TV, and a crew member will deliver your items wherever you are. If you're trying to find your way, you can use your phone or the portals on Princess Cruise ships to help you find your way.
The Love Boat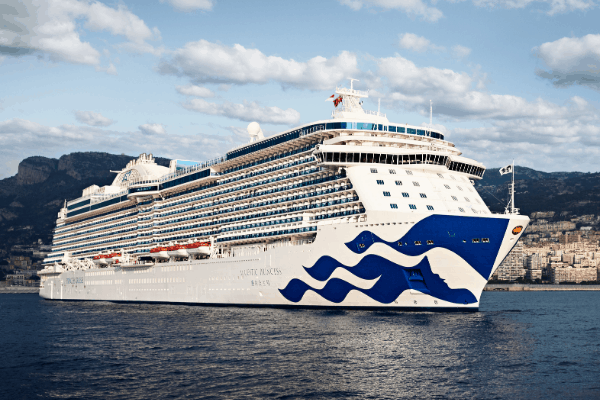 If you've ever watched or heard of The Love Boat TV show, then you know that Princess cruises is synonymous with romance and celebrations at sea.
Princess cruises offers some different romantic experiences including the ultimate balcony breakfast and ultimate balcony dinner. They also offer some nice vow renewal packages, weddings at sea and more.
Princess does a great job at incorporating the Love Boat TV show into their cruising experience. Princess incorporates the Love Boat TV show into their sail away party, muster drill and boat horn.
Princess Plus and Princess Premier Packages
If you like an all inclusive cruise experience, with drinks, wifi and gratuities included, you'll want to check out Princess Plus and Princess Premier Packages. These packages are a great value and definitely popular with cruisers!
Princess Plus
Princess Plus includes a beverage package (drinks up to $15 each), wifi (1 device per guest), crew gratuities, premium desserts (2 per day), fitness classes (2 per cruise), unlimited juice bar. The cost is $60 US per person, per day.
Princess Premier
Princess Premier includes the Premier beverage package (drinks up to $20 each), wifi (up to 4 devices per guest), crew gratuities, specialty dining (2 meals), photo package, Princess prizes, premium desserts (2 per day), fitness classes (2 per cruise), unlimited juice bar, new Medallion accessory, reserved theater seating for production shows. The cost is $80 US per person, per day.
Pricing
While the prices of Princess cruises vary by cruise ship, date and itinerary, Princess cruises are generally well priced and a good value. Considering the quality of food, service and entertainment, Princess Cruises are worth the cost.
Why Cruisers Like Holland America
Ship Size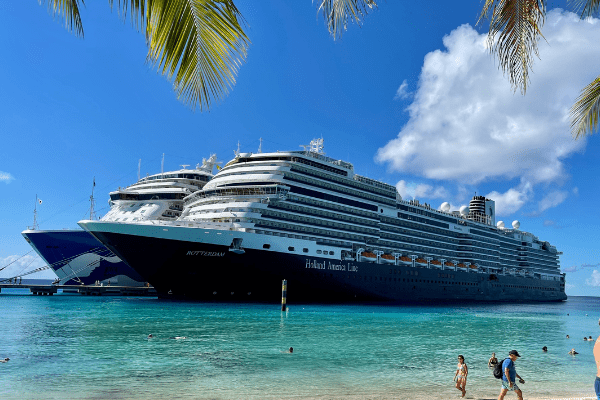 One of the biggest pros for Holland America, is that this cruise line offers comfortable cruising on mid-size and smaller cruise ships. For or cruise passengers who prefer a more traditional cruise experience, Holland America cruise ships fit the bill.
In contrast to Princess Cruises, which is building larger ships, Holland America's newest cruise ships, including the Rotterdam are proudly mid-sized cruise ships. The Pinnacle class cruise ships (Rotterdam, Koningsdam and Nieuw Stantendam) are popular, modern ships with many venues, lounges and pool areas.
The smaller ship size puts the focus on destination, dining and overall cruise experience.
Ship Design
Holland America has beautiful and elegant cruise ship designs. When it comes to the public spaces, outdoor areas and cabins, Holland America has thought of every detail.
On Holland America cruise ships, you'll find a strong Dutch influence incorporated into their ship design. Blue and white is the color combination you'll see most often, from the Dutch Cafe, to the table wear used in the main dining room.
You'll also find a timeless ship design, with classic wood and brass elements. That said, Holland America's latest cruise ships are modern and include unique artwork ranging from paintings to sculptures displayed throughout the ship.
Food & Dining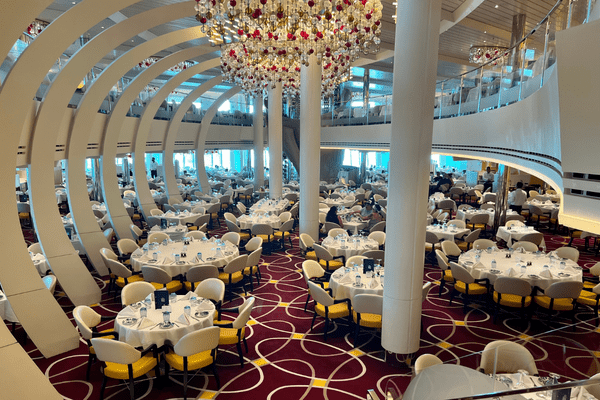 The food and dining on Holland America is top notch. Everything from the main dining room, to the casual dining venues and specialty restaurants are delicious.
A personal favorite of mine is Dive-In, their pool-side burger and hot dog restaurant. The burgers, fries and hot dogs are amazing!
One of the unique restaurants onboard Holland America is the Grand Dutch Cafe. The Grand Dutch Cafe is a great casual restaurant to enjoy a sweet or savory Dutch snack with coffee or tea.
The specialty restaurants include the Pinnacle Grill, Tamarind, Canaletto, Nami Sushi and Rudi's Sel De Mer. All of the specialty restaurants are very tasty and a fantastic culinary experience.
Get The Ultimate Cruise Planner
Regular price: $27 Now just $17!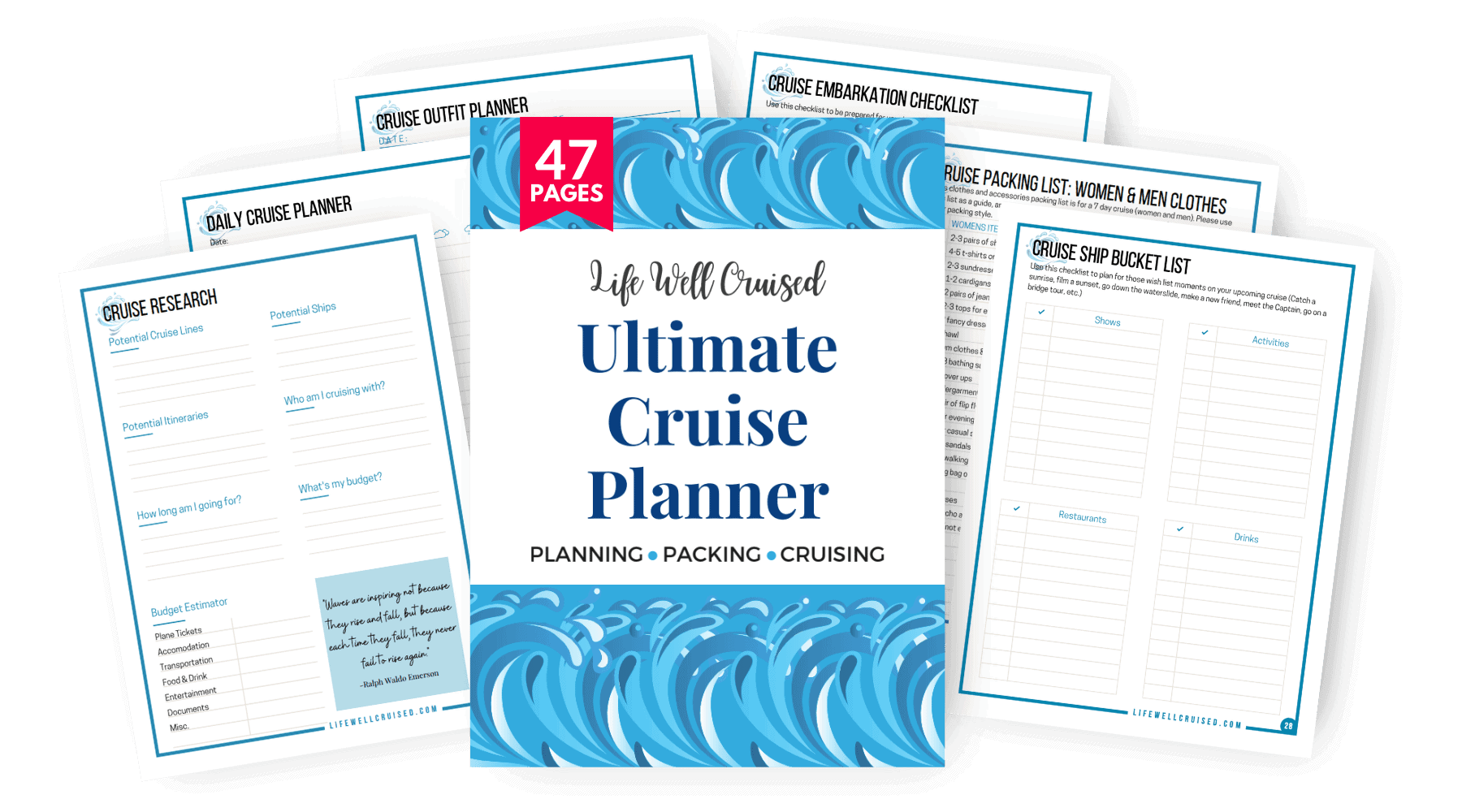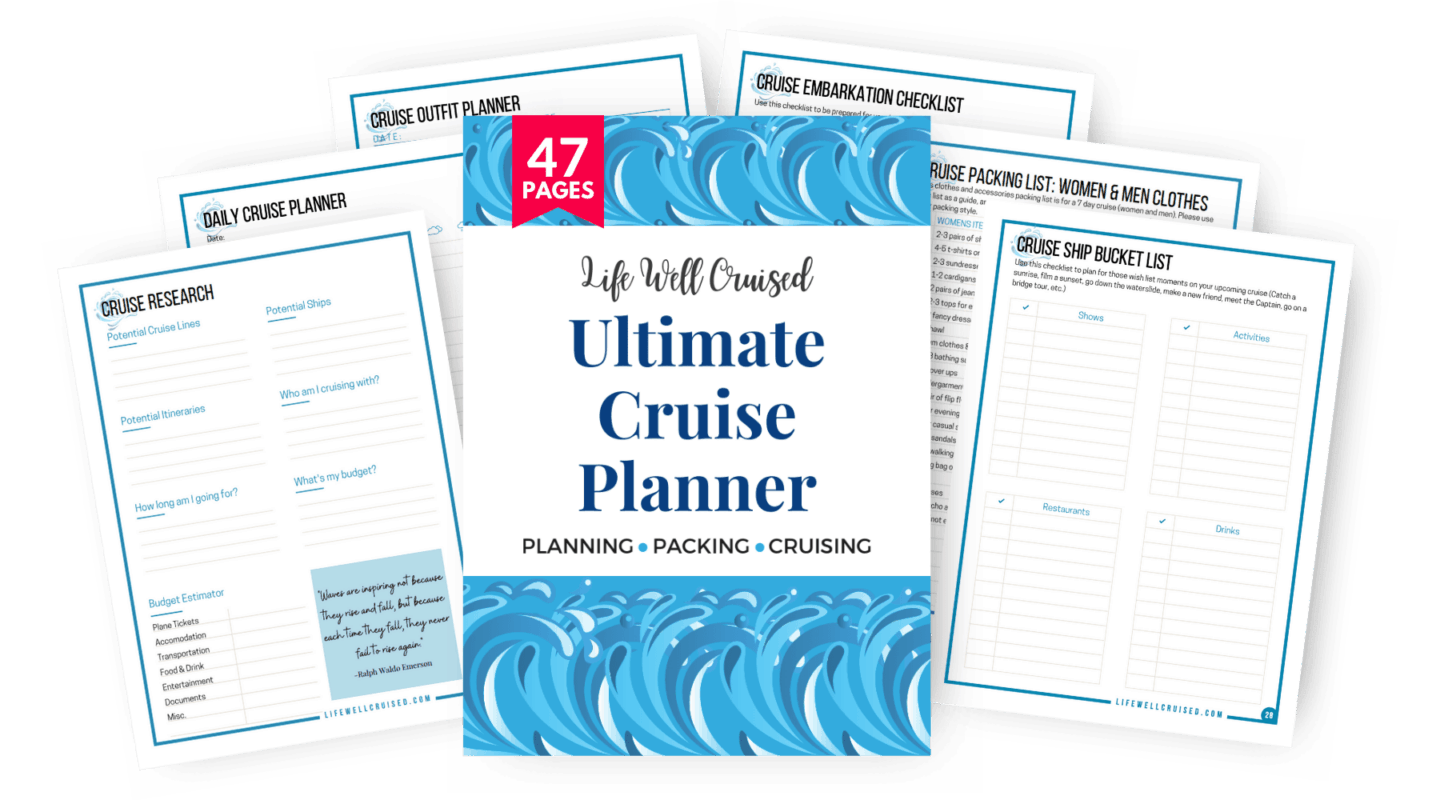 Drinks
If you enjoy specialty coffees and alcoholic beverages, then you will enjoy cruising with Holland America. Onboard Holland America, there are some amazing and talented bartenders and fantastic drinks.
One of my personal favorites is the Foggy Boulevardier. This is a variation of an Old Fashioned and it is presented with real smoke.
Holland America has some great drinks on the menu that were created as part of a celebration of HAL's 150th anniversary. You can order a special edition beer, the HAL Pils or have a Dutch 150, a delicious cocktail made with sparlking wine, lemon juice and its own exclusive De Linj Gin .
Other great drinks that Holland America introduced on our recent Alaska cruise on Koningsdam, are cocktails which use glacier ice. They are so tasty and unique!
Itineraries
Holland America is known for having unique and longer itineraries geared for experienced travellers. In fact, on Holland America's website, you can easily search for cruises that are 17 days and longer.
Holland America even has a bucket list 133-day Pole to Pole cruise called the "Grand Voyage".
Alaska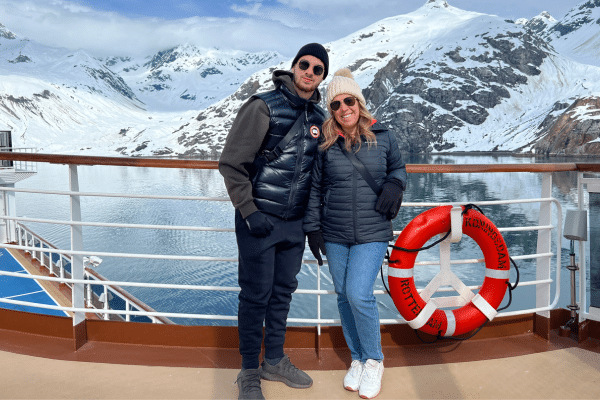 Holland America has been going to Alaska longer than any other cruise line. With Holland America, you can cruise through the Inside Passage and into the Glacier Bay National Park, which is absolutely stunning.
Glacier Bay is a National Park and only 2 cruise ships are allowed to visit per day. Holland America has priority, since it has been sailing to Alaska for so many years.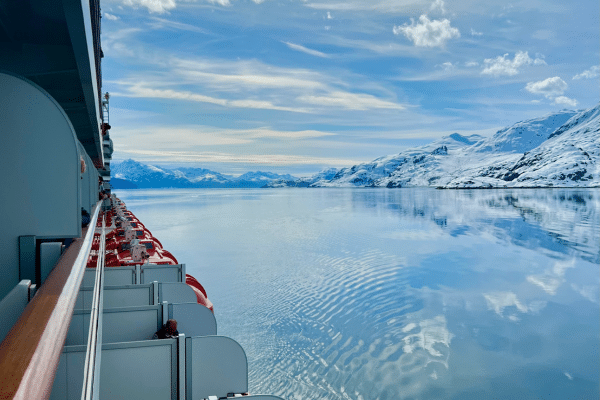 If you are interested in going on an Alaska cruise, then Holland America is the cruise line for you. Holland America stops in ports including Juneau, Ketchikan, Skagway, Anchorage, Valdez, Sitka and even in the Yukon!
One of the great parts about cruising to Alaska with Holland America, is that they bring wildlife experts, park rangers and Alaskan natives on board. You will be able to attend their presentations, ask them questions and participate in activities like wildlife spotting.
Private Island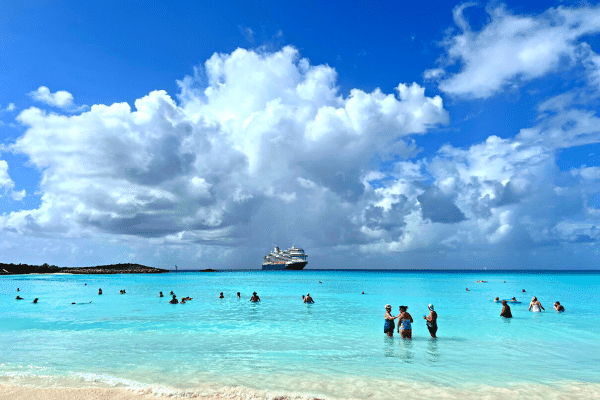 Half Moon Cay is a private island located in the Bahamas and it is owned by Holland America. At Half Moon Cay you will find a beautiful beach, lounge chairs, a beachside barbecue, cabanas and a bar.
There are activities and excursions like horseback riding, glass-bottom boat tours, nature trails and water sports. Overall, Half Moon Cay is a beautiful private island, which many cruisers love.
Unfortunately, the cruise ship beverage package and wifi are not transferable to Half Moon Cay.
Service
Since Holland America has small to mid-size cruises, you can expect great service. The staff are always helpful, friendly and kind.
When I cruised with Holland America, I found that multiple crew members went above and beyond and this really enhanced my cruising experience.
Holland America takes pride in having an accommodating and friendly crew, exceptional dining and personalized service.
Entertainment & Activities
When it comes to the entertainment and activities onboard Holland America cruises, there is a strong focus on enrichment. This includes, shows such as BBC Earth, Holland America: Origins and talks by renowned experts.
You'll also find shows featuring Holland American dancers, singers, and occasional guest entertainers.
There are many interesting activities such as art classes, mixology classes and trivia happening in the popular Crow's Nest and lounges.
Music Walk
The Music Walk is one of the highlights of Holland America's Pinnacle Class and a few other ships in the fleet. Compared to other cruises, the Music Walk is a totally different concept.
Instead of having one main dance club or bar, Holland America has several different music rooms which have live performances. When you're at the Music Walk, you can listen to different genres of music, while having a drink or dancing.
The Music Walk is composed of B.B King Kings Blues Club, Billboard Onboard, Rolling Stone Rock Room and Lincoln Center Stage. There are amazing live performances each and every night of your cruise vacation.
You can find the Music Walk on the following Holland America ships:
Koningsdam
Nieuw Statendam
Rotterdam
Nieuw Amsterdam
Noordam
Westerdam
Zuiderdam
Pickleball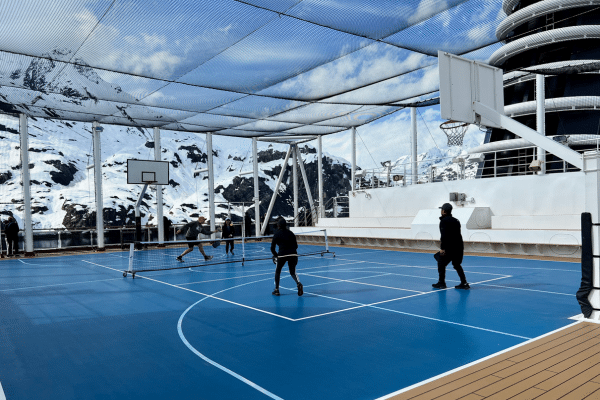 Pickleball is currently the fastest growing sport in the world and cruisers love to play! in 2022, Holland America became the Official Cruise Line of the Professional Pickleball Association. All Holland America cruise ships now have a pickleball courts with amazing top-deck views.
On Holland America cruises, you can sign up for beginner lessons, tournaments, and even purchase Holland America pickleball starter kits in the cruise ship retail shops.
Whether you're new to Pickle Ball or an avid player, there is nothing like playing a Pickleball from the top deck of a cruise ship!
Mature Travellers
Most people who cruise Holland America, tend to be older and more well travelled. This means that the pace of the ship may be slower than other cruise lines.
The majority of the entertainment and activities will be catered towards more mature travellers as that's what the cruise lines primary demographic is. If you're a mature traveller, then you will fit in on a Holland America cruise.
Multigenerational Travel
Holland America is a great cruise line for multigenerational travel. On Holland America, you will see plenty of multi generational families.
Typically, Holland America has the reputation of being a cruise line for an older demographic. However, when I cruised with HAL, there were quite a few kids and teenagers who were travelling with their grandparents.
Cruising is a great family vacation, which is why Holland America is perfect for multigenerational travel.
History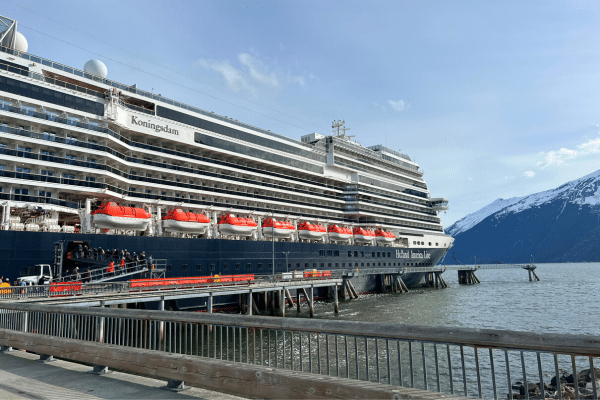 Holland America has been sailing since 1873 (over 150 years!). When it comes to cruising, Holland America has a rich history and a very interesting story.
Many people don't realize that Holland America has been cruising from the Netherlands to New York City since since the late 1800's.
Holland America quickly gained the reputation of having high-quality service, reliable transatlantic crossings and good accomadations.
In recent years, Holland America has developed a database of all of their passengers starting in 1900s. Now, people can track their ancestors by searching their family name in the database.
There are plenty of story's of cruisers finding out that their relatives travelled with Holland America from Europe to the United States of America.
Pricing
Holland America cruises are a very good value for a premium cruise line. Holland America offers standard pricing as well as an all inclusive type package, the Have It All promotion.
This add-on package includes a beverage package, a wifi package, a specialty restaurant and a shore excursion credit.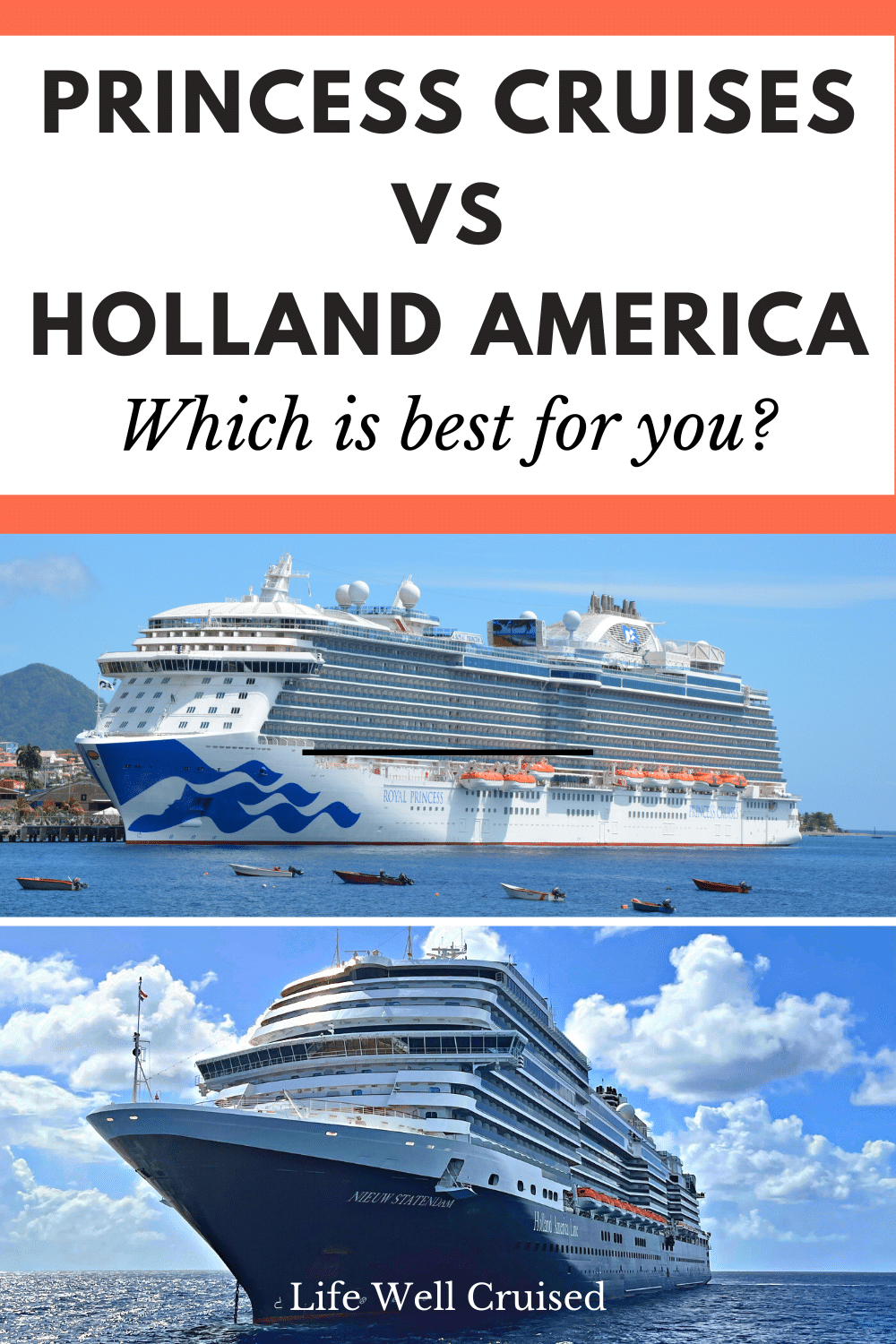 Which Cruise Line is Best for You? Princess Cruises or Holland America
Overall, Princess and Holland America are both very good cruise lines with quite a few similarities. It's likely that you'll enjoy a cruise on either of these premium cruise lines. However, there are some differences that may be a factor for you.
Princess Cruises is Best For:
Those who enjoy a relaxed approach to cruising, big production shows and are destination focused will like cruising with Princess. Princess Cruises has great food, service and their ships are absolutely stunning.
The atmosphere is perfect for cruisers who love the relaxed but fun vibe onobard.
Holland America is Best For:
Cruisers who prefer a more low key vibe and smaller cruise ships will enjoy Holland America. If you value good service, great food and a relaxing atmosphere, a HAL cruise is probably a good fit. Holland America offers a unique experience, with great entertainment and enrichment activities, the Music Walk and plenty of lounges to relax onboard.
Related & Popular Posts:
Get The Ultimate Cruise Planner
Regular price: $27 Now just $17!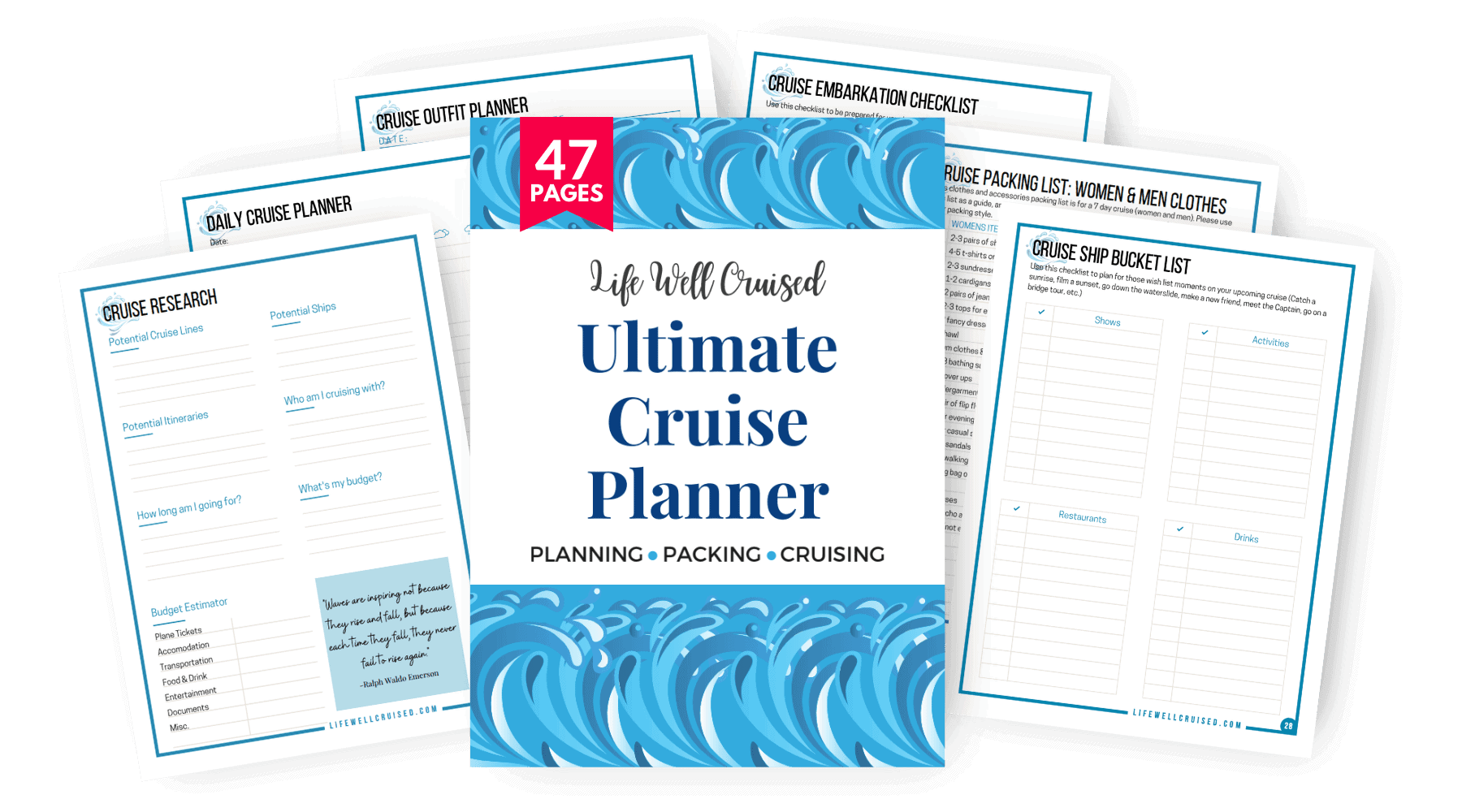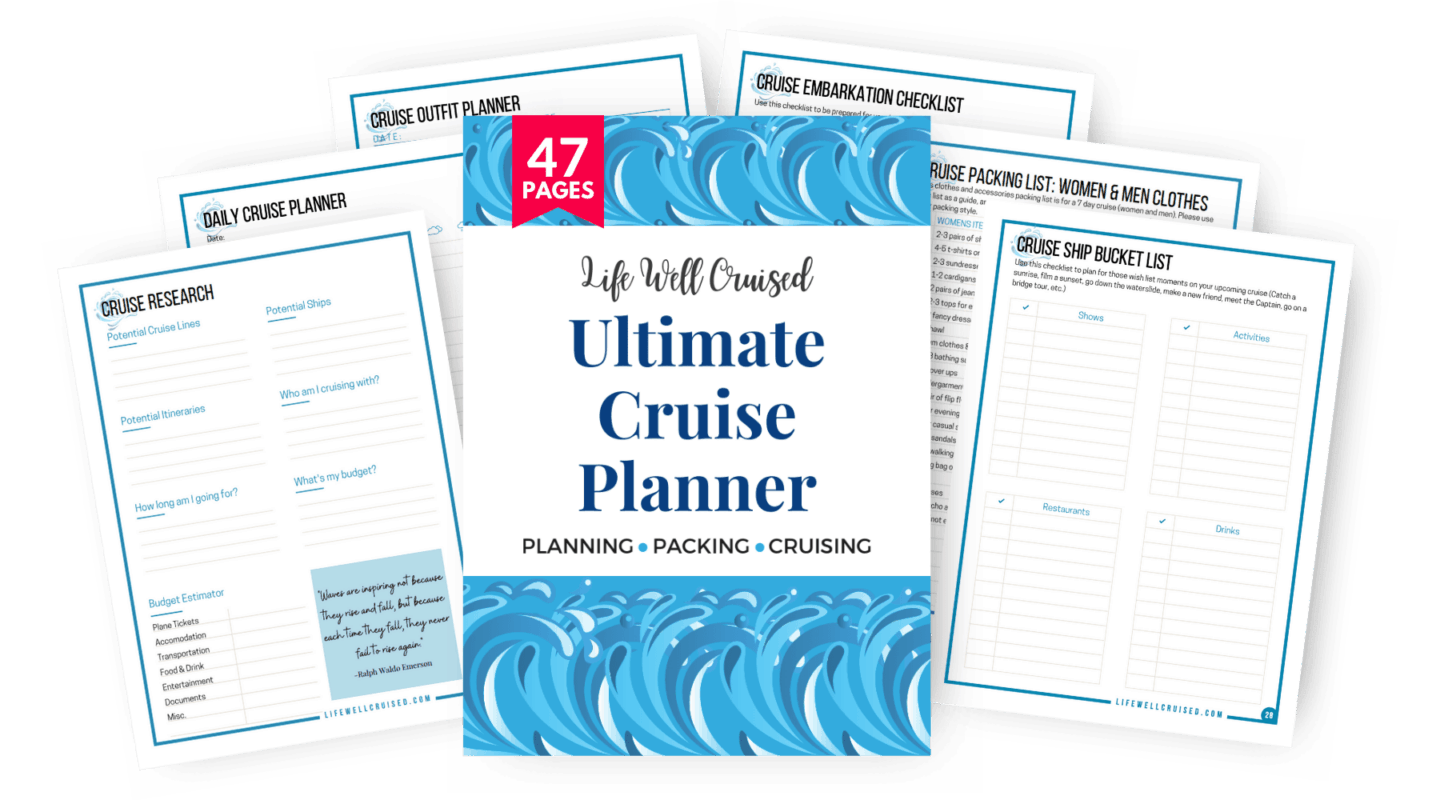 Final Thoughts on Princess Cruises VS Holland America
Well there it is, Princess Cruises vs Holland America!
Comparing Princess and Holland America is interesting as they are similar cruise lines. Both Princess and Holland America are known for the more traditional cruise experience.
When it comes to choosing which cruise line is better, it really comes down to what you'll enjoy most on your cruise vacation. Both cruise lines have a big fan base and get a lot of repeat cruisers!
In this post, I shared everything you need to know about Princess Cruises and Holland America.
Have you cruised with Holland America or Princess Cruises or are you planning to? Please let me know what you like best in the comments below.
Happy Cruising!
Ethan
If you found this article helpful, please pass it along. Please feel free to share on Facebook or PIN to your favorite Pinterest board (share buttons at the top). Thanks so much!