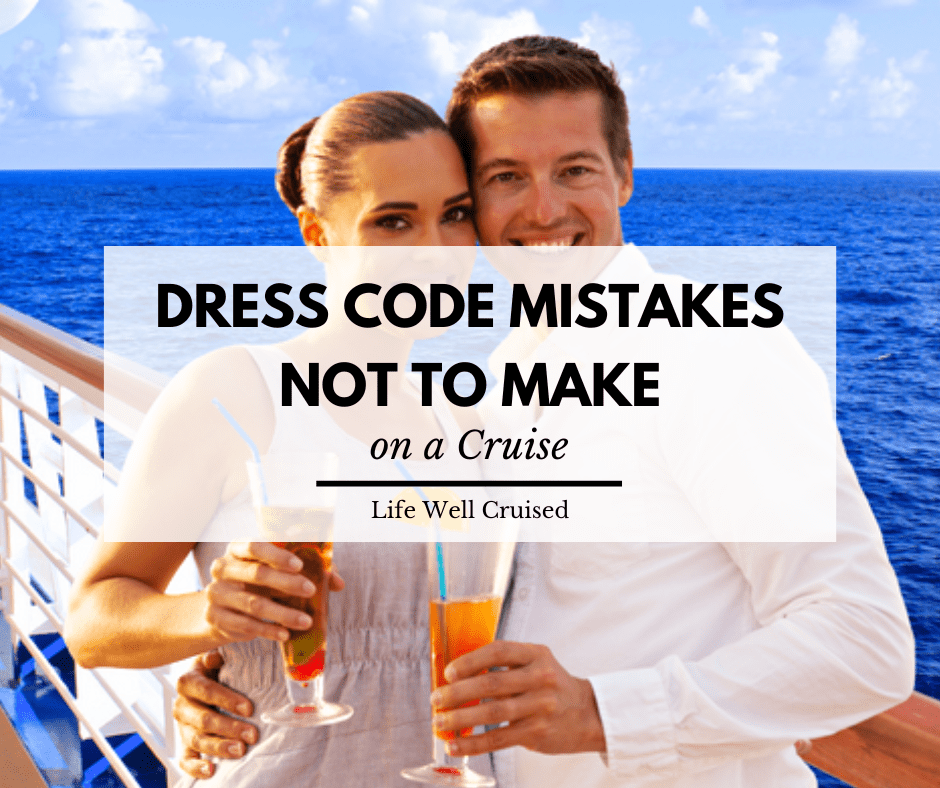 Cruise line dress codes aren't are complicated as they seem, but there are some mistakes you don't want to make. Cruise dress code guidelines are ever changing, especially in recent years.
If you're preparing for a cruise, you're probably thinking about what outfits to wear, what clothes to pack and what to leave at home. Even though cruise dress codes have become more casual in recent years, they still exist on most cruise ships.
Knowing what to wear on a cruise and what to expect, will make it easier to plan for your cruise vacation.
In this post I share cruise dress code mistakes to avoid, as well as some cruise outfit tips for the dining rooms and restaurants.
This post contains affiliate links which means if you click and buy that I may make a commission, at no cost to you. Please see my disclosure policy for details.
As an Amazon Associate I earn from qualifying purchases.
Cruise Dress Code Mistakes to Avoid
1. Forgetting to Bring Pants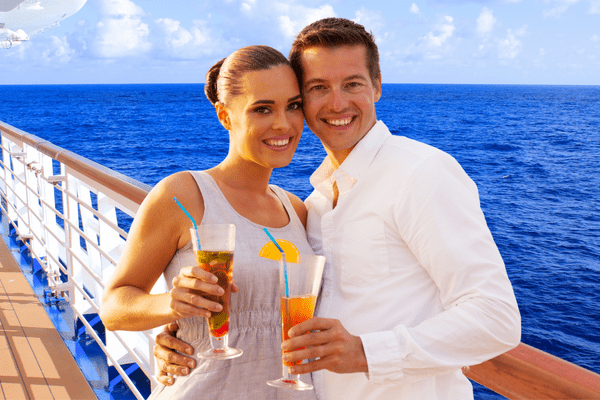 On casual and smart casual evenings on a cruise, pants are usually required for men. In fact, shorts are often not permitted in main dining rooms and specialty restaurants at dinner.
While some cruise lines enforce this rule more than others, some men have shared stories of being turned away and asked to go back to their cabin to change into a pair of pants or jeans.
One dress code mistake to avoid on a cruise, is to not bring pants. Even if you're on a Caribbean or hot weather cruise, it's a good idea to pack at least one pair.
If you want to be sure, check your cruise line's dress codes for guidelines before you go.
Tip: The cruise ship buffet, poolside grills and other casual food venues are often open during dinner hours as an alternative to a sit down restaurant style meal.
2. Thinking that Jeans Aren't Allowed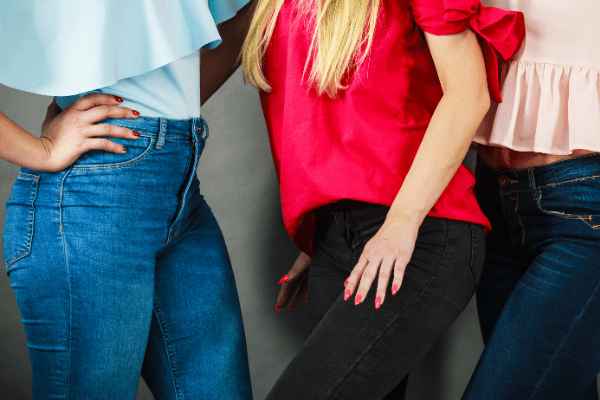 Years ago, jeans weren't allowed in the main dining room and specialty restaurants. However, this has changed in recent years and jeans are now listed as acceptable attire on casual and smart casual nights in the MDR on most major cruise lines.
These days, nice jeans can be part of a good looking casual dinner outfit for both men and women on a cruise ship.
Tip: Always check your cruise line dress code as some cruise lines are more or less formal.
3. Getting Confused by Cruise Line Dress Codes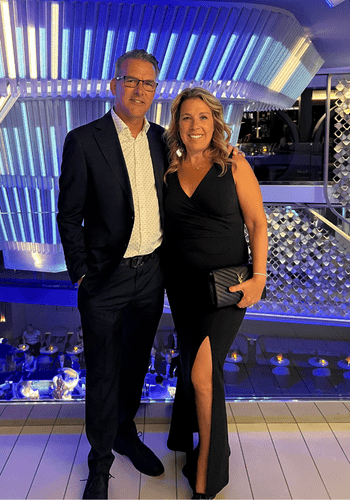 Cruise line dress codes can be confusing, especially if you're going on a cruise for the first time.
Here's how the cruise dress codes work for most mainstream cruise lines.
Cruises will have 2-3 different dress codes for the evenings of the cruise. As an example, 7 day cruise will usually have 2 formal or elegant nights, and the rest will be casual or smart casual.
Formal Nights
These days, formal can mean a suit or dress pants and a dress shirt for men. A tuxedo is welcome, but not required.
On formal or chic evenings, ladies can feel comfortable wearing a short or long cocktail dress, pants suit or other elegant attire.
Dress codes add a nice atmosphere to evenings on a cruise ship, but are generally not strictly enforced.
Exceptions:
Norwegian Cruise Line and Virgin Voyages don't have to traditional dress codes, although there are still dress guidelines in certain venues.
The opposite is true for Cunard, where dress codes are enforced and formal attire is worn and appreciated by most cruise passengers.
4. Don't Wear Offensive Graphic T-Shirts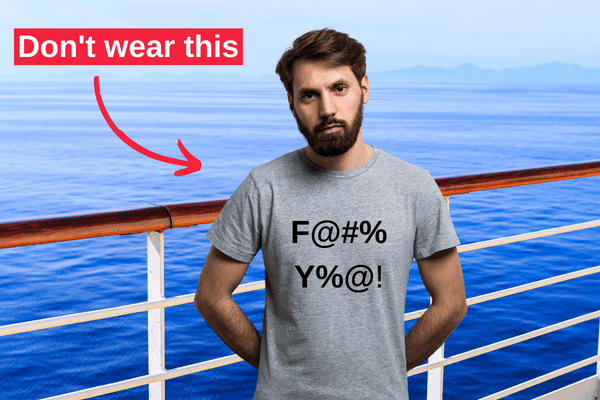 A cruise fashion mistake to avoid is wearing graphic tshirts with offensive language, slogans, or political messages. A cruise is a chance to get away from everyday life and it's stresses. Wearing a shirt with a potentially offensive message is not the way to achieve this.
Stay away from clothing with swear words and graphic images as well.
Related: 10 Things That Can Get You Kicked Off a Cruise
5. Wearing Swimwear
Remember to keep swimwear for the lido deck and outdoor spaces on a cruise ship. Swimwear isn't permitted in the main dining room and restaurants, in particular in the evening.
If you head to the dining room for breakfast or lunch, a shirt and a pair of shorts or a light sundress is fine over a bathing suit.
In addition to pool wear, tank tops and flip flops (as well as bare feet) are usually not permitted for evening dinners either.
6. Not Packing Theme Night Clothing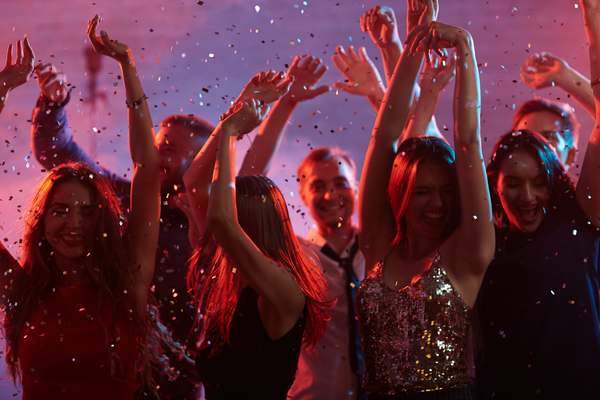 Does your cruise have a special theme night? It's no fun to be on your cruise and realize that there's a White Night, Scarlet Night, 70's Night or Pyjama Party and not be prepared.
How do you know about cruise theme night activities?
Once you've booked your cruise, keep up to date with cruise line emails and check the cruise line website. Another great way to find out what to expect on your cruise is to watch cruise vlogs, join Facebook groups and roll calls on forums.
Get The Ultimate Cruise Planner
Regular price: $27 Now just $17!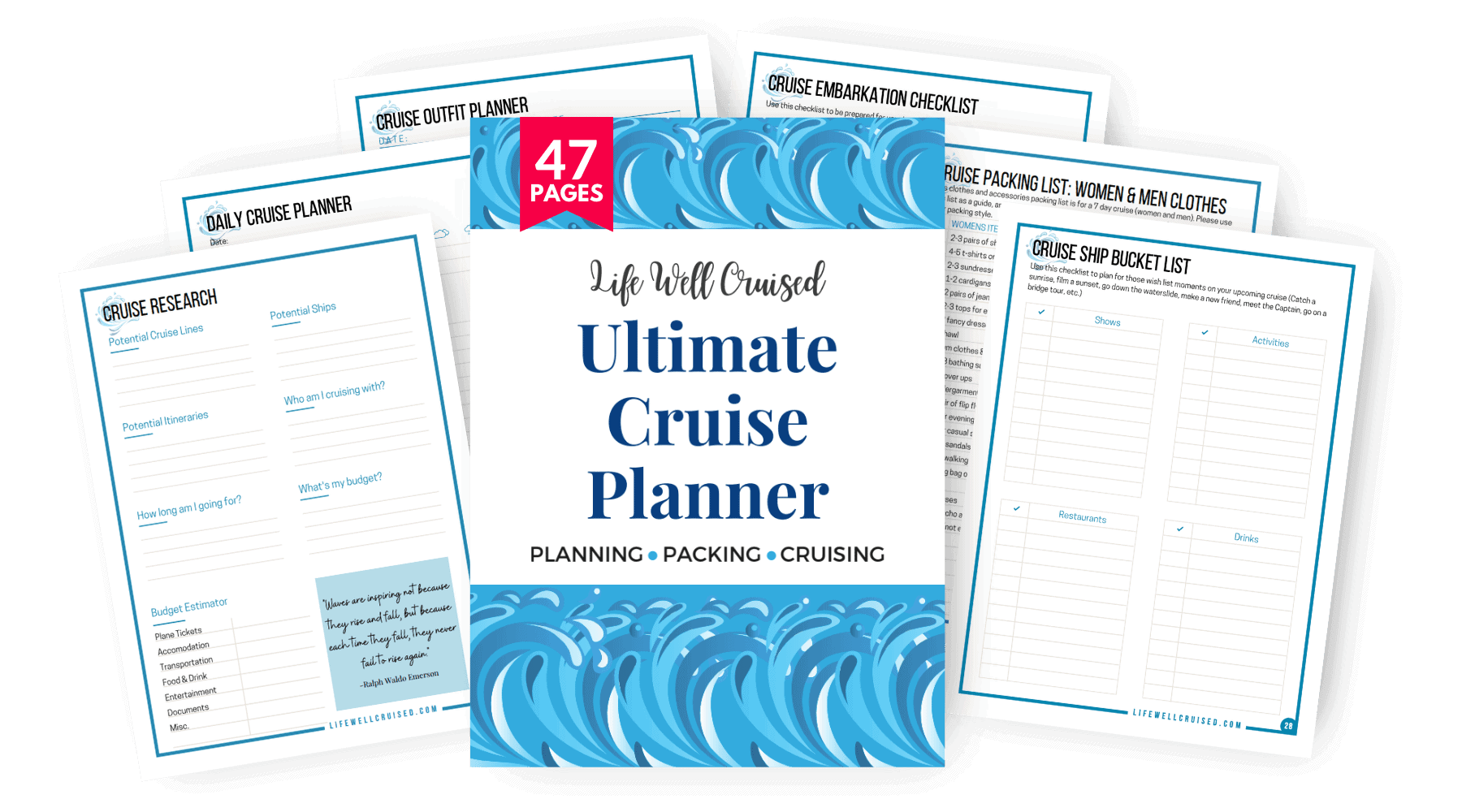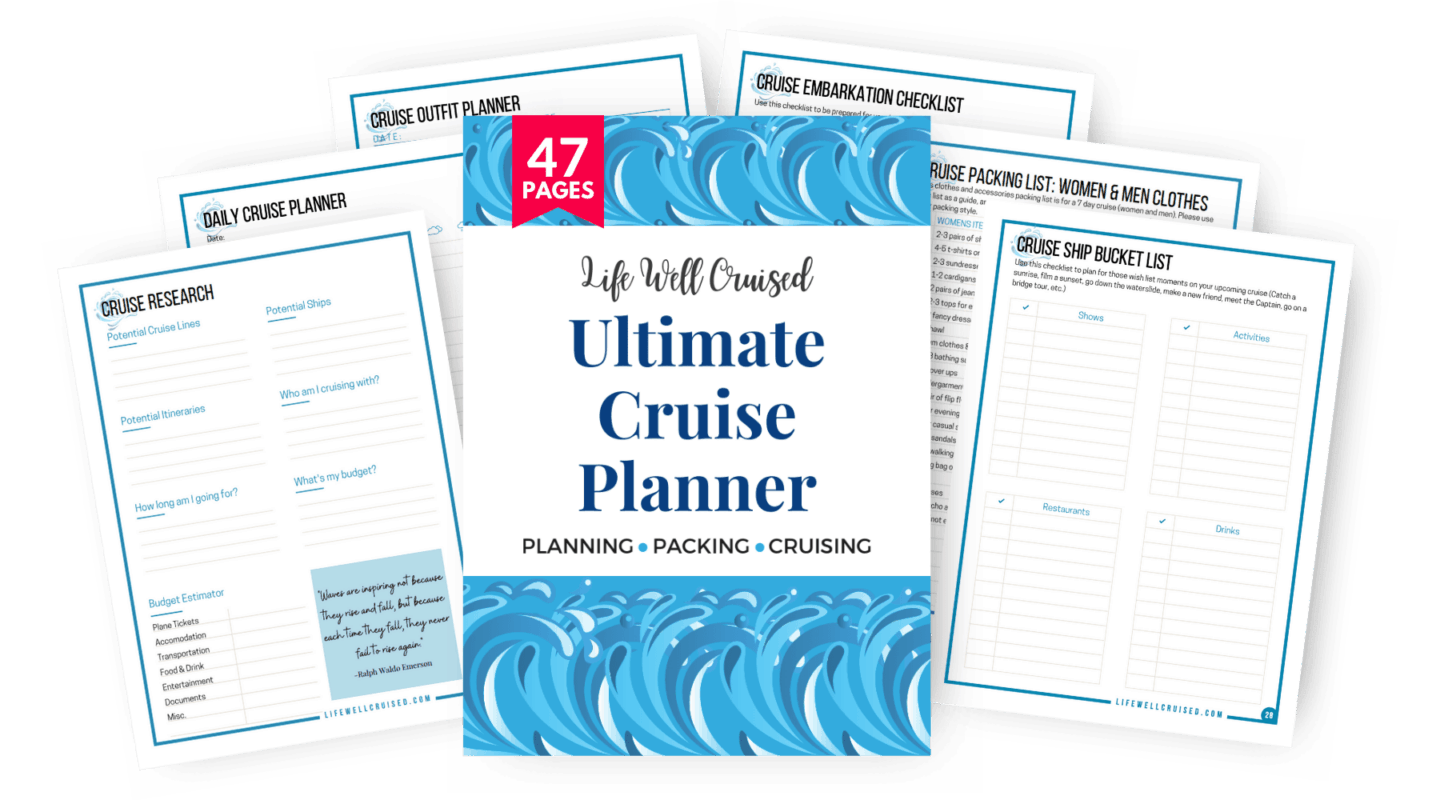 7. Wearing Camouflage Clothing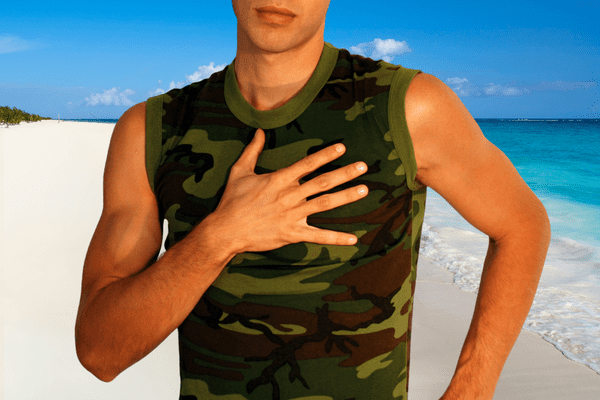 Wearing camouflage clothing isn't a problem for cruise passengers when on a cruise ship, but it can be in many cruise ports of call. This is because wearing camouflage clothing is against the law in several Caribbean islands, as well as some other destinations.
For example, if you wear a camouflage shirt, shorts or any other item in a cruise port such as Barbados, you can be fined or arrested. At the very least, you'll likely be asked to return to the cruise ship and change clothing.
Related: 63 Things Not to Do on a Cruise
8. Not Bringing a Shawl or Light Sweater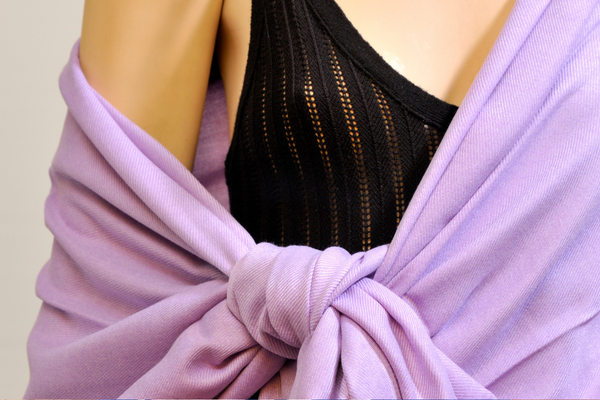 A mistake many ladies make on a cruise, is wearing sundresses and other shoulder tops to the dining room, without having a shawl or light sweater. On hot weather cruise itineraries, the air conditioning can make the interior of the cruise ship feel very cool.
It's a good idea to pack a shawl or light scarf to cover the shoulders. In addition, having a shoulder covering is good to have when sightseeing, especially if you may enter religious buildings.
Related: 7 Things Not to Wear in Cruise Ports (local customs & guidelines)
9. Not Having at Least One Polo Style Shirt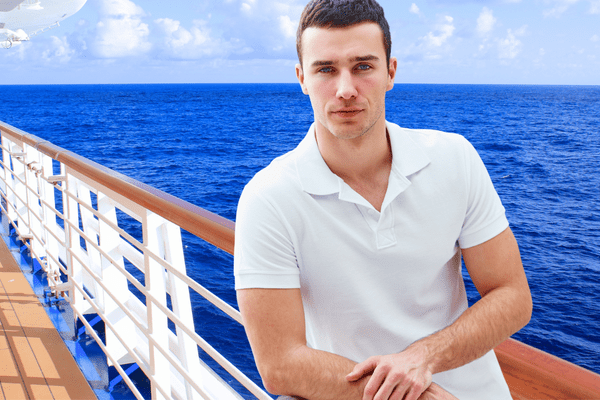 It's a good idea for men to pack at least one polo style shirt for a cruise. Not having a polo style shirt is a mistake because some restaurants, even on casual cruise lines like Norwegian, require a collared shirt.
This can surprise many people, but nicer cruise ship restaurants might not allow a simple t-shirt, but a polo style shirt is fine.
Pack 2-3 polo style shirts as they can go from day to night, and be worn with shorts, jeans or pants.
10. Forgetting to Bring an Evening Bag or Clutch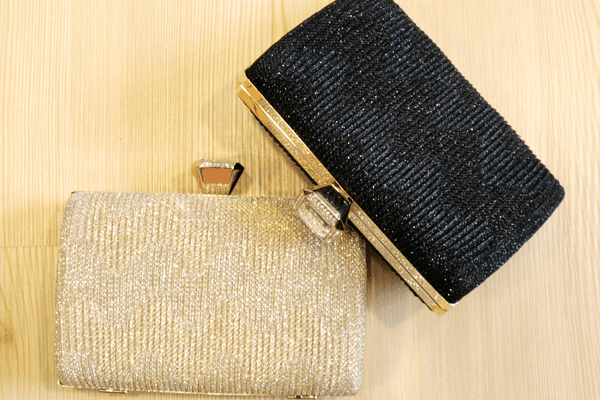 While you don't need to carry around a purse on a cruise, ladies may want to pack a small crossbody or evening bag for the evening.
A small clutch or evening bag will look great with your cruise outfit. More importantly, it's the perfect place to put your cruise card, lip gloss, phone or any other items you like to have with you.
Related: How to Keep Your Belongings Safe on a Cruise Vacation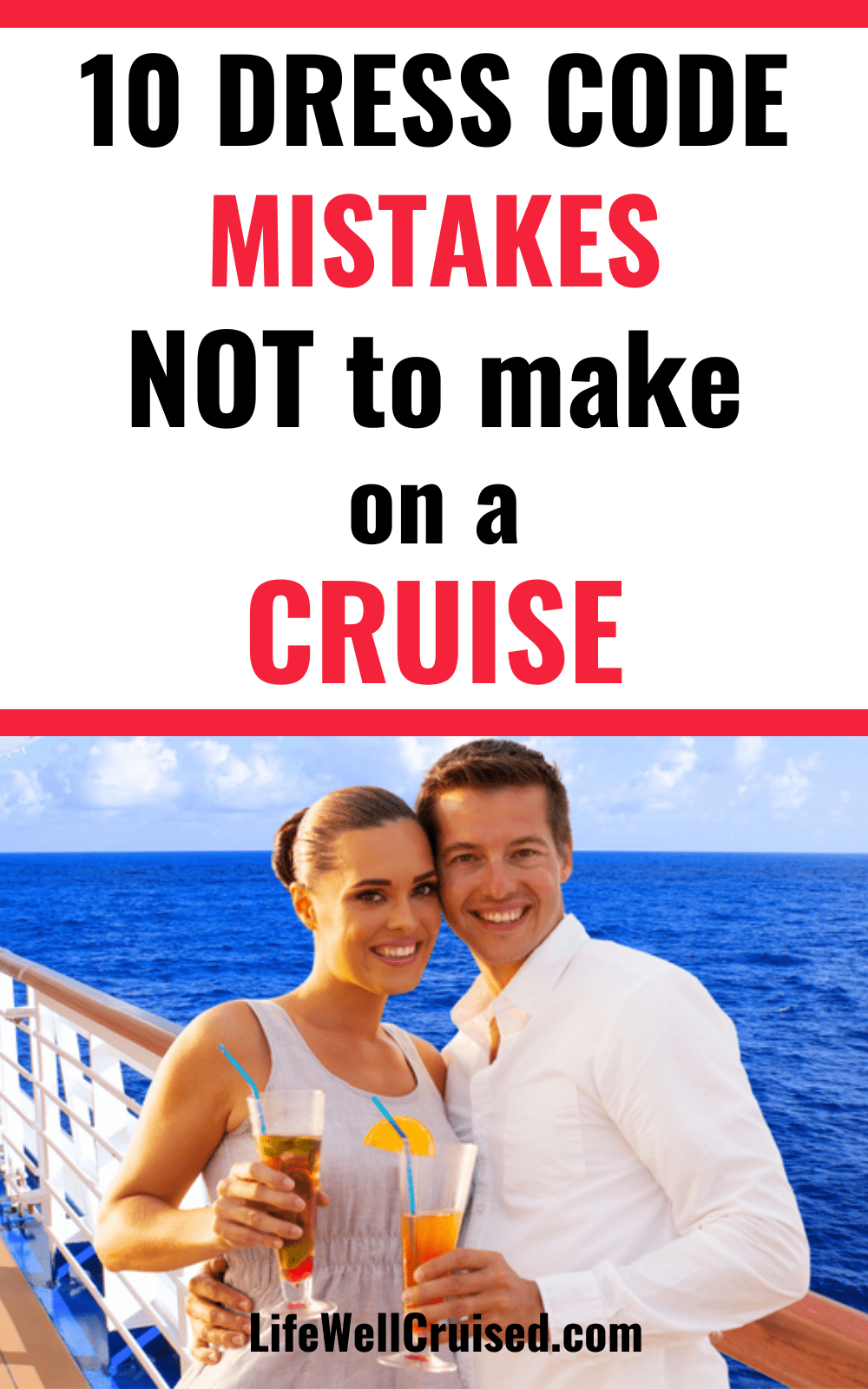 Additional Tips
Pack at Least One Sweater
The weather can get cool, especially on deck at night. Prepare for those ocean breezes and cooler days by packing at least one sweatshirt or sweater for your cruise.
Don't Assume Luxury Cruise Lines Are More Formal
Many people assume that higher priced luxury cruise lines are more formal. However, in many cases the opposite is true.
The typical dress code is resort casual for most evenings. Only a few luxury cruise lines have formal nights.
Get The Ultimate Cruise Planner
Regular price: $27 Now just $17!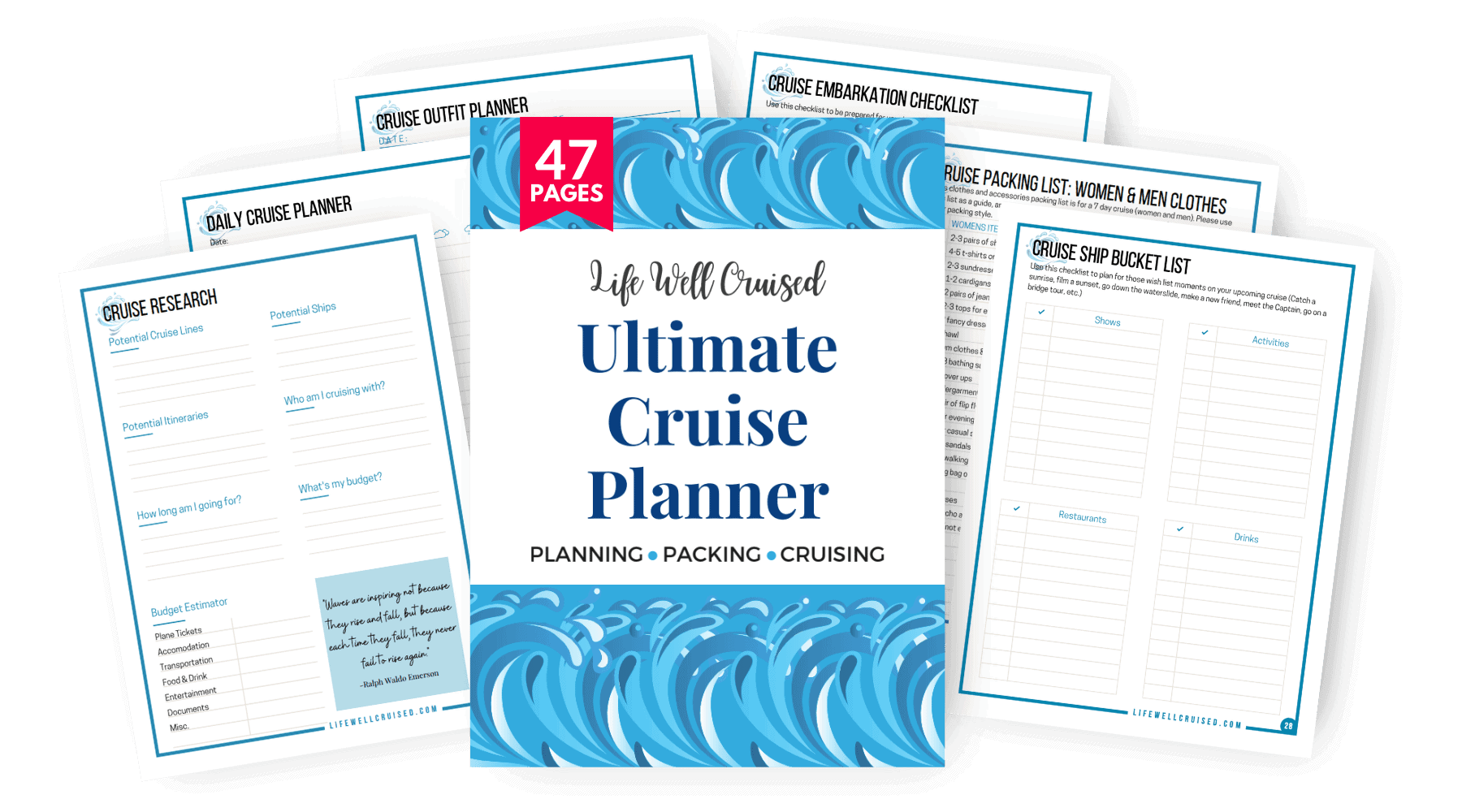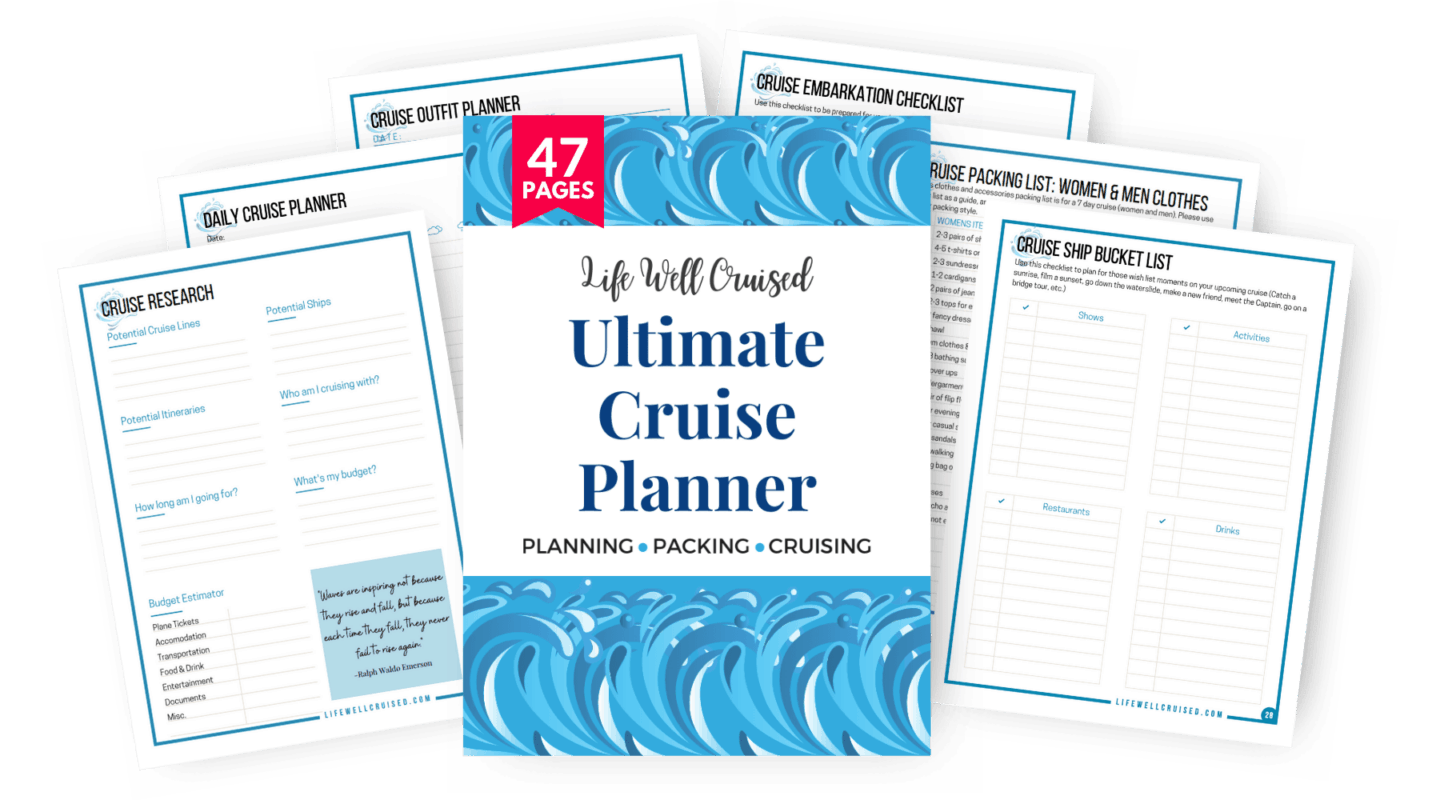 Don't Over Stress About the Cruise Dress Codes
While everyone wants to know what to expect on a cruise, which includes understanding the dress codes, it's a mistake to over stress about it.
Most people don't even notice or care what others are wearing. The most important thing is that you feel good and comfortable.
Something to keep in mind is that everyone has a different idea of what is appropriate and in style, so try not to focus on what others are wearing either.
Video: 13 Dress Code Mistakes You'll Regret Making on a Cruise
Related & Popular Posts
Final Thoughts on Cruise Line Dress Code Mistakes to Avoid
Cruises are different than other types of vacations, including the tradition of cruise line dress codes. While cruises are becoming more casual vacations, there are still dress code guidelines to be aware of.
In this post we went over some common mistakes to avoid when it comes to what to wear on a cruise.
Please let me know if you've seen or made any of these "mistakes" or share any additional tips in the comments below.
Happy Cruising!
Ilana
If you enjoy this post please don't keep it to yourself ;-). Please feel free to share on Facebook or Pinterest (share buttons at the top). Thanks so much!