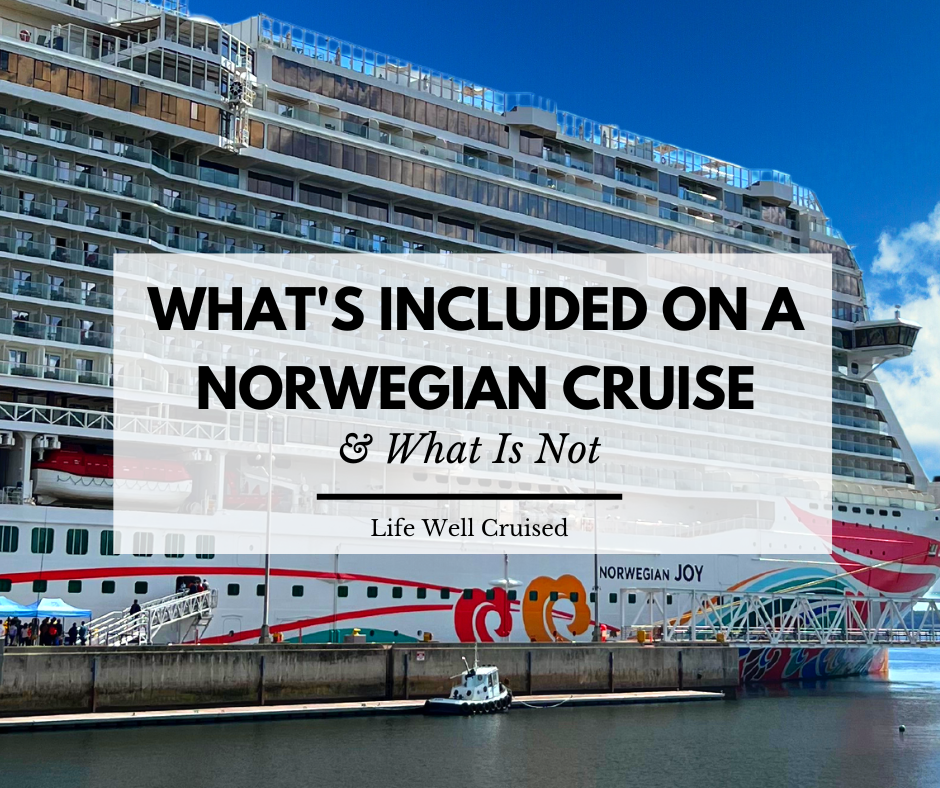 Are you planning a Norwegian cruise and wondering what is and is not included? Don't worry, I've got you covered.
I recently went on the Norwegian Joy and enjoyed many activities, shows and dining options. On Norwegian Cruise Line, there are a variety of things to do. Some are included or "free", while others have an extra charge.
In this post, I will go over what's included and what isn't included on Norwegian Cruise Line.
This post contains affiliate links which means if you click and buy that I may make a commission, at no cost to you. Please see my disclosure policy for details.
As an Amazon Associate I earn from qualifying purchases.
What's Included on Norwegian Cruise Line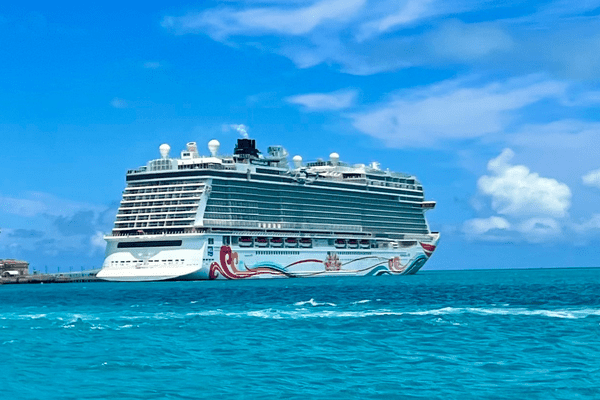 Main Dining Room
On Norwegian Cruise Line, the main dining room will serve a sit down meal, for breakfast, lunch and dinner. If you're someone who prefers to sit down, eat at your own pace and have waiters serve you, then you will love the main dining room experience.
The unique thing about Norwegian Cruise Line, is that there are several main dining restaurants on most cruise ships. Some NCL cruise ships have two main dining rooms or restaurants, while others have 3 (ie. Taste and Savor restaurants and Manhattan Dining Room).
Water Slides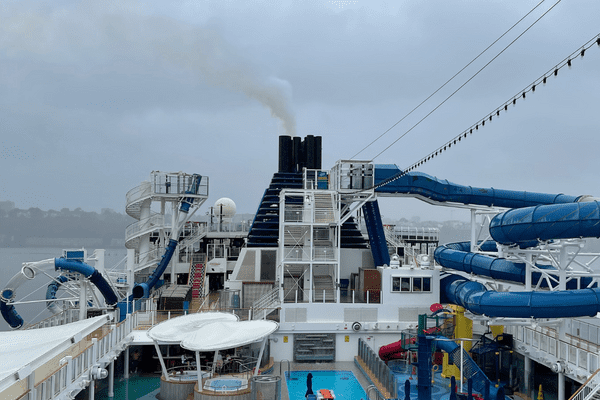 Norwegian ships are known for having some of the best water slides at sea. On a sunny day, a fun way to cool off is trying out one of the water slides.
Going on the water slides is an awesome free activity and a great way to keep the kids busy!
Pools & Hot Tubs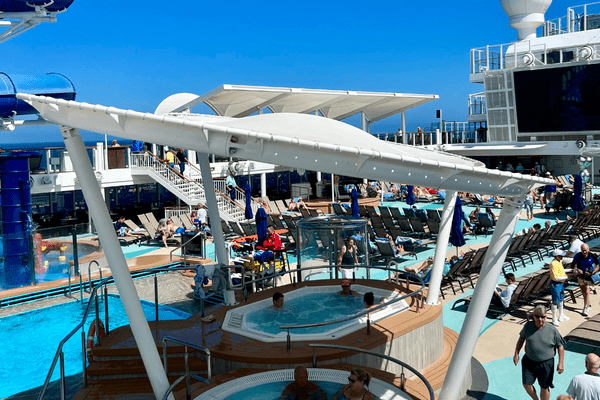 On Norwegian cruise ships, the pools and hot tubs are included in the cruise fare. Relaxing in the hot tub or going for a swim in the pool is a great way to spend a sea day.
On certain Norwegian cruise ships, you'll find Spice H2O, which is an adult only area. In Spice H2O, there's a hot tub, sun deck, and you may have a small cooling off pool area.
Entertainment & Activities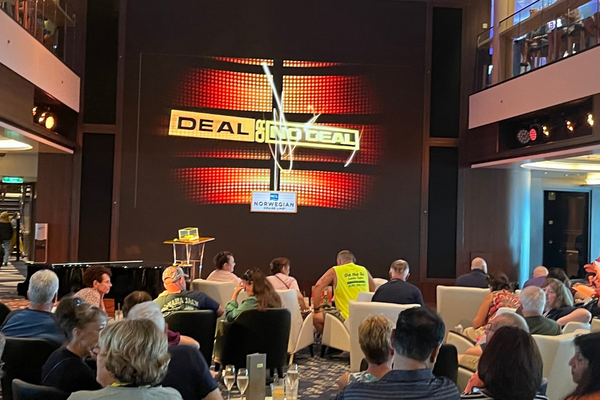 One of the best parts about cruising is the amazing entertainment and fun activities. On a Norwegian cruise, you'll have some of the best entertainment at sea and some really enjoyable activities.
Norwegian has broadway style musicals, and the best part is that there is no additional cost! They also have performances by singers, live bands, magicians and comedians.
When it comes to the activities onboard Norwegian, there is never a dull moment. There are pool side activities, trivia games and game shows that are super fun to participate in.
Related: 101 Amazing Cruise Activities for Every Cruiser
Buffet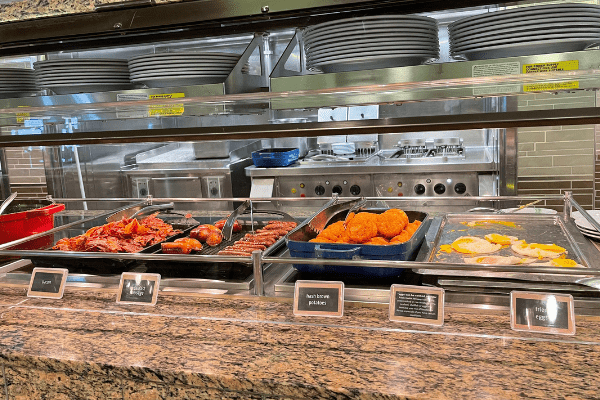 Buffets are a staple of cruising and Norwegian has one of the best buffets at sea. On Norwegian, the buffet is open for breakfast, lunch and dinner.
As someone who recently cruised on the Norwegian Joy, I have to say that I was blown away with the buffet options. There was a wide variety of meal and dessert options and plenty of healthy food choices as well.
The great thing about the buffet is that you can eat as much as you want and it's completely free!
Related: 17 Free Things to do on a Cruise
24-Hour Restaurant
The Local and O'Sheehan's are the 24-hour restaurants on Norwegian cruise ships. These restaurants serve pub style food and are open all the time.
Whether it's for lunch, dinner or if you want a late night snack, going to the Local or O'Sheehan's is a great option.
On many cruise lines, it can be hard to get food later on at night. However, on Norwegian their 24-hour restaurant has a ton of free and delicious food options.
Some favorites are the wings, nachos, pretzel balls and burgers!
Fitness Center
If you're someone who likes to workout, then you will enjoy the fitness center on Norwegian cruises. They have state of the art workout equipment and everything anyone can ever need to stay in shape during their cruise vacation.
The great thing about the fitness center is that it's completely free to use the gym equipment. There will even be fitness staff in the gym that are there to answer any question and help passengers.
Mini Golf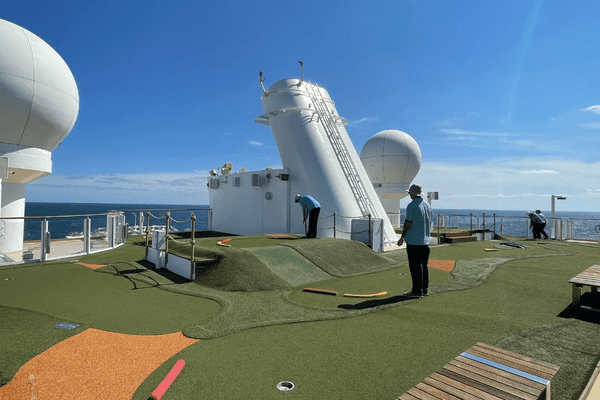 Mini Golf is another included activity on almost all Norwegian cruise ships. The exception is Norwegian Prima, where it is an upgraded mini-golf course.
If you want a nice activity on a cruise, playing a game of mini golf is a fun time.
Although the mini golf courses on most NCL ships are pretty standard, it's a family friendly activity that is included on a Norwegian cruise.
Kids Club & Teens Club
The kid's club and teen club is included on NCL. The great thing about the kid's club and teen's club is that parents can leave their children in a safe and supervised environment.
As someone who grew up cruising, the best part of cruises when I was young, was going to the kid's club. The kid's club on Norwegian has super fun activities and it's a great way to make friends.
For teenagers, there are theme parties, scavenger hunts and other activities that are awesome. The kid's camp and teen club is one of the best parts of going on a family cruise!
Related: 6 Best Norwegian Cruises for Families
Get The Ultimate Cruise Planner
Regular price: $27 Now just $17!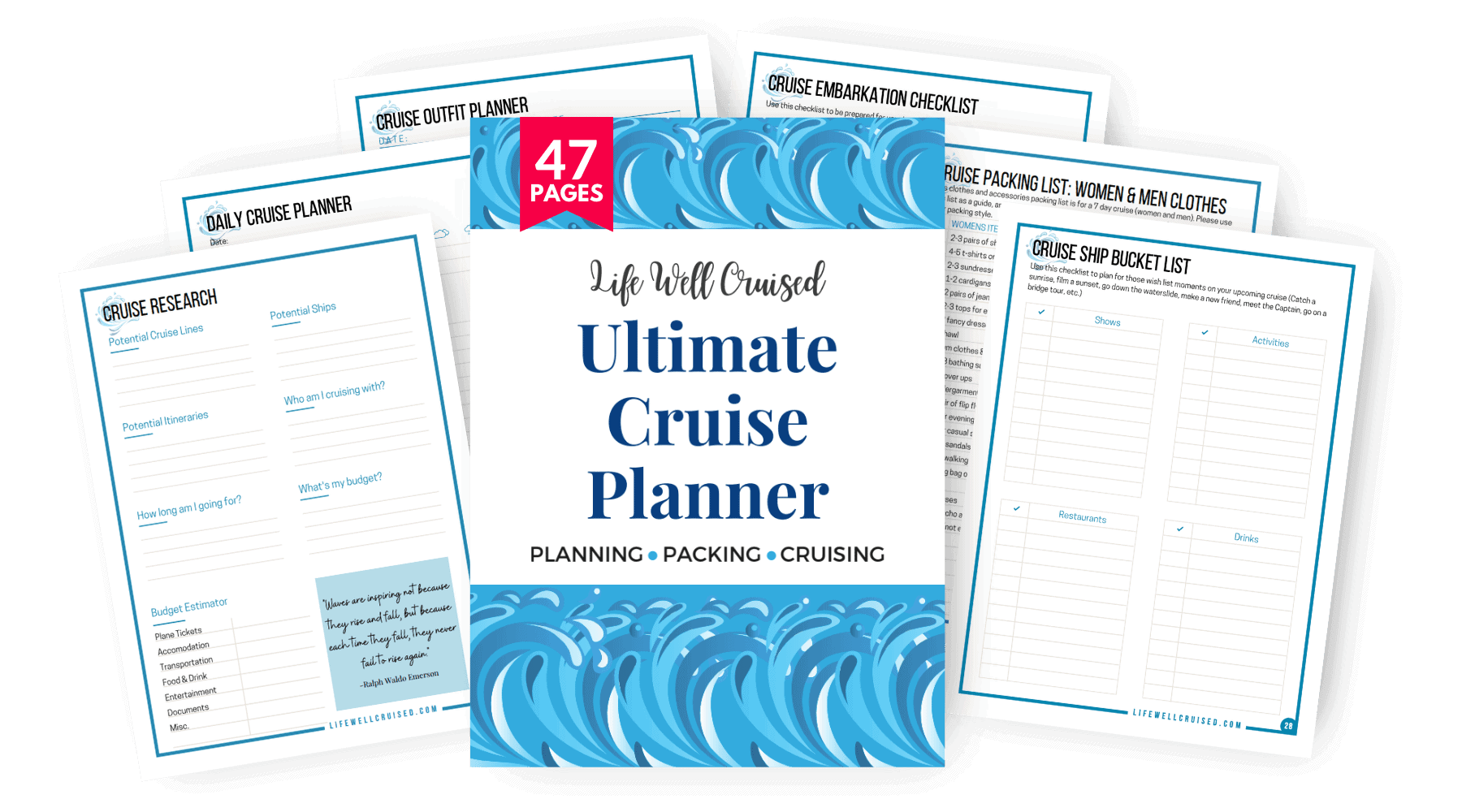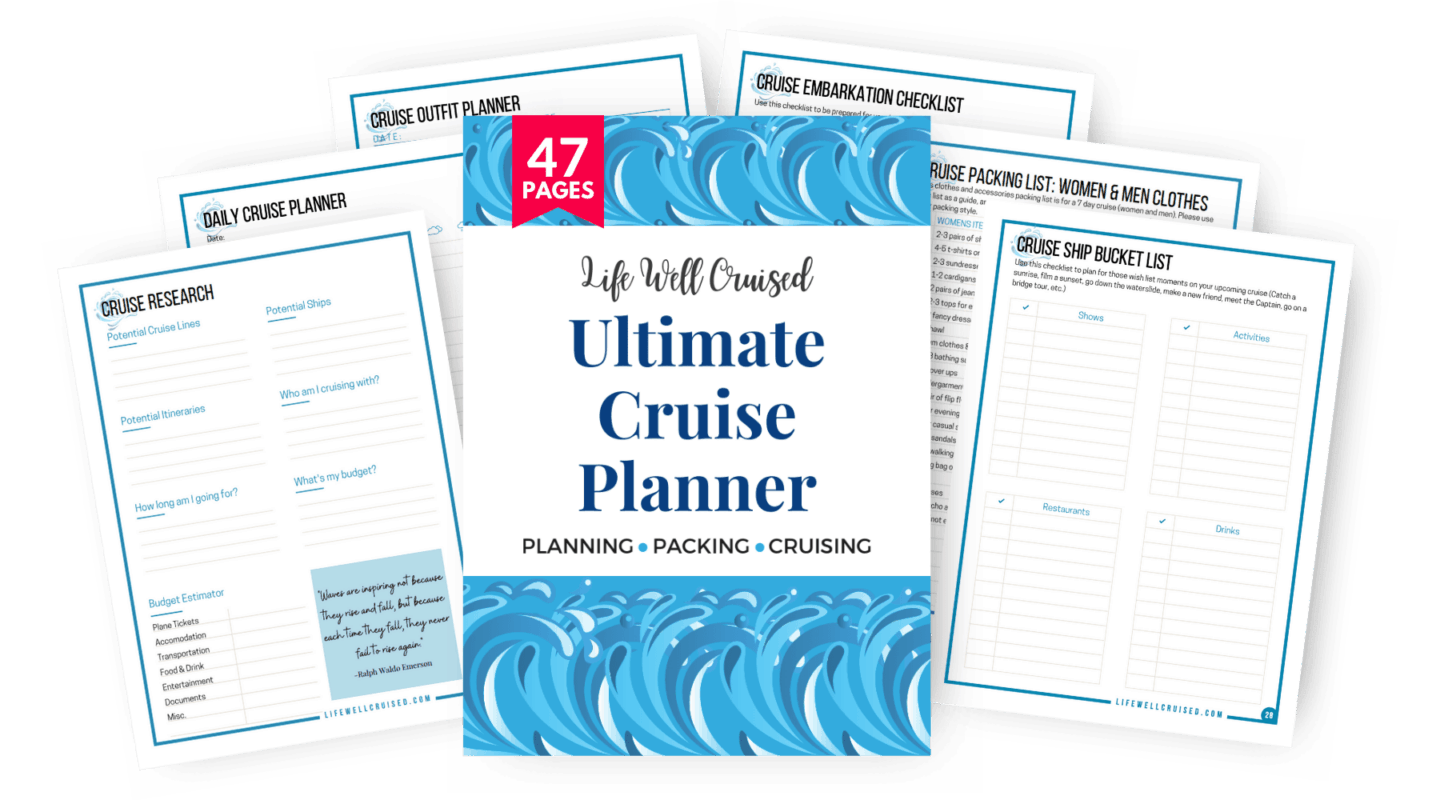 Regular Coffee and Tea
On Norwegian, basic regular coffee is included. You can either ask for coffee when you're in the main dining room, or you can serve yourself when you're are in the cruise ship buffet.
The regular coffee is pretty decent. However, if you prefer specialty coffee, you can pay extra per coffee or consider purchasing the specialty coffee package.
Basic tea is included and available in restaurants as well.
Juice & Ice Tea
Although soft drinks aren't included on a Norwegian cruise, flavoured juice drinks and ice tea are. Around the ship you'll find juice, ice tea and water machines where you can get yourself a drink.
If you prefer soft drinks, it may be worth it to purchase Norwegian's soft drink package.
Related: Norwegian Cruise Line Beverage Packages: What's Included and is it Worth it?
Library
If you're looking to relax and read a book while you're on vacation, then check out the library. Onboard Norwegian cruises, you'll find a library with plenty of books and quiet areas to sit and read. Another area to sit and relax is the Observation Lounge (ie. on Norwegian Joy, Norwegian Bliss & Norwegian Encore), or any of the beautiful lounges on any of the ships.
If you find an interesting book, you can leave the library with a book and read around the ship. At the end of the cruise, you can put the book back in the library.
What is Not Included on Norwegian Cruise Line
Specialty Restaurants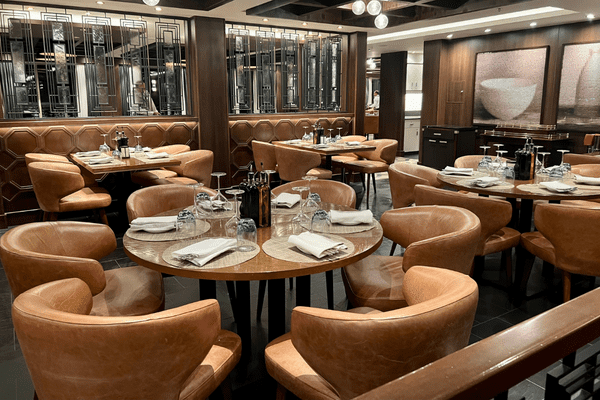 If you want a special culinary experience, then you may want to try one of the many specialty restaurants. On Norwegian cruise ship, the specialty restaurants serve excellent food and offer top notch service.
Norwegian offers a ton of different specialty restaurant options, ranging from Italian food to seafood and steakhouses.
Whether if it's to celebrate a special occasion or just to have an amazing meal, trying a specialty restaurant is an extra that is worth the cost.
Tip: Consider booking with the Free at Sea promotion, where specialty dining may be a free perk!
Vibe Beach Club
One of the issues that some passengers have on Norwegian cruise ships, is not being able to find deck chairs by the pool. Unfortunately, crowded pool areas can be an annoyance on many mainstream cruises.
However, the Vibe Beach Club on Norwegian Cruise Line is a good solution.
The Vibe Beach Club is a private adult only area of the cruise ship, which only has certain amount of passes available each cruise. This way, those who pay for the Vibe Beach Club can always have a pool chair and they will have more privacy as well.
Galaxy Pavillion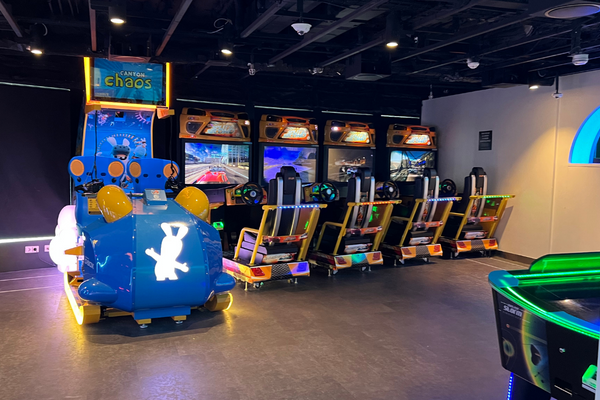 The Galaxy Pavilion is the virtual reality area onboard Norwegian cruises. Each game costs $8 and last for around 2 minutes.
There are also unlimited hour passes, daily passes and weekly passes available.
Related: 30+ Best Activities on Norwegian Joy (Entertainment, Features & Amenities)
Laser Tag
If you're looking for an activity that is fun for the whole family, then try Laser Tag. Laser Tag is a family friendly game that is super fun and only costs $10 per person.
I tried the Laser Tag on Norwegian Joy and found it really enjoyable and worth the price!
Speedway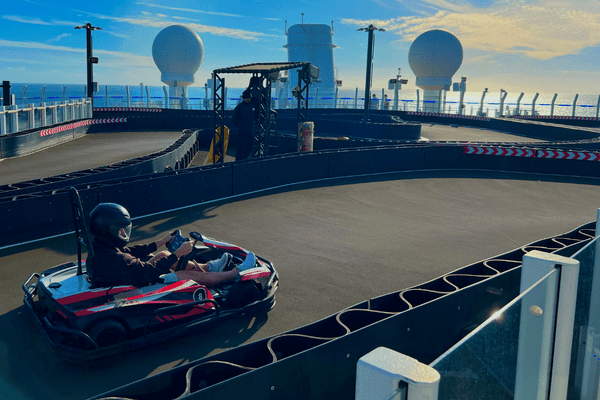 The Speedway is one of the coolest parts about cruising with Norwegian. Currently, the Norwegian Joy, Norwegian Prima, Norwegian Bliss and Norwegian Encore cruise ships all have Go-Kart tracks.
On the Speedway, each ride costs $15 and lasts for around 10 minutes. There is also an unlimited package which costs $199 for the duration of your trip.
The Speedway is a really fun time and one of the coolest attractions at sea.
Alcoholic Beverages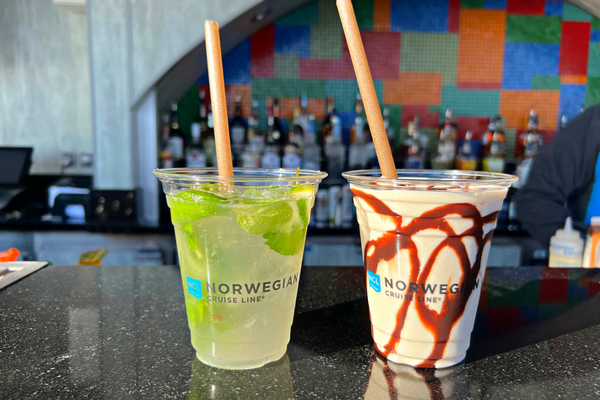 If you like alcoholic beverages, then you are going to want to get a beverage package. The beverage package includes most alcoholic beverages, beer, wine and cocktails.
If you prefer higher-end liquor, then you are going to want to get the premium plus beverage package. This includes the premium liquors, craft beers and more expensive wines.
If you're not a big drinker, you can purchase drinks individually. However, purchasing drinks individually can get quite pricey if you're having multiple drinks.
Soda Packages
If you're someone who likes to drink soda, then you can purchase the soda package. The soda package will include all of the sodas that they offer onboard the cruise ship.
Bottled Water
Bottled water is not included with the basic beverage package. If you want bottled water (or in cartons as plastic bottles are not sold on NCL), you can either purchase the premium beverage package or buy the water bottles (cartons) individually.
Specialty Coffee
Although coffee is included, specialty coffee is not. On Norwegian, you'll find Starbucks on many cruise ships. You can choose from a wide variety of coffees, teas and refresher drinks.
Please note that if you buy the Starbucks coffee package, you'll need to buy it for everyone in the cabin.
Tip: Use your Starbucks gift cards onboard Norwegian cruise ships at any Starbucks location.
Get The Ultimate Cruise Planner
Regular price: $27 Now just $17!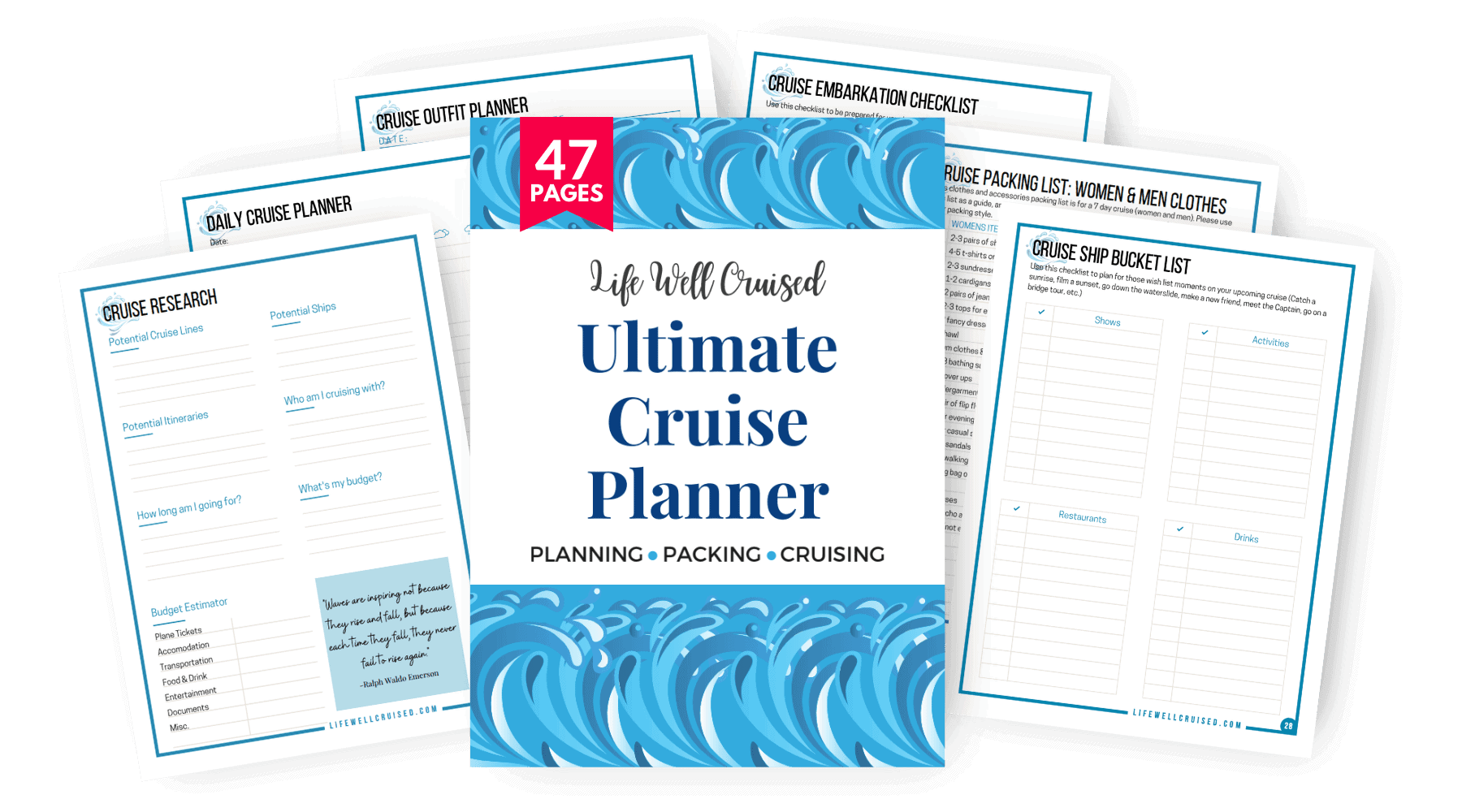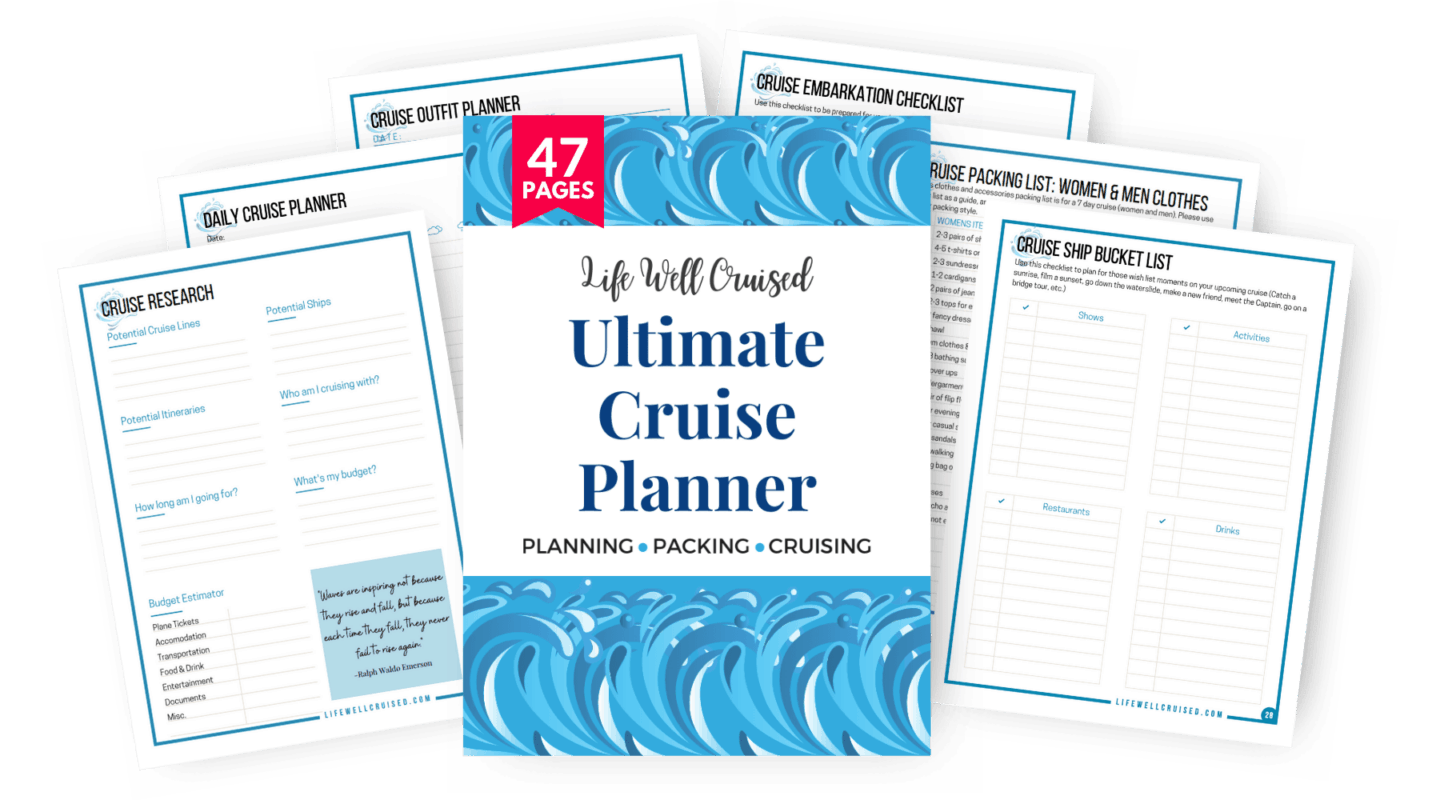 Internet
Like most cruises, internet does cost extra onboard Norwegian. If you're looking to keep in touch with your loved ones back home, then you can purchase a Wi-Fi package.
The basic Wi-Fi package is super slow. If you intend on using any social media apps, email or streaming services, you may want to upgrade your internet package.
The Free at Sea promotion includes some internet. If this is all you need, this may be sufficient for you.
Photo Packages
On formal nights, in port and on embarkation day there will be photographers who will offer to take photos. If you want some memorable photos from your vacation, then you can purchase a single photo or a photo package.
This way, you can take advantage of the photographers around the ship and take plenty of photos.
Fitness Classes
In the Norwegian fitness center, they offer fitness classes. On the Norwegian Joy there were spin classes in the morning which cost $30 for an hour.
There is also the option to get personal training sessions at about $85 per session.
Room Service
If you're in the mood to lay back and relax in your room, then you can order room service. However, room service is not free on Norwegian, and does have an additional cost.
The good thing about room service is that it's available 24/7. If you want a late night snack and you don't want to leave your cabin, then you can order room service.
There is a convenience charge of $9.95 plus a 20% gratuity per order placed.
Spa Services
If you're looking to take your cruise vacation to the next level, you can book a massage or other spa services. The spa is a great way to take it easy and relax while you're on vacation.
On Norwegian and most cruise lines, spa services do have an additional charge.
Shore Excursions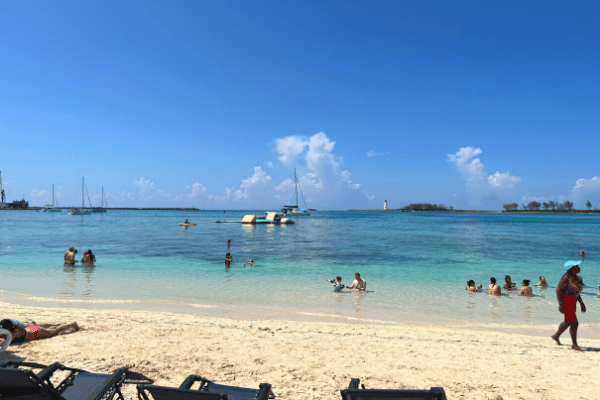 Although this may seem obvious to some, shore excursions do have an extra charge. At the excursion desk, you can look into the different excursions that are available in the destinations that you are visiting. However, it's best to book shore excursions online, in advance of your cruise for the best prices and availability.
Booking a shore excursion is one of the best ways to make the most out of the destinations you're visiting.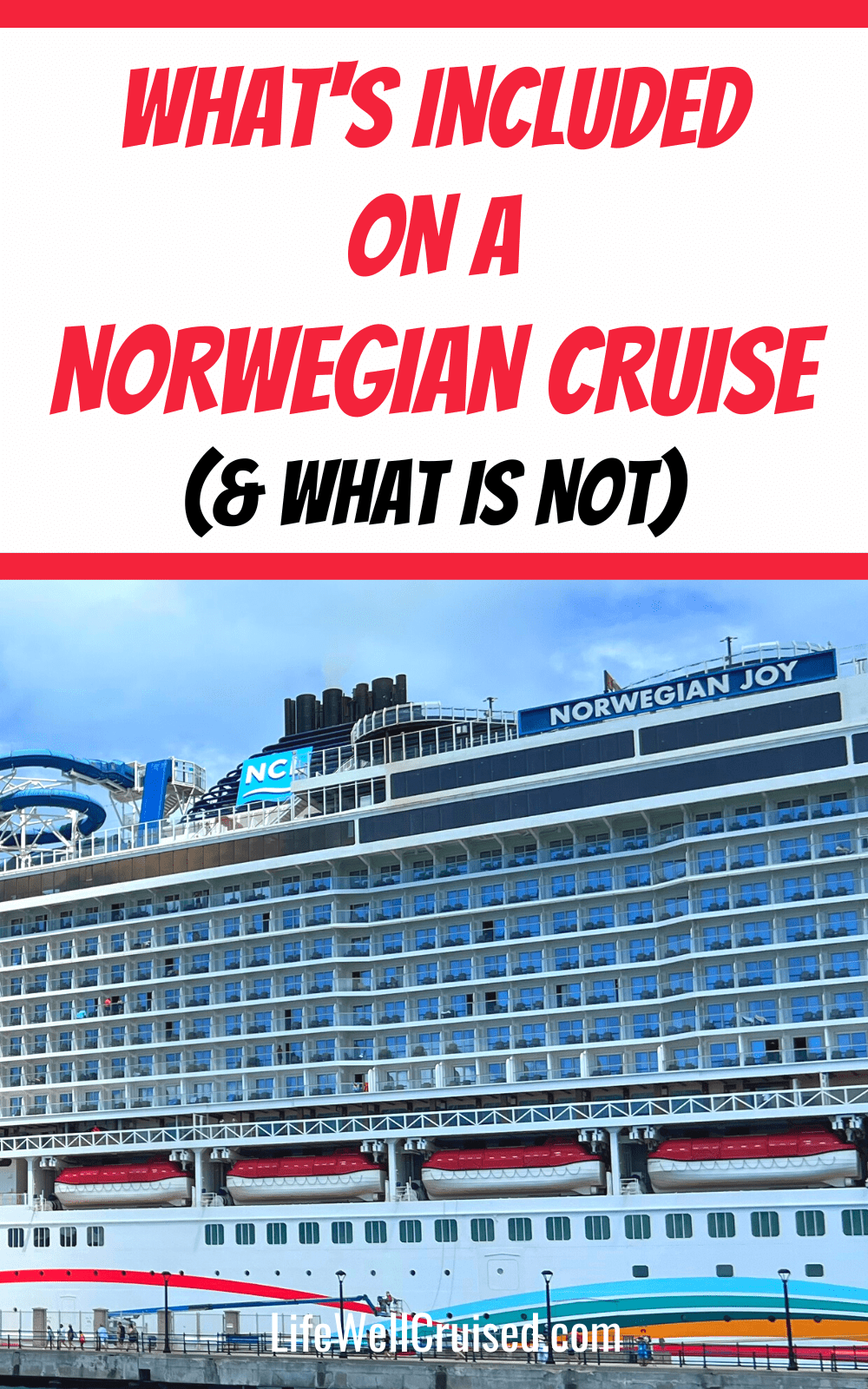 Gratuities / Service Charge
Service Charge
Daily gratuities, or a service charge, are an additional expense to plan for on your Norwegian cruise. A daily fee, based on your stateroom, is charged directly to your onboard account. It can also be pre-paid before your cruise.
The service fee covers your cabin attendant, as well as waiters and servers, and even people behind the scenes that are providing service to guests.
Related: The Ultimate Guide to Cruise Ship Gratuities
Daily Service Fee Information
Haven and Suite guests: $20.00 US p/p per day
Club Balcony suites: $18.00 US p/p per day
All other staterooms: $16.00 US p/p per day
Gratuities
A gratuity of 20% is charged on drinks and drink packages, specialty restaurants and dining packages, as well as spa services.
Video: Norwegian Free at Sea Explained
Related & Popular Posts:
Final Thoughts on What's Included on Norwegian Cruise Line and What is Not
Well there it is, everything that is and isn't included on Norwegian Cruise Line.
If you're on a tight budget, Norwegian Cruise Line has plenty of included activities, restaurants and entertainment to make a great vacation.
If you're looking to add some extras to enhance your cruise vacation, Norwegian has some great options that are well worth it.
In this post, I share what's included on Norwegian Cruise Line and what is not.
What's your favorite extra on a cruise? Please let me know in the comments below.
Happy Cruising!
Ethan
P.S. If you found this helpful, please don't keep it to yourself ;-). Please share on Facebook or PIN to your favorite Pinterest board (share buttons at the top). Thanks so much!
Author Bio: Ethan Schattauer writes about fashion, travel and college advice on the website WhatToWearMen.com. As a frequent cruiser, Ethan shares his unique perspective on what cruising is like for teens and young adults.