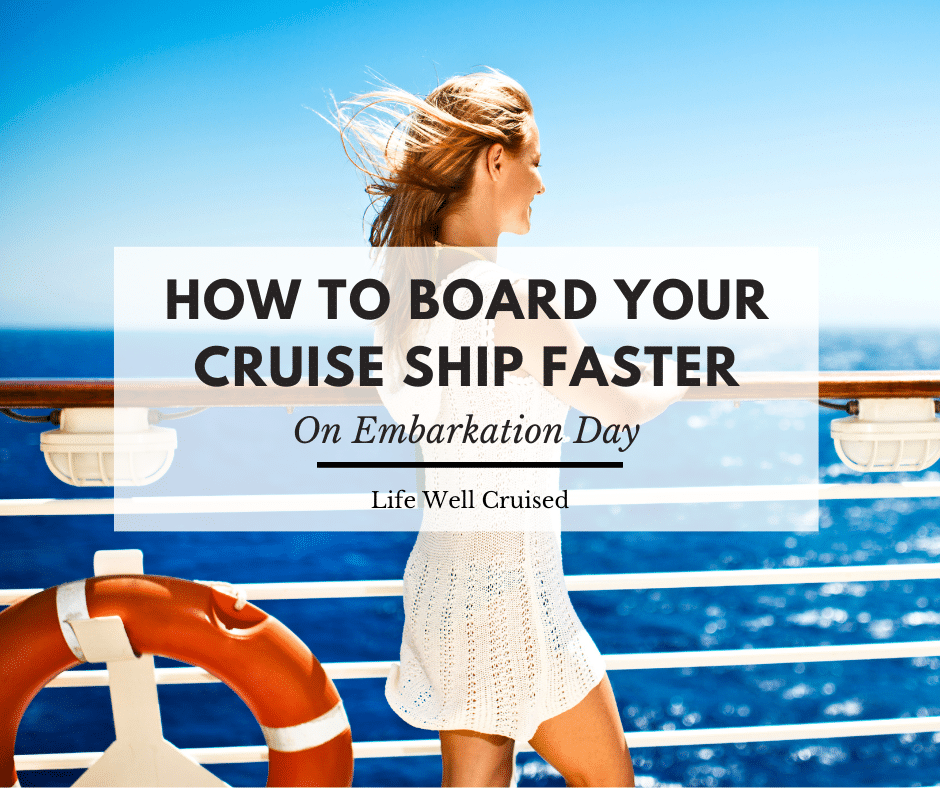 Embarkation day can be an exciting start to your cruise vacation, but it can also involve long lines and wait times. Getting onboard your cruise ship faster on embarkation day can help you get the most of the first day of your cruise!
Cruises are relaxing and fun vacations, but there are a few things passengers have to do once onboard.
These embarkation day cruise tips & tricks will help you speed up the boarding process. Here are 12 ways to help you board your cruise ship faster on embarkation day.
This post contains affiliate links which means if you click and buy that I may make a commission, at no cost to you. Please see my disclosure policy for details.
As an Amazon Associate I earn from qualifying purchases.
How to Board Faster on the First Day of Your Cruise
1. Complete Online Check-In ASAP
Most cruise lines offer online check-in around 45 days to 2 weeks before your cruise begins.You'll fill out your identification (ie. passport info) and payment information in advance.
This is also the time that you can choose an embarkation check in time. While there have been some changes over the last few months, most cruise lines still require cruise passengers to choose an appointment or cruise check in time.
The earliest times are taken first. Doing your online check in as soon as possible will help you snag the most coveted boarding times.
2. Book a Higher Tier Cabin
While cruisers in standard cabins have to use specific strategies to board early, one of the many benefits of higher level cabins and suites is priority embarkation.
For example, book a suite in Norwegian's Haven or MSC's Yacht Club and you'll get exclusive early boarding privileges. You'll also be seated in an exclusive embarkation lounge with some light refreshments before making your way to the cruise ship.
3. Consider Priority Boarding Packages
Some cruise lines offer priority boarding packages that you can purchase for an extra fee. These can provide expedited check-in and boarding, in addition to other benefits.
Even if you aren't paying for a suite, these benefits might be worth it – not only on embarkation day as you'll board early, but throughout the cruise if you can use the perks.
Royal Caribbean's The Key
Royal Caribbean's The Key program, provides priority check-in, boarding, and an exclusive lunch with a special Chops Grille Menu.
Holland America Line Club Orange
Holland America Line Club Orange program, available for a fee, provides priority embarkation, a private dining venue, and other privileges.
Carnival Cruise Line Faster to the Fun (FTTF)
Carnival offers the Faster to the Fun (FTTF) program for a fee, which provides priority boarding and early access to cabin & luggage drop off.
Norwegian Cruise Line's Priority Access
Norwegian Cruise Line's Priority Access program can be purchased for expedited embarkation and other benefits, including priority tender tickets. This is a good benefit for some itineraries where tendering can be a long & frustrating experience.
4. Join Cruise Line Loyalty Programs
Many cruise lines have loyalty programs that offer priority boarding to returning passengers. The higher the tier, the more benefits you get. Early boarding is often a perk.
Keep in mind that some cruise lines have a status match program. This includes MSC Cruises and at certain times, Virgin Voyages.
5. Choose a Pre-Cruise Hotel Wisely
To avoid a common cruise embarkation day mistake, always arrive at least one day early before your cruise.
To make it faster on boarding day, book a hotel that is close to the cruise port, to avoid potential traffic jams on the day of your cruise.
6. Plan Your Arrival Transportation
Arrange transportation to the cruise terminal in advance, whether it's a shuttle, taxi, or car service. Knowing your transportation details will reduce stress on embarkation day.
If your hotel has a shuttle service, book one of the earliest available. Their drivers are usually very experienced with the local roads and know the fastest way to the terminal. Uber & taxi are fine too in most locations.
7. Allow Extra Time for Parking
If you're driving to the cruise terminal, allow an extra 30 minutes minimum than what GPS says. You'll often have a line up when arriving at the cruise terminal area, as there can be several ships in port at busy cruise ports (ie. Miami & Fort Lauderdale).
Smaller ports with 1-3 ships may experience less traffic overall, but can still be very busy with traffic going in and out of the terminal area, including disembarking.
If you need to park, remember that the parking lot can be busy. You may find a parking spot in 5-10 minutes if you arrive early, but it can take 30 minutes to an hour if you arrive later in the day.
If you're parking off site (at a non cruise line lot), allow ample time for the distance and transportation to get to the port.
8. Check for Special Boarding Needs
If you have special needs, such as mobility issues or a medical condition, inform the cruise line in advance. They can often accommodate you more efficiently.
This can include having a wheelchair at the cruise port to help, access to elevators and priority boarding onto the cruise ship.
If you need a wheelchair or scooter for the duration of the cruise, there are rental services that can provide this. You can contact your travel agent or cruise line for the best options.
9. Label Your Luggage with Cruise Luggage Tags
Make sure your luggage has clear and secure cruise line luggage tags with your name, cabin number, and the ship's name.
Print your luggage tags out at home before your cruise. Then, fix them onto your checked luggage before you arrive at the cruise terminal on boarding day.
A faster way to do this is to use clear plastic luggage tag holders. You can adhere your tags to your suitcases the morning of your cruise at the hotel.
These luggage tag holders (on amazon) are what I use and recommend:
Having luggage tags securely attached will help the cruise line crew to deliver your bags to your room as quickly as possible.
10. Be Prepared with Required Documents
Ensure you have your passport, cruise documents, and any other required identification ready and easily accessible. Never pack your passport or government ID in your checked luggage!
Keep these items handy, as you'll need to show them multiple times before you board your cruise ship. This includes before you enter the cruise terminal building, before you go through the ship's security check and at the check in counter.
11. Pack Essentials in a Carry-On Bag
Pack your important documents, medications, swimsuits, sunscreen and other essentials in a carry-on bag for the first day of your cruise. Your checked luggage may take some time to reach your cabin, so having these items with you can be convenient.
This can be a small suitcase, backpack or weekender style bag.
Your cabin may not be ready as soon as you board, but most of the time your room will be available as of about 1-1:30 pm. Up until then, you can eat lunch, tour the ship and use the pool and hot tubs.
12. Give Your Checked Luggage to the Porters
Have your checked luggage prepared with luggage tags attached & ready for porters to take them, put them onto luggage carts and have them sent over to the cruise ship.
Keep your carry on bag with you! Never leave passports, money or medication in your checked luggage!
It's also a good idea to have a few dollars prepared & in hand for a customary tip to porters.
13. Don't Bring any Prohibited Items on a Cruise
Cruise ships have rules of what you can & cannot bring on a cruise ship. Bringing banned or prohibited items will result in a delay to board (at a minimum), so don't do this.
Items such as irons and clothing steamers, surge protected power bars, hard alcohol & CBD/Marijuana are not allowed on cruise ships.
Cruise ships are strict about the rules, and in the case of illegal substances, have kicked cruise passengers off the ship.
14. Memorize Your Cabin Number
Know your stateroom number, as you'll want to get to your cabin quickly on boarding day. However, it's so easy to forget your stateroom number with the rush and excitement of the first day of your cruise.
You'll also be asked by crew members what your cabin number is on embarkation day and throughout your cruise, so memorizing it in advance just makes things easier and more efficient.
I print out an extra cruise luggage tag, which has my cabin number printed on it. This helps me out on embarkation day! Another cruise tip is to take a photo of your stateroom number and use it as a screensaver on your phone.
Popular & Related Posts:
Final Thoughts on How to Board Your Cruise Ship Faster on Embarkation Day
While everyone has a different idea of what makes a perfect embarkation day, getting onboard early allows cruise passengers to get the most out of that first vacation day!
These cruise tips, tricks & hacks will help to speed up the embarkation day boarding process.
How early to you like to board your cruise ship? Please share your tips in the comments below.
Happy Cruising!
Ilana
If you found this article helpful, please pass it along. Please feel free to share on Facebook or PIN to your favorite Pinterest board (share buttons at the top). Thanks so much!