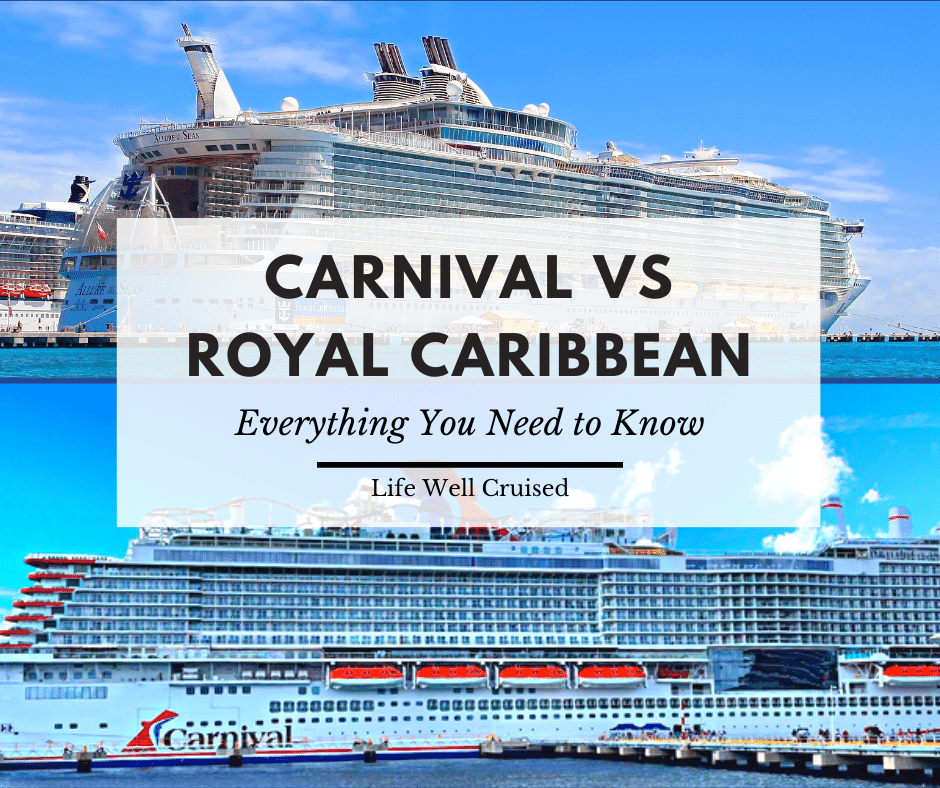 If you've considered booking a cruise, you've definitely stumbled upon Carnival and Royal Caribbean. Royal Caribbean and Carnival are two of the most popular cruise lines in the world right now.
Both cruise lines are known for their fun activities, variety of dining options, and family-friendly environment. While Carnival and Royal Caribbean have some similarities, there are also some key differences to be aware of.
As someone who has sailed with these amazing cruise lines, I know first-hand that Royal Caribbean and Carnival have a lot to offer.
With that being said, here's everything you need to know about cruising with Carnival and Royal Caribbean. In this post we compare the two popular cruise lines so that you can decide which is best for you.
This post contains affiliate links which means if you click and buy that I may make a commission, at no cost to you. Please see my disclosure policy for details.
As an Amazon Associate I earn from qualifying purchases.
Why Cruisers Like Carnival Cruise Line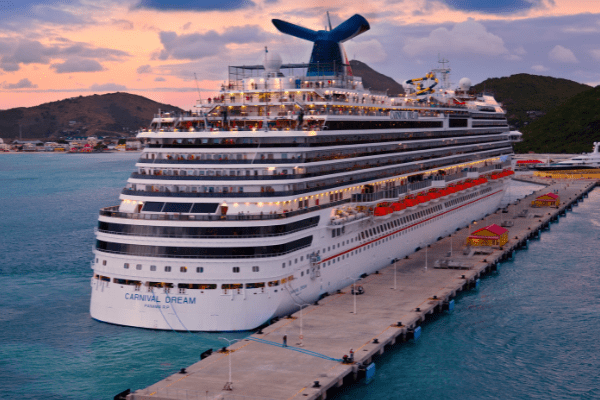 Carnival Cruise Line refers to itself as "America's cruise line." They are a contemporary cruise line known for being family-friendly and affordable.
Cruise passengers enjoy sailing with Carnival because of the fun atmosphere, exciting activities, and casual dining options. Carnival also has a great variety of itineraries and extremely friendly crew members.
Here's a deeper look at why cruisers like to sail with Carnival:
Dining Options
Carnival Cruise Line is known for having plenty of dining options. Carnival offers over 20 different dining venues across its fleet, including an all-you-can-eat buffet, a main dining room, and specialty restaurants.
Those who cruise with Carnival love their included casual dining options. These include Guy's Burger Joint, Big Chicken, and BlueIguanna Cantina.
Dress Code
Carnival has a more relaxed dress code than many other cruise lines. This is ideal for those who prefer a more casual vacation.
Carnival states that some ships enforce a casual dress code, which includes, jeans or pants and a polo-style shirt.
If you enjoy dressing up, there is also an "elegant night" during the cruise. While more of a suggestion than an enforced dress code of traditional formal night, cruise passengers who enjoy it have an opportunity to have get glammed up.
However, for the most part, Carnival cruises do not have a strict dress code. You are free to dress however you would like, with a few exceptions (ie. no swimwear in the dining room).
This is great for those who don't want to stress about dressing up while they're on vacation or families with younger children.
Related: 10 Dress Code Mistakes You'll Regret Making on a Cruise
Cabins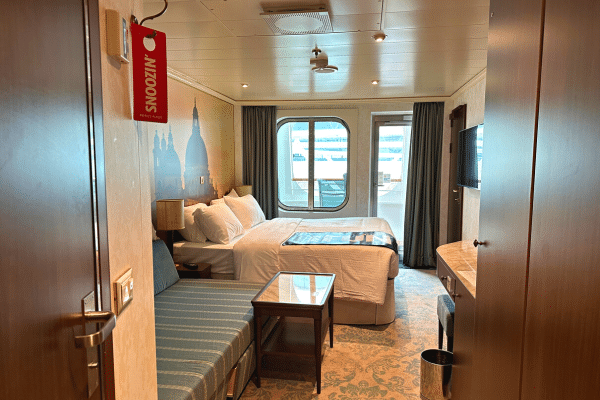 Carnival offers a large variety of cabins. When you cruise with Carnival, you can book an interior cabin, ocean view cabin, balcony, and suites.
Families cruising with kids can find spacious rooms with pullman beds.
Carnival offers family cabins and suites on select ships for larger families. However, they are hard to book due to limited availability.
Typically, Carnival's newer ships tend to have more modern cabins. In contrast, the staterooms on the older ships may look dated.
Carnival also offers specialty cabins like the Cloud 9 Spa rooms and Havana cabins on their newer ships.
Itineraries
One of the nice things about cruising with Carnival is that they offer cruise voyages ranging from 2-31 days. They also have a wide range of itineraries, and carnival cruise ships leave from multiple cruise ports across North America.
This means there is a good chance that a Carnival cruise ship will leave from a cruise port near you. This is great if you are looking to save money on a cruise!
Carnival offers short cruises to the Bahamas, Mexico, and the Caribbean. Carnival's fleet also sails to Alaska, Hawaii, and South America.
Many Carnival cruises that sail in the Caribbean include visiting Carnival's private island, Half Moon Cay.
When it comes to itineraries, most Carnival ships leave out of the United States. However, there are Carnival cruise ships that sail in Europe and Australia.
Related: What to Pack for a Caribbean Cruise 2023 (full packing list included)
Onboard Attractions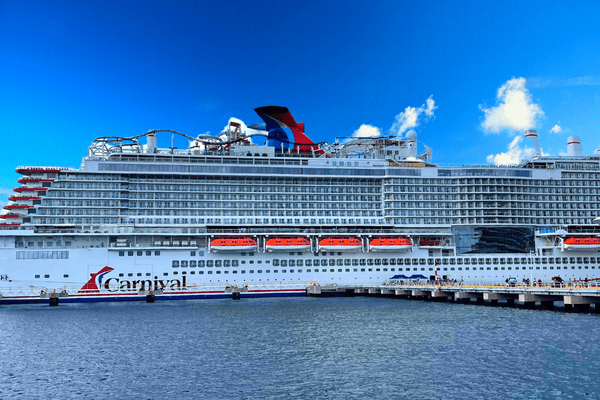 Carnival is home to some of the largest cruise ships in the industry, packed with fun things to do onboard.
Various attractions can be found on different cruise ships. However, you will always find waterslides, a sports court, and mini golf on a Carnival cruise ship.
Here's a list of activities and attractions on Carnival Cruise Line:
Bolt Ultimate Sea Coaster (Roller Coaster at Sea)
Sky Ride (Suspended Bike Ride)
Rock Climbing
Mini Golf
Water Slides
Waterparks
Sports Court
Video Arcade
IMAX Theaters
Basketball Courts
Pickleball
Sky Zone (Trampoline Park)
Carnival Sky Course (Ropes Course)
Friendly Service
Although Carnival is a mainstream cruise line, they are known for having some of the friendliest service in the cruise industry. The crew members onboard Carnival are known to be kind, helpful, and accommodating.
Interactive Cruise Directors
Carnival is known for having really fun, energetic, interactive, and friendly cruise directors. The cruise directors onboard Carnival will engage with passengers, host activities, and participate in events.
When you cruise with Carnival, be prepared to see your cruise director around the ship daily!
Entertainment
Carnival offers production shows, live music, and Karaoke as entertainment options. Carnival also has some of the best adult comedy shows at sea.
Carnival ships also host Family Feud in the main theater. This audience participation even is hilarious!
On a Carnival cruise ship, a lot will happen during the evening. Deck parties, casino events, and shows will keep guests entertained throughout their cruise vacation.
Deck Parties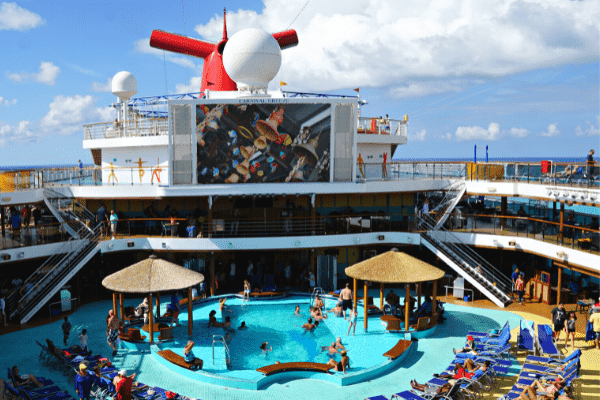 Carnival has built the reputation of throwing some of the best deck parties in the cruising industry. These deck parties will have a theme, and it's a great opportunity to have fun, drink, and dance the night away.
Your cruise director will host the deck party, and there will be dancers to keep your fellow passengers engaged.
Here are the deck party themes on Carnival:
Sail Away Party
Mega Deck Party
White Hot Night Party
80's Night Deck Party
Northern Lights Glow Party (Alaska cruises)
Related: 27 Awesome Things To Do on a Cruise on Sea Days
Kids Club
If you're traveling with kids and teenagers, they will love the Carnival's youth program. Camp Ocean is a great place for your kids to make new friends, participate in activities, and play video games.
There will be different events and activities in the evenings, ranging from movie nights to dance parties and game nights.
Here are the age groups for the kids clubs on Carnival cruise ships:
Penguin Colony (2-5)
Stingrays (6-8)
Sharks (9-11)
Circle C (12-14)
Club O2 (15-17)
Atmosphere
Since Carnival refers to itself as the "Fun Ship," you can expect a party-like atmosphere. Carnival is known for its energetic vibe and fun atmosphere.
Since Carnival is a family-friendly cruise line, expect that kids will be onboard, especially during the holiday season. Overall, Carnival has a great atmosphere for those who like having fun or are traveling with kids.
Pricing
The bottom line is that Carnival cruises are affordable and offer tremendous value for your dollar. If you're looking to book a family vacation at an affordable price, it's hard to beat what Carnival offers.
Booking a Carnival cruise is a great way to visit new destinations, have fun, and enjoy a wonderful vacation.
Related: What to Pack for a Carnival Cruise
Get The Ultimate Cruise Planner
Regular price: $27 Now just $17!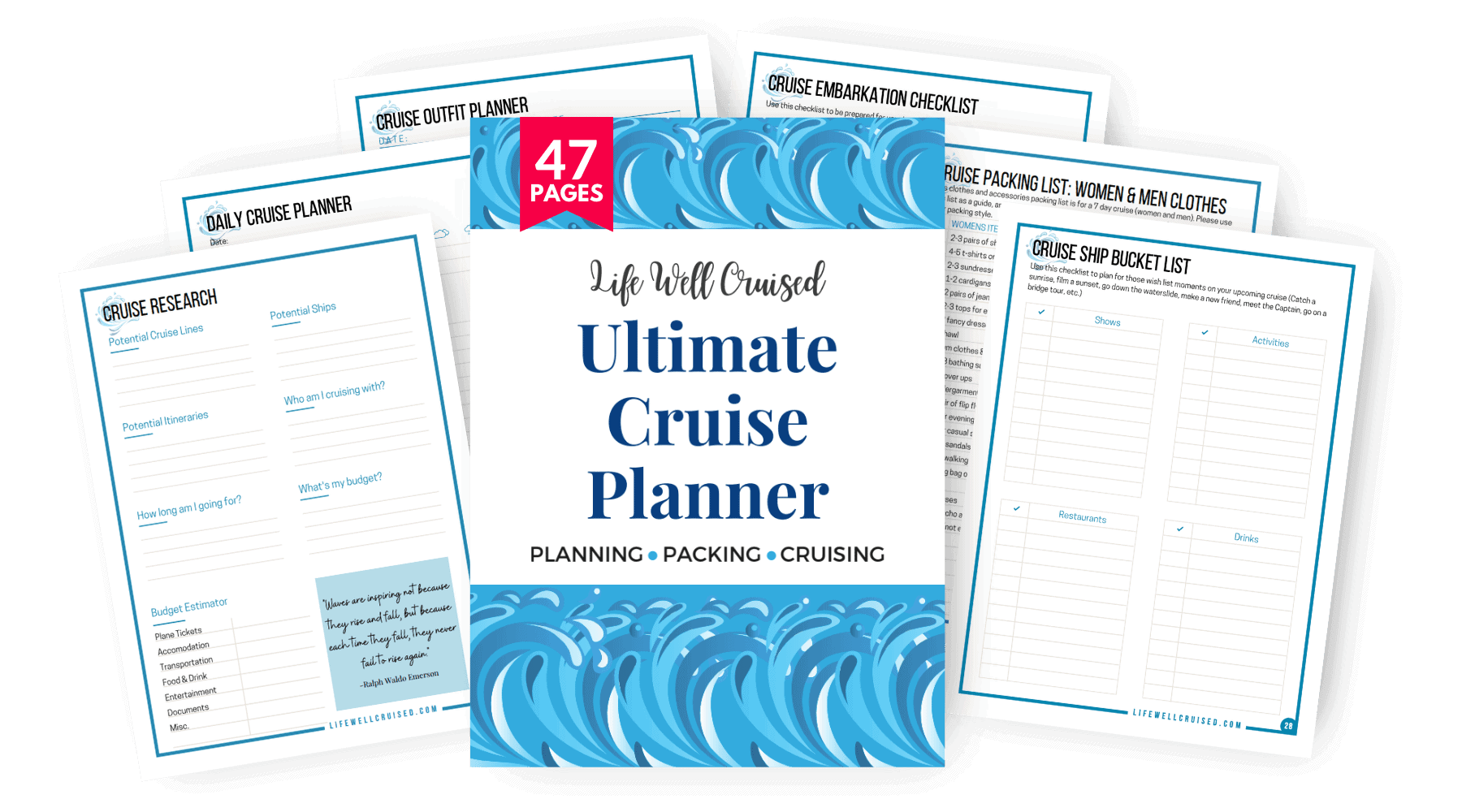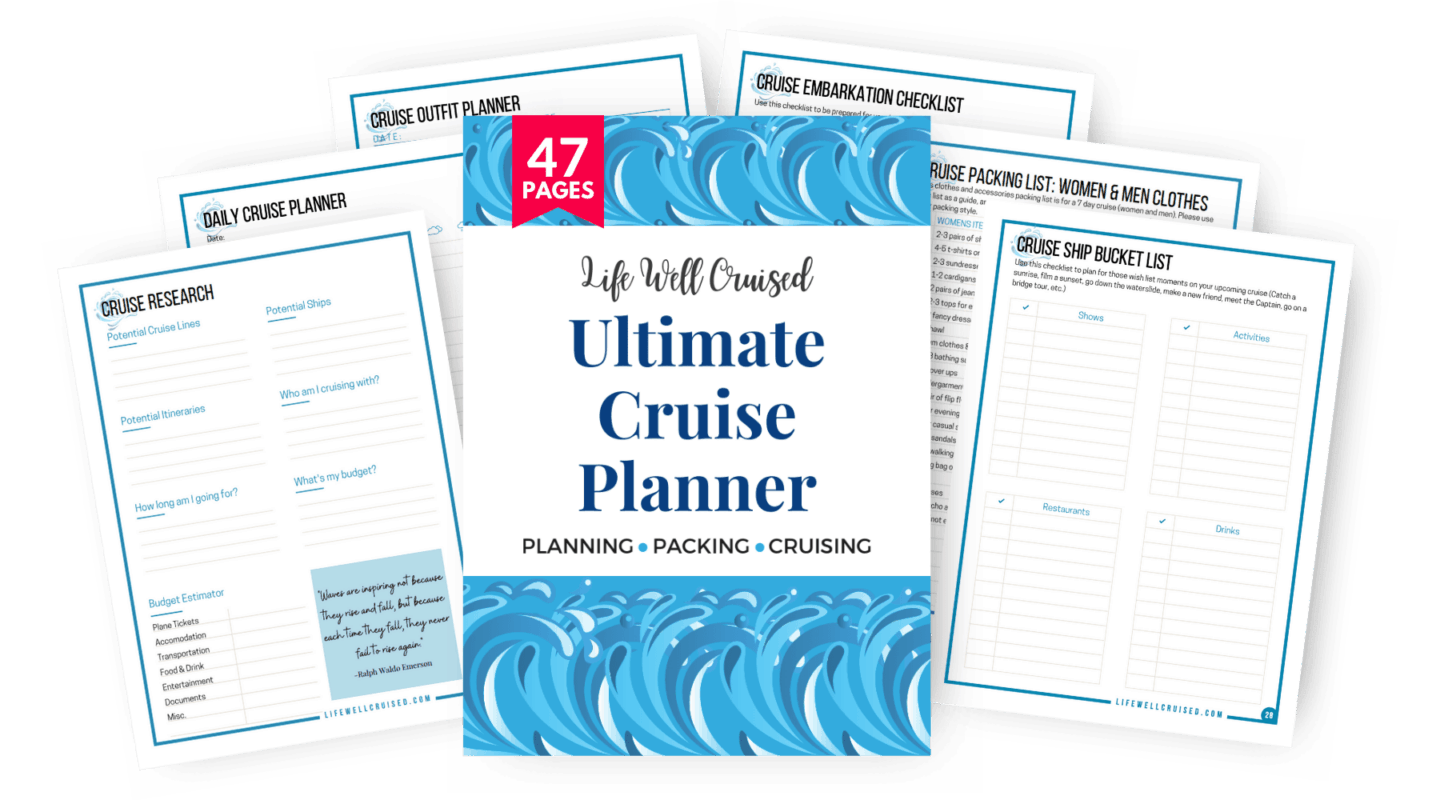 Why Cruisers Like Royal Caribbean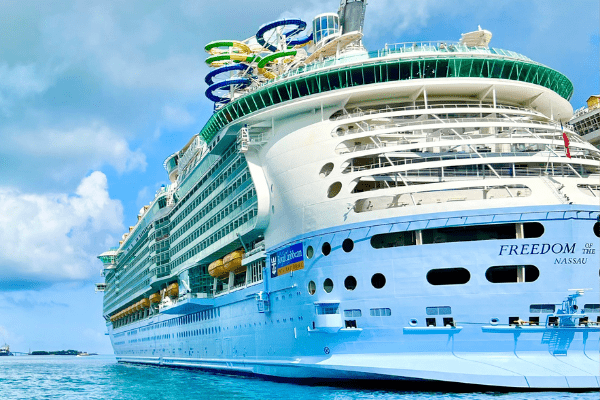 Royal Caribbean, formally known as Royal Caribbean International, is a contemporary cruise line known for its innovation. Royal Caribbean is home to the largest cruise ships in the world!
Cruise passengers enjoy sailing with Royal Caribbean because of the amazing attractions, delicious food options, and versatile entertainment. Royal Caribbean has amazing bars, lounges, and an incredible private island.
Here's a deeper look at why cruisers like to sail with Royal Caribbean:
Cruise Ship Design
If you've never stepped on a Royal Caribbean cruise, prepare to have your mind blown! Royal Caribbean is known for having the industry's most incredible and innovative cruise ships.
In fact, Royal Caribbean's Icon of the Seas is the largest cruise ship at sea, weighing over 250,000 tons and holding more than 7,500 passengers!
Royal Caribbean ships offer tons of exciting features and attractions. If you want a cruise ship with many activities, check out Oasis Class ships and the new Icon class.
Royal Caribbean's Quantum class cruise ships also have amazing onboard attractions and are known for their unique technology. These cruise ships are smaller in size than Oasis class ships. However, they are still more than 160,000 tons and hold over 4,500 passengers.
Royal Caribbean's older ship designs are also great, but they won't have the bells and whistles that you'll find on the newer ships. On the bright side, these cruises are often more reasonably priced.
Since there are so many Royal Caribbean cruise ships, it's important to do your research in advance to find the best cruise ship and itinerary that suits your style of travel.
Private Island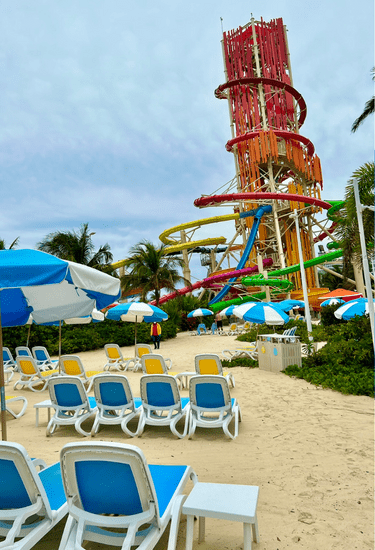 When it comes to private islands owned by a cruise line, nobody does it like Royal Caribbean.
When you sail to the Caribbean or Bahamas with Royal Caribbean, many itineraries stop at their private island, Perfect Day at Cococay.
The food on the private island is very tasty, and it's included! Furthermore, Royal Caribbean's cruise ship internet and drink packages work on CocoCay as well.
Perfect Day at Cococay has an incredible water park with a wave pool, tons of waterslides, and even the tallest waterslide in North America (Daredevil's Peak). There is also a beach, large swimming pools, zip lines, a hot air balloon, and many more attractions.
Variety of Restaurants & Dining Options
There are many dining options to choose from onboard Royal Caribbean cruise ships. There's a mix of restaurants which are included and others that have extra cost.
The "free" dining options onboard Royal Caribbean include the Windjammer Marketplace (buffet), El Loco Fresh, Sorrento's Pizza, Central Park Cafe, and Cafe Promenade.
The main dining room is a great included dining venue for a sit-down meal.
All Royal Caribbean cruises have a wide variety of specialty restaurants that cost extra. These dining venues range from steakhouses to sushi and Italian cuisine.
If you want to try the specialty restaurants, you can always purchase the Ultimate Dining Package. This is a great way to try new foods and have an enhanced culinary experience.
Related: 13 Cruise Main Dining Room Tips All Cruisers Need to Know
Bars & Lounges
Royal Caribbean has a wide variety of bars and lounge areas. The cool thing about Royal Caribbean is that many of the bars have a different theme, and they will feature live performances and attractions.
Whether you're at the Bionic Bar, Rising Tide Bar, English Pub, or Boleros or grabbing a drink by the pool at The Lime and Coconut, you will enjoy the bars on Royal Caribbean.
Since Royal Caribbean has a variety of bar venues, it's easy to find a place to grab a drink and enjoy yourself. They offer a great mix of bars where you can relax and chat and bars where you can drink and dance.
Included Activities & Onboard Attractions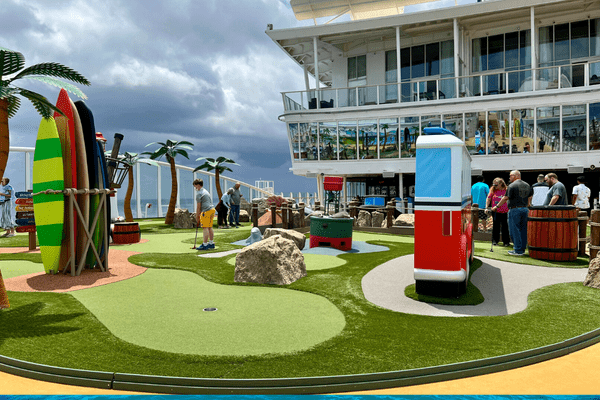 When you cruise with Royal Caribbean, there is never a dull moment. Royal Caribbean offers a bunch of free onboard attractions!
Many onboard activities are family-friendly, so it's a fun time for every family member. Here's a list of activities onboard Royal Caribbean cruise ships.
Activities Onboard Royal Caribbean:
Ice Skating
Zip Lining
Bumper Karts
Basketball Courts
Water Slide
Water Park
Splash Park
Laser Tag
Ropes Course (Crowns Edge)
FlowRider Surf Simulator
Mini Golf
The Ultimate Abyss (10 story dry slide)
Escape Room (additional cost)
Rock Climbing
One of the best parts about sailing with Royal Caribbean is that many of their cruise ship activities are included. This is especially important for families cruising on a budget, as paying extra for activities can add up.
Entertainment
Royal Caribbean is known for having some of the best entertainment in the cruise world. There will always be great entertainment options on a Royal Caribbean cruise!
Throughout your vacation, there are various shows and performances around the cruise ship. These shows range from live musical performances to comedians, broadway style shows, acrobats, and ice skating shows.
The great thing about the entertainment on Royal Caribbean is that there is something for everyone. Whether you're traveling with young kids, as a couple, or with friends, you will always find a form of entertainment that you will enjoy.
Family Friendly Environment
If you're looking for a fun cruise ship with a family-friendly environment, you will love Royal Caribbean.
Onboard a Royal Caribbean cruise ship, you will find exciting attractions, food, and dining options that are catered towards families, young kids, teenagers, and young adults.
Since Royal Caribbean is a family-friendly cruise line, they attract families with kids of all ages. Loyal Royal Caribbean cruises love the Adventure Ocean kids club, which ranges from nursery to 17 years of age.
Overall, Royal Caribbean is the ultimate cruise line for a family vacation, as there is something fun for every family member.
Kids Club
Royal Caribbean's Adventure Ocean Kids Club is for kids between the ages of 3 and 17. The kid's club is a space where your children will be supervised and safe.
At the kid's club, your children will participate in activities, make new friends, and hang out. The kids and teenagers are separated by age group, and there are specialized activities for all ages.
As someone who grew up cruising, I have first-hand experience being in Royal Caribbean's kids club. Growing up, Adventure Ocean was my favorite part of cruising. In fact, my parents could not get me out of there because it was so much fun!
On select Royal Caribbean cruises, you will find a nursery for children between 6 to 36 months old. Royal Caribbean has some great cruise ships for families and is one of the only cruise lines that offers this service for families with younger children.
For cruisers who are 18-21, Royal Caribbean does have some meet-ups that you'll find in the Cruise Compass.
Atmosphere
The atmosphere onboard Royal Caribbean cruises is something special! No matter the cruiser's age, everyone is there to have a good time.
During the day, various activities take place around the cruise ship, ranging from dance lessons to poolside games. In the evenings, you can relax in a lounge, watch a show, or dance the night away in the nightclub.
Whether you enjoy reading a book in the adult-only area or you like to dance the night away at the club, it's impossible not to enjoy yourself on a Royal Caribbean cruise.
Related: What to Pack for a Royal Caribbean Cruise
Which Cruise Line is Best For You? Carnival or Royal Caribbean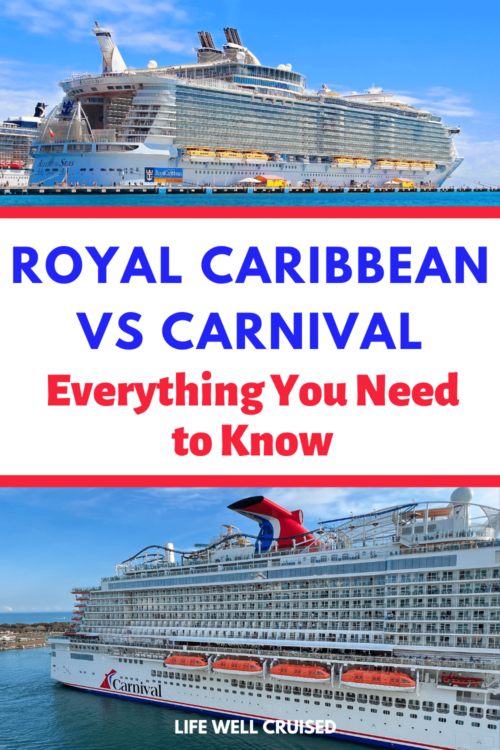 Carnival Is Best For:
Carnival Cruise Line is best for families who enjoy fun activities, attractions, and a party-like atmosphere. Carnival is also great for friend groups and couples who enjoy having a casual good time.
Contrary to some people's perception, Carnival is not only for young cruisers. People of all ages who are looking for a fun vacation at a great price will appreciate the value of a Carnival cruise.
Overall, Carnival Cruise Line is great for families and those looking to cruise without breaking the bank. Many things are included on Carnival, including various dining options, activities, and entertainment.
Newer Carnival cruise ships usually offer the best quality experience, so keep this in mind when planning your cruise vacation.
Recommended Carnival Cruise Ships:
Carnival Celebration
Carnival Mardi Gras
Carnival Jubilee
Carnival Vista
Carnival Panorama
Carnival Venezia
Royal Caribbean Is Best For:
Royal Caribbean is great for cruisers who enjoy nonstop entertainment, adventurous activities, and an exciting environment. Among cruisers, Royal Caribbean is known as the cruise line for those who are young at heart.
Whether you're cruising with a family, friends, or on your own, Royal Caribbean has something for everyone. Royal Caribbean is a great value since many of the restaurants, activities, and attractions are included!
Overall, Royal Caribbean is perfect for most cruisers because they offer a little bit of everything. Whether you want to grab a drink at the bar, test your adventurous side on exciting activities, or relax in the adult-only solarium, you will enjoy a Royal Caribbean cruise.
Royal Caribbean cruises aren't going to be the cheapest in the contemporary cruise line category. However, there are some ways to get a great deal on a Royal Caribbean cruise.
Recommended Royal Caribbean Cruise Ships:
Royal Caribbean Icon of the Seas
Royal Caribbean Wonder of the Seas
Royal Caribbean Oasis of the Seas
Royal Caribbean Odyssey of the Seas
Royal Caribbean Anthem of the Seas
Royal Caribbean Liberty of the Seas
Related & Popular Posts:
Get The Ultimate Cruise Planner
Regular price: $27 Now just $17!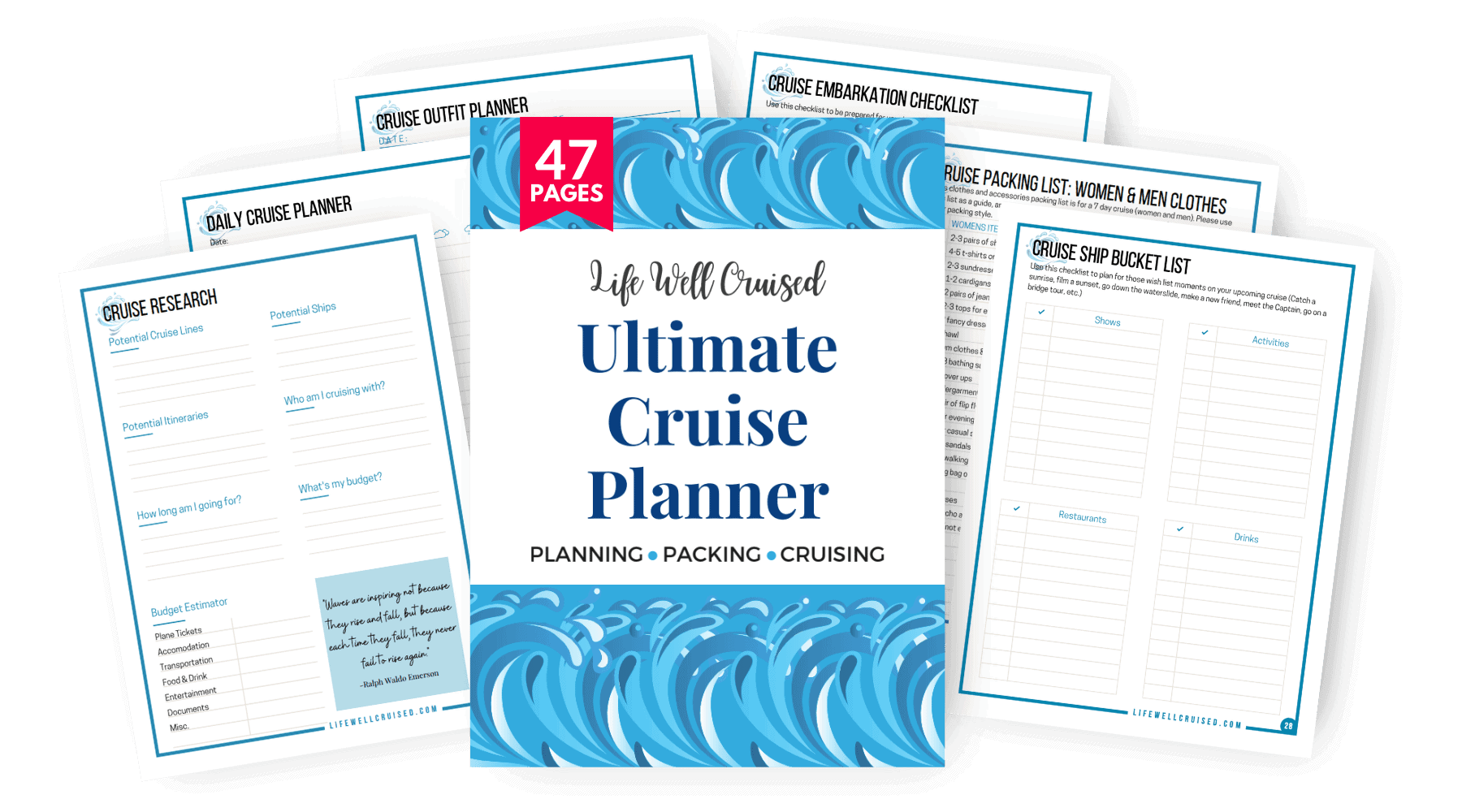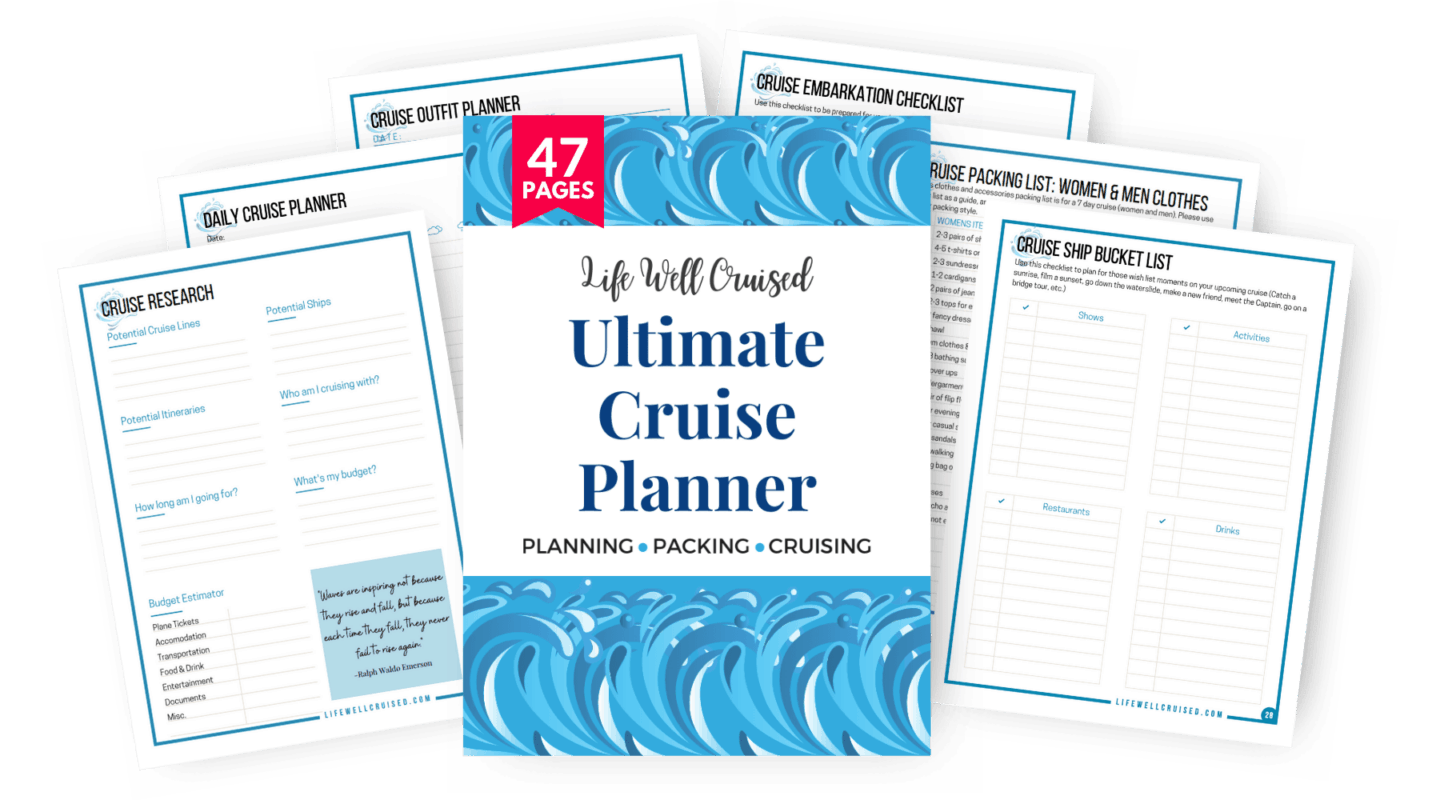 Final Thoughts On Carnival vs Royal Caribbean
Carnival and Royal Caribbean cruise lines have a lot in common. Both cruise lines are family-friendly, have incredible attractions, and are designed to be fun. However, there are some differences that are important when planning your trip.
When it comes to choosing which cruise line is best, it comes down to budget, itinerary, and personal preference. These cruise lines both have loyal fan bases and tons of repeat cruisers!
In this post, I shared everything you need to know about cruising with Carnival and Royal Caribbean.
Have you cruised with Royal Caribbean or Carnival, or are you planning to? Please let me know in the comments below.
Happy Cruising!
Ethan
If you found this article helpful, please pass it along. Please feel free to share on Facebook or PIN to your favorite Pinterest board (share buttons at the top). Thanks so much!
Author Bio: Ethan Schattauer has been cruising since he was in preschool! As a frequent cruiser, Ethan now shares his unique perspective on what cruising is like for teens and young adults. Ethan is a freelance writer and also writes about men's fashion, travel and college advice on the website WhatToWearMen.com.