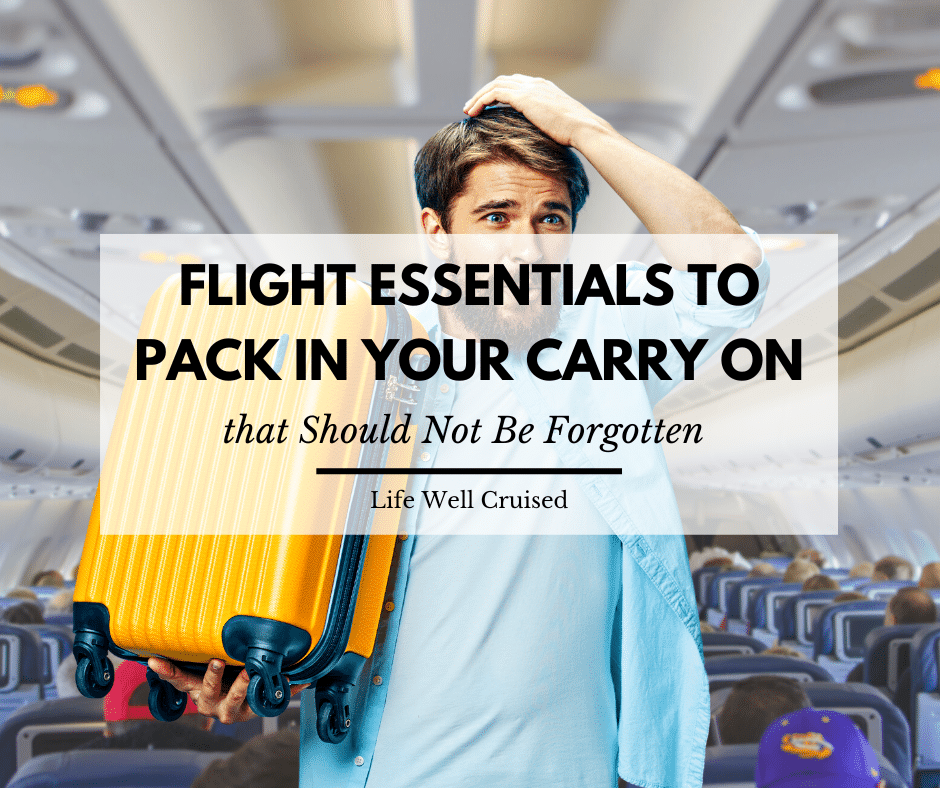 Traveling can be exhausting, but having a few flight essentials will improve your flight and make you more comfortable!
Whether you're flying to a resort, cruise or land based vacation, it's essential to pack your carry-on carefully and have everything you need.
Here are the best flight essentials and must-have items to pack in your carry on bag & personal bag for the airplane. I've included carry-on essentials for long haul flights & shorter flights as well.
Keep in mind that you likely won't need everything on this list, but these packing ideas can help you to make your own list of flight essentials.
This post contains affiliate links which means if you click and buy that I may make a commission, at no cost to you. Please see my disclosure policy for details.
As an Amazon Associate I earn from qualifying purchases.
What Carry-on Bag Can You Use for a Flight?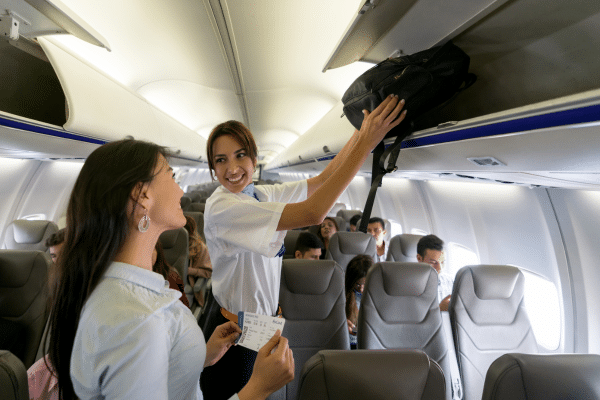 It's a good idea to pack essentials in your carry-on bag for your flight. However, which type of carry-on bag or luggage is best?
Most airlines allow passengers to bring a carry-on size suitcase as well as a personal bag. If you're flying carry-on only, you'll want to have a good piece of hard side luggage that fits the size requirements for your airline.
For domestic flights, many airlines have maximum size limit for carry-on luggage of approximately 22 x 14 x 9 inches. In the case of international carriers, the maximum size of carry-on luggage is 21.5 x 15.5 x 9 inches.
It's a good idea to check with your airline to avoid any extra cost.
Carry-on Luggage
Level 8 has been my go-to hard side luggage brand for every trip. This carry-on luggage passed the Air Canada carry-on size check at the airport in Rome!
Recommended: Level 8 hard-shell Carry-on (check price & over 1700 4.5* amazon reviews here)
I also like this carry-on bag & packing cube combo (I have it & it's a perfect fit for this carry-on luggage)
Weekender Carry-on Bag
A weekender style travel bag makes a great carry on bag for long haul or shorter flights.
Recommended: Weekender carry-on bag (with shoe compartment & USB charging port)
Nautical Carry-on Bag
Feel cruisey with a nautical style carry-on bag. This ladies canvas tote hand luggage could pass as a personal bag and is super roomy to fit all your in flight must-haves.
Recommended: Nautical carry-on bag (see over 4.5* 4000 Amazon reviews here)
Backpack
This extra large expandable travel backpack is genius! If you're traveling before or after your cruise, a backpack style carry-on is especially useful.
Recommended: Backpack carry-on bag for men & women (check price & color options on Amazon here)
Flight Essentials to Pack in a Carry-on Bag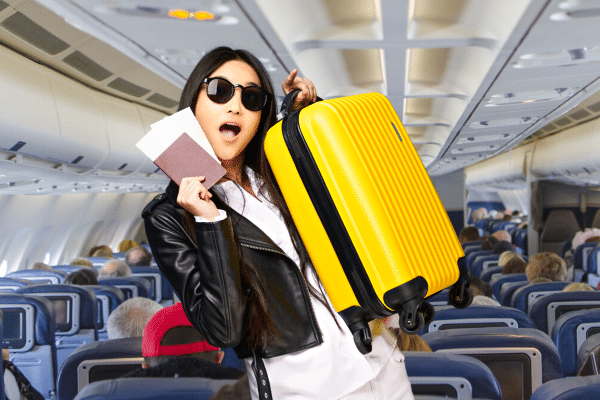 These in-flight essentials can be placed in your carry-on luggage or personal bag. Some of the items mentioned may be less needed for short flights, but are definite long flight essentials that will help with comfort.
1. Passport Wallet (for boarding passes, travel documents, itineraries & passports)
A passport wallet with a zipper and wriststrap will help keep your passports and important documents secure as you travel. I like to keep my passport, boarding pass, a credit card and a few dollars in this handy travel wallet for easy access while we are in a busy airport.
Recommended: Travel passport wallet RFID protected (check price & 4.5* Amazon reviews here)
2. Portable Charger
Be sure to pack a portable charger for your phone and devices. Remember to charge it the day at home the day before you travel.
This portable charger with built in cables is a game-changer!
Recommended: Portable charger with built in cables (check price & 1500 Amazon reviews here)
3. Kindle
Consider packing a Kindle or ereader to bring on your flight. If you're heading on a beach vacation or on a cruise, a Kindle is a good addition to your packing list.
Of course you can also bring a good book if your prefer.
Recommended: Kindle Paperweight (over 40,000 reviews)
4. Ipad or Tablet
Download some movies or tv shows to your iPad or tablet before you board your flight. As we flew back from Rome after a Mediterranean cruise, having an entire Netflix series to watch on my iPad really passed the time.
Recommended: iPad (check price & read 5* Amazon reviews)
5. Noise-Canceling Headphones
I've struggled with flight anxiety. One of the things that has helped me the most is wearing noise canceling earphones throughout most of the flight.
I download a TV series or reality show onto my iPad before I go on a trip. Then, I use my noise canceling earbuds which block out all the annoying sounds and airplane noises that make me nervous.
Recommended: Noise canceling headphones (these have over 50,000 reviews on Amazon)
6. AirFly
This bluetooth wireless audio transmitter and receiver (for up to 2 wireless headphones) will allow you to use your earphones without plugging them into the airplane port. If you're on a long haul flight, this travel essential is super useful for travelers.
Recommended: iFly Bluetooth wireless audio transmitter
7. Wired Earbuds (for use with in-flight movies)
If you simply want to watch a movie on the airplane's media system, consider packing traditional wired earbuds.
Recommended: Wired earbuds (check amazon price & reviews here)
8. Neck Pillow
In my opinion, neck pillows are a controversial travel item. Unfortunately, some neck pillows just aren't very comfortable! Plus, you'll have to carry them around during your travels.
However, since I found the twist memory foam travel pillow, it comes with us on overnight flights, shorter flights and even on road trips! This one has a flexible shape so it can be used to lean against the window or however you're comfortable.
Recommended: Memory foam travel pillow (this one has over 13000 4.5* reviews on Amazon)
9. Travel Blanket & Pillow
This travel blanket and pillow combination is an Amazon best seller. People love how soft it is and how it stores easily in it's pillowcase that fits over your carry-on luggage handle.
Recommended: Travel blanket & pillow (check price & color options here)
10. Travel Luggage Scale
It's a good idea to pack an electronic travel luggage scale so that you don't get caught paying extra for overweight bags at the airport.
Recommended: Travel electronic luggage scale (50,000+ reviews)
11. Reusable Clear Quart-sized Toiletries Bag
These 1 quart TSA approved clear bags are great for liquids and toiletries that you pack in your carry on or personal bag. These are great for men and women travelers!
Recommended: Clear 1 quart toiletries bags
12. Travel Size Toiletries Containers
Pack your moisturizer, lotions, liquid makeup, shampoo and hair products in these travel sized toiletry containers.
Recommended: Travel size toiletry containers set (9 pcs)
13. Disinfectant Wipes
Bring your own disinfecting wipes to sanitize your airplane seat, armrests, the table and more.
Recommended: Disinfectant wipes
14. Hand Sanitizer
Be sure to pack travel size hand sanitizer bottles. These Purell sanitizer bottles are 1 fluid oz and have a useful jelly strap carrier to attach to your backpack or handbag.
Recommended: Purell travel sized hand sanitizer (8 pack)
15. Refillable Water Bottle
It's very important to keep hydrated when flying. Plus, you'll want to have a refillable water bottle on your cruise or beach vacation.
These two options are great.
If you're trying to pack light, a collapsible water bottle is the most convenient.
Recommended: Collapsible water bottle
However, if you like your water to be cold, a stainless steel thermal bottle is the best choice.
Recommended: Thermal refillable bottle (check price & 8000+ 4.5 Amazon reviews)
16. Pressure Relief Ear Plugs
If your ears get clocked when you fly, I highly recommend bringing pressure relief ear plugs. This has been a game changer for my husband (who used to have blocked ears for days).
Recommended: Airplane pressure relief ear plugs
17. Compression Socks
A long haul flight essential is compression socks. They'll stop your legs from becoming swollen and prevent other potential medical issues.
Recommended: Compression socks for flights
18. Sleep Mask
If you're on a red-eye flight or need some help to sleep, this sleep mask will help to block out light. A good eye mask will help you get some much-needed shut-eye.
Recommended: Sleep mask (check price & 4.5* reviews)
19. USB Charging Cord (phone charging cables)
It's important to keep your devices charged during your flight. Make sure you have a full charged phone when you get to your destination. Here are some fast charging cords on Amazon.
Recommended: Phone charging cords (check to find the right cable for your device)
20. Cable Organizer Bag
It's a good idea to pack a cable organizer pouch for your electronic accessories. You'll want to have them handy in your carry on bag during the flight.
Recommended: Cable organizer bag (see color options & 17,000 Amazon reviews)
21. Foldable Tote Bag with Zipper
A foldable tote bag makes a perfect personal bag for your flight. This waterproof nylon bag has a zipper and can be used for casual days during your travels.
Recommended: Nylon tote bag (check price & different colors)
22. Tote Bag Organizer
One negative to tote bags is that they tend to be hard to get messy. This tote bag organizer adds several pockets and separators to help keep organized.
Recommended: Tote bag organizer
Get The Ultimate Cruise Planner
Regular price: $27 Now just $17!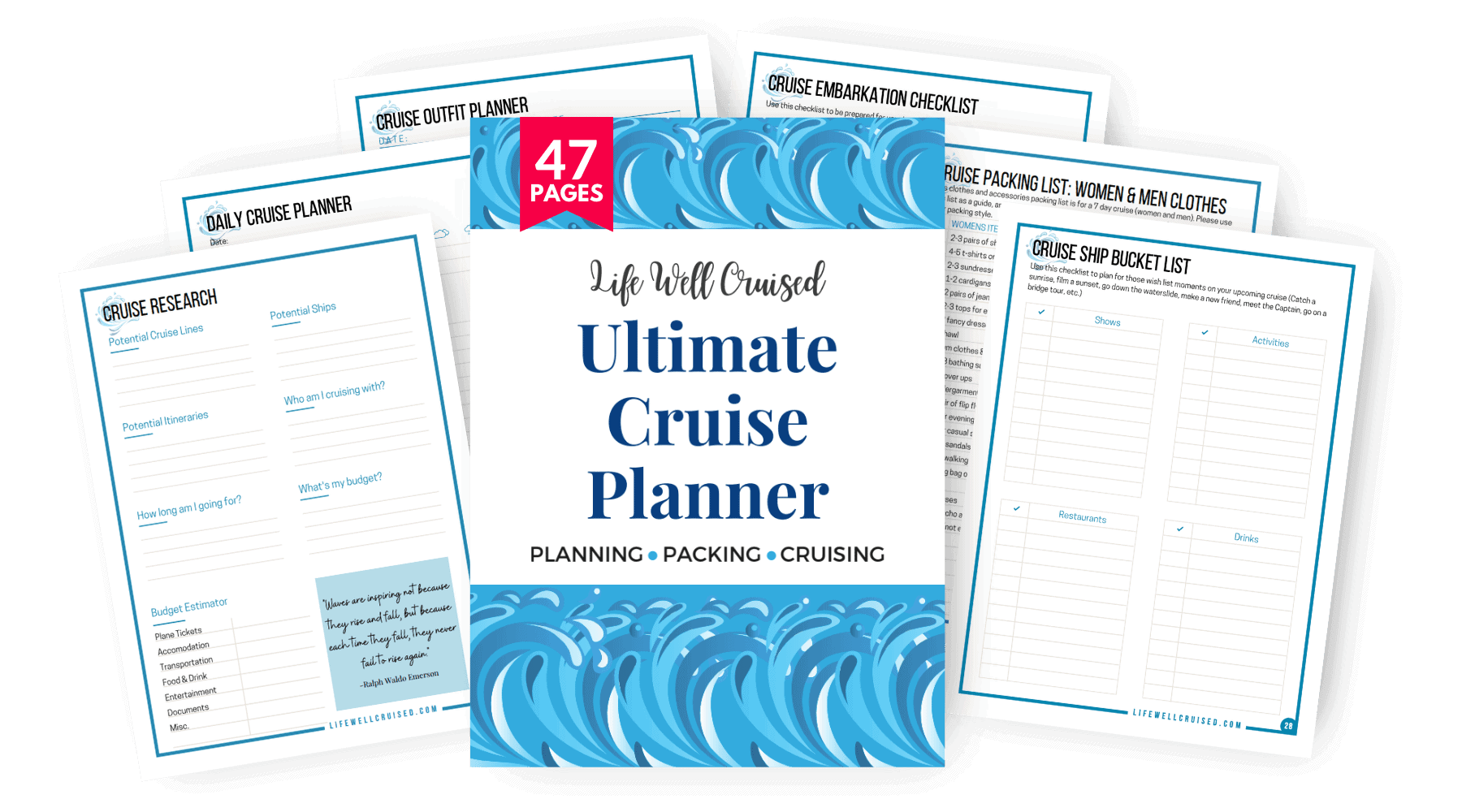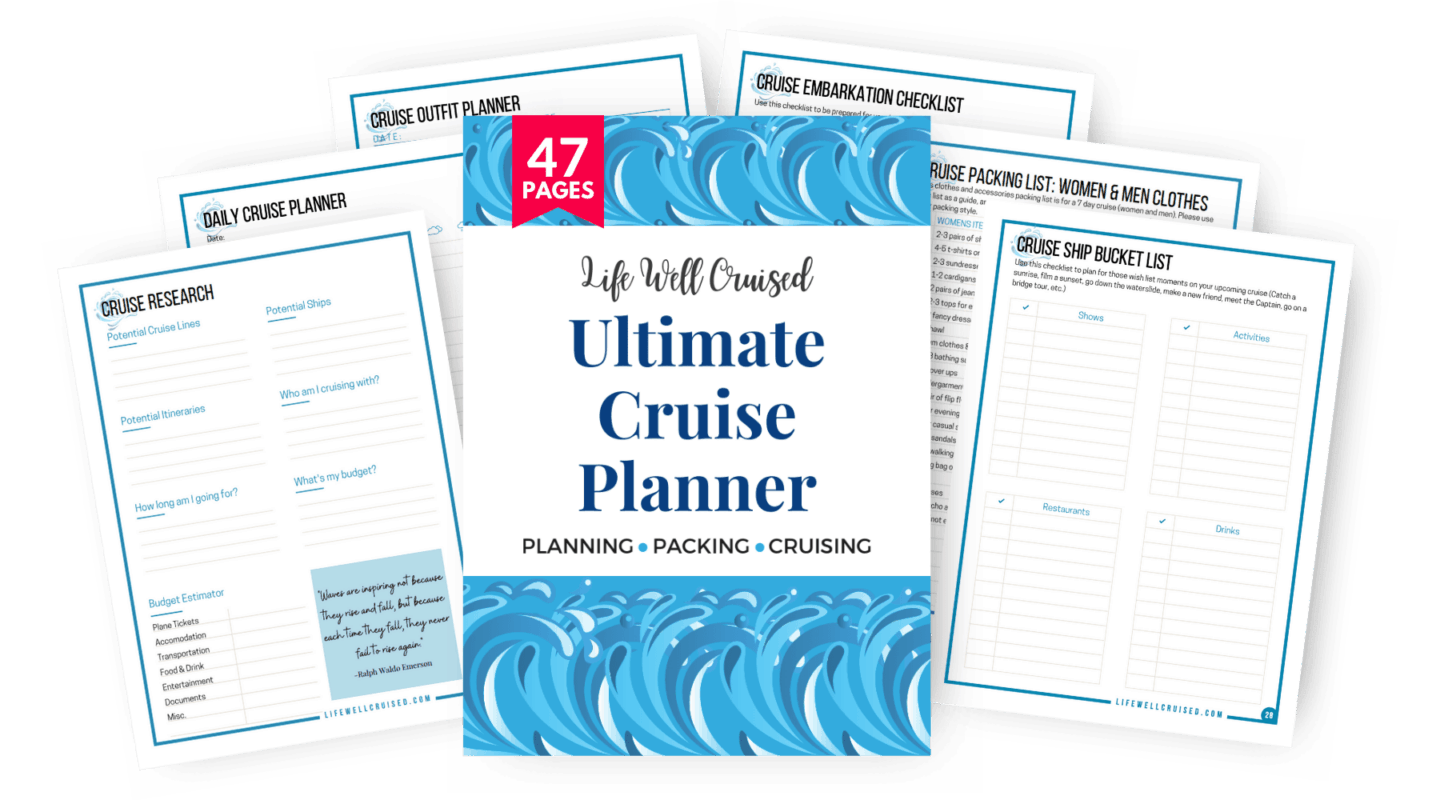 23. Pill Box Organizer
Remember to bring over the counter medication, like tylenol or advil, as well as any vitamins you take with you in your carry on or personal bag. A pill box with organizer compartments is a handy travel essential.
Prescription Medication
You'll also want to bring your prescription medication. It's a good idea to use a personalized packing list so you don't forget anything.
Recommended: Pill box organizer (I use this one & love it!)
24. Tube Pillow (to stuff)
This tube pillow is a genius packing hack, especially if you're flying carry-on only. Stuff your tube pillow with a change of clothes, t-shirts, shorts and underwear and get "free" extra luggage!
Recommended: Tube pillow
25. Airplane Footrest
This might be a bit extra, but if you have a long non-stop flight, an airplane footrest hammock will help to ease discomfort & improve circulation.
This one has a wide stable base and comes with a travel kit (includes sleep mask).
Recommended: Airplane footrest hammock (check reviews on Amazon here)
26. Air Tags (Bluetooth trackers)
Flying comes with different stresses. This includes the worry of lost or misplaced luggage. Air Tags will help you keep track (literally) of your suitcases and carry-on bags during your flight, cruise and more.
Don't forget to get air tags holders to attach securely inside your checked luggage and carry-on.
If you don't have an iPhone, you can use another bluetooth tracker, like a Tile, instead.
Recommended: Air tags
27. Travel Scarf
Pack a travel scarf that can do double duty on your trip. Airplanes can be cool, so a scarf can be handy at those moments. Plus, you'll be able to use it to dress up an outfit or cover your shoulders on your cruise or land vacation.
Recommended: Travel scarf (highly rated on Amazon)
28. Airplane Phone Holder
Bring a phone mount if you plan to watch movies during your flight. Since the phone holder attaches to your tray table, it will help your neck and posture as you won't always looking down.
This is a travel essential that you won't know you needed, until you use it.
Recommended: Phone holder & mount (check price & over 14,000 4.5* amazon reviews)
29. Liquid IV
Long flights can be especially dehydrating and Liquid I.V. can help with this. It can also help minimize and prevent jet lag symptoms.
Recommended: Liquid I.V. (over 100,000 reviews on Amazon)
30. Mini First Aid Kit/Medicine Kit
You can purchase a ready made first aid kit or make your own.
In your travel first aid kit, sure to pack a few bandaids, alcohol wipes, some antacids or stomach medication (ie. Tums), pain reliever, cold medicine and some throat lozenges.
Recommended: First aid kit (mini travel size)
31. Travel Size Toothpaste & Toothbrush
Pack a travel sized toothbrush and toothpaste for overnight flights, and even for short flights and road trips, in your carry on luggage.
Recommended: Travel size toothpaste & toothbrush
32. Motion Sickness Medication
If you are prone to motion sickness, bring an over the counter medication like Bonine to avoid feeling sick during your flight.
Ginger chews can help as well.
Recommended: Bonine & Ginger Chews
33. Belt Bag
A belt bag, cross-body bag or fanny pack is optional. However, these are so useful to keep right on your lap during the flight, with gum, airpods, a pen and other convenience items handy.
Belt bags are in style these days and can be worn by both men and women.
Tip: To avoid your belt bag being considered a personal bag, put it in your carry on bag until ready to board your flight.
Recommended: Belt bag
34. More Things to Pack in a Personal Bag for a Flight
These are a few little things to pack that don't take up much space.
Snacks
Chewing gum
Pen
Hand lotion
Moisturizer
Lip balm
Candies or mints
Vitamin C
Travel size tissue package
Hair scrunchies (for long hair)
Hair ties
Deodorant
Melatonin
Copies of your passport (& photos)
Extra pair of socks
Antibacterial wipes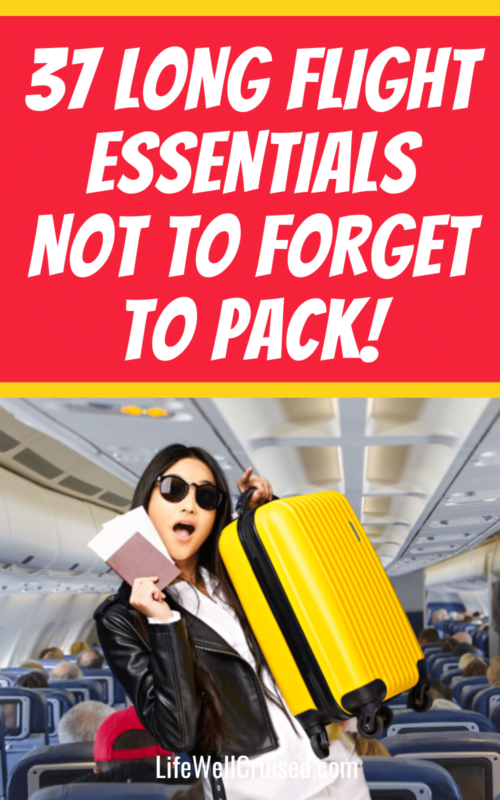 35.Travel Amenity Kit
Consider packing a travel amenity kit with a few carry on essentials. You can DIY an amenity kit or purchase one with travel sized toiletries (for both men and women).
Recommended: Travel amenity kit (women) & travel amenity kit (men)
36. Change of Clothes
Prepare for the possibility of lost or misplaced luggage for a day or two with at least one change of clothes and extra undergarments. Remember a change of socks & underwear, plus swimwear & flip flops if needed.
37. Comfortable Travel Outfit
Plan your travel outfit carefully, especially if your flight is longer than 4 hours. You'll want to dress comfortably, but also be able to wear your clothing and shoes during your trip.
Lounge sets, joggers and leggings are fine for the airport and travel. Slip on shoes will also make it easier as you go through security. Try not to wear tight jeans or tall boots on the airplane.
Recommended: 2 piece lounge set for travel (check price & 19,000+ Amazon reviews here)
38. Travel Insurance
While not something you need to pack for air travel, travel insurance is an absolute must have for all travelers.
Popular & Related Posts
Get The Ultimate Cruise Planner
Regular price: $27 Now just $17!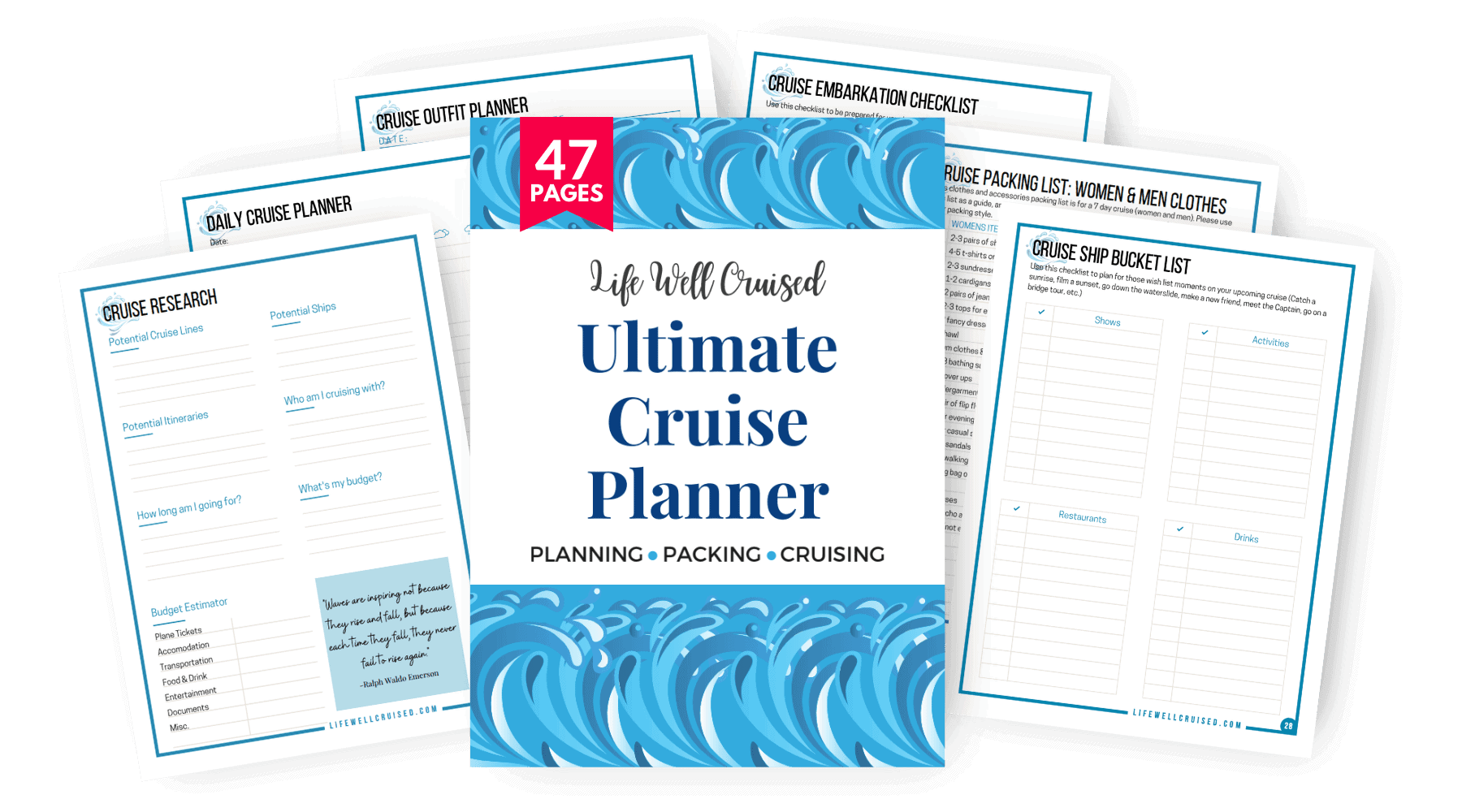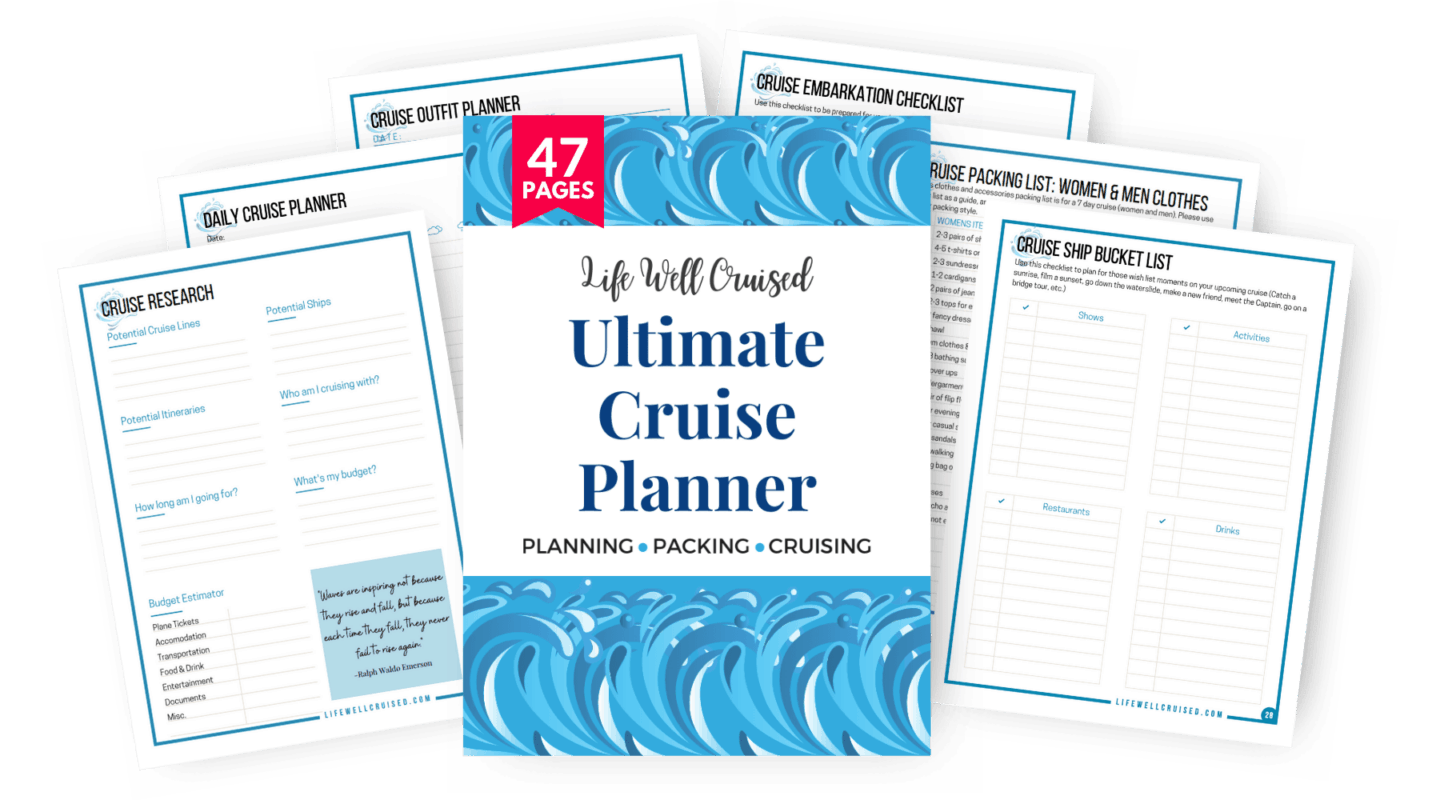 Final Thoughts on Long Flight Essentials to Pack in Your Carry-on
Packing a carry-on for a long haul flight can be a challenge. You'll want to be comfortable and have everything you need, whether your flight is 5 hours or 17!
These flight essentials will help ton ensure you're prepared from boarding to landing on your flight.
What travel essentials do you pack for flights? Please let me know in the comments below.
Happy travels!
Ilana
If you found this article helpful, please pass it along. Please feel free to share on Facebook or PIN to your favorite Pinterest board (share buttons at the top). Thanks so much!