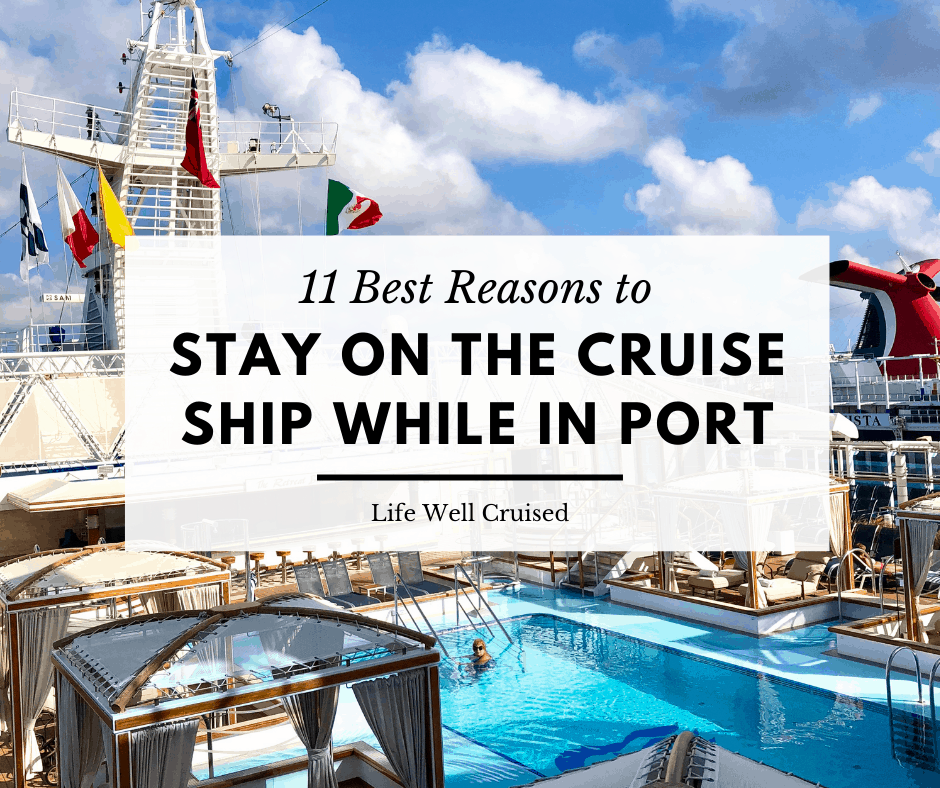 Why Stay on the Cruise Ship When at a Cruise Port
Can I let you in on a little secret? Staying on the cruise ship while in a port of call can be a pleasure!
Picture this…
You're on a big cruise ship and there's so much to do. Yet, on sea days, it gets pretty crowded. It can be hard to find a lounge chair in your preferred spot, and the pool might feel like a sardine can. Plus, there can be huge line ups for some of the activities, like waterslides, ziplines, ropes courses, race cars and more!
So, if you stay onboard your cruise ship while in port, you're creating an extra sea day. Yet, with most cruise passengers rushing out the see the port and join shore excursions, the ship is almost all yours alone. Pure bliss…
We do this once in a while when we've already visited a destination or when we have a port intensive itinerary. If you need a getaway and a relaxing cruise, staying on the cruise ship rather than exploring the port of call might be just what you need.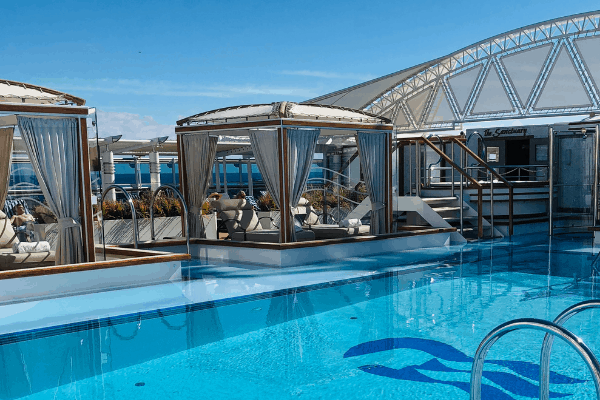 Cruise Tip – Cruising in 2021
If you're cruising in 2021, this may be an additional reason to stay on the ship when in some ports of call. There are new safety and health protocols which include having to book excursions with the cruise line. Excursions can get expensive, so you also may want to pick and choose which ports you want to visit most.
Why Stay Onboard a Cruise Ship During a Port of Call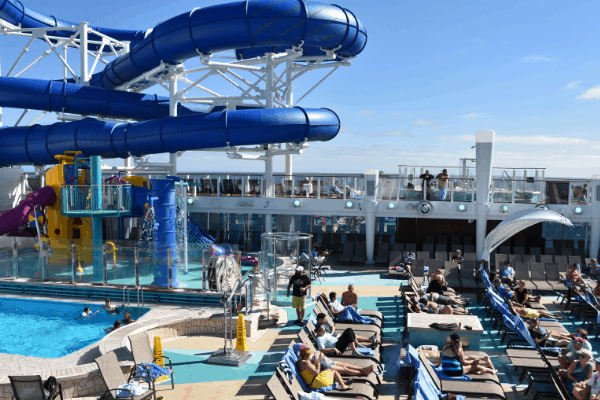 1. Relax and recharge
Traveling by cruise ship is amazing. You get to see many destinations and experience a taste of different ports of call. However cruising also about relaxing and recharging.
If you've had a busy cruise going to all the shows and waking up early for excursions, you may need a true vacation day. Consider staying on the ship while in port so that you can sleep in and have a leisurely day. Eat breakfast late and enjoy a slower pace, read a book or check out the onboard activities in a much quieter environment.
2. Waterslides, Ziplines & Race Cars (and no line ups)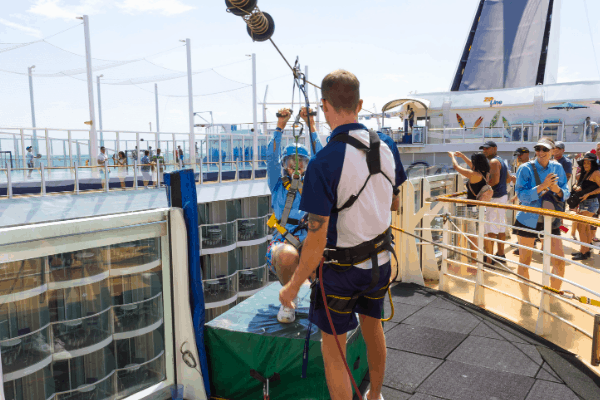 Some ships are truly destinations all their own. If you're on a big resort style cruise ship, you simply won't be able to try out all the amazing activities on a 7 day cruise.
On regular sea days, you can expect big line ups for all the best and most popular attractions. Every activity from water-slides, to surfing pools, to race cars will be busy.
The nice thing about staying on board when the ship is docked in port, is that most people won't do this. You will have the run of the ship, which is especially useful on some of the incredible family style cruise ships from Carnival, Royal Caribbean and Norwegian Cruise Line.
3. Cruise port repeat
If you've been to a cruise port before, don't feel bad about not getting off the ship one time. Unless you really love a destination, once you've seen it a couple times, you may be better off enjoying all the amenities on your cruise ship.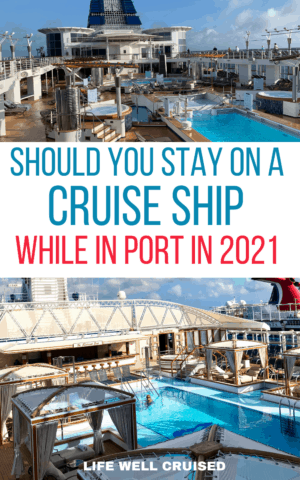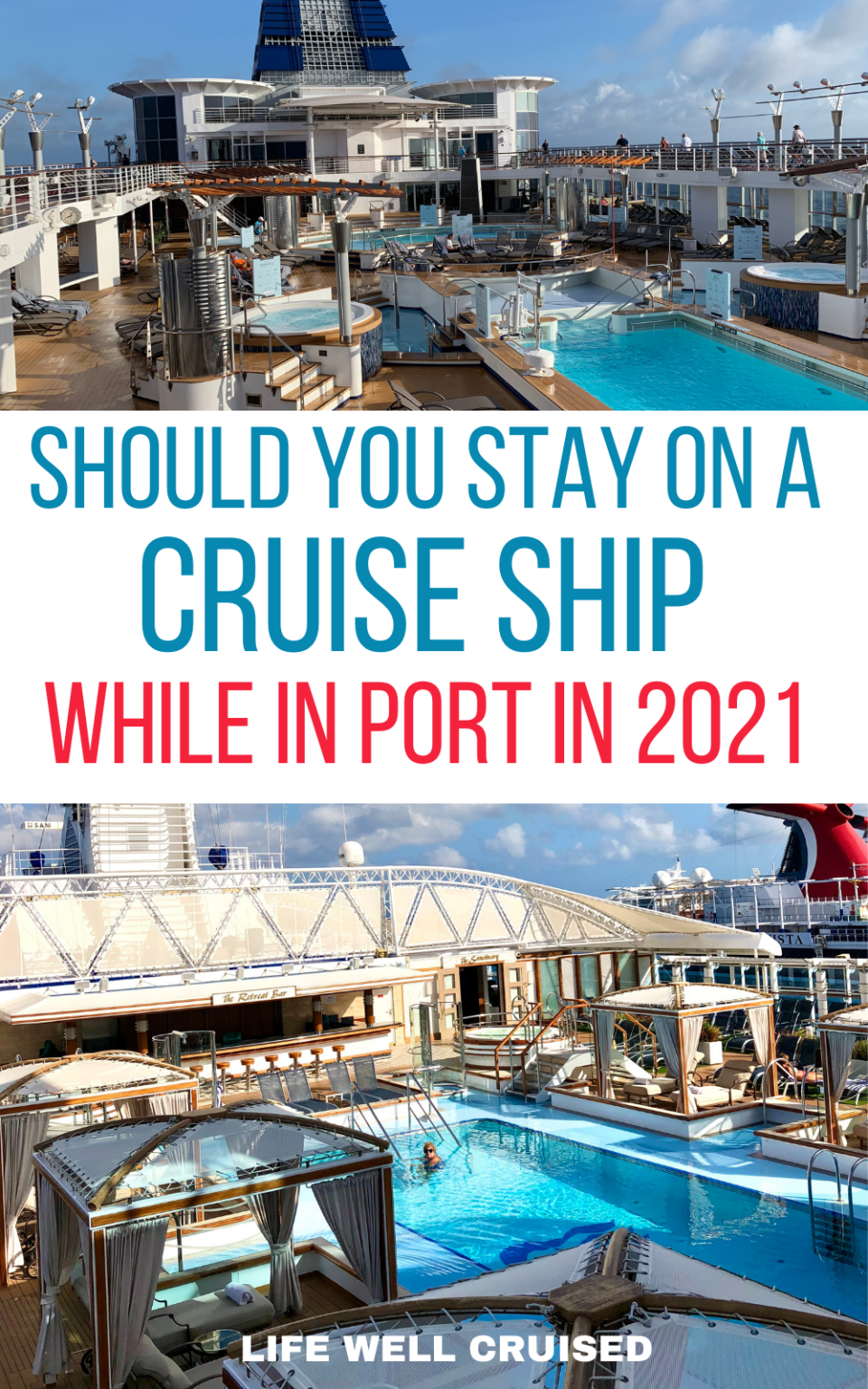 4. Treat yourself at the spa, with a discount
Did you know that cruise ships offer discounts and special promotions at the spa, as well as in other venues on port days. This is because they're much less busy as most cruise passengers will be off the ship.
To entice you to book a couples massage or other service, you'll have some amazing offers. Check into this on embarkation day, as often there may be an extra bonus for signing up early.
Keep in mind that the spa offers many services including massages, acupuncture and even teeth whitening. You may even want to visit the hair salon and treat yourself to a good blowout for the evening.
Recommended: 15 Epic Tips First Time Cruisers Need to Know
5. Check out the onboard activities and new food venue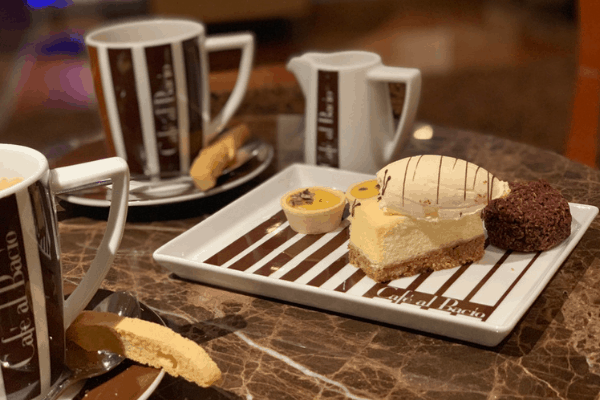 While onboard activities do slow down on port days, versus sea days, there are still many things to do on board. You can join trivia, dance classes and interesting seminars.
If you like cruise food, check out some of the dining options you haven't tried yet. These can be casual places that are included but oh-so-good, or specialty restaurants that offer lunch specials on port days.
Recommended: 27 things To Do on a Cruise Sea Day (and not be bored)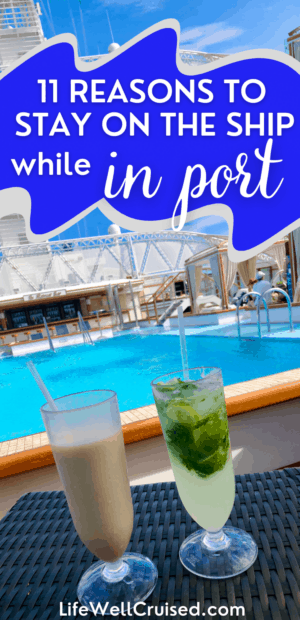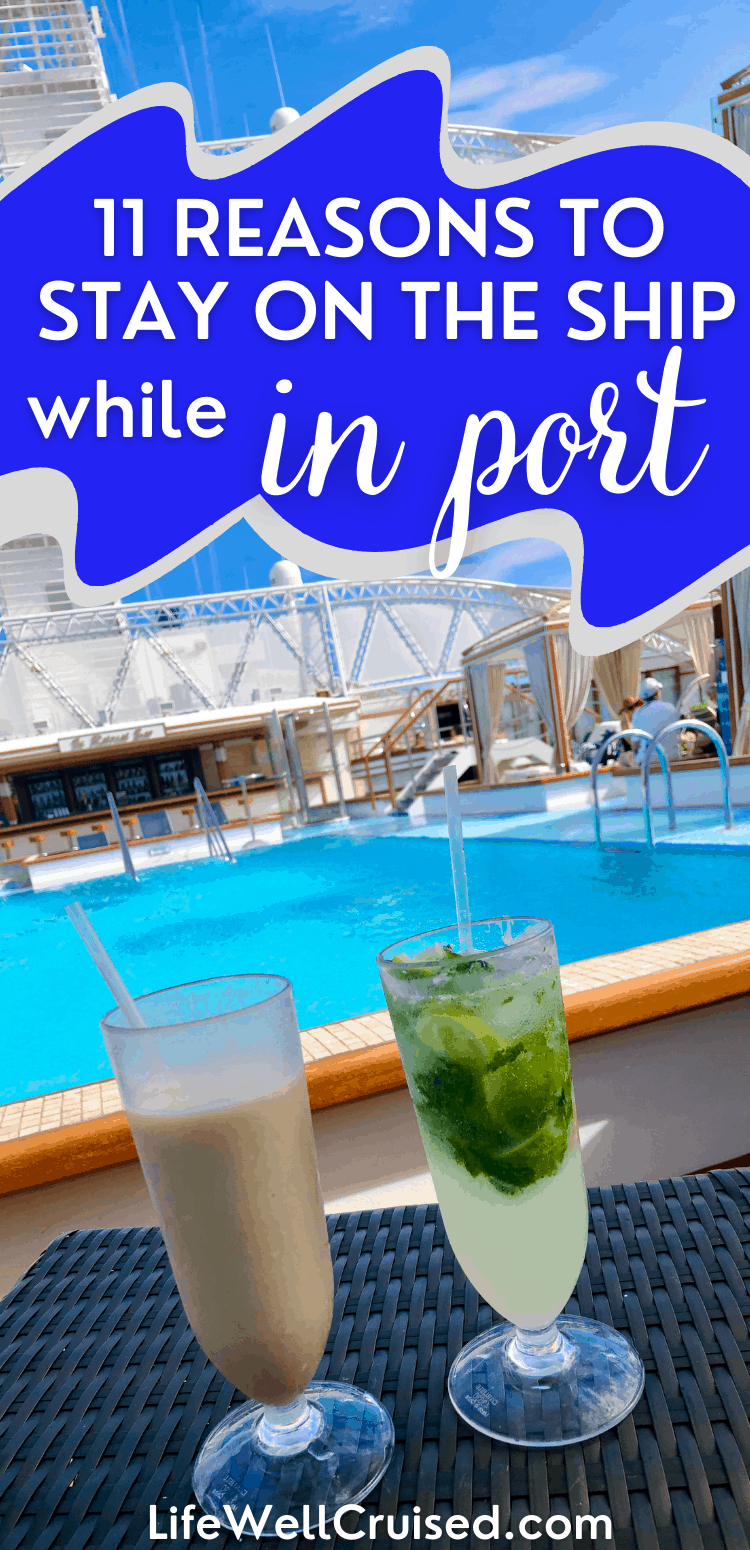 6. Pretend you're on a private yacht
Picture yourself on the Lido deck, with lounge chairs right next the pool. There are perhaps 10 people around. The hot tub is empty. It's heavenly!
There's just something about creating a sea day for yourself, while others hustle and bustle on land. No line ups, no crowded elevators, no chair hogs…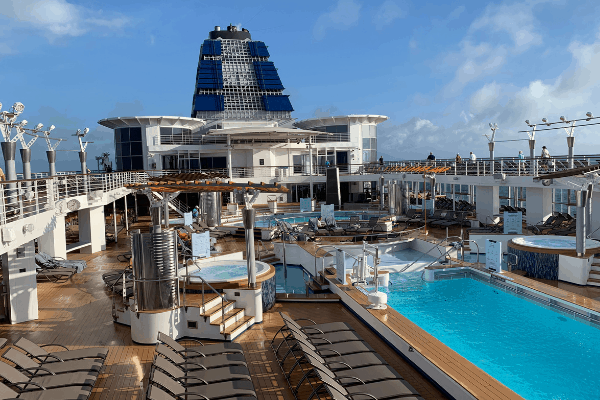 Seriously, you'll have the entire ship almost to yourself!
7. Photo opportunities
If you're an avid cruiser and want to get some picture perfect shots, staying on the ship on a port day is the way to do it!
You can explore the ship while there are so few people around, that it's easy to get the photos you want to take. If you create videos of your vacations or are creating a cruise vlog, this is the secret.
8. Enjoy your Beverage Package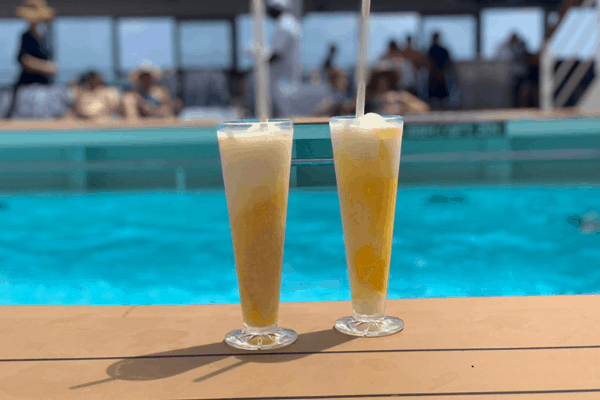 If you have a beverage package, you know that days at sea are the perfect time to use it. Well, you'll just get more opportunities to try out the different cruise drinks and cocktails if you stay on the ship.
If you're cruising with friends, why not get them to join you too?
What's included in your Cruise Price (and What's Not)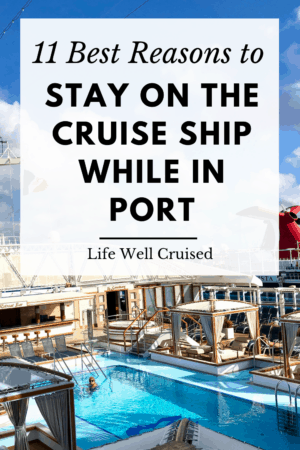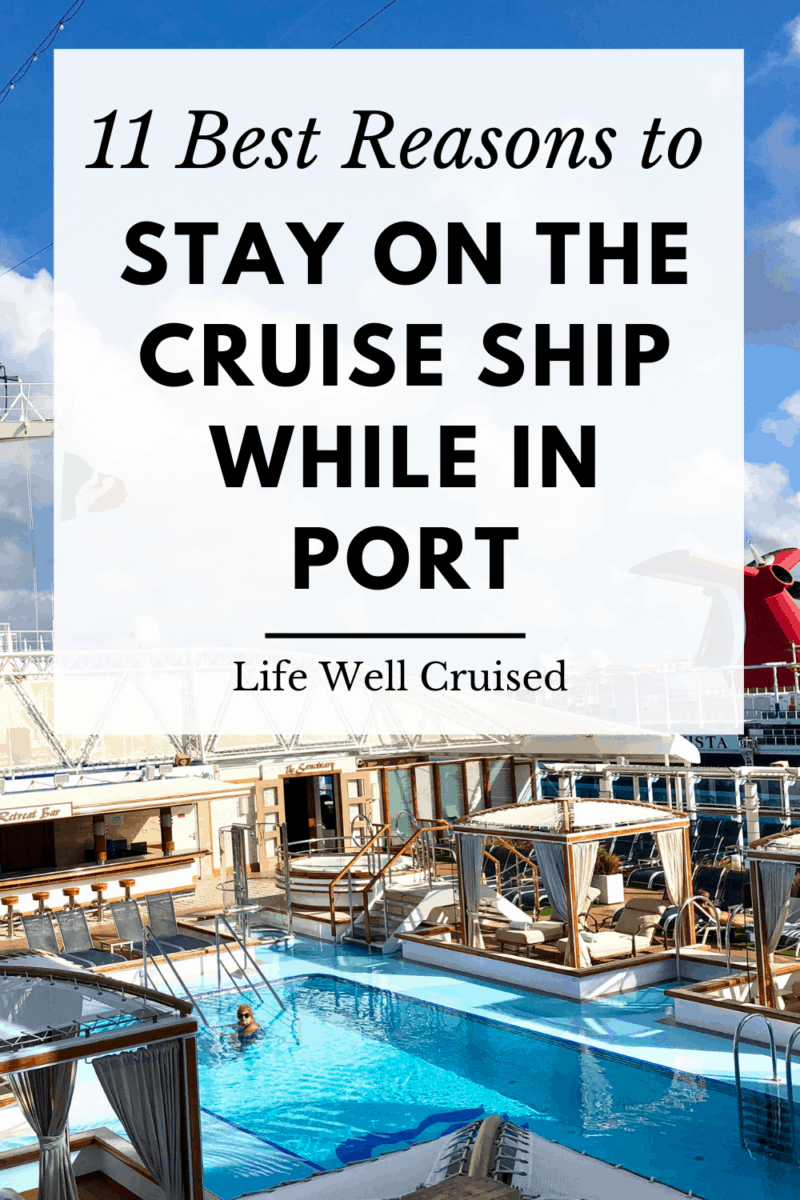 9. Save money for the best excursions
Cruising is a great value, and a lot is included. However one of the cruise extras to plan for are shore excursions.
One way to manage your cruise budget, is to save money by staying on the ship on some port days, while splurging on favorite excursions on other days.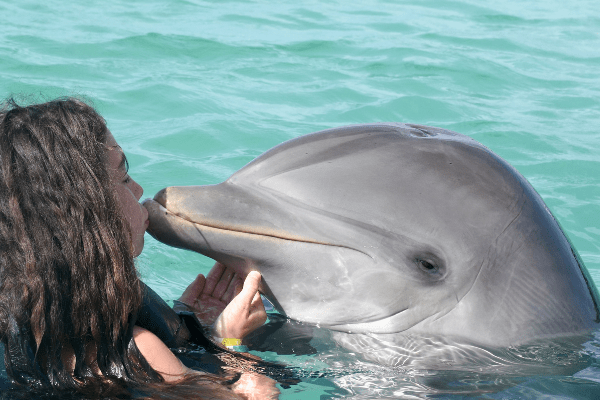 Recommended: 27 Best Tips to Save Money on a Cruise
10. Port intensive itineraries
If you have a port intensive itinerary, usually any cruise with more port days than sea days, you will be exhausted at some point. You may want to plan in advance to stay on the ship at least once to recoup your energy.
The worst feeling is ending a vacation feeling like you need another vacation. So keep this in mind and consider if staying onboard the ship is a good idea for you.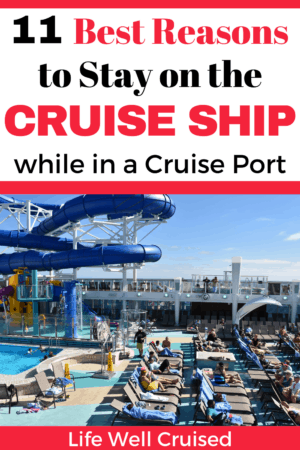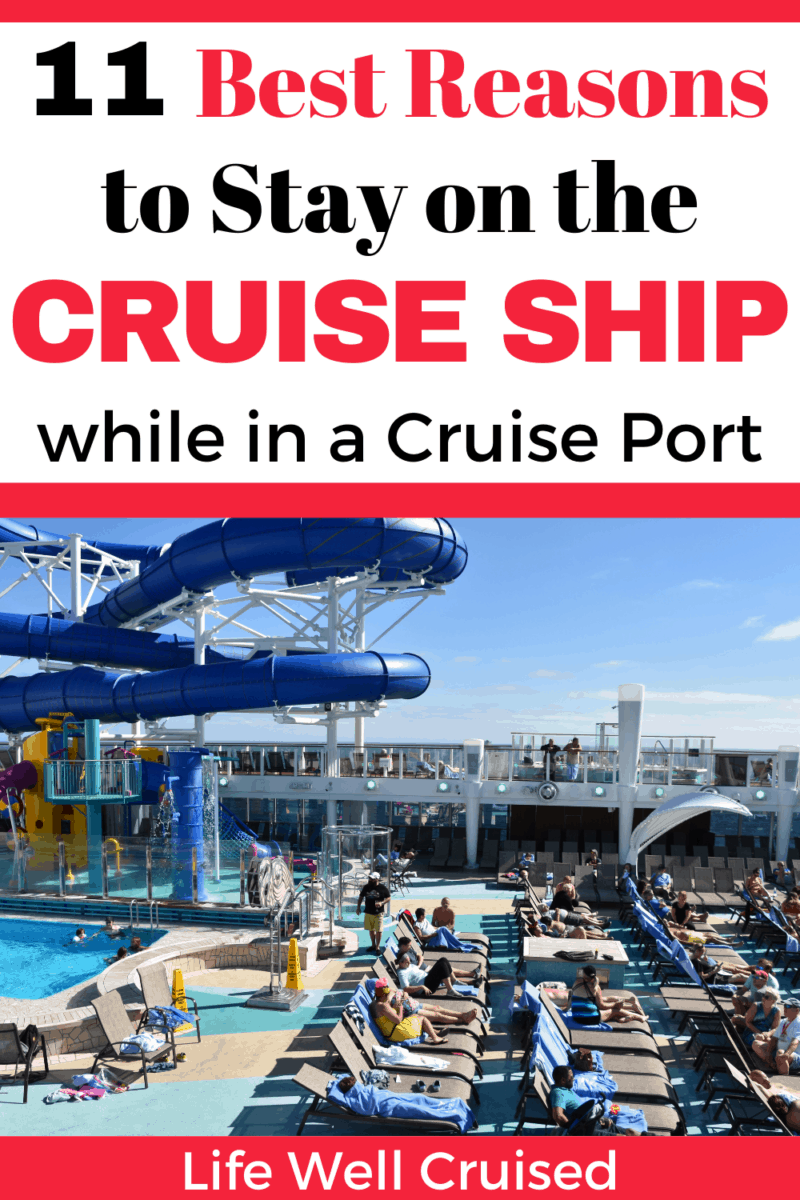 11. No line ups
Did I say no line ups? I may have saved the best for last.
It's such a pleasure to not have line ups at guest service, in the buffet and for the ship activities. Even the elevators aren't crowded!
I love cruising, but will admit that I'm not a fan of some of the crowded areas on cruise ships. Staying on the ship while in port, at least once in a while, is a pleasure!
Read next:
25 Most Recommended Amazon Items to Bring on a cruise
21 Hidden Costs of Cruising: How Much Does a Cruise Really Cost?
The Ultimate Cruise Lingo Glossary; 85 Terms You Need to Know
Final Thoughts: 11 Best Reasons to Stay on the Cruise Ship While in Port
Cruise ships are becoming destinations unto themselves, so staying on board while the ship is at a cruise port can be a great idea. From going on a water slide as much as you want, taking advantage of spa specials, to having the luxury of the perfect poolside deck chair – there are many great reasons to avoid getting off at the port.
Have you ever stayed on the cruise ship while in port or would you consider it? If so, what do like to do best? Please let me know in the comments below.
Happy Cruising!
Ilana xoxo
P.S. If you've enjoyed this post, please share it with a friend on Facebook or save for later on Pinterest. Thanks so much!
Let's connect:
Follow me on YouTube at Life Well Cruised
Follow me on Facebook at Life Well Cruised
Follow me on Pinterest at Life Well Cruised
Follow me on Instagram at Life Well Cruised