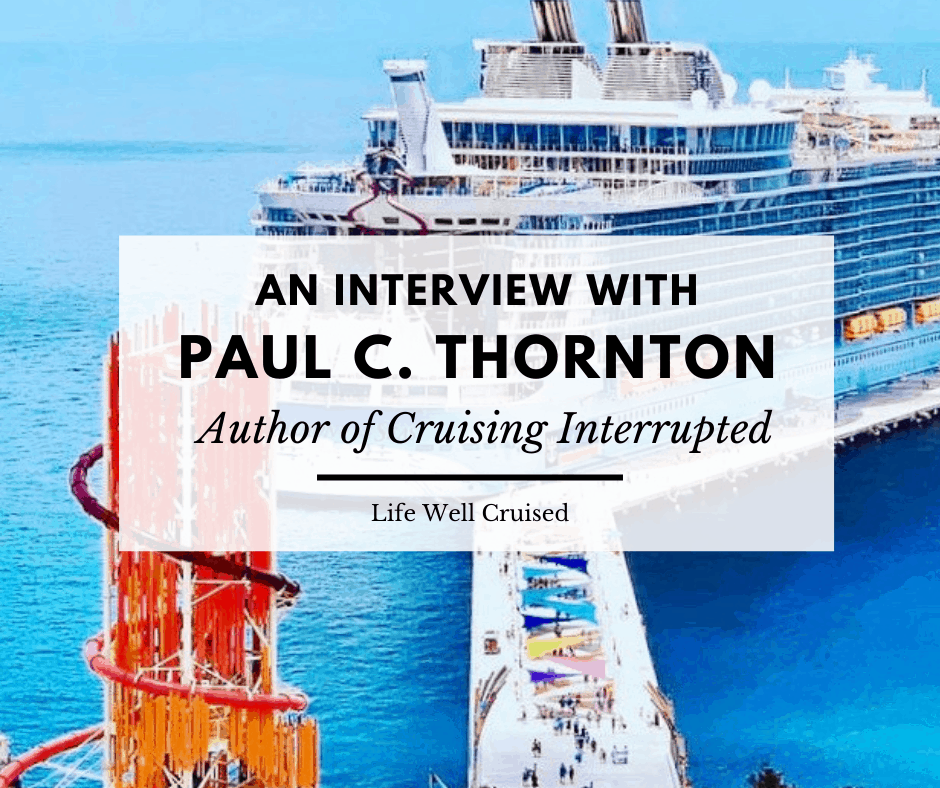 Have you ever wondered about the life and story behind the award-winning author of the popular book The Joy of Cruising, Paul C. Thornton? As his latest book, Cruising Interrupted, is released, I thought it would be fun to turn the tables and interview Paul and learn more about his own passion for cruising and writing.
Interview with Paul C. Thornton, author of The Joy of Cruising and Cruising Interrupted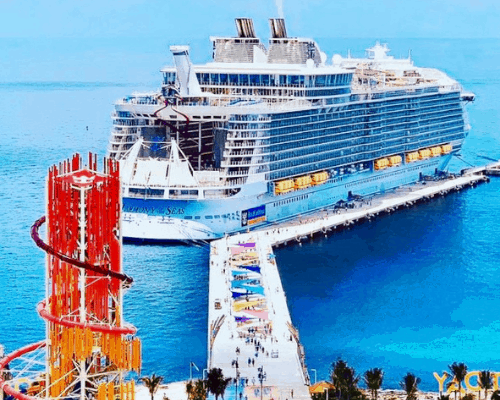 This interview does not disappoint – if you're a cruise fan, content creator or aspiring writer, you'll be inspired by Paul's story and insight.
Of course, you'll also want to pick up a copy of his new book, Cruising Interrupted, filled with fascinating interviews from some of your favorite cruise bloggers and personalities, including yours truly. I'll leave the links and information at the bottom of this post.
This post contains affiliate links which means if you click and buy that I may make a commission, at no cost to you. Please see my disclosure policy for details.
Life Well Cruised is a participant in the Amazon Services in the Amazon Services LLC Associates Program, an affiliate program designed to provide a means for sites to earn advertising fees by advertising and linking to Amazon.com.
Who is Paul C. Thornton, author and writer?
Please tell us a little bit about yourself. Where do you live, how long have you been a writer, and where did you get your passion for what you do?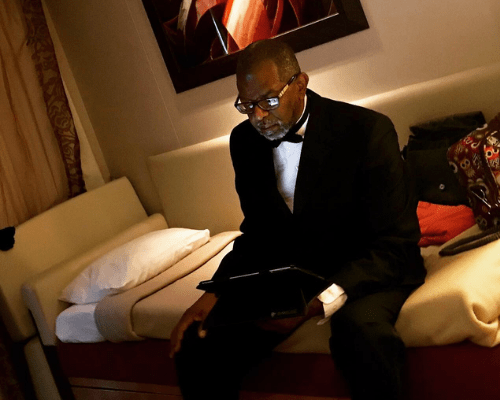 I live with my wife Cheryl in Fort Myers, Florida where I have worked as a university administrator for the past 8 years. I'm originally from New York City, and lived the majority of my life in the northeast.
I became a writer at age 58. When I woke up on December 6, 2014, which was my oldest daughter Kina's wedding day, I had no plans to write a book.
I had to speak at the wedding reception about memories of my daughter growing up. I gave an emotional talk where I shared things I had held inside for 30 years. It was very liberating, and there 'wasn't a dry eye in the house" when I was done.
When I went to bed that night, I was well into chapter one of my memoir. The passion to write came the release, lifting of a burden, and freedom, that I felt when I shared those uncomfortable truths at the wedding.
The memoir is provocatively titled "White Man's Disease," although it is not a very provocative book and has nothing to do with race.
There is certainly a backstory to that title though. The book is about a traumatic event that dramatically change my life that began when my daughter was a little girl.
As a cruise influencer yourself, what was your first cruise and how did you get "hooked" on cruising?
In 1988 on a new game-changing cruise ship, Royal Caribbean Sovereign of the Seas, which ushered in the era of mega ships. It was the largest ship in the world by far at the time.
I got hooked on cruising immediately. It was also my first time traveling with my future wife, Cheryl. Obviously I have a great deal of sentimental value for that cruise.
30 years later, I am still "married" to cruising and married to my cruise mate on Sovereign of the Seas!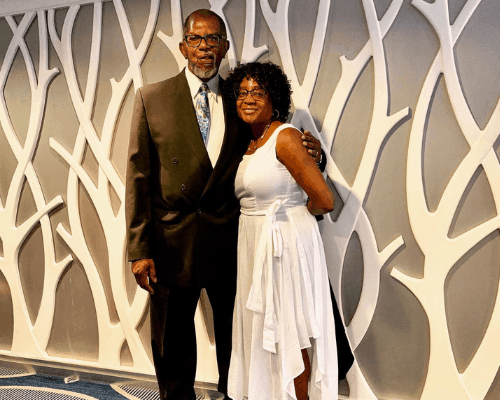 Why did you decide to write a book about cruising and cruise influencers?
In the process of doing research for upcoming cruises on online forums and Facebook cruise groups, etc. it became clear to me how passionate people are about cruising. I found myself more interested in reading about other cruisers than in actually researching cruises.
For instance, one man wrote on Facebook in mid- 2018 that he had just returned from his 11th cruise of the year—only had 10 more to go. 21 cruises in a single year!
His post got hundreds of comments—most were in awe, saying he was "blessed." Many were snarky, "get a life; why don't you buy a boat!"
I reached out to the individual—he lives in Australia—and told him I would love to talk to him. He ended up being featured in The Joy of Cruising.
I just looked for individuals who I felt embodied the joy of cruising and had a story cruisers would find interesting. I wanted to tell their story, about a pastime that I love.
Some of these interesting cruisers were well known, at least you could Google them: a TV star, a Grammy winner, a cruise ship Godmother, a Poker Hall of Famer; or Joe Church who has amazingly run a marathon distance, 26 miles, on every ship in the Royal Caribbean fleet. You can Google him not because of cruising but his stature in the running world.
Many of the others feature in the books were ordinary cruisers with extraordinary stories.
Recommended: The Joy of Cruising (see Amazon link for reviews & details)
What
misconceptions

do you think people have about cruise travel?

Well, there is the common one that is based somewhat in truth given cruising's past—and that is that cruising is predominantly comprised of an older demographic.

In The Joy of Cruising I dispel that somewhat with a section called Cruising's Young and Restless. There are many other misconceptions of cruising which really got aired a lot during this cruise lock-down when it was fashionable to slam cruising!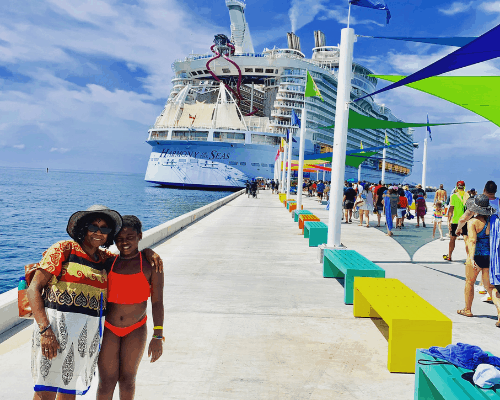 What do you enjoy most about cruising and can you share a few practical cruise tips?
I like most the bonding opportunity with my grandchildren and my family in general. My grandchildren live far away, and I cruise with them once a year—although I am still sore at missing our cruise this year on Independence of the Seas and taking my grand-kids to Royal Caribbean's private island and water-park, Perfect Day at Coco Cay.
As a family—my wife, two daughters, son-in-law, and two grandchildren celebrated Christmas on Anthem of the Seas a couple of years ago. It was unforgettable.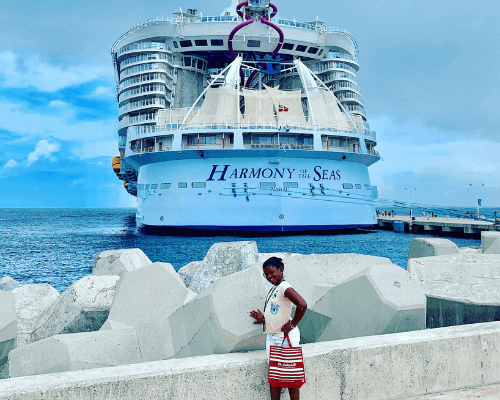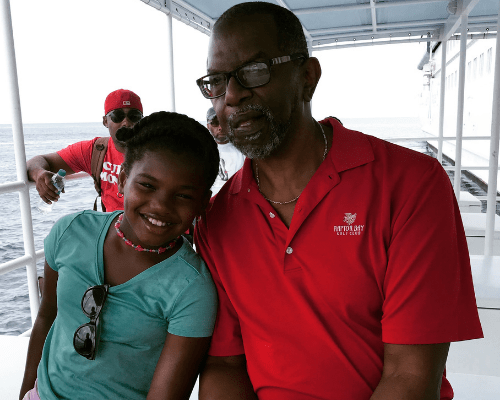 For those that are interested in your process, did you use a traditional publisher or self-publish? Can you share a tip or recommendation as to where someone would "get started"?
I am independently published, i.e., self-published. A misconception about self-publishing is that you do everything yourself to publish your book.
There are self-publishing companies that exist to facilitate the process. With traditional publishing, the writer turns over their book to a publisher who does all the work. The key is the traditional publisher has to accept your book—a long, highly competitive process, and, frankly very unlikely.
I went the independent route because I started my first book at 58 – I was not willing to wait years and hope a traditional publisher would sign me.
To get started, there are a number of free/inexpensive overviews of the self-publishing process you can download. For those already familiar with publishing in general, you can download a brochure from self-publishing companies' site where you can get a sense for how much of the work you can do yourself versus which of the company's services you can choose to pay for. I use Bookbaby.com.
How is The Joy of Cruising different than Cruising Interrupted?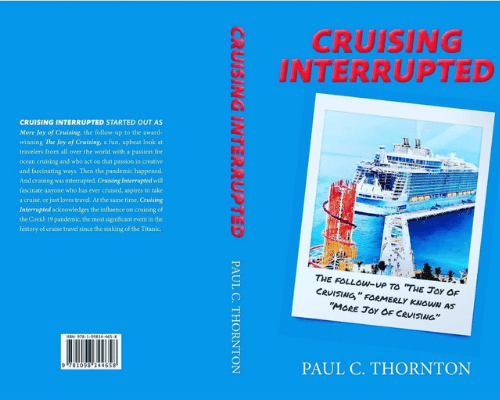 The Joy of Cruising and Cruising Interrupted are very similar. In fact, Cruising Interrupted was originally titled More Joy of Cruising.
It was just going to be like the first book, more profiles of passionate cruisers who pursue their passion in fun, interesting ways that others might want to read about.
It still is, but the most significant difference is that Cruising Interrupted reflects the influence of the Covid-19 pandemic on cruising. It includes a few features of cruisers stranded on the ocean at the height of the pandemic declaration.
Despite these stirring stories, the book is still fun and upbeat.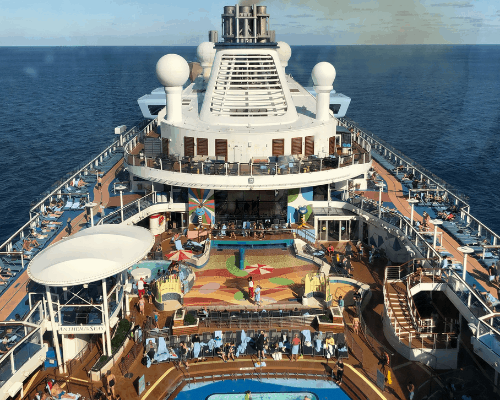 Has the cruise shutdown impacted you or your books in any way?
The shutdown definitely impacted Cruising Interrupted. First of all it resulted in the name change from More Joy of Cruising.
The book's dedication pays tribute to the millions of people and their families who lost their life during this time, and especially those passengers and crew stricken on a cruise ship.
In terms of impact on me personally: I was half done with the book when it was More Joy of Cruising, when the lockdown hit. Between the slew of bad press the cruising industry received, missing out on a couple of special cruises – one with my grandkids, and the other celebrated a wedding anniversary in the Mediterranean.
Then, of course the grim images on television of people dying and medical first responders overwhelmed, I went into a funk and stopped writing for several months.
Thankfully I am back. It's bad enough being without my passion of cruising; but to also be without my passion of writing especially while we are stuck in the house would be very difficult.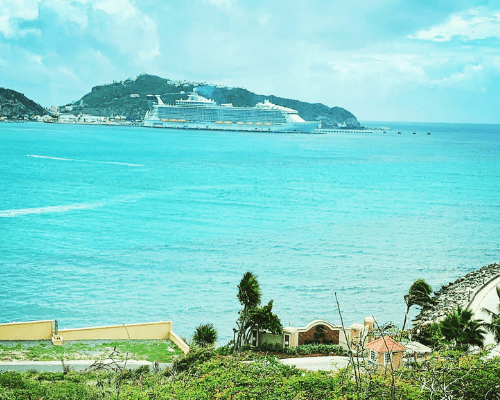 Which cruise influencers or content creators are featured in your books?
In both cruise books I have a wide representation of influencers, bloggers, and content creators. That's the largest group among the over 60 people profiled in the two books.
That doesn't surprise me because the essence of the books is: passionate cruisers who act on their passion in fascinating and creative ways. So too many to name but I can assure your readers that they are fans of or have heard of many who are featured.
You can order Cruising Interrupted on Amazon (details here)
Cruise Influencers featured in Cruising Interrupted and The Joy of Cruising
Note from Ilana:
In each book, you'll find 30 cruise personalities and their amazing stories. Some well known cruise bloggers and content creators featured in Cruising Interrupted include EatSleepCruise, Tips for Travellers, Cruise Lifestyle, Cruise Mummy, DCL Podcast, My Virtual Vacations, Life Well Cruised, Cruise Tips TV and more!
Cruise influencers featured in the first book, The Joy of Cruising include Cruise Tips TV, Emma Cruises, Paul and Carole Love to Travel, Cruising with Matt and many others.
As Paul mentioned, there are many incredible stories to read and new people to discover, in each of these must-have books for cruise fans!
Was there anything you noticed that these people had in common, other than cruising? Was there something that surprised you or that might surprise others about the creators featured?
What the individuals, and companies, profiled have in common are the interesting and fervent ways they have chosen to pursue their passion.
Take Life Well Cruised for instance. There are people who have cruised far more than you ever will; but it is not about quantity. You were featured because you have chosen to pursue your passion by becoming a valued member of the cruising community offering information, insight, fun, and hope to other cruisers. Those are the kinds of stories that are not being told.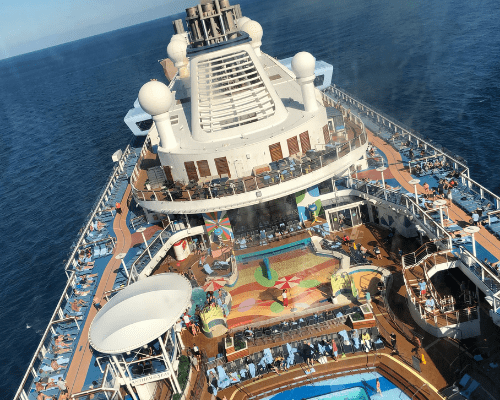 I'm quite excited to read Cruising Interrupted when it comes out! What will people enjoy most, learn or get from Cruising Interrupted?
Well, for those who read The Joy of Cruising, they'll enjoy the same fun experience of cruising vicariously through others, and getting to know better a few recognizable cruise personalities.
For all, whether you read The Joy of Cruising or not, I think what readers will learn from the most is the whole section involving being stranded on the ocean because of Covid. Readers will be able to experience that from the perspective of several cruisers who are part of a very exclusive group of people in the world.
How many readers have had a conversation with someone who experienced that? Cruising Interrupted will bring you that "conversation."
Recommended: Cruising Interrupted (formerly More Joy of Cruising)
This NEW book is a follow up to The Joy of Cruising. It features the stories of those who are passionate cruise travelers, and even includes some incredible tales of cruising as cruise industry shut down. If you love cruising, this book must be in your collection!
You can order Cruising Interrupted on Amazon (details here)
As a writer, what are you most proud of?
Most important to me, what I am most proud of, is to receive validation from readers. In fact, after I published my memoir I was so moved by comments I received from readers that I put them together in a collage that I used to market the book. To this day, I re-read the quotes whenever I need some wring inspiration.
I am also proud of validation I receive in the form of independent writing book awards. Both White Man's Disease and The Joy of Cruising won several awards, which are a very important aspect of the marketing of books, besides the reassurance and validation provided.
I am most proud of one award in particular I won for White Man's Disease because I was the grand prize winner as opposed to a finalist or honorable mention—Creative Nonfiction & Memoir, North Street Book Prize, a judged, independently published writing competition with a nice cash prize. Winning Writers called White Man's Disease "gripping and inspiring" in the press release announcing the award.
Lessons and takeaways from this interview with Dr. Paul Thornton, author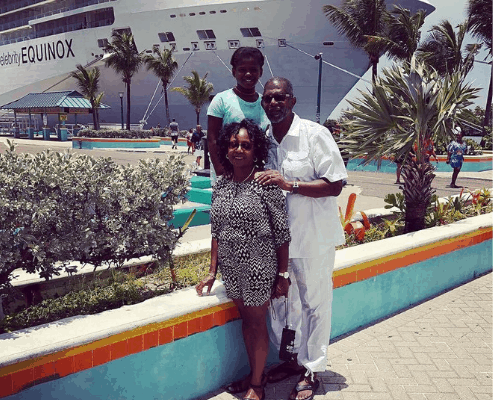 While Paul features the stories of 60 passionate cruise travelers, influencers and content creators, it has to be said that Paul took cruise passion to another level.
As a writer who decided to write not one, but 2 books about cruising, and dedicate more than 2 years of his life to writing, researching and interviewing, Dr. Paul Thornton is the ultimate cruise champion!
As Paul began his second career and passion as an author at the age of 58, we can also learn that there is no age and limit to when we can start something new. Paul jumped in and decided to self publish (a very popular and potentially more lucrative form of publishing in 2021), taking his fate into his own hands.
Finally, when halfway done writing a book all about More Joy of Cruising, the cruise shut down happened. As cruisers we all know the impact of this time. However, for Paul, this was devastating and impacted the future of this book.
After some time, he found a new title and direction that couldn't be more fitting, and "Cruising Interrupted" was born. The ability to adapt and pivot, while still pursuing his passions and providing value to others is a great lesson and takeway.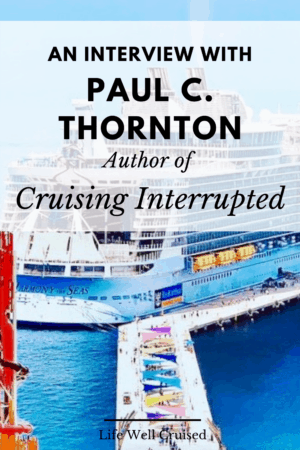 Where can you buy Cruising Interrupted and The Joy of Cruising?
If you love cruising or want to give a gift to your favorite cruiser, both Cruising Interrupted and The Joy of Cruising will become favorites!
Both books can be found on Amazon, in paperback and kindle.
Cruising Interrupted by Dr. Paul C. Thornton
Recommended: Cruising Interrupted on Amazon (details here)
The Joy of Cruising, by Dr. Paul C. Thornton
Recommended: The Joy of Cruising (see Amazon link for reviews & details)
Final Thoughts: Interview with Dr. Paul C. Thornton, Author Cruising Interrupted
In this difficult year for cruising and for the world, it's a pleasure to interview author Dr. Paul Thornton. May we all have a renewed hope and be inspired by the stories in Cruising Interrupted and The Joy of Cruising!
Thank you, Paul, for this excellent interview and insight into your life, and the process of writing your books, especially Cruising Interrupted and More Joy of Cruising. I'm honored to have been included among the many cruise content creators I admire!
Have you had a chance to read either of these books? Which stories surprised, inspired or resonated with you the most? Please let me know in the comments below.
Happy Cruising!
Ilana xoxo
P.S. If you found this helpful, please don't keep it to yourself ;-). Please share on Facebook or PIN to your favorite Pinterest board (share buttons at the top). Thanks so much!
Read next:
What to Pack for a Caribbean Cruise 2021
25+ Most Recommended Amazon Items to Bring on a cruise
27 Cruise Travel Hacks Repeat Cruisers Swear By
Let's connect:
Follow me on Facebook at Life Well Cruised
Follow me on YouTube at Life Well Cruised
Follow me on Pinterest at Life Well Cruised
Follow me on Instagram at Life Well Cruised