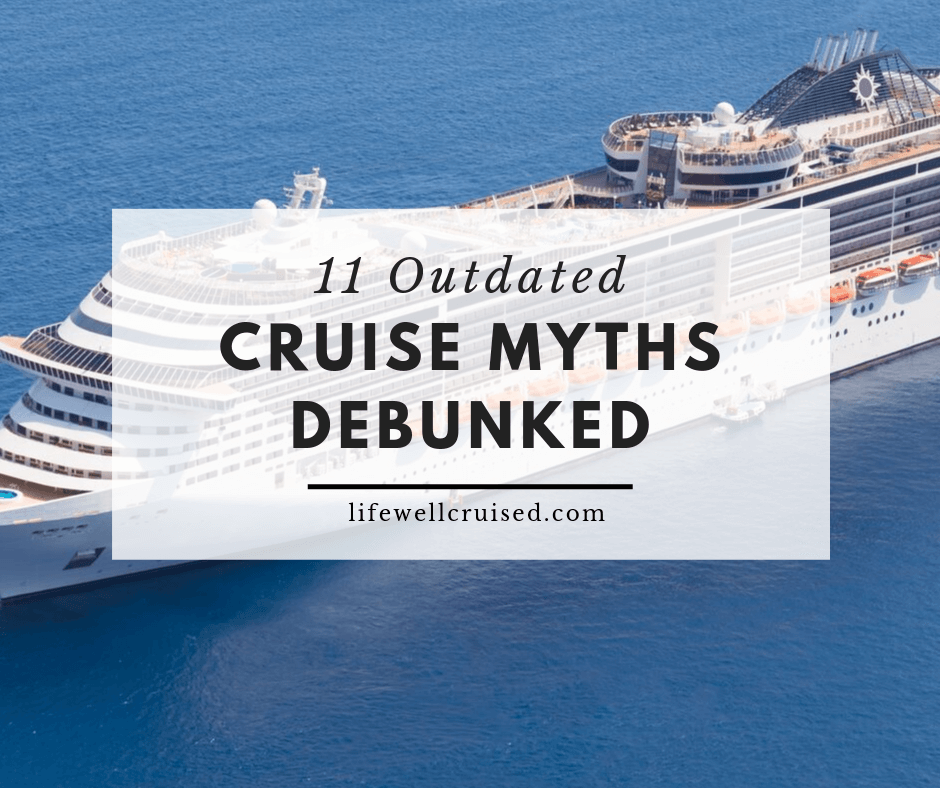 This post may contain affiliate links. Please see my full disclosure policy for details.
Debunking 11 Popular Cruise Myths
Cruising has changed a lot over the years. The fact is, cruise lines are changing and offering more choice. People who cruise are changing too. In this post,we debunked 10 old fashioned cruise myths that are far from the truth.
11 Common Misconceptions about Cruising – Debunked
When my husband and I booked our very first cruise back in 2004 on the Navigator of the Seas, it almost didn't happen.
Just like so many people, we had some common cruise myths in our heads, and were a little bit anxious. But it was our 10th anniversary, and we wanted to do something special.
My husband's famous last words were "You know I don't want to be bored on a cruise!!"
So, we literally chose this cruise based on the fact that the cruise ship showed a rock climbing wall within the brochure. Yes, back 15 years ago a rock climbing wall, along with an ice skating rink seemed unbelievable to have on a cruise ship (I still think it is!)
Want to know something? By the second to last day of the cruise we were having such a great time and obviously were never bored, and he hadn't climbed the rock wall yet!
He wasn't as interested. I'm thinking relaxing by the pool with a drink wasn't so bad after all.
But I insisted, lol. We booked this ship for the rock wall,right? He did it and we have the photos to prove it ;-).
Are some common cruise myths stopping you from cruising?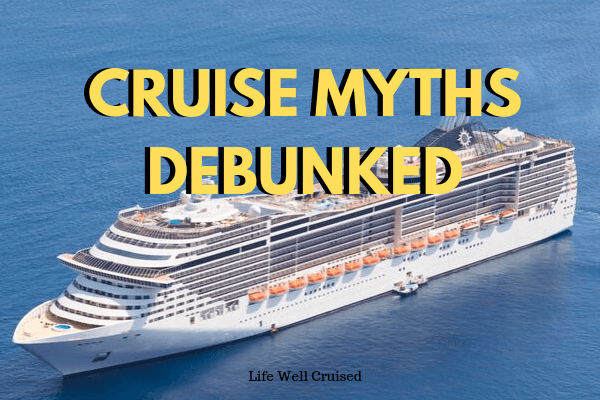 Cruise Myth #1 – Cruise Vacations Are Expensive
Cruises come in all price ranges, but on the most part, cruise vacations are now pretty affordable. I know that we find cruises to be less expensive than land vacations.
When you factor in the all that you get on-board – amazing food, quality entertainment and activities, well supervised children's activities, plus the ability to see several destinations all during one vacation, it's great value.
For families or couples, you may be surprised at how affordable cruising can actually be.
How much does a cruise cost?
It does depend on a few factors such as the cruise line and ship, travel date and even destination. However, its totally possible to cruise for about 100$ a day, and sometimes less! Considering your accommodations, meals and snacks, and entertainment are included in this, it's a great value.
Cruise lines also offer awesome deals for families, including "kids sail free" when traveling in the same cabin as their parents. You can also find great promotions that include extra perks such as an all-inclusive beverage package or free wi-fi. So, if you thought cruising was outside of your budget, it's probably more affordable than you think!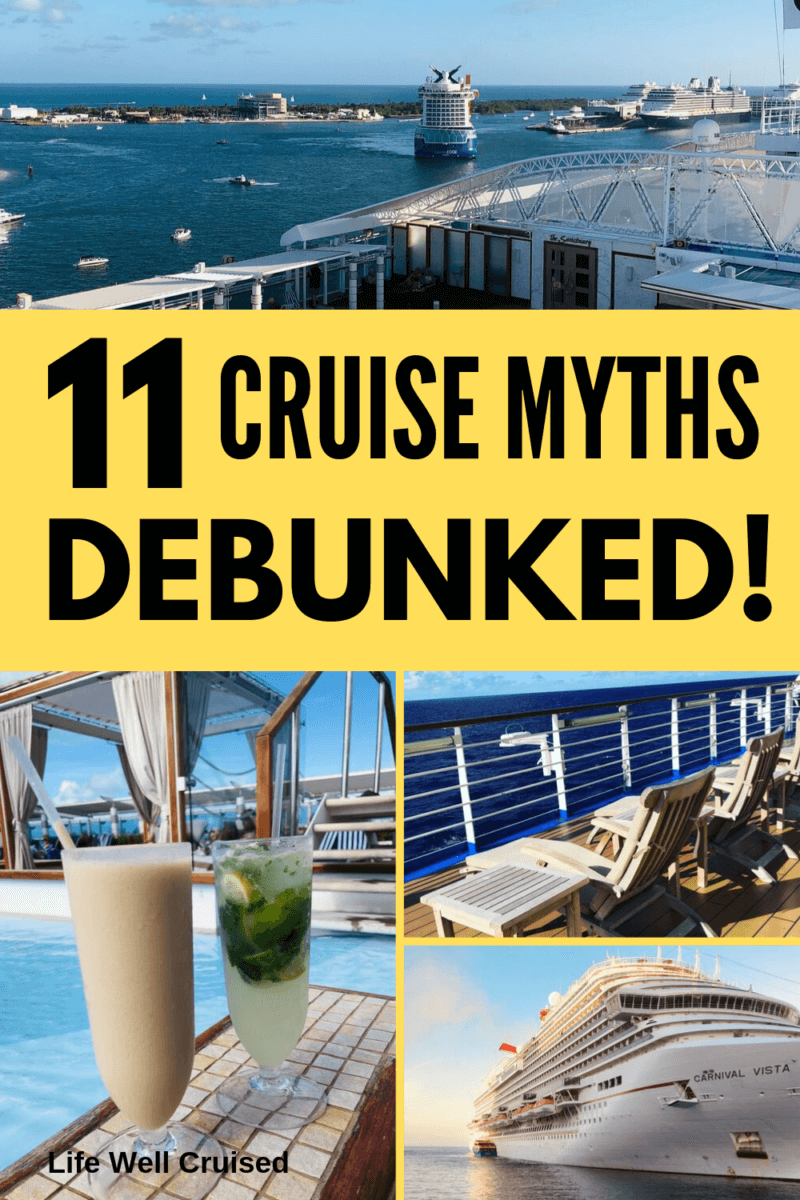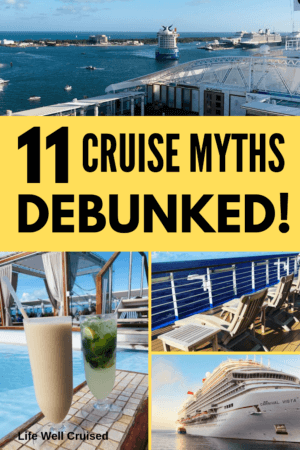 Cruise Myth #2 – Cruises Are for Old People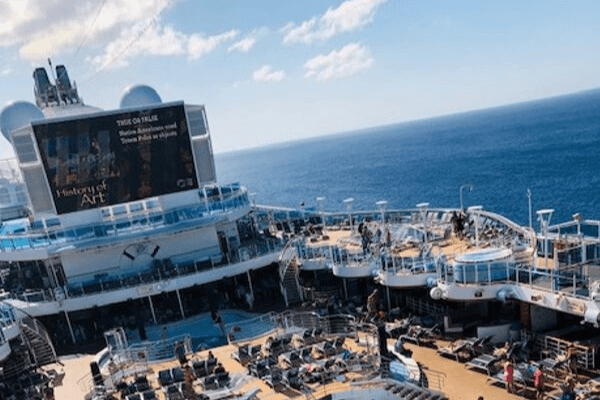 I remember hearing that cruising was for the "Newlywed and Nearly Dead".
I can still recall my grandparents telling their cruise stories – lots of fine dining and shuffleboard. Like the Love Boat (still love that show).
As great as its was, it didn't sound like it was for me. Due to that, I grew up thinking that cruising was for "old" people, or at least those that were retired.
Today's cruises are for any age. Older, younger, married, single. There is something for everyone on a cruise ship!
So what is it cruising really like these days?
Cruising is a popular vacation for families, couples of all ages, and even singles. However, "one-size all approach" doesn't work for cruising. Some cruise lines, or even certain cruise ships, are a better fit for some than others.
The active traveler
Do you love the idea to rock-climbing, zip-lining, a ropes course and other adventurous activities? Do you love a lively atmosphere with pool games and DJ or band? Then Royal Caribbean, Norwegian Cruise Lines or Carnival may be for you.
Do check the specific ship, as not all cruise ships in the fleet will have the same options on board.
These are some of the "coolest ships"at sea: 15 Coolest Things to do on a Cruise Ship (in 2019)
Foodies and Relaxed travelers
Do you enjoy really good meals, decadent desserts and homemade pastries? Do your vacation dreams include more relax time by the pool or spa? Perhaps Celebrity Cruises or Princess Cruises are for you.
Traditional Cruisers
Do you appreciate a vacation filled with the finer things in life and are you charmed by some of the nostalgia of classic cruising? Does a traditional Afternoon Tea with scones and "petits fours" appeal? Sounds like Holland America or Cunard may be the right fit.
I've named just a few, however these are some of the most popular and recommended cruise lines. There are of course other Cruise Lines, including some that offer a a more upscale cruise experience such as Oceania and Azamara,and more.
I encourage you to chat with a Travel Adviser specializing in cruises, to help find the best cruise experience for you.
Myth #3 – Cruising Means Going to Beaches in the Caribbean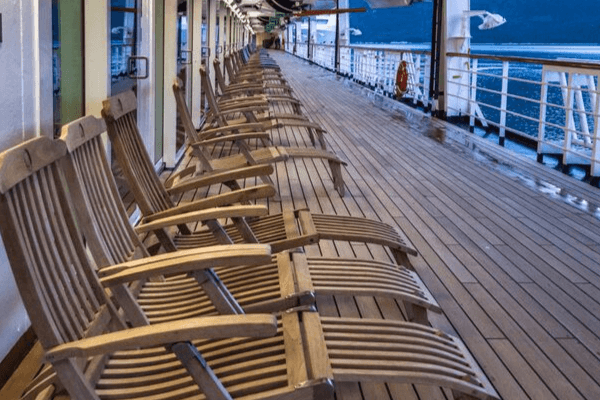 Caribbean cruises are very popular, especially for first-time cruisers. There are so many islands to visit and they offer great beach and excursion choices.
However, cruise ships sail to many other destinations,and it's a great way to see the world!
Cruises sail to Alaska, Europe, Canada and New England, Bermuda, to South America and more!
A cruise is an amazing way to travel, with the convenience of unpacking only once. Shore excursions are available with the cruise line, or you can plan and explore on your own. The choices are endless and in many ways, you can tailor this "tour" to your specific travel wish lists.
Myth #4 – Cruising is Boring
This is a really common cruise myth that people believe and worry about before taking their first cruise – like my husband! That said, it's usually debunked pretty quickly and many cruisers go on to be quite "addicted to cruising".
Whether you are on a family cruise, cruising solo, with friends, or as a couple, there is so much to do that you really have to make a effort to be bored.
Cruises today offer so much!
If you crave adventure and action on your cruise, you'll find ships with water-slides, surf pools, mini-golf, zip lines, ropes courses, bumper cars, ice skating, go-karts and more.
Entertainment includes comedians, illusionists, original shows and Broadway shows. Lectures, trivia and guest participation games.
You might enjoy this post: 27 things To Do on a Cruise Sea Day (and not be bored)
Cruise Travel Tip: Not every ship features all activities. Check out the different ships to see what most appeals to you.
Myth #5 – Cruises Have You on a Tight Schedule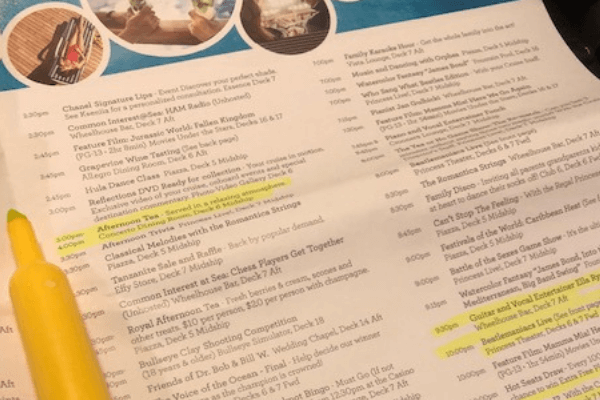 As much as some people worry that they will be bored, others worry that there is too much to do and that activities are "programmed". Even though there are tons of activities available, you don't need to do any!
If you want to hang by a pool and hot tub and read a book, you will fit in just fine. You can pick an choose what you want to do – and if "relaxing" is the activity of choice, that's what vacations are for.
Activities such as trivia games, wine tastings, dance lessons, port lectures and well as featured guest author lectures are all available. Different cruise lines offer different cruise experiences.
So if water-slides aren't your idea of fun, don't worry. Many cruise ships offer a more relaxed environment, where things are more low-key. You just have to find the cruise that suits your vacation style.
Some of our favorite cruises recently have been which we've enjoyed:
Celebrity Summit Cruise Review: Post Revolutionized (with photos)
Regal Princess Cruise Review; A Back to Back Holiday Sailing
Myth #6 – Cruise Ships are "Malls at Sea"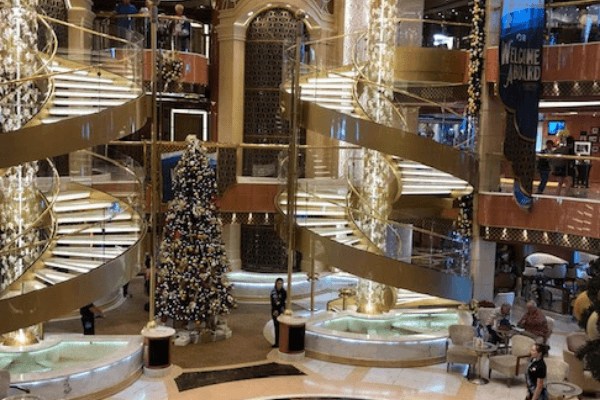 Are cruise ships so big these days, that they feel like malls at sea? On the most part, not really.
However, there are some cruise ship deigns that have a large interior "promenade" space that has a street plaza feel. We loved this on our first cruise!
It's actually kind of fun. This large area has several bars, stores, pizzeria's and coffee and pastry shops. It's also where some parades and parties happen. These large or very large cruise ships often referred to as Mega-Ships.
However many other ships have an atrium or grand foyer in the center. In general most cruise ships have a central interior space with a few duty-free shops, a cafe or casual restaurant, a bar and a central seating area.
If you're concerned that a ship might feel too large, consider a slightly smaller ship design with a more traditional atrium. The fact is, a Mega-Ship may not be your cup of tea,and that's ok.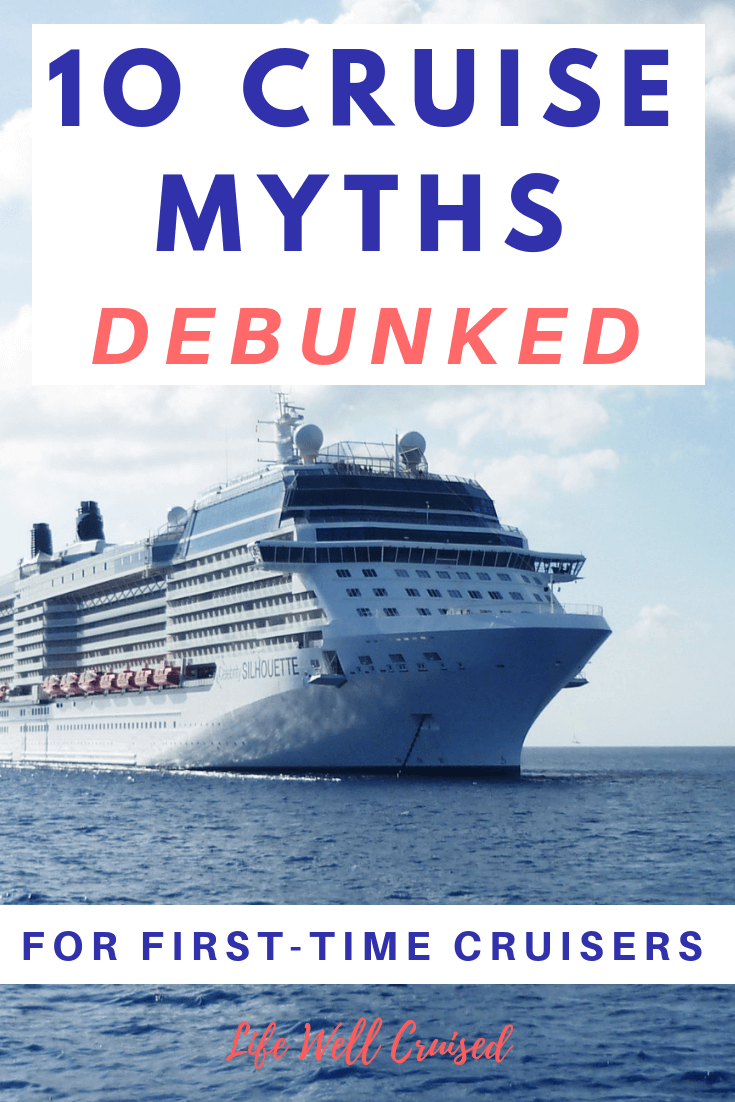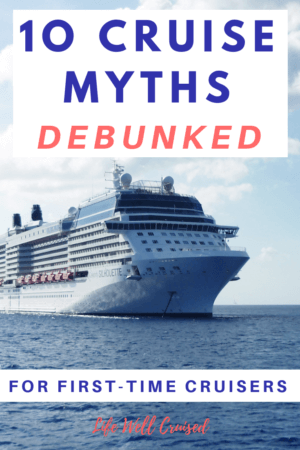 Myth #7 – You Get Seasick on Cruises
Cruisers of the past definitely had to contend with motion sickness at sea. But cruise ships today are larger and utilize the latest technology to have the smoothest sailing possible.
Modern cruise ships are equipped with Stabilizers which steady the ship when "there's motion in the ocean". Most of the time, you could almost forget that you are at sea.
But not always… there are times when the ocean is a little rougher and more movement may be felt. It's good to be prepared just in case, especially if you're prone to suffering from motion sickness.
We always bring some seasickness prevention medications and a few other products just in case.
You may enjoy: 10 Ways to Prevent and Avoid Seasickness on a Cruise
Myth # 8 – Cruise Ships Are Unsafe
We've all seen media reports about safety on cruise ships, and as a new cruiser it's understandable to have worries. However, cruise lines take passenger safety very seriously and have measures in place to assure everyone's security.
To give you an example, before your ship sails, all cruise passengers must attend a mandatory Muster Drill which gives you safety information in case there is ever an emergency.
You will notice the level of organization and professionalism by cruise staff during this drill. Cruise ship staff also goes through a variety of emergency training sessions during your cruise vacation.
Cruise Ship Safety Information for kids and parents:
As a parent myself, I know the safety of our children is more important than anything.
Railing heights and safety
Railings are actually higher than they look and people can't just fall off. As an example, I'm 5 ft, 2 in and the railing is about shoulder height.
However, safety precautions are important. Do not allow your children to climb on railings and chairs near railings.
Kid's Club
Cruise ships have a kid's club or camp with supervised activities and child care. You do have to register your child and there are procedures in place to make it a safe environment. In our experience, both with our own children and with friends and family who have cruised, the children's programs have been excellent.
Only those authorized to pick up your child can do so, and will be asked for ID. The Kid's Club is in a separate and secure area of the ship, not able to be accessed by visitors or onlookers. Staff have substantial education and training in early childhood and recreation.
I was genuinely so impressed when my children were young and I left the in the care of the youth staff. Plus activities are truly great and most kids love them.
Cruise Travel Tip: Do you have a child with Autism or special needs?
Royal Caribbean has an Autism of the Sea program (Autism Friendly Ships) with specially trained staff, a gluten and dairy free menu available, pagers and phones given to parents when kids are in "Adventure Ocean" kids club, and more.
Please verify with the various cruise lines for programs offered and always inquire in advance.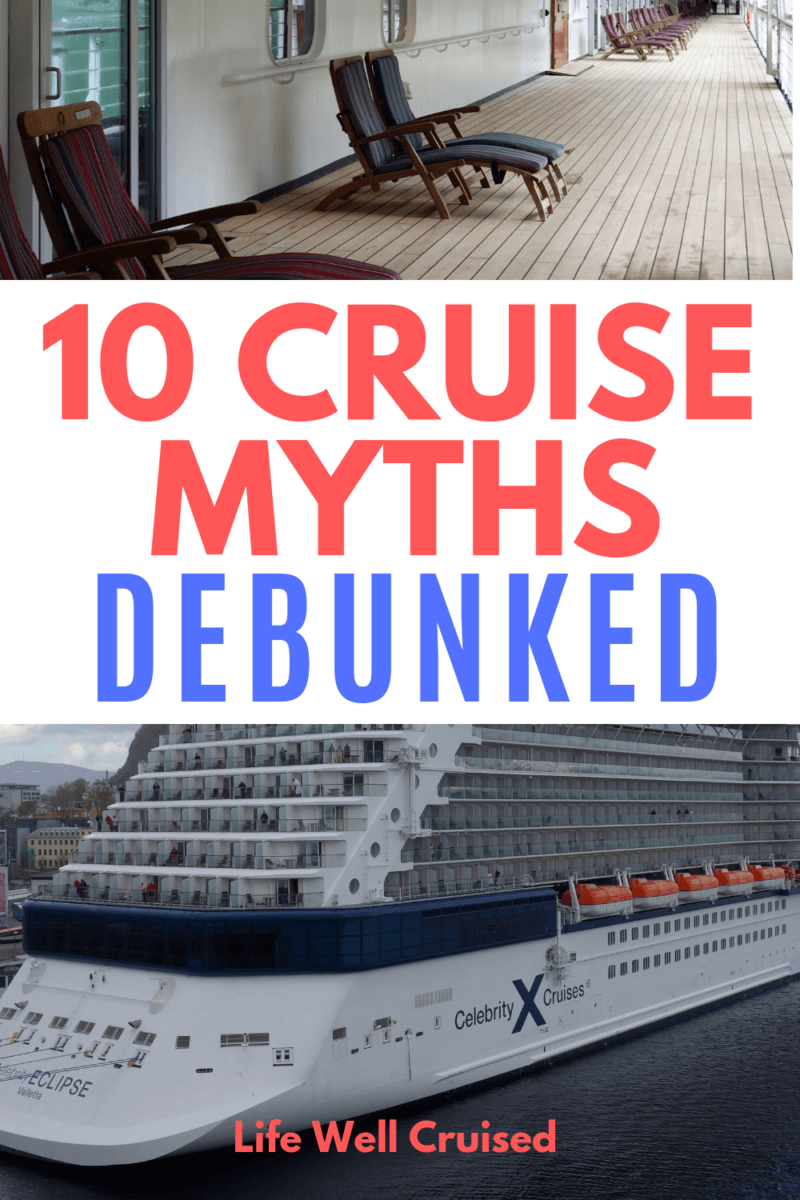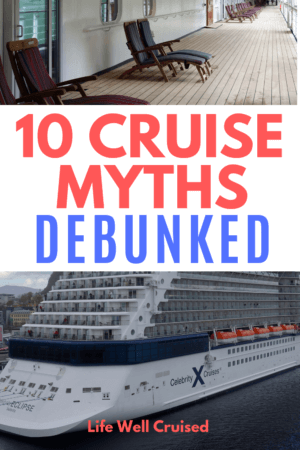 Myth #9 – A Cruise is a "Booze-Cruise"
We've all seen those vacation photos from Spring Break where it looks like just about everyone is drinking a neon foot-long frozen Pina-Colada while wearing a balloon animal as a hat.
I've been on the beach in Cozumel, and this is 100% the case on some ships during Spring Break especially!
Does this mean that you should avoid taking a cruise? Absolutely not!
Even during February and March, you'll find cruises that host families or couples, or friends that are not very popular with those that are young (and drunk).
If you do want to avoid the party crowd, a good tip is to choose a Premium Cruise Line or Family Cruise Line. I do suggest avoiding short cruises to the Bahamas (during peek times) which may include an open bar for obvious reasons.
Myth #10 – Cruising isn't Traveling
I sometimes,and couldn't disagree more. If you can travel on a land-tour, you can travel by cruise ship! Unpacking once and seeing many destinations all in one trip – sign me up!
Plus, cruise lines realize that some people really want longer days in port or even overnights. Some itineraries offer this, and are heading to less crowded destinations.
Often smaller ships can sail into ports the larger ships can't. The choice is yours to pick the cruise ship and itinerary.
A few years ago, our family took a 12 day Mediterranean cruise where we visited Barcelona, Rome, Florence, Pompeii, Cannes, Santorini, Athens and Ephesus, and Turkey. Can you imagine visiting historic cities and some of the most beautiful places in the world all in about 2 weeks?
I never could have done this if we weren't on a cruise! We took our 14 year old son and he said it was his best experience ever! To be able to see and experience places that he has only read about in History books was worth everything!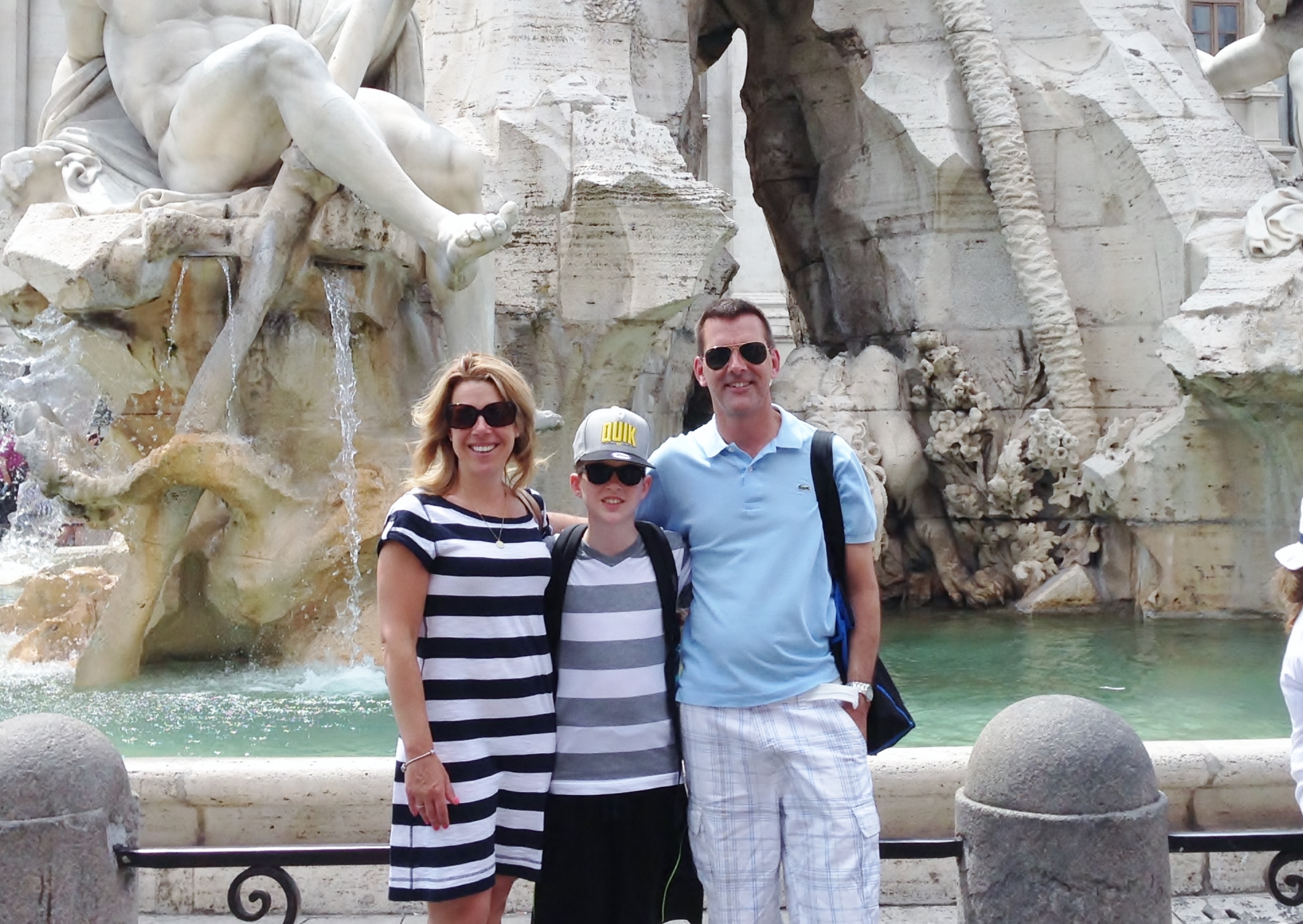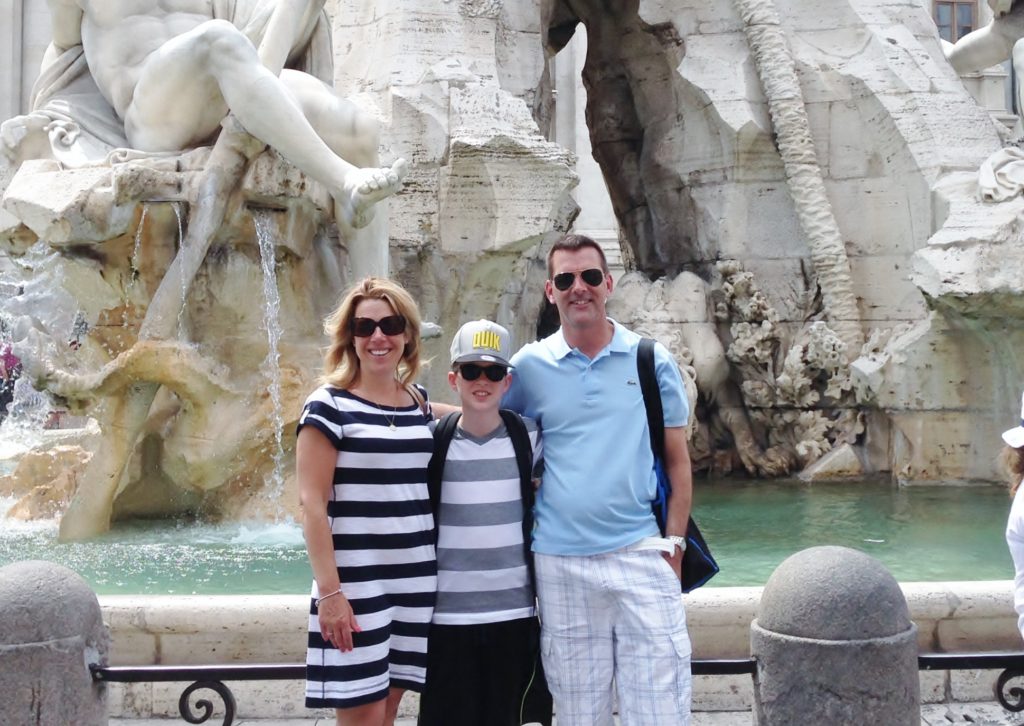 Cruise Myth #11 – Internet is Ridiculously Expensive on Cruise Ships
This is a recent addition, as I updated this post. In reality, Internet is still more expensive than on land vacations. After all, the technology is quite different as cruise ships have relied on satellites.
However, cruise lines are investing in new technologies and rewiring ships to accommodate those who want more access to internet while on a cruise. Internet is now faster, less expensive than just a few years ago and there are more options. Check your cruise line app for details.
Cruise ships now offer more affordable internet packages, as well as unlimited internet as a perk when booking (Celebrity Cruises).
Princess Cruises, part of Carnival Corporation has come out with MedallionNet, which is available on all MedallionClass ships. In my opinion, this really is the best and most affordable internet available on a cruise at this time.
Recommended: 21 Things You Need to Know About Ocean Medallion
Cruise Travel Tip: If booking with Princess and having Medallion Net is important to you, do verify the specifics of each cruise ship. Not all cruise ships are equipped with Ocean Medallion yet.
Recap: 11 Cruising Myths Debunked
We've gone through the 11 most common cruise myths and misconceptions, as cruising continues to change and evolve. There truly is a ship, and cruise experience, for everyone.
What changes have you noticed over the years? If you're cruising for the first time, what things do you think will surprise you?
Happy Cruising!
Ilana xoxo
Popular posts:
30 Cruise Cabin Hacks Every Cruiser Needs to Know
How to Pack Light for a Cruise
21 Essential Things to Pack in Your Cruise Carry-On
P.S. If you found this helpful,please don't keep it to yourself ;-). Please share on Facebook or PIN to Pinterest. Share buttons at the top over Pin images. Thanks so much!
Let's connect:
Follow me on Facebook @lifewellcruised
Follow me on Instagram @lifewellcruised
Follow me on Pinterest @lifewellcruised